One month enjoy Cao Bang golden season
Blogger Ha Cuong spent the past month documenting the beauty of Cao Bang's ripe rice season, from Phong Nam valley to terraced fields in Hung Dao.
Cao Bang has many famous tourist attractions such as Pac Bo National Historic Site, Ban Gioc Waterfall, or Nguom Ngao Cave. In the fall, from mid-September to early October, Cao Bang puts on a yellow shirt of ripe rice that fascinates visitors.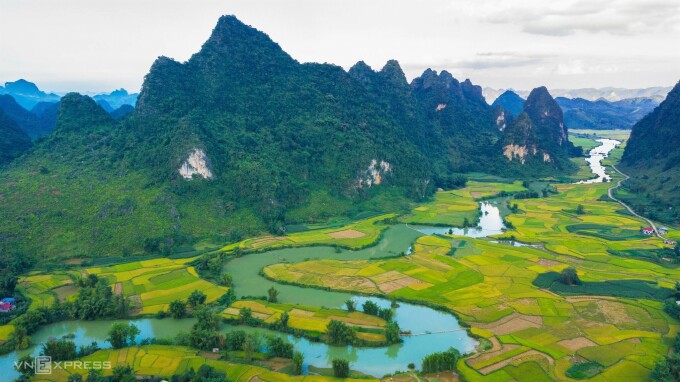 The clear blue water winds through the ripe golden terraced fields in Phong Nam valley, Chongqing.
Mr. Ha Cuong (42 years old) spent nearly a month going back to the outstanding ripe rice spots in Cao Bang, making a video "Golden season of Cao Bang viewed from above" to share with readers during the time when it is impossible to travel. because of Covid-19. Sharing his passion for tourism, he said that he had put aside professional work and traveled around, shooting videos to promote tourism, cultural lifestyle, and people of Cao Bang. The videos posted on his fan page are well received by readers.
The ripe rice season of Cao Bang through Mr. Ha Cuong's video shows up as picturesque, with shooting locations scattered from Trung Khanh district, Quang Hoa to Bao Lac district.
Among the above points, Trung Khanh, nearly 60 km from Cao Bang city, is known as a "tourist paradise" in the ripe rice season, which attracts a large number of photographers from all over the world every year. Mr. Cuong said that this year, the Rice season is almost empty of tourists and photographers, mainly domestic tourists.
Mr. Ha Cuong shared that going to the filming locations of the ripening season has many beautiful impressions and is welcomed by the people, even though each place has a different ethnic group such as Tay and Nung in Trung Khanh, Lo Lo in Khuoi Khon, or San Chi in Ho Chi Minh City. Hung Dao but they are always welcoming. "My childhood memories are like rushing back when I pass through the villages and see children playing, jumping on bridges to bathe in rivers, the older children know how to help their parents harvest rice, and the younger children run and jump on the straw."
Depending on the topographical characteristics of each place, people have different ways of harvesting rice, in flat valleys, people reap by machines, while in remote areas, steep terrain, without conditions for mechanization, people reap harvests. hand.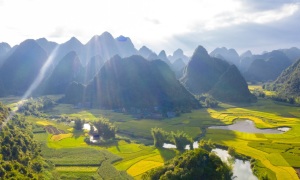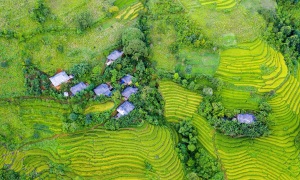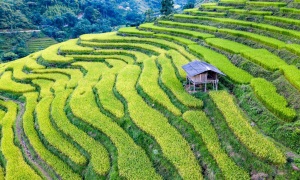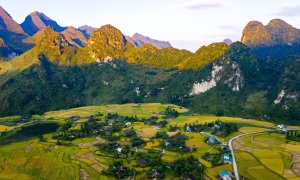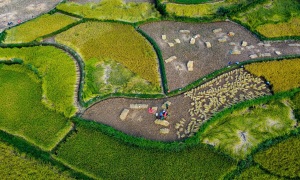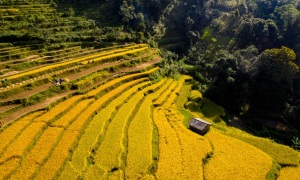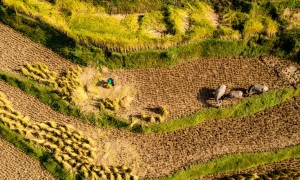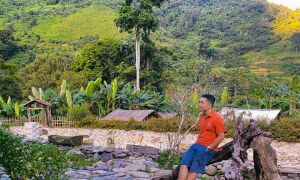 During the journey of filming ripe rice for nearly a month, Mr. Cuong often recorded in the early morning and afternoon, rested at the homestay in the evening, and then went on the next day. Along the way, he has more passionate companions like Phan Quoc, a guy from Ho Chi Minh City stuck because of Covid-19 in Cao Bang. The two spent two days and two nights hunting the moment of ripe rice in Phong Nam. Further to Xuan Truong, Bao Lac he went with Pham Huu Tuyen, owner of Toc Coffee – a miniature ethnic museum of Cao Bang.
However, the trip to hunt for ripe rice is not always favorable. When he arrived at Ngoc Con, Chongqing, Mr. Cuong encountered bad weather, was flying a drone when it rained, so he had to make an emergency landing. Stopped at Xuan Truong, Bao Lac, just arrived, it rained all day, so he had to wait until the next day to film.
"On sunny days in Ngoc Con, the rice was not yet ripe. When the rice was ripe, it rained again. I was going to come back to record a few days later, but my family had almost finished harvesting by machine, so I was not very satisfied with the scene. At Ngoc Con, or at Ngoc Khe, that day the water flowing through the ripe rice valley was not clear," he said.
The "hardest and darkest" is probably the 160 km journey from Cao Bang city to Phieng Lung hamlet, Ly Bon commune, Bao Lam district. Going to Ly Bon to move to Phieng Lung hamlet is nearly 20km, the road is graded but has a lot of landslides, if you ride a motorbike over a small wooden bridge, you can move on. Ha Cuong's group took a car, only about 10 km from Phieng Lung, but had to be sad to leave.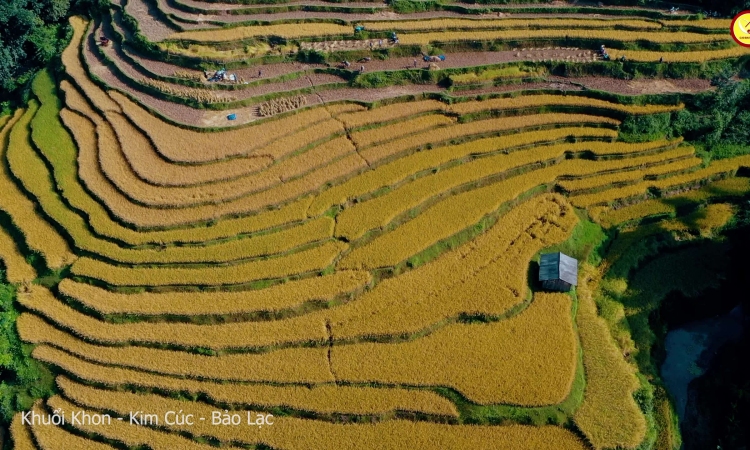 The ripe rice season in Cao Bang is picturesque. 
Cao Bang, the only province in the country without Covid-19 infections in the community during the fourth epidemic, has great tourism potential. Therefore, the promotion needs to be stepped up to match the potential. "Through the beautiful scenes of Cao Bang, the video of the ripe rice season, I wish to spread the beauty of my homeland to everyone," said Ha Cuong.
Photo: Ha Cuong
TAG: