Check-in wild and magnificent Ninh Thuan rock park
If you have the opportunity to travel to Ninh Thuan, try coming to Ninh Thuan stone park right away. A super virtual check-in coordinates, but be very careful about the danger!
About Ninh Thuan rock park
If to choose the sea paradise with the most potential in our country, the name Ninh Thuan is indispensable in the list. With a long coastline, rare wild beauty, that sunny and windy land possesses many beautiful check-in points such as: Hang Rai, Vinh Hy Bay , Ninh Chu beach , vineyards, …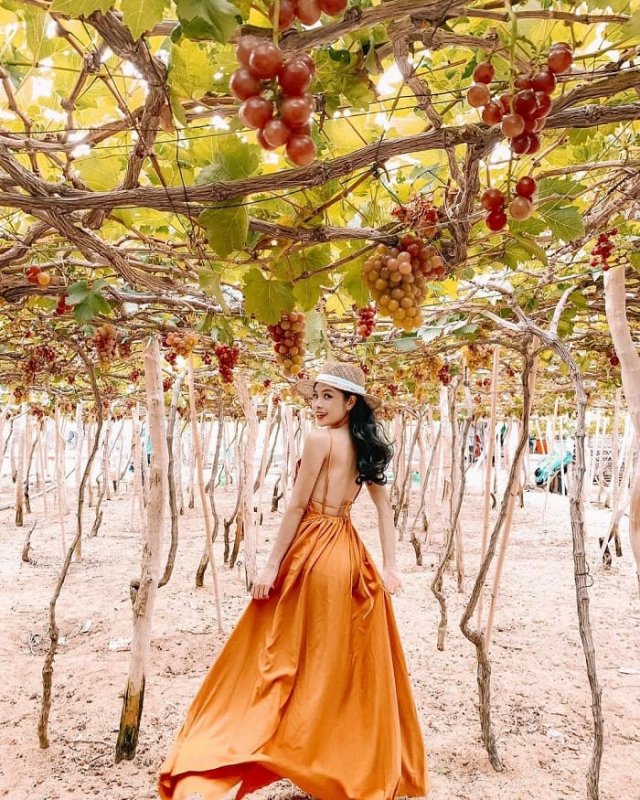 Vineyards are a specialty of Ninh Thuan tourism 
Recently, the online community has discovered another wild and majestic virtual coordinates. That is Ninh Thuan rock park located in Thai An village, Vinh Hai commune, Ninh Hai district.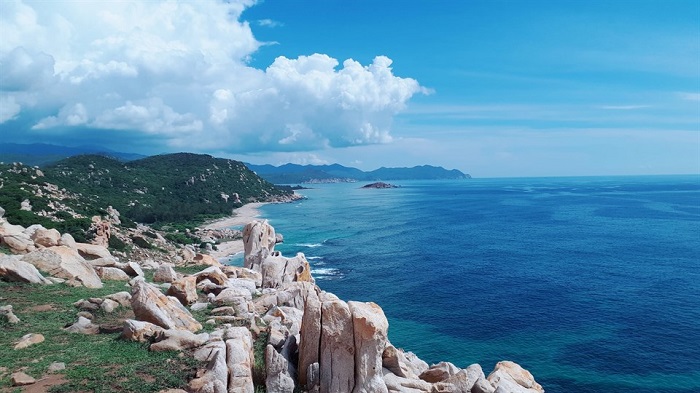 Panorama of Ninh Thuan rock park 
Ninh Thuan Stone Park is about 30km from Phan Rang city with a travel time of about 30 minutes. In fact, this place is a natural stone beach, thanks to the artistic hands of nature, many stones are arranged together with all shapes.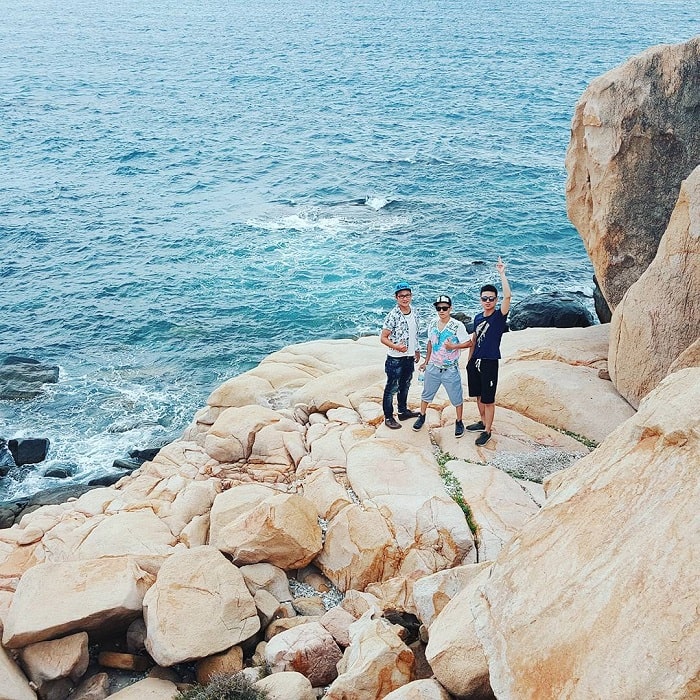 (Photo: dct25891589)
Rocks of all shapes and sizes, standing proudly. You can see it's an elephant, a bird, a snake, an ostrich, a dinosaur,… Mixed with the blue of the sea, the sky,… All draw a masterpiece of nature. Unique, beautiful nature.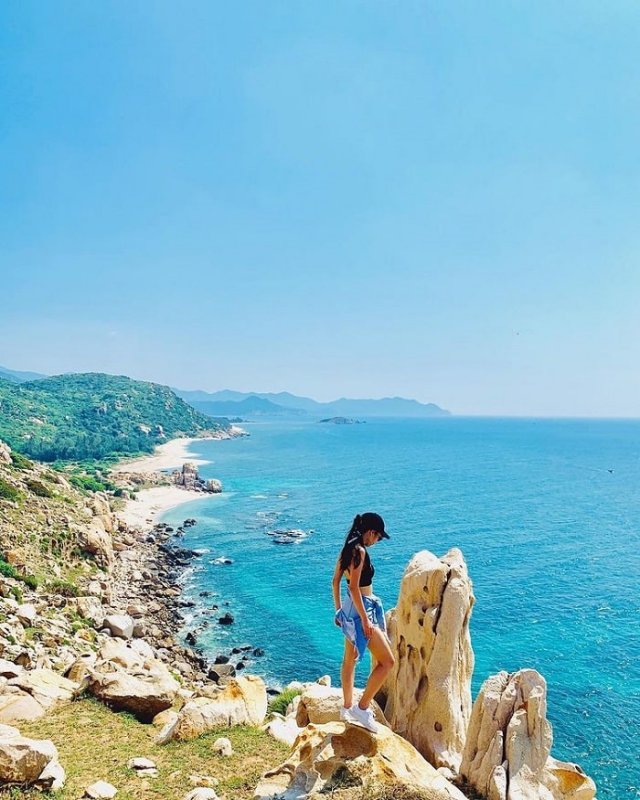 (Photo: ginstagra_amm)
The way to Ninh Thuan rock park
With a distance of 30km, starting from Phan Rang city you can choose to go by taxi or motorbike to get there. However, because the road to this place has very beautiful scenery, you should choose to ride a motorbike to see the scenery. Because it is located in Nui Chua National Park , to reach the rock park, you have to move about 3km more.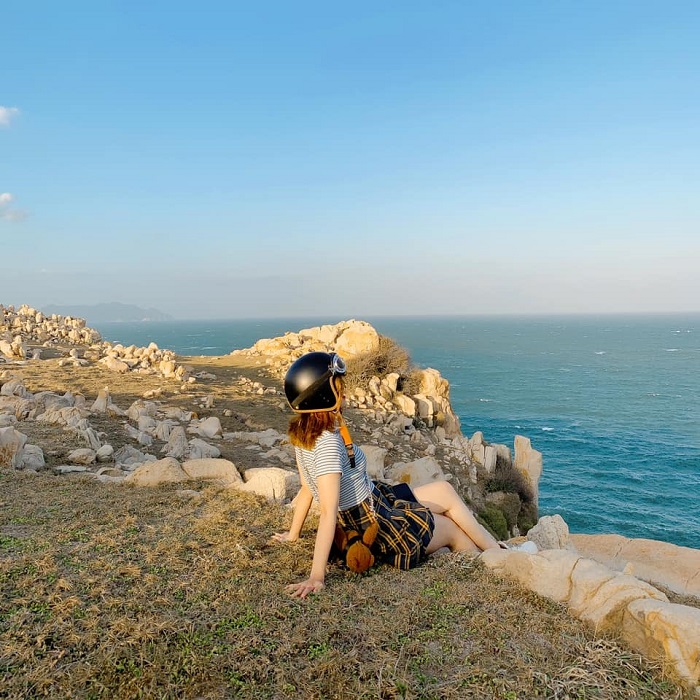 The road to here is very beautiful 
>See more: Pocketing a very useful Ninh Thuan travel experience
How did Ninh Thuan Stone Park originate? 
According to the local people living here, in the past, this tourist destination was just a large rocky beach. Over a long period of time, the rocks have been eroded, weathered, and piled on top of each other, creating extremely unique designs that have become an adventure tourist attraction in Ninh Thuan. 
Although they existed a few million years ago, these rocks are still standing, standing in the middle of the vast ocean. In particular, this place also has many rocks lying at the top and reaching out to the sea. Let me tell you, this is the virtual coordinates that young people love the most.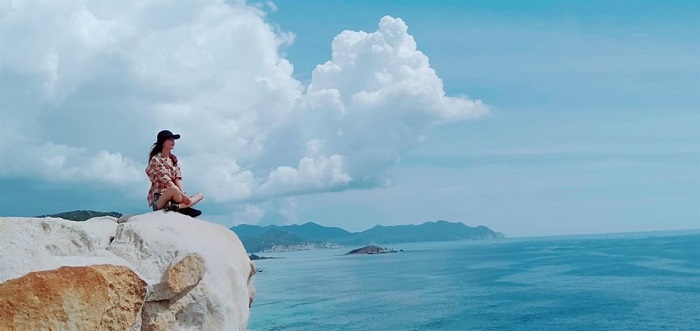 Before, the park was just a large rocky beach 
Interesting experiences in Ninh Thuan rock park
 
Through the forest 
To reach Ninh Thuan rock park, visitors will have to go through a long road about 3km through the deep forest. After arriving at the gate of the Nui Chua National Park tourist area, you will start trekking into the forest. Although the distance is not too far, along the way, there will be opportunities to discover new ecosystems. 
Ninh Thuan is a province with an arid climate, harsh, hot all year round. Therefore, the ecosystem in the forest also changes to develop in accordance with the environment. During that journey, you will encounter a carpet of cactus, a species of plant that can only live in the desert.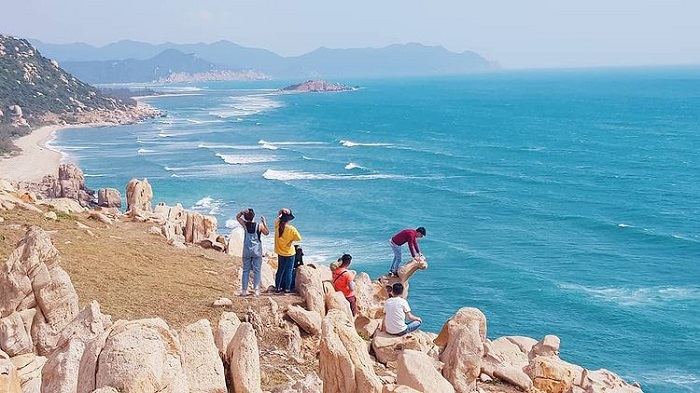 (Photo: ninhthuantrongtoi)
Not stopping there, coming to the stone park, visitors also have the opportunity to admire the stone slabs of all different shapes and very unique. So magnificent and rich, but Ninh Thuan rock park is sometimes very romantic. Standing on the cliff with your loved one watching the sea from above is great.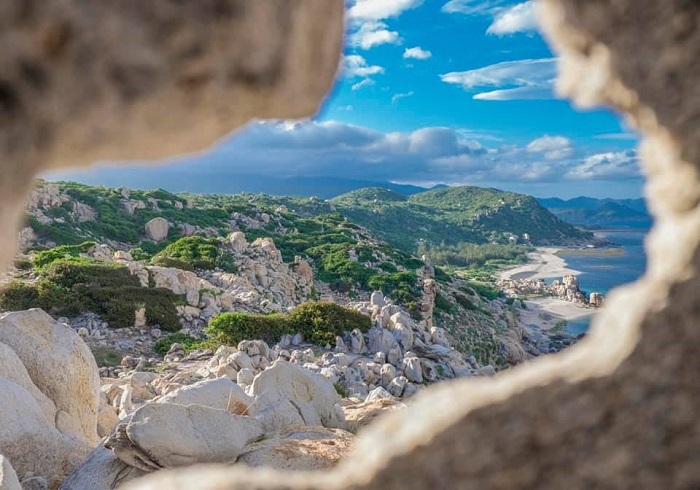 The rocks here come in all shapes and sizes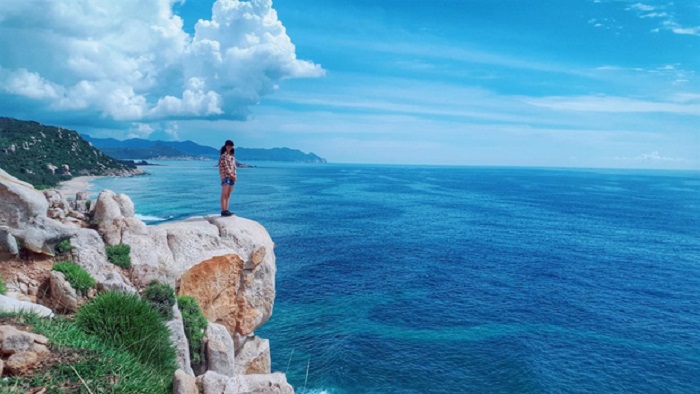 (Photo: Phan Ngoc Mai)
Check in 'adventurous' at Ninh Thuan rock park 
Although there are many rocky beaches in our country, very few places possess the enchanting beauty of Ninh Thuan rock park . From the rocky beach, visitors can zoom their eyes around to admire the immense sea ahead. Surely this is a beautiful scene that you deserve to risk.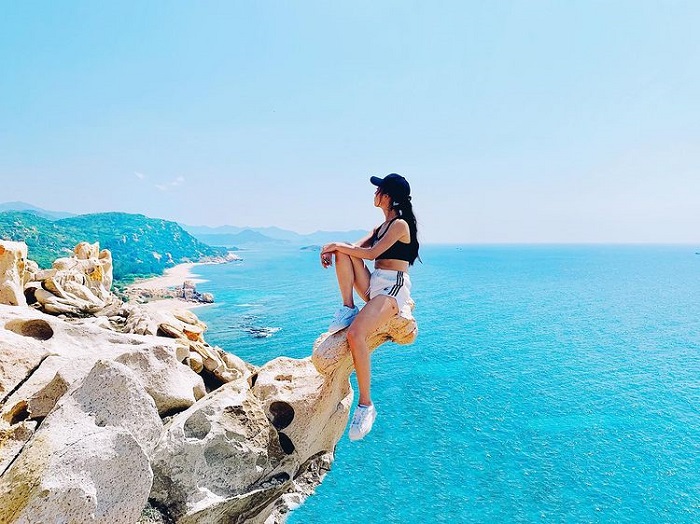 (Photo: ginstagra_amm)
Sitting on those craggy cliffs will bring challenging, immense experiences in the middle of the sea. That's why you have to be very careful. Beautiful but also do not forget to ensure safety.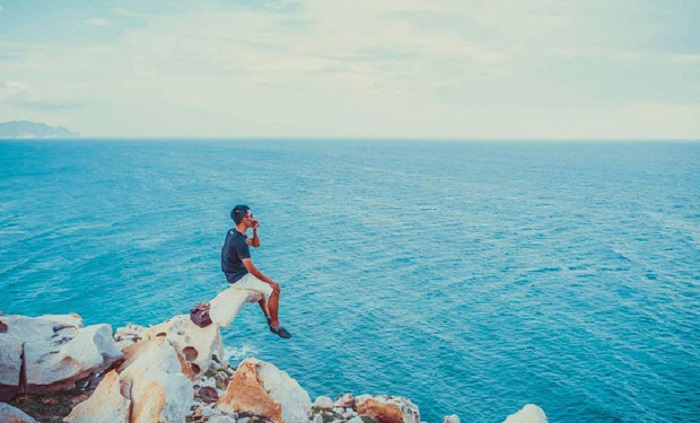 (Photo: Dinh Nghia Trinh)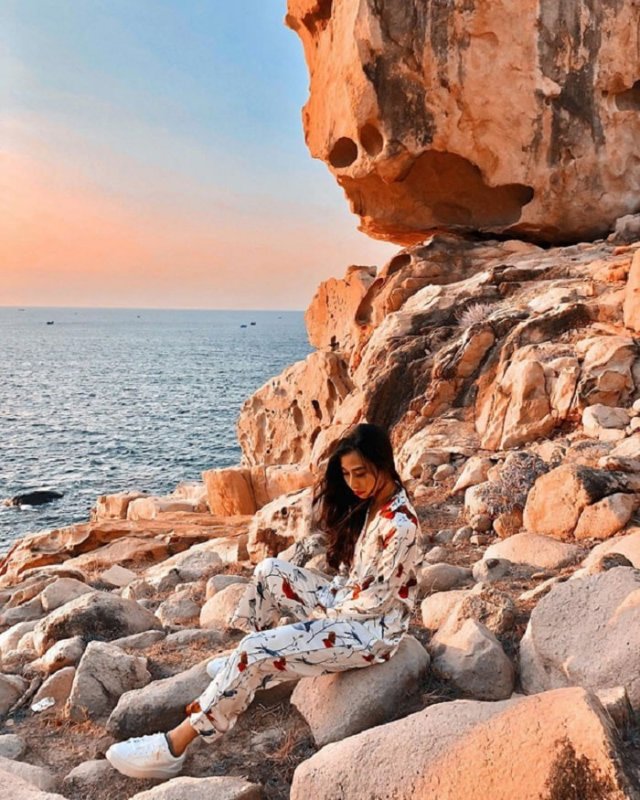 (Photo: ginstagra_amm)
Note when coming to Ninh Thuan rock park
The most beautiful time of the day to go to Ninh Thuan rock park is from 14:00 to 15:00. At that time, the weather was no longer too hot, the temperature also dropped to no longer as hot as at noon. In particular, the light gradually shines down on the sparkling sea, creating a wonderful scene. 
Because there are no services around the stone park, remember to bring more mineral water and snacks to recharge. 
The weather in Ninh Thuan is somewhat harsh, so prepare extra sunscreen, coats, hats, and hats to avoid skin damage. 
When coming here, you should choose sports shoes with grip, limiting the slippery when moving.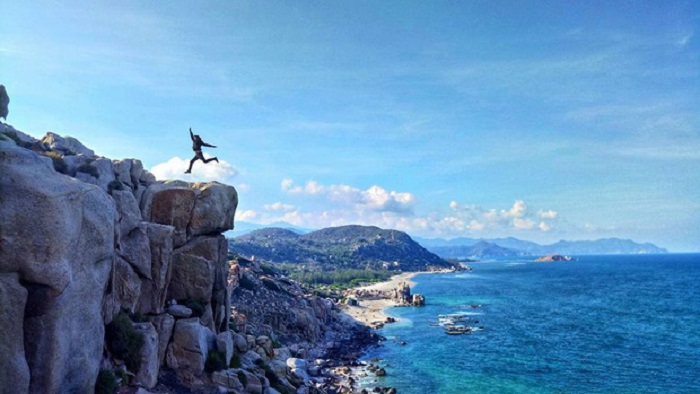 You should pay attention when coming here to live virtual 
Ninh Thuan Stone Park has a very wild and majestic beauty due to the lack of tourism exploitation. Make plans to explore with your close friends right away. There is nothing like living virtual on the cliff with such a vast blue sea view. 
Photo: Internet
TAG: