Experience camping, paragliding after loosening the distance in Hanoi
 In addition to sports activities at the park in the city center, residents can also experience camping, paragliding, and off-road driving on the outskirts of the city.
From September 28, Hanoi city allows people to participate in outdoor sports and physical activities but must not gather more than 10 people and must ensure compliance with epidemic prevention regulations. Here are 3 outdoor experiences you can refer to after a long day indoors.
Paragliding
Experience of paragliding at Doi Bu (Nui Be village, Nam Phuong Tien commune, Chuong My district, Hanoi) is an activity that attracts young people recently. This place is about 35km from the center of Hanoi. If traveling by private vehicle, you can reach the destination in about an hour.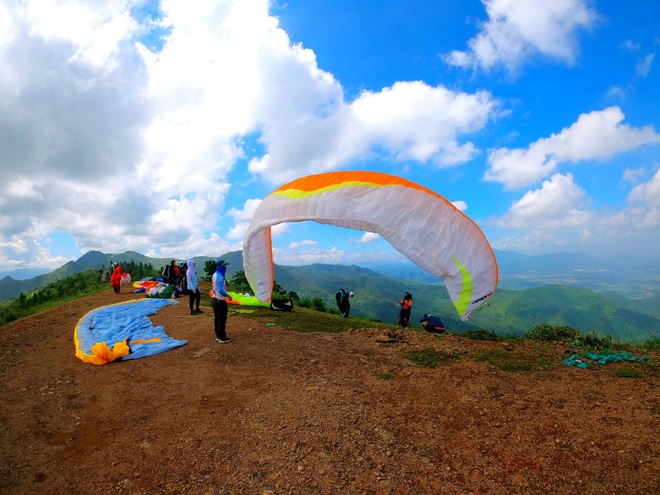 Doi Bu paragliding point, Chuong My district, Hanoi (Photo: Mebayluon Paragliding).
Mr. Dang Van My, paragliding instructor, founder of Mebayluon Paragliding said: "Bui Hill from late autumn to winter, the reeds along with the hillside bloom white to create a wild and poetic scene. The period from now to the end of December is the ideal place to go paragliding."
The take-off point is located at an altitude of 655m with gentle terrain, there have been flights over 1500m high here. Looking down from above, the hillsides blooming white reed swaying in the wind like a picture, you will feel the romantic beauty in the vastness of heaven and earth.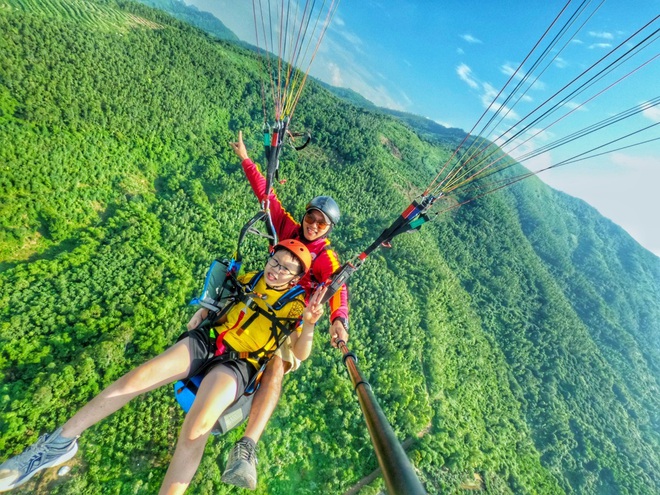 Visitors experience paragliding at Bu Hill on October 3 (Photo: Mebayluon Paragliding).
The cost for a flight ranges from 1.2 million VND – 1.5 million VND/person and can experience flying for 15-30 minutes. This cost includes a flight with a pilot, video recording of the flight, full facilities, protective gear, drinking water, and insurance for passengers.
Camp
In Hanoi, there are many ideal camping spots such as Ham Lon mountain, Rom village, Long Bien longan garden…. In which, the camping site is in Rom village (Quang Tien commune, Soc Son district), far from the center. The city is not too far away. It takes about an hour to go here, you can go by motorbike or private car.
There is a very large space with green pine forests running long. It is this that creates peace and quiet, suitable for those who want to live and be close to nature.
If you are afraid to go far, right at the foot of Vinh Tuy bridge, at the end of Thach Cau street, Long Bien ward, Long Bien district, there is a very large longan garden suitable for picnics and camping. Experiencing camping this past weekend here, young Han Vu said that the garden was not too crowded, and groups that came to camp and have fun all followed the distance. The entrance fee to the garden is 50,000 VND/person.
Experiencing outdoor camping makes everyone feel free and comfortable after a series of days in the house to prevent the epidemic (Photo: Han Vu).
If you are a lover of adventure travel activities , backpacking, mountain climbing, Ham Lon mountain campsite, Nam Son commune, Soc Son, about 40 km from the city center will be the ideal destination.
You can prepare food at home and then rent tents, grills, and firewood from surrounding households. Immediately after experiencing, having fun, when you leave, you need to clean up the garbage to maintain general hygiene.
Experience driving off-road motorcycles ATV
The ATV motorcycle experience area is located in the Ethnic Culture and Tourism Village of Vietnam (in Dong Mo tourist area, Son Tay, Hanoi). Previously, this place was the place where off-road car races took place, attracting a large number of car players and tourists inside and outside the city.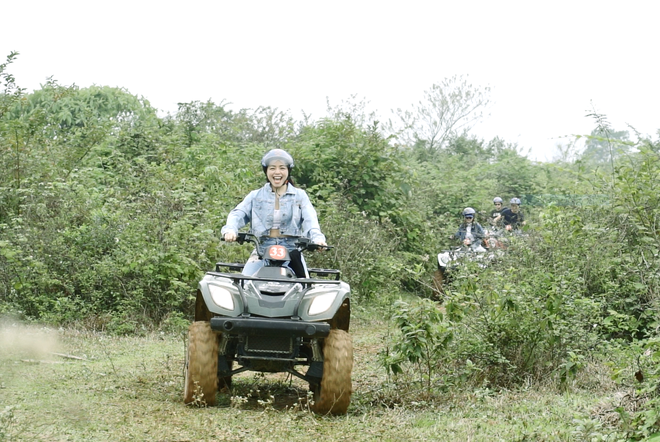 This type of experience has just been launched in early 2021 and is excitedly experienced by tourists in the capital, especially young people (Photo: Thao Trinh).
ATV is an off-road vehicle, popular in many developed countries around the world. With a unique, strange design and power from a large displacement engine, ATV can conquer most obstacles on difficult terrain.
Dong Mo Discovery is designed with 2 roads with a total length of more than 30 km divided into 4 stages. In the 16km long journey through the forest, visitors will challenge themselves with spectacular bends under the vast green forest canopy, requiring high-speed control of the driver.
It is known that the price of ATV terrain driving service ranges from 200,000 – 1,000,000 VND, depending on the time of experience.
To the above locations, people do not need a Covid-19 test certificate but need to make a medical declaration and have been vaccinated. Regardless of whether people participate in any experience activities after social distancing, people still need to comply with epidemic prevention regulations to ensure the safety of themselves and the community. Follow Dan trí
TAG: