The first traffic light in Da Lat
Many netizens expressed interest in the first image appearing in Da Lat (Lam Dong). However, some commenters also regretted when the city lost its own character.
On the afternoon of October 5, Bui Thi Thuy Ha's post about the first traffic light in Da Lat on the Da Lat travel group received more than 5,500 likes after only 2 hours. According to the post owner, this traffic light pole is located in the area of ​​​​3/2 Street (Ward 4, Da Lat).
"I'm not from Da Lat, but I study and work here. Waiting for a red light is not a strange thing, but in Da Lat, it's a bit surprising,"
Most netizens expressed interest in the "new character" appearing on the streets of Da Lat. The use of brown color in the lamp post is assessed to be in harmony with the general landscape of the city. In addition, the petal details in the light bulb area are also cute. The first traffic light pole in Da Lat. Photo: Bui Thi Thuy Ha.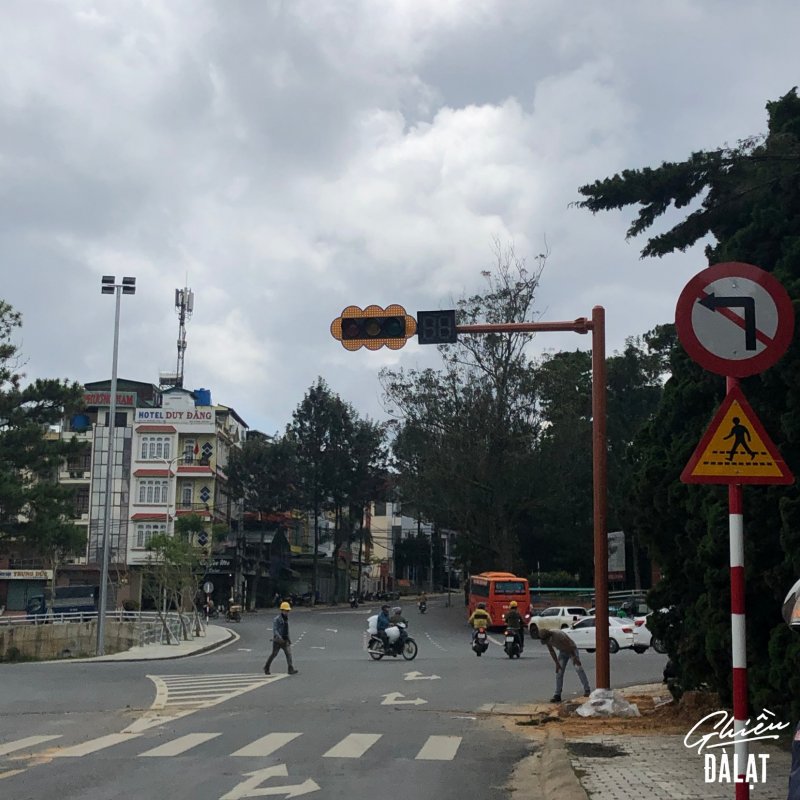 The first traffic light pole in Da Lat. Photo: Bui Thi Thuy Ha.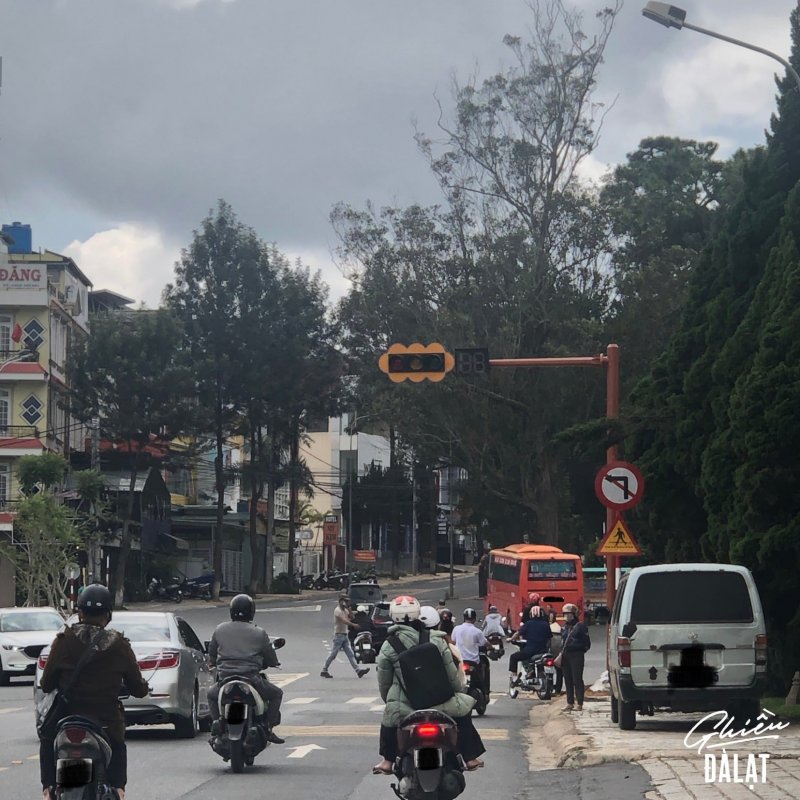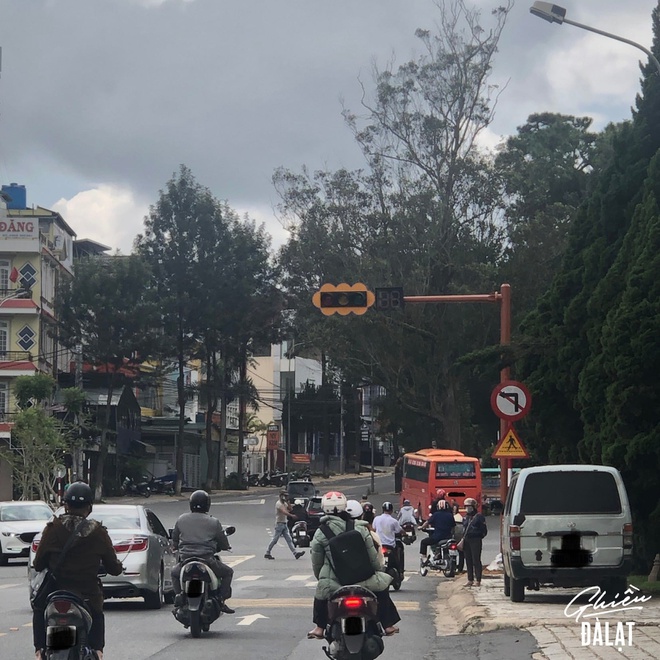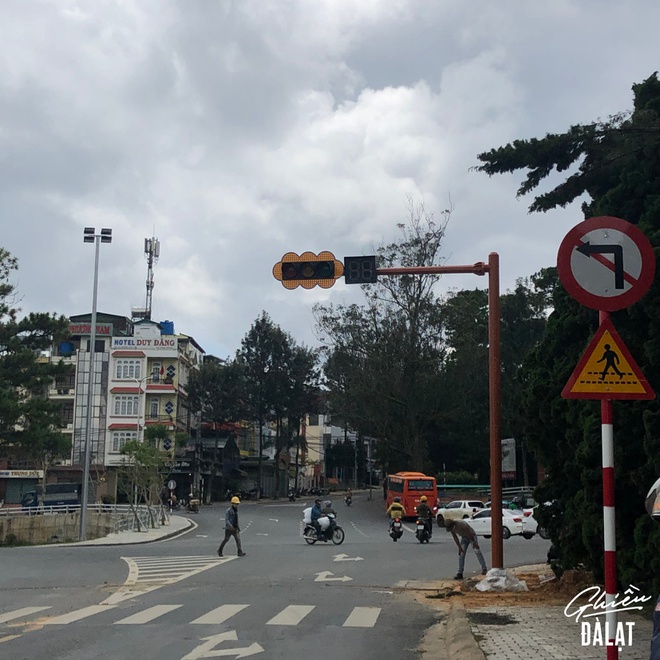 The first traffic light pole in Da Lat. Photo: Bui Thi Thuy Ha.
However, some people also expressed regret when the title of "the only city without traffic lights in Vietnam" officially disappeared.
"The first time I went to Da Lat, I asked if there were no traffic lights here. I was afraid of being 'kissed' by the rear of the car at the intersection. I've been used too many times, now I see how the lights are installed", Duy Vu's account shared.
"Unfortunately, the city has now lost a feature," said user Anh Minh.
Although part of the memory of Da Lat for many people has disappeared, traffic lights will continue to appear throughout the city. According to the website of Lam Dong province, it is expected that in 2021, Da Lat will renovate and install more traffic lights at 7 locations. The total cost is expected to be more than 142.7 billion VND , from the provincial budget, and will be completed in 2021.
Locations include Kim Cuc area; Phan Chu Trinh intersection; Phan Chu Trinh – Tran Quy Cap; College Crossroads; Tran Phu – Dao Duy Tu – Ba Trieu intersection, Hai Thuong – February 3 intersection, and Hoang Van Thu – February 3 intersection. These are the intersections where traffic jams often occur in the city, especially in the city. especially during peak hours and holidays.
"Da Lat has always been famous as a city of three nos: no traffic lights, no air conditioning, no cyclo. Losing one, many people also feel quite regret. However, I see traffic light poles. This will help to reduce traffic jams on holidays.
Crowded areas such as Nga Nam University or large roundabouts also need the help of traffic lights to make traffic more stable," (Follow zingnews)
Changes of Da Lat in the eyes of the tour guide
"Da Lat has had traffic lights and changed a lot from the landscape to the people," tour guide Ngoc Thi said about the foggy city.
Usually, when the group is about to enter the center of Da Lat city, most of the guides, including Thi, will talk about the unique "Nos" of this city: no traffic lights, no police standing at the station. crossroads… But now, everything is different.
Da Lat has traffic lights for the first time
Previously, other local tourists when coming to Da Lat were surprised because this city regulates traffic based on human consciousness, not depending on the police and the light system. According to the observation of Thi and the whole delegation, people always yield to each other when traveling on the road. If you look closely, you will see that everyone moves at a steady pace, not too fast. For visitors, this is an opportunity for to slow down and enjoy the beauty of the city of thousands of flowers and love through the guide's narrative.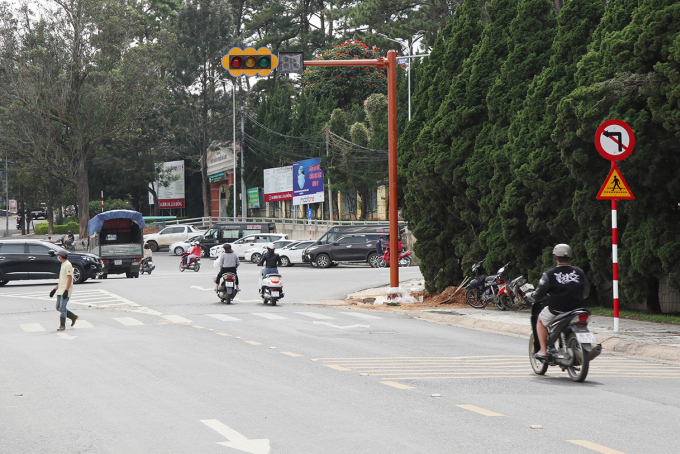 The first traffic lights were installed in the city on October 5. Photo: Khanh Huong
Personally, Thi thinks that although this "No" makes Da Lat different, at present, this city has been attracting many people from other provinces to make a living. Therefore, a part of people's good traffic sense is replaced by reckless speeding by motorbikes. The reason why there is this "No" is that the terrain is sloping. However, at present, many places in the city have been built in modern architecture with high concrete paved roads near the road surface. It seems that today's Da Lat is almost like any other city.
There is a bit of nostalgia, but when compared to Thailand, Thi said we should learn and change to adapt to reality. During her time as a tourist in Thailand from 2013 to 2018, Thi noticed that traffic police rarely appeared on the street, but would appear immediately if needed by residents or tourists. They mainly monitor with cameras and receive information from groups of motorbike taxis allocated with operating areas.
The climate is gradually changing
With Thi, from 2013 onwards, Da Lat started to heat up, no longer the typical cold when he and his girlfriend came back here to visit. As for Tuan Linh, a guide who was born in Dak Lak but chose Da Lat to study and work, said that the current air conditioning is no longer a characteristic of Da Lat because of the living needs of the people. higher. The population has increased compared to before, the needs of each person are different. Some people, the colder they are, the more they like it.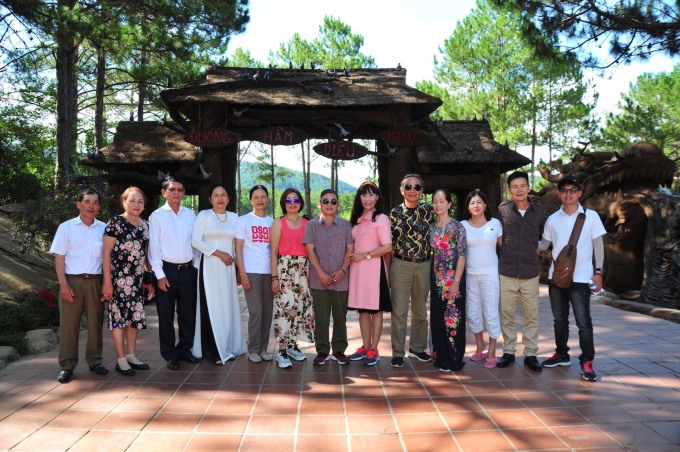 Tuan Linh (right, farthest) took a photo with the delegation visiting the Sculpture Tunnel. Photo: Tuan Linh
Da Lat is located at an altitude of 1,500 m above sea level, this is a temperate city in the middle of the tropics, so the average temperature is 15-25 degrees Celsius. People have a sense of saving and living simply. There are no skyscrapers here, only a few high-class hotels to hold large conferences and large numbers of people use air conditioning.
Because of the characteristics of 6 months in the dry season and 6 months in the rainy season, Da Lat often appears hoarfrost. Therefore, in order to improve efficiency, as well as crop productivity, Da Lat farmers had to develop a model of cages and greenhouses in order to regulate the amount of water as well as avoid frost and damage to crops. As time passed, greenhouses and greenhouses sprang up all over the hills and valleys. If you stand from above and look down, there are cages and greenhouses everywhere, not only in the suburbs but also in the city center. Therefore, the Da Lat government is having a headache trying to find a way to demolish many cage houses because they are related to forest land, but how to balance the economic benefits of the people and the development of the urban landscape.
There are many "grains" but still love Da Lat
Starting to lead the group in 2016, many times tourists complained to Linh because of the traffic jam in Da Lat at the weekend. Linh has to explain, a lot of tourists come here because they like the cool air and beautiful scenery, but when coming to Da Lat, the road is small and there are many bends, the driver is used to a hasty way of life, so he tries to squeeze through the junctions. , crossroads. So, they created something not beautiful in Da Lat.
One more thing that makes Linh lose face in front of tourists is that Da Lat is now famous for tug-of-war. And an admitted fact that more and more tourists lack awareness when picking flowers, breaking peach branches and littering, making Da Lat people sometimes no longer excited to welcome.
However, people still love Da Lat because of the sadness and sadness because the weather will be cold, foggy, sometimes drizzle or the rain is not heavy, but it keeps pouring all day. It's the perfect time for you to find the warmth by the fireplace, or the charcoal stove with grilled corn, a cup of hot soy milk, or sip a glass of wine after having a hot pot.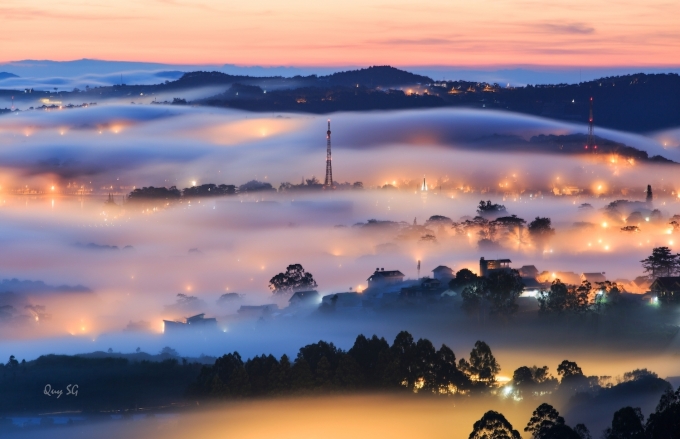 Da Lat still attracts tourists by the cool weather and the misty scenery on the pine hills. Photo: Dear Saigon
Currently, the Lien Khuong – Dau Giay expressway is being renovated. Instead of more than 6 hours, visitors can travel about 3.5 hours from Ho Chi Minh City to Da Lat. "It is very necessary to develop infrastructure in the suburbs of the city to reduce the traffic load to the center", that is what tourist people like Thi, Linh, and tourists from all over the world expect. In their minds, Da Lat is still a resort paradise, where beautiful memories are kept with French architectural works that last for more than a hundred years.
TAG: