Attending TOP 5 Moc Chau strawberry gardens, taking super pretty check-in photos
Are you planning to go to Moc Chau and want to take a really chill photo? Then the Top 5  most beautiful Moc Chau strawberry gardens below will be the perfect choice for you to unleash your creativity with super cute photos. Moreover, you still have the opportunity to enjoy the delicious taste of Moc Chau strawberries!
TOP 5 most beautiful Moc Chau strawberry gardens to live virtual

1. Moc Chau Strawberry Garden Chimi Farm
Dubbed as the largest strawberry farm in Moc Chau, Moc Chau Chimi Farm owns an extremely stable position amidst the majestic mountainous natural scenery covered by distant pine forests.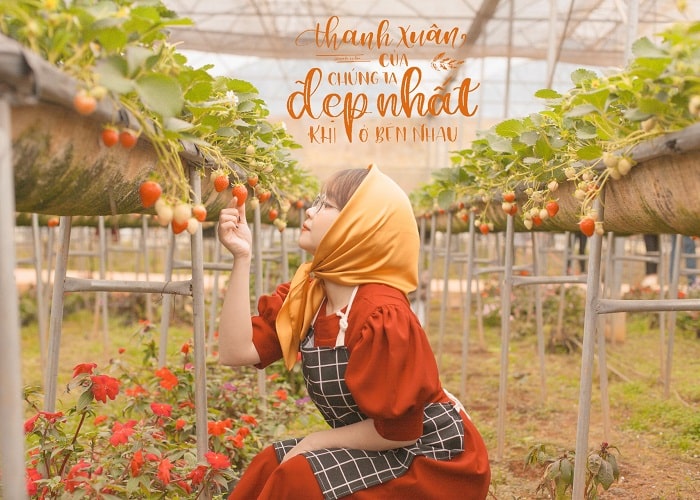 A very chill photo at Moc Chau Chimi Farm
The scenery and fresh, pleasant, cool air are really a huge plus for Moc Chau  Chimi Farm strawberry garden. Here you can not only pick strawberries yourself, enjoy the delicious taste of strawberries; You can also buy them as a gift for friends and family. You can visit comfortably and immerse yourself in the beautiful scenery of the strawberry garden among the mountains and forests. Strawberries taste best and are sweetest from early January to March. So schedule early to have a great experience here with your friends.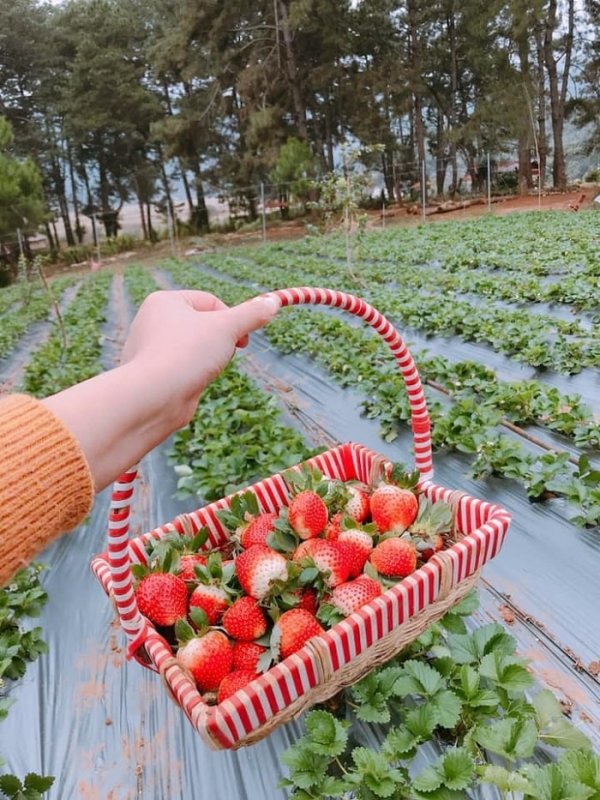 Check in with a beautiful basket of strawberries
In addition, Chimi Farm is an extremely popular spot for you to take lovely and lovely photos. You can choose from a variety of angles and pose with great ease. Simply because the scenery and background here are already very beautiful. Take a walk around the garden and find the most chilling angle with you.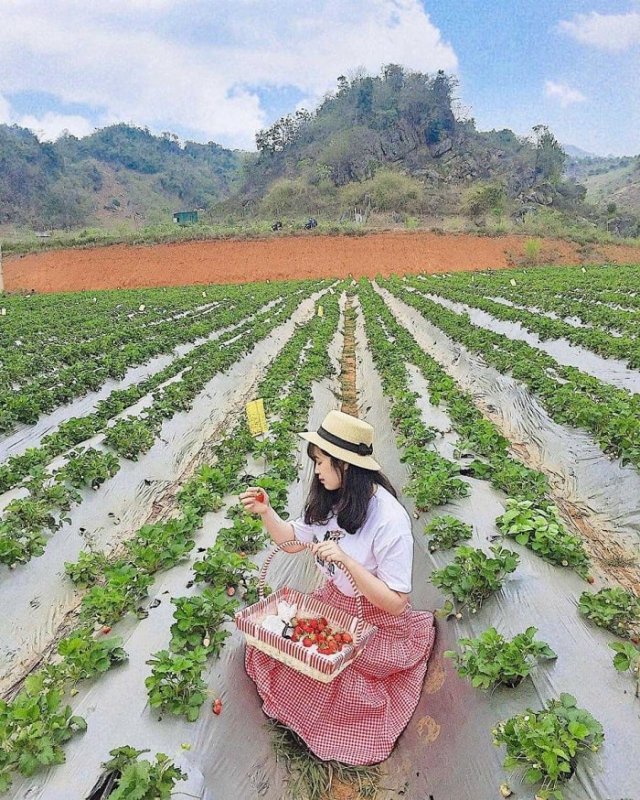 Another corner with more wild beauty of Chimi Farm
Information of Chimi Farm strawberry garden
Address:
– Facility 1: Ang village – Dong Sang, Moc Chau district
– Facility 2: Next to Heart Tea Hill, Sugar Sub-Region, Nong Truong Town, Moc Chau, Son La
– Opening hours: 08:00 – 18:00

2. Hana Farm Strawberry Garden
Moc Chau strawberry garden Hana Farm is famous for its strawberry varieties from the land of the Rising Sun, Japan. This strawberry variety, called Tochiotome, has a sweeter taste than other strawberries. If you go to Moc Chau and want to enjoy delicious and sweet strawberries, don't miss Hana Farm. The strawberry flavor here is extremely worth enjoying.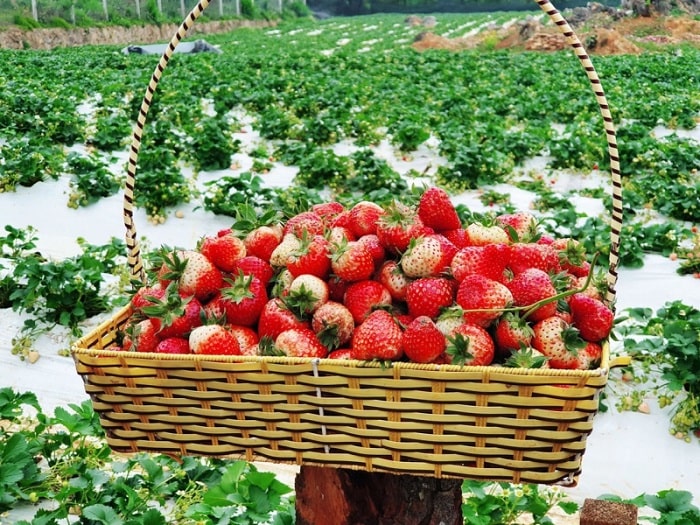 Let's eat strawberries at Hana farm's garden
Weather with high temperature and beautiful sunshine during the day; the cold and low temperature at night. This is an extremely suitable condition for strawberries at Hana Farm to achieve Japanese standards. In addition, seniority in care techniques is also a factor that makes this farm's strawberry taste the most appreciated in strawberry gardens. In addition to fresh strawberries, you can enjoy delicious strawberry yogurt and strawberry jam at a very reasonable price.
Moc Chau Hana Farm strawberry garden is also a favorite place for young people to take pictures to check-in. Especially taking pictures with a basket of ripe and bright red strawberries according to the concept of a village girl. It's always so lovely.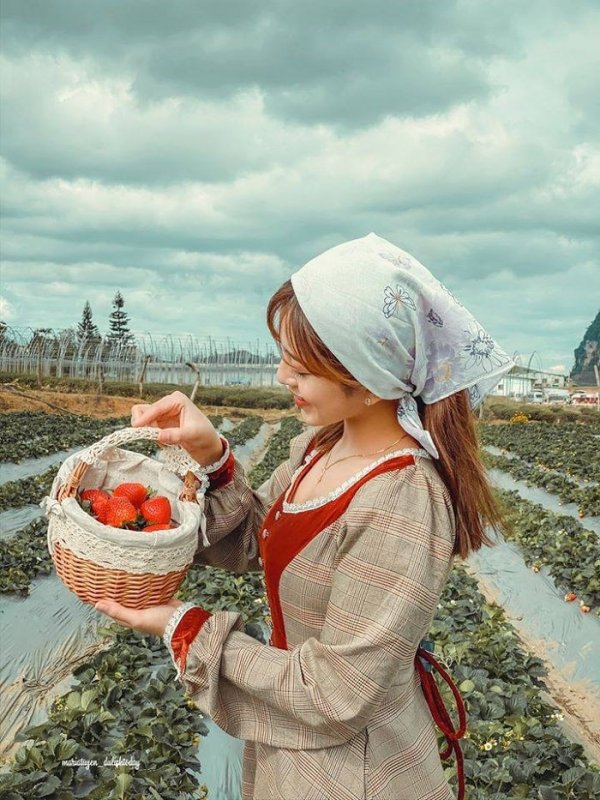 Taking pictures according to the concept of a village girl at Hana farm
Hana Farm strawberry garden contact information
– Address: Hoang Anh Farm Strawberry Cooperative, Moc Chau, Son La
– Price: 139k – 220k / 500g of strawberries.

3. Hoa Moc Chau Strawberry Garden Farm
Owned by Hoa Moc Chau cooperative, Moc Chau strawberries here are Viet Gab varieties with good quality, quite famous. Fresh and poetic scenery with beautiful natural features. The red color of the strawberry, the blue of the net combined with the flowers in the garden create many beautiful virtual living corners. In addition, at Hoa Moc Chau Farm you can also experience hand picking strawberries. And enjoy the delicious, sweet strawberry yogurt and smoothies.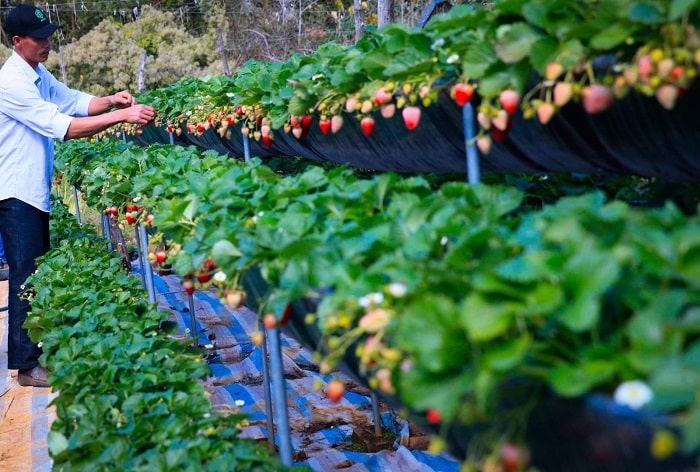 Strawberry garden of Hoa Moc Chau Farm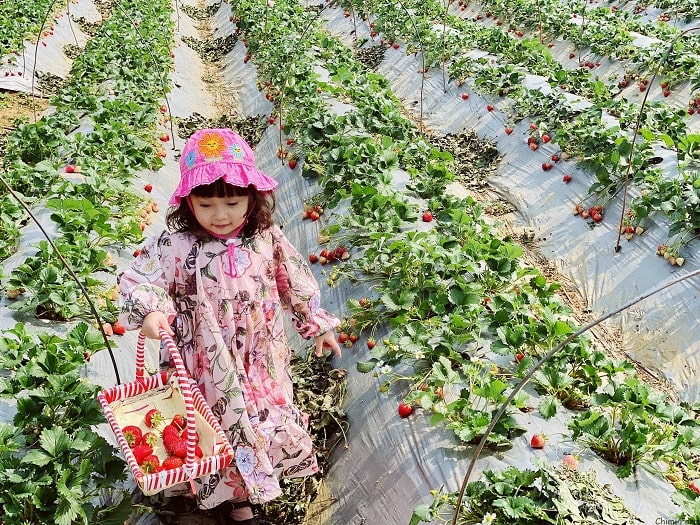 Children will have a good time experiencing strawberry picking
– Address: No. 87 Hoang Quoc Viet, Bo Bun, Moc Chau – Son La
– Phone number: 0342 874 888
– Opening hours: 08:00 – 18:00
4. Bamboo Farm Strawberry Garden
This is one of the most special strawberry gardens in Moc Chau. Because here, there is a type of strawberry called "Snow White strawberry". Sounds very strange and interesting, right? That's why you will love it from the first time you see it. Most visitors come to the garden because they want to take pictures to check in with a basket of white strawberries.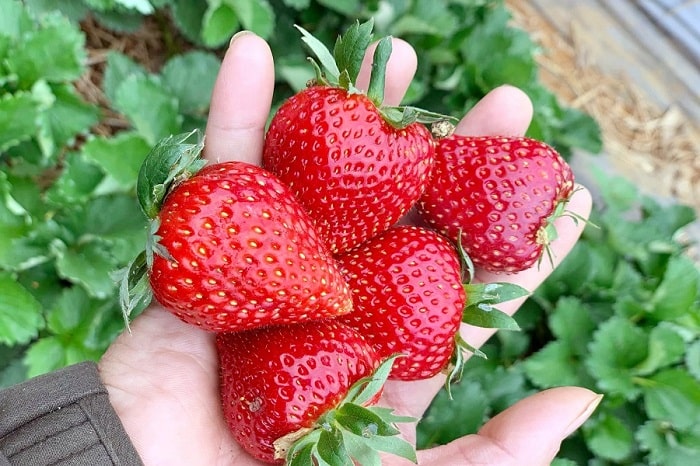 Close-up of the famous Snow White strawberry
This type of strawberry is native to South America and is close to extinction. It was not until 2010 that the Dutch and Belgians experimented with planting for export. This type of Snow White strawberry requires very high care conditions and the care technique is not simple. It has a deep red color, the fruit is large and fragrant like a pineapple. Quite different from the normal strawberry we see.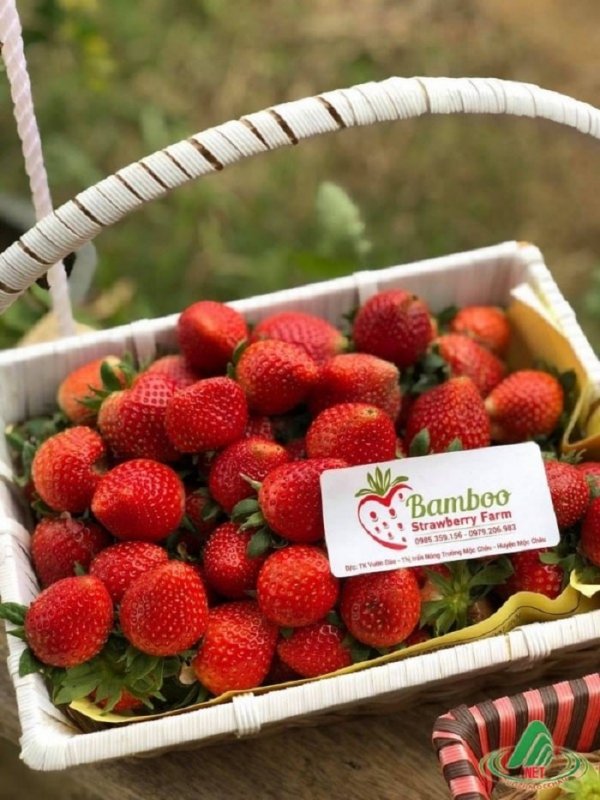 Snow White Strawberry "made in Bamboo"
– Address: Peach Garden Sub-area, Moc Chau Nong Truong Town
– Phone number: 0985.359.156 & 0342,416.888.
– Price: Red strawberry – 300,000 VND, snow-white strawberry – 600,000 to 700,000 VND

5. Papi Farm's clean strawberry garden
Papi Farm is the last name in the list of the top 5 most beautiful Moc Chau strawberry gardens that we would like to introduce to you. The highlight of Papi Farm is that Japanese and Korean strawberry varieties have been successfully bred and bred in Vietnam. That helps strawberries in Papi have large, berry fruits, super sweet inside, so they are very popular. Especially a box of 500g that only costs about 100k. Too great is not it?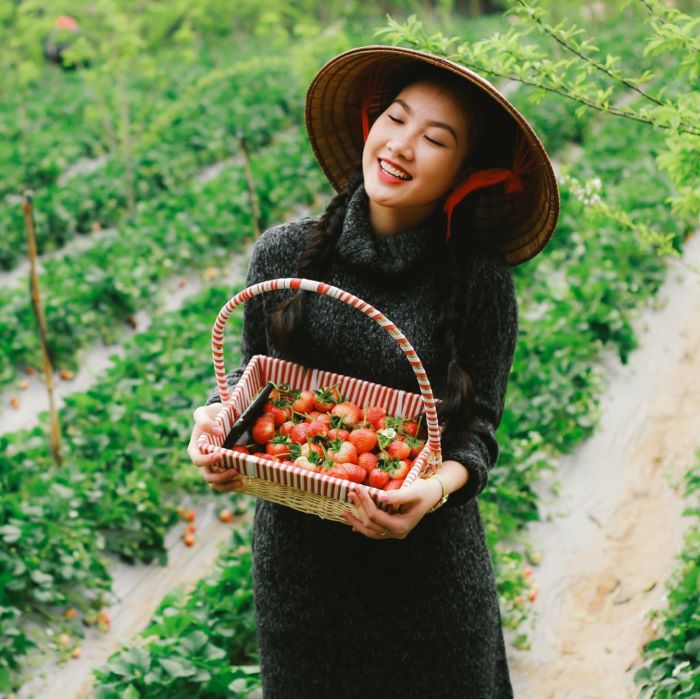 The ripe berries are round and round at Papi Farm
– Address: Hammer village, Dong Sang commune, Moc Chau
– Phone number: 0866678638
– Price: 200,000 VND/kg

The best time to take pictures of Moc Chau strawberry garden
Usually, from September onwards, people in Moc Chau begin to grow strawberries. And about 2 months later, strawberries began to bear fruit, ripening gradually. Therefore, from the beginning of January to the beginning of March is the most reasonable time for you to arrange your Moc Chau trip .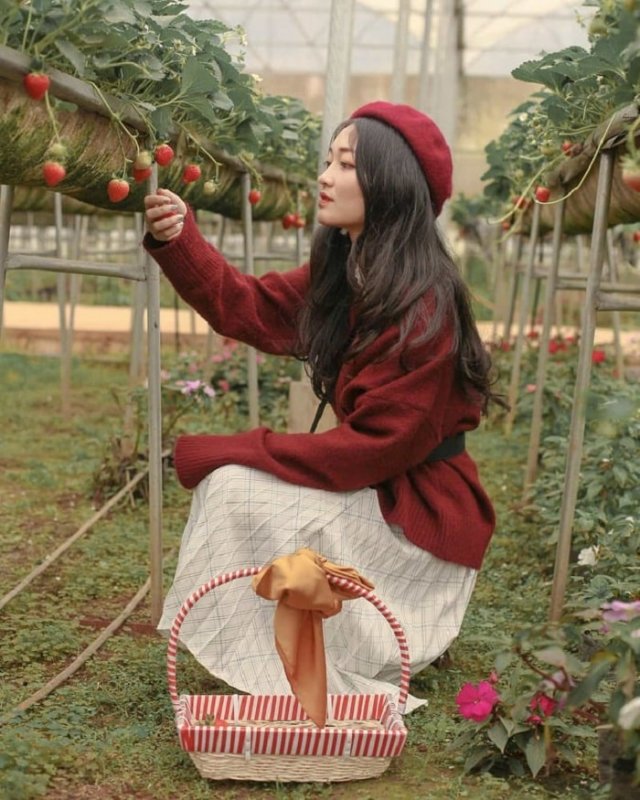 Winter gentle style photography in the strawberry garden
> See more:  The complete experience of dining in Moc Chau
The weather at this time is quite cold. So, remember to prepare warm clothes, vintage-style light skirts, towels and necessary photography tools to own a very chilled set of photos at Moc Chau strawberry garden.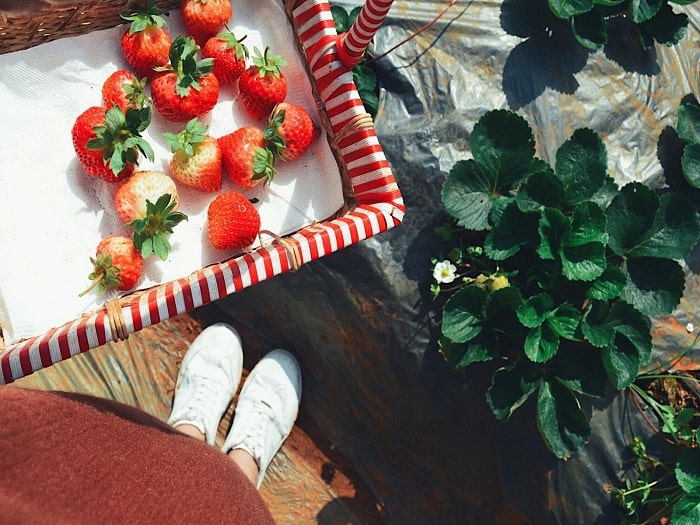 An extremely technical camera angle that you can refer to
Photo: Internet
TAG: