'Summon' 10 beautiful check-in coordinates in Mui Ne, hundreds of likes at hand
Mui Ne Fishing Village is a great place to witness local life and enjoy fresh seafood during your holiday in Mui Ne. Set at the northern end of Mui Ne Bay, this quaint village also offers a splendid view of an expansive coastline lined with swaying palm trees and colorful fishing boats moored on the water.
1. Mui Ne fishing village – beautiful check-in coordinates in peaceful Mui Ne 
Mui Ne fishing village is mentioned as one of the beautiful check-in coordinates in Mui Ne. The beach here is calm and windy all year round, an ideal location for ships to take shelter. Coming here in the early morning, visitors will have the opportunity to see the scene of busy boats of fishermen returning from a late night trip to the sea. 
Mui Ne fishing village 
Besides the basket boats, a few boats moored offshore, visitors can create countless designs so deep. In addition to beautiful check-in, you also have the opportunity to enjoy many fresh seafood dishes in Phan Thiet waters at cheap prices.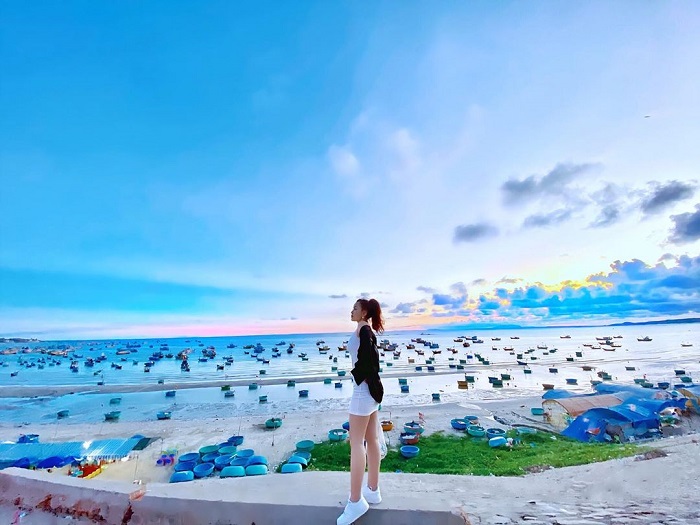 (Photo: maiquynh_)
2. Bautrang's Journey Fastfood – beautiful check-in coordinates in Mui Ne are sought after by young people 
Bautrang's Journey Fastfood is the golden car in the virtual village because everyone who comes here has some pretty pictures to bring home. This is a striking yellow truck, with a drink menu written on it with a very eye-catching price. Above the trunk, there are windows to display goods that are very funny and cute.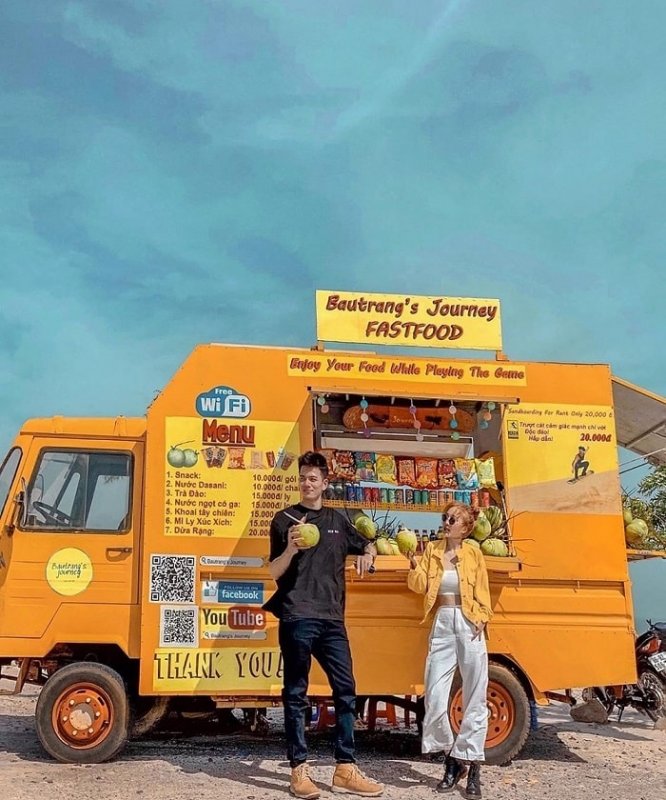 Bautrang's Journey Fastfood
It's just a small car, but it has "stormed" because the picture is so beautiful. You can stop here to drink coconuts, cans of soft drinks, candies and then freely relax. Whether shooting far, close, close-up or mid-angle, they all give super pretty pictures.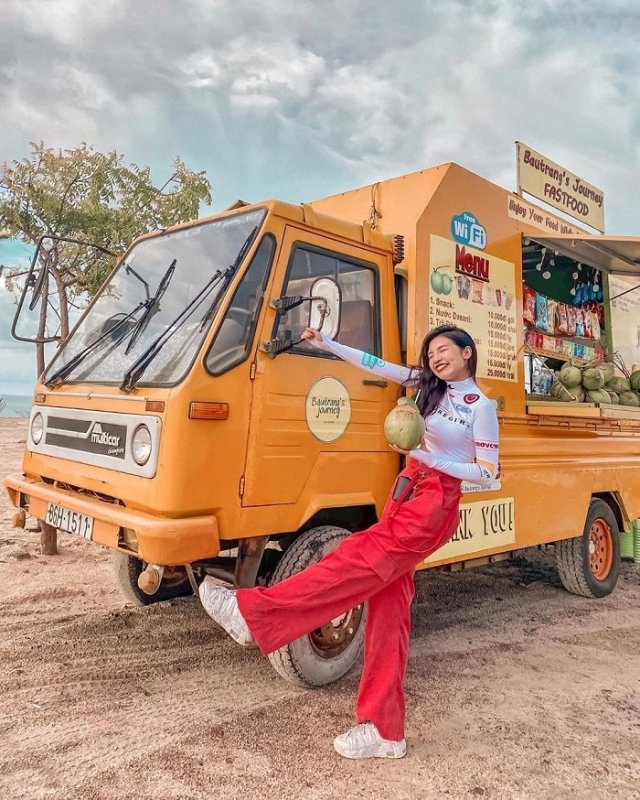 This is a hot hit virtual live car in Mui Ne 
3. Mui Ne Sand Dunes – beautiful check-in coordinates in Mui Ne are full of art 
Among the beautiful check-in coordinates in Mui Ne , the flying sandhill is one of the most artistic destinations. There is an undeniable fact that the background is made of very magical sand dunes and Mui Ne sand dunes are extremely magical living spots. Coming here at dawn or dusk, you will have the opportunity to take advantage of shooting to collect a beautiful album store. 
(Photo: suk.bea)
In particular, the sand here changes color continuously every hour. When the sun has not yet risen, the sand is tinged yellow and will turn pink at noon or late afternoon, looking very impressive.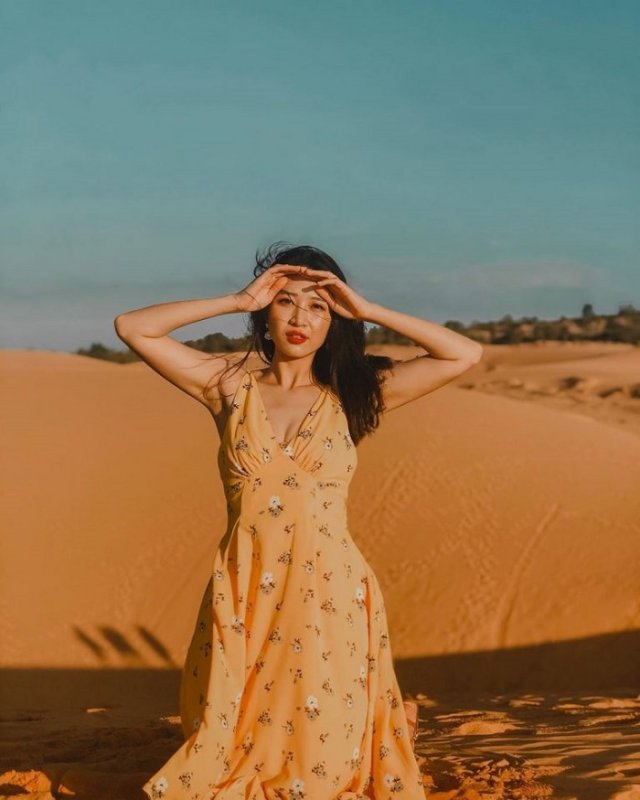 (Photo: Linhchan.709)
4. Road section DT716 – beautiful check-in coordinates in Mui Ne can't be missed 
With a length of nearly 40km, the DT716 road section is listed as one of the most beautiful coastal roads in Vietnam. DT716 passes through two freshwater lakes, Bau Trang and Bau Sen. The whole road stretches along the pristine sand, standing out against the blue sea, creating a very beautiful scene.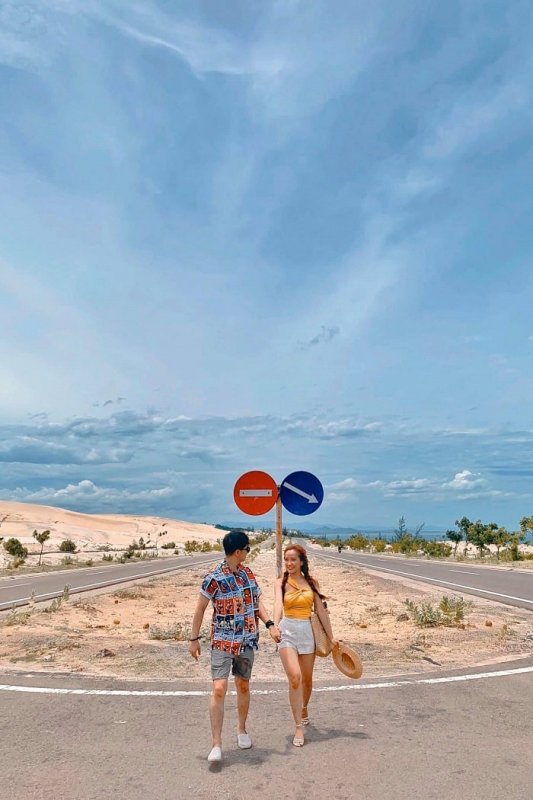 The legendary sea road in Phan Thiet 
Possessing a beautiful scene with 1-0-2, the DT716 road becomes a beautiful check-in coordinate in Mui Ne that is hunted by young people. With the background here, every time you turn on the picture, people will automatically realize that you are in Phan Thiet.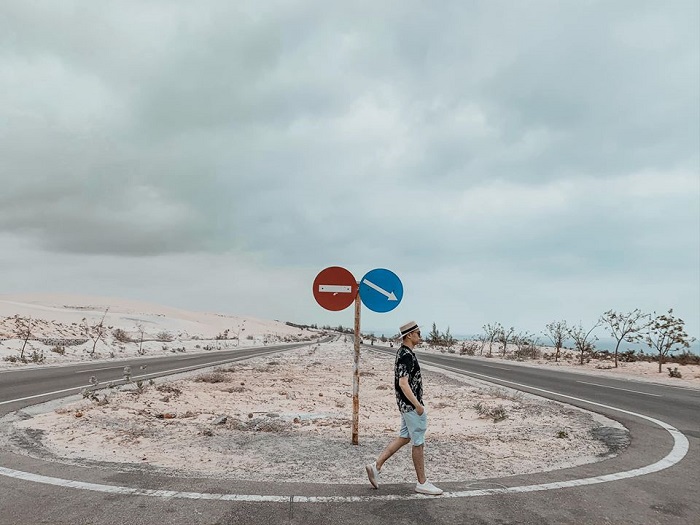 This is considered the most beautiful beach road in Vietnam
5. Fairy Stream – beautiful check-in coordinates in famous Mui Ne 
The next tourist destination in the list of beautiful check-in coordinates in Mui Ne is Fairy Stream. Although not as clear and majestic as other streams, Tien stream is impressed by its very special red-orange water. With the dominant orange – red – white color, the stream has a true fairy beauty.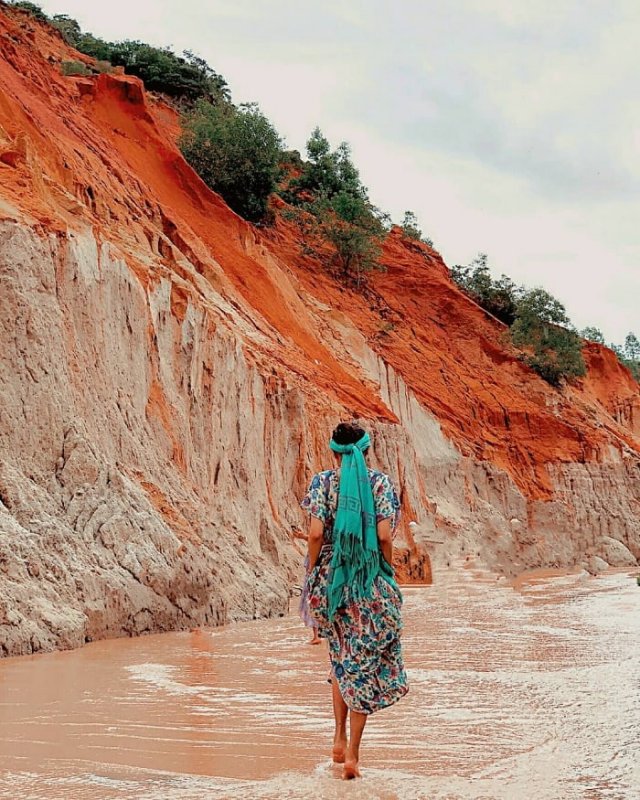 Fairy Stream Mui Ne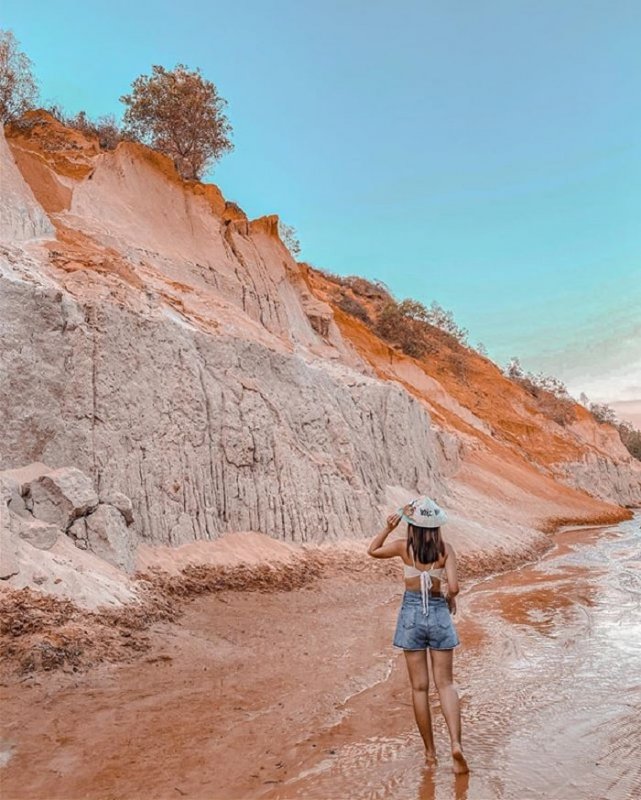 Perhaps you think you are lost in a certain corner of the Americas 
To get to Suoi Tien, you have to start at the famous Mui Ne, turn to Huynh Thuc Khang Street in Mui Ne Ward in Phan Thiet City, then ask the locals for the exact direction to the stream. To explore Suoi Tien, you have to take off your footwear and use your barefoot to wade along the ankle-knee deep water.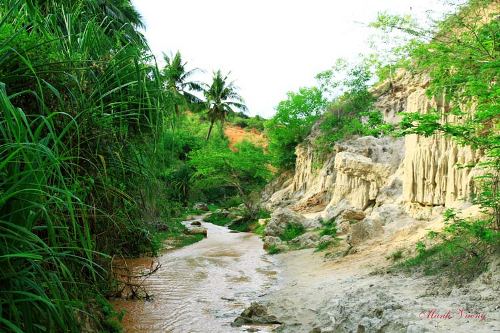 The first 300m of the stream, the scenery is the same as another normal stream in Vietnam, with coconut trees and green clumps of grass lining beside the bank. Further on, an extraordinary scene appears, surprising you with its unique beauty. The water turns orange because of the color of the sand. Wading along this orange water, you can feel the smoothness of sand and coolness of the water. Especially, on one side of the bank is amazing and outstanding rock formations. The combination of white limestone cliffs and red sand creates a superimposing and spectacular rocky wall of white and orange. Moreover, water flow has curved the limestone into multiple special and fantastic formations.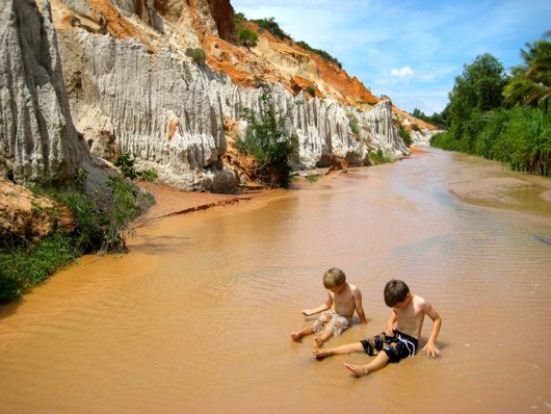 You can climb up to a sand dune to see the whole view of Suoi Tien. It will bring you an amazing view of the stream, the limestone wall on one bank and green jungle on the other. The combination of colors will make you feel like you're in a truly fairyland.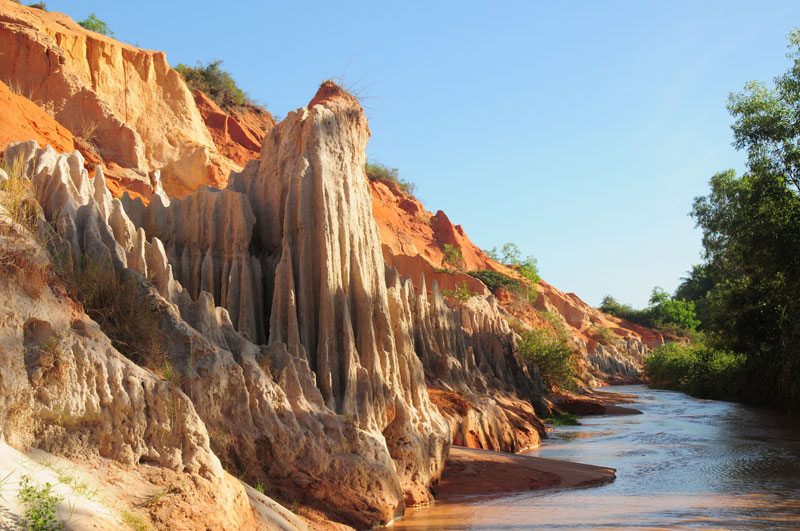 Well-known for its warm and sunny weather, Binh Thuan welcomes you all four seasons in a year. Suoi Tien attracts visitors all year round to enjoy the pure and untouched beauty of nature. Although the trip to discover the stream just takes an hour, it is that one very worthy hour in your life. After exploring the stream, you can visit a farm nearby to ride an ostrich.
6. Ong Dia rock beach – beautiful check-in coordinates in Mui Ne unique 
Ong Dia rock beach is located about 10km from Phan Thiet city, this is a very beautiful and clear beach with rocks protruding into the sea. The name of the sea is derived from an ancient anecdote that there was a rock that looked like a statue of Mr. Dia with a smiling face. The rock over time has been worn down and lost its original appearance, but the name is still attached to this place.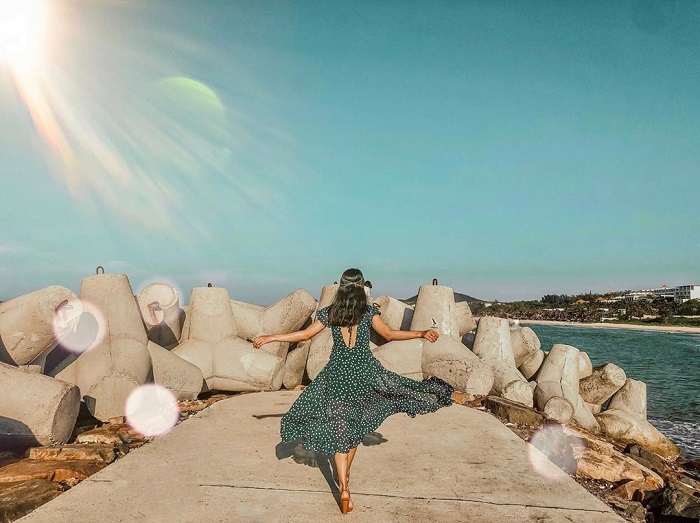 Ong Dia rock beach
Now, Ong Dia rock beach has become a prominent virtual living spot for tourists when coming to Mui Ne thanks to the stone embankments stretching on the bridge facing the sea. Just stand on the stone bridge and drop a few designs to own impressive photos thanks to the background from the ocean and the waves crashing on the shore with white foam.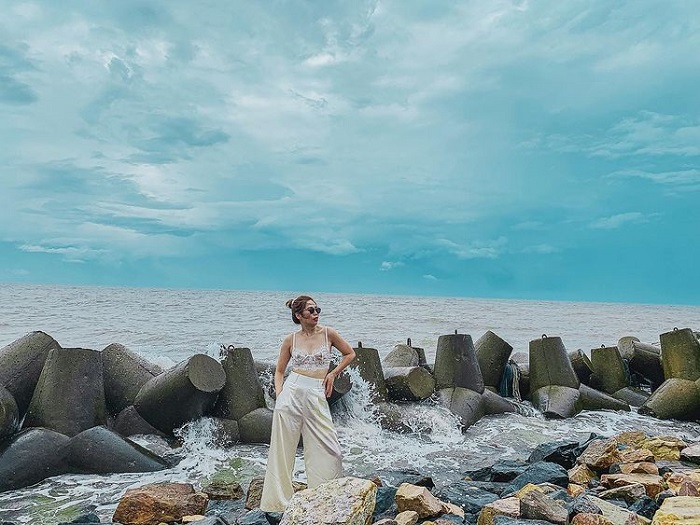 (Photo: dia-vh.chiin)
>See more: Share the most complete and new Phan Thiet travel experience
7. Hon Rom – beautiful check-in coordinates in attractive Mui Ne 
Hon Rom is a beautiful check-in coordinate in Mui Ne that is quite attractive for tourists. This place embraces the 17km long coastline, on both sides, there are soaring coconut groves stretching to the top. The scenery in Rom island will make you admire the clear blue sea color next to the small mountain.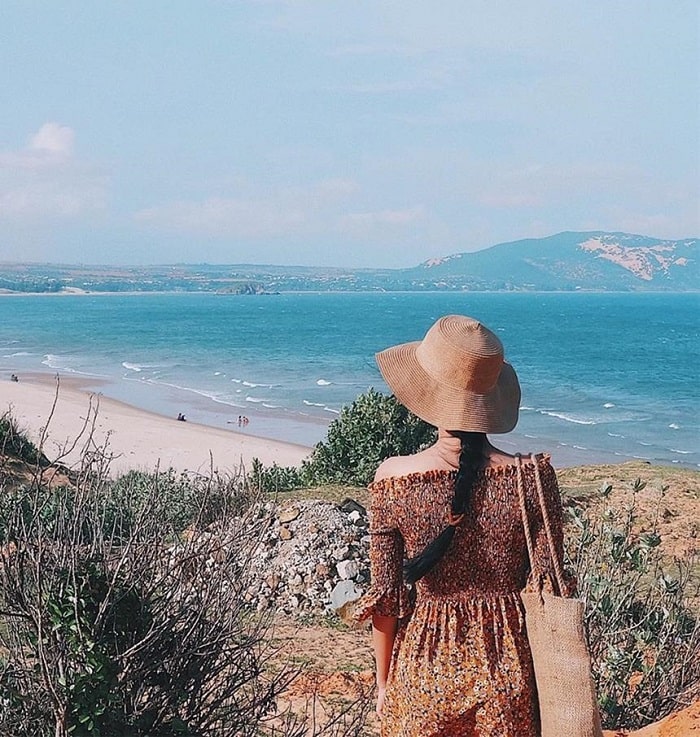 Hon Rom Mui Ne 
Hon Rom sea has calm waves day and night, no reefs, clean water. Come here, do not miss the experience of immersing yourself in the cool water. If you don't swim, you can go for a walk, have fun and live virtual!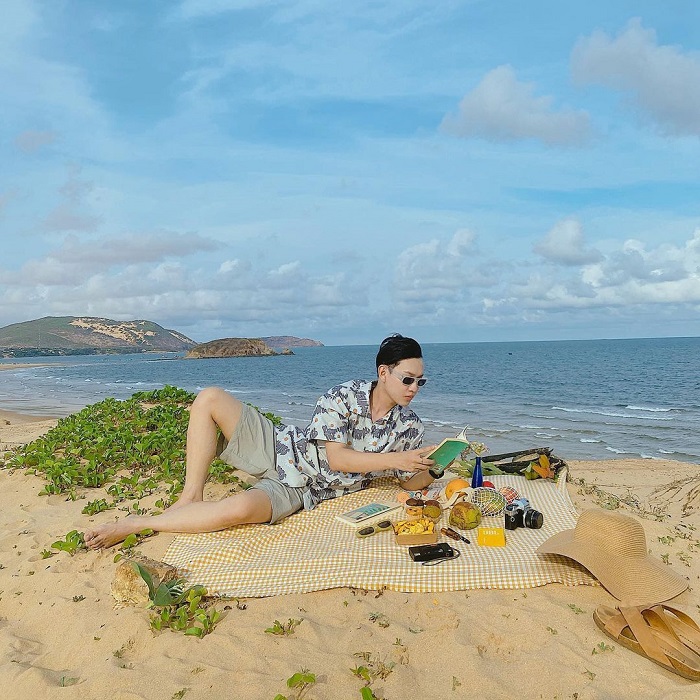 (Photo: tienphong.ng)
8. Bai Rang – beautiful check-in coordinates in Mui Ne are impressive 
Mui Ne is a tourist destination with many beautiful beaches and Rang beach is one of them. Possessing a vast golden sand beach, calm sea surface and coconut trees swaying in the wind, many people do not hesitate to say that Bai Rang is the most beautiful beach in Phan Thiet.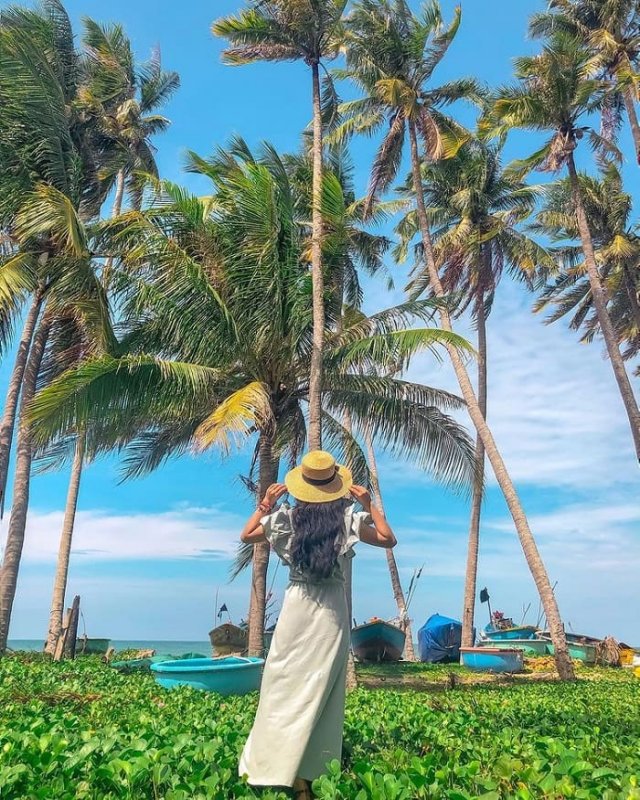 (Photo: xiuxiuiu)
Coming to Rang beach, you will have the opportunity to immerse yourself in the fresh nature, enjoy many fun activities on the sea. The most special is the feeling of walking barefoot on the sand, breathing in the fresh air. The beautiful sea view here will help you buy yourself many unique and beautiful photos.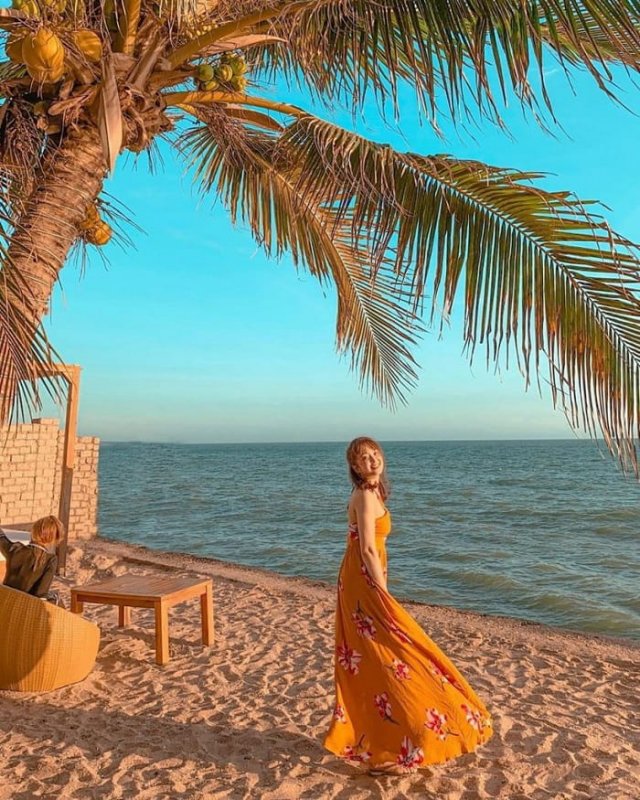 (Photo: nlanfuong)
9. Poshanu Cham Towers – beautiful check-in coordinates in ancient Mui Ne 
Poshanu Cham Tower is an outstanding ancient architecture located on Ba Na hill, only 7km from the city center. Referring to the beautiful check-in coordinates in Mui Ne, this name is definitely not to be missed.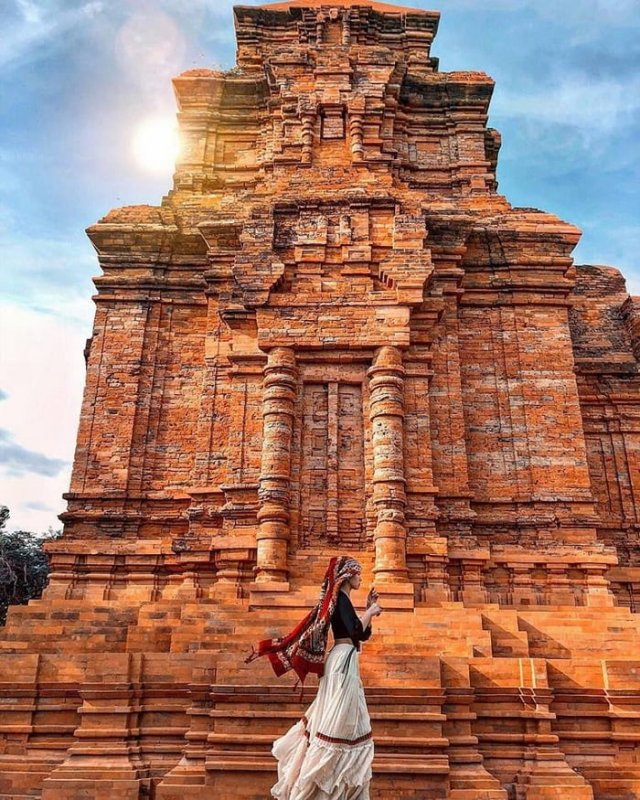 Poshanu Cham Tower
This is a relic that is considered a masterpiece of the Cham people that has been left to mankind. The tower has Hoa Lai architectural style, which is the most typical architectural style of the Champa people. With a beauty that is both mysterious and majestic, coming to Poshanu Cham Towers, visitors are spoiled for choice.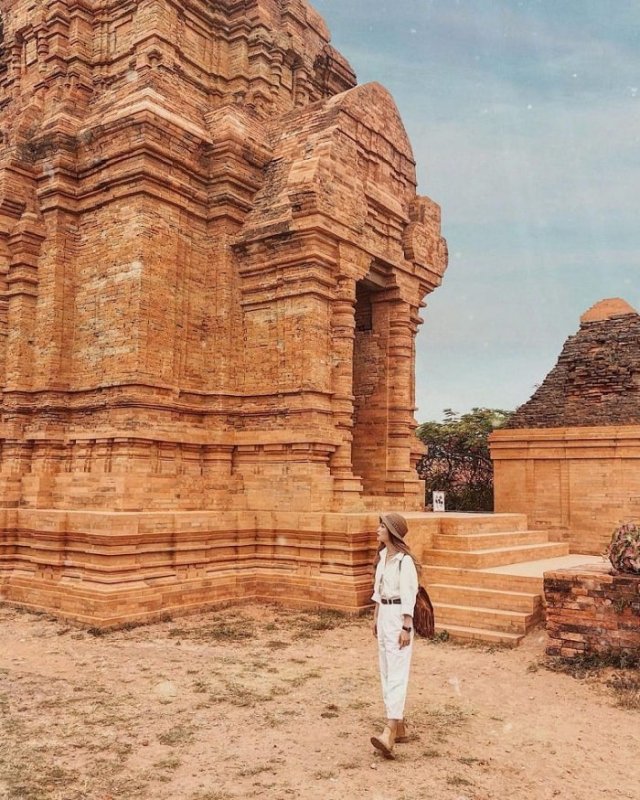 (Photo: somealt_ng)
10. Forest of acacia acacia leaves – beautiful check-in coordinates in romantic Mui Ne
In addition to the specialty of white sand, golden sunshine, and blue sea, Mui Ne also has a different color. That is the bright yellow color of the forest of Acacia leaves Melaleuca. A very prominent check-in point on the white sand background offers a very unique view of the coastal city. The beauty of that impressive yellow color made many hearts flutter, many tourists passing by had to stop and check in.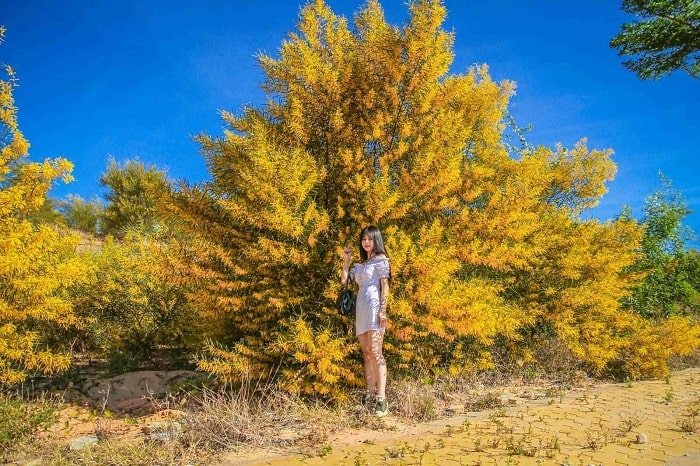 Acacia acacia in the blooming season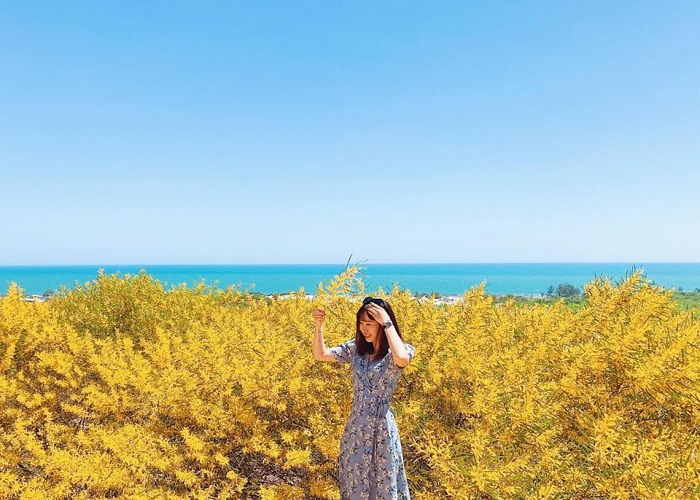 Always takes a beautiful picture!
What are you waiting for? The beautiful check-in coordinates in Mui Ne are only one flight away! Quickly pack up, book tickets, and hit the road to have the best virtual live photos and great experiences here. 
Photo: Internet
TAG: