Grilled pork vermicelli in a large bamboo tube in Da Lat
LAM DONG – Grilled pork vermicelli is in the style of the mountains and forests of the Central Highlands, with diverse ingredients, beautifully arranged in a large bamboo tube.
Mang Line noodle shop on Phu Dong Thien Vuong Street, Da Lat City is a frequent destination for tourists to enjoy the vermicelli dishes that are always hot and smoky. Here you can enjoy different types of vermicelli such as beef vermicelli, vermicelli vermicelli, vermicelli vermicelli, vermicelli vermicelli, vermicelli, braised beef… with prices ranging from 45,000 VND to 55,000 VND/piece.
Mr. Hoang opened the shop 4 years ago, named after the cultural village of Mang Line, where he lives and has a large number of K'Ho people living in Ward 7, Da Lat City. In addition to serving hot vermicelli dishes that are very suitable for the cold weather of the mountain town, Mr. Hoang's noodle shop is also noticed by diners thanks to the grilled meat vermicelli in bamboo tubes, with the indigenous style of the Central Highlands mountains.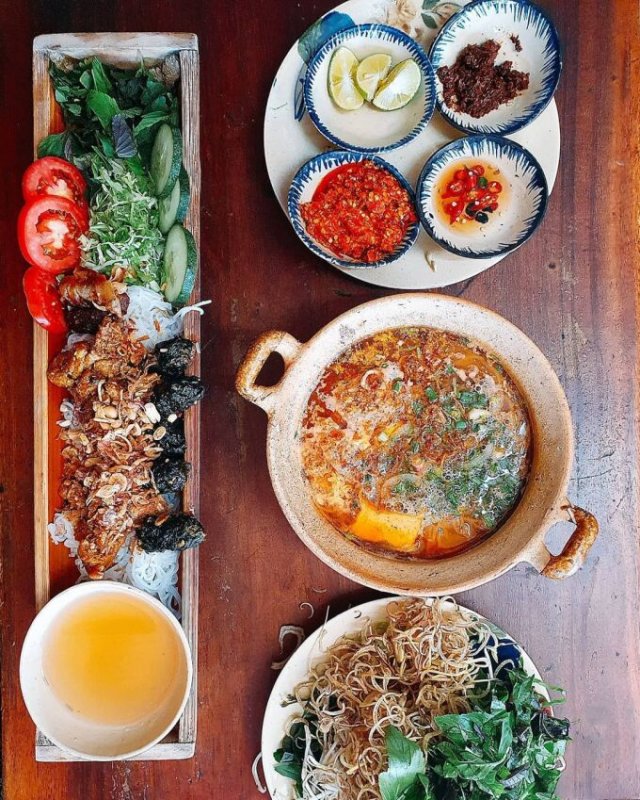 Grilled meat vermicelli enjoyed in bamboo tubes makes diners excited. Photo: @theodore287/Instagram
The noodle dish impresses with its eye-catching decoration. The shop uses a large bamboo tree to cut into long segments and then split in half, the two ends of the tube have bamboo eyes to hold the food. On the bamboo, stalks have displayed all kinds of ingredients such as fresh vermicelli, chopped raw vegetables with grilled meat, beef rolls with guise leaves, spring rolls accompanied by a cup of sweet fish sauce.
Bamboo tube vermicelli has a variety of accompanying meats, thickly sliced ​​grilled sesame pork, seasoned with spicy, spicy chili and aroma of minced lemongrass; thinly wrapped spring rolls, firm hand roll, deep-fried golden brown; Grilled beef with guise leaves is fragrant outside, the meat inside is soft, not dry. These ingredients are all cooked, when the customer calls, the owner asks the kitchen to heat it up on the pan, then arrange it in a bamboo tube, sprinkle with peanuts and fragrant fried onions on top.
The meal is appreciated by diners as being full, well-decorated, and served with raw vegetables such as cabbage, lettuce, and perilla all fresh, crispy, with tomato and cucumber slices for decoration. The fish sauce at the restaurant is diluted because the meat is well marinated. Diners can add freshly ground chili if they like spicy food.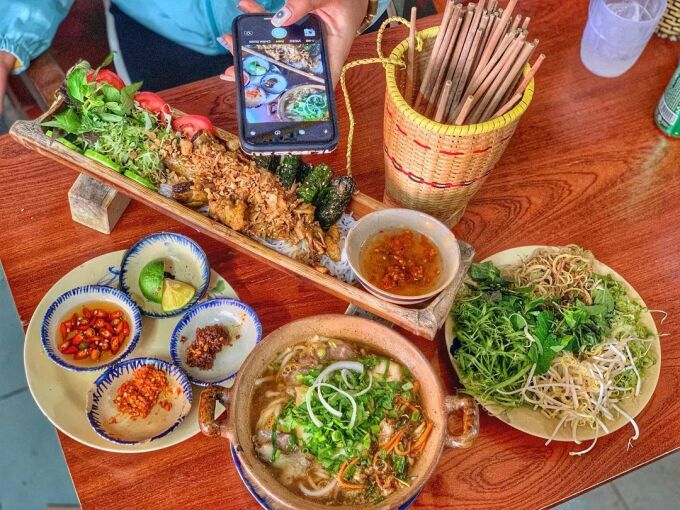 Bamboo tube vermicelli and vermicelli are served at the restaurant. Photo: @cattien.huynh/Instagram
Cat Tien (born in 1994) commented that the food at the restaurant is spicy, full of delicious vermicelli, fast service, a bit hot and sunny at noon. And Hoang Tung (born in 1996) feels that bamboo vermicelli is very tasty, but when placed in a bamboo tube, it can be difficult to pick up and enjoy as uncomfortable as eating in a bowl, plate, mixing vermicelli, meat, fish sauce and vegetables will be easier.
In addition to raw vegetables included in each meal of diners, the shop also displays more banana vegetables, water spinach, chopped cabbage for diners to serve themselves, condiments such as fresh chili, satay, fish sauce, lemon. … is presented in full. The shop sells from 6 a.m. to 6 p.m. daily, with free parking for motorbikes and cars.
TAG: