Heo Cave Nha Trang – coordinates 'photo hunting beautiful and sad
If you are looking for a coordinate that has the blue sea, trees, and cliffs, then come to Nha Trang pig cave right away! This is a virtual living address that is being moved by the association.
About Nha Trang Heo Cave 
About 16km from the center of Nha Trang to the North, Heo Cave is a natural rocky beach with thorns and roughness in Luong Son village, Vinh Luong commune. Compared to Hon Chong, which is flat, round, and easy to move, Heo Cave looks fancier, more magnificent, and mysterious.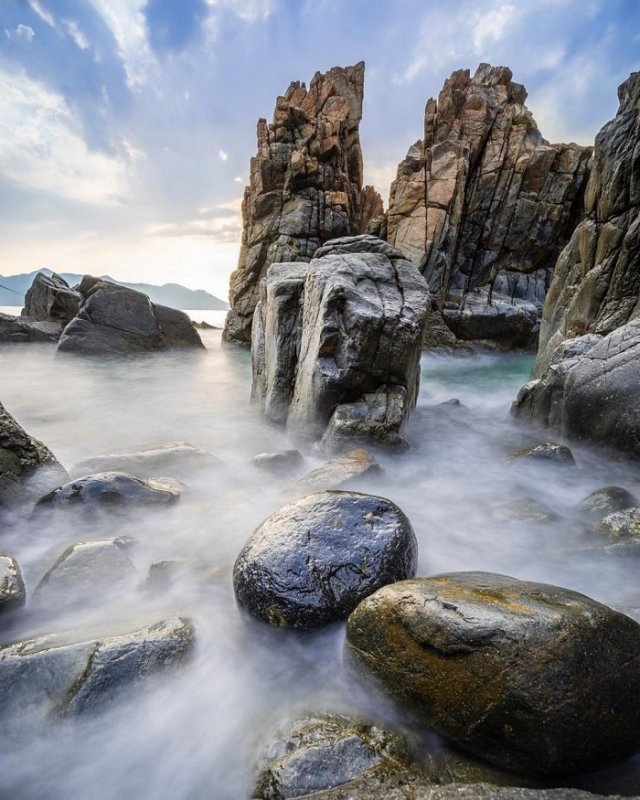 Nha Trang Pork Cave 
Running along Pham Van Dong street, as soon as you have reached the end of the last slope, before reaching Vinh Luong fishing port, you will see a roadside sugarcane juice shop. Walking about 200m more, visitors will encounter a curved rocky beach about 1km long. On the left-hand side is Luong Son beach, on the right-hand side there are large and enchanting stone blocks. Going inside the stone walls is the Nha Trang Heo Cave .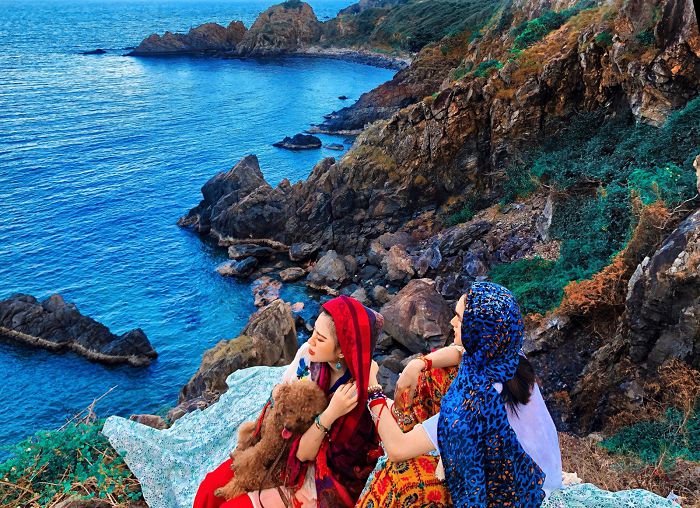 (Photo: @quocanhhua)
According to the residents here, about 15km ago, when Pham Van Dong road was not yet formed, Vinh Luong, Luong Son was just a small fishing village located close to the edge of National Highway 1A. At that time, many people called the rocky area an island, meaning an oasis, separate from the name Dong Be. That rocky beach stretches from the high mountain to the sea. Although there is a trail because it is too wild, few people go there, usually, only people go to work in the fields. The name of Nha Trang Pig Cave was born from the fact that after returning from fishing in the Luong Son area, when looking back at the shore, they saw wild boars on the mountain Co Tien came down here to sleep. It is said that because the rapids are cool and secluded places, they are very safe to live in. 
If you are looking for an absolutely peaceful space with only the sound of the waves crashing, the wind whistling through the leaves, then Heo Cave will be an extremely suitable place for visitors to relax and rest. rest, away from all the noise of the city.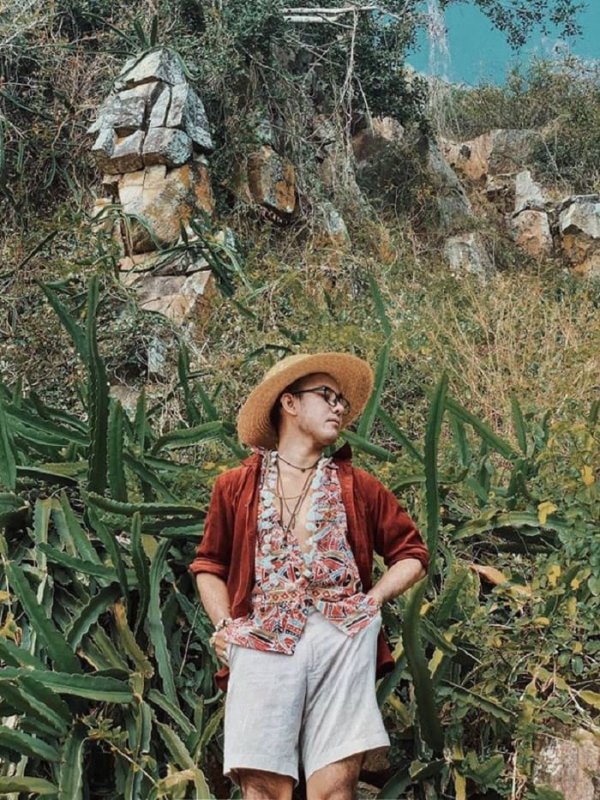 Hang Heo has a rather closed and unspoiled location. Photo: Quoc Cuong Pham
Unspoiled beauty in Nha Trang Heo cave 
The water in Nha Trang Heo Cave is extremely cool, especially in the afternoons, the beach here becomes more bustling and crowded than ever. Besides, there are rocks that are thousands of years old, no matter how many waves crashing, they are still standing proudly in front of the sea and sunshine.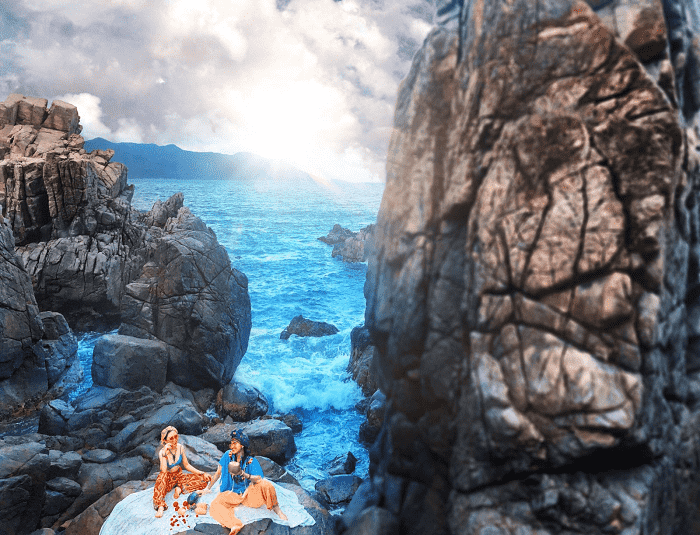 (Photo: @quocanhhua)
The first impression that this place gives visitors is the rustic, wild. Similar to Robinson's oasis, Nha Trang's Heo Cave is quite deserted with very ordinary cliffs. However, hidden deep inside are mysterious and magical things that you have not known.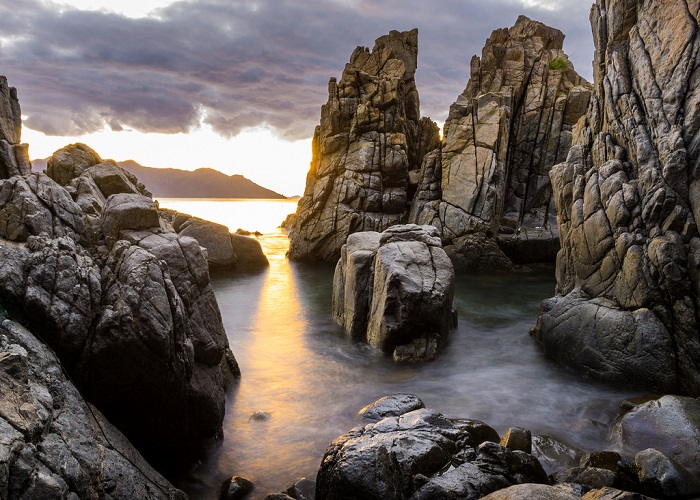 Charming and unspoiled scenery in Heo Cave
Standing from the Heo cave overlooking Nha Phu lagoon, where the sea is immense, the boats sail fishing, creating a poetic and peaceful picture of nature. When the sunset falls, the whole sea surface becomes more charming and gentle, the waves crashing on the rock walls resound with pleasant and refreshing sounds.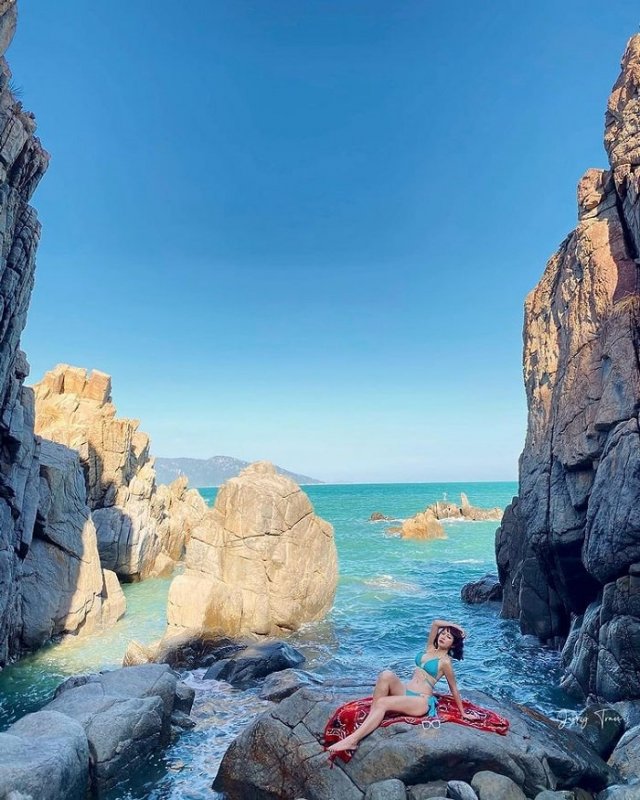 (Photo: cam.my81)
>See more: Super detailed self-sufficient Nha Trang travel experience for first-timers
Interesting experiences in Nha Trang Heo Cave
Arrived cave Pork Nha Trang, your main task is to roam the cliffs and leisurely watching nature only. Sitting and relaxing while bringing some food to fight hunger is really interesting. For those who love fishing, let go of the fishing rod and wait patiently for the finished product. Surely this is also an interesting and ideal destination for you.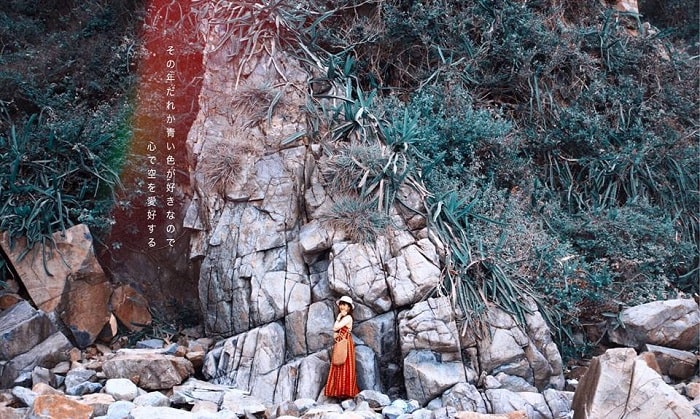 The towering cliffs in Heo cave 
Hang Heo converges the most delicate and unique beauties of nature, heaven, and earth. This is also considered the most beautiful sunrise and sunset coordinates in Nha Trang. If you are a little more excited, you can experience the service of sea surfing by jet ski or you can scuba dive to see the corals under the clear blue ocean. Indeed, there is nothing more interesting than soaking your whole body underwater, exploring the colorful world under the blue ocean, reaching out to touch strange creatures will surely be unforgettable moments.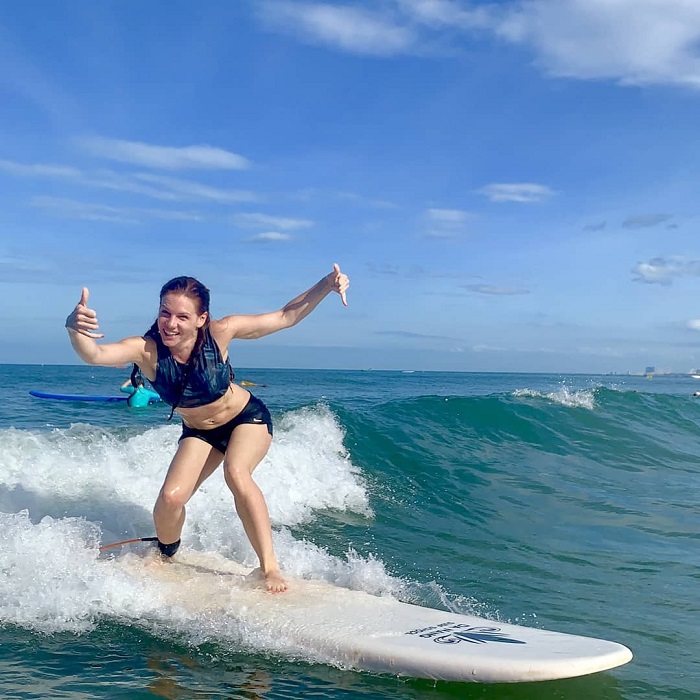 Surfing experience 
Crossing the small road leading to the fishing village, you will have the opportunity to participate, experience the daily life of the people here and enjoy attractive dishes such as fish noodles, Banh Chung, Banh Xeo. These dishes are simple, but have a strong hometown flavor, delicious and the price is quite cheap.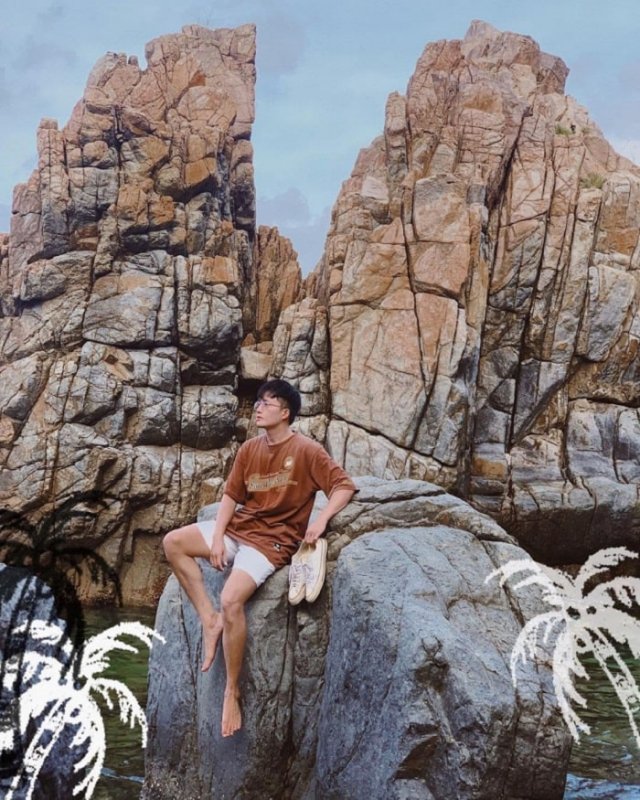 (Photo: @manhtienkhoi_)
Live virtual 'chill' at the Heo cave 
Due to possessing the most unique rocky terrain, Nha Trang Heo Cave always attracts a lot of tourists to live a virtual life with a wonderful background from nature. At the coordinates of this beautiful and melancholy rocky beach, you can comfortably "hunt" the view of the airy blue sky, the immense sea, which looks extremely airy and lyrical, making your photos more poetic and romantic. ever. Besides, don't forget to walk around here to find more "chill" photo angles!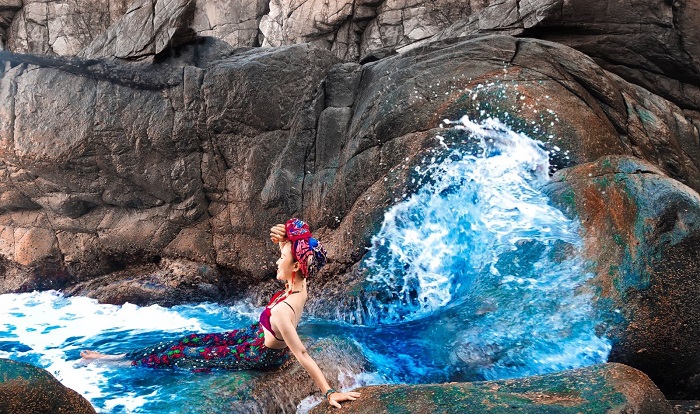 A beautiful angle, isn't it?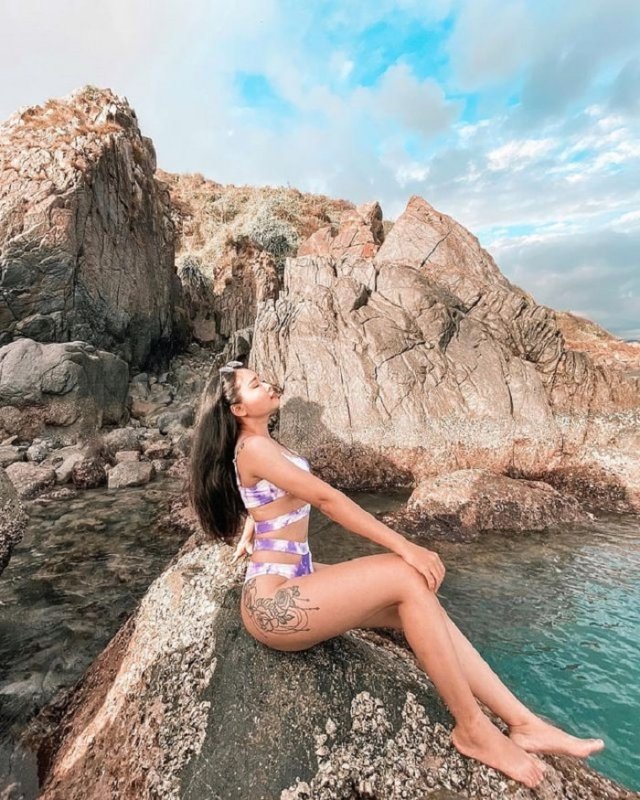 (Photo: _carroll.141)
Note when coming to Nha Trang Heo Cave 
Due to the high cliff topography, Heo Cave will be an unsuitable place for children or the elderly. 
This will be the right place for visitors to experience many wonderful things such as virtual living or camping on the sea. 
Because the environment in Heo cave is quite wild, clean and beautiful, after having fun, please clean up the garbage. 
Don't forget to apply sunscreen before leaving and remember to reapply after 2 hours!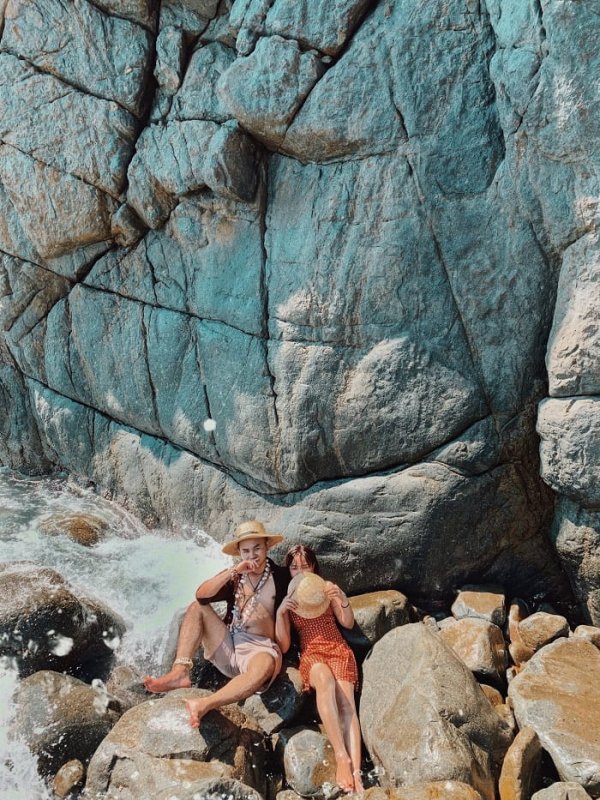 Photo: Quoc Cuong Pham
Standing on the craggy rocks where Nha Trang's Heo Cave admires the mountains and the vast ocean. Ears listening to the sound of waves crashing against the rocky shore, we feel life is so leisurely and peaceful. Those wonderful things are given by nature, why don't we come once. Stay away from your beloved room, run away from work to discover new things. If you have the opportunity, do not miss this interesting tourist destination in Nha Trang !
Photo: Internet
TAG: