Ca Na fruit in floating season
AN GIANG – Ca Na tree is laden with branches in the harvest, the fruit is crushed and mixed with salt, chili or sugar as a snack.
The floating season in the West not only brings an abundant source of fish and shrimp but also the harvest of many fruit trees, including Ca Na. Young Nguyen Tan Dat (1997) from An Giang has a passion for travel, likes to do charity work and social work. During the time of isolation because of Covid-19, Dat "hid in the garden" in An Quoi hamlet, Hoa Binh commune, Cho Moi district, taking care of fruit trees and most interestingly, harvesting. Dat shared, Ca Na sounds familiar but strange, familiar because many people have eaten this fruit, strange because not everyone can see the Ca Na tree with their own eyes.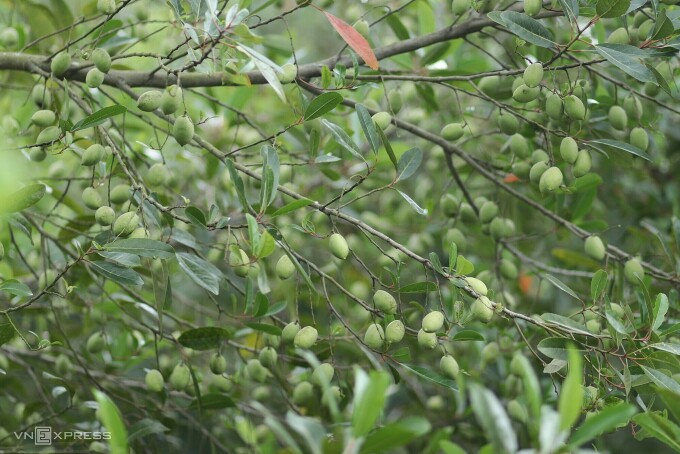 In the past, this canna tree grew wild along dikes, ditches, and canals. But now this hometown gift is popular with young people, love snacks, so people grow more. In September-October of previous years, when Covid-19 did not appear, visitors to the western provinces such as An Giang, Dong Thap, Ben Tre, Hau Giang, or Soc Trang saw canna be sold everywhere, from shops to restaurants. markets to street vendors.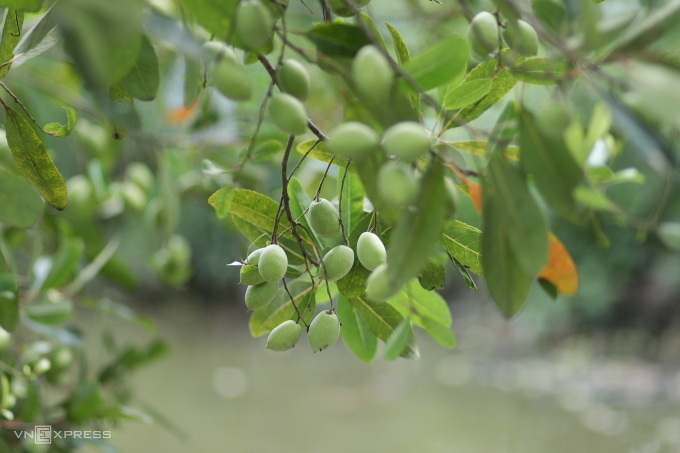 Canna tree belongs to the family of white fillings, 10-25 m tall, woody, branched branches, white flowers around March-April. The tree grows well and faces the river, more fruit on this side than in the bank. The fruit is round, 3-4 cm long, dark green when old, acrid taste, pale yellow when ripe, sour taste. Canna trees are often planted to protect the land during the flood season, in addition, they also grow fruit to earn extra income. Cannabis is easy to grow, doesn't take much care, sometimes just put the branches that have been extracted, put a little fertilizer, they still grow well. Dat said that the garden has about 50 Ca Na roots, planted about 3 years, then fruit.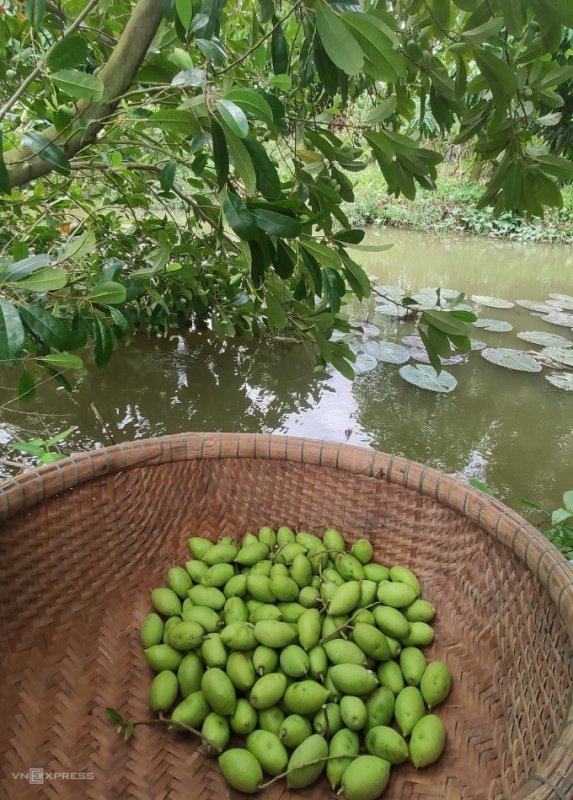 "The canna tree is associated with childhood memories. The season of ripe fruit coincides with the opening season of the new school year. I remember when I was a child, when I took a break in the middle of school, I ran out to buy sugar cane sticks, delicious. delicious," Dat said. In addition, the tree is also a close friend of farmers, a shade for them to temporarily rest, eat while working in the field, and also a shelter when it rains.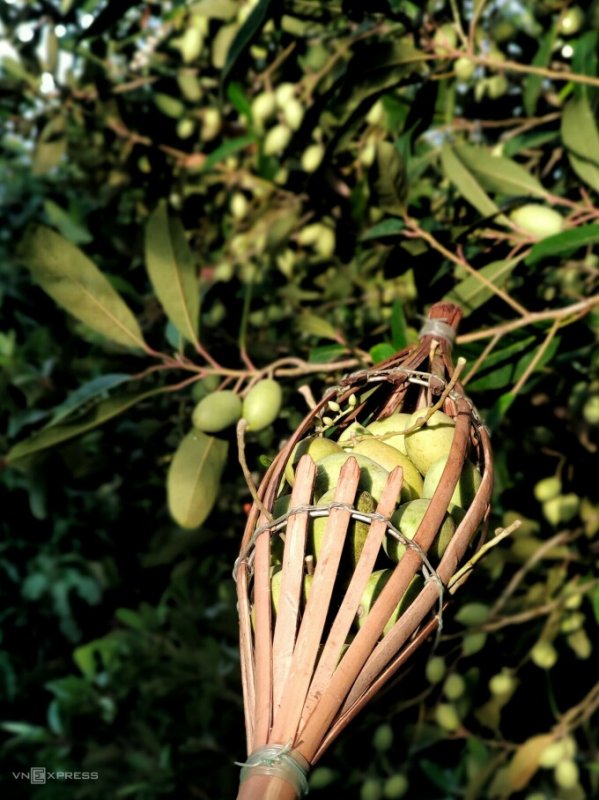 In the harvest season, CA Na picking is also a hobby, the "right lesson" is rowing along the river to pick it, there are many other ways to pick it, such as climbing a tree, climbing a bamboo ladder onto a tree, using a bamboo pole with a sectional design. hollow at the top of the pole to store fruit or use a bamboo pole with an iron hook attached to the branch to vibrate. Below are children using hats to catch fruit, old fruits will fall like rain, you have to be quick to grab them.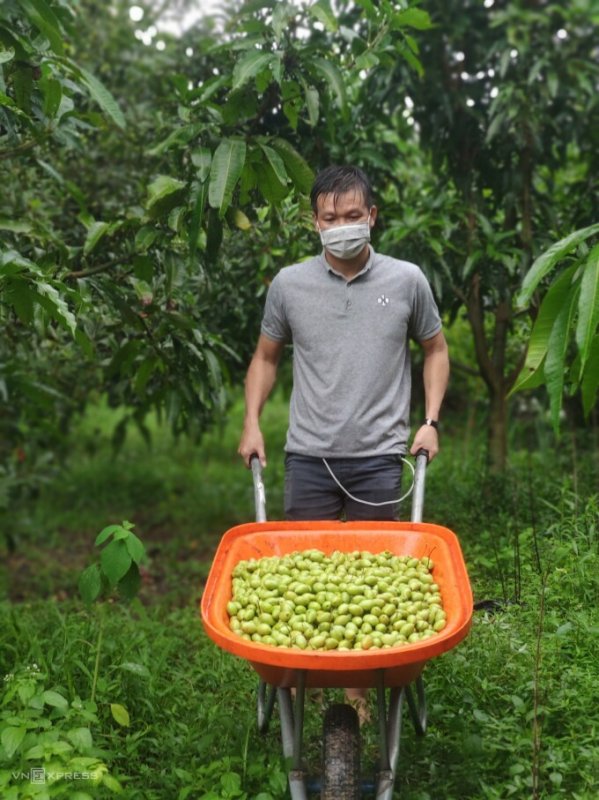 Mr. Tran Van Ngot helps Dat's family to harvest Ca Na. "Fruits eaten on the spot with salt and pepper are great and most delicious when it's cold in the afternoon and afternoon. When eating fruit, it has all the flavors of spicy, sour, salty, bitter, and sweet like the taste of life," Dat said. . This year, the family achieved the canna tree season, harvested about 100 kg, sold 15,000 – 20,000 VND/kg, mainly removed termites at Long Xuyen market.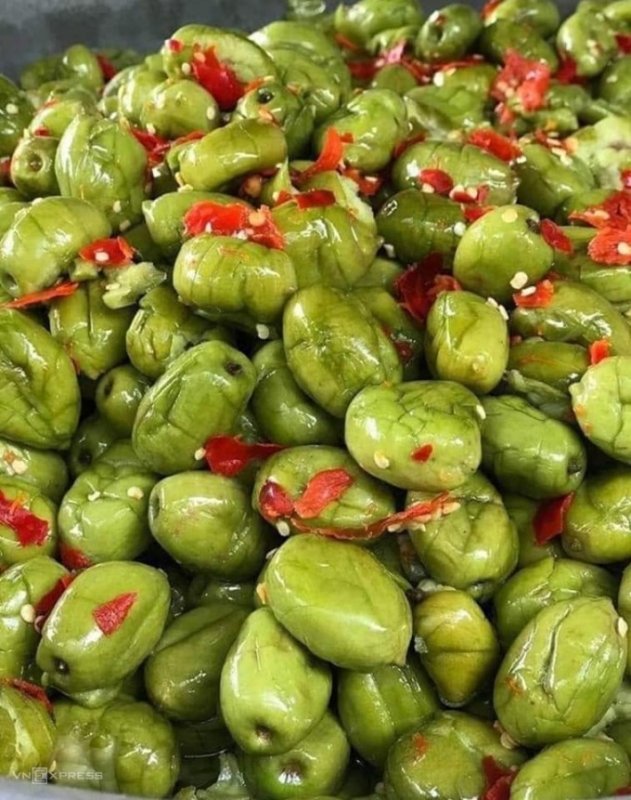 As an idyllic and rustic gift given by nature and used by people in the West as a variety of snacks, Ca Na is mentioned in the folk song: "Where is the countryside / Visiting grandchildren for the king coffee". Usually, the fruit is crushed and mixed with salt, pepper, sugar, or jam. For those who like to eat sour, pounding and mixing salt and pepper is "all the way". The fruit is washed, drained, then cut off the stem, slit along a few lines on the body, smashed, soaked in saltwater to reduce the acidity, then removed to measure 1 kg of fruit, then add 300 grams of sugar, add a little salt, mix well, let it sit for a few hours. can eat. The secret when making Ca Na dam is adding a bit of delicious fish sauce when mixing, which will balance the sweetness and richer.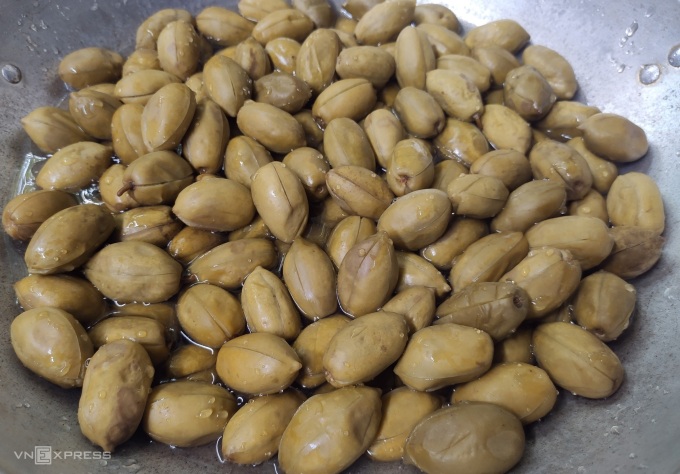 For sweet and sugary coffee, choose the best, largest fruit. Preliminarily processed as a dish with salt and pepper, the only difference is mixing granulated sugar with water, putting it on a low heat to avoid burning, the fruit will slowly infuse, forming a paste, so that it can be eaten for a longer time. Follow vnexpress
Photo: Nguyen Tan Dat
TAG: