Com (nuggets)- a dish that comes to mind every autumn
HANOI – Not just elegant snacks, cereal also suitable for gifts, gift nuggets as well as sharing the autumn – the season causing missed.
Hanoi is in the autumn, the weather is cool, it is also the time when there are many delicious dishes that the capital is always proud of, including nuggets. "Com (nuggets) is sold all year round now, but it's only in autumn that people often think about it, so it's selling very well around this time," said Ms. Thanh, a rice-maker in Vong village. quickly pack nuggets to sell to customers.
The autumn nuggets crop lasts about 3 months, starting from the beginning of the 7th lunar month. At that time, the weather began to change to autumn, the air was mild, not hot like summer, not too cold like winter, so it is suitable to eat a delicious dish like nuggets. Com (nuggets) is a dish with pleasant color and scent. It is the cool green color of young rice leaf juice dyed for the nuggets and the faint scent of lotus leaves wrapped outside, the fleshy scent of meticulously milled and pounded rice grains. Fresh and delicious nuggets must have the green color of the old plating mixed with golden light, not too green.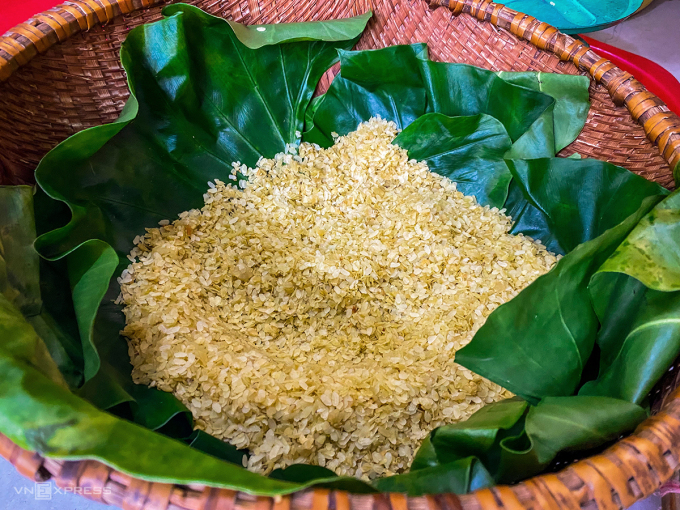 Com is sold for 230,000-350,000 VND/kg in Vong village. Photo: Trung Nghia
Normally, nuggets are usually picked up in pieces to eat, or rolled into small handfuls. Enjoying nuggets must be slow and peaceful because no one eats nuggets to be full. Hanoians often eat green rice with bananas to feel the nutty flavor mixed with the sweet, sticky taste of the nuggets. Com is usually eaten directly in the package peeled from the lotus leaf, not poured into the dishes. When the nuggets show signs of starting to dry out and harden, we can process the nuggets into many other dishes such as with eggs, with meat or stir-fry the nuggets with sugar.
This fall, due to the impact of the pandemic, the nuggets crop seems gloomier than in previous years. However, in Vong village, which is the most famous place in Hanoi for the production and making of nuggets, the sound of pounding the pestle is still bustling, making the autumn atmosphere of the capital still carry its characteristics. Currently, only about a dozen households in the village still keep the job of making nuggets. "Last year in the fall, there was a peak selling 80 kg/day, but this year has not been able to reach this number. Due to the epidemic, the rice crop has been affected quite a lot. For example, every year guests stay in the restaurant. The South places a lot of orders, this year it is more difficult," said Ms. Thanh, the owner of a large com shop at the village gate.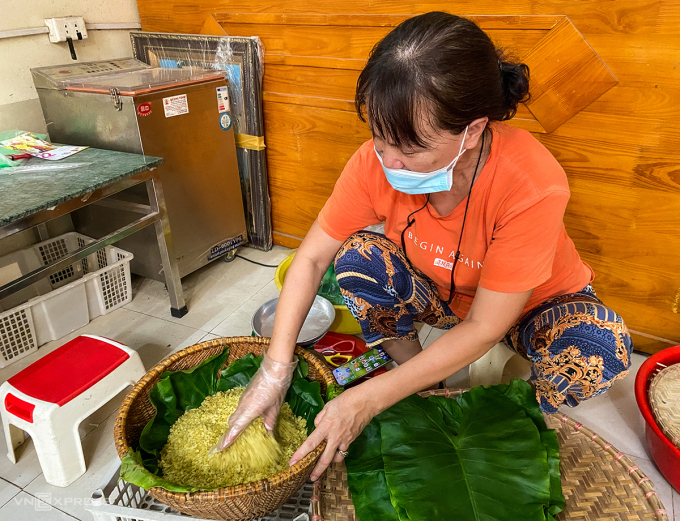 Thanh shared, the epidemic made the profession of making nuggets a little difficult. For example, ingredients like lotus leaves are harder to find and more expensive. Photo: Trung Nghia
When Ms. Thanh opened the upper layer of lotus leaves to get the nuggets, the gentle scent spread everywhere, flattering the noses of customers who were waiting to enjoy the gift of autumn. Not only is it an elegant snack, but nuggets are also suitable for gifts. Giving nuggets is like how we share autumn together – the season of nostalgia, the season of immortal songs about Hanoi…
TAG: