Fried chicken wings with fish sauce crispy skin, absorbent meat
The dish is attractive thanks to the fragrant salty taste mixed with minced garlic that clings to the chicken wings, rich and delicious.
When you are bored with fish, meat…, you can change the wind with fried chicken wings with fish sauce. This is one of the dishes that contribute to your home's meals being delicious with attractive flavors.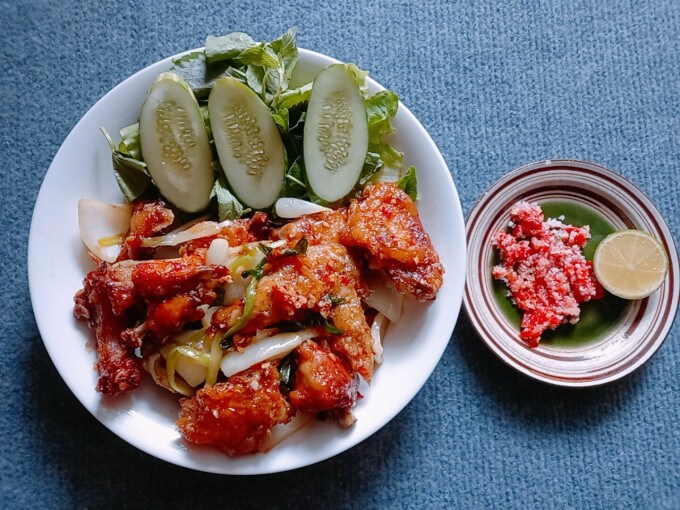 Fried chicken wings with fish sauce have the salty taste of the fish sauce, the sweetness of sugar mixed with the aroma of fried chicken and garlic, stimulating the taste buds.
Ingredients: (2 people eat)
– 6 chicken wings.
– Garlic: 4 bulbs.
– Ginger: 1 bulb.
– Fresh chili: 2 fruits.
– White wine, seeds.
– Spices: fish sauce, monosodium glutamate, pepper, cooking oil.
– Lemon, onion, cucumber, little herbs.
Making:
Preprocessing:
– Garlic peeled, crushed. Peel and finely chop the ginger.
– Onions cut into areca slices.
– Cucumber, washed and sliced; raw vegetables washed.
– Wash the chicken with white wine and salt to remove odors. Then rinse and dry.
– Chop the chicken wings into 2 pieces or leave them whole, depending on your preference.
– Marinate the chicken wings with 1-2 tablespoons of fish sauce, half a teaspoon of MSG, half a teaspoon of pepper, 1 tablespoon of cooking oil and ginger for about 20-25 minutes.
Perform:
– Put the pan on the stove, add cooking oil, wait for the oil to boil, then fry each piece of chicken wings until the chicken is crispy and has a beautiful golden color. Remove the chicken and drain the oil.
– Put garlic in a pan and fry 1 tablespoon of fish sauce, 1 tablespoon of sugar, and fry until fragrant. Then, put the fried chicken wings back into the pan. Add the onion and stir quickly over high heat. Prepare to turn off the fire when everything is done.
– Put the chicken wings on a plate and garnish with lettuce, a few slices of cucumber. You can add lemon chili salt to dip with chicken wings if you like.
TAG: