The beautiful beaches in Hue, the scenery is enchanting, just want to go right away
Hue not only has temples and mausoleums, but this country also has beautiful beaches with beautiful scenery. There is nothing more wonderful than being immersed in the blue sea, white sand, and sunshine and freely posing to bring back beautiful and melancholy check-in photos. 
If traveling to Hue, you miss the beautiful beaches of this ancient capital, it will be a pity. Hue owns many beautiful beaches, some of which have become very famous for their unmatched poetic beauty. The beautiful beaches in Hue almost still retain their pristine appearance because they are less affected and over-exploited by tourism. Therefore, if you want to enjoy the beautiful scenery typical of the beaches in the Central region, besides Hue and Quang Ngai, you should not miss the dreamy land of Hue.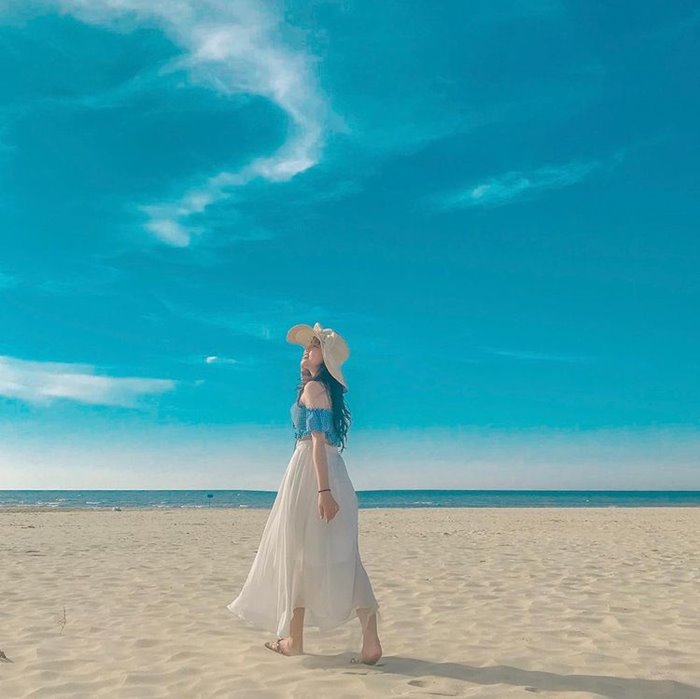 Hue owns many beautiful beaches that make tourists fall in love. Photo:@uyn_miraitowa

Beautiful beaches in Hue attract travelers' hearts 

1. Canh Duong Beach 
This is one of the beautiful beaches in Hue that is very popular with the traveling community, especially young people. This beach is located in Loc Vinh commune, Phu Loc district, 70km south of Hue city center. From the city center, you follow Highway 1A to Loc Tien commune, turn left, and go another 8km to near Chan May port to be able to check-in this paradise beach.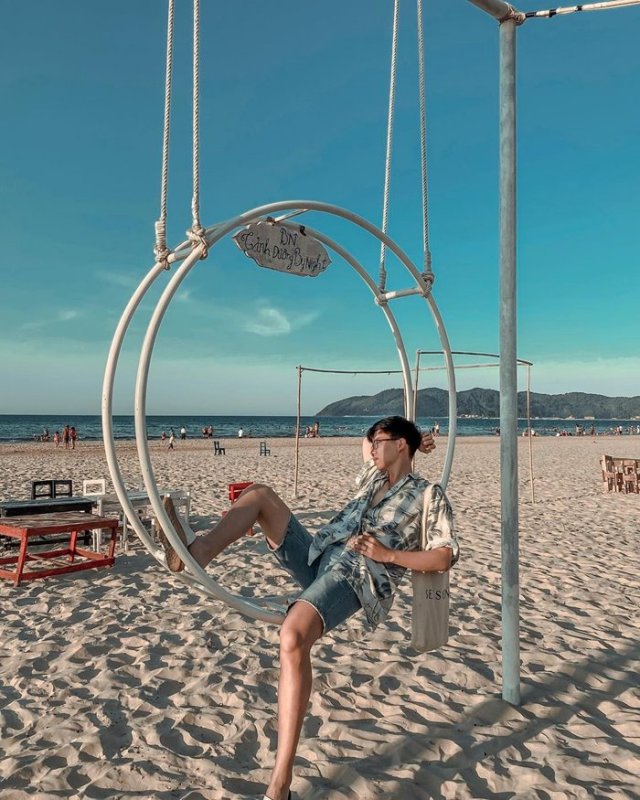 Canh Duong is a beach that is very popular with young people. Photo:@beengsai
Canh Duong beach stretches to more than 8,000 meters, 200 meters wide with beautiful scenery, sea, mountains, and fine white sand with rows of casuarinas and jade-like blue water that will make you a paradise. Immerse yourself. The scenery here is not like ordinary beaches when the watercolor is very clear and especially the fresh air is not polluted. This beautiful beach in Hue will bring you a feeling of freshness and coolness, dispelling the troubles of daily life.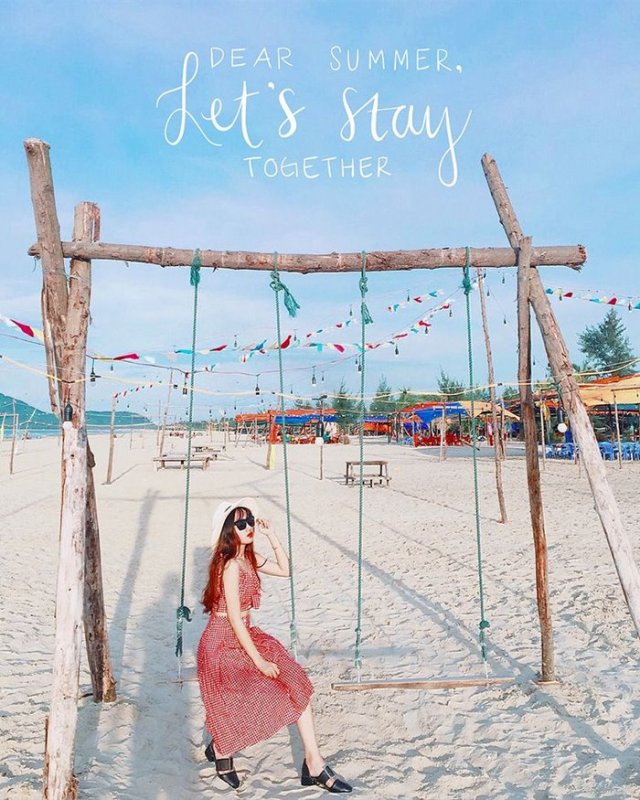 Sunny romantic scenery, clear blue sea water. Photo:@vii.yoo
Especially at Canh Duong beach, in addition to check-in and sightseeing, you can participate in many interesting activities such as overnight camping, fishing, or enjoy the fascinating world of fresh seafood such as steamed crab, Grilled squid, scorpionfish, hah fish, shrimp at extremely affordable prices. If you want to live virtual, this is also a paradise with very creative and photogenic check-in corners.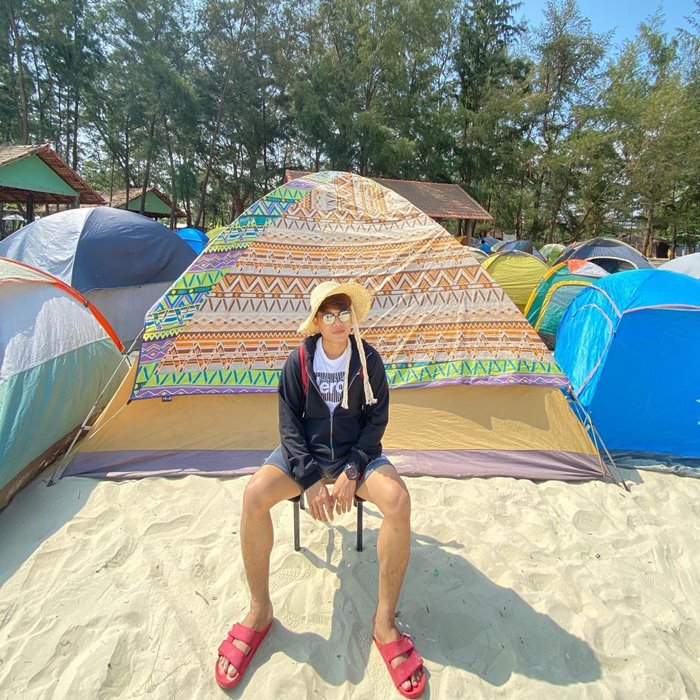 Camping is a popular activity in Canh Duong. Photo:@ko_e_da_no8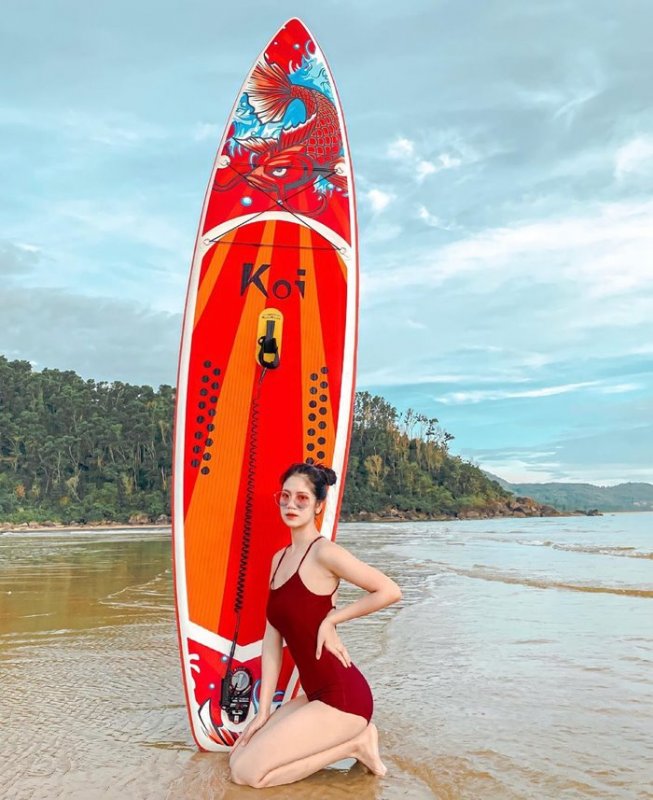 Sub rowing is a fairly developed sport in recent times. Photo:@buidung113
> See more:  Central coastal tourism, check-in immediately 7 beautiful 'paradise' to forget the way back

2. Thuan An Beach 
Thuan An beach is located in the town of the same name in Phu Vang district, Thua Thien Hue province, 13km east of Hue city center. From the city center, you can easily travel by motorbike or taxi in 15 minutes in the direction of National Highway 49B.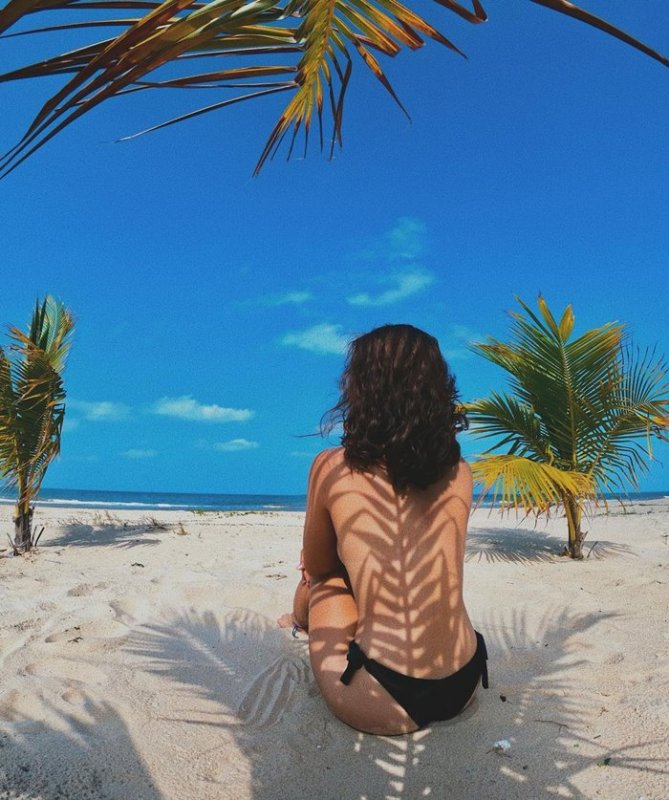 Thuan An beach is located right near Hue city. Photo:@xmychenx
Thuan An is a beautiful beach in Hue that is very famous and was once ranked by King Thieu Tri at the top of the famous Than Kinh Thirteen, but this beach still retains its wild beauty and inherent fresh nature.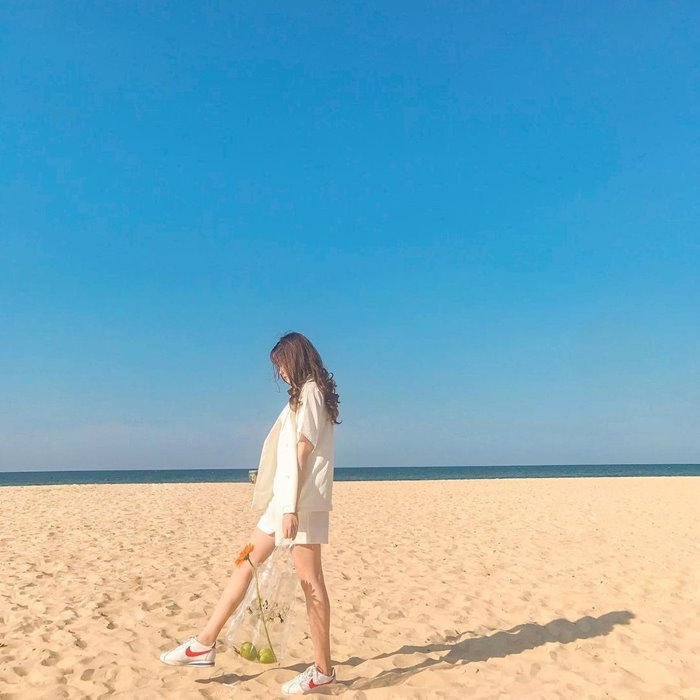 The beautiful scenery of Thuan An makes many people fall in love. Photo:@thuhoang_1012
With an area of ​​1km stretching, Thuan An beach attracts visitors by its clear blue water and fine white sand, the scenery of this place changes according to the time of day, so if you have the conditions, you should camp overnight. to enjoy to the fullest. The golden face of dawn with the bustling scene of the early fish market, when the sun is high, the sea surface sparkles with silver rays in the endless space, when the afternoon falls, the sunset is covered with purple roses. Throughout the space, the night sea with the sound of waves also has endless attraction.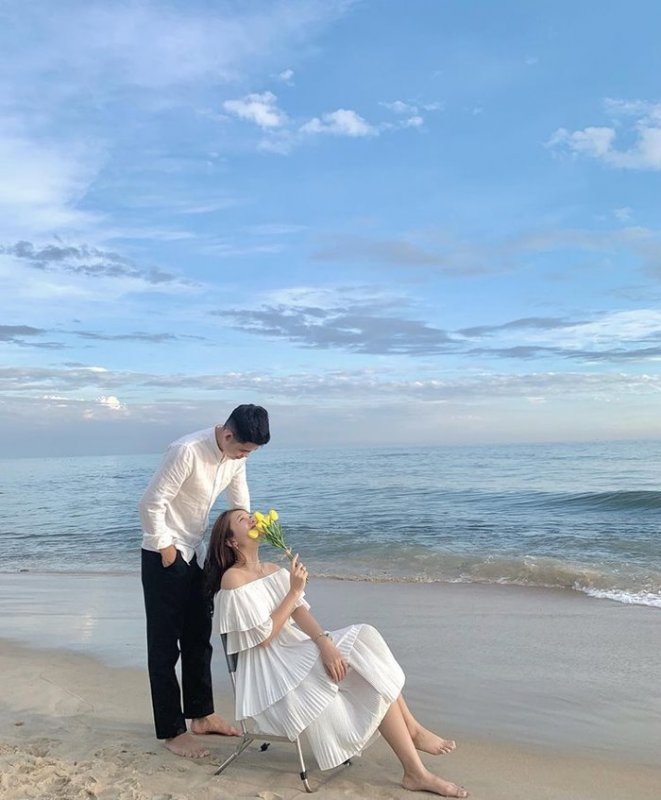 The scenery of this beach is constantly changing during the day. Photo:@xmychenx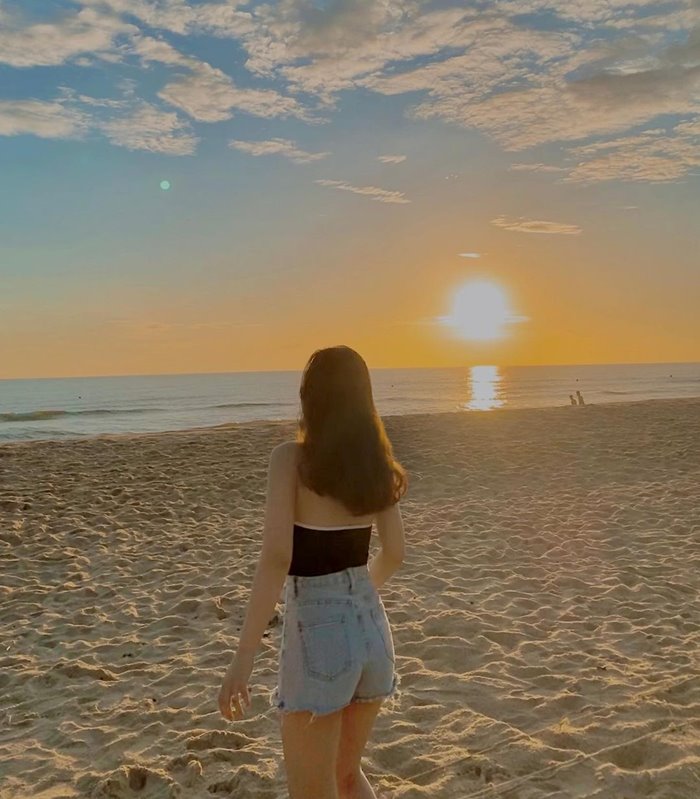 An enchanting sunset in Thuan An. Photo:@an-_thhnga
Although tourism services in Thuan An are not too developed, here you can still enjoy many delicious dishes, especially seafood caught by the locals. 

3. Lang Co Beach 
Referring to the beautiful beaches in Hue, people will think of Lang Co and indeed, this is always a sea paradise that makes people fall in love every time they stop in Hue.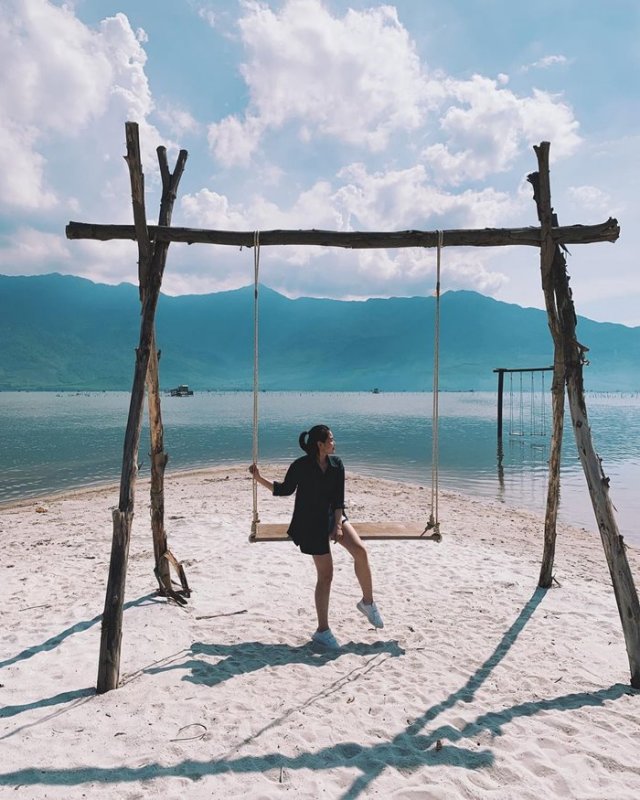 Lang Co is a famous beautiful beach in Hue. Photo:@lynthebear__
Lang Co beach is nestled between two great passes, which are Phu Gia pass and Hai Van pass in Lang Co town of Phu Loc district, 70km from the center of Hue city to the south and 30km from Da Nang city. North. The interesting thing is that there is a train line to Lang Co from Da Nang, so you can choose this form of transportation to admire the scenery and check-in in a special way.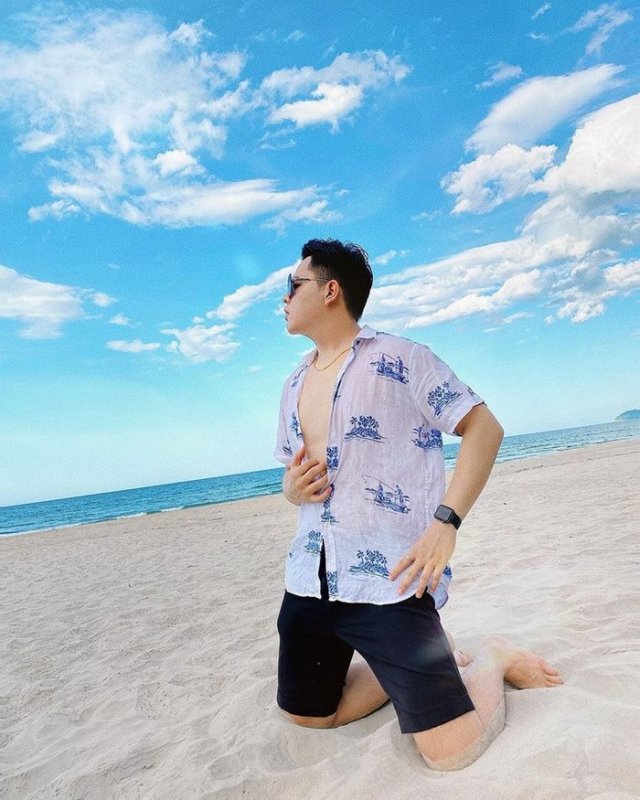 The scenery of Lang Co beach makes many people fall in love. Photo:@thekhang_
The scenery of Lang Co beach is classified as a masterpiece with a scene like a charming and charming watercolor painting. The pure white sand is gently mixed under the clear blue sea with undulating waves.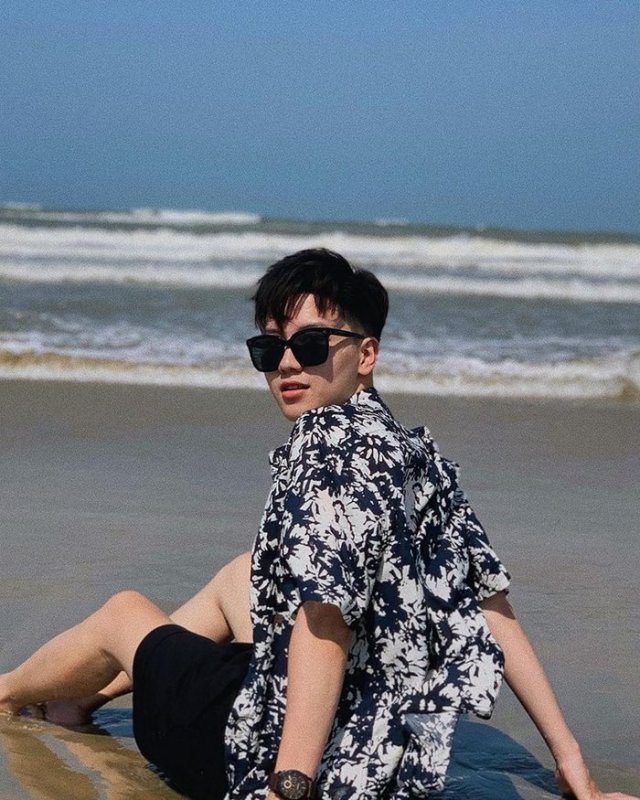 The beautiful seascape is the ideal virtual living place.Photo:@phongxchou
The beach tourism season in Hue and the bathing season in Lang Co is from April to July with beautiful scenery that will make you fall in love. Coming to Lang Co, besides sightseeing or swimming, you also do not forget to enjoy famous specialties such as squid, fresh fish, shrimp porridge, crab cake soup, shelled crab noodle soup, or Lang Co oyster sauce with a flavor. very typical "Hue"…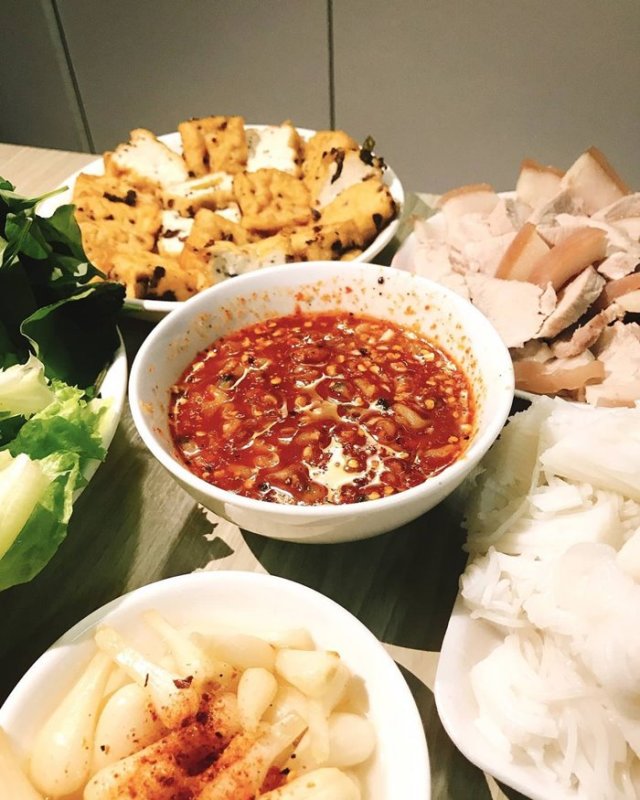 Lang Co oyster sauce with eggs is famous in Hue. Photo:@duongmifeg.com.vn
4. Vinh Thanh Beach 
Although not as famous as Lang Co, Thuan An or Canh Duong, Vinh Than in Phu Vang district is still a beautiful beach in Hue and also the pride of the people of the ancient capital.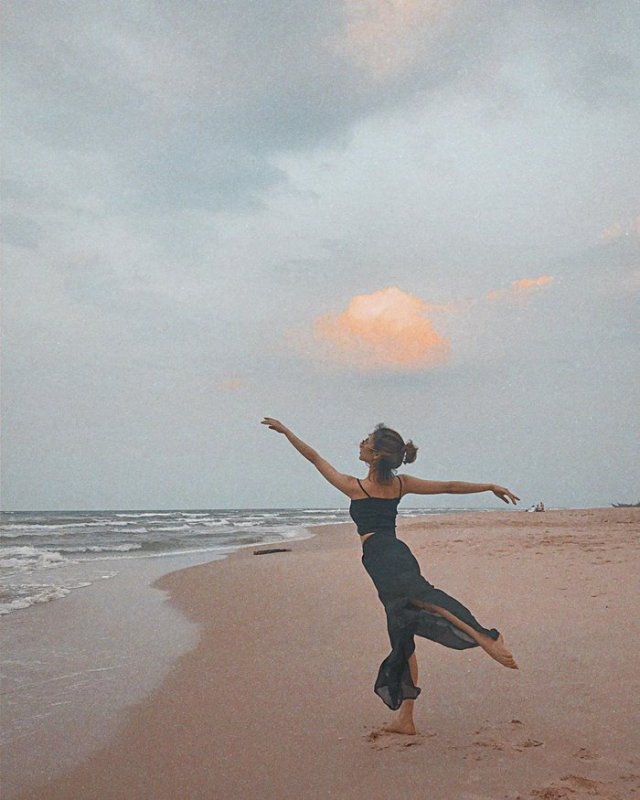 Vinh Thanh beach is as beautiful as the muse of Hue. Photo:@top__teng
This beach is located 30km southeast of Hue city center, to get to this place you can go from Hue to Thuan An and then go along Highway 49B, but this route is quite far. If you go to Vinh Thanh along provincial road 10D from the intersection of Hue bypass passing through peaceful fields and bridges crossing Thuy Tu, Dai Giang, then at the turn of provincial road 10D you will see a signpost leading to The beach is located deep in the beautiful poplar forest.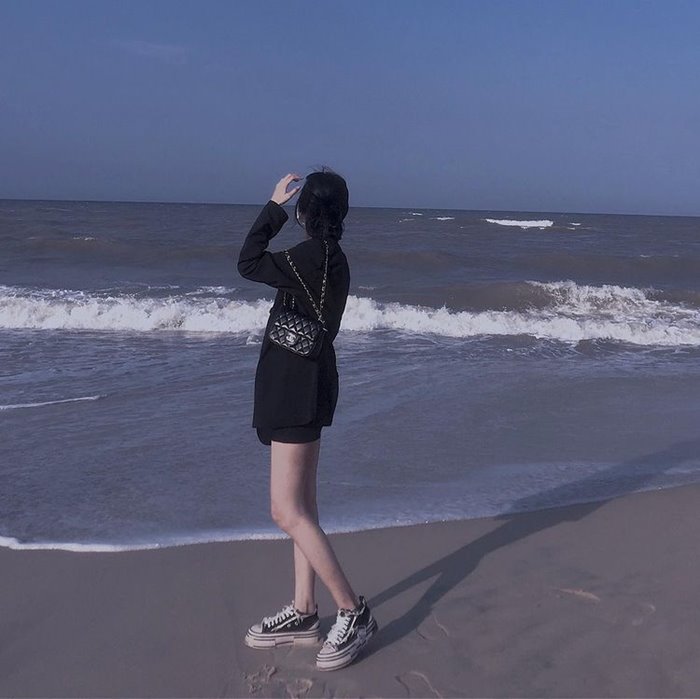 The beach is a favorite weekend destination for travel enthusiasts. Photo:@mtt_trag054
Vinh Thanh beach owns a pristine and sunny landscape with whispering waves, clear blue sea water, charming white sand beside the whispering but romantic poplar rows. The most pristine natural beauty is still present here, in addition to the blue sea and white sand, the thatched roofs are like a special highlight and a place to rest for travelers after moments of playing, running, or dancing. The boat docks, the fishermen with tanned skin always smile brightly.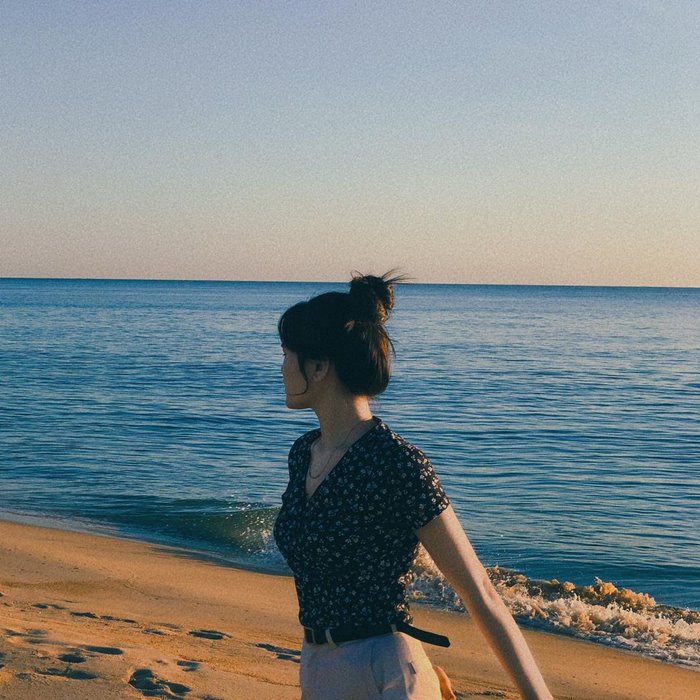 The scenery of Vinh Than sea is still pristine and enchanting. Photo:@vttrmee
Returning to this beach in Hue, do not miss the opportunity to enjoy fresh seafood or rustic dishes with bold flavors of "Ma" such as grilled flying fish, steamed squid with ginger, and greasy eggs.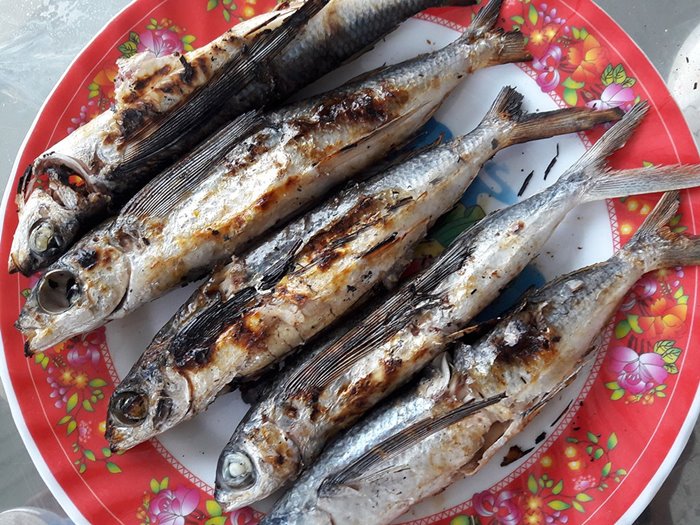 Grilled flying fish has a strong flavor of "plating". Photo: Tran Cao Duyen
Exploring the beautiful beaches in Hue, you will not only admire the beautiful natural scenery but also have the opportunity to discover the unique culture and enjoy the attractive flavors of fresh coastal dishes. If you have the opportunity, come to Hue's beaches to explore and feel. 
Photo: Internet 
TAG: