Marvel at the monumental architecture of the temples in Vinh Phuc
Referring to Vinh Phuc, people will immediately think of a poetic Tam Dao known as "Da Lat of the North". But few people know that the temples in Vinh Phuc are both ancient and magnificent and make anyone who visits admire and admire.
Top 5 most famous and sacred temples in Vinh Phuc 

1. Truc Lam Tay Thien Zen Monastery
The most famous temple in Vinh Phuc that visitors definitely cannot ignore is Truc Lam Tay Thien Zen Monastery  – one of the 3 largest monasteries on the beloved S-shaped strip of land. This work is built on an area of ​​4.5ha, interwoven between ancient temples and verdant trees to create a magnificent and magnificent scene that no one can take their eyes off.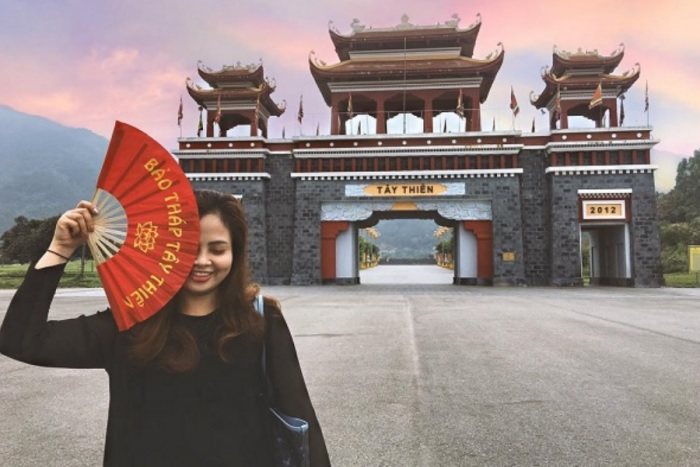 Right from the entrance, there is a majestic majesty
Moreover, because it is located on a high mountain, surrounded by green hills, the air here is always fresh and cool, especially in the early morning or late afternoon. The floating fog is beautiful like a fairy scene, making everyone excited and fascinated.
Therefore, even without the intention of pilgrimage, worshiping, and praying, there are many people eager to come to this temple in Vinh Phuc to drop their souls into the peace of the clouds and to find serenity. , gentle in the soul after moments of chaos and fatigue.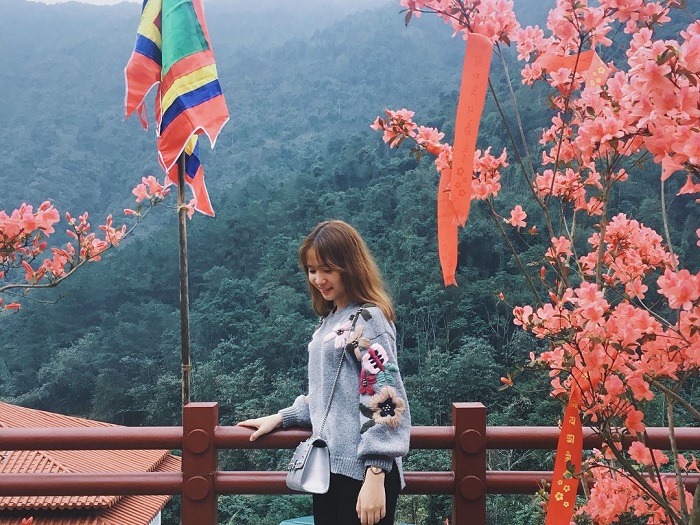 The charming sky and clouds on the temple (Photo @___nangrinh)
Address: on the slopes of Thach Ban mountain, 300m above sea level of Tam Dao range, in Dai Dinh town, Tam Dao district, Vinh Phuc province and about 85 km west of Hanoi capital.
2. Truc Lam Tue Duc Zen Monastery
Truc Lam Tue Duc Zen Monastery can be said to be the oldest temple in Vinh Phuc with more than 700 years old. The pagoda was built in an ancient architectural style, with prominent golden-tile-tile walls on a mountain-like terrain with an extremely favorable view of the river and surrounded by majestic mountains that look like a giant lotus. Giant is blooming in the middle of Song Lo mountains and forests, making anyone who has ever set foot in once cannot forget it.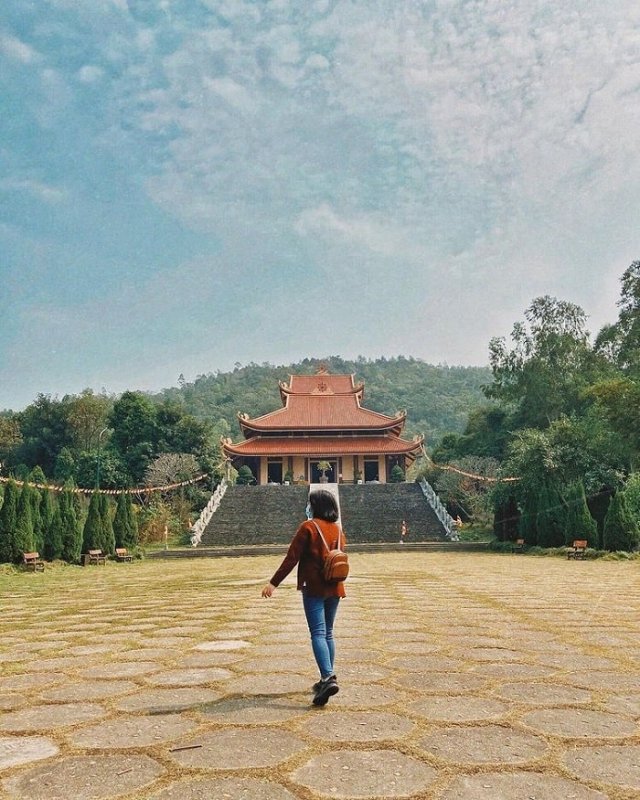 The prominent Zen Monastery in the mountains (Photo @sussu252)
Although there are not too many works like Tay Thien Pagoda, just an ancient main hall with a majestic three-way gate, but thanks to the feats and sophistication in every architectural detail, when blended with green The beauty of the sky and the trees, the white of the clouds and the yellow of the sun at Tue Duc Pagoda suddenly became a masterpiece that we thought we could only witness on TV through magic tricks.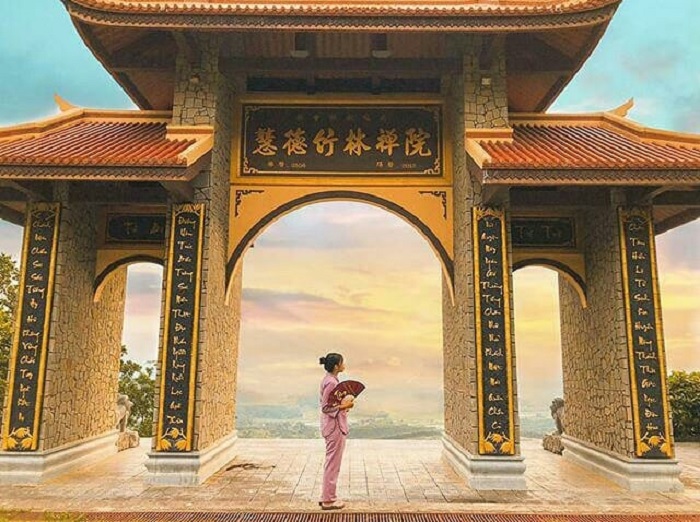 The magnificent scene at the temple gate with clouds and sky (Photo @hnguyet02)
Address: Dong Que commune, Song Lo district, Vinh Phuc province.
3. Ha Tien Pagoda
Although also built extremely magnificently and elaborately, the attraction of this temple in Vinh Phuc lies not in its architecture but in the cultural and historical values ​​it brings, with the preservation of Footprints of President Ho Chi Minh, precious ancient heritages such as stone incense tree, stone elephant statue, monk tower, jade well, double-sided stone stele and grave garden…so they have been recognized as a cultural-historical relic. the provincial level that tourists should not miss.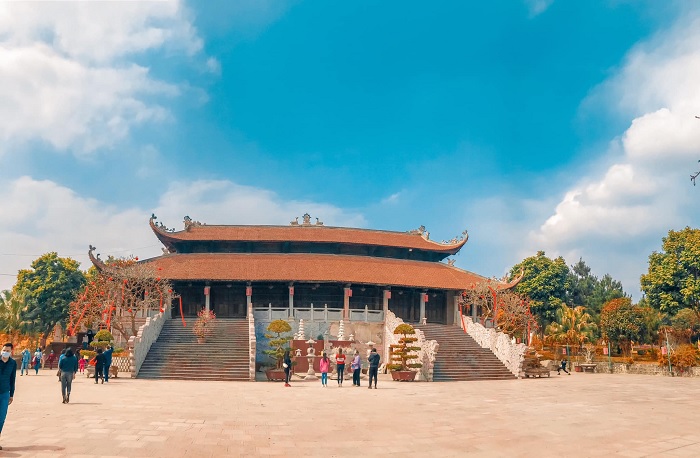 The temple contains many priceless treasures (Photo FB Mine Nguyen)
Every day, Ha Tien Pagoda welcomes a lot of pilgrims to visit to pray and worship, but the most bustling crowd is probably on New Year's holidays, the space in the temple as well as the vitality of the temple. Pots of fresh peach blossoms or bright red lanterns are spread everywhere, not only watching but living virtual is also the top of the top.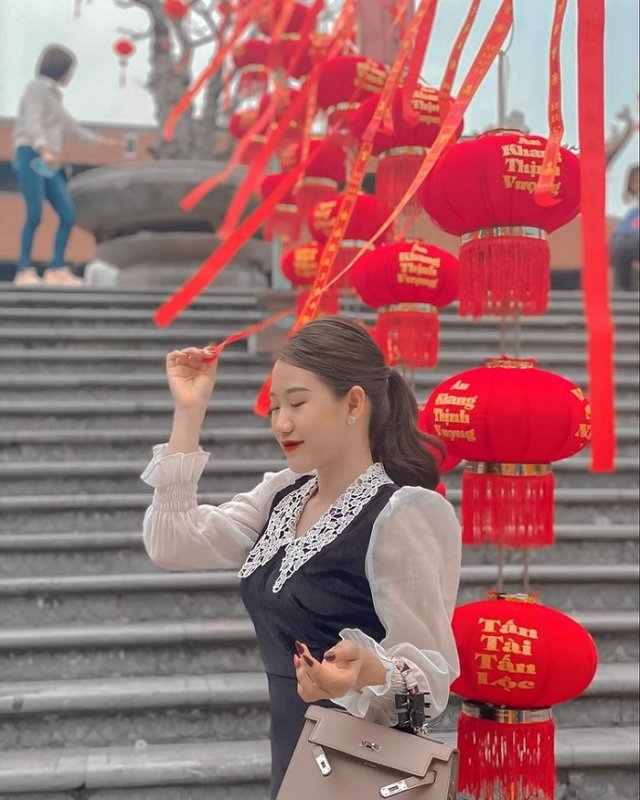 The temple glows with lights (Photo @bkling719)
Address: on National Highway 2B, Gia Vien village, Dinh Trung commune, Vinh Yen city, Vinh Phuc province.
4. Tich Son Pagoda
Tich Son Pagoda is not only a famous pagoda in Vinh Phuc but also the only spiritual place in Vinh Yen city honored to be ranked as a national historical relic. Coming here, you will admire impressive architectural works with a building built in a different style: the building is ancient and quiet tinged with time, the building is colorful with long phoenix bending. Delicately glide, making visitors can watch forever and never get bored.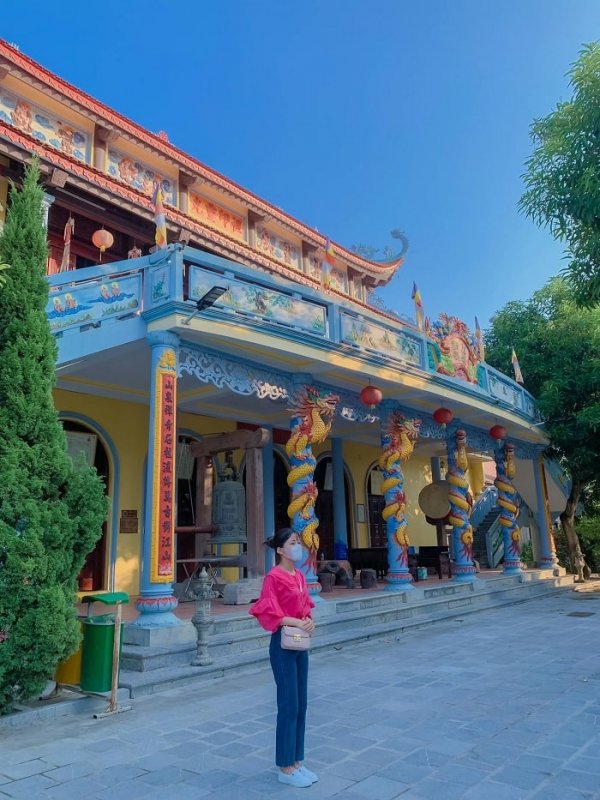 Unique architecture in the temple (Photo FB Xuan Xinh)
In particular, this place also attracts tourists from all over the world because of its fresh, peaceful atmosphere without dust and extremely delicious vegetarian dishes that are rarely found anywhere else, so those who have visited the temple Everyone wants to come back again.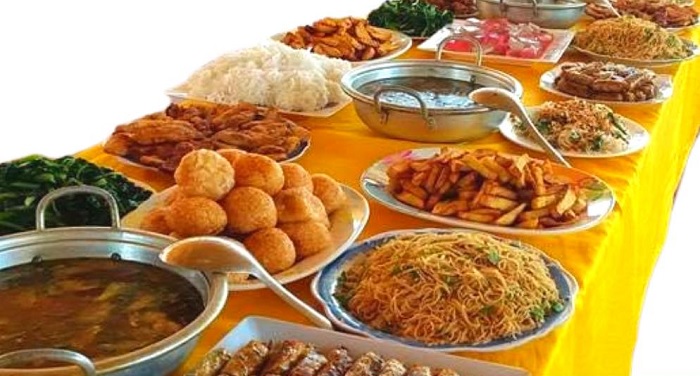 Vegetarian food at the temple is super delicious (FB photo of CHAU TICH SON Vegetarian Shop – Vinh Yen City – Vinh Phuc)
Address: Pham Van Dong street, Tich Son ward, Vinh Yen city, Vinh Phuc province.
5. Tam Dao Golden Temple
One of the temples in Vinh Phuc that attracts many tourists to visit is the Golden Temple of Tam Dao. This work is designed according to the ancient and profound architecture of the ancient emperors, with sparkling and sophisticated gilded frescoes placed around the wall creating the reputation of the temple.
But the most prominent in the temple is probably the system of stone statues placed from inside to outside the temple yard, with the set of Thap Bat Arhat statues exuding compassion, wisdom, majesty, and Quan Am Buddha statue. 9 heads and 18 hands are meticulously and delicately cast, and even the giant Buddha Tich Ca has a unique black color, making everyone admire.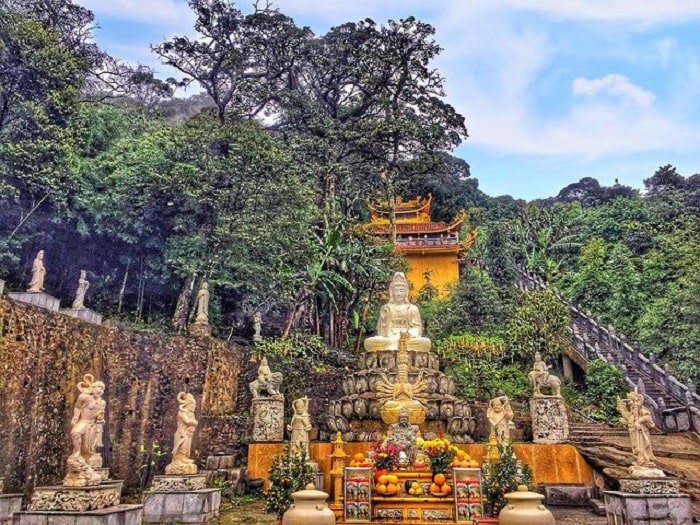 In the temple, there are many unique statues (Photo @nhatkixamxi)
Another interesting point is that to get to this famous temple in Tam Dao , visitors will have to go through a lush bamboo forest all year round on a trail that is covered with mossy steps, creating beautiful scenery. both mysterious and poetic, like being lost in the historical scene in the drama.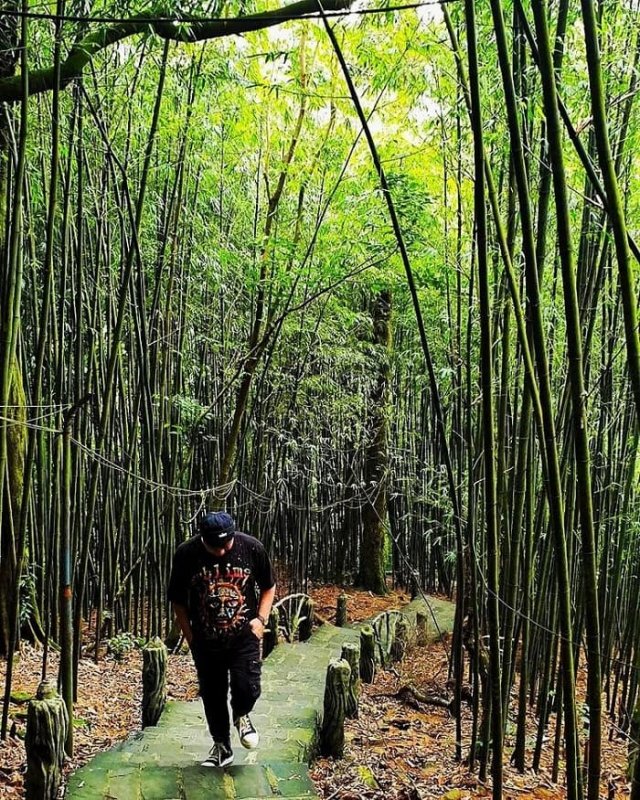 The way to the temple is super beautiful (Photo @tep_._)
Address: Minh Quang commune, Tam Dao town, Tam Dao district, Vinh Phuc province.
The hustle and bustle of Ha Thanh town make you so tired, if you want to find a peaceful place to soothe your soul, definitely don't miss the temples in Vinh Phuc .
Photo: Internet
TAG: