Chồng Mountain in Quảng Ninh Province, a masterpiece of nature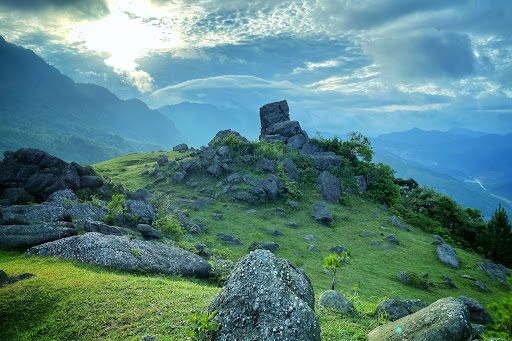 MAJESTIC: The scenery around Chồng Mountain. — Photo ngoavanhothien.com
The peak of the mountain is stacked rocks that look rather steep and dangerous. We stood at the rocks firmly clinging to the ground, then chose shooting angles to create impressive photos.
Some of us who are more experienced climbed to the top to check-in. But if you don't have experience, you should not climb to the top surface because the structure is weak and precarious.
HIGH KICK: A young tourist shows off at the top of Chồng Mountain. — Photo ximgo.com
Chồng Mountain is associated with legends and places such as Khe Mừng, Khe Lieu and it is also a sacred mountain of the Dao Thanh Y people in Bằng Cả Commune.
According to the elderly, once upon a time, there was a heavenly general who brought his army through this area. They went a very long way and couldn't find drinking water. When he reached here, he was very happy to find the clear water and ordered his army to stop. Because his group was big and the water ravine was small and long, he used his hand to dig deep into the ravine to give the soldiers enough water to drink. Then the spring water rose to wet his shirt. He took off his armor, wrung his shirt and found a place to dry. He took a pole to put between the two mountain peaks (Dải Mountain and Chồng Mountain) but because Chồng Mountain's peak is lower than the top of Dải Mountain, he picked up the rocks and put them on the top of the mountain to equalise the two sides and hung the pole to dry his clothes.
Local people later called the ravine Khe Mừng, the mountain where he kept the pole to dry his clothes was called Chồng Mountain.
If you love adventure, Chồng Mountain is definitely an ideal place for you to try as well as participate in exciting outdoor activities when coming to Quảng Ninh Province, but you must ensure your own safety when exploring the mountain. VNS
TAG: