Silk (Lua) Waterfall – the wild beauty in the middle of a thousand
Silk (Lua) waterfall is located in Son Tinh commune (Son Tay) day and night with white foam, the water flows like a symphony among thousands, creating a majestic and wild beauty.
Silk waterfall originates from the top of A Din mountain, located in Ba He village, Son Tinh commune, with an altitude of 300m on a vertical cliff. Coming here, visitors will admire the rare beauty of the waterfall as a soft and flexible silk strip between the mountains and forests.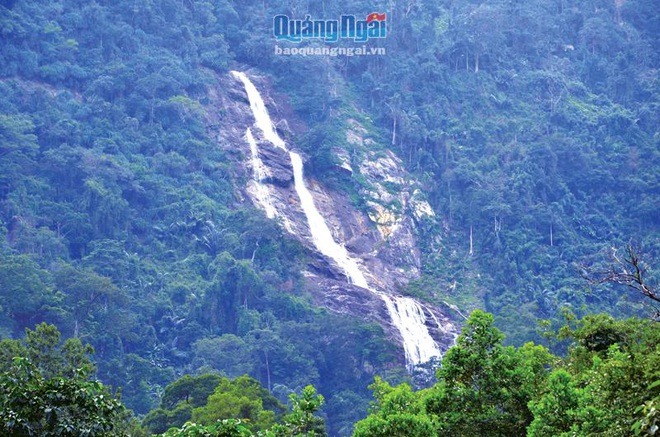 Silk waterfall in Son Tinh commune (Son Tay) seen from afar. Photo: K. Ngan
Silk waterfall is divided into many levels. The upper floor is the water flowing from the heart of A Din mountain, pouring down the cliffs, making the space here like covered in dust. Down the next floors, the water creates a white curtain, to the foot of the waterfall, flows quickly through the stone shelves, dividing into two branches to small lakes. There are also ancient trees and interlaced floors of vines, giving visitors a feeling of excitement when they are immersed in the wild nature. Following the water flowing under Silk waterfall is the winding and poetic Xa Ruong stream. 
On summer days, coming to Silk waterfall, visitors will enjoy the wild and majestic scenery, immersing in the cool water is nothing more interesting. In Son Tay district, there are many beautiful waterfalls such as Ra Lin waterfall, Suoi Ngoc waterfall, Ta Ngom waterfall, Ta Vay waterfall, but the most attractive is still Silk waterfall, the beauty of this place is like a picture of clouds, sky, and water. . According to Chairman of Son Tinh Commune People's Committee, Tran Quy, it will be even more interesting when coming to Silk waterfall, which is to enjoy local specialties such as can wine, annual fish, wild boar, orchids, ginseng areca…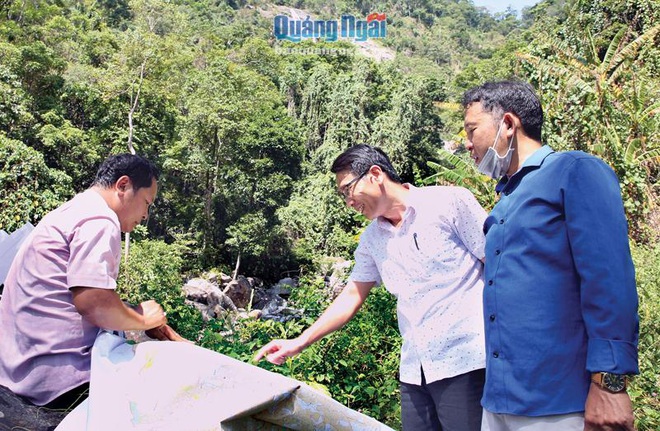 Leaders of Son Tay district and units to survey the landscapes of Silk waterfall to have a direction for tourism development in the coming time. Photo: K. Ngan
Vice-Chairman of Son Tay District People's Committee Bach Ngoc Them said that the Lua waterfall landscape has been recognized as a provincial relic by the Provincial People's Committee in 2020. The local government is setting up landmarks, zoning and protecting the relic. The district will plan for nearly 60ha in the vicinity of Silk waterfall to orient the development of services – tourism. "The district is calling for businesses to invest in tourism development in Lua waterfall, and at the same time has included in the medium-term plan to invest more than 1km in the Silk waterfall. We are promoting propaganda so that people can join hands to protect it. Along with this scenic spot, the district will connect tourism development with a number of spots in the district and neighboring mountainous localities," said Mr. Theth.
TAG: