The young girl likes to go on a road trip by motorbike
Along with a 150-155cc motorcycle, Tran Linh (24 years old) has made many trips to central, southern, and Cambodian provinces.
Born in Ben Tre and currently living and working in Ho Chi Minh City, Linh has a desire to drive to visit all provinces and cities in the country. To ensure a good job, she takes advantage of the days off to go to each area.
In 2019, since sticking with Exciter 150 RC and now Yamaha MT-15 155cc, Linh has made trips to Phu Yen, Binh Thuan, Buon Ma Thuot, Ba Ria – Vung Tau, Tay Ninh, Binh Duong. In which she mainly visits natural destinations, goes camping and trekking.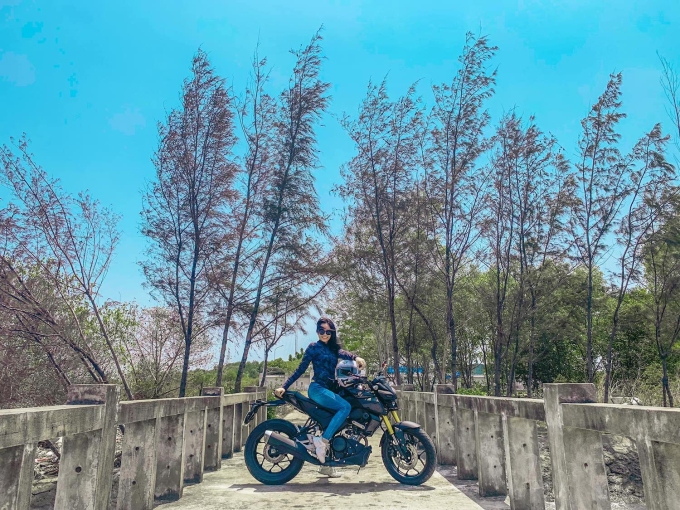 Linh on a road in Can Gio district.
Previously in 2017, with a motorbike, Linh and a group of close friends made a trip along the coastal road to Nha Trang on her birthday. The trip includes camping in Ho Tram, playing at Vinpearl Land Nha Trang. In addition, the group also went to Bai Xep (Phu Yen), where the movie "I see yellow flowers on green grass". On the way back, they followed the direction of the Central Highlands to visit Buon Ma Thuot City.
In 2018, she visited 13 provinces in the Southwest region through two trips. The first trip is along with the border provinces of Vietnam and Cambodia and the second trip is along the provinces bordering the sea. Linh shared that because she comes from the West, she does not feel familiar with people and voices wherever she goes, especially having the opportunity to enjoy many specialties that have only been heard from a young age.
In each province, Linh often stays for 1-2 days, giving priority to visiting famous historical and architectural places such as Cao Van Lau Theater, Prince's house of Bac Lieu (Bac Lieu); Big house Long Son, Linh Son Buu Thien Tu (Ba Ria – Vung Tau); Huynh Ky ancient house (Tra Vinh)… After that, she went to places with camping grounds near nature and trekking in mountains such as Ba Den (Ba Ria – Vung Tau), the East Pole (Mui Dien – Phu Yen). ) and the South Pole (Ca Mau Cape, Ca Mau Province). In terms of food, she loves eating at markets instead of famous restaurants because she wants to experience the local rhythm of life.
Up to now, she has conquered provinces and cities from Phu Yen back in. Next time when the epidemic is under control, Linh said she will continue to drive to the North and Central and can't miss the Northwest.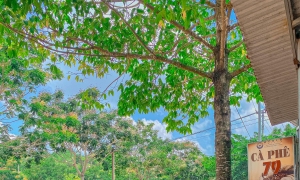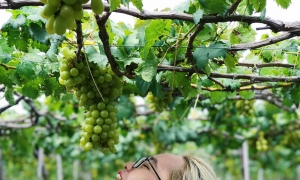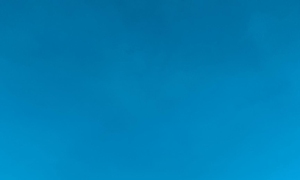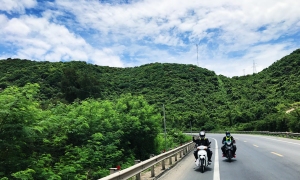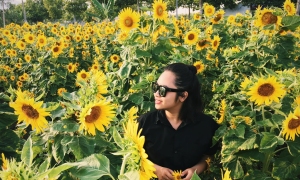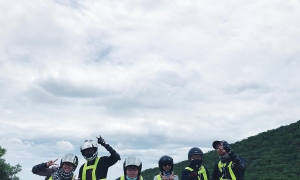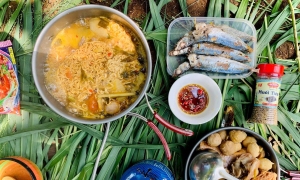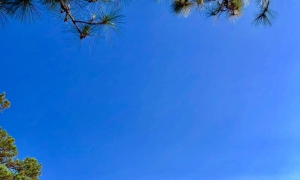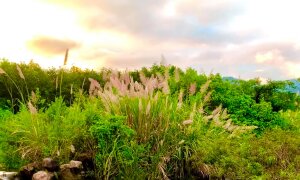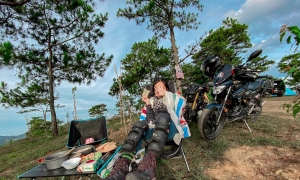 The daughter learns to drive a clutch
On the journey, Linh also often received teases, but most of them did not have bad intentions. Sometimes Linh meets a security guard, a water seller, and they ask why she doesn't go with her boyfriend or ask for information about the car. Many times she also received encouragement that "this girl is good at driving".
But for Linh, traveling by motorbike has long been something she cherished. When she was a student, Linh spent her savings to buy a full-face helmet, protective gear, and gloves, even though she only had a bicycle to go to school at that time. When she was a 2nd-year student, she made her first motorbike trip to Da Lat with a friend by Wave car.
The first time Linh learned to drive a clutch was through the car of a friend in the group. Because there was no time to teach Linh to learn to drive, her friend exchanged a clutch for her to practice on her own. Linh shared that at that time, because of her excitement, she always found empty roads to practice, learning from theory to practice online. The first few days were very difficult because they were not used to manipulating hands and feet, the car often turned off the engine. After about 2 days, Linh gradually got used to shifting gears and gradually practiced with the speed of the car at each gear level.
Linh shared, with her what kind of car is not so important. She "buys" a small displacement motorcycle because it is strong enough to make her more confident and comfortable on the roads. In the group of friends, each person rides a motorbike from a manual, automatic, or clutch vehicle, but it is still convenient to accompany each other. "For me, the car is just a means of support, only true passion can help people go together on the roads and have a lot of good memories," she said.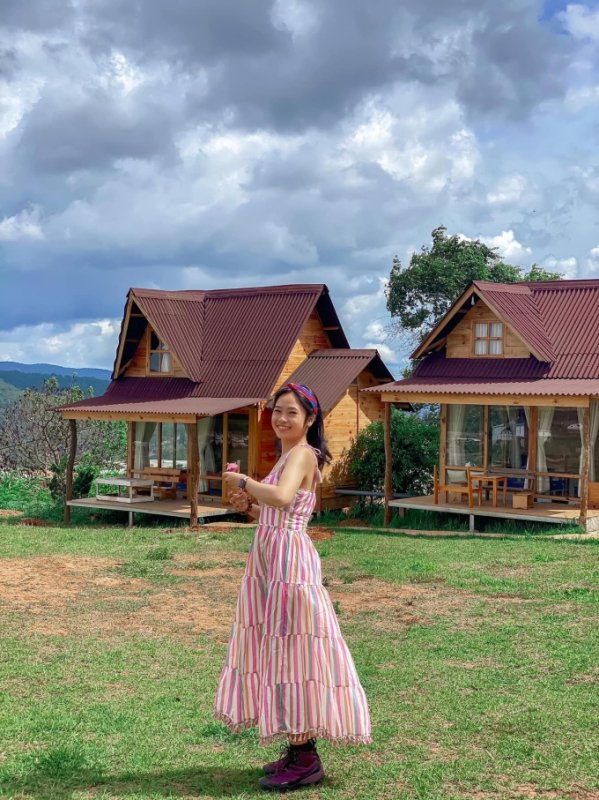 Sweeter style when coming to Da Lat.
Going with a motorbike is not always convenient. Once on the way from Ho Chi Minh City to My Thuan Bridge (Tien Giang), the car stopped at about 4 am. Linh walked and waited until dawn for a car repair shop to open, but it took more than 4 hours for the journalist to fix it. Due to the schedule that she needed to return to Ho Chi Minh City before the afternoon, Linh was hit by a bread seller who was just a bus ride away. Linh and her brother "waved" a lot of big buses passing through Ho Chi Minh City and fortunately met one with still seats and agreed to transport her motorbike.
Since then, she has learned to always ensure that the car has been maintained and functions are stable before the trip. In addition, for safe motorbike travel, Linh brings identification documents and necessary first aid supplies. Previewing the weather forecast for the upcoming trip and considering bringing a raincoat, or warm coat is also essential. Another important thing is to always calculate the route with the time to the destination, on the way should observe everything as much as possible such as the frequency of gas stations in the area, electric stores, pharmacies. West, grocery stores … The last thing Linh always remembers is not to overtake carelessly, make sure to go according to the law and at the allowed speed.
With Linh, the terrain of Vietnam, to best enjoy places with fresh nature, motorbikes will be the most appropriate means. Traveling by motorbike is not bad if each individual has a sense of not littering, not making noise, respecting where they are going, and obeying traffic laws. With her, "Youth is worth living if you have passion and dare to do it".
Follow vnexpress
TAG: