Lost in peace in Da Nang Green Lake
Da Nang Green Lake is located in the mountains with wild, lyrical scenery surrounded by young green trees, which is an endless inspiration for tourists to create beautiful and quality photos.
About Da Nang Green Lake 
Green Lake is a tourist destination located on the road to the Son Tra peninsula, Da Nang. The lake is formed from the natural flow, over time has become a beautiful pond. Around the lake is surrounded by a system of green trees, large and small stones drawing a beautiful scene like a paradise.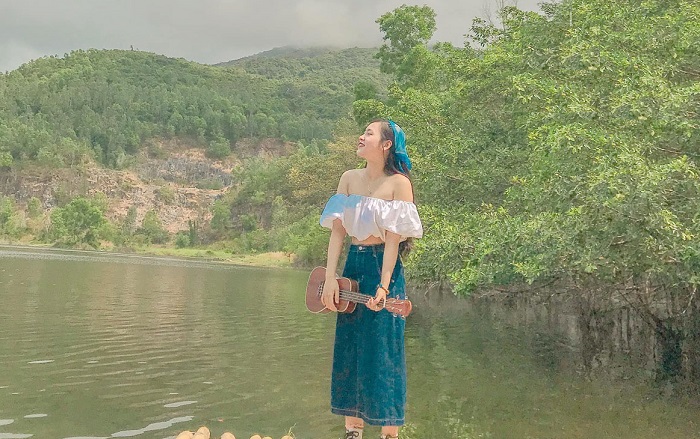 Da Nang Green Lake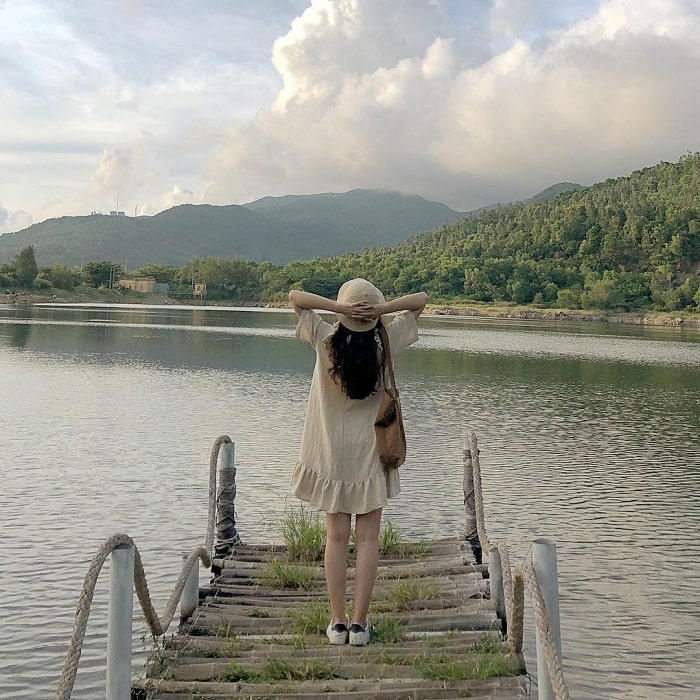 (Photo: leonyzin)
Looking at the lake, visitors will see the trees reflecting on the lake, and even see the blue sky. All blend together to create a very impressive green color. Many people come to Da Nang Green Lake sometimes just to admire this strange blue color. Stopping at the lake, you are free to immerse yourself in the magnificent and unspoiled natural space, it seems that here all fatigue disappears after the chaos of life.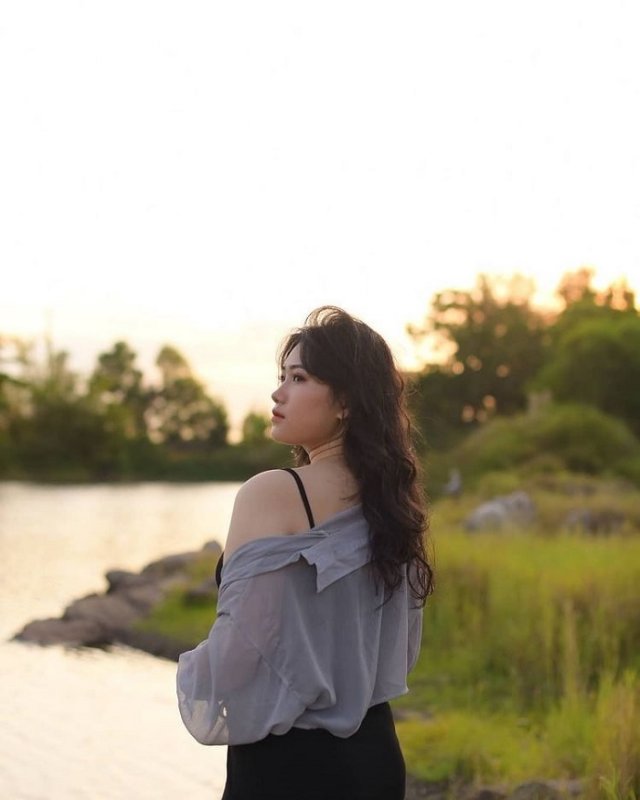 (Photo: penny.tr_)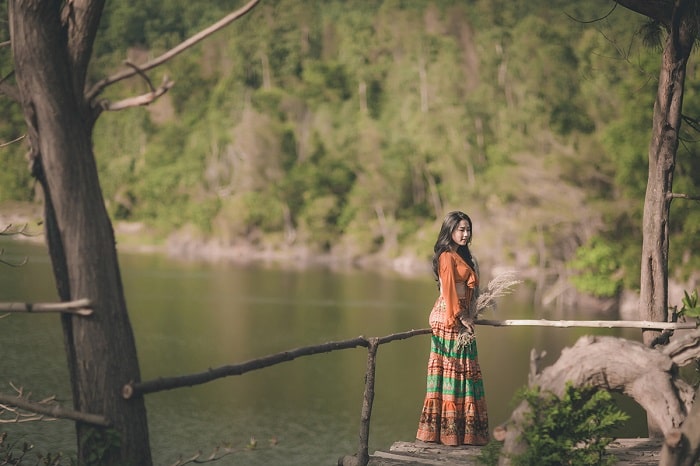 Da Nang Green Lake brings peace and relaxation to visitors 
Moving to Da Nang Green Lake 
To get to Da Nang Green Lake , starting from the city center, you can choose a motorbike or a car. Starting from Dragon Bridge, go straight along Vo Van Kiet Street, at the third roundabout, turn left onto Vo Nguyen Giap Street. Continue to run straight and you will get to Hoang Sa Street, go about 3km more and you will see Green Lake.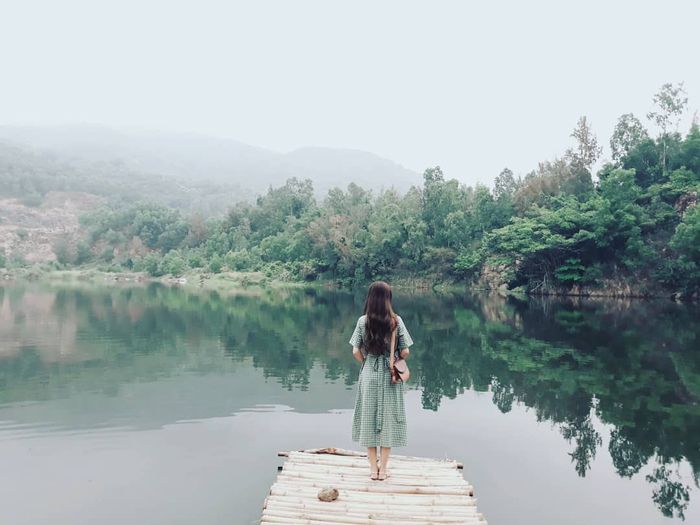 The road to Green lake is quite easy to find
When should you go to Da Nang Green Lake? 
According to Da Nang travel experience , the best time to come to Da Nang Green Lake is in the May grass season (August – September). At this time, the weather is cool, the most pleasant of the year, the water in the lake is also at its greenest, exuding lyrical and poetic beauty. Especially at that time, the grasses around the lake also bloomed brilliantly.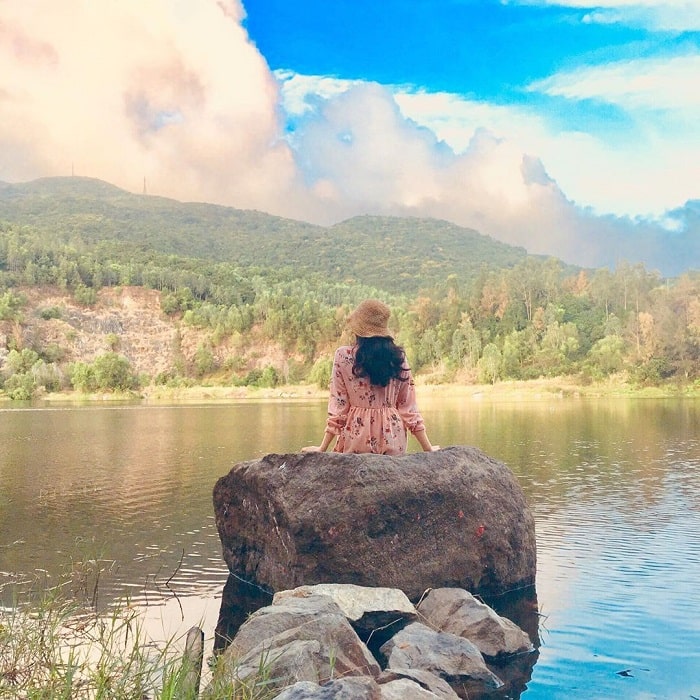 The best time to go to Blue Lake is from August to September
The poetic beauty of Da Nang Green Lake 
Arriving in Green Lake Danang visitors will be captivated watching the romantic wild beauty that the Creator bestowed. Looking out over the lake, you will see the leaves swaying gently in the wind, floating clouds, etc. All bring an indescribable feeling of serenity in the soul.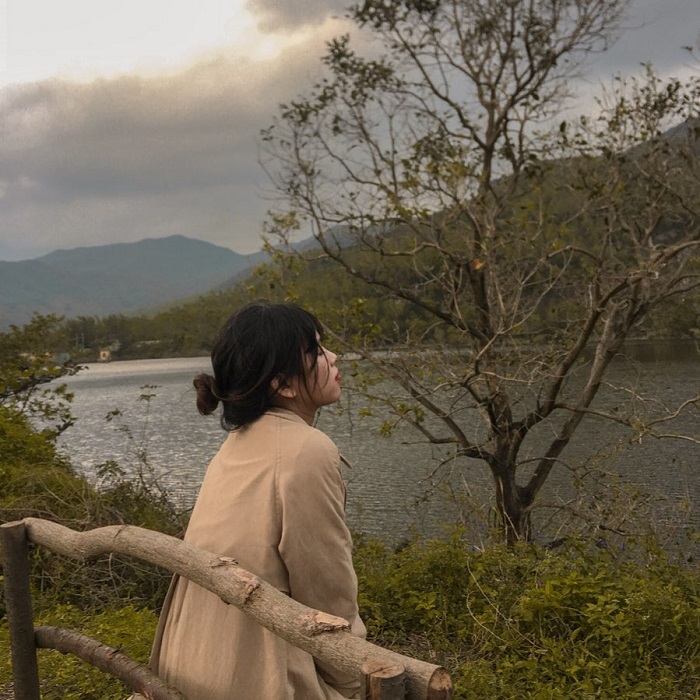 (Photo: ntm_nhung)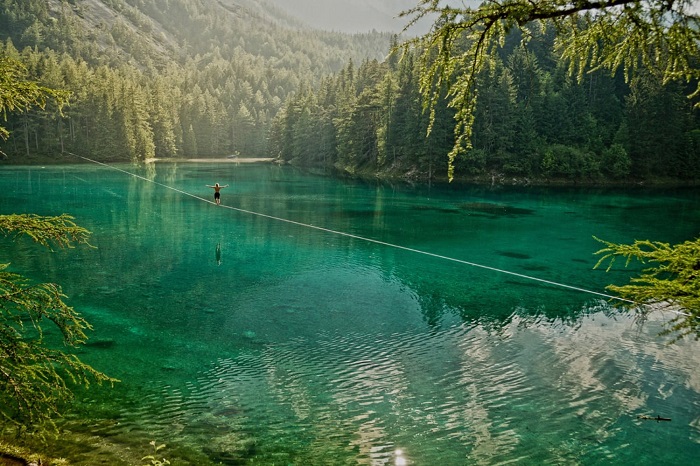 Blue water color in Blue Lake 
Come here, not only the blue lake surface makes you bewildered, but it is also pink grass or green branches. Although it is not too far from the city center, Green Lake possesses an extremely quiet atmosphere.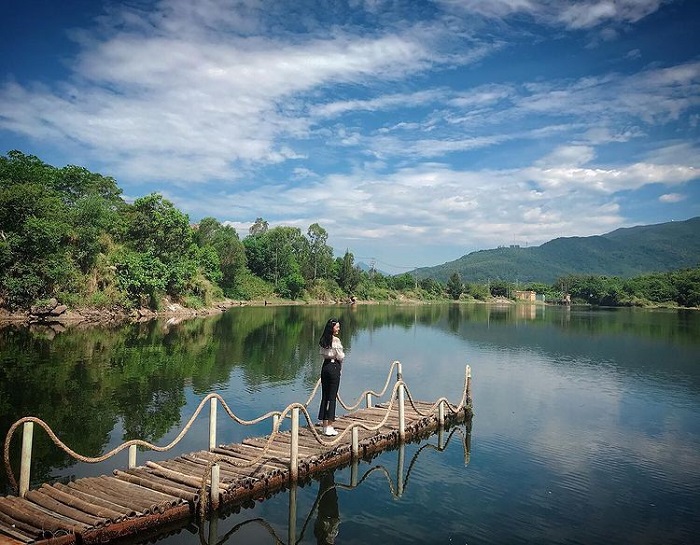 (Photo: cun.baby)
Da Nang Green Lake seems to have converged all the beauty from the scenery, blue clouds, blue water. Due to receiving water from Son Tra mountain, the water in the lake is always clear. For many people, Green Lake is the most beautiful natural lake in Da Thanh. 
The atmosphere here gives visitors peace 
Check in at Da Nang Green Lake
As a favorite attraction of young people, Da Nang Green Lake has been invested with many miniatures such as bamboo bridge, swing swing, wooden circle, … with the purpose that when visitors come, there will be The most beautiful virtual living corners.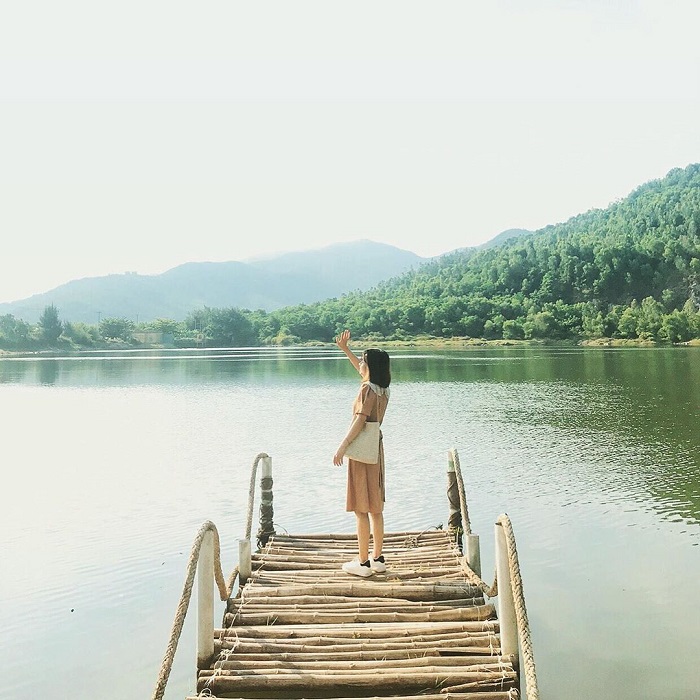 (Photo: trancamtu.yen)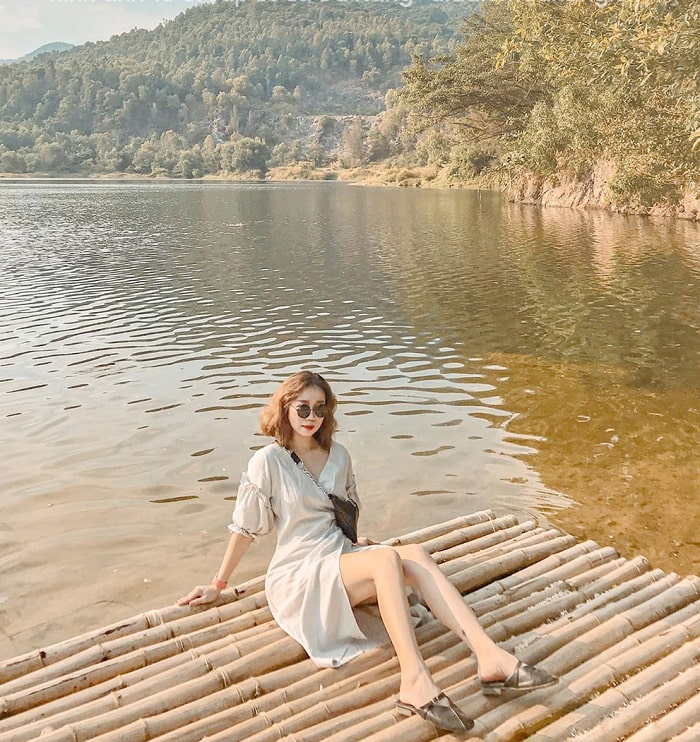 The check-in corner is so beautiful 
Possessing beautiful scenery like a fairyland, it is not surprising that Green Lake attracts many people to come here to take pictures. The pictures taken at the lake are very beautiful and artistic.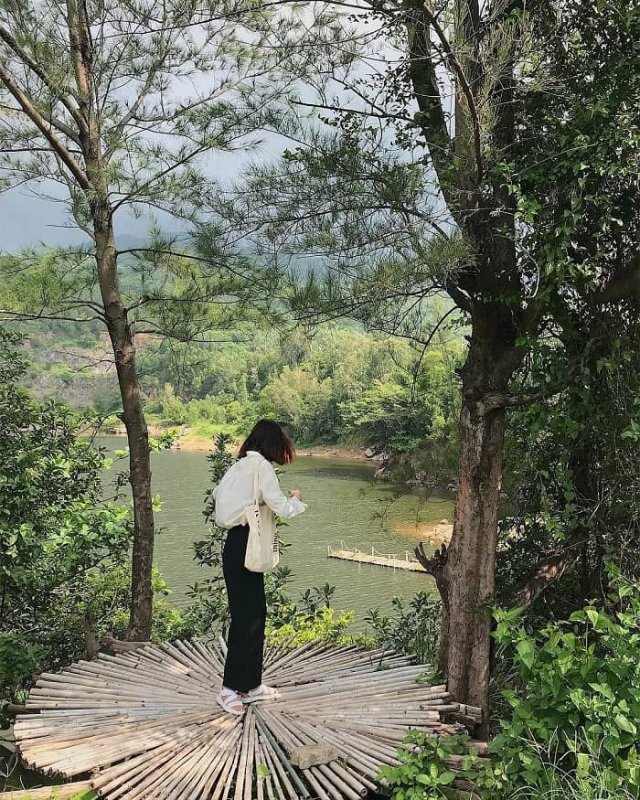 Many people will mistake this as a small corner in Da Lat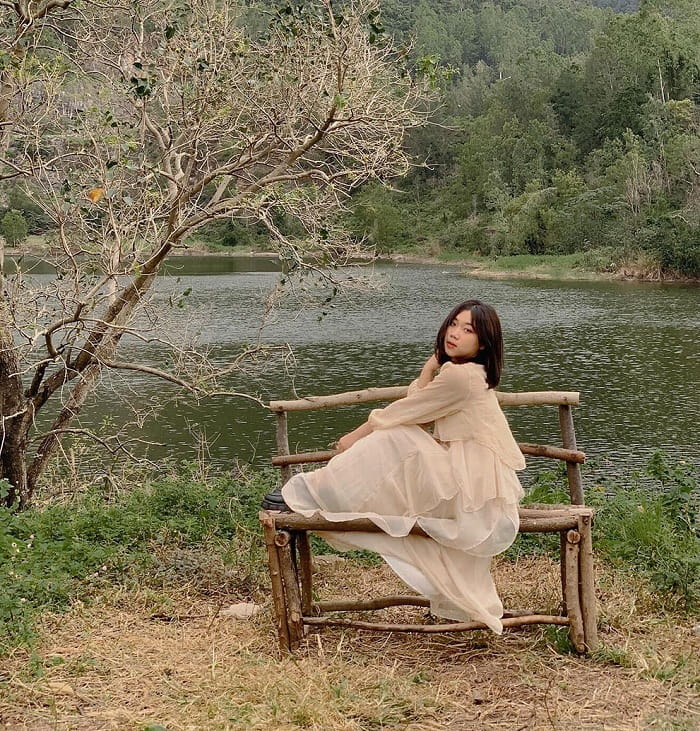 Just sitting on a wooden chair is enough for a great picture 
Attractions near Da Nang Green Lake 
 
Rang Beach
Bai Rang is considered one of the most beautiful beaches of Da Nang, located on the way to Son Tra peninsula. Today, this place still retains its original wild beauty. Bai Rang is increasingly invested in tourism services, building more restaurants, tourist huts, … In addition, Bai Rang is also visited by many tourists to check in and live virtual.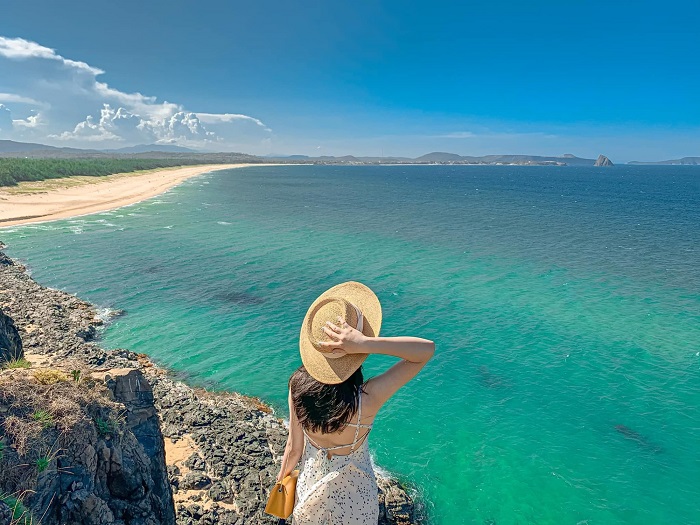 Rang Beach Da Nang
Son Tra Lighthouse
Many tourists when coming to Da Nang Green Lake always stop by to admire and take pictures at Son Tra Lighthouse. From this lighthouse, visitors can look out to see the whole coastal city and breathe in the fresh air.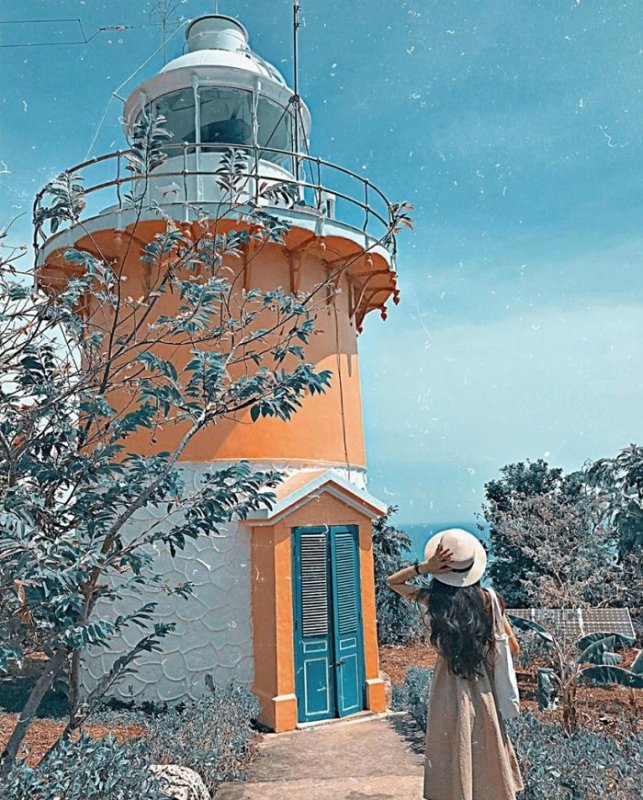 Son Tra Lighthouse
Top of the Chess Board
Ban Co Peak is the highest point on the Son Tra peninsula. Standing at an altitude of nearly 700m, letting go of your eyes in the misty fog to see the whole view of Da Nang city will surely bring you unforgettable emotions. Especially in the early morning, when the city seems to be still asleep, you can take a car to drive around the peninsula and go to the top of Ban Co to catch the sunset. The scenery was so beautiful that many people were speechless.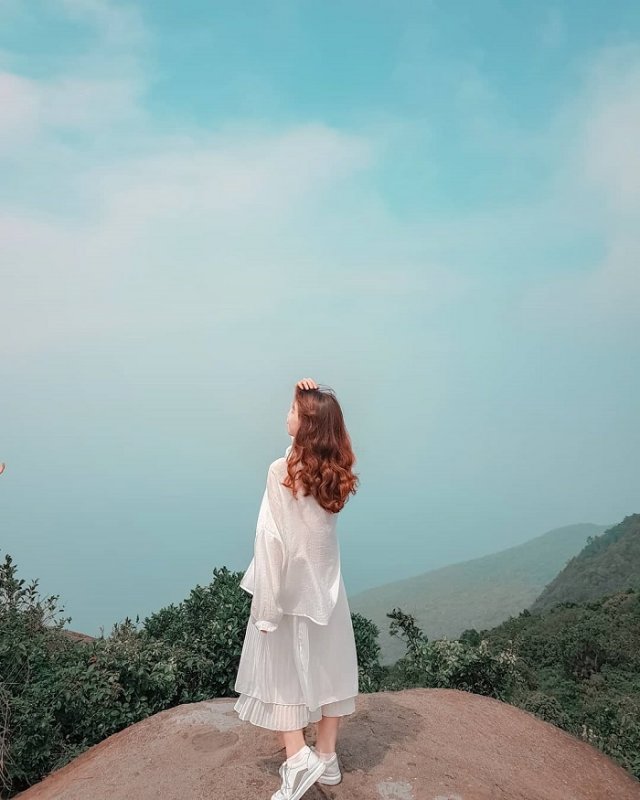 (Photo: tmchaau)
Note when coming to Da Nang Green Lake
With unspoiled nature, Da Nang Green Lake has a terrain that creates favorable conditions for young people who love to go backpacking to have the opportunity to explore. However, before going on a trip, you must prepare the essential items. If you have a picnic, remember to bring more tarps, drinking water, plates, glasses, food, … 
If you only come here to take pictures, please dress appropriately for the landscape.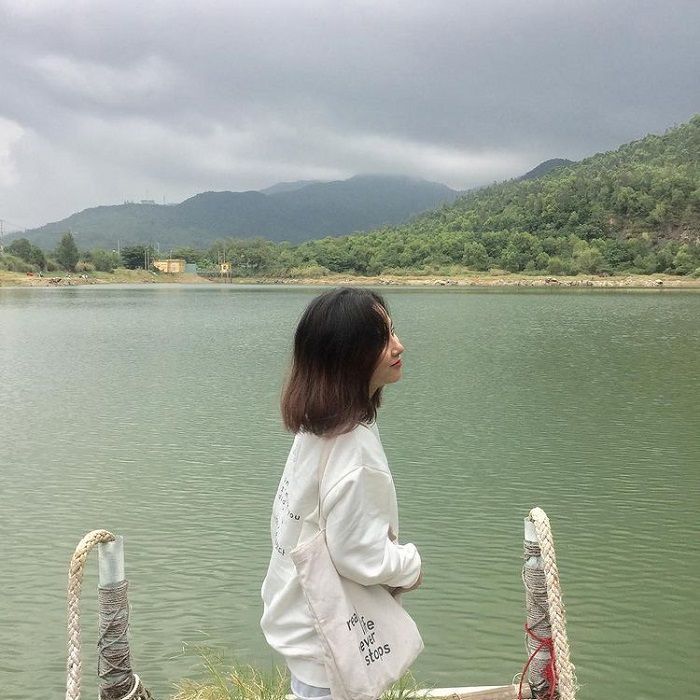 You can go to Green Lake for picnics and picnics
So poetic and lyrical, Da Nang Green Lake does not even cost to visit and camp. Therefore, if you are looking for a peaceful place for your soul in Da Nang , try coming here. Surely this place will not disappoint visitors!
Photo: Internet
TAG: