Experience going to Au Can Tho dune to discover the beautiful scenery of the Western river
Au Con Can Tho is an attractive eco-tourism destination for tourists to explore with its beautiful scenery typical of the western river region. So where is Con Au in Can Tho and what's so interesting? Let's find out about this famous place when you have the opportunity to visit Tay Do country through the following article.
Address Con Au Can Tho
Where is Con Au in Can Tho? This is a small island with an address in Hung Loi ward, Cai Rang, Can Tho. Con Au is known as one of the most beautiful dunes in the area along the poetic Hau River. The reason it is called Con Au is that, in the past, when people came to this area to live, there were many young trees, so they named it Con Au. Currently, in Con Au, there are about 70 families living by gardening. Therefore, when visiting Con Au, you will admire the immense green natural scenery and fresh and cool atmosphere.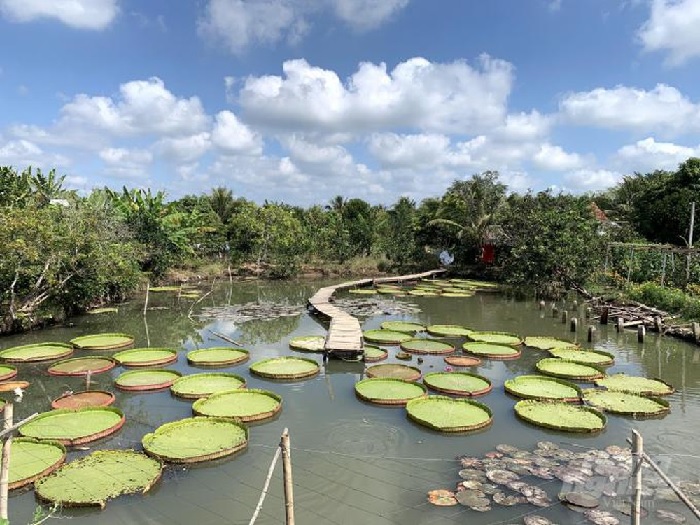 Au Con Can Tho attracts tourists with its peaceful natural scenery
You can visit Con Au Can Tho at any time of the year. However, before going, you should also check the weather forecast in advance to avoid sudden rains affecting the tour. Most tourists come to Con Au on weekends or holidays. so you should arrange your travel time accordingly. 

How to get to Con Au Can Tho?
Con Au travel experience in Can Tho , to explore this place, you first need to get to Can Tho by means of transport such as plane, passenger car, motorbike. For those who are far away like the North, you can take a plane departing from Noi Bai (Hanoi) to Can Tho airport. If in the neighboring provinces, the best way is to take a bus or motorbike to Can Tho. 
Con Au is about 13.7km from the center of Can Tho, so you can take a taxi or motorbike in the direction of National Highway 1A about 20km to reach this famous eco-tourism area. If you do not know the way, you can ask the locals or lookup google maps.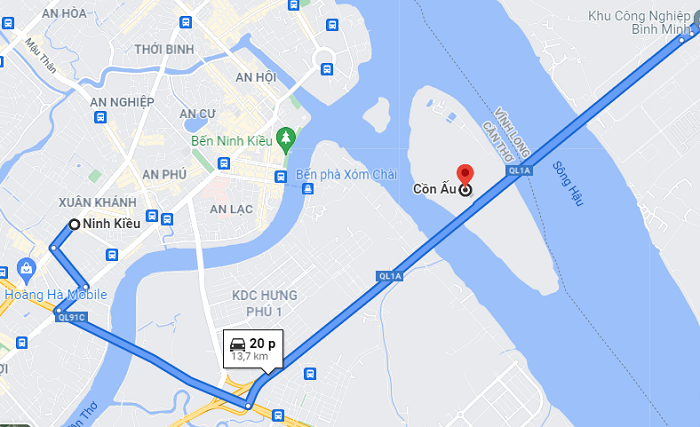 Discover the beauty of Con Au Can Tho 
What is Au Con Can Tho? Con Au tourist area attracts visitors with the beautiful scenery typical of the Western region and learns about the simple life of the people living here. Visiting Con Au, visitors will enjoy a memorable weekend with their loved ones and friends.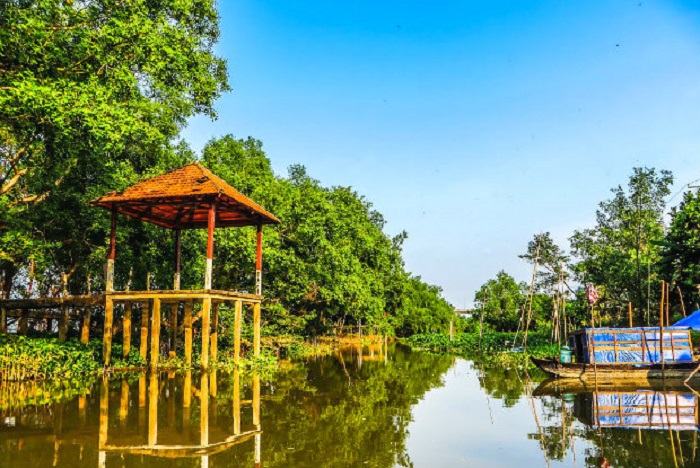 Peaceful natural beauty in Con Au
Con Au is located at the foot of Can Tho bridge, with a total area of ​​130ha and surrounded by wild natural scenery, immense green cork trees. Visiting Con Au Can Tho eco-tourism area, visitors will be able to walk on the cool tree-lined streets to enjoy the fresh and relaxing atmosphere. Con Au also has luxuriant fruit orchards planted by the people here with all kinds of Western specialties such as rambutan, custard apple, mangosteen, durian, plum, green-skinned pomelo, toad,…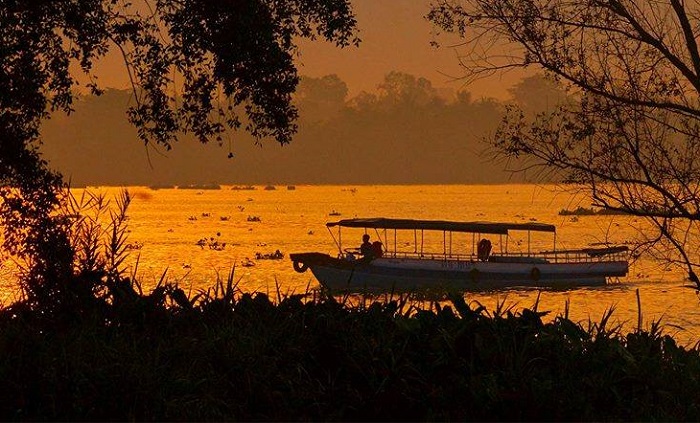 Romantic natural scenery in Con Au
Con Au attracts tourists with its beautiful and rustic scenery. Photo: vietnambooking
Many beautiful virtual check-in corners in Con Au. Photo: vietnambooking
If you go to Con Au early in the morning, you will witness the scene of people rushing to harvest fruits and vegetables to catch the market early in the day. Visiting Con Au, tourists can also visit the typical mangrove forests here. If you are afraid to walk, you can rent a canoe driven by people to wriggle through the canals to admire the rich natural scenery here.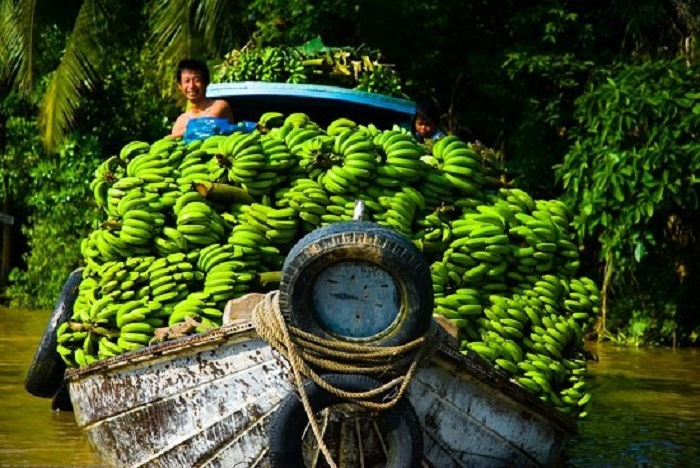 Learn about the daily life of people in Con Au
In addition, when coming to Con Au, you can also enjoy all kinds of fresh four-season fruits and specialties of the Western river region such as: a hot pot of Linh cotton fish, Banh Xeo, water lily, goby hotpot, etc. In addition, Con Au Can Tho tourism also has attractive services for tourists to visit such as canoeing, fishing, ditching, relaxing, playing sports and learning about the rustic life of the villagers. Village.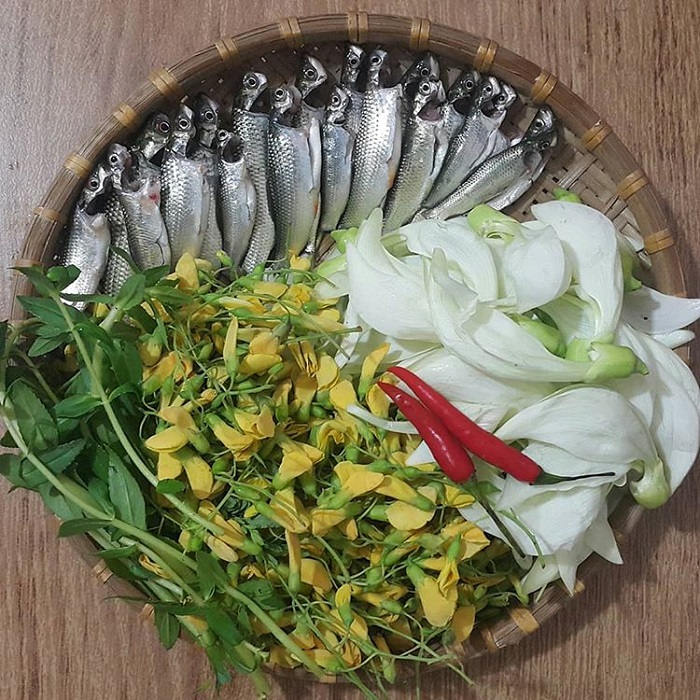 Enjoy the specialty of Linh cotton fish hotpot classic

Combine to Con Son and Phu Sa tourist area
Many tourists when visiting Con Au Can Tho often combine with going to Con Son and Phu Sa tourist area. Con Son is famous for its peaceful natural scenery, fruit-laden orchards and fresh air. Favored by nature with fertile soil, when coming to Con Son, visitors will admire the lush gardens with typical fruits of the delta such as jackfruit, guava, breast milk, Ha Chau strawberry, rambutan. , grapefruit…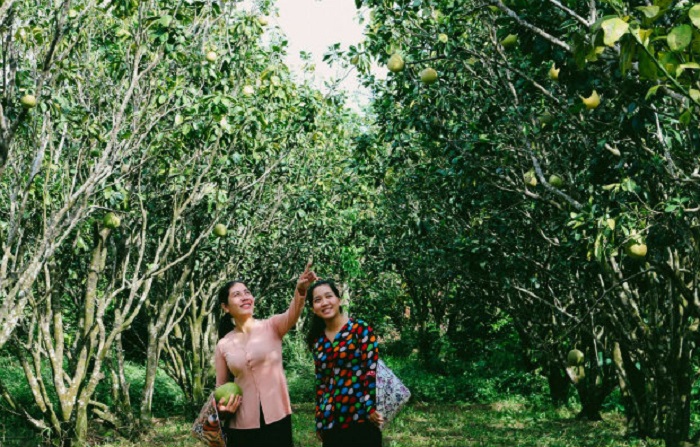 Combine visiting gardens in Con Son. Photo: vietnambooking
Coming to Con Son , visitors will enjoy relaxing moments, admiring the beautiful scenery with the cork trees floating along the river, the vegetable garden of the people, and the group of water hyacinth floating on the river. In particular, exploring Con Son, visitors can also experience the life of the people here with attractive activities such as: catching snails, fishing, slapping ditches… At noon, enjoy the specialties of the West. and relax in a hammock among the trees listening to the birds singing.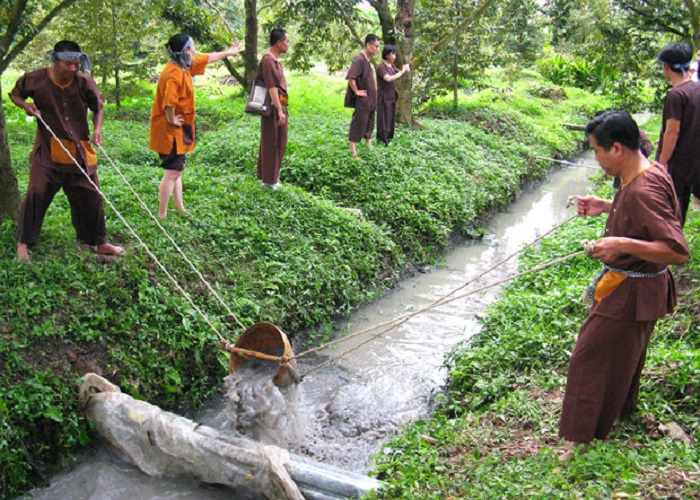 Slapping ditches to catch fish with many interesting entertainment activities. Photo: vietnambooking
The next step that you should not miss is the Phu Sa tourist area at the beginning of Con Au Can Tho with a total area of ​​30ha. Phu Sa tourist area owns a fresh natural space that many tourists come to on weekends to relax, have fun and have a picnic. At Phu Sa, the eco-tourism area was built with high-class resorts including 45 villas and 60 bungalows to serve tourists. If you want to stay overnight while exploring Con Au, you can contact to book a room in advance at Phu Sa Azerai ecological area.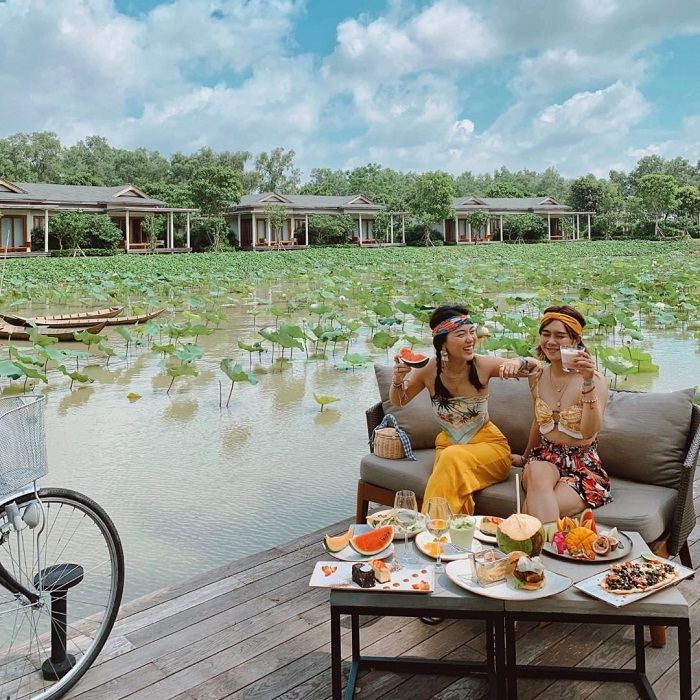 Resort in Phu Sa ecological area. Photo: vietnamnet
The attractive activities that you should not miss when coming to Con Au must include Canoeing, windsurfing, canoeing, … Enjoy Southern specialties with cork perch, cork fish sour soup, cork hot pot Alluvial. 

If you have the opportunity to visit a country of white rice with clear water but you still do not know where to go to play with beautiful and quiet scenery, Con Au Can Tho is the ideal destination that you should not miss. Hopefully, the information shared above will help you have a trip to discover the beautiful Con Au with many interesting experiences. Do not miss the very useful Can Tho travel experience . ​
Photo: Internet
TAG: