Explore unspoiled beaches in Vietnam you can't miss
Vietnam is a beach lovers ' paradise with a tropical climate and an entire coastline of over 3000 km. The beaches in Vietnam are great destinations to escape the bustling cities and enjoy outdoor sports such as snorkeling, swimming, or diving. 
Here are the top beaches in Vietnam from the North to the South.
Bai Cay Men – Nam Du
Bai Cay Men is known as the most beautiful beach on Cu Tron Island, nestled in a green, attractive cove with pure white sand, clear and clean sea surface, adorned with rows of leaning coconut trees. . The best time to be able to fully enjoy the beauty of Cay Men and the islands in Nam Du is in the spring, from January to March because at this time the beach is not only calm but the seawater is clear and warm.
After a few hours floating on the sea, getting closer to Cay Men beach , visitors will see the beautiful stratification. Cay Men Beach is like a picture appearing in front of visitors with 3 extremely beautiful fresh green floors, the top is the cool blue sky, the middle is the green of the love tree and the majestic forest, the bottom is the green color. the blue of the clear seawater. Cay Men Beach has a wild and peaceful beauty, gentle waves even in the rainy season, so at first glance, the beach looks like a giant lake surrounded by leaning coconut trees and cliffs. steadiness.
Called Cay Men beach, but around the beach are only coconut trees, many coconut trees here were planted 70, 80 years ago, coconut trees running along the coast, shading cool. On the edge of the green beach is a long, smooth sandy beach – a beautiful place suitable for visitors to take a walk in the early morning or late afternoon, organize fun activities on the sea, watch the magnificent sunset. .
Address: An Son commune, Kien Hai district, Kien Giang province.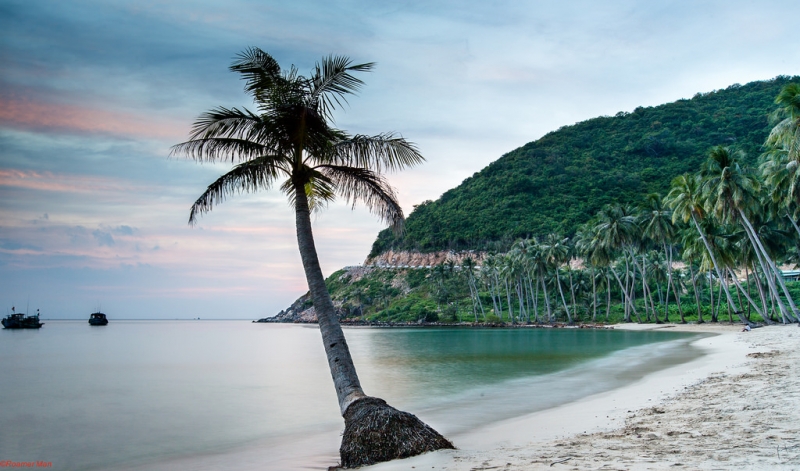 Bai Cay Men – Nam Du
Dam Trau Beach – Con Dao
As one of the beautiful beaches in Con Dao, Ba Ria – Vung Tau province, Dam Trau beach is a tourist destination located just outside Con Dao national park, 14km from the town center and 12km from Co Ong airport. . Coming to Dam Trau, visitors will unleash their ideas and exciting experiences with picnics, coral viewing, swimming…
From afar, Dam Trau beach looks like an oasis in the middle of the vast blue ocean. When approaching, this place appears to be a peaceful resting place, helping visitors to relieve all worries of life. Coming to Dam Trau beach, visitors will be released with nature, immersed in a peaceful, strangely quiet space. It is the wild beauty that has created excitement for tourists in their Vung Tau itinerary.
An extremely interesting scene that visitors can catch is the dawn on Dam Trau beach . When the sun just appeared, the red color-filled, covering the entire space, a ravishing beauty. Not only with poetic scenery, primeval forests, beautiful beaches, Dam Trau also attracts visitors with colorful coral reefs. With family and friends, take a trip to explore the ocean, admire the beauty of corals and watch schools of colorful fish, which will surely bring visitors new and unforgettable emotions. .
Address : Con Dao district, Ba Ria – Vung Tau province.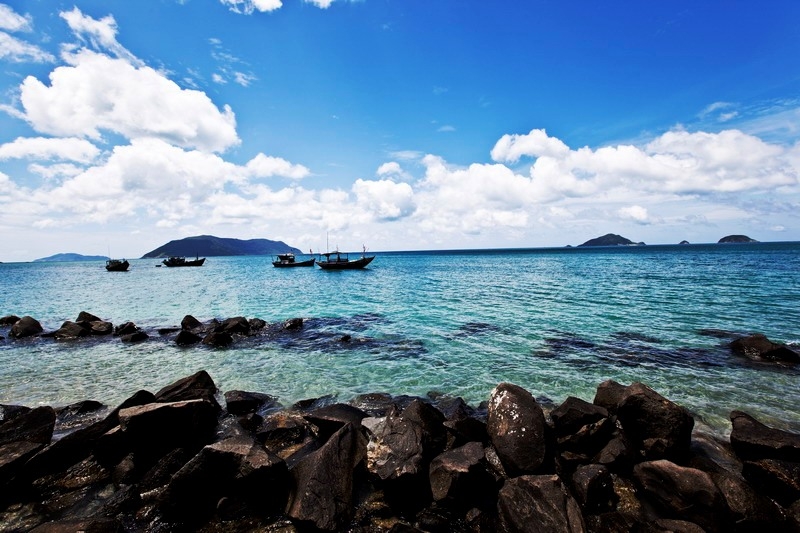 Dam Trau Beach – Con Dao
Be Island Beach – Ly Son
Be Island – an island with an area of ​​less than 1km2 in Ly Son island district, which possesses poetic natural beauty with clear blue beaches, long white sand. Because of that, this beautiful island is also known as Maldives Vietnam. Be Island, also known as An Binh Island Commune, Ly Son Island District, is located about 3 nautical miles from Big Island (Ly Son Island) to the northwest. It takes only 15 minutes by boat to Be Island. With an area of ​​fewer than 1 km2, with about 100 households living. People on the island mainly live on fishing, growing vegetables, onions and garlic.
Coming to Be Island, you will enjoy the fresh air, a wild, poetic and very peaceful scene with long white sand beaches and a clear blue sea. Walking around the beach where you can easily encounter many dark black rocks stretching along the coast, these are the volcanic deposits left millions of years ago that look very eye-catching. Here you will be taught some basic diving techniques by fishermen to help you reach the coral reefs more easily. Then it's time for you to be floating on basket boats to come to the colorful coral reefs of the sea here.
Address : An Binh island commune, Ly Son district, Quang Ngai province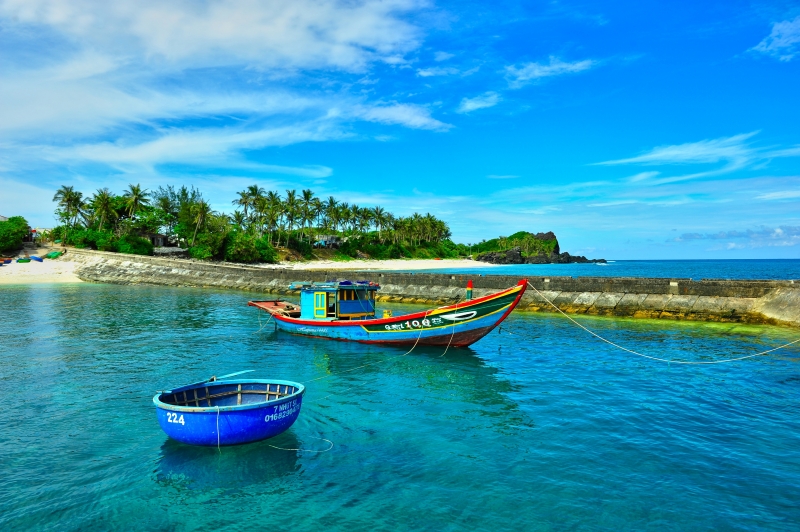 Be Island Beach – Ly Son
Lang Co beach
Lang Co Hue beach was voted by Worldbays (Club of the most beautiful bays in the world) as one of the most beautiful beaches in the world. So what's so beautiful about Lang Co Beach that captivates visitors? Known as a naturally beautiful beach 10km long with a long stretch of white sand, covered by thousands of kilometers of vast tropical forest on undulating mountains, creating a scene that captivates anyone who comes here.
Lang Co Beach has a beautiful location between three world-recognized cultural heritage conservation centers in Hue, namely Hue Ancient Capital, Hoi An Ancient Town and My Son Site. Visiting Hue, you can combine discovering ancient architecture and being able to immerse yourself in the clear blue water of the sea. Lang Co beach is about 8km long, located along National Highway 1A, next to Hai Van Pass and 24km from Bach Ma National Park. This is a beach with a gentle beach, white sand, medium and large waves, very suitable for the type of tourism, swimming, resort, scuba diving, and has been identified as an ideal resort for decades. this year.
Adjacent to Lang Co beach is Hai Van mountain – Hai Van Quan, a famous landscape of Vietnam. Along the foothills of Hai Van mountain, Lang Co beach has coral reefs, lobsters, and a variety of high-value seafood. In that area, there is also Son Tra island, which also preserves many kinds of wild animals and plants. Behind the beach is Lap An lagoon and Bach Ma mountain range. All of these factors give Lang Co great potential for developing many types of tourism such as vacations, scuba diving, exploring wildlife – flora…
Address: Phu Loc district, Thua Thien Hue province.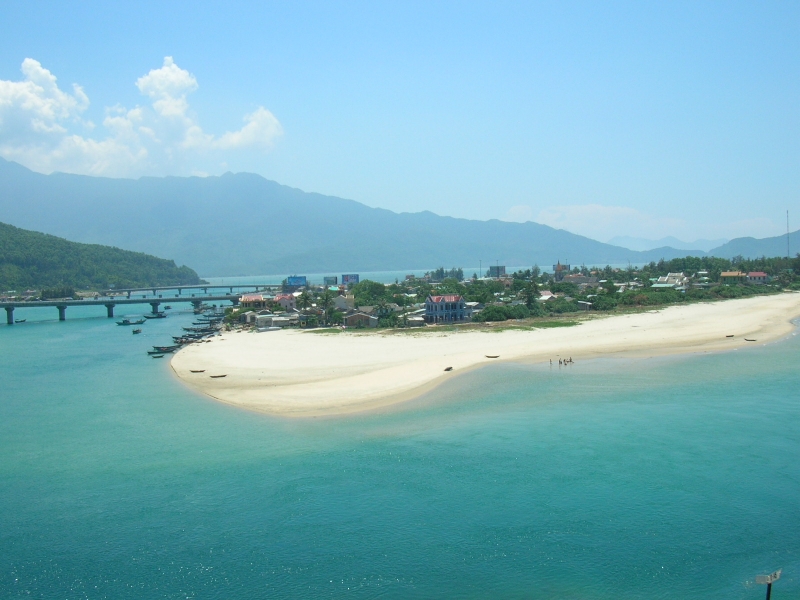 Lang Co beach
Long Beach
Bai Truong (Long Beach) with a length of 20 km, Department of Cell called article undertakings since this is the complex's largest travel Phu Quoc Island is located on Duong Dong town with a coastline of Phu Quoc Island, drooling tendon 20 km from Dinh Cau to the south to the north of An Thoi and is divided into two beaches, North Long Beach and South Long Beach. Bai Truong is divided into many small sections, connected by rocky rapids, trees and fishing villages. The water here is clear and clean, the wide beach with golden sand, the coconut trees swaying in the wind, and the beautiful sunset make Long Beach a photographer's dream.
Bai Truong is one of the beautiful and attractive beaches of Phu Quoc with golden sand and blue sea. This is the only place favored by nature with favorable conditions to cultivate pearls, captivating many visitors when admiring the beautiful sunset here. Long-running along Truong beach are poplar groves, cool coconut trees, melodious in the wind. There are many smaller beaches here, connected by rapids. It is the pristine beauty, charm and convenient location that make Bai Truong crowded and famous. Phu Quoc Truong Beach is the most crowded beach at all times of the day, so if you love a lively and bustling space but still harmonize with the beauty of the sea and nature of Phu Quoc, this is the place to go. the right place for you.
Address : Duong Dong town, Phu Quoc, Kien Giang.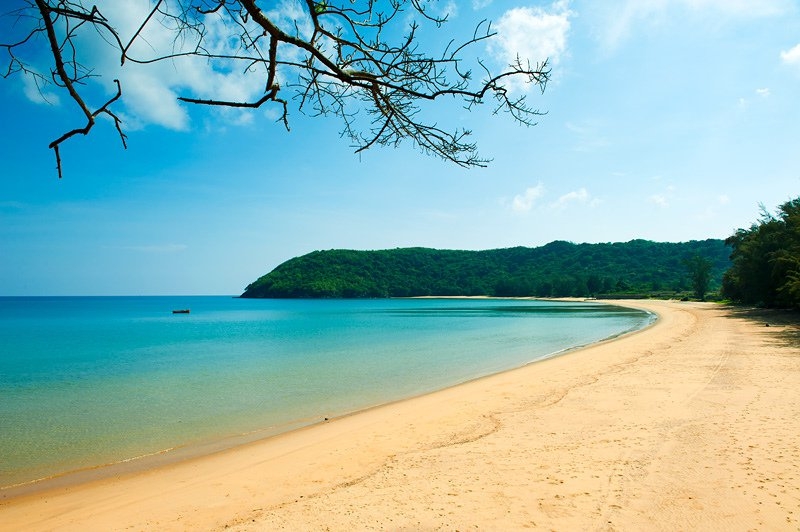 Long Beach
Pineapple Cat Beach 2 – Lan Ha Bay
Bai Cat Dua 2 is hidden behind a tiger-shaped mountain, if you like to explore, you can climb halfway up the mountain or even the top of the mountain to have a panoramic view of Lan Ha Bay with hundreds of large and small islands. . The beach is also very diverse with trees such as maple tree, wild pineapple, sycamore tree, white apple tree…
Cat Dua 2 beach is quieter and there is a large garden of wild pineapple trees, maple trees, sycamore trees, white apple trees… and also the campus of Cat Ba Monkey Island Resort (Monkey). Island Resort), built in the style of a bungalow with thatched roofs in harmony with the landscape, with full amenities and a number of services such as campfire, BBQ party, karaoke on the beach, or organizing snorkeling to see the coral. ..
Coming to Cat Dua 2 beach , in addition to delighting in immersing in cool water, playing with monkeys, you can also climb halfway up the mountain or conquer the peak to admire the panoramic beauty of the island. Lan Ha Bay with hundreds of large and small islands undulating, as if rising from the immense sea.
Address: Cat Ba archipelago, Cat Hai district, Hai Phong city.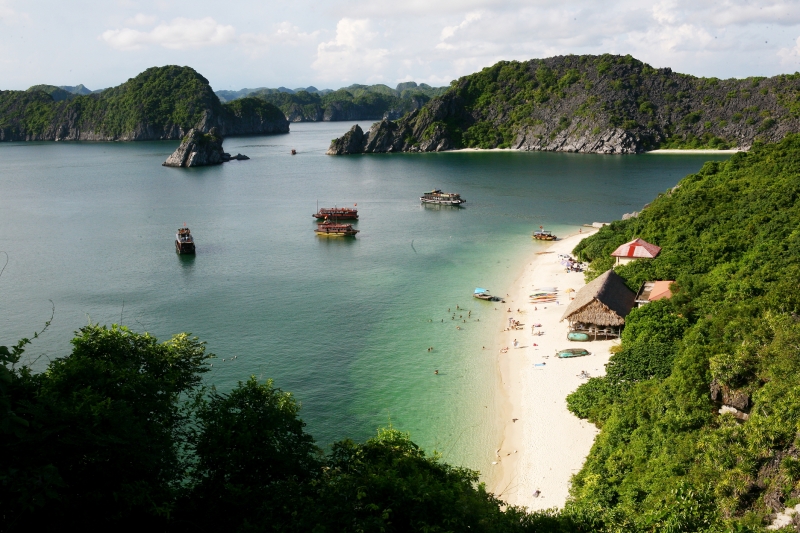 Pineapple Cat Beach 2 – Lan Ha Bay
North Beach – Cham Island
Cu Lao Cham with the blue sea to the horizon, favored by nature I am in the middle of the blue sea or dive in the blue water and observe and admire the shimmering and magical coral reefs. With the advantage of many beautiful beaches, Cu Lao Cham has been used to exploit tourism. Currently, Cu Lao Cham beach tourism is very developed in recent years, attracting a lot of domestic and foreign tourists to visit and travel.
Bai Bac is located in the North of Cu Lao Cham Island , North Beach has only been exploited recently, is a beautiful beach. Coming to this place, visitors coming here will be immersed in the wild beauty and charm of this beautiful island. Bai Bac is located at the top of the main island, this is a quiet, secluded place and an area that is exploited to build a high-class resort that will be put into operation in the future. Visitors can come to visit and travel. But can't swim, snorkel, and can't stay overnight.
Address : Tan Hiep Commune, Hoi An City, Quang Nam Province.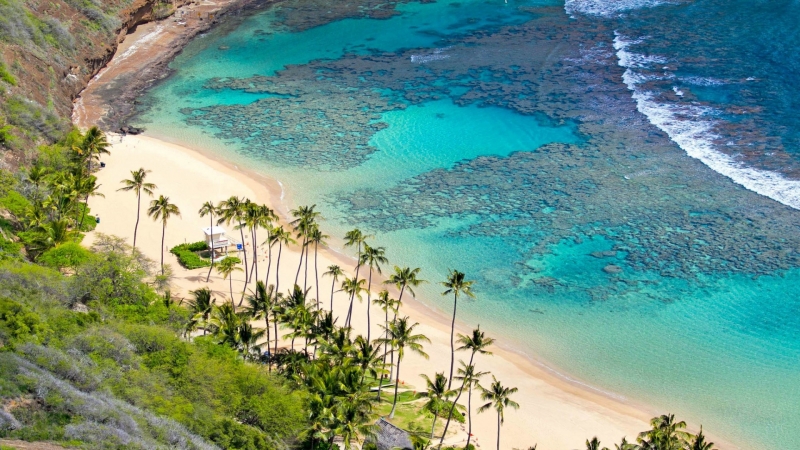 North Beach – Cham Island
Dai Lanh Beach
Mui Dien or Dai Lanh Cape is located in Phuoc Tan Village, Hoa Tam commune, Dong Hoa district, Phu Yen province. There has been a lot of controversy about whether Dien Cape (Dai Lanh Cape) is the easternmost point of the country, but no matter what, this is definitely one of the places to catch the sunrise. The earliest in Vietnam, and of course also one of the most worthy tourist destinations in Phu Yen today.
Dai Lanh Beach is famous for its wildest and most magnificent natural beauty in Vietnam. The beaches stretch, running along the mountainside creating a beautiful crescent shape. Dai Lanh has a white sand beach stretching far away, with a large slope so you can swim far away, the sea is so blue that you can see the bottom. Dai Lanh beach is beautiful but has few tourists because it has not really exploited its tourism potential. However, it is an attractive destination for those who love the wild and quiet beauty.
Address : Hoa Tam Commune, Dong Hoa District, Phu Yen Province.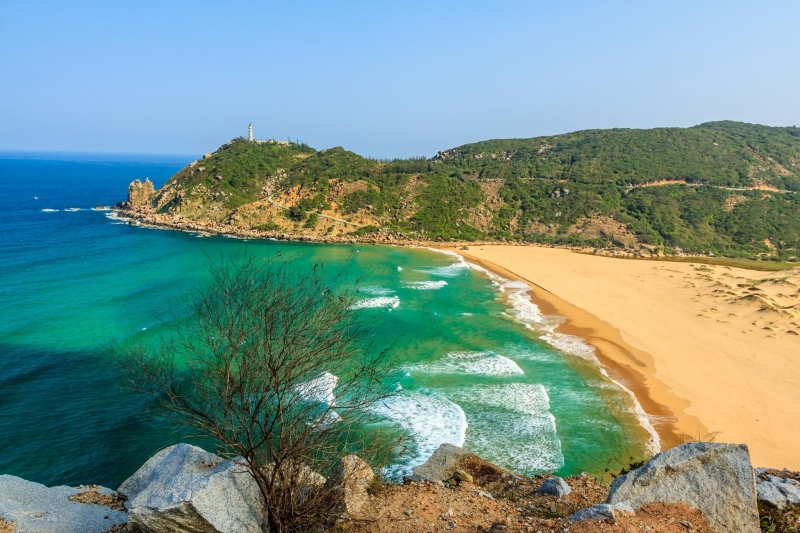 Dai Lanh Beach
Sa Huynh Beach – Binh Ba
Sa Huynh Beach is an extremely beautiful beach and also a place where you can see beautiful natural corals. With clean, smooth sand, clear water, gentle slope, the two sides of the beach are sheltered by rows of ancient stones with spectacular and diverse shapes. The seawater at Sa Huynh beach is as green as jade, not inferior to any famous beaches, its charming and cool beauty is ready to touch any visitor's heart.
This place has clear blue sea water, once you are immersed in the water, you will want to bathe forever, the cool water, combined with the fine white sand, will make you enjoy it forever. When you have enjoyed swimming in the sea, you can gradually go further, where there are colorful natural coral reefs. Do you need to wear a life jacket, bring a snorkel, go snorkeling and you can freely explore the seabed, where there are coral reefs with colorful fishes.
With a beautiful setting for couples walking together on the sandy path, leaving footprints in the sand. watching the sky together, watching the sea, watching the branches and looking at each other. It's happy, isn't it? When traveling to the sea, you should bring a camera that can capture underwater, so that you can take pictures of corals and can check in anytime, anywhere.
Address : Cam Ranh peninsula, Khanh Hoa province.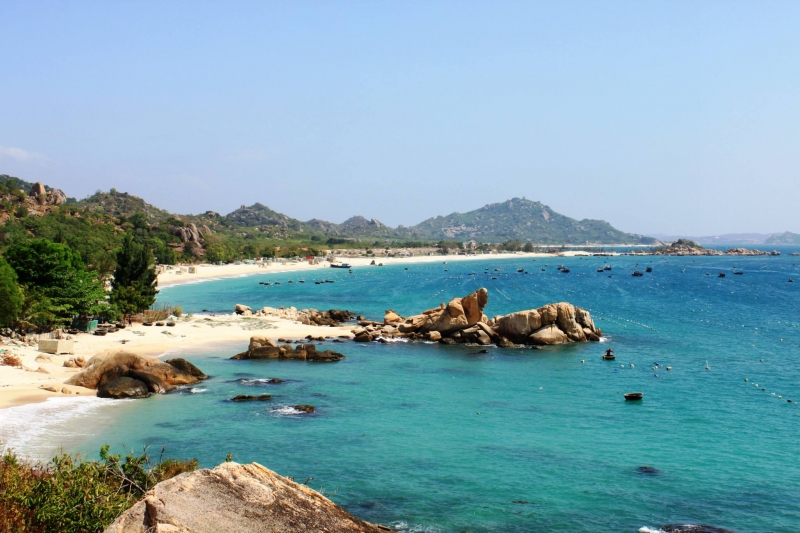 Sa Huynh Beach
Bai Ky Co
Ky Co is located more than 20 km southeast of Quy Nhon city center. This is considered the most interesting tourist destination in Quy Nhon with two sides bordering the mountain and one side facing the sea. Very suitable for people who travel by motorbike. You can travel by car, but traveling by motorbike will be more convenient for visiting and exploring this place. Coming here, you will be overwhelmed by the majestic wild beauty, harmonious nature. Standing from afar, you will see majestic mountains, shady green trees, airy air, strong winds blowing on people carrying the characteristic salty taste of the sea. Ky co has an arc direction like the crescent moon of ordinary days.
You will feel the interesting thing when coming to Ky Co beach that the water here is very cool and shallow. You can freely drop yourself in the jade water, swim 100m away, but the water is only up to your neck. The white and soft sand strips, the cool green trees, the green shade of coconut trees hanging down the sand. What is more interesting than when you are bored with playing with the clear blue water, you can walk barefoot by the coconut trees and sing a few love songs to the sea. The whole scene becomes beautiful shimmering under the sun. Ky Co beach is as beautiful as a treasure chest full of precious stones. The sun shines on the sparkling blue sea that looks like silver from afar, the sand grains are iridescent like tiny diamonds.
Address : Quy Nhon city, Binh Dinh province.
Bai Ky Co
Bai Trang – Mui Dinh
Mui Dinh is a cape and is also the name of a lighthouse in Phuoc Dinh commune, about 40km from Phan Rang city. Located in a rather remote location, the road to this place is still difficult, so the destination is still not too famous, only known a lot in recent years. Thanks to that, this place still retains the idyllic and wild features that make people come and never want to leave. Coming to this land, you will admire the beautiful and majestic natural scenery with large rocky mountains, white-sand beaches, and dreamy blue sea.
If you go in a large group, you can choose a schedule to explore the white sand dunes and swim in the sea. Then set up a tent, camp and eat, sleep overnight at Trang beach before… Get up early in the morning, watch the sunrise and start the journey to conquer Mui Dinh lighthouse. At Bai Trang, you can experience camping, set up a tent and enjoy swimming. A beach with fine white sands, clear blue sea… This is an ideal place for overnight camping trips, stargazing, and barbecues with friends.
At Bai Trang , you can experience camping, pitch a tent and enjoy swimming. A beach with fine white sands, clear blue sea… This is an ideal place for overnight camping trips, stargazing, and barbecue with friends.
Address : Phuoc Dinh Commune, Phan Rang, Ninh Thuan.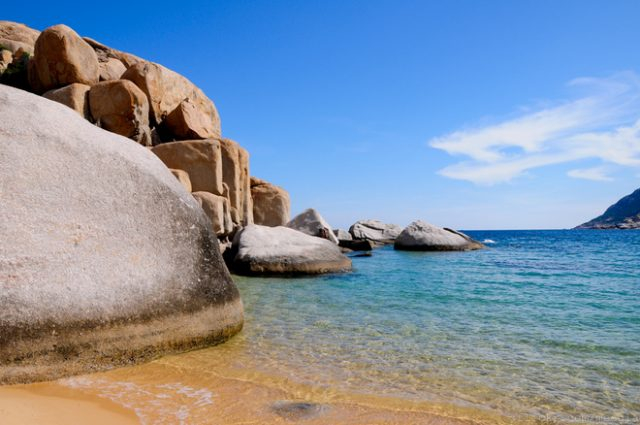 Bai Trang – Mui Dinh
Nhat Le Beach – Dong Hoi
Nhat Le beach is located in the center of Dong Hoi city, Quang Binh province, located at the mouth of the Nhat Le river flowing into the East Sea. Nhat Le possesses the most quintessential, poetic, and unique beauty of a beach worth conquering. With its outstanding scenery, when you travel to Nhat Le beach, it will satisfy all expectations and hopes of a dream trip to the beach.
The sandy beach is smooth but hard enough for sports games on the sea such as football, volleyball, handball… Lying back on a hammock overlooking the vast sea, we feel like color. The sea is mixing with the clear blue sky. The beach is gentle with a depth that is safe enough for those who want to splash in the cool water. It is truly an ideal place for relaxation when you can breathe in the fresh air with the scent of the sea breeze and combine it with exciting sports activities on the beach.
Address: Dong Hoi city, Quang Binh province.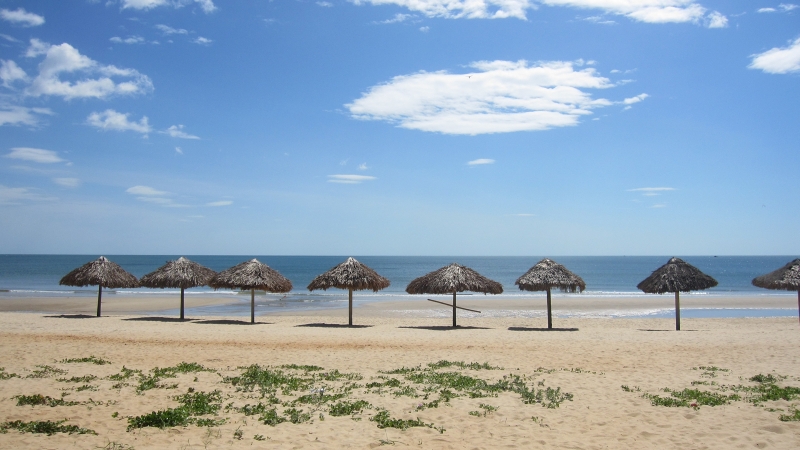 Nhat Le Beach – Dong Hoi
Trieu Duong Beach – Phu Quy
Trieu Duong Beach is located in Trieu Duong Bay, Tam Thanh Commune, Phu Quy Island District, Binh Thuan Province. The only way to get here is to buy a ticket for a medium-speed train from Phan Thiet port to Phu Quy port, then rent a motorbike to tour around the island and remember to visit this beautiful Trieu Duong beach. Trieu Duong beach is only about 1km from Phu Quy port, an ideal destination for tourists from far away to camp and swim. Local guests choose this place as a place to relax at noon or enjoy the sea breeze every afternoon.
Trieu Duong beach, whether viewed from any position, on the road around the island or under the cool blue poplar, is very beautiful and unspoiled. Located opposite Trieu Duong beach, Tranh island is basking in the sun and wind, only about 10 minutes by boat from the beach. But it brings a completely different extreme, completely separate from the island, there is no living population and it is rare for tourists to go out by boat to visit.
Every time the tide recedes, standing from this side can clearly see the black rocks in the middle of the sea rising up in front of you. Tourists go to the rocky beach to visit, take pictures to check in. Here, it is also suitable to let go of the fishing rod, watch the sea and sky and relax with the immense ocean. The beach is very clean and beautiful, the water is clear to the bottom. From the shore of Trieu Duong, you can see far away, Phu Quy island wharf appears very small.
Address : Tam Thanh Commune, Phu Quy Island District, Binh Thuan Province.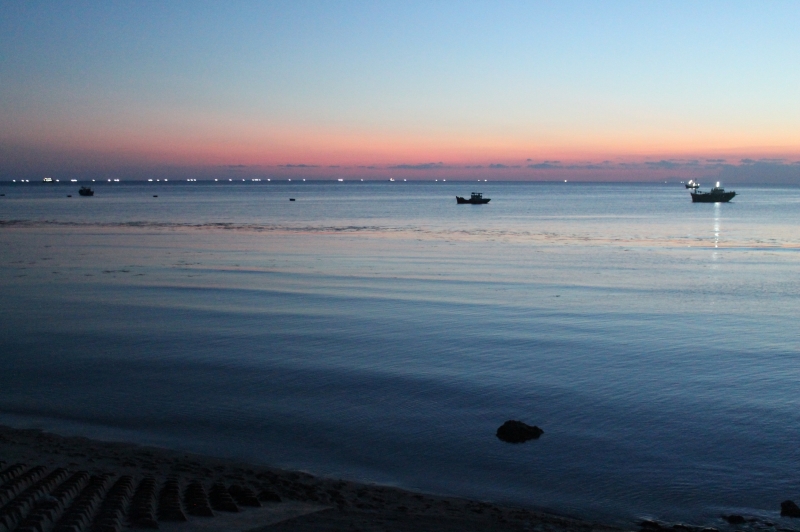 Trieu Duong Beach – Phu Quy
The above is just one of the few beautiful beaches in Vietnam, come and feel all the natural beauty with friends and family!
TAG: