7 places to visit when you visit Chau Doc – Tinh Bien
Not bringing in the beauty and splendor like any other prosperous land, but the West has a rustic, mellow, and peaceful beauty with extremely hospitable people. Let's explore the Vinlove of places to visit when you visit Chau Doc – Tinh Bien.
Chau Doc floating village
The floating village is the "spiritual specialty" of the West, an attractive destination in the journey to discover An Giang Chau Doc tourism. September – October is the best time to visit this place.
Reasons you should choose Chau Doc Floating Village:
You will be very surprised and interesting with the typical scenery of this place. The raft houses are floating on the water and mainly the means of transportation are floating with boats; The boats are full of delicious food; Bargaining takes place right on the river…
Coming here, visitors will be able to take a boat to explore the floating waters with the scene of bustling markets on the river. This place is considered the paradise of An Giang specialties such as seven-course beef, crazy cotton, fish noodles, with classic crazy vegetables… The price is extremely comfortable, relatively cheap.
Besides, the homestay also has a kitchen rental service to prepare food for visitors in need. You can prepare delicious dishes for your family by yourself after a tiring day of exploring.
Details:
Address: Vinh My, Chau Doc, An Giang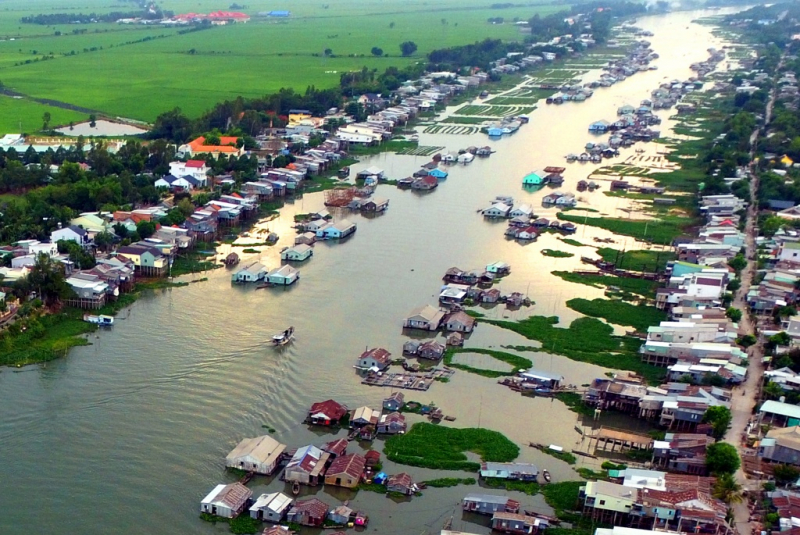 Chau Doc floating village
Mount Sam
A spiritual tourist destination that you cannot ignore on this Tet holiday is Sam Mountain. This place is also known by many other names such as Vinh Te Son or Ngoc Lanh Son.
Reasons you should choose Sam Mountain:
This mountain area has up to 200 temples, pagodas, temples, and shrines scattered from the foot of the mountain, the mountainside to the top. In which the most famous and sacred are Ba Chua Xu Pagoda, Tay An Pagoda, Thoai Ngoc Hau Tomb, Phuoc Dien Pagoda. These sites have been recognized by the Ministry of Culture, Sports and Tourism of Vietnam as national monuments that need to be preserved and developed. During the festival season, many tourists from all over the country have come here to make pilgrimages and pray for peace.
With the lush green mountain scenery, you will enjoy a fresh and quiet atmosphere. Standing from the top of Sam mountain, visitors can enjoy a panoramic view of Chau Doc and Vinh Te canal in sight.
In addition, at the top of the mountain, there is still a fortress built during the French period and the remains of the stone pedestal where the statue of Queen Xu was not brought to the temple. Visitors can come here to visit and admire.
Details:
Address: Nui Sam ward, Chau Doc, An Giang
Altitude above sea level: 284 m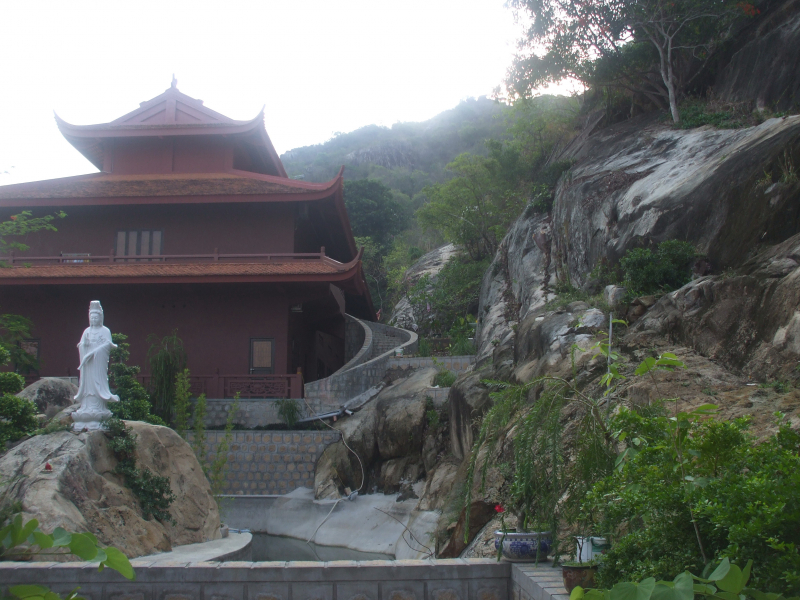 Mount Sam
Chau Doc market
If you visit Chau Doc, An Giang, you cannot help but take the time to visit Chau Doc market . This is a very popular tourist destination.
Reasons you should choose Chau Doc market:
It is not an exaggeration to say that the market is a "food paradise". You can find here all the specialties of the river: Fish sauce, various kinds of sponge cake, sausage, dry, beef cake, pork skin cake, ich cake, vermicelli, Chau Doc noodle soup; In addition, this place also sells specialty fruits and vegetables of An Giang river region such as jaggery, ground fruit, May Thai, persimmons, cana, bananas, etc.
The most famous market is fish sauce. There are hundreds of kinds of delicious fish sauce. Chau Doc fish sauce is a famous brand that has existed for more than 200 years, fish sauce is made from local fish, part fish raised in rafts, part caught naturally, fresh and nutritious. Don't forget to buy some fish sauce, Sat sauce, Tram sauce, Thai fish sauce, Ro fish sauce… as a gift.
The kiosk owners are very warm, enthusiastic and hospitable, always satisfying incoming and outgoing guests. In particular, the products here are all very reasonably priced, publicly listed, and there's no cutting off tourists.
Details:
Address: Bach Dang, Chau Doc, An Giang
Phone: 0296 3866 242
Opening hours: 5.30-18.00
https://www.youtube.com/embed/bNSlwXN3LY8Chau Doc market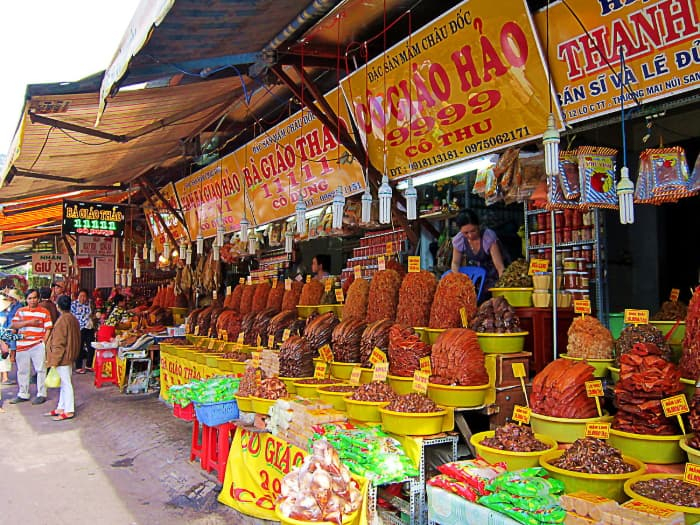 Chau Doc market
An Giang cajuput forest
Coming to Tra Su Melaleuca Forest , visitors will enjoy the fresh and green space, temporarily forgetting the chaos of life and the dust of the city. It has a typical ecosystem in the wetlands west of the Hau River.
Reasons you should choose An Giang Cajuput Forest:
With an area of ​​up to 850 hectares, Melaleuca forest is considered the most interesting and unique attraction of An Giang land. Stepping here, you will feel overwhelmed by the rows of melaleuca trees on both sides of the road; The rice fields spread straight out with the wings of storks flying interspersed with rows of tall palm trees. All fatigue disappears, making room for peace.
Tra Su Melaleuca forest has 70 species of birds, 11 species of mammals, 25 species of reptiles and 10 species of fish. In addition, the forest is also home to 140 species of plants belonging to 52 families and 102 genera, including 22 species of trees and many other trees. You will have a trip full of experiences and interesting.
When you come here, don't forget to stop by the Observation Vong to admire the entire vast Melaleuca forest with a telescope with a 25km view. Or rent a boat to turn the waves deep into the melaleuca forest, immerse yourself in the fresh nature and watch the wild flowers with golden colors, the green of water hyacinth is covered by the entire surface of the water.
Details:
Address: Van Giao, Tinh Bien, An Giang
Phone: 0296 6522 299
Opening hours: 5.00 – 21.00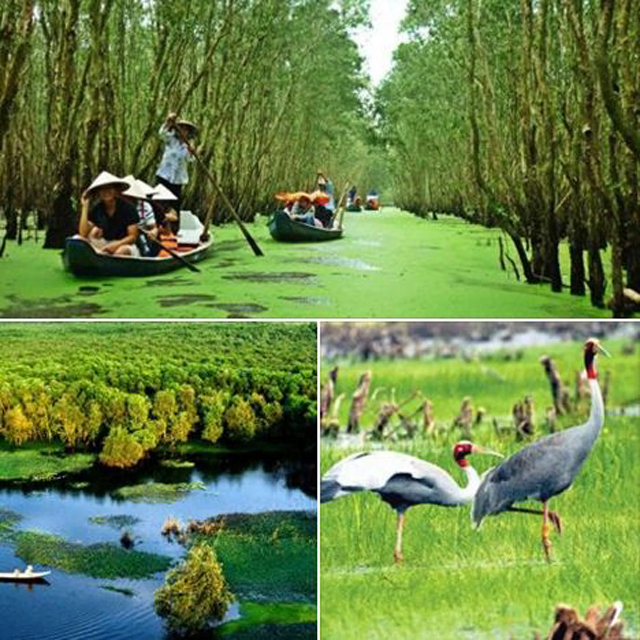 An Giang cajuput forest
Cam mountain
Cam Mountain, also known as "Ong Cam Mountain" or "Thien Cam Son, Thien Cam Son" has Bo Hong peak which is the highest mountain in That Son and also the highest mountain in the Mekong Delta. Long. This is a very popular tourist attraction.
Reasons you should choose An Giang Forbidden Mountain:
Possessing a majestic appearance, extremely cool climate, beautiful scenery along with verdant trees all year round. Visitors to Cam Mountain will be able to visit unique architectural works such as Van Linh Pagoda, Bo Hong Palace, Maitreya Buddha Statue, etc. There are 2 ways to go up the mountain, walking or cable car, in which, climbing activities. Cam mountain, exploring caves or bathing in streams are welcomed by many tourists, especially young people and foreign tourists.
Among the hills in Cam mountain, Vo Bo Hong is the highest (716m). And it is also thanks to this height that Cam mountain is considered the roof of the Mekong Delta. According to the people who live here, the name of the mountain is named after an insect called Bo Hong that lives here a lot. This is also a spiritual tourist destination for many people.
In addition, you should take the time to visit Thuy Liem lake. This place not only has a poetic landscape, but now is also a place to release fishes ideal for tourists. In addition, visitors can also admire the unique and beautiful architecture of the Buddha Relic Stupa on Thuy Liem Lake; Thanh Long Stream; Big Buddha Temple, Van Linh Pagoda are also places you cannot miss.
Details:
Address: An Hao, Tinh Bien, An Giang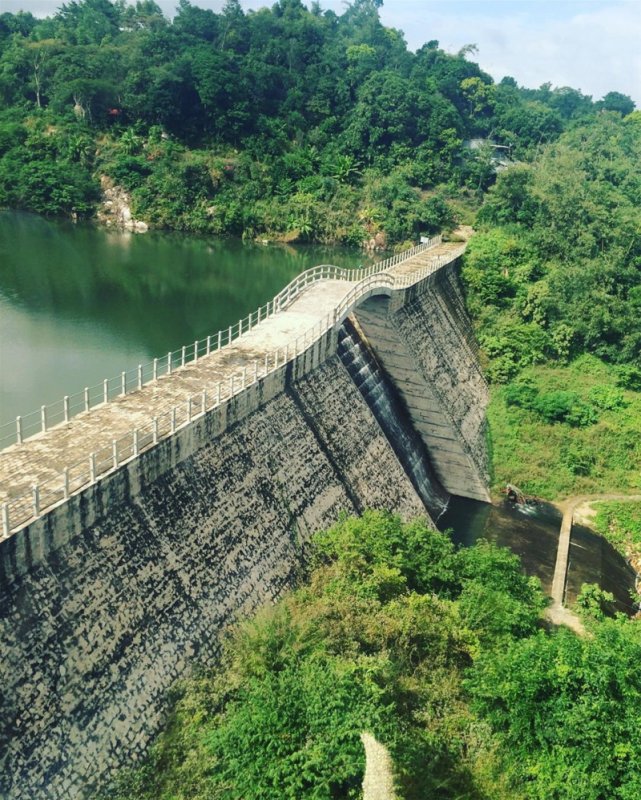 Forbidden Mountain An Giang
Tinh Bien Market
Tinh Bien Market is a border market adjacent to Vietnam and Cambodia, famous for being a busy shopping center with a variety of domestic and foreign products.
Reasons you should choose Tinh Bien Market:
The market sells all kinds of goods including fabrics, garments, cosmetics, shoes, home appliances, food etc. In particular, this is the only market in the West that specializes in selling all kinds of insects, especially extremely poisonous ones. Some types of insects are named such as: queen termites, earthworms, termites, centipedes, scorpions, geckos, lobster spiders, scorpions, beetles, etc.
Adjacent stalls sell a variety of domestic and foreign products at relatively cheap prices such as towels, blankets, clothes, cosmetics, etc. High-end imported watches, diverse Designs are also available for sale. Prominent in the food area is the delicious and beautiful dried fish sauce that is fascinated by many tourists such as Linh fish paste, puffed pangasius dried fish, dried ox fish, Thai fish sauce, choke fish sauce, catfish sauce, snakehead fish sauce, etc. …Don't forget to spend time enjoying jaggery, tea, cool drinks, or special dishes made from insects.
However, when shopping here, you should pay attention to your belongings and money, to avoid pickpockets. Ask for the price before you buy and bid so you don't get overpriced.
Details:
Address: 350 Hamlet Xuan Hoa, Tinh Bien, An Giang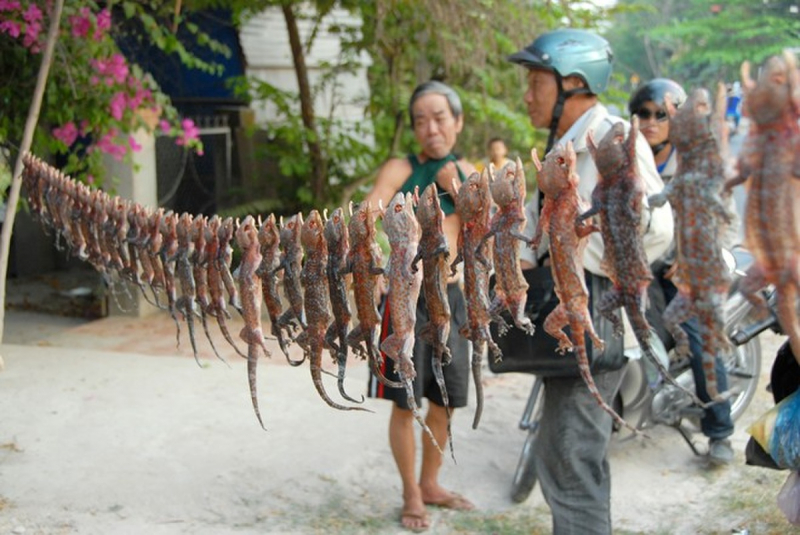 Tinh Bien Market
Van Giao brocade weaving village
Van Giao brocade weaving village is a must-visit place when visiting Tinh Bien land. Van Giao brocade brings beauty and cultural depth rich in the identity of the Khmer ethnic brocade.
Reasons you should choose Van Giao Brocade Weaving Village:
Fabric weavers combine traditional styles with modern techniques. The unique feature of the dyeing technique of Van Giao craft village is the use of traditional dyes derived from nature to make silk shiny, smooth, elegant and durable, without shedding.
To get fabrics with unique patterns, before dyeing silk, the weavers have to pre-define the patterns in their heads to weave and then tie the silk curls into curtains to hang on the poles for distribution. color. How many colors are dyed, how many strands of yarn must be marked. Then use a piece of nylon to tie tightly into pieces. After dyeing any color, take the nylon to bundle that section and continue to open another section to dye another color. After completing the dyeing step, it will be the weaving step. Weaving brocade silk to make sarongs or shawls, Khmer people often use the technique of weaving 3 layers of silk yarn with 3 different colors. This type of brocade, if you look horizontally, you will see blue, if you look on the left side you will see orange, when you look at the right side you will see red.
Coming here, visitors can admire the marvelous brocade works, experience firsthand the process of weaving beautiful brocade clothes and scarves, to love the people here more.
Details:
Address: Van Giao, Tinh Bien, An Giang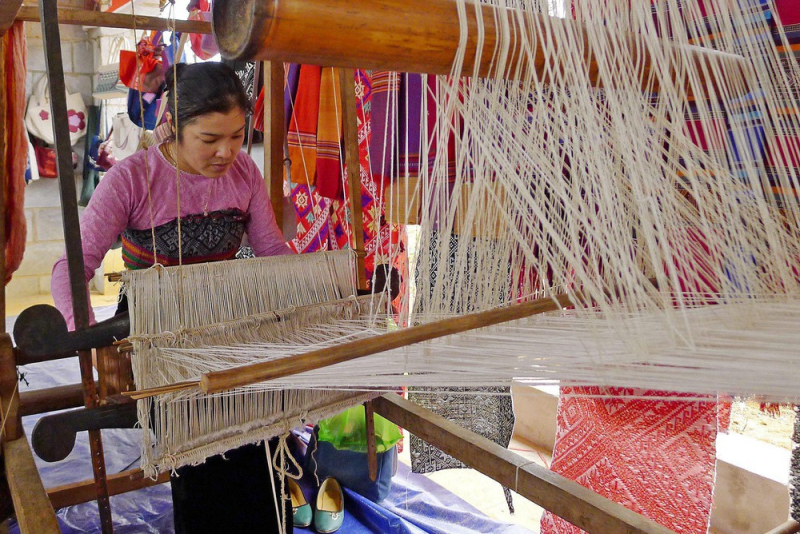 Van Giao brocade weaving village
Do you have any plans for the upcoming New Year holiday? If not, immediately pocket the tips suggested above, pack your backpack and go. Wishing you and your family a happy, fulfilling and fun trip.
TAG: