8 newest Team Building Dalat locations
Team building is an opportunity for the collective to show solidarity, colleagues have time to understand each other better, solve problems. This is also the time when groups of friends can participate in fun activities to bring relaxing and highly educational moments. The right location is an important factor in determining the "success" of this fun occasion. If you are planning to organize team-building with friends and companies in Da Lat, please refer to the following article.
Tuyen Lam Lake
With a location not far from the city center, Tuyen Lam Lake is a "hot" destination of Da Lat. With an area of ​​about 320 hectares, Tuyen Lam Lake is one of 21 national tourist areas in Vietnam. Tuyen Lam Lake is a wild beauty with a clear blue lake, surrounded by pine forests. For the need to find a suitable place to organize team building, Tuyen Lam Lake is an ideal place because of its large area, which can both hold games on the shore and in the lake.
Not only is there a lot of space to organize bonding games, at Tuyen Lam Lake , you can also enjoy the scenery, enjoy the fresh air and eat together. The advantage of fresh, cool air, quiet space, natural landscapes (forests, mountains, lakes, streams, waterfalls, …) in the lake will make the games more interesting. Besides, having fun at Tuyen Lam Lake doesn't even pay an entrance fee, so it will be suitable for many audiences.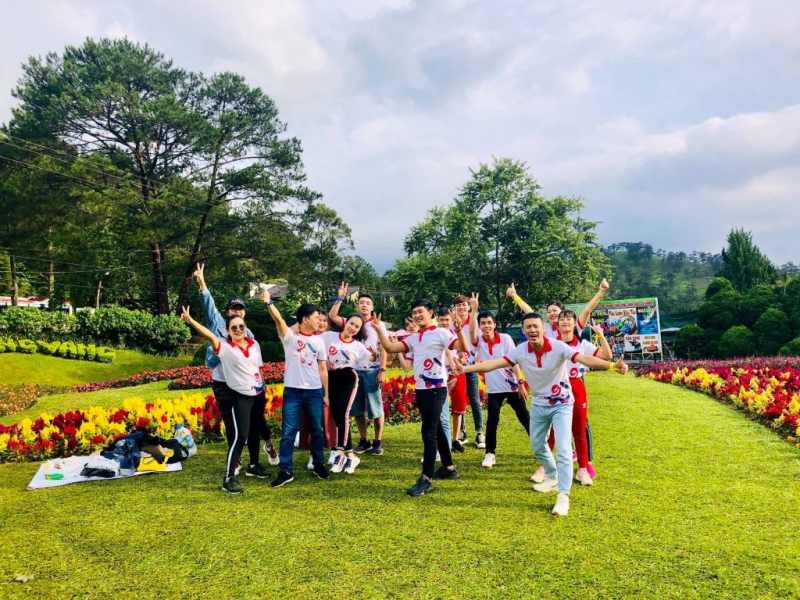 Tuyen Lam Lake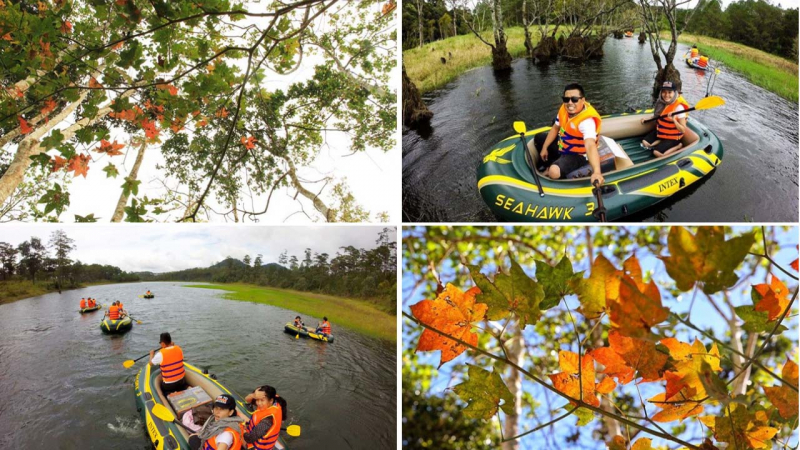 Tuyen Lam Lake
Golden Valley tourist area
Located in Lat Dong village, Lat commune, Lac Duong district, Lam Dong province, Golden Valley resort is also a great suggestion to organize team building. There are vacant lots here, huts are erected to serve the entertainment activities of large groups. The common point of the places in Da Lat is that it has a cool, fresh climate, romantic scenery, so it is ideal for relaxing with friends after months of hard work.
Coming to the Golden Valley tourist area , tourists can both watch the lake view and have a private hill that is very convenient for playing, organizing eating and picnicking. Normally, team building sessions will have a lot of continuous movement games, if the weather is too hot, it will make the game more difficult and fun, so the cool air in the Golden Valley plus charming scenery. will make the company trip more attractive. The ticket price to the resort is about 70,000 VND, not too high compared to a hot tourist destination like Da Lat, so groups love the Golden Valley.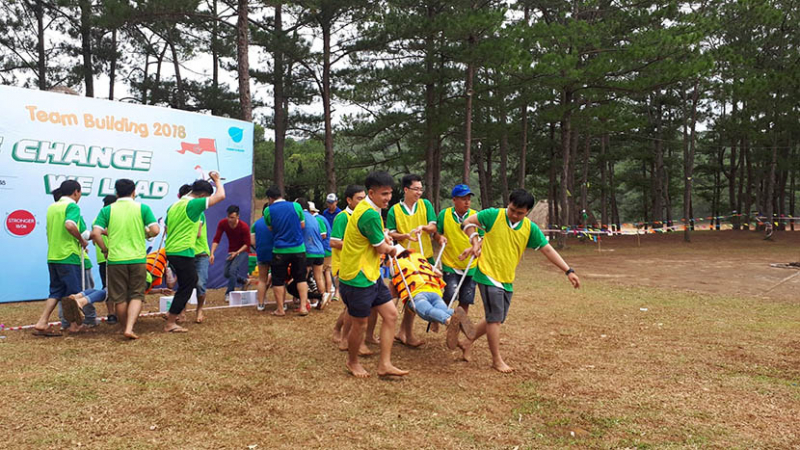 Golden Valley tourist area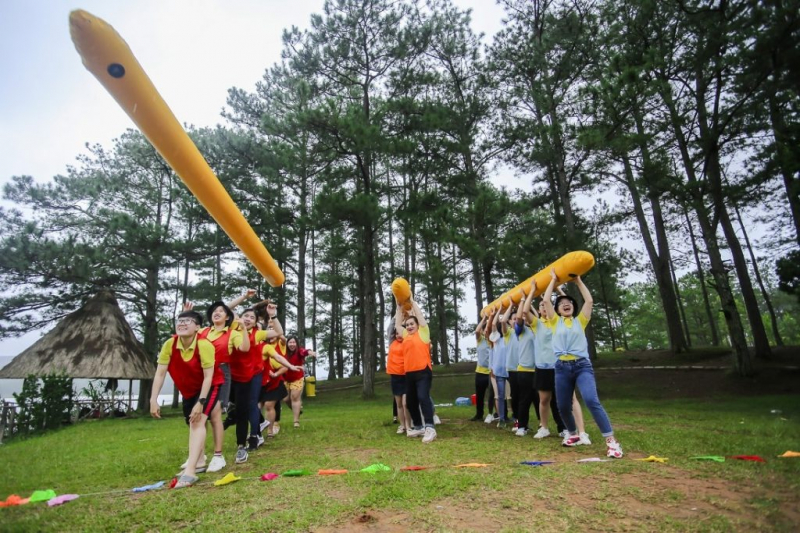 Golden Valley tourist area
Madagui . tourist area
With the immense green of the forest mixed with the cool fresh air typical of the highland, the Madagui tourist area will lead you on a journey to discover the wonders and excitement of nature. . Madagui tourist area with ticket price: 20,000 VND, both cheap and has a lot of space for groups of friends to organize games and eat together. Madagui is a famous tourist area with a large area and diverse terrain, so this place will suit any organization's idea.
If you come here with your friends, why don't you hesitate to participate in team games such as paintball, kayaking and go through rapids or meandering rivers together? At the Madagui tourist area, there are also tent rental services, tools to organize a complete team building session in Dalat. Surely you will have moments of real relaxation, fun with lots of memorable memories and full of laughter.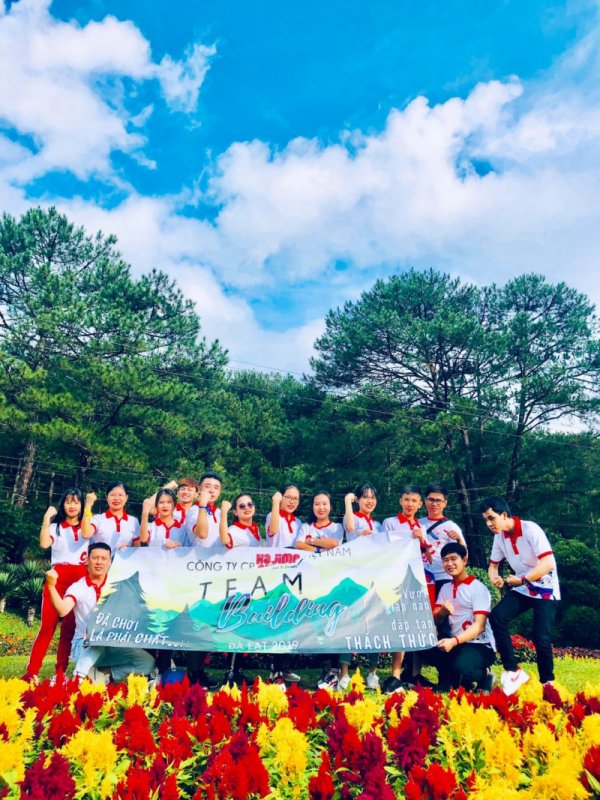 Madagui . tourist area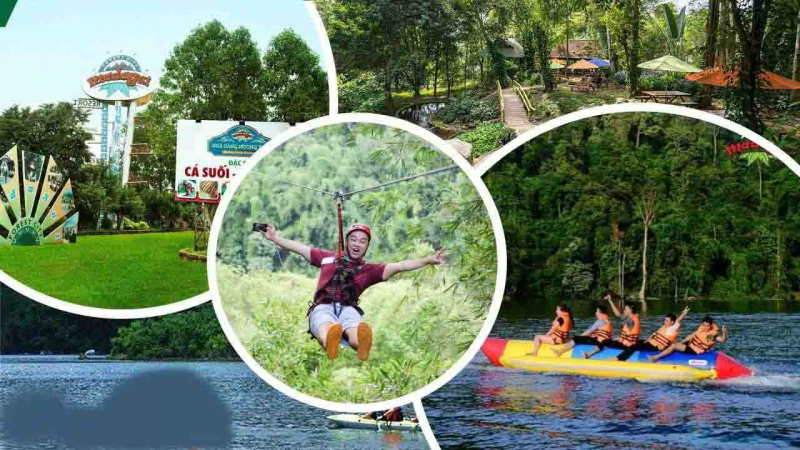 Madagui . tourist area
Cu Lan Village
Along with the above places, Cu Lan Village is also an attractive destination in the dream city, suitable for checking in and organizing games for large groups. At Cu Lan Village, guests can use the 13000 square meter lawn to play games. When groups come to Cu Lan Village, they will freely organize many games to increase solidarity. Some games that are suitable and selected by the teams are rowing, catching ducks, which are also used to the fullest, or catching stream fish in the stream inside the resort.
Cu Lan village was built according to the model of a street in the forest. There are full facilities here so that you can organize team-building sessions in Da Lat as you like. On holidays, Cu Lan Village is chosen by many companies and groups to organize the holiday. Cu Lan village is located in DT 722, Lat commune, Lac Duong district, Lam Dong province, not too far from the city and the road is quite convenient, so it is great to experience it.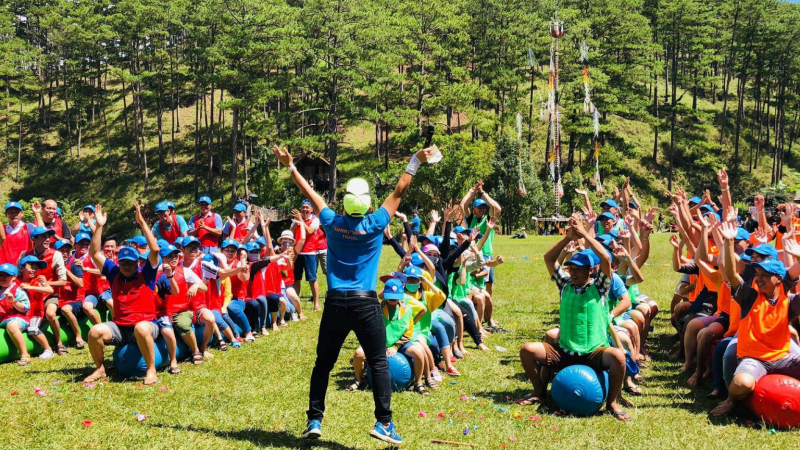 Cu Lan Village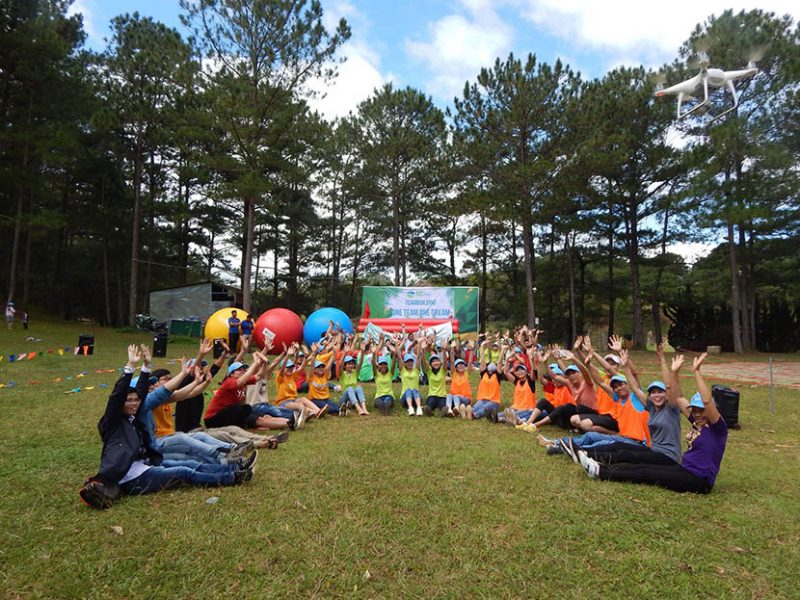 Cu Lan Village
Lake of Than Tho
Located about 6km from the center of Da Lat, along the Quang Trung – Ho Xuan Huong road, Than Tho Lake, is a familiar stop of Da Lat. Although appearing for a long time, Than Tho Lake has never become boring in the eyes of locals and tourists. Than Tho Lake is the right place to organize team building that Toplist would like to introduce to you.
At Lake of Than Tho , you can organize movement games in the pine tree, in addition, you can choose more horse riding, cycling, boating in the lake. The lakeside pine hill has a fairly wide flat terrain so you can play safely. Than Tho Lake is close to the city center, so it is very convenient to move as well as to shop, prepare necessary items and food for collective activities.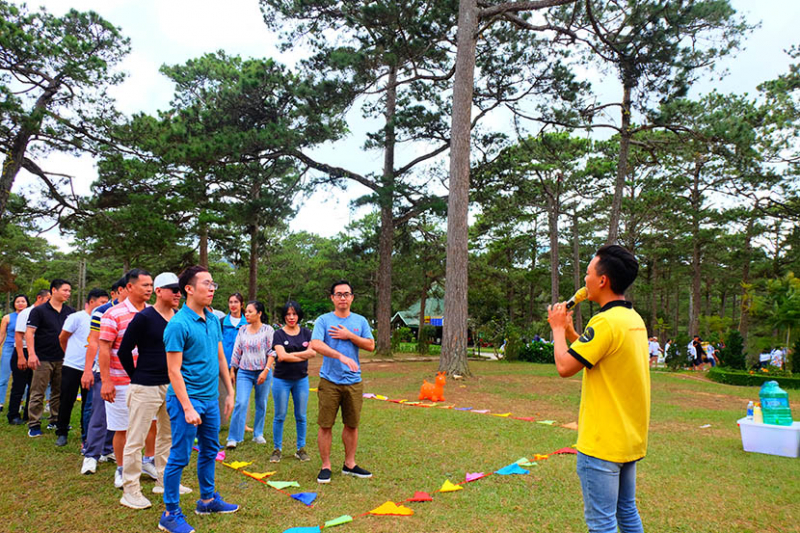 Lake of Than Tho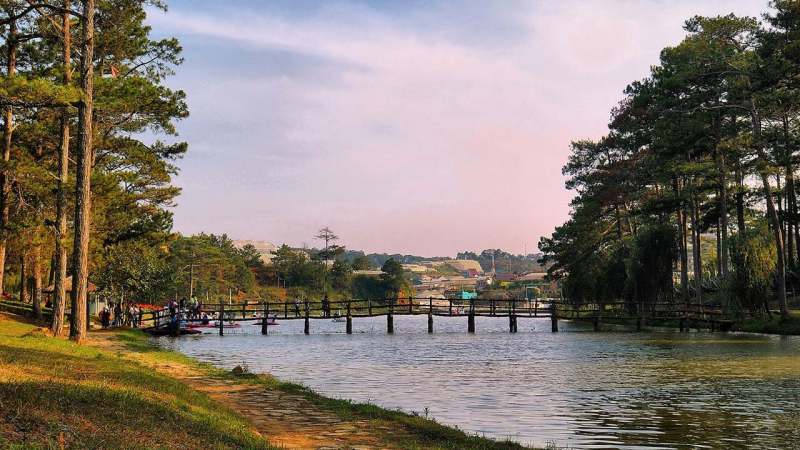 Lake of Than Tho
Thien Phu Duc Hill
Located opposite the busy Lang Biang peak, Thien Phuc Duc hill has a different nuance with the silence like a dreamy muse in the mist. Coming to Thien Phu Duc hill, you will have the opportunity to breathe the fresh air combined with being able to admire the beauty. The peaceful beauty that this hill has brought will be an ideal gift for you to give each other after hard work.
Thien Phu Duc Hill is still quite unspoiled, so there will be no restaurants, so when coming here, visitors should prepare ready-to-eat dishes so they can enjoy together after participating in movement games. If teams want to have fun overnight, they can prepare tents to camp together. The feature when camping here is that you are on a bare hill with only green grass and a few pine trees, so the view is quite open and closest to the city.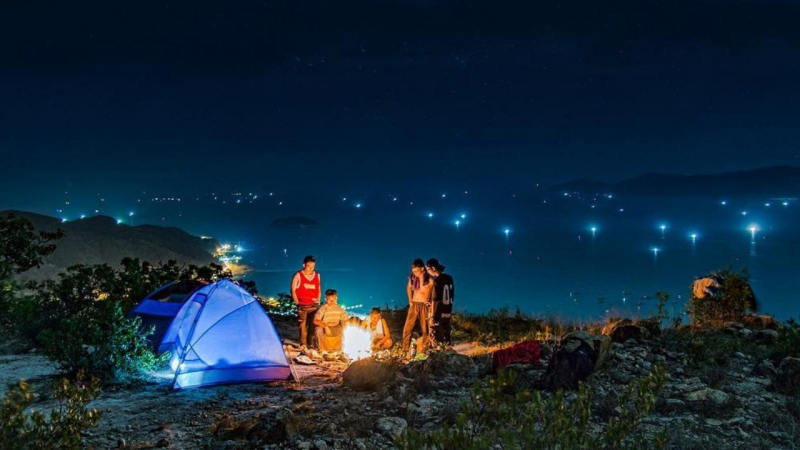 Thien Phu Duc Hill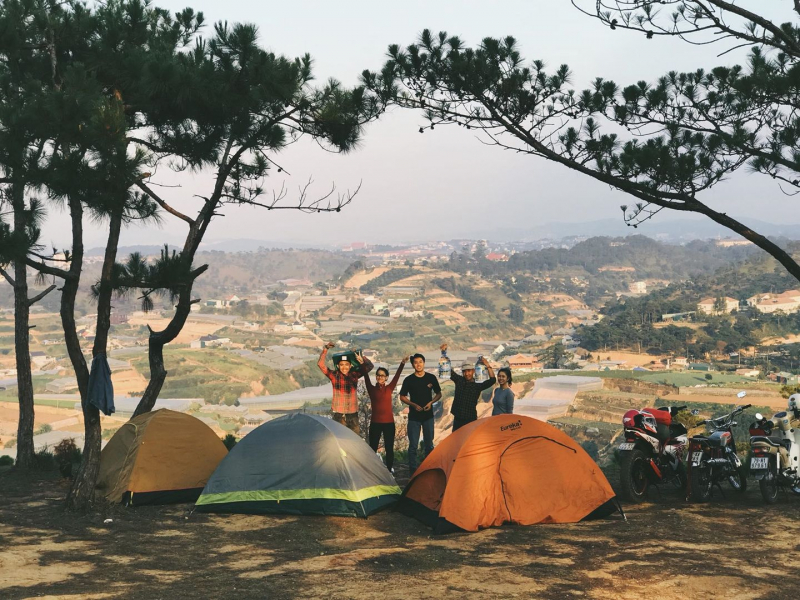 Thien Phu Duc Hill
Da Phu Hill
Da Phu Hill is located not too far from the city center, this is an extremely easy place to find. It only takes about 10km to move, the dreamy and charming hill will gradually appear before your eyes. Thanks to its ideal location, Da Phu hill has been attracting many young people to come to check in because watching the sunrise and sunset or hunting clouds on this hill is extremely ideal. This hill also has many favorable factors for groups of friends to organize games.
This place is still quite wild, keeping the soul of Da Lat, far away are the wild forests containing peaceful features that promise to bring the whole group interesting experiences. Da Phu Hill has a large area, this place will be suitable for collective physical activities, team games such as tug of war, racing, treasure hunting, etc. Or picnic activities, BBQ grilling. out side.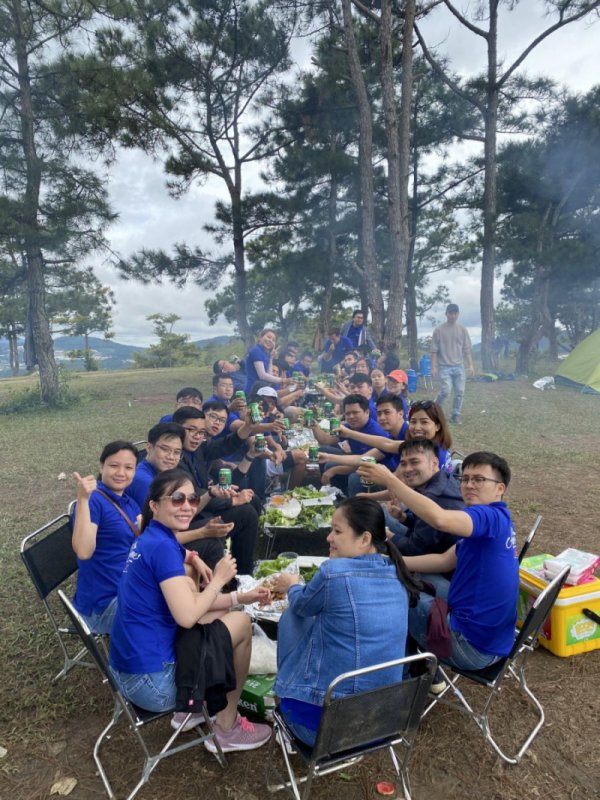 Da Phu Hill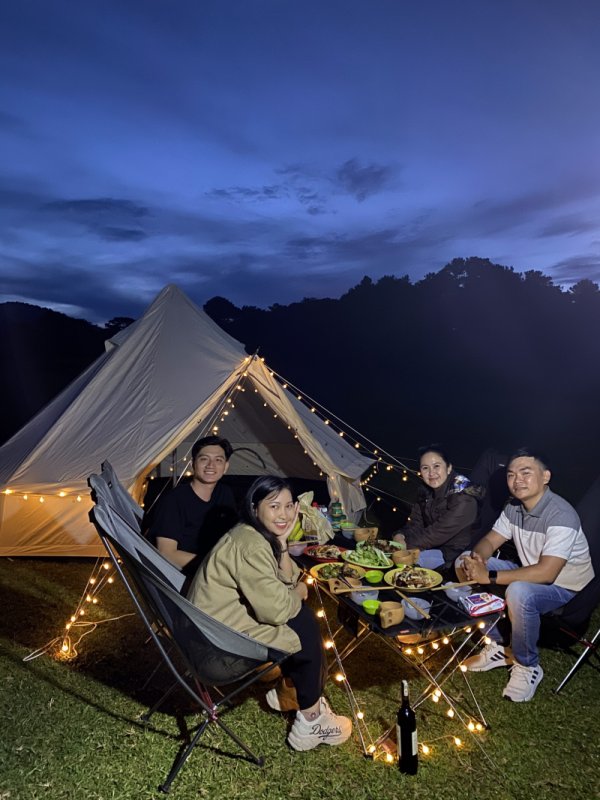 Da Phu Hill
Langbiang Mountain Peak
Langbiang – or Langbiang mountain, or Langbiang mountain tourist area are two mountains: Nui Ong and Nui Ba located 12 km from Da Lat city in the territory of Lac Duong district. Langbiang Mountain is considered as the roof of Lam Nguyen plateau, from above it looks like a picture with the green color of the leaves, the brown color of the tile roof, the color of the rattan that catches your eye. Although the location is 20km from the center of Da Lat city, quite far, with great advantages, the top of Langbiang mountain still attracts a lot of tourists.
At the top of Langbiang mountain, you can participate in outdoor daytime activities such as Zipline skating, Paintball shooting, ball hitting, etc. In addition, there is a full range of tourist services such as restaurants and bars. eat for you to rest, eat after participating in the game for a long time. To get to the top of this mountain, you can choose to ride a jeep, walk along the asphalt road, Trekking – walk along the trail.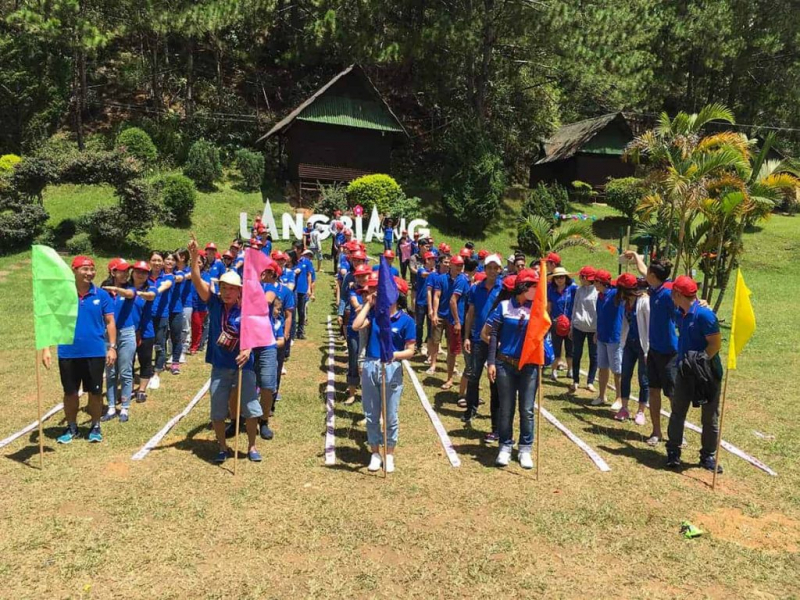 Langbiang Mountain Peak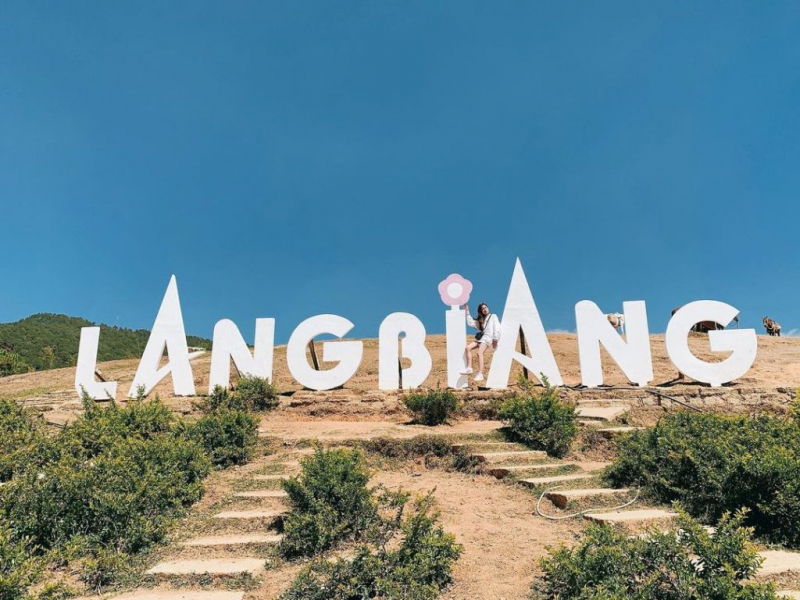 Langbiang Mountain Peak
Toplist has just reviewed the ideal places to organize team building in Da Lat. Please consult and choose a place suitable for the nature of your association, to have the most meaningful and fun relaxing time. Hope this information will be useful to you.
TAG: