What does Hoa Binh tourism buy as a gift? Check out the following list now!
"What can Hoa Binh tourism buy as a delicious – nutritious – cheap gift for relatives?" is the concern of many people. So the list of gifts in  Hoa Binh that you should buy below is something you cannot ignore.
1. What does Hoa Binh tourism buy as a gift? – Orange Cao Phong
Referring to Hoa Binh tourism gifts that must be bought, it is impossible to ignore Cao Phong orange – a famous fruit throughout the country with a sweet, succulent and fragrant taste that no other place can. can be planted.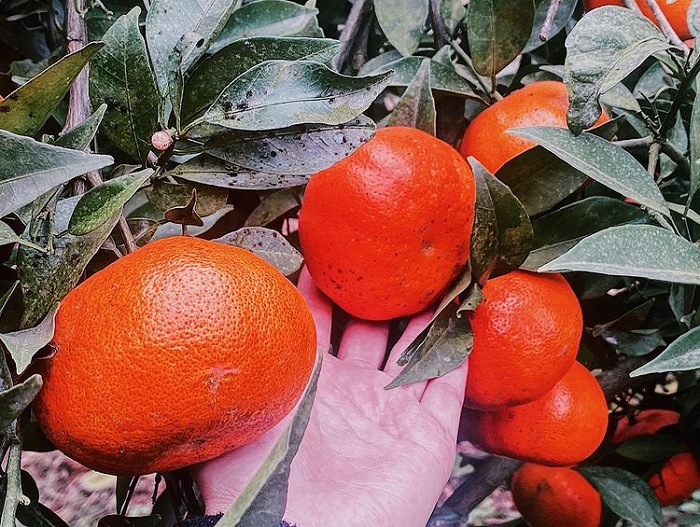 Cao Phong orange is super sweet and succulent (Photo @na_na_0801)
This is also a fruit that often appears in fairs promoting Hoa Binh specialties for domestic and foreign tourists, with many different variations such as marmalade, orange tea, orange wine, orange essential oil, or soap. orange room…and all very expensive.
Revealing, when visiting Cao Phong orange gardens in Hoa Binh, visitors can not only buy oranges at extremely cheap prices, taste them right in the garden and personally choose the biggest – round – succulent fruits as gifts, but also can take countless beautiful virtual live photos like lookbook.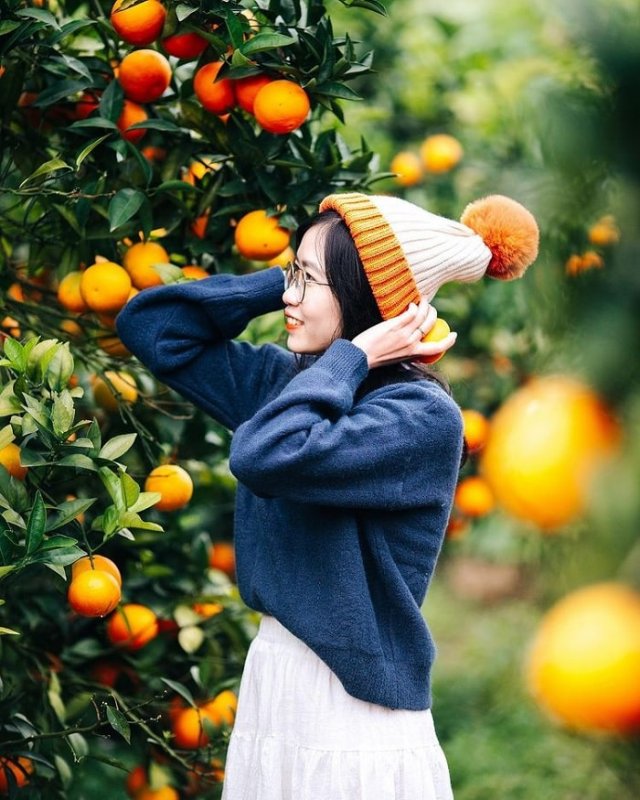 Take pictures in the orange garden (Photo @letuthuyduong)
Address: Orange orchards are located on National Highway 6, in Cao Phong town, Hoa Binh province
Price: about 10,000 VND / kg or more (depending on the season and type)
Harvest time: about from September to March next year
2. Bitter bamboo shoots – a gift to buy when traveling to Hoa Binh
Bitter bamboo shoots are considered the king of all kinds of bamboo shoots, so this is an Hoa Binh tourist gift not to be missed for gourmets. This gift has a white, smooth body, has a slightly sweet and bitter taste, and is crunchy and delicious to eat.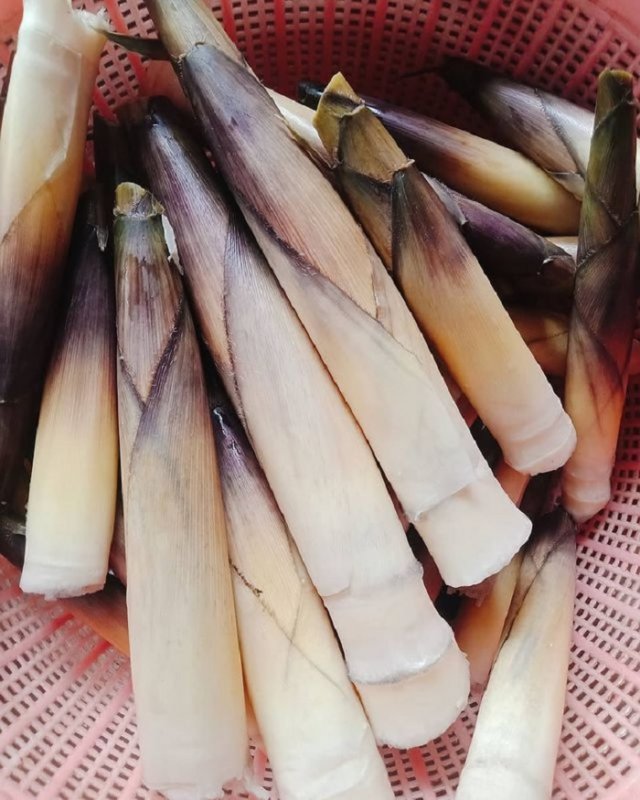 Bitter bamboo shoots are cool and sweet (Photo @hanichang38)
You can bring bamboo shoots to bake, boil and then dip the seeds of doi or octopus, can also soak with garlic and chili for a sweet and sour taste to eat against boredom, stir-fried with meat or cook soup with vermicelli. There are different flavors but they are guaranteed to be "tasty and sore".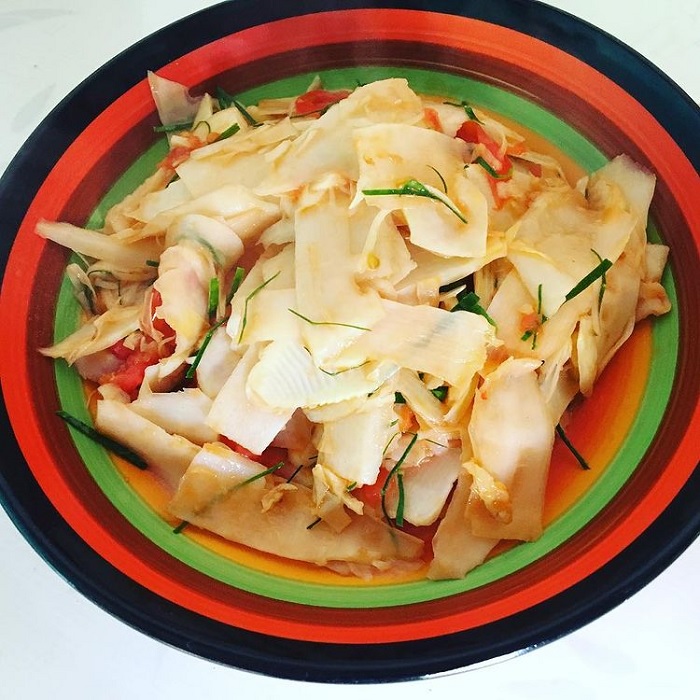 The fried bamboo shoots are so crispy and delicious from the table (Photo @coi940711)
Address to buy: along Hoa Binh street or early morning markets
When to buy: bamboo shoots grow all year round, but they are abundant and easy to buy especially in the rainy season
3. Pickled pork – a specialty that is an indispensable gift in Hoa Binh travel
Pickled pork is a traditional dish of the Muong people, so this may not be a strange dish. But if you ask Hoa Binh tourism what to buy as a gift , people will definitely suggest you this dish.
Because it is also pork, it is also fermented, but the unique ingredients found only in the mountains of Hoa Binh have given it a different flavor. It is the yeast of the forest leaves combined with the hearing to make it sour, the banana leaves that are heated on the fire to wrap and the warmth of a simple wood stove to brew, bringing the taste of both the greasy meat and the sweet and sour taste. of spices, just a hint of the freshness of nature served with a cool glass of beer, it's guaranteed to be a must-know.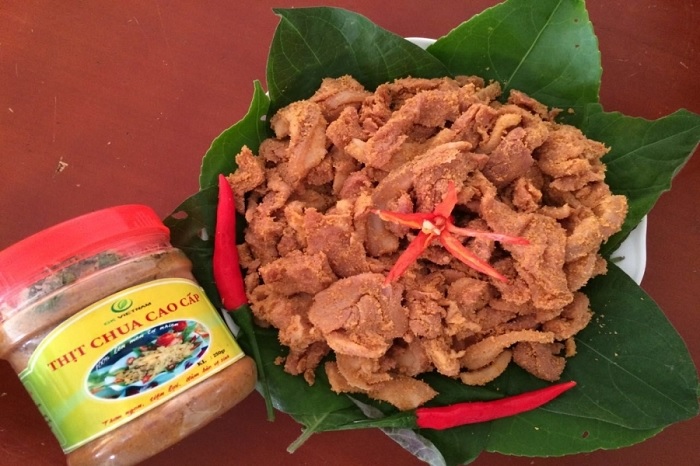 Sour pork with beer is expensive to eat
Address to buy: Thung Nai tourist area or specialty shops in Hoa Binh.
4. What do Hoa Binh tourism buy as gifts for men? – Can wine / Mai Ha Wine
Having sour meat and bitter bamboo shoots to mix and match without a bit of alcohol seems like a mistake. That is why the typical wines here such as Can wine or Mai Ha wine (Lau Sieu wine) are always a good buy as a gift when traveling to Hoa Binh .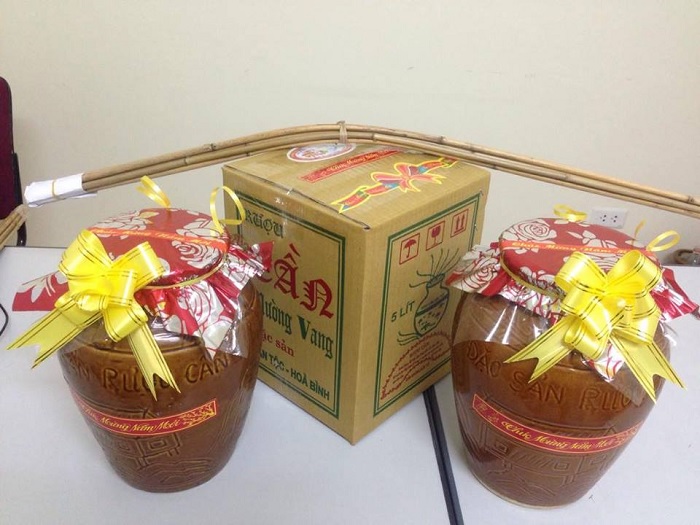 The characteristic spicy wine will make many people fall in love
In particular, if the wine needs to have a strong aroma of tobacco leaves, upland rice leaves – the typical flavor of the gentle and gentle countryside, Mai Ha wine is rich in the taste of more than a dozen leaves, tubers, and fruits. such as: twigs, ginger, grapefruit, guava, persimmon, cassava … bring a spicy, passionate taste and take the flavor far away, challenging the user's alcohol tolerance. Especially, both of these wines are bottled quite solemnly and beautifully, so it will be very suitable to give to friends or boss.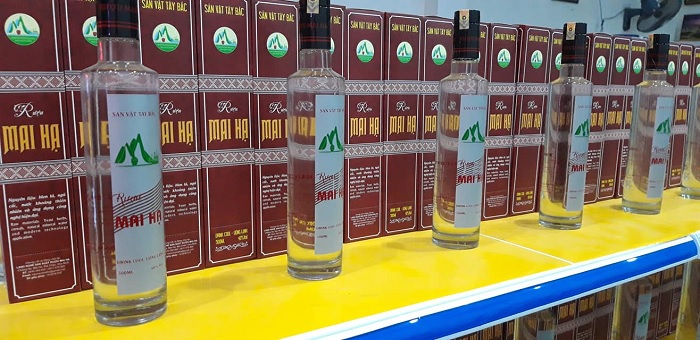 Mai Ha wine is very suitable for giving
Purchase address:
Wine to buy in Muong Vang commune, Lac Son district, Hoa Binh province
Mai Ha wine bought at specialty stores in Mai Chau, Hoa Binh
5. What does Hoa Binh tourism buy as a gift? – Pa Co shan snow tea
Shan Tuyet tea is a hundred-year-old ancient tea with large buds covered with a layer of fine white silk, so it is called snow tea. This plant is known as a famous specialty of the Northwest region, but few people know that there are many tea trees in the Pa Co cap mountain over 100m above sea level in Hoa Binh.
The original tea roots were cultivated by the Thai Bao La, until they were no longer living, they were passed on to the Mong people and cared for and developed to this day. It is known that ancient snow tea has a mild aroma, golden water like honey, anti-cancer content 11 times higher than the best green tea in Japan and is wanted by many countries to buy and plant. Therefore, if you ask Hoa Binh tourism what to buy as a gift for good health, the answer will surely be Pa Co shan Tuyet tea.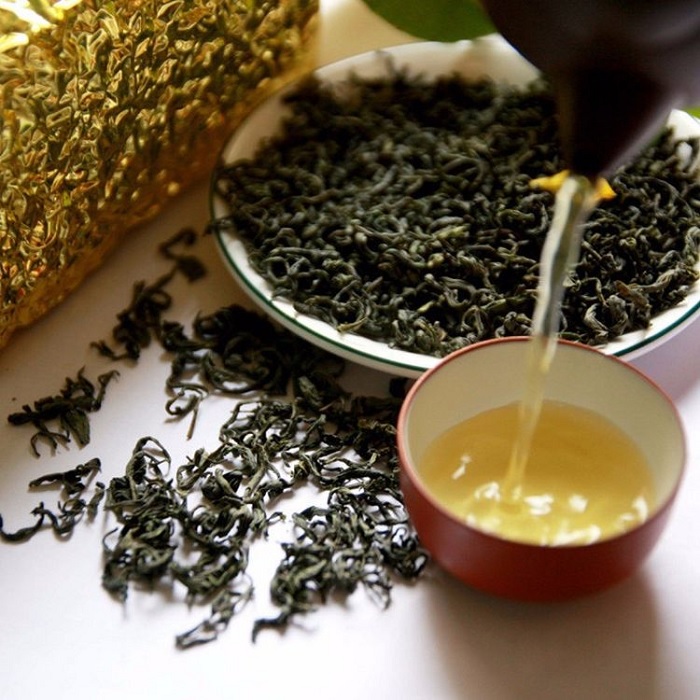 Shan Tuyet tea in Hoa Binh is fragrant and has a sweet taste
Address of purchase: Pa Co commune, Mai Chau district, Hoa Binh province.
6. Lac Son forest honey – a nutritious gift to buy when traveling to Hoa Binh
Speaking of nutritious gifts to buy when traveling to Hoa Binh , it is impossible not to mention the forest honey in Lac Son. The honey here is not only pure and blended but also brings up the scent of wild flowers and mountain scents, bringing a special taste that is hard to resist.
Moreover, the honey here is still taken by traditional methods and squeezed manually, so the nutrients are preserved more completely, safely and with more benefits.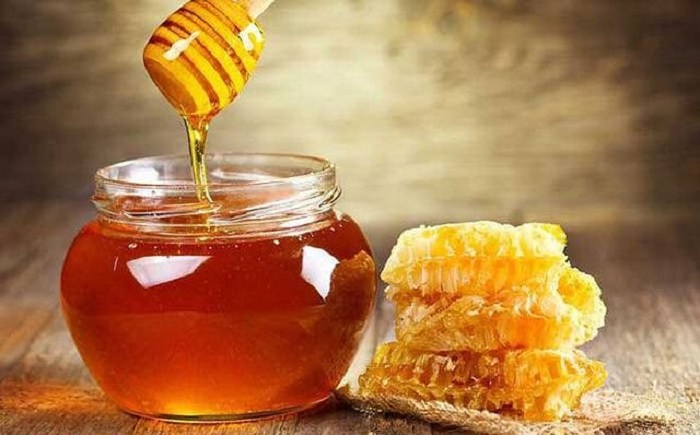 Forest honey is extremely nutritious
Address of purchase: Tu Do highland commune, Lac Son district, Hoa Binh province.
Hopefully the above sharing will help you answer the question " What to buy in Hoa Binh tourism as a gift " to have the most complete and meaningful trip.
Photo: Internet
TAG: