10 most famous tourist attractions in Cua Lo
Cua Lo is a famous town in Nghe An province. This place is famous for its busy seaport and exciting sea tourism activities thanks to its resorts and wide, gentle coastline, and clear blue sea. When traveling to Cua Lo, remember to visit 10 attractive places below to enjoy the beautiful scenery and learn more about the land and people here.
Bai Lu Resort
Bai Lu Resort is a high-class eco-tourism area in 2 communes Nghi Yen and Nghi Tien, Nghi Loc District, Nghe An, Bai Lu Resort is 24.8 km from Vinh airport, 25.6 km from Vinh station, from the city Vinh 25.4 km, and 270 km from Hanoi capital. Bai Lu Resort opened in May 2008, The resort is invested and managed by Bai Lu Business Joint Stock Company.
The name Bai Lu comes from the name of the towering Lu Son mountain that has stood for thousands of years on the beach. Today, Bai Lu has become a high-class resort in Cua Lo that fully converges three elements: sea, mountain, and forest with a cool green color covered by trees and green grass. guests the most relaxing, closest to nature. At Bai Lu Resort, there are 135 luxurious rooms with 79 coastal rooms and 56 rooms in hillside villas.
Besides, there are also 3 large-scale restaurant systems: Chau Sa restaurant, Hoa Bien restaurant and Huong forest restaurant offering fresh and attractive sea specialties with excellent service. extremely professional. At Bai Lu Resort, there are almost all necessary services for a trip from the resort to dining, campfire, massage, karaoke, culture and art, poetry club, barbecue village, recreational fishing. or love bikes…
Address: Nghi Yen and Nghi Tien communes, Nghi Loc District, Nghe An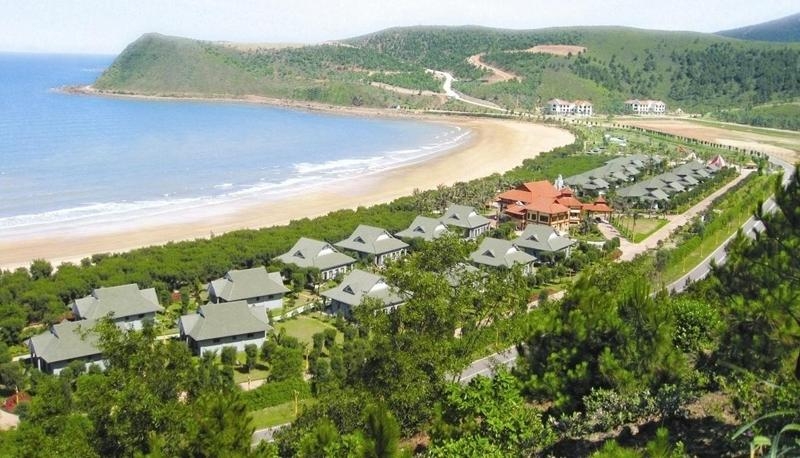 Bai Lu Resort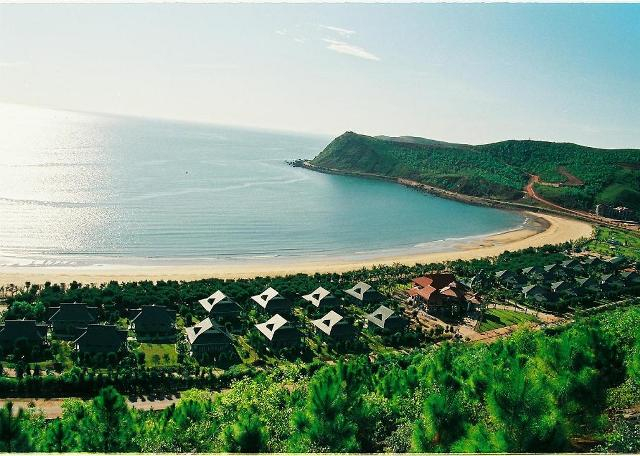 Bai Lu Resort
Hon Ngu Island (Pisces)
Hon Ngu Island, also known as Pisces Island, is a fairly new place located about 4km from Cua Lo beach. Pisces island consists of two large and small islands, of which the large island is 133m high, the small island is 88m high above sea level; This place has long entered the literature and history books of many famous artists such as Phan Huy Chu, Bui Duong Lich with wonderful beauty full of islands, sky, clouds and water. This island is both a breakwater for the Cua Lo tourist area, and also an extremely attractive new sightseeing spot. For those who love to explore and be close to nature, Pisces Island is definitely a destination you must visit.
When setting foot on Pisces Island, visitors will feel extremely excited when directly watching a strange pebble beach stretching for kilometers. Besides, you can also swim at the fairy beach under the clear water that can see the bottom. In addition, you also have the opportunity to enjoy delicious fresh cobia fish caught directly from the sea. Moreover, this place is also very suitable for those who like diving, fishing or gathering with friends on weekends or holidays.
Address: 4km from Cua Lo beach, Cua Lo coastal town, Nghe An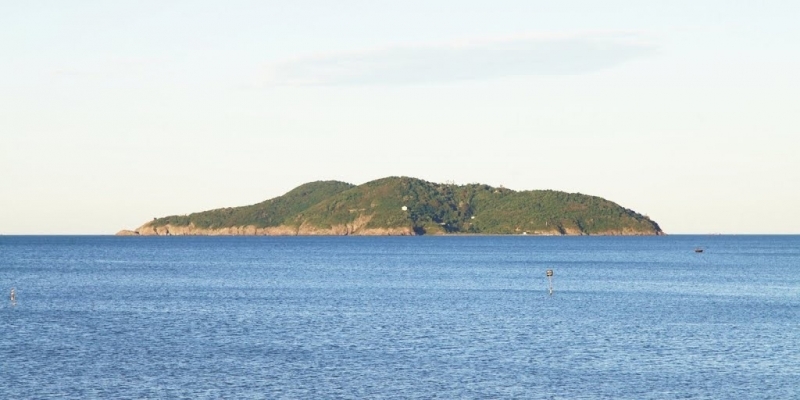 Hon Ngu Island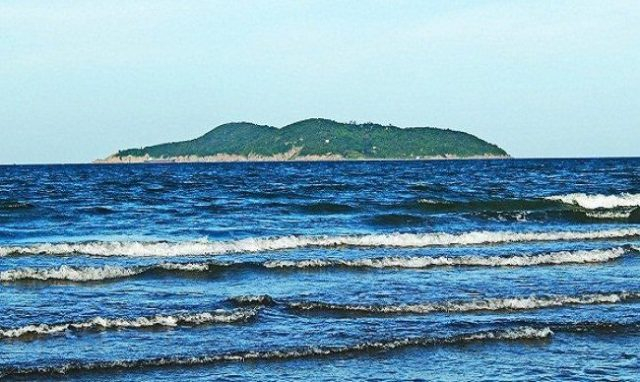 Hon Ngu Island (Pisces)
Lanzhou Island
Cua Lo – Nghe An is no longer a strange name for tourists who love the sea. Cua Lo beach has a simple beauty, close to nature to enjoy the beast of clouds and water, in the distance is Lan Chau island, known as Cua Lo cottage with beautiful scenery.
Lan Chau Island is located right next to the Cua Lo coast and divides this area into 2 separate zones, this island is like a giant toad reaching out to the big sea. Lan Chau Island is an ideal place for travelers who love to explore the unspoiled beauty. When the tide rises, the whole island of Lan Chau is submerged in clear, cool seawater.
The eastern area of Lan Chau island is the cliffs with interesting shapes, jutting out and stretching out to the sea. On the top of the island is the location of the Nghinh Phong floor built by King Bao Dai. This is a prime location for visitors to have a panoramic view of the town and Cua Lo port and at the same time zoom-out into the vast sea. This place has been planned into a high-class tourist area with sightseeing boats, sea tourism routes, and the development of water sports to serve visitors.
Address: Cua Lo coastal town, Nghe An

Lanzhou Island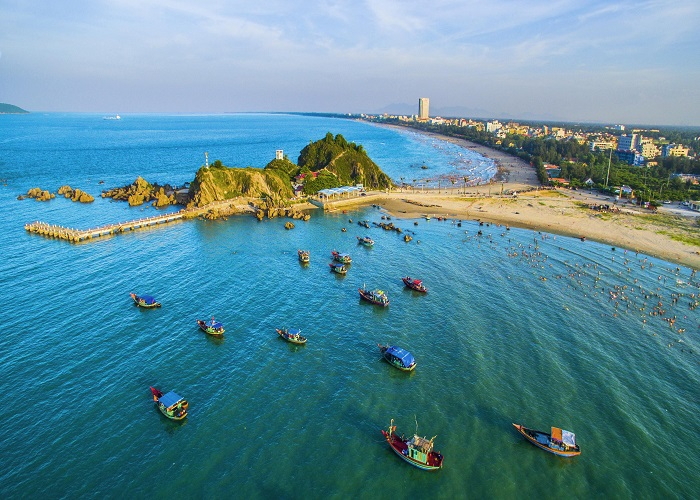 Lanzhou Island
Hien Gate
Cua Hien is located 35km from Vinh city, this is the place where An Duong Vuong slashed Princess My Chau and then followed God Kim Quy into the sea (according to legend). The beach in the Cua Hien area is extremely flat with fine sand stretches and retains its pristine beauty, this is also the only place in Nghe An that is not affected by the hot dry Lao wind.
As soon as you arrive at Cua Hien beach, you will see a rocky beach with many strange shapes running along the edge of the sea. The clear blue sea water is ideal for swimming, immersing yourself in the cool water to forget all your troubles. Besides, visitors will have the opportunity to taste fresh seafood dishes of the sea and participate in squid fishing activities, catching fish with fishermen with unforgettable experiences.
Address: Dien Trung, Dien Chau, Nghe An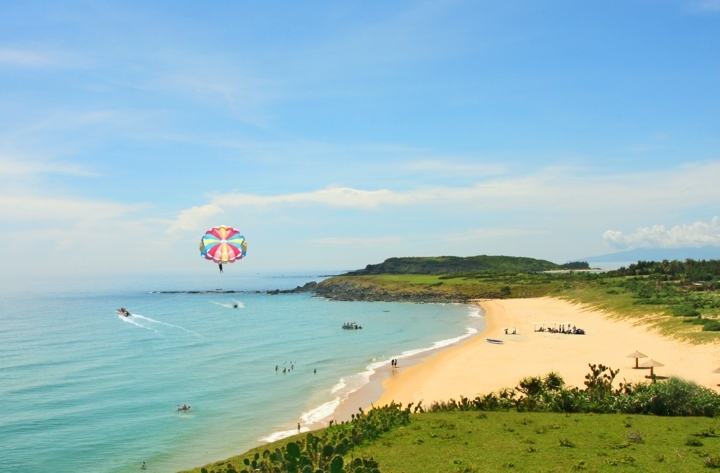 Hien Gate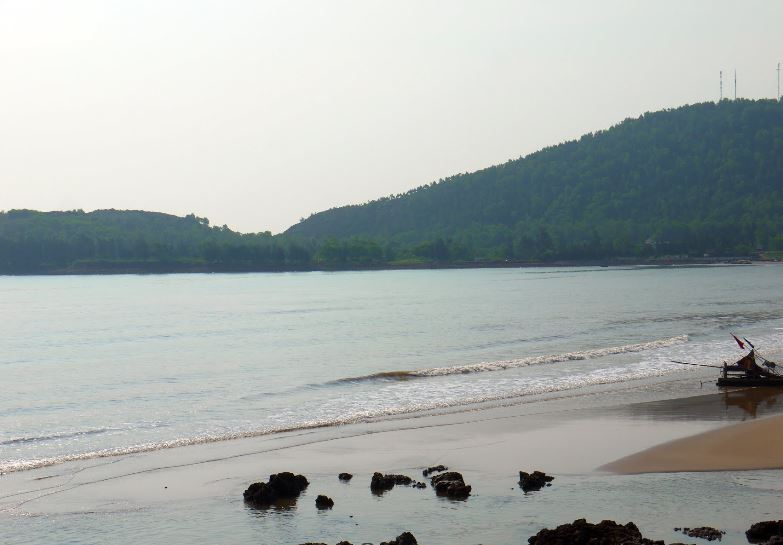 Hien Gate
Quynh Beach
Quynh beach is a common noun to refer to 7 adjacent beaches of 7 communes in Quynh Luu district, Nghe An province with a coastline of nearly 20km. These are the beaches: Quynh Phuong, Quynh Lien, Quynh Bang, Quynh Luong, Quynh Minh, Quynh Nghia and Tien Thuy are beautiful beaches, with wild features, poetic caves, abundant aquatic resources and attractive seafood. It is located 70km north of Vinh city.
Coming to Quynh beach , visitors will have the opportunity to discover the majestic beauty of nature and enjoy delicious seafood dishes from the Central Coast with rich flavors. Quynh beach owns gentle stretches of sand, the wave level is light and not too noisy, giving you an unusually peaceful feeling.
Address: Quynh Nghia, Quynh Luu, Nghe An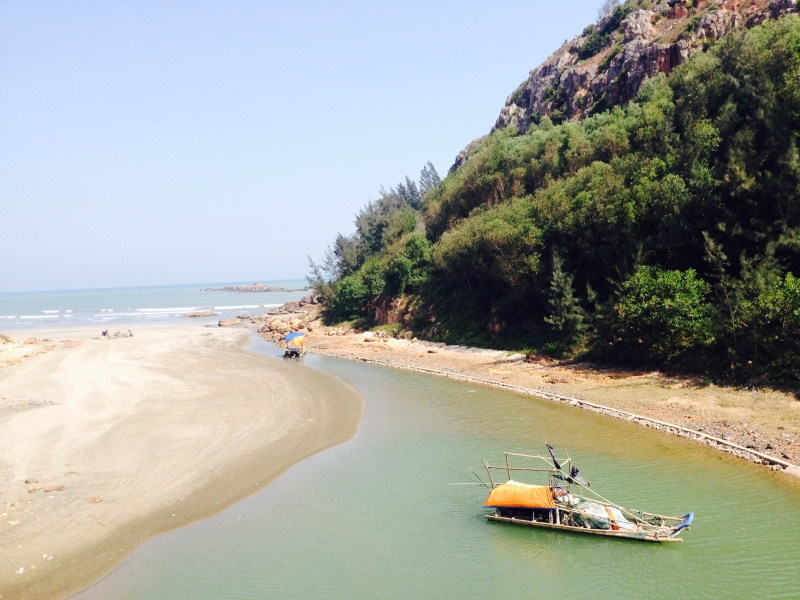 Quynh Beach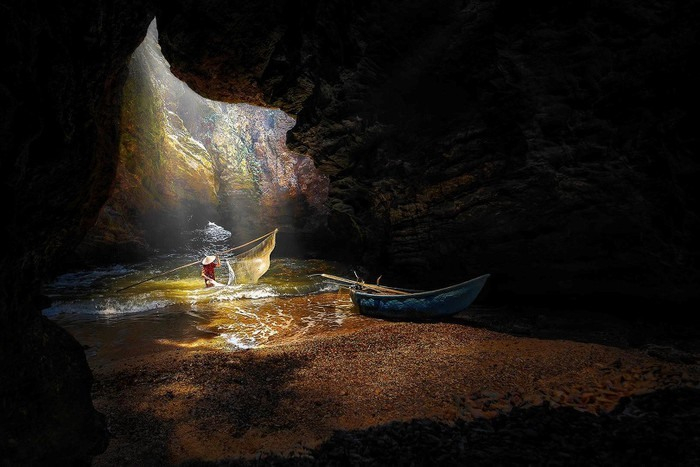 Quynh Beach
Van Loc Temple
Cua Lo not only captivates tourists with sea tourism, but spiritual tourism activities here are also very famous. Coming to Cua Lo, don't forget to visit Van Loc temple – a temple built in the Le Trung Hung period, this is an ancient and large-scale architectural work.
This place was built to worship Crown Prince Nguyen Su Hoi (1444-1506), he was the eldest son of Thai Su Cuong, Duke Nguyen Xi, and was a great contributor to the Le court. destroyed foreign invaders, established hamlets, recruited people to build up Van Loc village today. Van Loc Temple is located in a prime location, the position from the mountain overlooking the river when in front is the peaceful Cam River, behind the temple is Lo mountain, Dragon mountain on the right, Tuong Son mountain on the left bringing to the mountains. charming. In 1991, Van Loc Temple was awarded the title of National Historical and Cultural Relic by the State.
Address: Nghi Tan ward, Cua Lo coastal town, Nghe An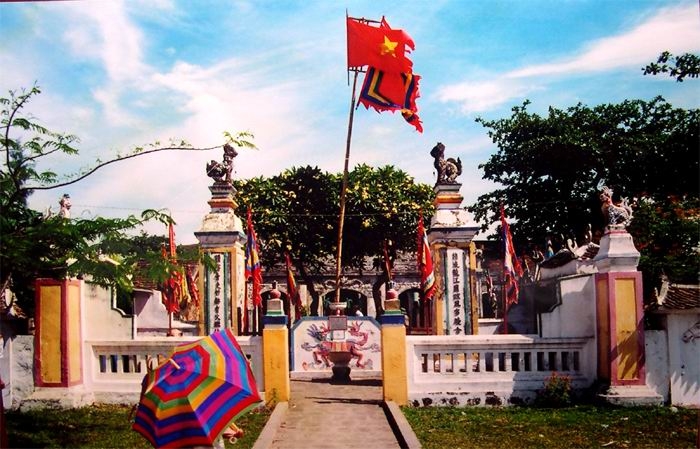 Van Loc Temple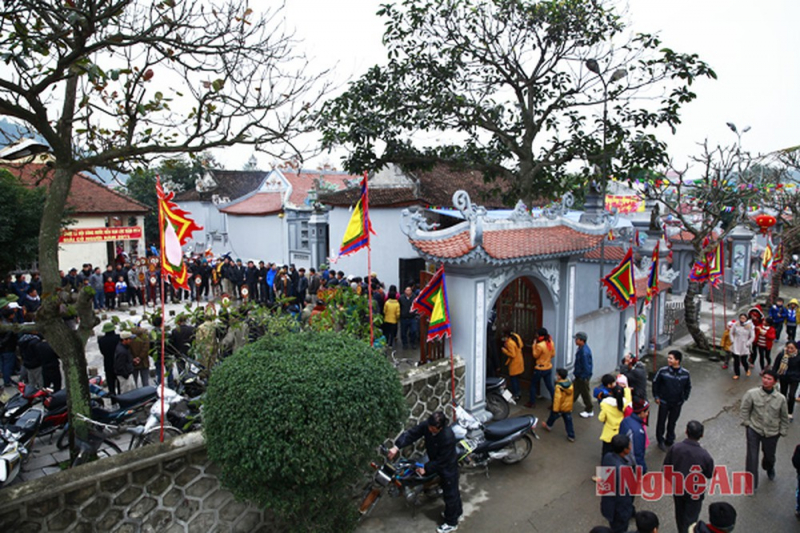 Van Loc Temple
Lo Son Pagoda
Lo Son Pagoda has the word Pho Am Tu, the pagoda was built by Prime Minister Nguyen Van Mien in the Vinh Thinh year (1705 – 1719) under King Le Du Tong, located at the foot of Cao Mountain. Over thousands of years, Lo Son Pagoda still retains its ancient features and blends with charming nature to become a unique cultural work.
Lo Son Pagoda can be located on the mountain, surrounded by luxuriant and green big trees, creating a green space like an attractive feng shui picture. In 2005, the pagoda was ranked as a provincial historical relic. At the beginning of 2011, Lo Son Pagoda was honored to have the Venerable SanVaDo at Suyli Temple in Myanmar offer Buddha relics.
Address: now in block 6, Nghi Tan ward, Cua Lo coastal town, Nghe An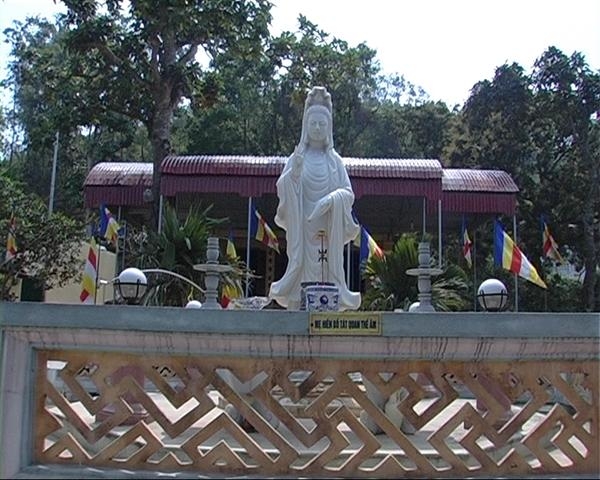 Lo Son Pagoda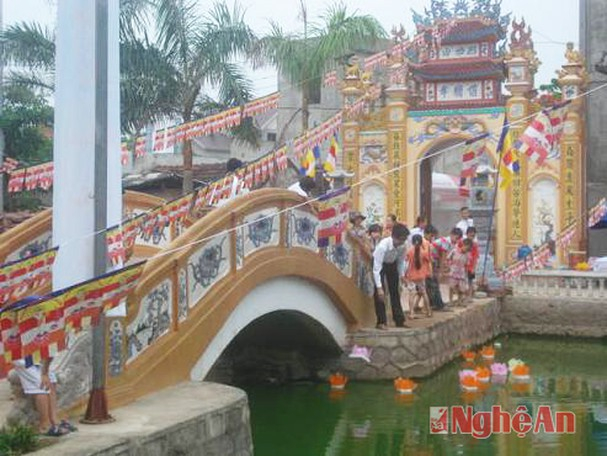 Lo Son Pagoda
Cua Hoi eco-tourism area
Cua Hoi eco-tourism area was built in 2000 with a total area of ​​5ha, hidden under a green casuarina forest. This place has a lot of dining services with sea seafood, separate accommodation services on stilts and attractive activities such as freshwater lake fishing or swimming. Especially from this tourist area, visitors can easily see the beautiful Ngu Island.
In addition, this resort also has a complex of entertainment and hotel hotels along with Vinpearl Cua Hoi resort villas to maximize all the needs of tourists when traveling to Cua Lo. Cua Hoi eco-tourism area is the ideal place for you to escape the noisy and crowded atmosphere of the city.
Address: Cua Lo coastal town, Nghe An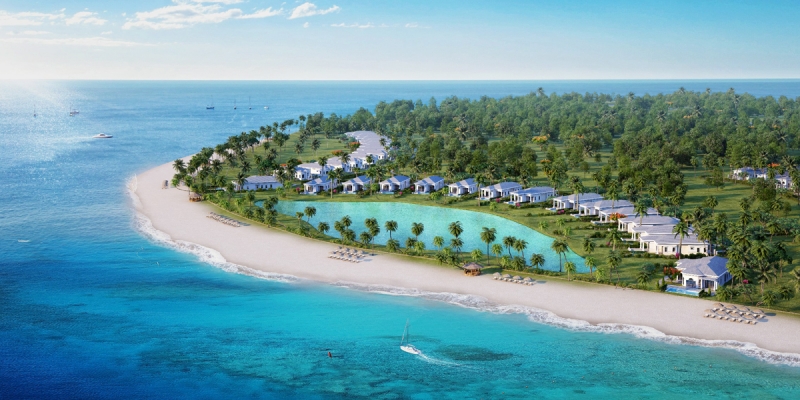 Cua Hoi eco-tourism area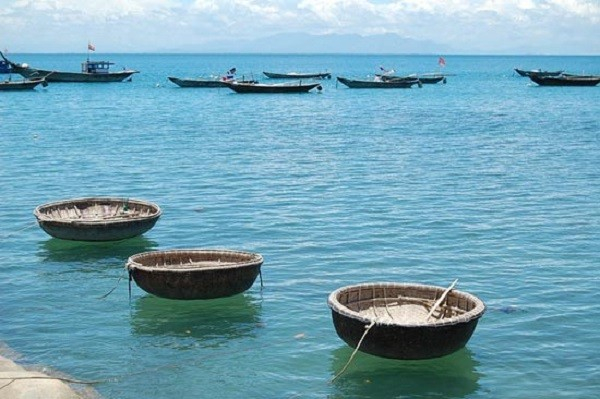 Cua Hoi eco-tourism area
Cua Lo Beach
It would be a mistake to come to Cua Lo but ignore Cua Lo beach . Cua Lo beach is considered one of the most beautiful beaches in our country with white sand, blue sea and golden sunshine all year round. This place has an extremely rich source of seafood with 200 different types of fish, and attractive tourist activities such as squid fishing, boating, surfing.
Besides, you also have the opportunity to enjoy the most famous delicious seafood dishes such as dancing squid, famous fishing squid, lowland fish sauce, 7-course cobia, eel porridge available at rustic restaurants along the coast. sea. If you travel to Cua Lo on the occasion of the International Labor Day – this is the opening day of the River Festival in Cua Lo , the opening of the sea tourism season, you will be able to participate in many unique folklore activities such as playing the traditional games, watching brilliant fireworks.
Address: Nghi Thuy ward, Cua Lo coastal town, Nghe An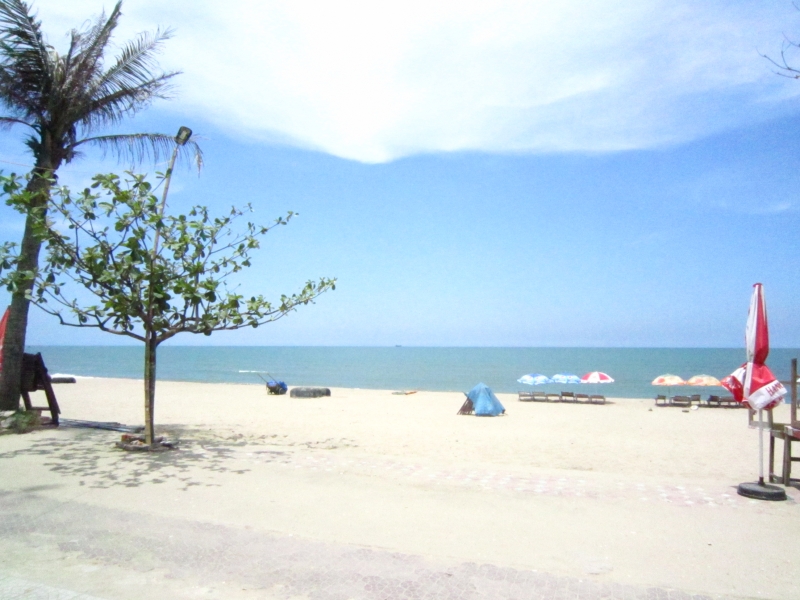 Cua Lo Beach
Cua Lo Beach
Cua Lo Port
Cua Lo port is located on the south bank of Cam river, in the territory of Nghi Tan ward, Cua Lo town, a convenient location for international trade in goods, especially for transshipment of goods for Laos and northeast Thailand. Lan. The port was built in 1979 and put into operation in 1985. After many times of expansion and upgrading, Cua Lo port has a total area of ​​32 hectares, with 4 wharves with a total length of 780m; the depth of the mooring area is 7.5m, the depth of the channel area is 5.5m; equipped with many modern and synchronous equipment, with a crane with a lifting capacity of 130 tons for loading and unloading super-heavy goods.
At Cua Lo, this port area is also an ideal tourist destination that visitors should not miss. Coming to Cua Lo port , visitors will have the opportunity to learn about the culture and people here, learn about marine economic activities and admire the beautiful scenery due to this port area owning a prime location.
Address: Nghi Thuy ward, Cua Lo coastal town, Nghe An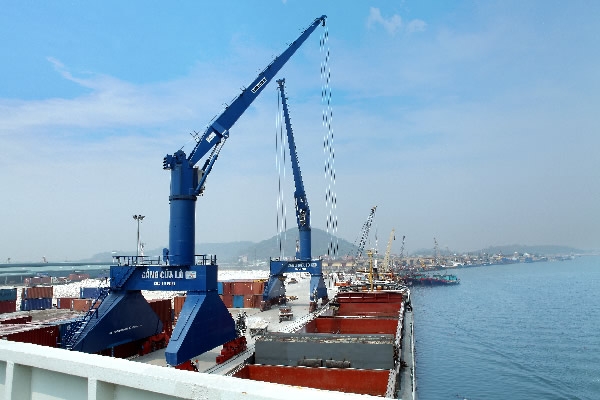 Cua Lo Port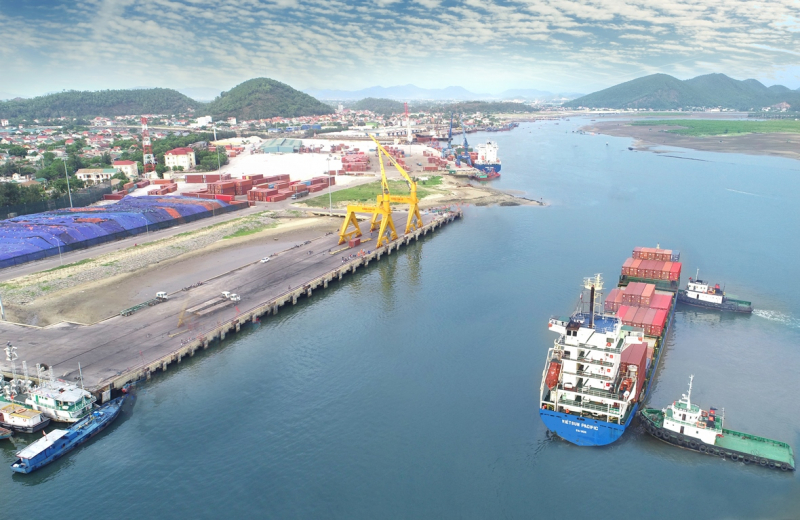 Cua Lo Port
Pocket the most attractive tourist destinations in Cua Lo to quickly schedule your upcoming vacation to be more perfect and have interesting experiences.
TAG: