Searching for beautiful art spaces in Hanoi with no dead corners
Hanoi can be quiet and nostalgic at the corners of the old town, but it can still be vibrant, bustling, and lavish in urban areas, and can be romantic and affectionate in the sunset afternoons on the lake surface. can also be "excellent" as a true artist at public art destinations, making us fall in love again and again. So the following beautiful – unique – strange art spaces in Hanoi are places that you must definitely visit once in your life.
1. VCCA – the most famous art space in Hanoi
Vincom Center for Contemporary Art VCCA is an art space in Hanoi that was born with the mission of connecting artists with the community; works with the public and Vietnamese art with world art has a large space of up to 4,000 m2 and countless works of art such as paintings, photos, and unique 3D models… Therefore, Although it has only been in operation for over a year, it has become the first choice of those who are passionate about art, wants to learn about diverse cultures or simply want to "buy" a few photos. Beautiful print takes home.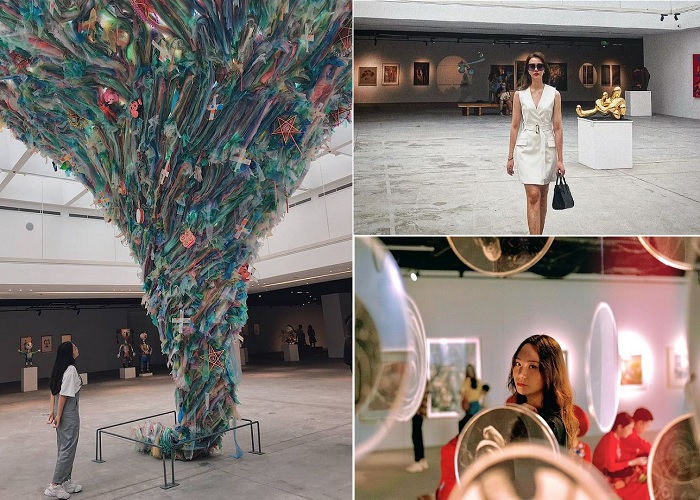 There are many strange and beautiful works on display here (Photo @sunnie.ar, @tumit2505, @minhanh_sr_)
In particular, thanks to the colorful light effect with very artistic projection angles, the paintings and lifeless objects here suddenly become strangely alive. From there, it contributes to blowing a new wind to the seemingly arid art space, which suddenly becomes more soulful and helps those who do not have any artistic cells to easily find a touchpoint with the work.
Of course, in a beautiful space with no dead corners like this art destination in Hanoi , even if you don't have any artists or photographers, you still have to call it "" oh cloud zing knot" always.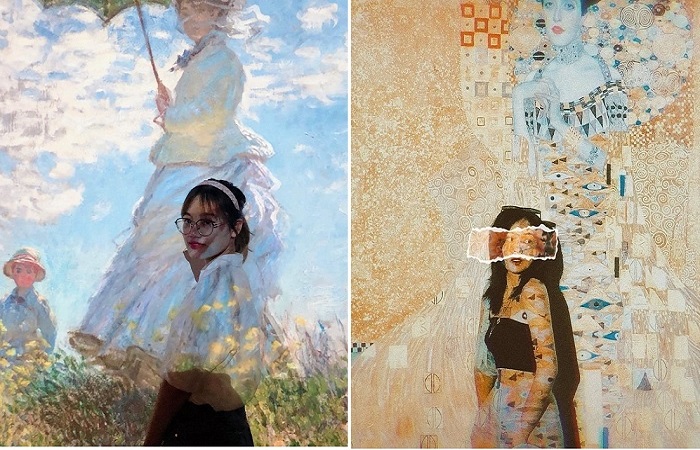 On the picture, you have to call it "deprived" (Photo @hi_hanh6, @nanie.ng)
Address: Area R3, B1 floor at Vincom Megamall Royal City, at 72A Nguyen Trai Street, Thanh Xuan District, Hanoi
Opening hours: from 9:00 to 21:00 daily
2. Green Palm Gallery – a unique art space in Hanoi
Green Palm Gallery is considered one of the oldest art spaces in Hanoi with more than 20 years of experience in the field of art paintings and is also the most prestigious gallery in Vietnam with a collection of original paintings. from painters of all 3 periods of contemporary, Indochina and resistance art. Therefore, this is a reliable destination for domestic and foreign artists and art collectors.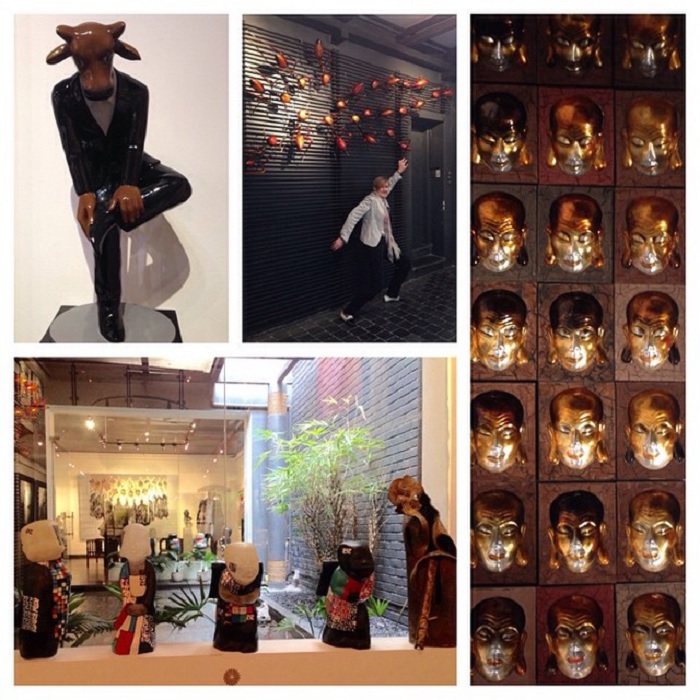 Lots of unique works here (Photo @tonipjewelry)
Coming to this art space in Hanoi , you will be broadened your knowledge about the contemporary art industry by unique painting works of painter Pham Luan, paintings that keep the breath of memories. The preciousness of painter Bui Huu Hung, the gentleness and shyness of an Asian cultural sky at the hands of painter Nguyen Thanh Binh and the artistic movements of the universe in painter Bui Thanh Thuy's paintings… I'm sure you won't get it anywhere.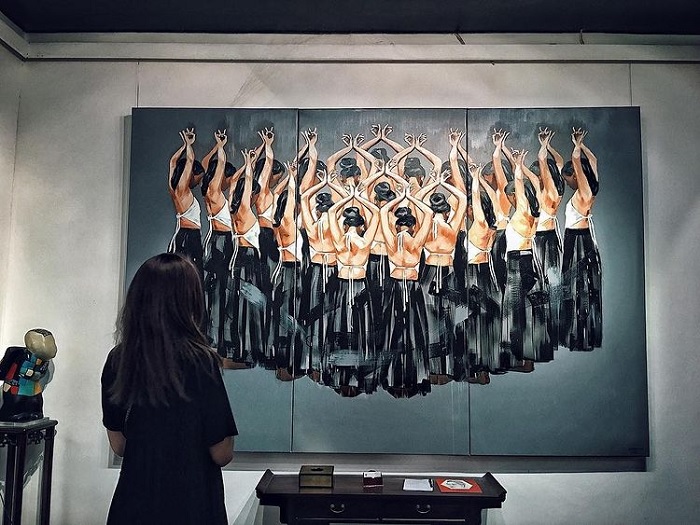 The beauty of Vietnamese women is included in the picture (Photo @_u_____)
Address: No. 39 Hang Gai / No. 15 Trang Tien, Trang Tien Ward, Hoan Kiem District, Hanoi, 
Opening hours: from 08:00 – 20:00 daily
3. Contemporary art space in Hanoi Manzi Art Space
Located on a quiet space between the Old Quarter and West Lake , Manzi Art Space is an art space in Hanoi "small but mighty", with the integration of many interesting activities such as exhibitions. Visuals, seminars, workshops, book introductions, film screenings, music performances, dances and cafes… give visitors a unique sightseeing experience.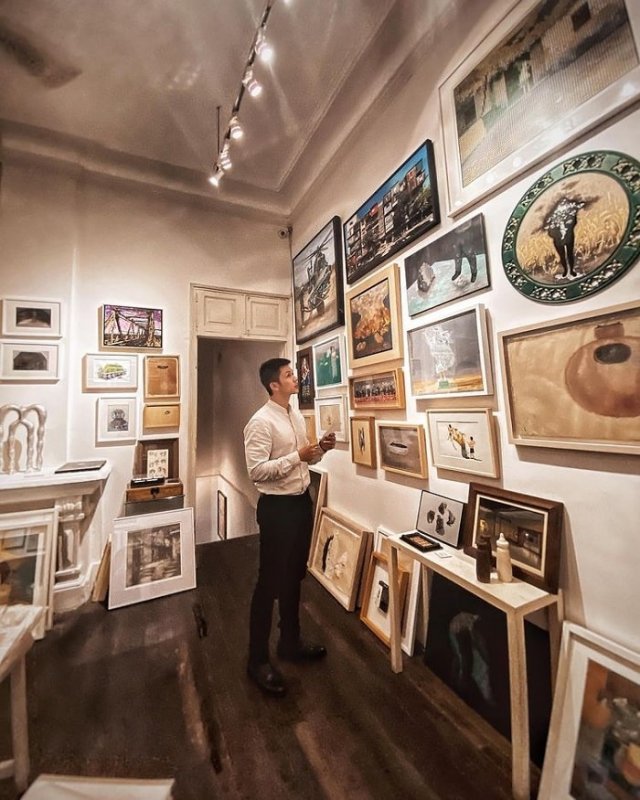 The paintings here are not inferior to any art museum (Photo @stm.59)
Coming to Manzi, visitors will not only admire the unique works with a cup of warm coffee, take pictures with Korean style, but also can return to their childhood with a watch chair. , television or antique telephone that is close and dear. So, even if you don't intend to enjoy art, you can still visit this art destination in Hanoi to relax.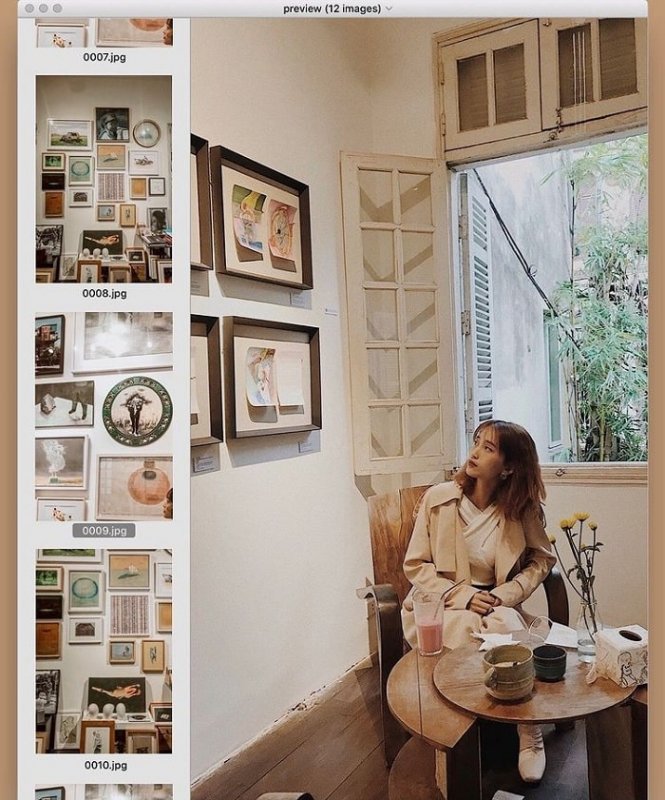 Drinking coffee in a space filled with childhood silhouettes (Photo @hinhin710)
Address: 
Manzi Art Space, Cafe & Art Shop at 14 Phan Huy Ich, Ba Dinh District, Hanoi
Manzi Exhibition Space at 2 Hang Bun Alley, Ba Dinh District, Hanoi.
Opening hours: from 08:00 to 19:00 daily
4. Cyril Kongo Vietnam Gallery – a super attractive art space in Hanoi
Graffiti used to be just doodles, dirty drawings on the wall in the street, but now it has become an interesting art. However, it still only often appears in foreign countries, so Cyril Kongo Vietnam Gallery was born to bring a space to enjoy and learn graffiti art for Vietnamese youth.
This art space in Hanoi  , located on the busiest and most lavish street in the capital, is designed with "quality like distilled water" from the outside with outstanding colors that make anyone passing by will be captured. suction immediately.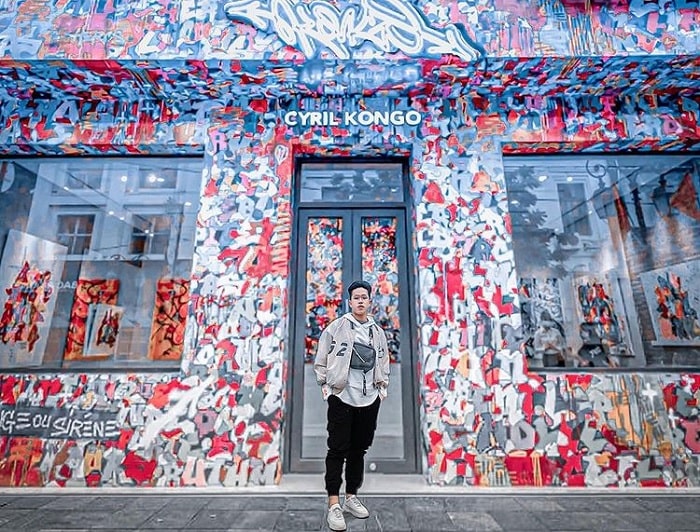 Turmeric right from the way to decorate the wall (Photo @giahuykt57)
Stepping inside of Cyril Kongo Vietnam Gallery, visitors will also have to be overwhelmed by the unique design without the framework of the walls, which still have bricks as if they are still unfinished, creating a dusty color. like the very nature of this art. In particular, everywhere is hung with huge colorful graffiti, making the space bright and full of life.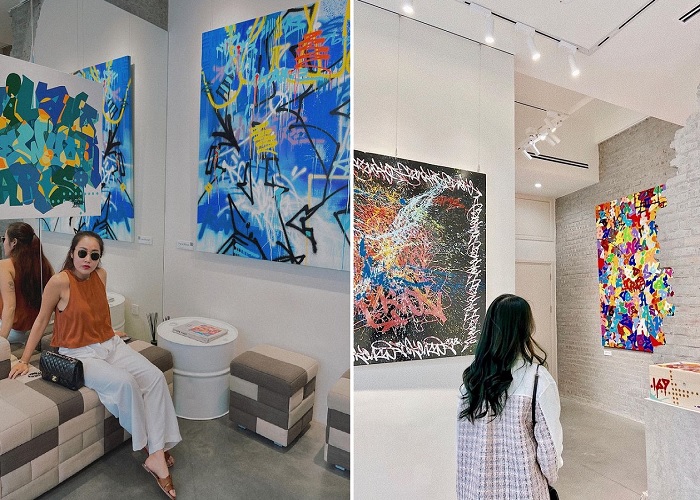 Each design exudes a unique breath (Photo @kieumypham271, @hghuechiii_)
Address: No. 9, Trang Tien Street, Trang Tien Ward, Hoan Kiem District, Hanoi
Opening hours: 10:00-19:00 daily
5. Art space in Hanoi Art Vietnam Salon Gallery is impressive
Like Green Palm Gallery, Art Vietnam Salon Gallery is also an ideal art space in Hanoi for artists who are passionate about pictures and paintings to learn and exchange whenever they have free time.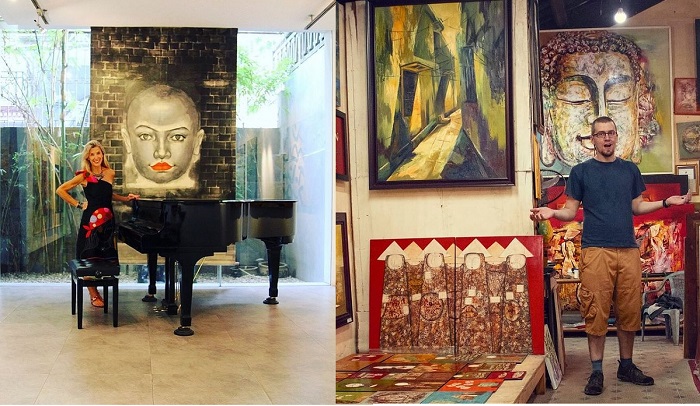 Turmeric from every angle (Photo @kansasstateuniversity, @aventurasconalberto)
Although the gallery space is small, it displays a lot of impressive works of art both at home and abroad, especially when there are regular exhibitions, music performances, sculptures, and installation art. and experience sharing seminars, so even if you are not a professional, you can visit here to improve your knowledge.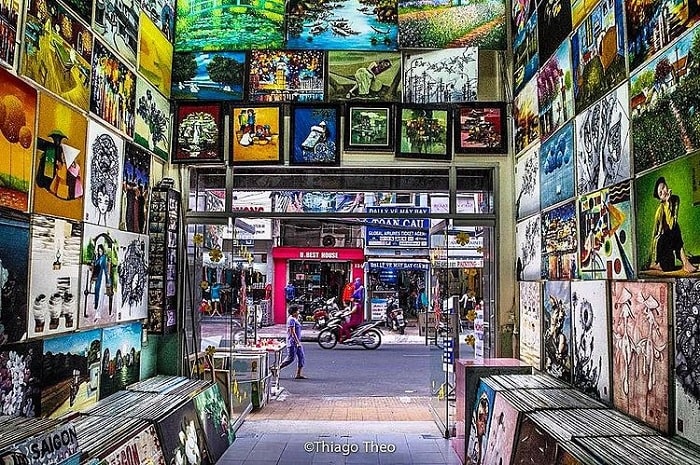 The space is small but contains a vast artistic sky (Photo @thiagotheo.nef)
Address: No. 2, Lane 66, Yen Lac Street, Hai Ba Trung District, Hanoi 
Opening hours: from 10:00 to 17:30 every day except Sunday
6. Carp Bookstore – the ideal art space in Hanoi to relax
Talking about bookstores, people often think of rather dry and rigid space with books everywhere, but that is the exception for Carp bookstore. This place is like an art museum in Hanoi with 5 floors, of which the 1st floor 2 3 is selling books and learning tools, the 4th floor is the gallery and the 5th floor is a cafe with indoor and outdoor space. clear sky.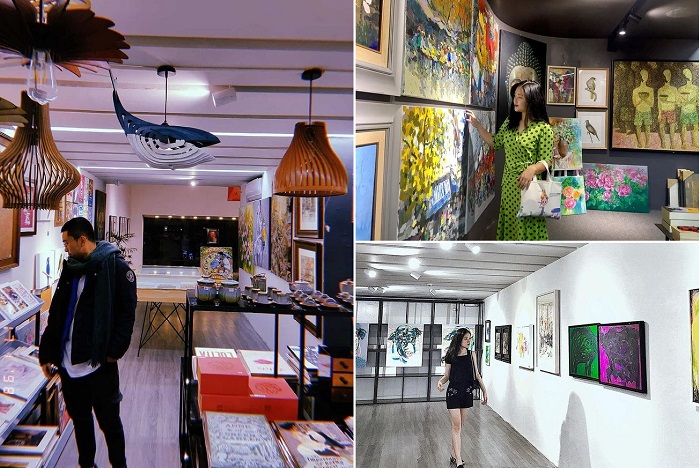 Art space in the bookstore (Photo @bopcorn__, @hhthuonggg, @ngoc.bibi)
In particular, even in the book sales area, the space has also been decorated in many different styles such as: cute and lovely with gentle pink and blue colors or personality with black and white gray tones, and gentle works. The statue is hung on the wall, so you just need to raise the phone to buy 7749 virtual live photos without touching it.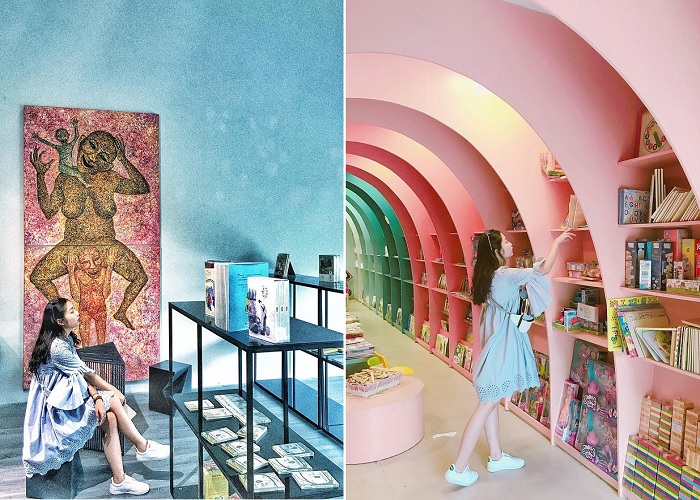 Many different decorative spaces for a virtual living (Photo @kimhoang2308)
Address: No. 115 Nguyen Thai Hoc Street, Ba Dinh District, Hanoi
Opening hours: from 08:00 to 22:00 daily
Drink prices: from 35,000 VND to 50,000 VND 
If you are missing unique photos to refresh Instagram, you definitely cannot ignore the super quality art spaces in Hanoi above.
Photo: Internet
TAG: