Top 16 most attractive tourist destinations in Quang Tri province
Quang Tri, a central province, was once a bridge between the North and the South. Quang Tri province is not yet known for its economy, culture as well as tourism. But until now, this province is being promised as a potential place to tap into the national budget. As a province associated with much fierce war nostalgia, it is also for that reason that Quang Tri suffered great damage from the war. But also from those great difficulties, Quang Tri has very attractive historical places that other localities do not have. Let's take a look at the attractive tourist destinations in Quang Tri!
Quang Tri Ancient Citadel
Quang Tri Citadel is a place classified as a special national monument and attracts many domestic and international tourists. It was here that the fierce battle of 81 days and nights took place between the forces of the People's Army of Vietnam and the Army of the Republic of Vietnam with the maximum support of US military firepower. Currently, at the Quang Tri Citadel Museum, there are still many historical relics and letters left by the heroes to their families.
The Ancient Citadel is considered by the people here as "Spiritual Land" because every handful of land here contains the bones and blood of not only our soldiers but also American soldiers. Currently, this is the largest park in Quang Tri-Town. In the southwest corner erected a Modern house as a museum. The road leading to the monument and the ground inside the Citadel has been cemented, leaving a lawn to decorate the entranceway. Coming to the citadel, just walk, touch each tree branch, rock. It also made people shudder to recall the memories, the days of fierce fighting, the place where so many people have not yet known their faces lay down for a future for the present.
Address: Nguyen Tri Phuong, Ward 2, Quang Tri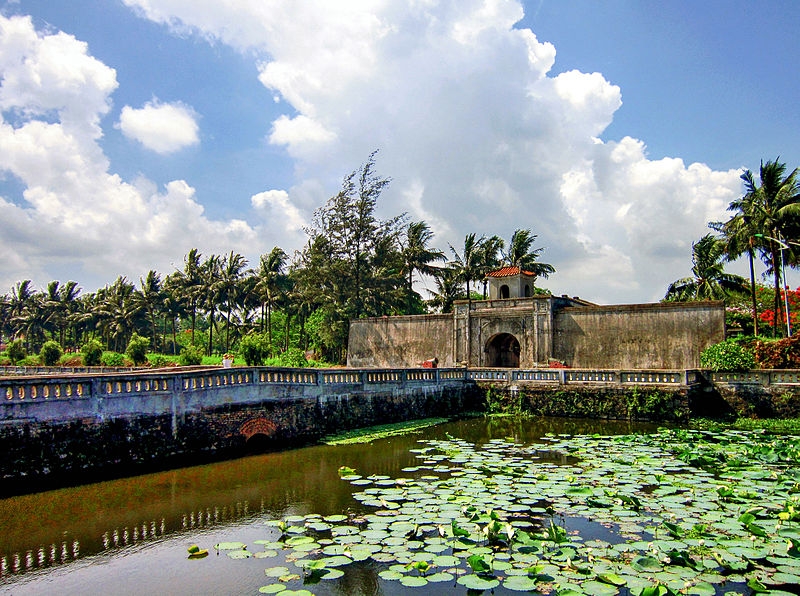 Quang Tri Ancient Citadel
Hien Luong Bridge – Ben Hai River
Just like any other river, the only difference is the name. Until the war broke out, the country was divided. It is here that Hien Luong Bridge crossing the Ben Hai River is the historical witness to the 20 North and South divisions. In addition to being a historical witness, there were wars on this very bridge. The extremely strange wars that only the people of that time really understood were truly uncompromising confrontations.

Once coming to this peaceful river, walking on the bridge is a witness to the separation. We heard somewhere the voice of an old man recounts the difficulties and hardships. It is these wonderful stories, emotions and memories that make us more confident in the indomitable and eternal spirit of the Vietnamese people. Hien Luong Bridge – Ben Hai River will be a place not to be missed in your Quang Tri trip this time.
Address: Hien Luong village, Hien Thanh commune, Vinh Linh district, Quang Tri province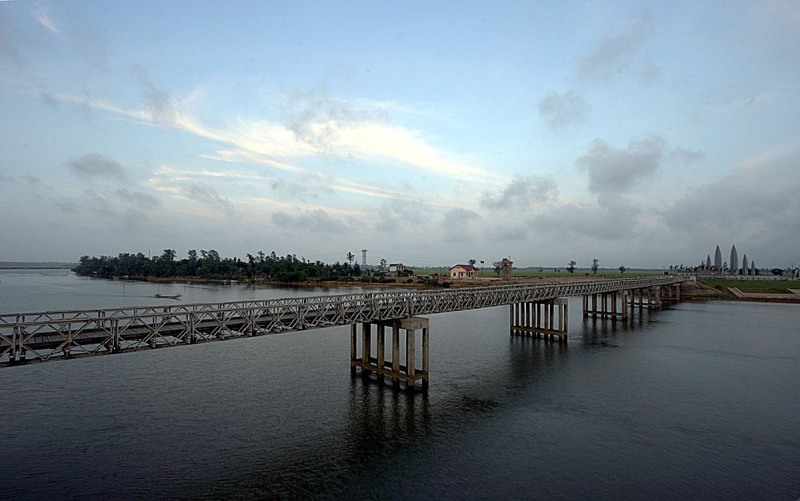 Hien Luong Bridge – Ben Hai River
La Vang Holy Land
La Vang is one of the important pilgrimage sites not only for Catholics but also for non-Catholics and international tourists. Until today, La Vang Holy Land seems to radiate all its ancient beauty under a corner of Hai Lang – Quang Tri. The architecture of the church here follows the traditional architecture of Catholic church constructions.
La Vang Sanctuary is one of three Catholic pilgrimage centers recognized by the Vietnamese government today. There are many mysterious and mysterious stories to make this place a place where Catholics make great pilgrimages every year. If you have the opportunity to come to Quang Tri, please stop by once to understand more about these spiritual issues. Experiencing many ups and downs of history and time, up to now, La Vang Holy Land seems to radiate its ancient beauty under a corner of Hai Lang – Quang Tri.
Address: Hai Phu commune, Hai Lang district, Quang Tri province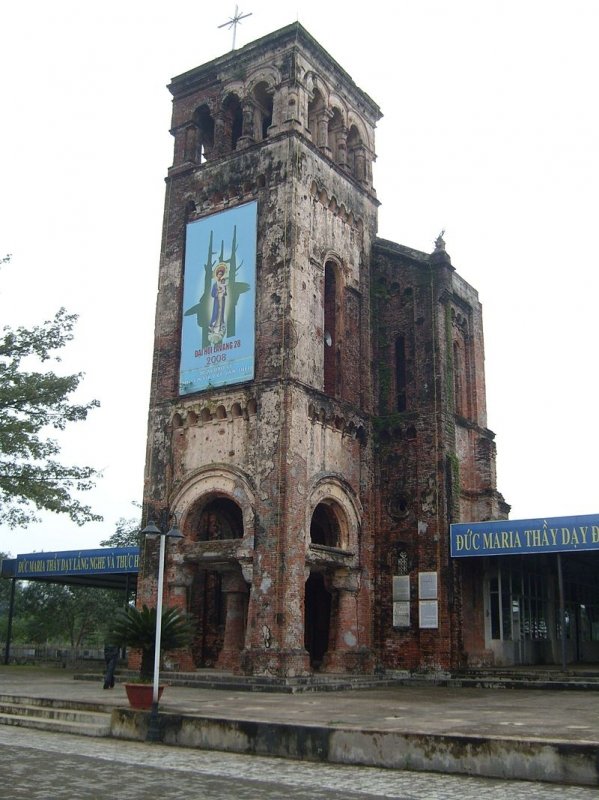 La Vang Holy Land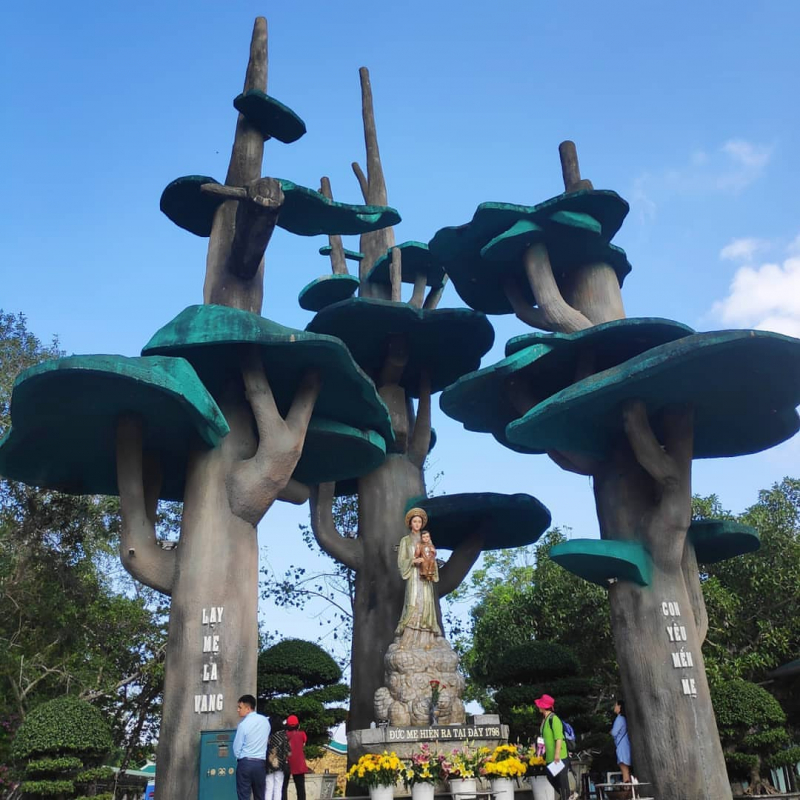 La Vang Holy Land
Tinh Quang Pagoda
Tinh Quang pagoda is located on a mountain to the west – south of Ai Tu village, in Trieu Phong district. The temple has many different names. The original name of the pagoda is Am Tinh Do, in addition, there are other names such as To Dinh Sac Tu Tinh Quang, Tinh Quang Tu, or more briefly called Sac Tu Pagoda. The pagoda was founded and built by Venerable Tu Phap in 1739, during the reign of King Le Y Tong, 261 years ago, with the original name Tinh Nghiep Pagoda. After the damage and through different kings to this day, the present temple is more spacious and brilliant. Until November 15, 1991, the State of Vietnam officially ranked the pagoda as a national relic grade A1 according to Decision No. 2009/QD – BVHTT dated November 15, 1991, of the Ministry of Culture and Information.
If anyone has been here, they will see a very unique architectural feature. With very special cultural events and festivals. The highlight is the To Dinh Sac Tu festival, which is held every year until the 18th day of the second lunar month. After the incense ceremony, the candles were lit in combination with the scent of incense and the attendees at the ceremony left unforgettable emotions. Come to Tinh Quang Pagoda to be once nostalgic and blend in the sacred and mysterious space.
Address: Trieu Phong district, Quang Tri province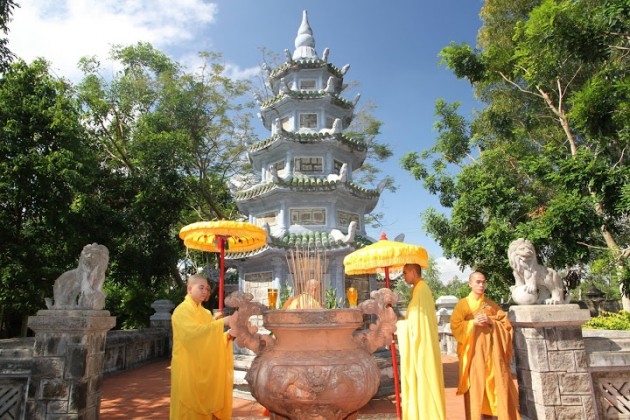 Stupa of Tinh Quang Pagoda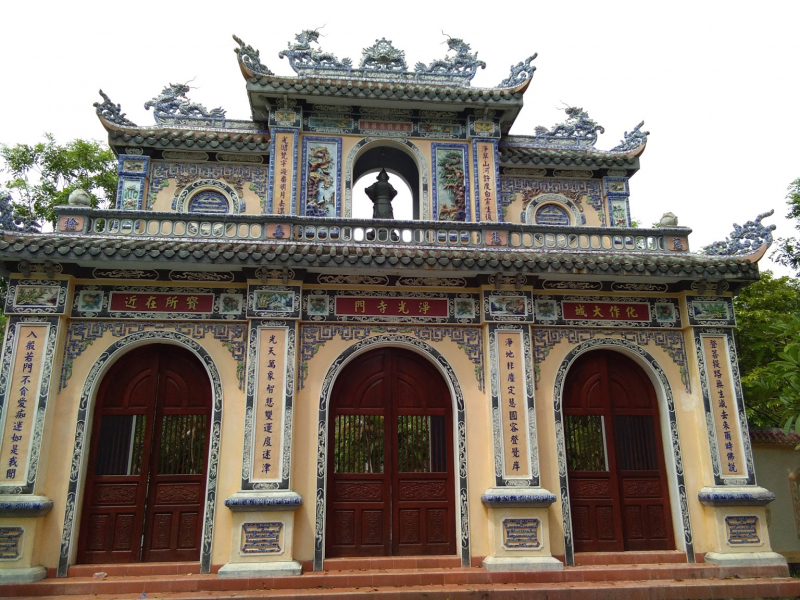 Tinh Quang Pagoda
Thach Han River
Thach Han River is the largest river in Quang Tri province and is associated with the history of the province, so in the bibliography, it is also known as Quang Tri river, while the people of Quang Tri used to call it Han River from the east. Truong Son mountain range in the southwest of Quang Tri province.
Thach Han River from the past to the present is an important traffic artery, and also provides alluvium for the province's large rice granary. The river is also a historical witness, the only way leading to Ba Long war zone. Also from the natural beauty of the central river, which is an important place for historical events, it has been inspired by many improvised poets. When the early summer sun hits your head, it's also the time when the Thach Han River flows through Quang Tri town busy welcoming visitors from all over the world. At this time, people often drop lanterns into the river, to remember the heroic years.
Address: originates from the east of Truong Son range in the southwest of Quang Tri province.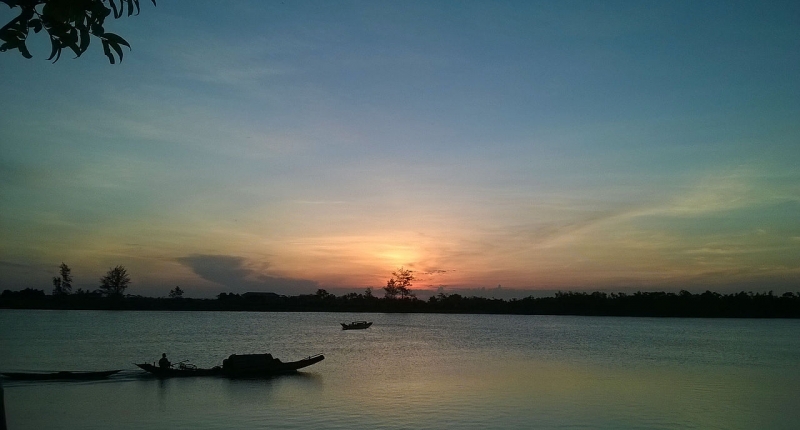 Beautiful view of the river at sunset
Dong Ha Market
Dong Ha is a large central city of the size of Quang Tri province. And of course, Dong Ha Market is also a large local commercial center, which is almost the only shopping place for tourists from many places to visit and shop for goods originating from many countries. especially Laos, Thailand and China. The market is classified as one of the largest projects in the country both in terms of scale and capacity to trade in goods, and is the largest commercial center of the province and the region.
Dong Ha Market is the desire to exchange, to reach out from the local, the provincial level and to look forward to a bigger future. This is a project with a very unique architectural feature of Dong Ha that cannot be confused with any other construction in the country. So today, looking at the unique architectural features of Dong Ha market, visitors can see the image of Dong Ha city.
Address: Tran Hung Dao, Ward 1, Dong Ha, Quang Tri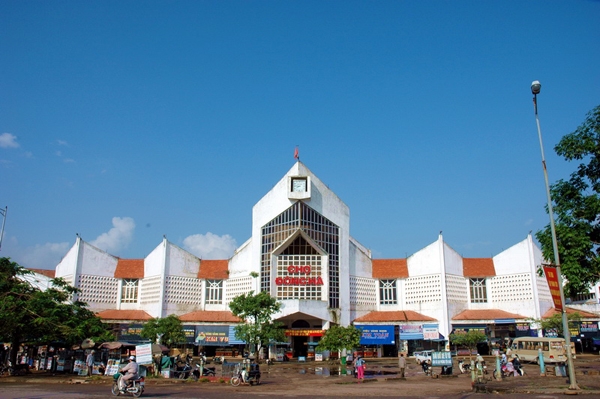 Dong Ha market
Vinh Moc Tunnels
Coming to Quang Tri, do not forget to visit Vinh Moc tunnels – a historical relic that has existed for decades and still exists today. Vinh Moc Tunnels (Vinh Moc village, Vinh Thach commune, Vinh Linh district, Quang Tri province) is a military-civilian construction during the Vietnam War of the Democratic Republic of Vietnam to fight against the attacks of the Republic of Vietnam and the United States of America. The tunnel system existed in the North of Ben Hai River, Hien Luong Bridge during the years 1965-1972.
A. Ia Vinh Moc Tunnels in the system of tourist sites previously demilitarized zone in the Vietnam War, has been recognized as historical monuments Vietnam. Vinh Moc Tunnels Museum was officially opened in 1995, just like some other famous tunnels, such as Cu Chi Tunnels. Currently, Vinh Moc tunnels have attracted a large number of tourists. Come here to admire a special military place only in Vietnam.
Address: Vinh Moc village, Vinh Thach commune, Vinh Linh district, Quang Tri province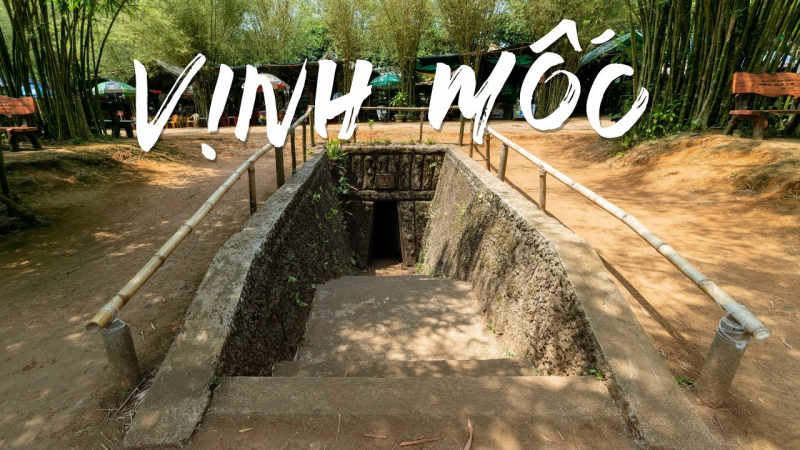 Vinh Moc Tunnels
Lao Bao Prison
Continuing the journey, let's come to the Lao Bao prison relic. This prison is recognized as a historical site. When coming here, the prison is considered the most vivid evidence of the crimes committed by the French colonialists against those who fought for our country's independence in the early years of the twentieth century. On the other hand, this place also reflects the strong will and great resistance to those fighting for Vietnamese independence.
Besides the prisons, Lao Bao prison also has other extremely cruel detention places such as the mortuary, the torture house, the interrogation house, … located in the southeast corner of the prison or the steel wirehouse, carpentry workshops, barracks, … The punishments and brutal tortures of the French colonialists such as chains, shackles, … extremely cruel to suppress and kill our patriotic forces . Visiting here, you will clearly feel the brutality of the French colonialists, but more clearly the indomitable spirit, the indomitable struggle of the revolutionary soldiers of our people at that time. Tourists will get a lot of deposited emotions and meanings when stopping at this place.
Address: at the end of Le The Tiet street, Lao Bao town, Huong Hoa district, Quang Tri province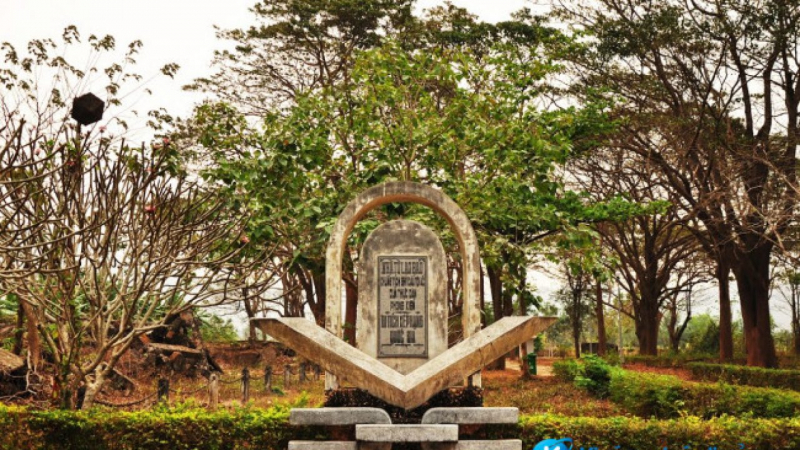 Lao Bao Prison
Ru Linh primeval forest
Ru Linh primeval forest is a primitive forest left in the middle of the plain in Vinh Linh district, Quang Tri province. Ru Linh primary forest covers an area of ​​170 ha (of which about 100 ha is still forest), is a natural forest left in the delta; located 3 km from the coast, 6 km from Hien Luong Bridge to the North and 6 km from Cua Tung to the Northwest. This place attracts many tourists to learn and explore. Convenient location in transportation should be suitable for many tourists.
Ru Linh primary forest is a primeval forest in the middle of the plain in Vinh Linh district. It is considered the green lung of the Dong Vinh region. Coming to this primeval forest, we can see many rare and precious plant species such as green lily, mahogany, district, market forest, forest chestnut; many medicinal plants such as agarwood (Aquilaria crassna), five houseplants…. There are also other animals such as pangolins, loris, civets….
Address: Vinh Linh district, Quang Tri province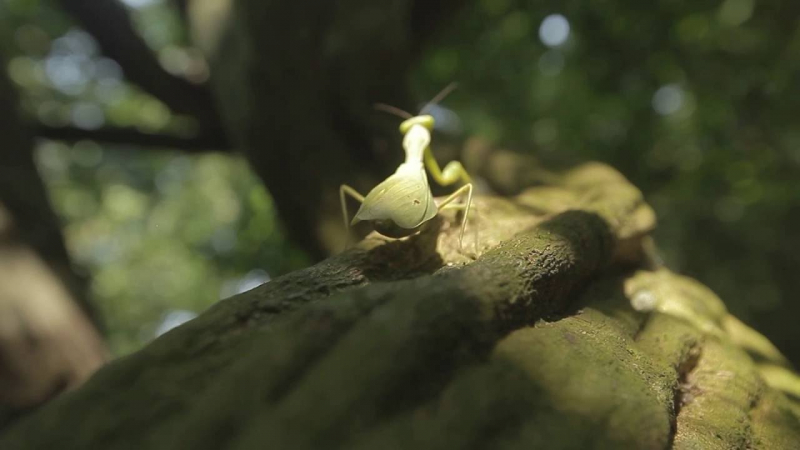 Ru Linh primeval forest
Cua Tung Beach
Cua Tung Beach is another beauty of Quang Tri, experience the wonderful feeling of relaxation and travel with the beautiful scenery here. The fine white sand mixed with the clear watercolor and the wonderful sun and wind give us a feeling full of sensations. Looking out from the shore, Con Co island undulating like a golden tortoiseshell trying to rise up to grab that wonderful space. Continuing to see, far away from Cua Tung like a girl lying on her back in Vinh Quang beach village in four seasons, shady with green tea pepper trees and casuarina forests whispering in the wind.
The national road extends to the sea. On the days when the Lao winds rush into this arid land, Cua Tung beach is like a god bringing freshness to protect anyone who comes to her, she puts on a haughty and inviting beauty. everyone… Come to Cua Tung to discover more about the waters of an arid region and enjoy.
Address: Hoa Ly, Vinh Linh, Quang Tri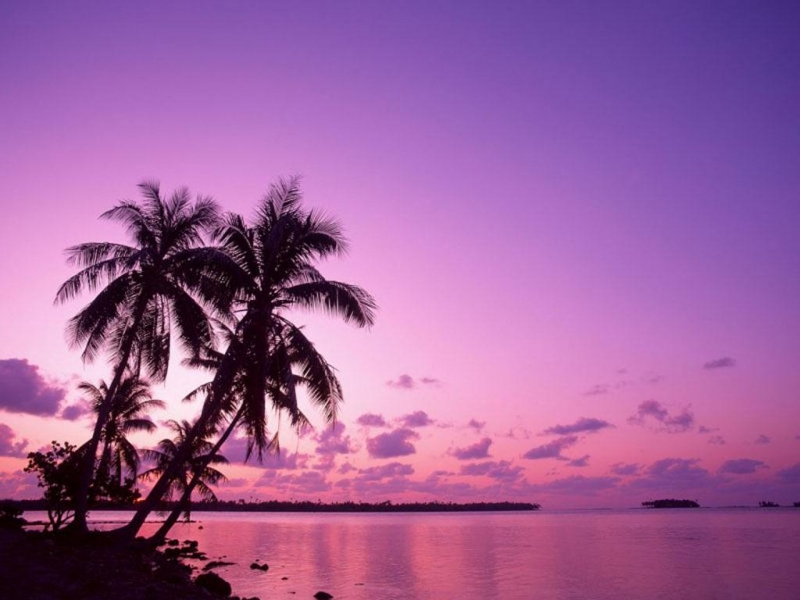 Purple side door
Con Co Island
Con Co Island is also known as Con Tiger Island, Hon Me Island. Con Co Island is located in the west of Cua Tung Sea. Con Co island tourism is an ideal destination for those who want to escape the noisy, dusty life of the city. This is a beautiful island appearing in the middle of the Vinh Linh Sea, located at an altitude of 5-30m above sea level and only less than 30km from the mainland. This island also has historical value because it is associated with historical events of the country during the resistance war against the US.
Con Co does not have many long beaches with poetic white sand, clear waters, fresh and pristine air, rich flora and fauna, and heroic historical vestiges that make this small island truly unique. It is an attractive tourist destination. Visiting Con Co, you will really be immersed in the peaceful, unspoiled space of nature. Not only the beautiful unspoiled natural landscape with primeval forests, rare seafood, etc. The most suitable time to go to Con Co island is the summer from March to August, in which the months of May and June. , 7 is the time when the weather is calm, the sea is calm, the sun is hot, more suitable for the form of sea tourism. From September to November is usually the rainy season..
Address: Quang Tri province, about 15 nautical miles from Cua Viet port, Gio Linh district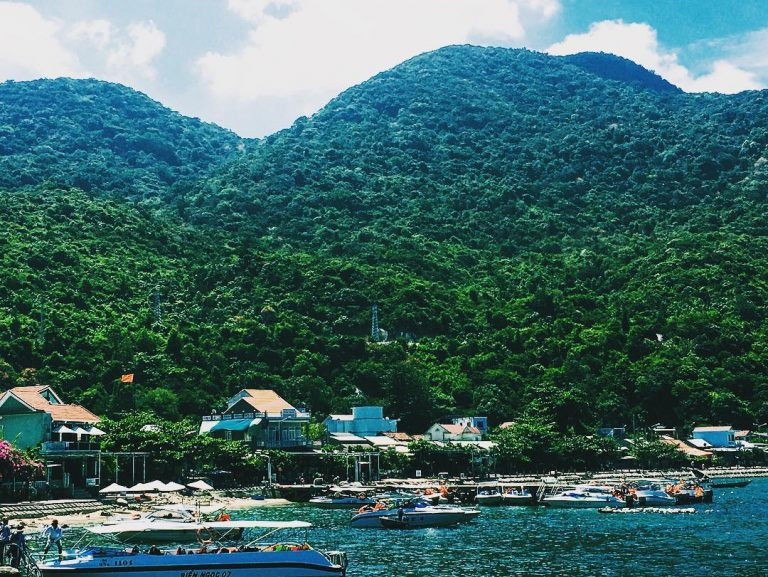 Con Co Island
Dakrong Scenic Area
Along with the above places, Dakrong Scenic Area is also a destination that promises to bring many views of Quang Tri to visitors. This place has the majestic and lyrical natural scenery of the western mountains of Quang Tri, not too extravagant but has its own charm. This scenic area has the beautiful Dakrong River hidden in its historical legends. poetic and humanistic, there is a charming Dakrong bridge among thousands of clouds, rivers, mountains and forests, and there is a precious natural mineral water mine.
With a system of unique natural landscapes, mountains, forests, rivers, streams, mountain passes, cliffs, Dakrong Scenic Area has enough elements to make an interesting trip for tourists, especially backpackers. Visitors will be immersed in pure nature, witness the unique cultural traditions of the Van Kieu and Pa Co ethnic groups. Not only watching nature, you can also enjoy the melodies of gong music by the flickering kitchen in the middle of the great Truong Son forest and listen to stories about the legendary Dakrong.
Address: Dakrong district, Quang Tri province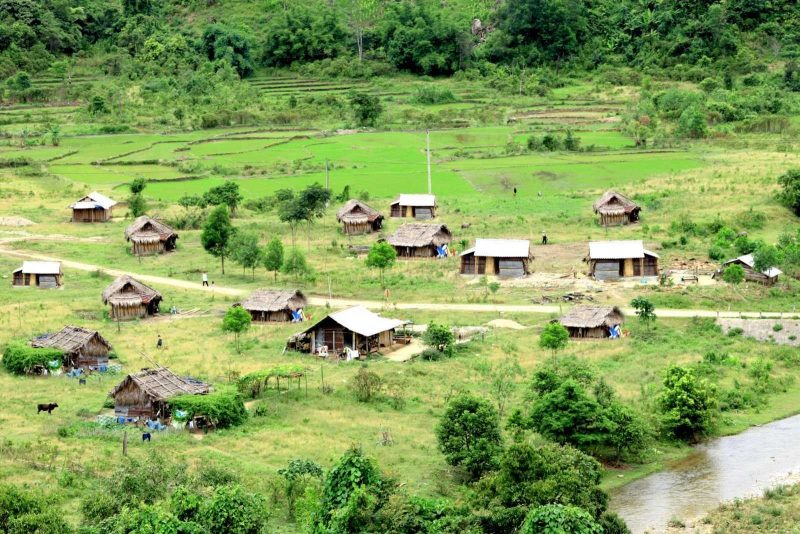 Dakrong Scenic Area
Tra Loc full moon
About the land of Quang Tri along with historical relics, stop at Tram Tra Loc eco-tourism area to enjoy the whole pristine and fresh space. In the middle of this forest is a large lake, with many lotuses growing middle of the lake, creating a poetic and charming space. On sunny days, even though the weather outside is quite hot, the white sand burns your feet, but walking into the forest is a cool feeling, the sunlight shining through the trees creates a shimmering, fanciful feeling. Surrounding the lake are clusters of rich forests, diverse flora, and fauna in the jungle on sandy fields adjacent to the sea.
Coming to Tra Loc Tram , visitors can also enjoy many delicious dishes of Quang Tri. Especially impressed with the fish porridge here, because the bowl of porridge is still full of smoke mixed with the pungent smell of compresses (onion toothpicks) which is very attractive but the price is very affordable. People and tourists in Quang Tri often choose to come here to relax, rest or join friends and relatives in picnics, camping, and eating.
Address: Tra Loc village, Hai Xuan commune, Hai Lang district, Quang Tri province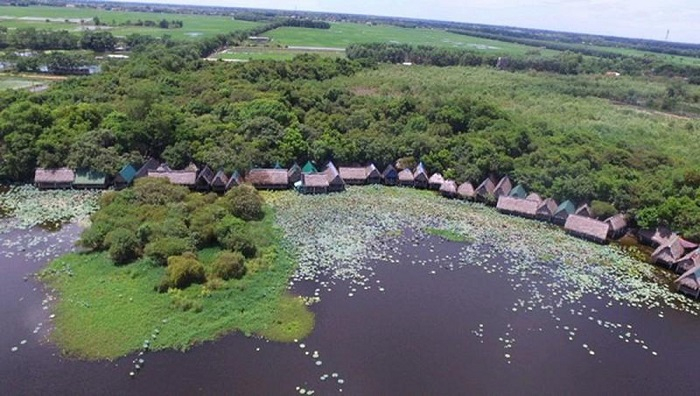 Tra Loc full moon
Chenh Venh Waterfall
Chenh Venh Waterfall is located between the vast green forests, this place attracts visitors with its wild but equally majestic beauty. Chenh Venh Waterfall is currently an ideal weekend destination that captivates many tourists. As soon as you come to the area of ​​​​Chhenh Venh waterfall in Quang Tri, large and small rocks of all sizes will be scattered right under your feet. In addition to sightseeing, many people also like to come here to bathe in streams, camp or group kitchens, make food. The ideal time to explore the Chenh Veh waterfall is in the summer because this place has a rather high position, so the air always remains fresh and cool at all times.
Chenh Venh waterfall has a height of 20m, the water pours down from above to create white foam, which seems to be fierce but extremely gentle. A great plus point is that the way to Chenh Venh waterfall in Quang Tri is very easy to move, suitable for self-sufficient Quang Tri tours. With this location, visitors when traveling to Chenh Venh waterfall can also participate in many other activities because in Huong Hoa district there are many other attractive picnic destinations that you can conquer.
Address: Huong Phung commune, Huong Hoa district, Quang Tri province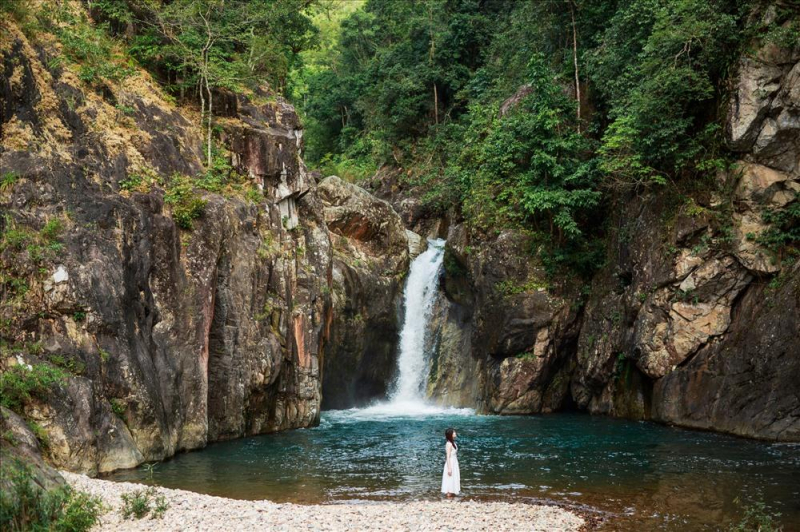 Chenh Venh Waterfall
Cape Treo
Mui Treo is known as a brand new dreamlike tourist destination in the heart of Quang Tri. Mui Treo is located in the middle of poetic nature surrounded by sky and clear blue sea. The special thing is that Mui Treo not only has a cape protruding into the sea, hovering at a height of tens of meters full of "provocative" but also has a ravishing beautiful beach running for kilometers to Vinh Thai commune. turquoise water and smooth white sand. All create a wonderful picture of nature, unspoiled but attracting people's souls, the air is also very fresh.
Standing on the top of Mui Treo, conquering and experiencing Mui Treo, which has not been affected by human hands, will help you have the moments of your life. No need to experience Mui Treo, the road to Mui Treo will also help you understand the poetic and wild beauty here. To see the rocky cape protruding in the middle of the sea, you have to go through a long forest, this will be the time when you can see the perfect interference of nature. In addition, Mui Treo has a quite convenient location, close to many other attractions for you to easily combine moving experiences during the day.
Address: Vinh Kim commune, Vinh Linh district, Quang Tri province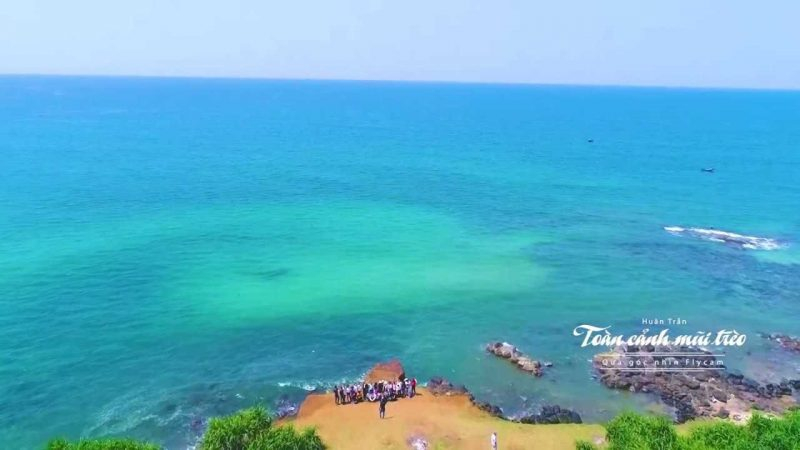 Cape Treo
Er Ha Golden Sand Dunes
Located in a system of sand dunes stretching from Gio Thanh to Trung Giang, Nhi Ha Golden Sand Dunes is also a tourist destination favored by many visitors. This place is known as the "small desert" in the middle of the plain, an ideal place for those who love unspoiled nature. With a height of about 30m and divided into many towering hills next to each other, Er Ha Golden Sand Dunes looks like a solid wall to prevent the sand from flying and the monsoon for local residents, not only that. very attractive beauty.
The best time to admire the scenery is at dawn or dusk because when the sun just comes out, the whole sand dune seems to glow, undulating in the wind, but at dusk, it turns bright yellow, shimmering and fanciful. . A special thing is that because the golden sandhill of Nhi Ha is located in the middle of the plain, standing on the top of the hill, we can observe almost the surrounding landscape. Walking on each beautiful, smooth sand wave of Nhi Ha golden sandhill, you will experience countless interesting and unexpected things.
Address: Nhi Ha village, Gio Thanh commune, Gio Linh district, Quang Tri
Er Ha Golden Sand Dunes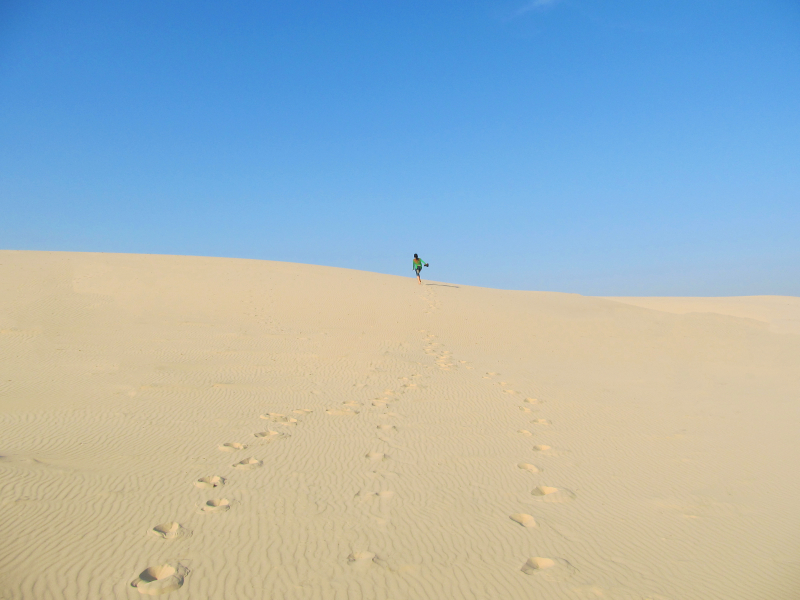 Er Ha Golden Sand Dunes
Everywhere in this small country, Vietnam also exudes its own beauty and temperament, but with Vietnamese character. Quang Tri, a heroic land, suffered no small consequences from the war. We often hear that lying on thorns tasting honey is true. Although it used to be a difficult place during the war, it has since made Quang Tri have things that other localities do not have. Let's come to Quang Tri so it's hard to leave!
TAG: