7 ecotourism destinations in Soc Trang
Soc Trang is one of the most beautiful and poetic cities in the Mekong Delta region, the eco-tourism area is equally outstanding when coming to the land of Soc Trang, which is a region of the Mekong Delta. will bring visitors many interesting surprises. Here are some destinations not to be missed when visiting the beloved city of Soc Trang.
Nga Nam Floating Market
Land of Fall, a floating market has existed for a long time and is the busiest market in the Mekong Delta. Coming to Nga Nam floating market, visitors will discover many interesting things in the daily life and exchange of the people here with the daily work of buying and selling on the bustling river, bustling on busy boats. And on each boat, there are fresh foods, fresh agricultural products, and it is also an opportunity for visitors to enjoy specialty fruits and new dishes of the land of the river.
The name Nga Nam appeared when the French dug the Phung Hiep canal. This canal and Xang canal cross the Xeo Chinh canal to form five tributaries that flow to 5 intersections: Ca Mau, Vinh Quoi, Long My, Thanh Tri, and Phung Hiep.
It is the granary of 3 provinces: Soc Trang, Hau Giang and Bac Lieu. Every early morning, boats in the direction of Long My, Vinh Quoi, Phung Hiep, Phuoc Long, Phu Loc gather at the floating market in the middle of the vast river.
In addition to the goods on the river, the market also sells rustic dishes, bold in the Southwest region. With extremely cheap prices, popular dishes such as porridge, noodle soup, noodle soup, coffee… All make up the rustic countryside flavor, anyone who comes here will be unforgettable.
Nga Nam Floating Market is a beauty of Soc Trang's daily life, containing a special cultural value that cannot be found in the North and Central regions. Every early morning, the sound of sales, the sound of bargaining, the sound of moving boats and boats are mixed together, making them feel strangely familiar. You can take advantage of the morning time to see this special scene. This will definitely be an indelible mark for you.
ADDRESS: Ward 1, TT. Nga Nam, TX. Nga Nam, Soc Trang province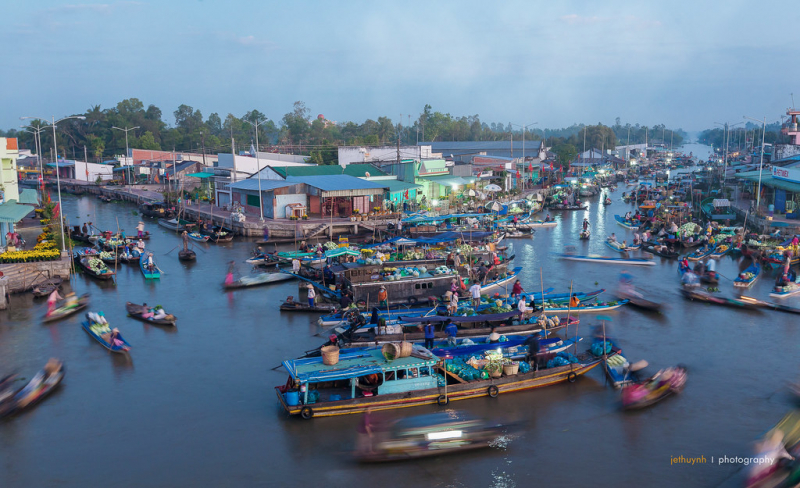 Land of Fall, a floating market has existed for a long time and is the busiest market in the Mekong Delta.
Tan Long Stork Garden
Tan Long Stork Garden is located right on the road bordering Nga Nam town, with an area of ​​​​more than 2 hectares, where thousands of storks, cauldrons and a number of birds live and nest in the ecological garden. Every morning or evening, thousands of storks fly in the blue sky, giving us a feeling of peace and relaxation. Visitors here can enjoy the fresh and cool atmosphere in the peaceful setting of the southwestern countryside.
Tan Long Stork Garden is a typical place when coming to Soc Trang you must definitely visit. It has existed for more than 40 years, but until now, it still retains the same status as the original. The road to the stork garden is quite easy to go, next to it is a small canal with extremely pleasant murmuring water. Surely standing in front of this peaceful scene, you will be able to leave all the troubles and fatigue in life so that you can open your heart and immerse yourself in nature.

ADDRESS: Tan Binh hamlet – Long Binh commune, Nga Nam district – Soc Trang province.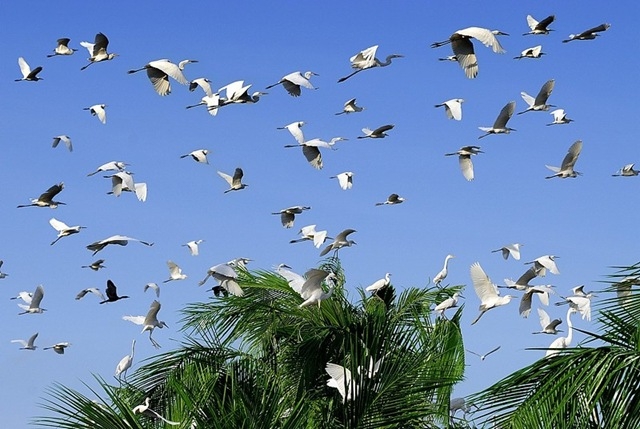 Ecological area with a sky-high flying stork garden
My Phuoc Island – Green tourist spot of Soc Trang
Coming to Hau river island in Nhon My commune, Ke Sach District, Soc Trang province, visitors will enjoy many delicious and special fruits that can be bought as gifts for family and friends. With a fresh and cool atmosphere, visitors will feel comfortable and peaceful. This ecological area is also the place for many traders to go to the fruit barn to sell at the market and is an area where they can have fun and relax. This place has attracted thousands of domestic and foreign tourists to visit. My Phuoc islet has a natural area of ​​1020 hectares with more than 400 households living. The alcohol has an oval shape, the two flattened ends in the middle are enlarged, and around the alcohol, all of them have been covered with plastic.
Because the soil is rich in fertile alluvium, there are countless kinds of fruit trees such as dragon fruit, grapefruit, longan apple, sapodilla, mangosteen… In addition, My Phuoc Con is also extremely famous for its tourist area. Traditional festival culture includes items such as tourist piers, outdoor stages, accommodation facilities, gate yards… This is also the venue for the annual boat race, showing the traditional beauty of the country. both attract tourists.
Address: Nhon My commune, Ke Sach District, Soc Trang province.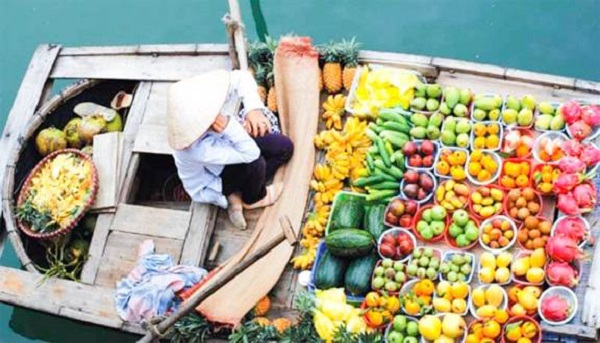 Visitors will enjoy many delicious and specialty fruits, which can be bought as gifts for family and friends.
Freshwater lake – The most beautiful tourist destination
The freshwater lake has the most trees and can be said to be the most in the area of ​​Soc Trang province. But mainly to get shade like the areca tree taking the shape of casuarina or phoenix tree. This place is considered the lung of Soc Trang city. Almost all activities in the province take place in freshwater lakes. Coming here, you will have the opportunity to hear the legend that was formed, which is the story of a man who missed his hometown, built a lake named Ho Tinh Tam to commemorate his homeland, for a long time. changed to Freshwater Lake.
In the area of Nuoc Ngot Lake, there is also a center for fairs, resorts, ornamental plants, entertainment areas for children, exhibition areas, and large festivals such as boat racing, rice festival. rice… and big events. Coming to this place, visitors have the opportunity to admire many interesting things and listen to the legend of the lake that has existed for a long time. The freshwater lake will definitely be the place to keep the most unforgettable impressions for tourists when visiting.

ADDRESS: No. 02 Hung Vuong Street, Ward 6, Soc Trang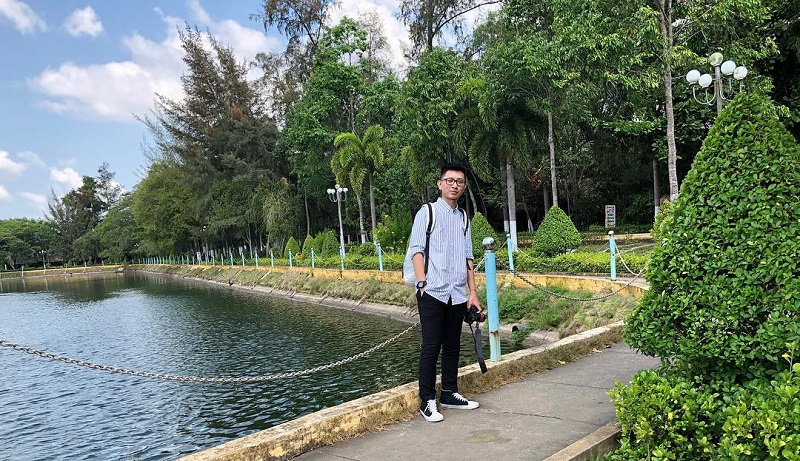 The freshwater lake has the most trees and can be said to be the most in the area of ​​Soc Trang province.
Soc Trang Lake
Soc Trang Be Lake is known to everyone for a beach about 20km long, of which 5km is a long, smooth, and unspoiled sandy beach. Every year, the beach has about 6 months of clear water and about 6 months of turbid water due to the influence of alluvium from the Hau River into the sea. According to the plan, in the near future, the beach will have more resorts, artificial beaches, and accompanying services such as rental of floats, umbrellas, chairs, canoes, swimming pools, etc. more water and land sports activities, catering services, entertainment, shopping.
Visitors to Soc Trang Lake will have the opportunity to feel the comfortable, cool, and fresh space, which is an ideal place for young people to check-in and relax or organize big games on the beach. In addition, this is also a place for
loving couples to take wedding photos. Ho Be will be the most attractive destination for all visitors, surely you will not be disappointed once you come here.
ADDRESS: Vinh Hai Town, Vinh Chau District, Soc Trang Province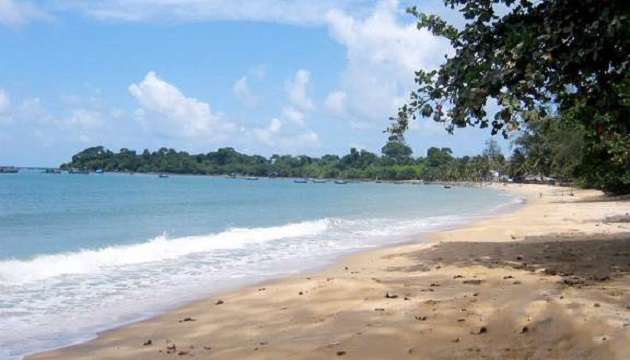 Lake Be with pristine white sand blue sea
Mo O Beach
Mo O Beach is one of the beaches that still retains the wild beauty, located 30km from Soc Trang city. For visitors, this place is considered the pristine gem of Soc Trang. If you have the opportunity to visit Mo O beach, you will have the opportunity to experience activities of fishing, mud sliding, catching three aspects. In addition, visitors to Mo O beach can also participate in exploring the primeval forest. mangrove. At this time, you will have more knowledge about the habitat of countless rare animals and the typical ecosystem of Soc Trang.
About 30 km from the center of Soc Trang province to the southeast, located near the mouths of My Thanh and Tran De rivers in the East Sea area, in Trung Binh commune, Tran De district, this place has a natural forest area of ​​over 260 hectares. , is home to many species of birds, reptiles and rare seafood (snakes, turtles, crabs, storks, fish…)
Mo O Beach possesses a rustic beauty typical of the South: mangrove forests, a long and wide beach. The tourist highlight of Mo O beach is that there is a bridge leading to the sea. Walking on this long small bridge, the whole view of visitors is the green, romantic, and mysterious Mo O sea and sky. Visiting Mo O beach, visitors can enjoy rustic dishes such as fish, shrimp, shrimp, crab that have just been caught from the sea with many delicious dishes made from cobia, brown fish, flounder, squid. fresh, crabs, crabs, … dried fish, manta rays, …
Address: Located in the East Sea area, Trung Binh commune, Tran De district, Soc Trang province.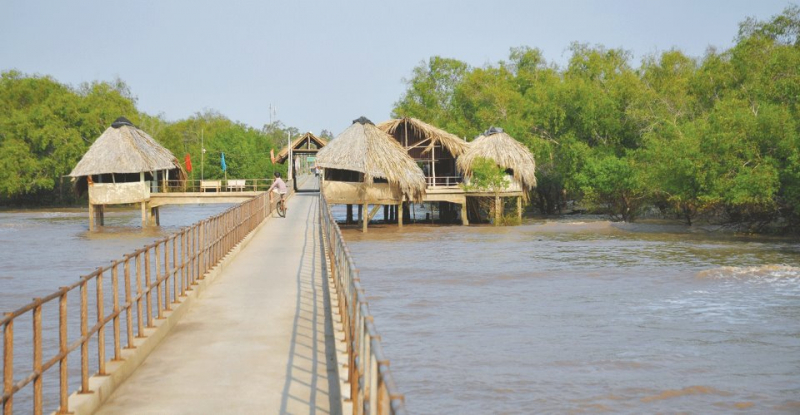 Mo O Beach
TOURISM VILLAGE – FARMSTAY FARM TIEN
TOURISM VILLAGE – FARMSTAY FARM TIENLocated at the last position of Cu Lao Dung district is An Thanh Nam commune, where there is a flooded cork forest of about 1,500 hectares, one of the largest flooded cork forests in the Mekong Delta region, with a diverse ecosystem. diverse, rich, with many rare species of plants and animals. The land associated with the legend of "Tien Sa" called San Tien is located at the end of Cu Lao. There is Farmstay San Tien in An Thanh Nam commune with accommodation, dining, sightseeing tours and experiences going to bamboo bridges under the forest canopy, crab fishing, fishing, visiting cork forest, clam beach by tourist boat . Tourists come to explore the land of the island, especially there are bridges through the forest and boats serving both sightseeing, eating and enjoying Don Ca Tai Tu on the river. There is also a boat to take guests to the beach to see the sea – a service that is extremely popular with tourists.
In addition, when fishing, crabs and snails can be grilled and eaten on the spot. Especially, you can also enjoy the specialties of the country such as: grilled mudskipper with salt and pepper, steamed crab with beer, boiled three-sided crab, steamed clams with ginger, steamed snails with lemongrass, and sour soup with cork , … With services. accommodation, meals, tours to experience going to the bamboo bridge under the forest canopy, crab fishing, fishing, visiting cork forest, clam beach by tourist boat, crab fishing, cycling to visit the jungle, boating , fishing on the ship, exploiting clams in the clam beach, bringing home to bake, cook, cook and eat with the owner's family, exchange Cai Luong, Don Ca Tai Tu like artists. Visiting the alluvial ground to catch Ca Na snails, scallops, clams,…

Local people here help visitors to immerse themselves and explore the nature of the mangrove forest with interesting activities, such as: walking bamboo bridge through the forest, experiencing mangrove ecology, feeding monkeys, visiting catching snails, crabs, crabs, fishing; Take the boat to the alluvial plains to visit the clam beach on Tran De estuary, discover the mangrove ecosystem with a variety of flora and fauna typical of the river-sea border. Visitors are also guided to visit the fruit gardens; Don Ca Tai Tu, join a group of water movement games and enjoy specialties of the sea on a cruise ship.
Farmstay San Tien with two main services: Day tour and overnight resort.

Address: 177 Vo Thanh Van Hamlet, An Thanh Nam Commune, Cu Lao Dung District, Soc Trang Province.
Phone: 0969 694 697
Facebook: facebook.com/pages/Farmstay San Tien/108551157269941/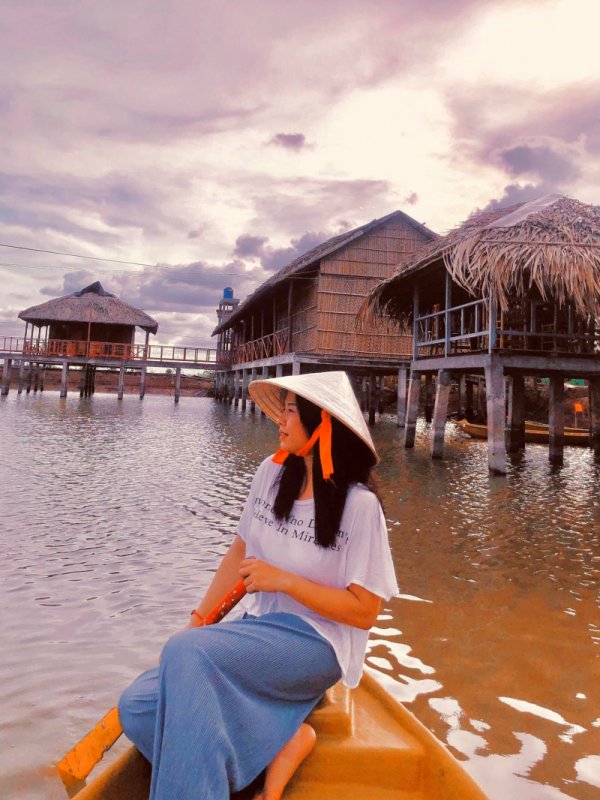 TOURISM VILLAGE – FARMSTAY FARM TIEN
Coming to Soc Trang city, visitors do not miss a tour with Soc Trang eco-tourism area, it brings many interesting things to visitors, especially to Nuoc Ngot Lake, Ho Be, and Ho Be. Nga Nam floating market, visitors will never forget the rustic but emotional dishes of the Khmer people here, along with the typical taste of the specialties of Soc Trang countryside, the fresh and delicious fruits. It will surely leave many impressions on visitors from near and far when coming to this river garden.
TAG: