8 most perfect Mai Chau travel experiences
Mai Chau is an interesting and attractive destination in the North, not far from Hanoi. Visitors can explore nature and participate in interesting cultural activities with the locals. If you are feeling tired, want to relax and rest on the weekend, after a week of studying and working pressure, you should visit Mai Chau to admire the beauty of the Northwest mountains, enjoy a fresh, refreshing atmosphere. Vinlove will share Mai Chau travel experiences with you so that you can have a meaningful, interesting trip while saving money.
Transport
On any trip, transportation is an important factor that you should not ignore. Mai Chau takes about 140 km from Hanoi, about 60 km from the center of Hoa Binh city to the northwest. You can choose a vehicle to travel by motorbike, for those who are in good health, the handlebars are steady enough to ride a motorbike on the mountain road. Or choose a means of traveling by bus, this way is safer and more convenient.
Some bus trips for your reference:
Hoang Thao bus: Mai Chau – My Dinh route. From My Dinh, the bus departs at 14:30, vice versa from Mai Chau at 8:45.
Ha Loan bus: Mai Chau – My Dinh route. The bus to Mai Chau leaves at 13:30, from My Dinh at 7:50.
Sleeper bus to Son La, at Tong Dau intersection, ask the driver to let you down, then go to town by motorbike taxi about 5 km to arrive.
If you want to travel by motorbike: The starting point is from Hanoi, the car goes along Highway 6 to Luong Son, through Xuan Mai (this section must pay attention to the police). Arriving at Luong Son town, you go through it for a while and then go to Ky Son – Hoa Binh – Cao Phong – Tan Lac – Thung Khe Pass. There will be a slope with a fork when the end of Thung Khe pass will come, just turn left to Mai Chau. Note that this bend has a lot of trucks moving on the road. Not to mention the bend is out of view, it will be easy to have an accident, so it is necessary to go slowly and observe. You will come to the roundabout junction, after going through this slope, turn left and go about 6 km more and ask for directions to Lac Mai Chau village to reach the tourist destination.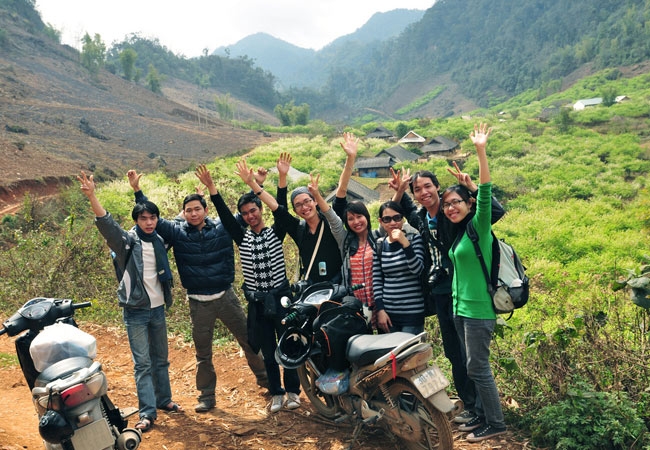 Going to Mai Chau by motorbike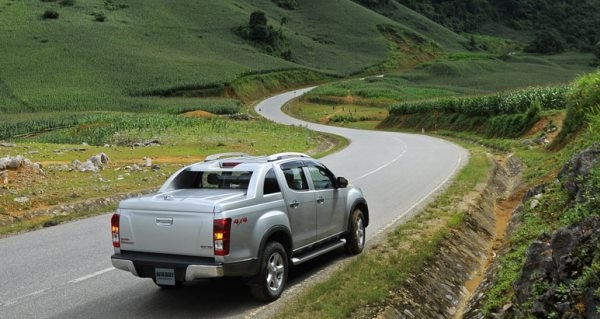 Use a car to go to Mai Chau
Ways to travel on Mai Chau
How to travel to Mai Chau town : Because this place is quite small, visitors can walk to stay healthy, you can both enjoy the beautiful scenery and feel the joy of walking. Or you can rent a bicycle to walk around the villages so that your legs won't get tired, and if you want to be faster, you can ride a motorbike, but you don't have to use a motorbike because the road is also relatively close.
The house on stilts in Lac village has a bicycle rental service. You can choose any way of transportation as long as it is safe and creates the most favorable conditions for you to admire the beautiful scenery here.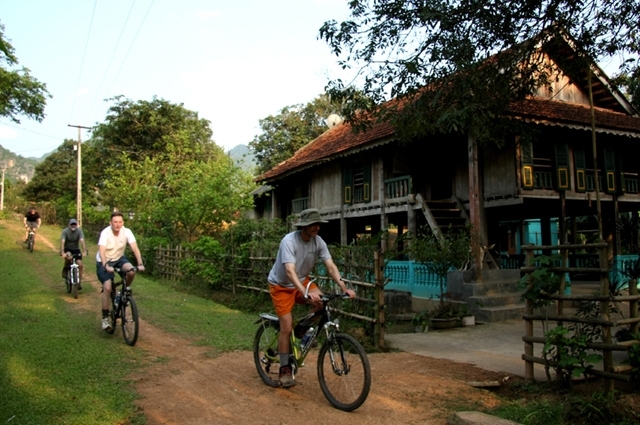 Bicycles are a means of transportation in Mai Chau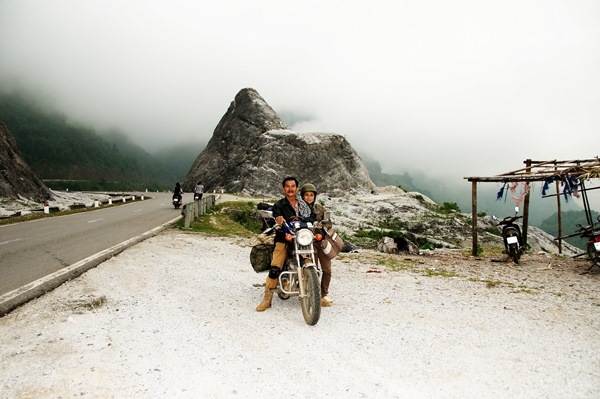 Or you can also travel by motorbike
Outstanding places to visit
When coming to Mai Chau, have you planned famous places to visit around? We will suggest you some interesting places here.
Thung Khe Pass : This is a place located between Tan Lac and Mai Chau on National Highway 6. Thung Khe Pass, also known as Da Trang Pass, has up to 4 beautiful colors in one day. Early in the morning, when the clouds have not yet woken up, countless drops of sunlight slant through the floating sea of ​​clouds, waking up heaven and earth, nature and people in the mountains and forests with cool blue eyes. At noon, you will admire the sweet golden sunshine pouring honey on every path we walk. In the late afternoon, the cool air is more pleasant because the afternoon sun and the sun are softening and softening. And when heaven and earth are covered with mysterious black, the low beams of clouds on all roads, pedestrians cannot clearly see the object within a radius of one meter, at this time, we can feel it. The freezing cold spread to the hands.
Lac village : Lac village is a very familiar community tourism destination for tourists from near and far. Although this place is not crowded, busy, not magnificent, nor does it have a delicious taste, all of them have a rustic, natural, rustic, simple beauty that is close to people. This is also the place where the cultural identity of the white Thai people is imprinted with 5 families: Ha, Vi, Lo, Mac, and Loc. Ban Lac up to the present time has existed for 700 years.
Mai Chau Valley : The blue mountains intertwined with the blue clouds are indescribably beautiful, Mai Chau valley brings a strange, peaceful and gentle beauty. When you stand on the road halfway up the mountain looking down, you will see each field as the embodiment of vibrant colors, adorning a cool picture of the nature of the Northwest mountains. From the smallest things such as reeds fluttering in the wind, brocades, baskets of orchids or deer horns, pots, knives, bamboo tubes on sale in front of the house on stilts will make you fall in love with this peaceful land.
Afternoon Cave : Chieu Cave is located southwest of Mai Chau, on the Pu Kha limestone mountain range along the north to shield the town. There are about 1200 steps from the foot of the mountain up to the gate of Hang Chieu. The cave is over 150 meters long, divided into 2 floors. It is called Chieu Cave because every afternoon, the sun shines into the cave, reflecting light into the stalactites creating wonderful beauty.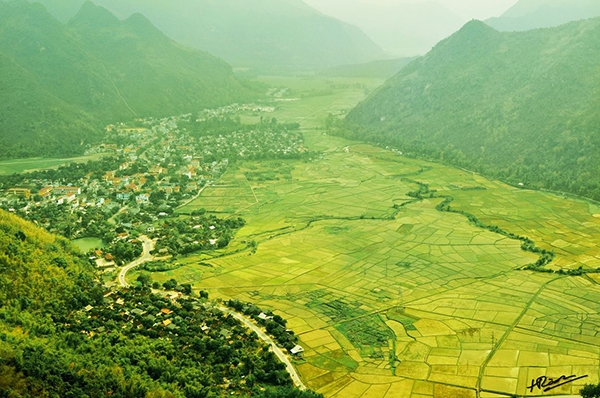 Mai Chau Valley is quiet in the Northwest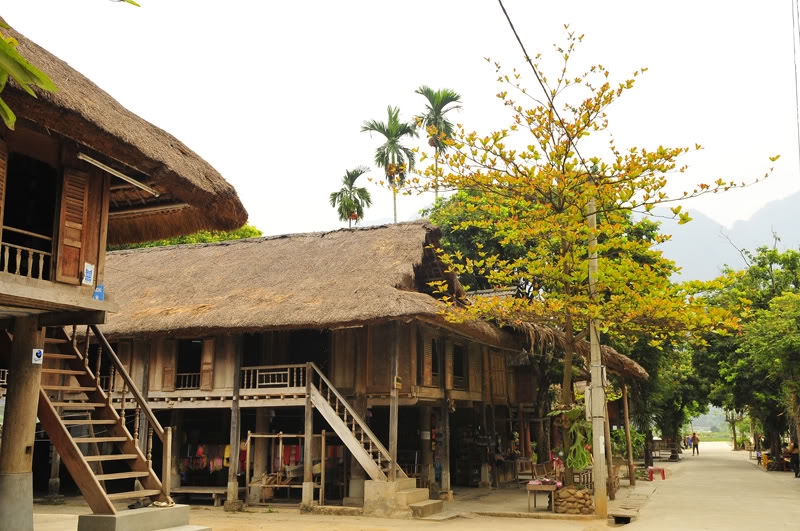 Lac village – Mai Chau (Hoa Binh) is beautiful
Eating and staying in Mai Chau
The two most famous tourist villages in Mai Chau are Lac village and Pom Coong village . In this place, both villages have many households renting out houses on stilts as a place to rest. Even if you come for the first time, don't worry about where to eat and sleep because the villages in Mai Chau allow you to stay at home. No need to contact in advance to make a reservation, if you go with a large group (over 20 people), you need to contact in advance to make a reservation.
Usually, any stilt house in Mai Chau has a place to cook for guests below. You just order the rice and they will cook for you, the food is according to the request. Some addresses you should refer to:
House on stilts number 1 : Lac village, Mai Chau, Hoa Binh.
House on stilts 2 : Lac village, Mai Chau town, Hoa Binh.
House on stilts number 5 : Lac village, Mai Chau town, Hoa Binh.
House on stilts number 19 : Lac village, Mai Chau town, Hoa Binh.
House on stilts 28 : Lac village, Mai Chau town, Hoa Binh.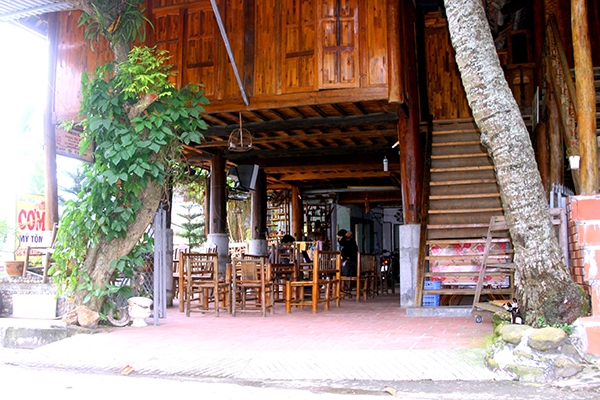 House on stilts number 1 – Lac village – Mai Chau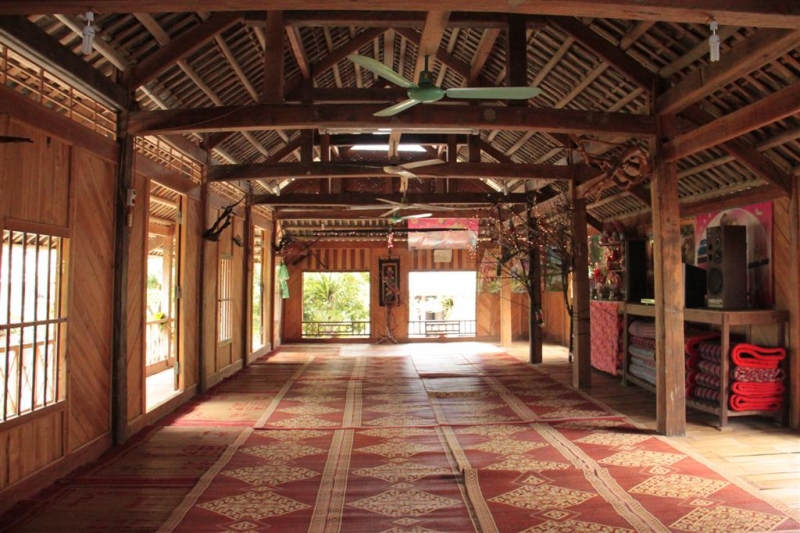 House on stilts number 19 Lac village – Mai Chau
Itinerary to visit Mai Chau 1 day
This is a pre-planned tour schedule, only suitable for traveling by self-rented car. At 7 am, you get on the bus, going straight from Hanoi to Mai Chau. About 10 o'clock, you will stop at Luong Son district. You can admire the scenery of the Northwest mountains right at this place. An hour later, you can stop right at Thung Khe Pass to take souvenir photos, convenient to admire the majestic mountain scenery. Thung Khe Pass appears in front of people's eyes so beautifully in the clear morning sky. The feeling when taking pictures at the white stone pass is like standing in a snowy mountain.
Around 12:15, you are at Lac village, have lunch with local rustic dishes, then take a short lunch break to relieve fatigue. Until 13:30 pm, rent a bicycle for convenience in moving the mountain road, exploring the beautiful Mai Chau valley. Should go two people in one car, talking while walking will be much more fun. You can comfortably take pictures along the way because the scenery is very beautiful.
A little later, when you visit the brocade stalls, if you like, you can rent ethnic dresses to wear to take pictures, the cost is not expensive but there is a super shimmering photo. By the way, buy gifts for everyone. At exactly 15 o'clock, you had to say goodbye to Mai Chau valley and get on the bus back to Hanoi. That is the Mai Chau tour schedule within one day for those who want to refer.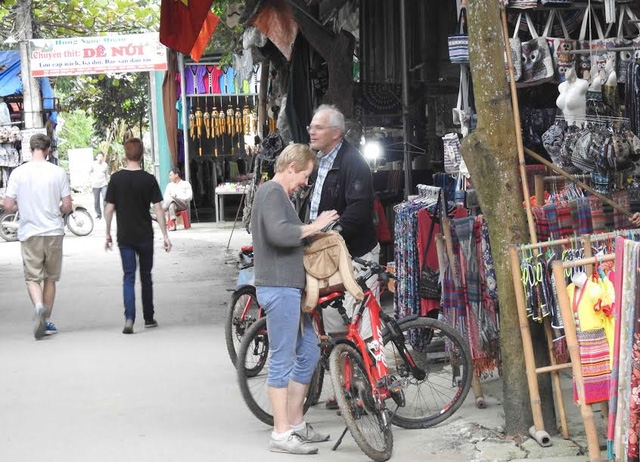 Buy souvenirs for family and loved ones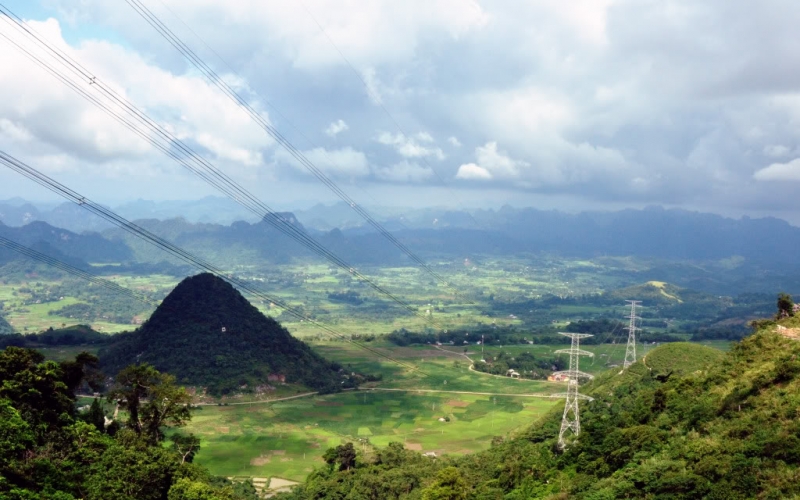 The majestic Thung Khe Pass
Itinerary to visit Mai Chau 3 days
Visiting Mai Chau 3 days and 2 nights, you will learn the customs, habits and traditional cuisine of the Thai people – Ban Lac.
The first day:
At 7 am, you depart for Mai Chau. Around 9 am, you arrive at Luong Son, you can see the low mountains running alternately with caves, limestone blocks creating an extremely poetic and peaceful scene. At 11 am, you continue to Hoa Binh then stop to rest at Thung Khe Pass – four seasons in a day. A scene that is both beautiful and idyllic as the sea of ​​white cotton and people selling boiled corn, purple sugar cane, mustard greens, rice, along the road. At noon, around 12 o'clock, you will arrive in Lac village, rest and eat traditional dishes with the flavor of the mountains.
In the afternoon from 13:30, you are free to visit Mai Chau valley, visit the beautiful small stilt houses of the Thai people, learn about the unique culture and customs of Thailand. surname. Then visit brocade stalls, you can learn how to weave brocade, buy souvenirs for relatives and take pictures with locals.
Evening at about 18:30, after having dinner at a traditional stilt house. You can walk around Lac village, there are attentive catering services around. During the period from 19:30 to 22:30, immerse yourself in the cultural activities of the Thai ethnic group performing, listening to singing, watching traditional dances, singing Northwest love songs. If you are confident, you can join the locals. Finally, there is a campfire, playing many interesting local games, you will spend the night in a traditional Thai stilt house.
Monday:
Morning: At 7 o'clock, wake up to watch the sunrise, enjoy the quiet, peaceful space of the beautiful Northwest mountains. Around 8:30 am, you ride motorbikes to visit Pu Luong nature reserve – which is said to be a nature reserve of great value in terms of economic, social science, tourism thanks to its ecosystem. rich and diverse. Pu Luong in the local language means the highest mountain in the region. In the morning of the second day, remember to take advantage of visiting a small Thai village, climbing to visit caves. At 12 o'clock, go to Hang village, you can take a break and have lunch here.
Afternoon: Around 1pm, continue the journey to explore Pu Luong nature reserve. At 5 pm you should go back to Lac village. Dinner and rest!
3rd day:
Morning: Have breakfast before continuing to visit Mai Chau. At 8:30, find your way to the local market, then go up to visit Chieu Cave. The night before, you definitely must not stay up too late or not sleep because if you want to visit the afternoon cave, you will have to go through more than 1000 stone steps, although it is extreme and tiring, but after that, the feeling of seeing the whole town Mai Chau from above will make you feel comfortable.
Afternoon: You return to Lac village to have lunch and then you are free to take pictures and buy souvenirs for your family and relatives. At 3 pm, you get on the bus back to Hanoi. So ended the trip to discover Mai Chau in three days.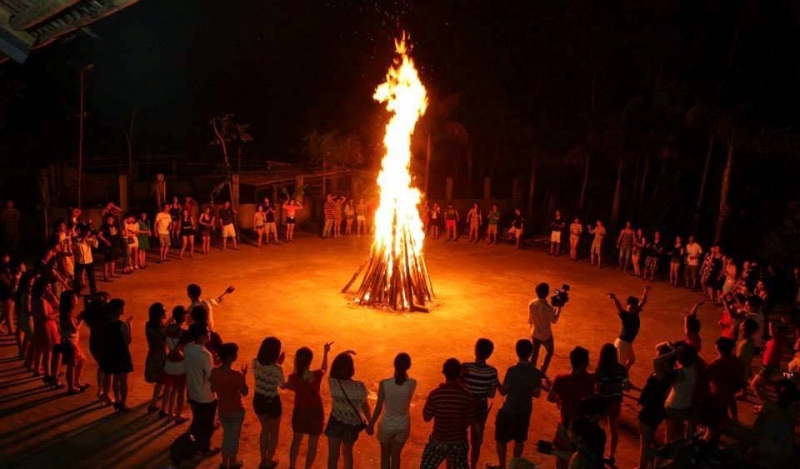 Mai Chau campfire activity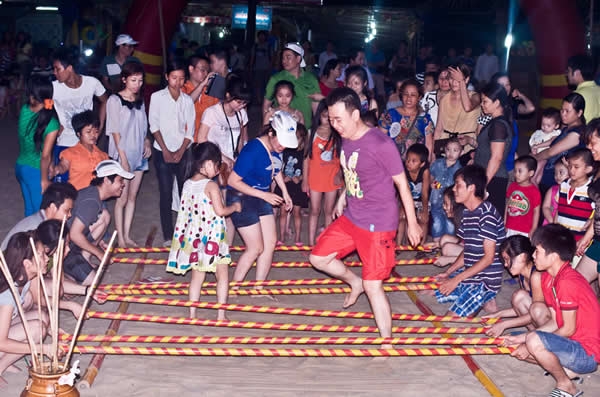 Mai Chau stall dance
The right time to travel to Mai Chau
Perhaps the best time to plan a trip to Mai Chau is from October to December of the solar calendar or March and April are also great. In the period from January to February, the air here is cold, with peach and plum blossoms blooming, looking very beautiful.
In March – April, Mai Chau's weather is cool, pleasant, with flowers blooming. From May to August, the climate is quite cool, not hot and stuffy like in the city, although this season there are no flowers, but there are plums and ripe peaches for you to freely pick and enjoy at the garden. At the beginning of September, there is Independence Day attracting thousands of domestic and foreign tourists to attend.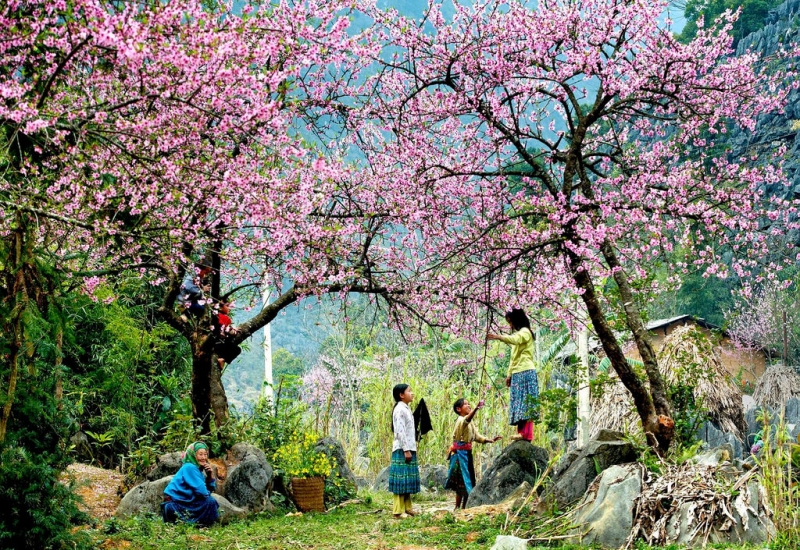 Peach blossoms bloom in Mai Chau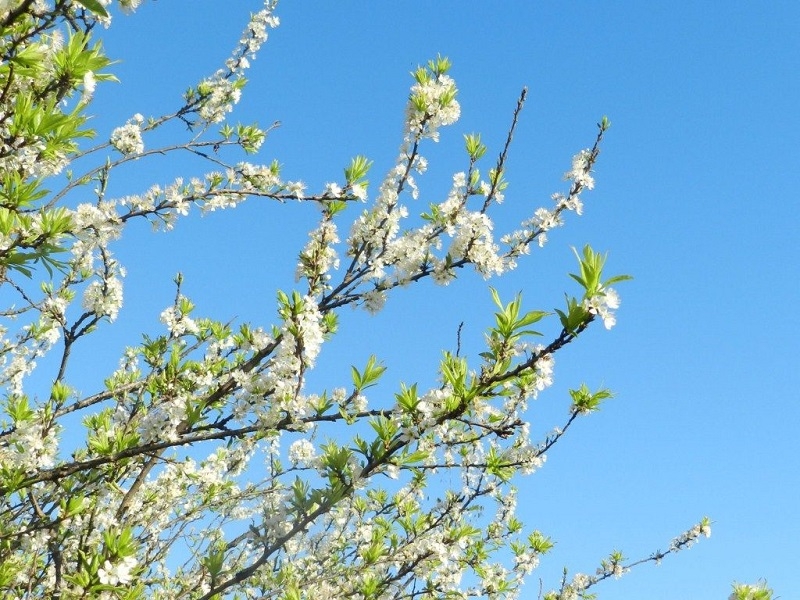 Plum blossoms bloom in December
Some notes when visiting Mai Chau
Mai Chau is a transit point from Pu Luong to Moc Chau, it will be interesting when you can combine the Mai Chau – Moc Chau schedule. Pay attention to bring your own luggage, with a one-day schedule, you don't need to bring too many things to do. Remember to bring an umbrella, a hat, some essential and important medicines such as stomach medicine, cold medicine, antiseptic and medical bandages, pain relievers.
If you go to Mai Chau by motorbike, be careful on the highway because there are many trucks and container trucks, so it is very dangerous, always pay close attention. When you want to buy souvenirs such as clothes, brocade products … or eat and drink, you must consult the price, ask the price first. Mai Chau specialties that you should not miss when visiting this place include Mai Chau sticky rice, Mai Ha wine, lam rice, roasted wild bee pupae with sour bamboo shoots, and water with float leaves.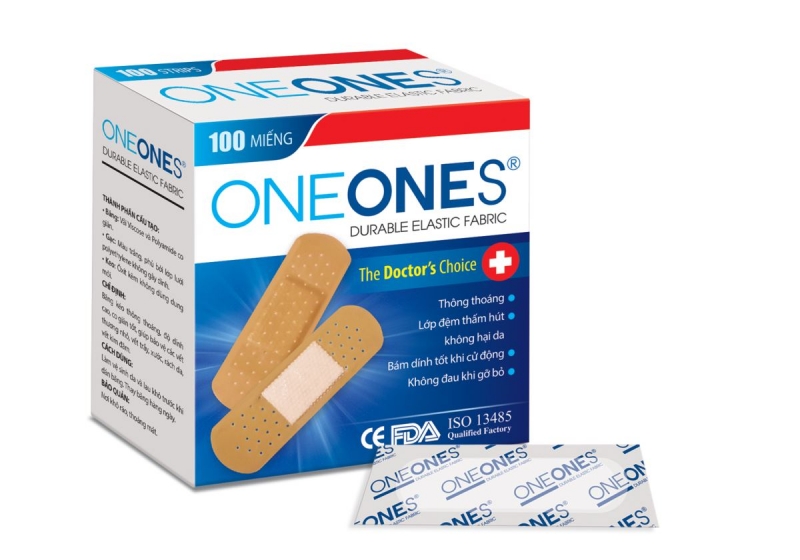 Prepare personal bandages for the trip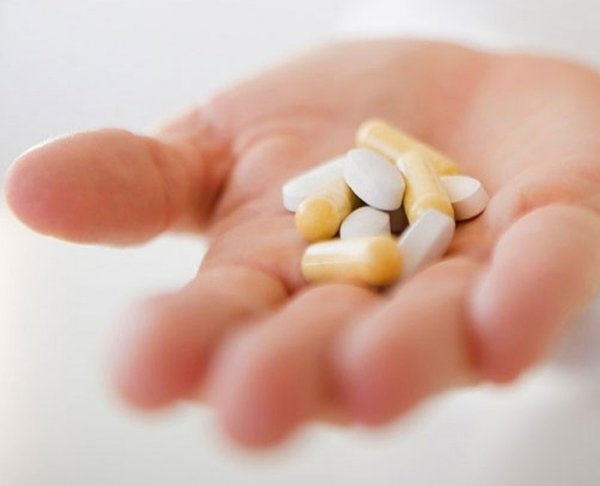 Remember to prepare more medicine for headache and stomachache
Those are the experiences for the trip to visit Mai Chau (Hoa Binh). Please consult and plan carefully for your trip! Mai Chau is welcoming you there. Wishing you a safe, fun and exciting trip.
TAG: