13 interesting stops for your Ha Long trip
Ha Long has long become an attractive destination for journeys of discovery and conquest. With the outstanding development of the tourism industry during the past time, this place has really made a strong mark in the hearts of tourists near and far. Make a specific schedule to make sure you don't miss any great places.
Ha Long Bay
The most famous for tourism in Quang Ninh – Ha Long Bay is known as one of the natural wonders of the world with a large area of ​​more than 2000 large and small islands. Ha Long Bay can be understood as the place where the dragon landed and has become a national scenic spot since 1962. Ha Long Bay has been recognized by UNESCO as a world natural heritage many times. With 1,969 large and small islands on the calm sea surface such as Lu Huong, Ga Choi, Canh Bum, Mam Xoi, Ngoc Vung, Ti Top, Tuan Chau islands. Visiting and admiring the beauty of Ha Long Bay, you will feel like you are looking at a giant, beautiful ink painting, and worthy of being a symbol of Vietnam tourism.
Ha Long Bay is not only a natural wonder created in favor of Vietnam, but it is also a great pride for the people of Quang Ninh province. Therefore, this place is always an attractive tourist destination in Vietnam for domestic and international tourists. To take a walk around the beautiful Ha Long Bay, you just need to buy a ticket for about 220,000 VND, get on the boat and you will be on the sea.
Address: in the northeast of Vietnam in the territory of Quang Ninh province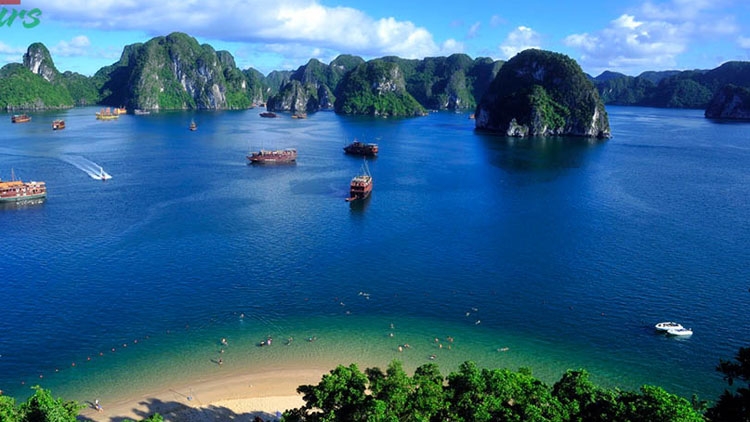 Ha Long Bay
Sun Wheel
With an altitude of 215 m above sea level, with a diameter of about 115 m, the Ha Long Sun Wheel, as soon as it was inaugurated, became one of the two largest solar rotations in Vietnam to date. current point.
Sun Wheel Ha Long, with a total of 64 cabins and a capacity of 384 passengers and a capacity of 1,200 guests/hour. You can explore the panoramic view of Ha Long Bay from above with each cabin having a maximum capacity of 6 passengers, each rotation lasts about 15-20 minutes.
Especially, at night, the shimmering lights from the Sun wheel together with the sparkling lighting system at Bai Chay bridge will surely make you surprised by the beautiful scenery of Ha Long city like a magical picture. miraculous. You can refer to the fare for each passenger as follows: 300,000 VND for adults, 200,000 VND for children under 1.3 m tall, children under 1 m tall are completely free (Fare is included). Package includes cable car, sun wheel and amusement park on Ba Deo hill).
DETAILS INFORMATION:
Address: No. 9, Ha Long Street, Bai Chay Ward, Ha Long City, Quang Ninh Province
Website: https://halongcomplex.sunworld.vn/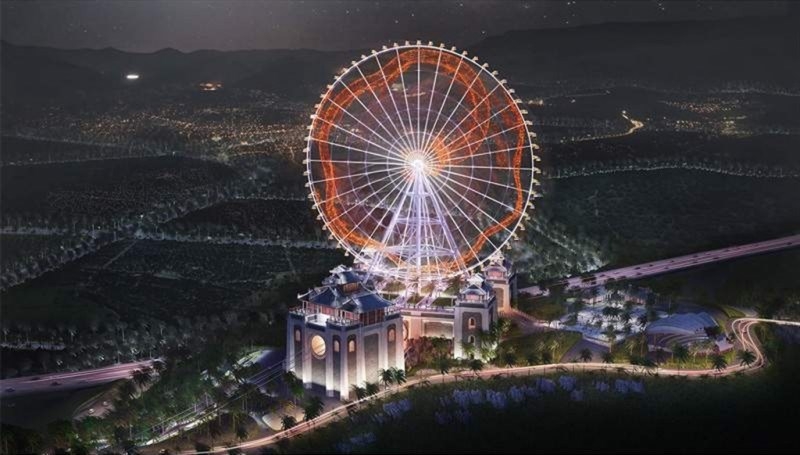 Sun Wheel
Queen Cable Car
Queen Cable Car is the first cable car system in Ha Long city, Quang Ninh. This is a work in the entertainment complex Sun World Halong Complex of Sun Group – a new destination attracting a large number of tourists. The Queen Cable Car, also known as the "double-decker bus" cable car, is the only cable car system with 2 cabins, and is likened to a giant double-decker bus with a capacity of up to 230 people/cabin. You can comfortably enjoy the panoramic view of Ha Long city with a large cabin, inside with seats, handles, and handrails for guests.

Around the cabin is designed with large glass windows to help you unleash your eyes to admire the whole Ha Long Bay from above with each walk for about 5 minutes. You can refer to the all-inclusive price when experiencing the cable car, the sun wheel, and the amusement park on Ba Deo hill as above. The Queen Cable Car is chosen by many tourists to see Ha Long from a new angle.
DETAILS INFORMATION:
Address: No. 9, Ha Long Street, Bai Chay Ward, Ha Long City, Quang Ninh Province
Website: https://halongcomplex.sunworld.vn/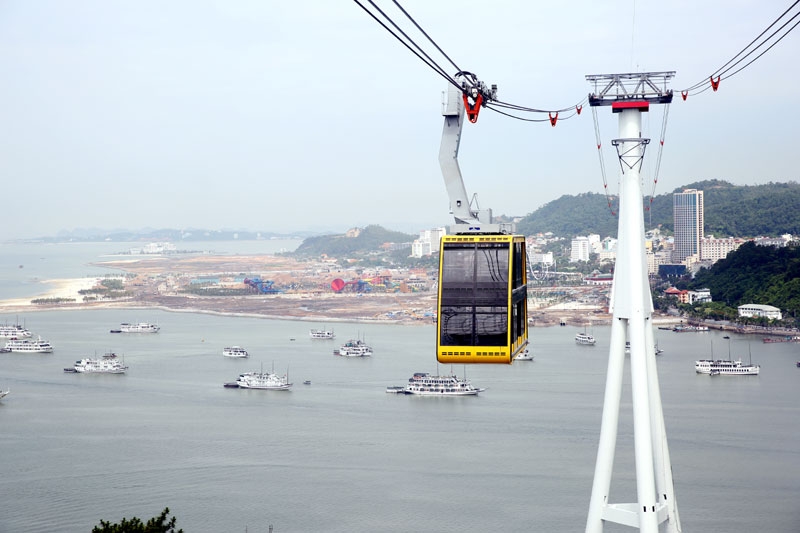 Queen Cable Car
Vinpearl Ha Long Bay resort
Vinpearl Resort & Spa Ha Long is known for its total area of ​​up to 49,600m2, of which the island area is 40,000m2 and the water surface area is 9,600m2, the high-class resort at Reu island will really bring. Offering you exciting experiences with a chain of super-premium rooms, with a chain of extremely diverse culinary restaurants, in addition to the price area of ​​the international convention center, resort spa, gym. , useful entertainment area…
The lowest price for a resort ticket at Vinpearl Resort & Spa Ha Long is about VND 2,600,000 with many services as well as attractive prices that you can freely choose. Vinpearl Resort & Spa Ha Long is the perfect and convenient destination for relaxation, meeting and marking important events with loved ones such as weddings, birthdays or memorable anniversaries.
DETAILS:
Address: Reu Island, Bai Chay, Ha Long City, Quang Ninh Province
Hotline: 0203 355 6868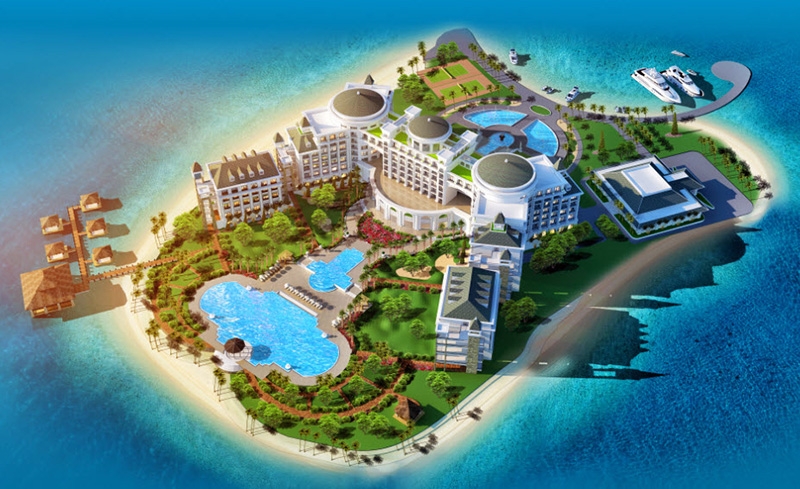 Reu Island Resort
Tuan Chau International Tourist Area
Tuan Chau Island is known as one of many famous islands in Ha Long Bay. With the current area of ​​​​about 400 hectares, located in a very convenient location both by road and waterway, this place promises to be an ideal destination for your Ha Long trip with many fun activities. entertain.
This is an island with the only geology of soil and schist in the islands of Ha Long sea. This place is famous for its long stretches of fine white sand, long clear blue coast and surrounded by green pine hills. And this place is also blessed with a cool climate suitable for those who want to travel and relax. Some stops are familiar in the tourist area of International Week rub u are: Clubs dolphins, seals, sea lions, performances of dance music fashion, Circus, Club performed crocodile, The artificial beach is more than 4 km long, the Vietnamese food court, the complex of villas and hotels with 5-star standard of 200 rooms, the water entertainment area including activities such as parachute canoe, water skiing motor high speed…
DETAILS:
Address: Tuan Chau Ward, Ha Long City, Quang Ninh Province
Website: https://tuanchau-halong.com.vn/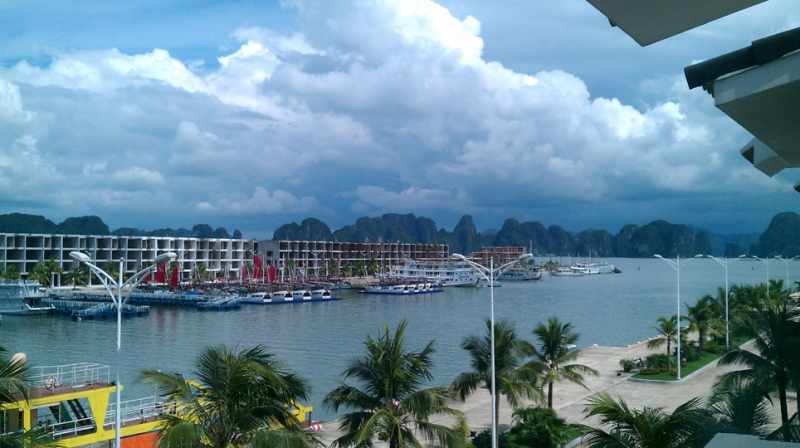 Beauty Tuan Chau
Bai Chay Bridge
Bai Chay Bridge is located on Highway 18, Quang Ninh province. This is the route connecting Bai Chay and Hon Gai, the connecting gate runs to Cua Luc and goes straight towards Ha Long Bay. This is considered an important and extremely important road in the comprehensive development strategy of Quang Ninh in many fields, especially tourism. It can be said that, carrying such a top-notch artistic design, the Bai Chay bridge is the pride of the people of the mining land.
This is the most modern architectural work in our country, with a single-plane cable-stayed bridge design, prestressed with reinforced concrete box girders. The two bridge towers are placed on the foundation of a large-sized pressed submersible well. With a modern design, Bai Chay Bridge accidentally becomes an interesting stop for tourists near and far when coming to Ha Long. Standing on the bridge, you can zoom your eyes to see the beautiful panorama of Ha Long from above. On one side is the scene of a quiet bay like a picture with many colors, on the other side is the beach with fine white sand stretching. You can freely take pictures, check-in on Bai Chay Bridge.
Address: on Highway 18, connecting Hon Gai with Bai Chay through Cua Luc Strait, separating Cua Luc Bay from Ha Long Bay, in the territory of Quang Ninh province.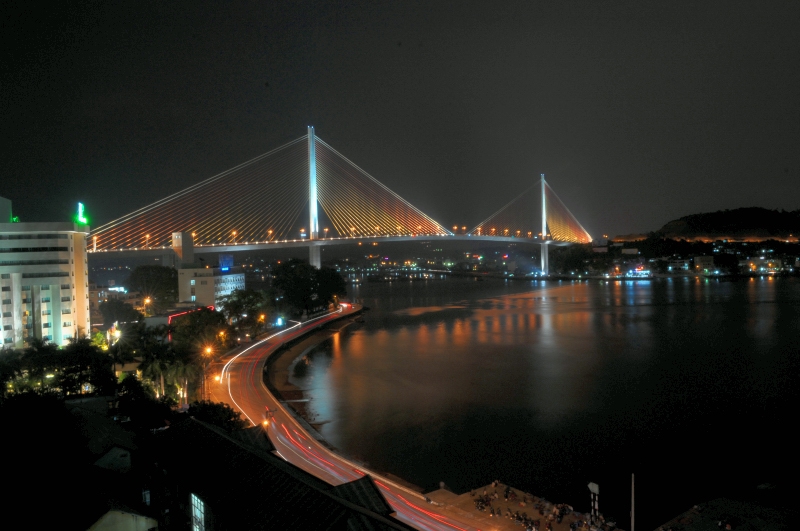 Bai Chay Bridge
Bai Chay Beach
Bai Chay is known as a large and beautiful beach located right next to Ha Long Bay. This place has a sandy beach more than 500m long, 100m wide, smooth white and fresh air, it will definitely be an interesting experience for you. Coming to the Bai Chay tourist area, you will enjoy a fresh climate, delight with clear blue beaches, giving you the most relaxing and comfortable vacation.

Not only that, when you come to Bai Chay, you will enjoy a culinary culture chain with attractive street foods from hundreds of different types of seafood. The hotel and villa areas with unique architecture interspersed is an extremely interesting resting place for visitors who want to see the sea view from their bedroom. Admire the shimmering beauty of Bai Chay long beach in the early morning or late afternoon. Especially, you can take a bath to experience relaxing moments on the blue sea with waves. Besides, you can walk around to buy yourself favorite souvenirs, as well as enjoy attractive specialties.
Address: located along Ha Long Bay, Ha Long City, Quang Ninh Province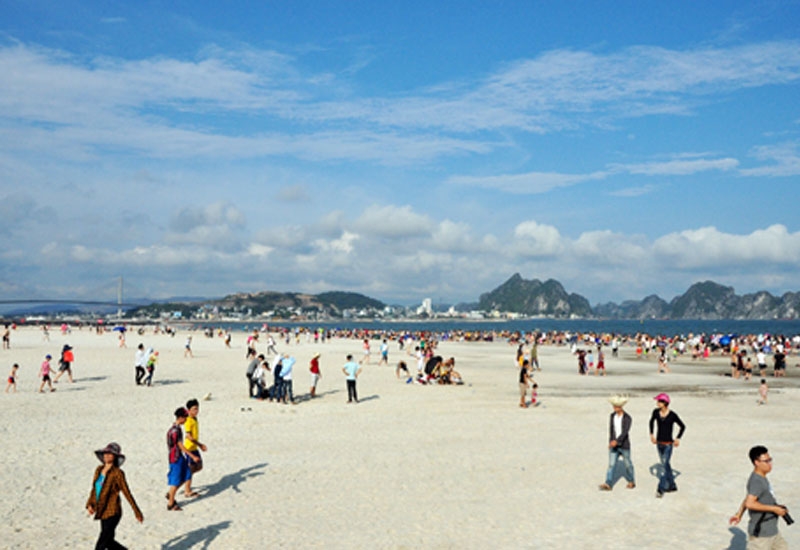 Bai Chay Beach
Ba Hang fishing village
As a place in Ha Long Bay, located right next to Thien Cung cave with more than 50 households living by fishing, Ba Hang fishing village will really be an attractive destination for those who love peace. fresh. Different from the hustle and bustle of life in the city, visiting Ba Hang fishing village, visitors will be extremely surprised to see with their own eyes a peaceful fishing village on the river. The life of the people here is very simple.
When coming to Ba Hang fishing village, visitors will not only enjoy the beautiful river scenery but also experience the colorful and joyful life of the fishermen here. With its location in Ha Long Bay, this place has mesmerizing mountain scenery along with floating house cultures that have created a fishing village as in the picture of both poetic and rustic. Moreover, to experience life here, visitors are also treated with delicious seafood dishes, bought fresh seafood as soon as they catch it at extremely cheap prices.
Address: Hung Thang ward, Ha Long city, Quang Ninh province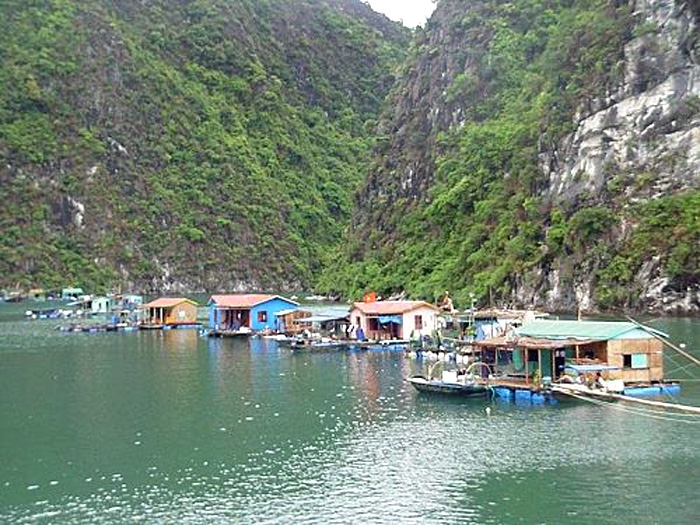 Ba Hang fishing village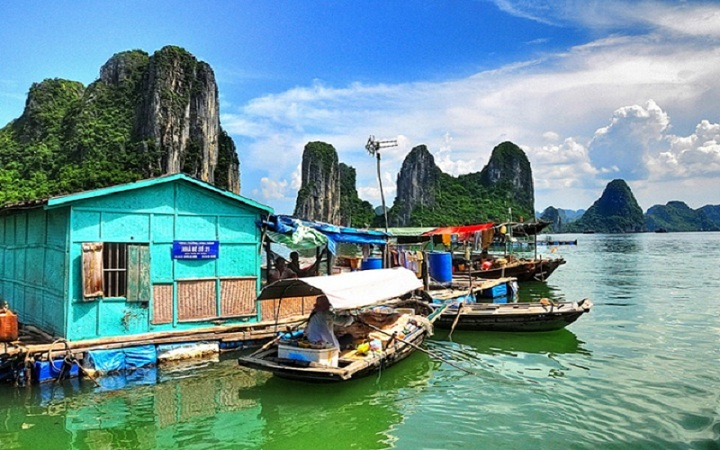 Ba Hang fishing village
Bai Tho Mountain
Another destination that you cannot miss in your Ha Long tour is Bai Tho Mountain . Bai Tho is the name of the nearly 200 m high mountain located in the center of Ha Long city and right on the bay. On the mountain, there are still Chinese poems of Le Thanh Tong carved in stone in 1468, and of Trinh Cuong in 1729, inspired by the fairy beauty of Ha Long Bay.
Standing on the top of the mountain, tourists will see the panorama of Ha Long from a different angle. This seems to be a new perspective even for residents of the coastal city. Bai Tho Mountain owns an ideal location for visitors to admire the panoramic view of the famous Ha Long Bay from above. The best time to explore the mountain is early morning and late afternoon. Coming to Bai Tho Mountain, you will be satisfied with your climbing adventure, immersed in the magnificent natural beauty, infatuated, so it is often chosen by many tourists.
Address: Ha Long city, Quang Ninh province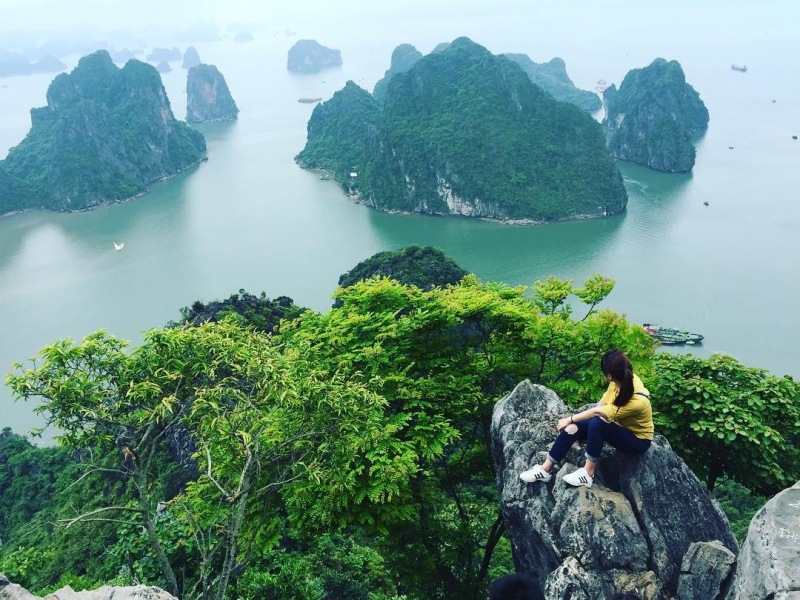 Bai Tho Mountain
Soi Sim Island
Another interesting stop for your Ha Long trip is Soi Sim Island . This place is rated by tourists as a place to visit you should not miss when coming to Ha Long. With an area of ​​​​about 8.7 hectares, located in the west of Ha Long Bay, Soi Sim Island is not large, but it is a place where all the charming beauty of the blue sea, white sand, mountains and hills converge. On the island is a primeval forest with a variety of rich plants, including many endemic and valuable tree species, typical for the Ha Long Bay ecosystem.

Tourists visiting Soi Sim IslandYou will admire the natural landscape without many machines, wild but extremely beautiful. If you are a lover of exploration and discovery, you can also climb to the top of the island to have a panoramic view of the surrounding scenery. Besides, traveling to Soi Sim island, you can participate in the following interesting experiences: Swimming in Soi Sim island, visiting the flora ecosystem, renting a jet ski around the island, climbing to the top Soi Sim, watching purple myrtle flowers all over the world Soi Sim,…
Address: located in the tourist area of ​​Ha Long Bay, this small island is about 12 km from Bai Chay bridge and less than 700 m from the famous Ti Top island.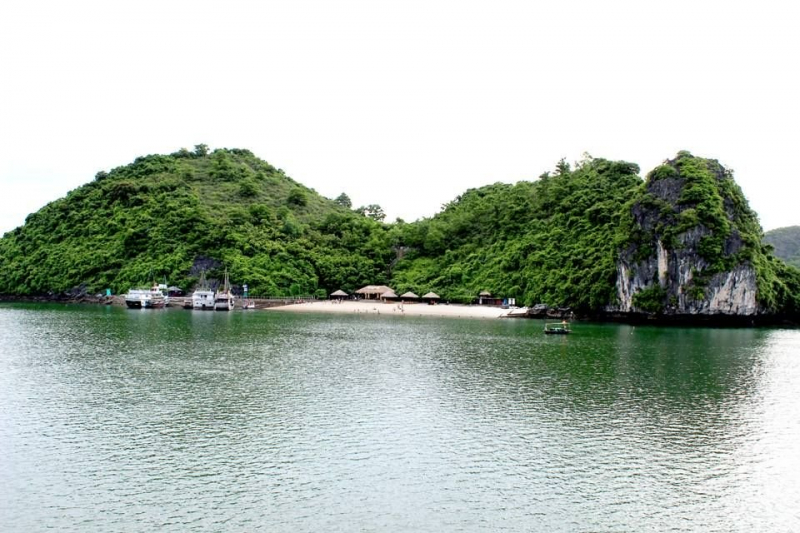 Soi Sim Island
Quang Ninh Museum
Quang Ninh Museum is located along the seafront on the east coast of Ha Long city. The architectural block of Quang Ninh Museum – Library is considered a perfect cultural work and a sustainable highlight of a famous scenic area: Ha Long Bay. Quang Ninh Museum is also the massive architectural cluster with the largest investment value (over 900 billion VND) and the first official museum built in Quang Ninh province.
Connected with tourist attractions such as Bai Tho mountain relic cluster and scenic spots (Bai Tho mountain, Duc Tran Quoc Nghien temple, Long Tien pagoda), Hong Gai church, Ha Ha commercial and entertainment complex Long Marine Plaza, Vincom Center Ha Long…, Quang Ninh Museum – Library are unique tourism products containing the values ​​of daily life, production and daily labor of local people. direction. Coming to Ha Long, visitors have the opportunity to visit monuments, cultural works, participate in entertainment and shopping activities as well as experience the life of the city's people.
DETAILS:
Address: Tran Quoc Nghien, Tuan Chau, Ha Long City, Quang Ninh
Website: http://www.baotangquangninh.vn/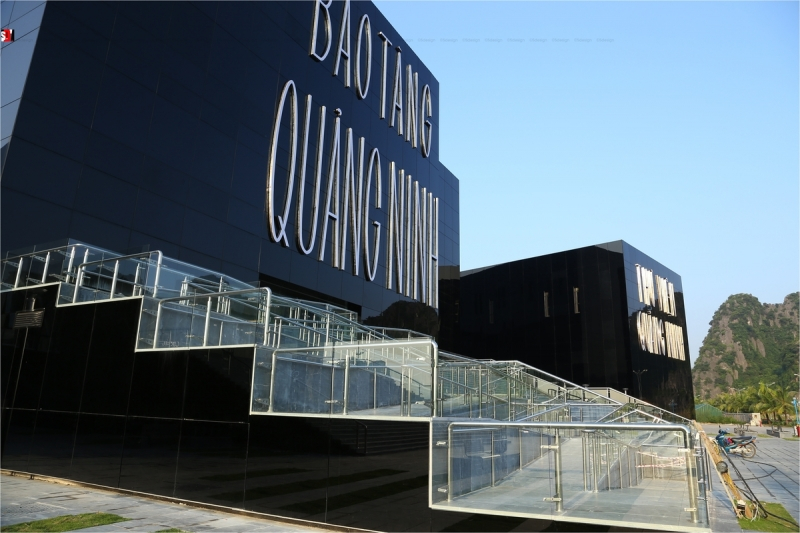 Quang Ninh Museum
Dragon Park
Spreading over an area of ​​23 hectares, with a design inspired by the world's most modern amusement parks, Dragon Park offers unprecedented experiences and great moments of fun and relaxation for the whole family. traveler. The games are designed to be suitable for many ages such as: children, teenagers, adults… so that everyone can find their passion and enjoyment. In addition to the world-class game system, Dragon Park also attracts visitors by the wonderful space and landscape in the heritage land, the world natural wonder of Ha Long Bay.
Visitors also have more virtual coordinates with the natural scenery of over 10,000 shrubs of all kinds and over 5,000 trees, of which 2,000 are especially rare and precious. Dragon Park is also the park with the largest number of trees in Southeast Asia up to the present time. After a journey of playing, playing, and relaxing at Dragon Park, visitors can find a romantic getaway in this fairyland to fully enjoy high-class services and rich cuisine at the restaurant system. Professional service, fully meet the needs and preferences of visitors.
DETAILS:
Address: Bai Chay, Ha Long, Quang Ninh
Fanpage: https://www.facebook.com/DragonParkHalong/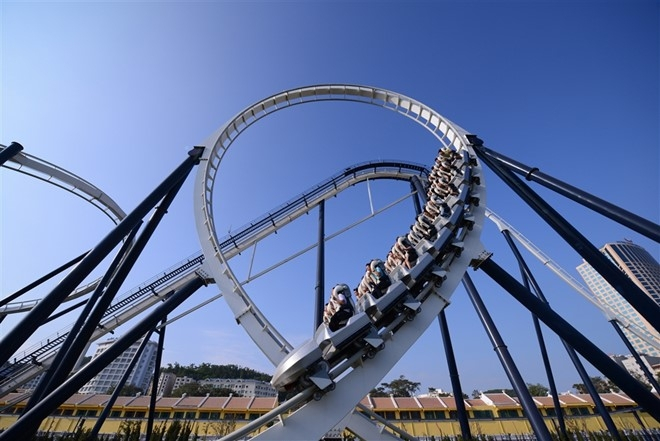 Dragon Park
Cruise on the bay
Cruise on the bay is also an interesting experience that is extremely loved by domestic and foreign tourists. Overnight service on Ha Long Bay is increasingly being chosen by domestic tourists and is gradually becoming more and more popular because it will give visitors a variety of emotions and interesting experiences such as fishing, Night squid fishing. Famous for its quiet beautiful turquoise sea and magnificent natural scenery, traveling around the islands on yachts will help you see nature more clearly. Currently, this form of tourism is developing strongly with a variety of prices for you to choose from.
Some cruises on Ha Long Bay are interested and selected by tourists:
Star Light Cruise
Emeraude Cruise
Paradise Luxury Cruise
Au Co Cruise
Bhaya Classic Cruise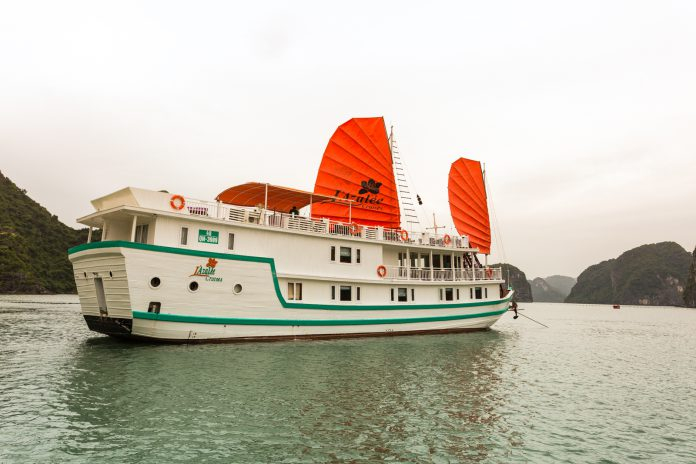 Cruise on the bay
Those who have ever visited Ha Long will have a really deep impression, because of the beautiful landscapes, attractive specialties, fresh atmosphere as well as the warm welcome of tourists. local people. With such interesting suggestions, what are you waiting for, hurry to Ha Long to freely explore beautiful places.
TAG: