Stir-fried vermicelli with turmeric – a delicious specialty and famous "cough treatment" of Hue
 With ingredients including vermicelli, pork offal and especially, pureed turmeric, Hue people have created a famous popular popular dish that can treat coughs.
Hue is one of the famous culinary "cradles" of Vietnam, attracting a large number of domestic and foreign tourists. Besides the specialties that make up the "brand" such as mussel rice, beef vermicelli, filter cake, spring rolls, … in the ancient capital, there is also a popular dish that cannot be ignored. That is fried noodles with turmeric. 
This dish is made from the main ingredients of vermicelli, heart, and turmeric. Although it consists of only familiar ingredients, what makes the deliciousness of fried vermicelli with turmeric is the elaborate processing.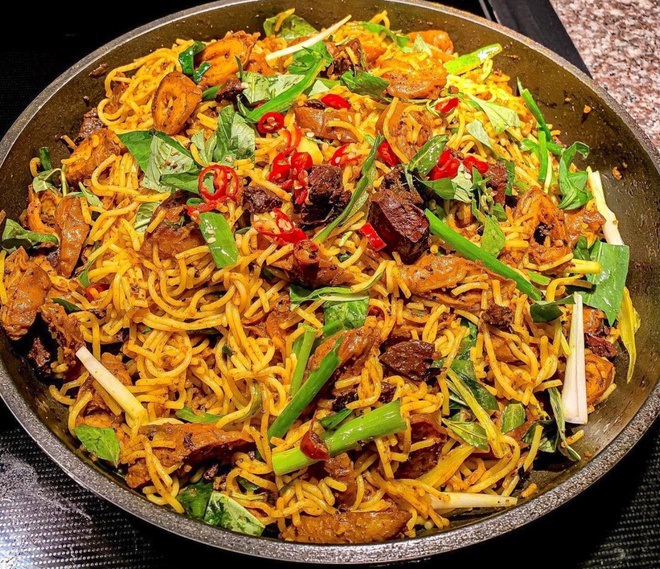 The famous noodle soup with turmeric in Hue (Photo: @thaonguyenn1711).
In order to make delicious and flavorful stir-fried vermicelli with turmeric, locals often go to the market early in the morning to choose the freshest parts, then cleanly prepare to remove all the odors. In addition to the intestines, people also use more pig organs such as the liver, the young intestine, and boiled blood. 
All ingredients are preliminarily cleaned, cut into bite-sized pieces, and then seasoned with fish sauce, salt, pepper, onions and turmeric juice. When the ingredients have absorbed the spices, stir-fry quickly.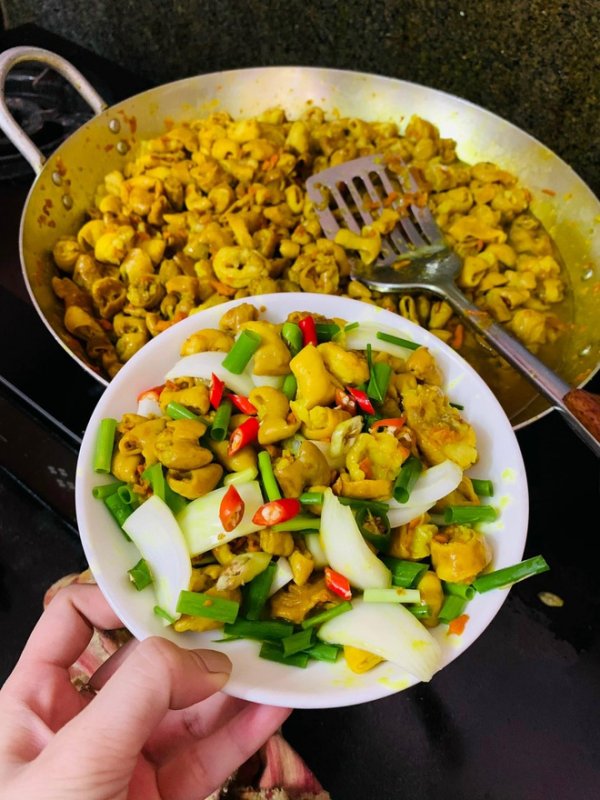 Pork intestines are preliminarily cleaned to remove the odor and then stir-fried separately (Photo: Hoang Thi Thanh Huyen).
An important ingredient indispensable in this dish is turmeric. People choose turmeric with a moderate age so that when processed, it will have a characteristic aroma, not too pungent, and make the noodle dish with a beautiful dark orange color.
In addition to turmeric juice, another part of fresh turmeric is pounded, spiced, and then fried until cooked, set aside.
Next is the stir-frying process. The vermicelli is stir-fried in a separate pan, stirring quickly to ensure that the vermicelli is soft and not crushed. Then pour the previously processed intestines and turmeric water and mix well with the vermicelli.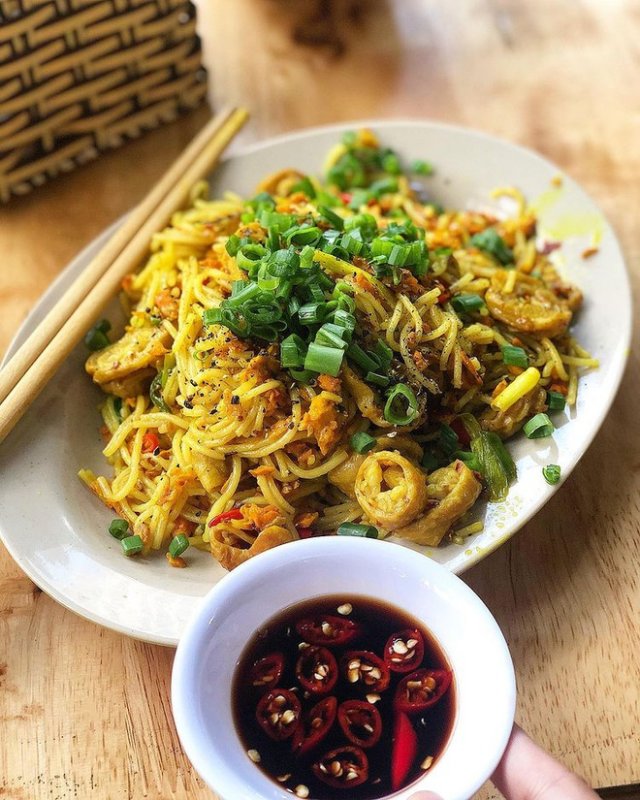 Although it is a popular dish, stir-fried vermicelli with turmeric requires meticulous processing (Photo: @yummydanang).
When a customer orders, the seller begins to pick up vermicelli, add fried intestines on top, scoop with a spoon of roasted turmeric and a pinch of laksa leaves. Diners just need to mix the ingredients and enjoy.
Not only beautifully decorated, fried noodles with turmeric also have a delicious taste, attracting diners at first sight. The greasy, chewy, crunchy taste of the heart with the strong aroma of turmeric mixed with the soft and smooth noodles is enough to make anyone who has the opportunity to enjoy it.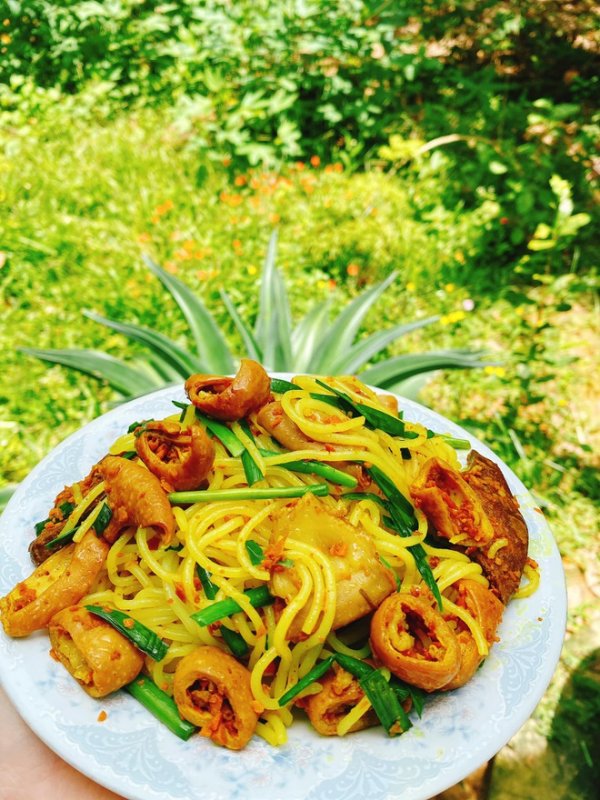 The dish is not only visually appealing but also impressed by its strangely delicious taste (Photo: Thuy Linh).
Another special thing is that this dish also has a strange "burning pot" part due to the long fried noodles, too much fire, so a little bit remains at the bottom of the pot. This part of vermicelli is crispy and delicious like burnt rice. Diners can wait until the owner sells half of the pot, then ask for more to enjoy.
Although it is a famous specialty in Hue, if it is not taught by the locals, not many diners know that fried vermicelli with turmeric also has the ability to treat cough very effectively. That is thanks to the fresh turmeric ingredient in this dish.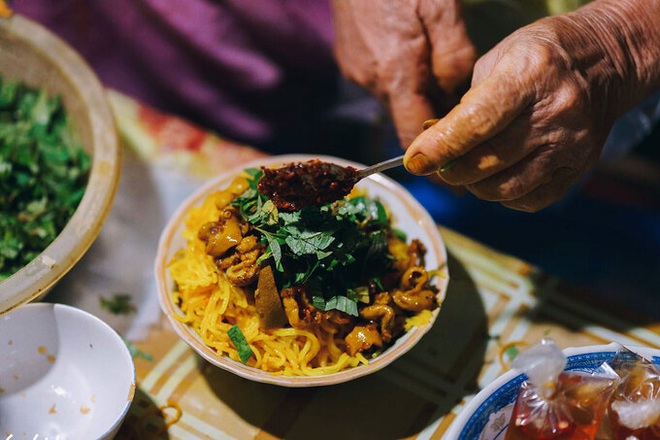 Stir-fried vermicelli with turmeric has the ability to effectively treat cough thanks to the great use of fresh turmeric (Photo: Visit Hue).
According to Oriental medicine, turmeric has a spicy, bitter, mild taste and contains many nutrients beneficial to health. In particular, turmeric also provides curcumin, a substance with antioxidant, antibacterial, anti-inflammatory and antitussive effects. 
Therefore, fried vermicelli with turmeric is considered a famous winter dish, safe for both the elderly and children. Many people when they have coughs and colds often eat this noodle dish and notice positive effects.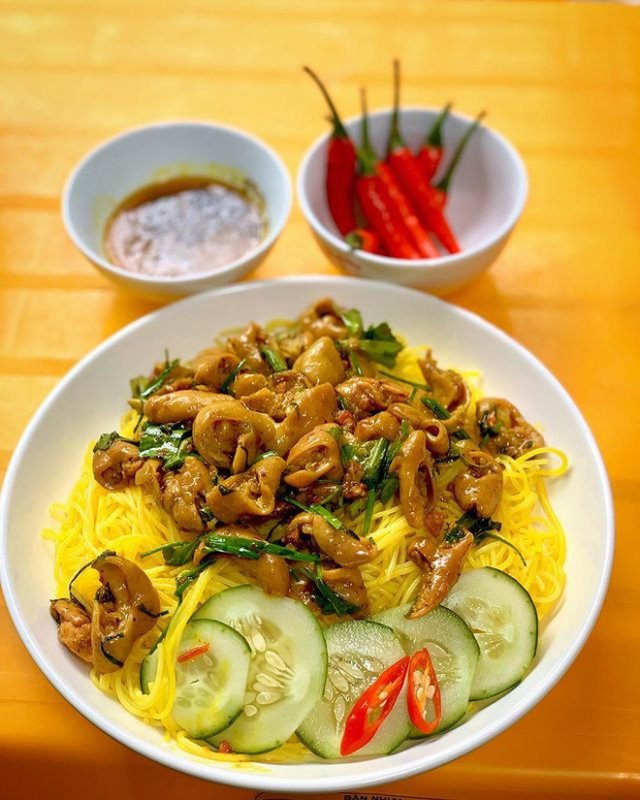 From a popular and healing dish of Hue people, fried noodles with turmeric have become a specialty that attracts diners near and far (Photo: @jennie_le_tran).
In Hue, vermicelli stir-fried with turmeric is not only a natural "medicine" used to cure diseases but also a famous afternoon snack, attracting tourists inside and outside the city. If you have the opportunity to come to the ancient capital, visitors can enjoy this dish at famous markets or roadside eateries such as in front of Dong Ba market, An Cuu market, 10/154 Ba Trieu street, 19 Tran Quang Khai…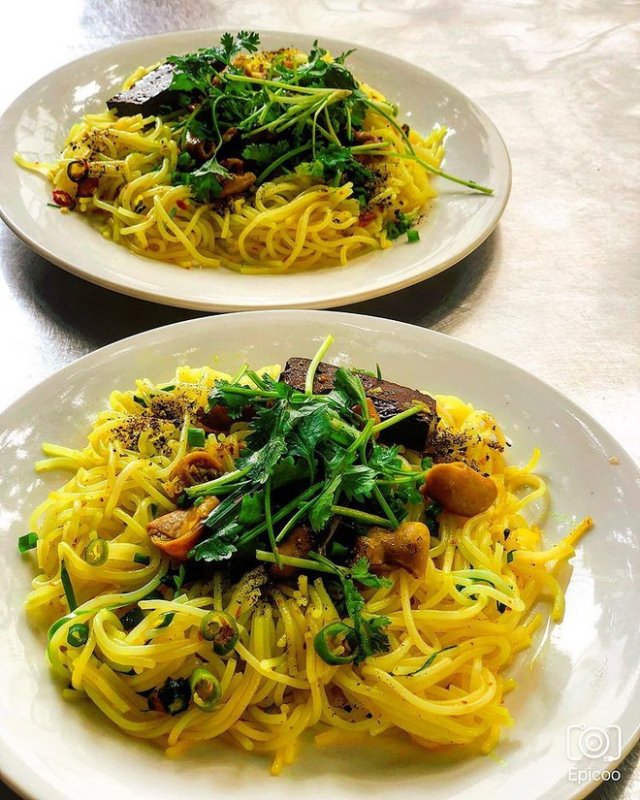 Stir-fried vermicelli with turmeric is not only delicious, strange and nutritious but also affordable, about 15,000 – 20,000 VND / bowl (Photo: @tr.huy.28).
TAG: