Fishermen have a good season
HA TINH – The sea area of ​​Thach Hai commune, Thach Ha district is in the season of shrimp, fishermen use boats to catch more than 100 kg per day, selling for millions of dollars.
In early September, mollusks appeared densely in the area about 500 m from the coast of Thach Hai commune, Thach Ha district. Along the coastline of more than 4 km, dozens of fishermen use bamboo boats or motorboats with a capacity of 18-50 CV to fish all day and night.
Mr. Phan Van Long, 40 years old, residing in Thach Hai commune, said that at the beginning of September, the sea was calm and the weather was sunny, so there was a lot of water coming in from the sea. In October, when the rainy season comes, it will be less. This species lives about 5 nautical miles offshore, at a depth of 15-50 m.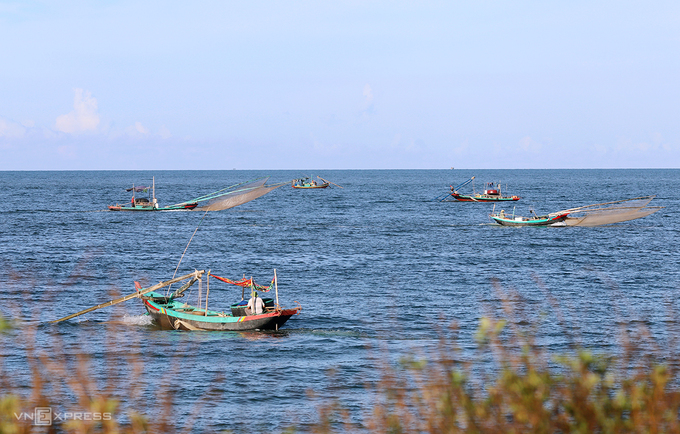 Busy fishing boats near the coast of Thach Hai commune, Thach Ha district on September 2. Photo: Duc Hung
In the early morning, Mr. Long drove a 30 CV motorboat along the coast to "hunt fish". In front of the boat, two wooden sticks 4 m long are attached, and a small net is tied to form a triangular racket about 5 m wide for shoveling. Seeing the stream swimming under the sea, Mr. Long will lower his racket to shovel and bring it to the boat.
"When they meet the stream, it takes about 15 minutes for two people to catch. Each thread will get more than 100 kg if shoveled but usually can't catch all but about 50 kg at a time. In the past two days, each time we went out to see more than 50 kg. 4 hours, a boat with two workers can catch 100-200 kg of shrimp, "said Mr. Long.
Some others use large 50 CV motorboats, mobilize about 5 workers, light fishing lights all evening. According to Mr. Tran Van Sang, 52 years old, in the evening, the drumsticks appear more, just look at the flashlight from afar to see the sparkling swimming rods, then lower the racket; with luck, his team caught 5 quintals in one night.
Fresh snails are brought from the sea to the shore. Photo: Duc Hung
When the compartment was full of shellfish, the fisherman drove the boat to the shore of Thach Hai commune so that the family members could sort and wash it. Traders come to buy ruc at the price of 15,000-20,000 VND per kg. "In previous years, merchants surrounded the boat to buy batches, this year due to the Covid-19 epidemic, they went to collect fewer goods," Mr. Sang said.
Each time they go out to sea, an average boat earns about 2 million VND after deducting all fuel and labor costs. If the weather is favorable for fishing continuously day and night in a month, many boats earn about 50 million VND.
Roaches can be caught at any time of the day. Besides using boats, many fishermen also use small nets or go on stilts to the racket.
In addition to importing for traders, many fishermen pour sorghum into styrofoam bins, drive motorbikes home, spread green nets 4 m high, 6 m wide, placed in the middle of the cement yard or on the side of the road, dried or marinated. fish sauce and make shrimp paste.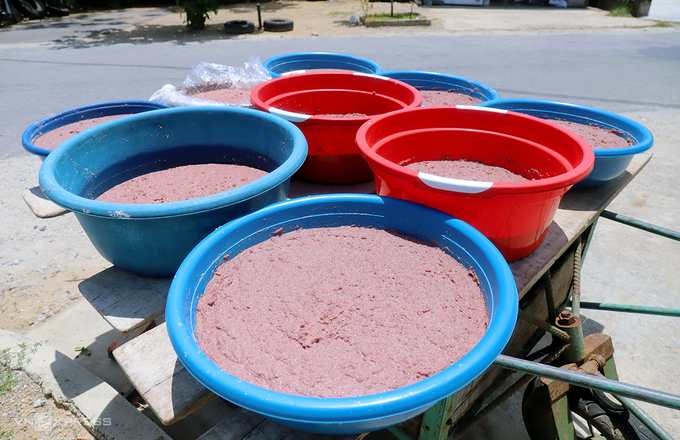 The salt is made into shrimp paste, which is dried in the sun. Photo: Duc Hung
If it is exposed to strong sunlight, it only needs to be dried for about two days to meet the requirements. Nearly 20 kg of fresh shrimp is obtained about 5-7 kg of dried shrimp, priced at 35,000 to 40,000 VND per kg.
"To make fish sauce or to make shrimp paste, you have to go through a lot of stages from selecting shrimp to marinating and drying in the sun. A batch of shrimp paste from salting to ripe takes about 4 months," said Ms. Phan Thi Van, 51 years old. , residing in Ha Tinh city, said.
Shrimp, also known as Moi shrimp, sea shrimp or Moi, is shaped like a small shrimp, about 10 to 40 mm long, is a ten-legged crustacean living in brackish water or coastal saltwater. Fresh scallops are purchased for processing dishes such as cooking soup, stir-frying star fruit; Dried shrimp are often rimmed, roasted with onion fat, or braised meat… Follow vnexpress
TAG: