9X Hai Phong turns cobblestone into money thanks to the talent of "pen dancing"
With a smart and creative idea, Nguyen Trung Kien, born in 1997, in Hai Phong has turned cobblestones into works of high value, many of which cost up to 3 million VND.
Predestined with pebbles
When he was still a student at Hanoi University of Civil Engineering, Nguyen Trung Kien once oriented to become an architect when he graduated from school. But his career suddenly turned in a new direction when he fell in love with cobblestone.
Mr. Kien said, while searching for a topic online, he was fascinated by a video about the art of painting on cobblestones. Passionate about learning, 9X Hai Phong tinkered withdrawing and became more and more passionate. 
"So excited, I posted the painting on the cobblestone online to show off. Unexpectedly, everyone was very interested and excited, someone even asked to buy the work at a high price, but I didn't sell it, wanted to buy it back. keep it as a souvenir" – Mr. Kien said.
However, this guest did not give up, they suggested that Mr. Kien paint them a similar picture. Thanks to that deal, Mr. Kien officially started a business with cobblestone, starting a series of days going around picking up cobblestones, drawing and selling.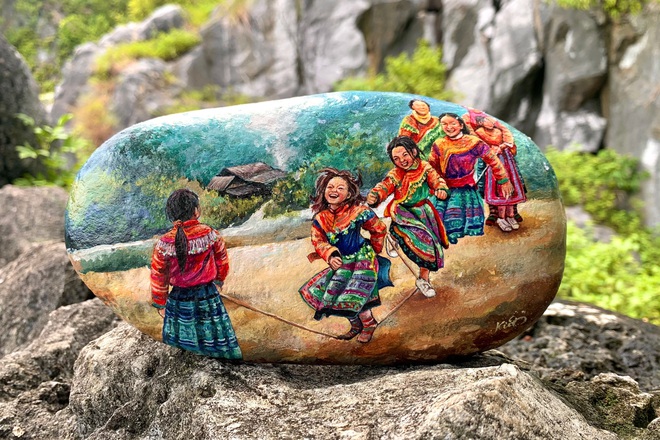 Vivid, unique drawings on cobblestone.
In order to have a good source of stone, Mr. Kien said he had to take a bus to Lao Cai and Quang Ninh to find raw materials. Later, seeing that the travel was far away, Mr. Kien asked people there to pick up stones for him and buy them for 10,000 VND/kg. Usually, the ice is washed, packed, and delivered to him by coach.
On peak days, Mr. Kien sells 50-60 products to the market, earning tens of millions of dong in profit. The works are mainly in the line of 2D and 3D paintings and are in the segment of VND 50,000-250,000/product.
"Initially, my product was intended as a gift for students. The drawings on the stone are quite simple, mainly cartoons, trees, and landscapes" – he informed.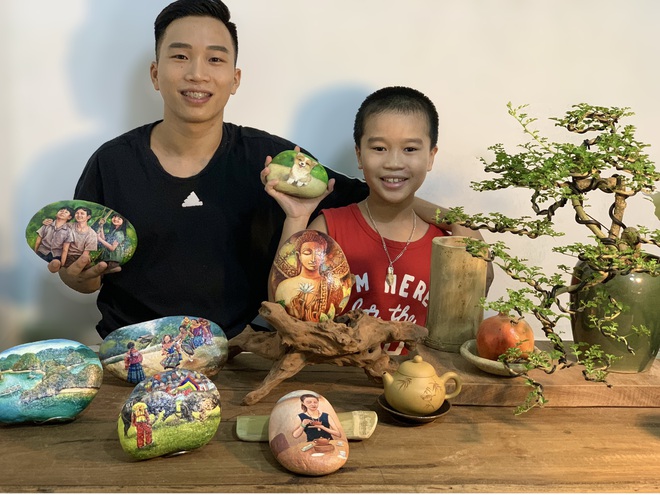 Nguyen Trung Kien, 9X Hai Phong turns cobblestones into unique works.
With perseverance and efforts, after only a short time, the business of 9X Hai Phong developed quite well, the number of visitors increased rapidly. Seeing that he could not do it alone, Mr. Kien also hired 2 more people to help.
Due to the increasingly busy business, by the third year of university, Mr. Kien decided to stop studying to focus on developing his career. However, Kien's family strongly objected. Even 9X Hai Phong's parents also took a strong measure to cut off all his "aid" monthly.
"At that time, I also understood the psychology of parents, because no one wanted their child to miss school to follow their passion without knowing the future. But I believe, this is the path that I will pursue, so After that, seeing that I worked hard and tried and had some initial success, my parents also gradually trusted and understood me," he said.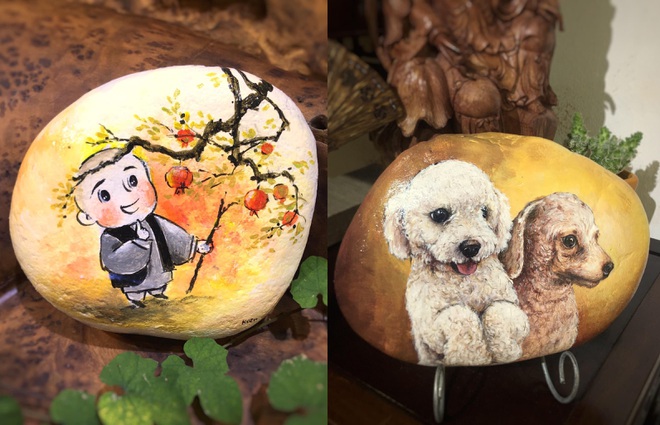 Lovely, cute drawings on rocks.
Turn cobblestones into money
To expand the scale, Mr. Kien cooperates with many souvenir stalls in tourist areas to distribute goods. Before the Covid-19 epidemic, during the tourist season, every month, he painted about 400 kg of pebbles, minus all costs, excluding labor, each product brought back 80% of the profit compared to the selling price.
However, Mr. Kien also realizes an inadequacy that if the product is mass-produced, without a brand, without a name, it will sooner or later be copied. In addition, when accepting wholesale, he had to give his partner a rather high discount, so even if he supplied a lot, the amount collected would not be as good as expected.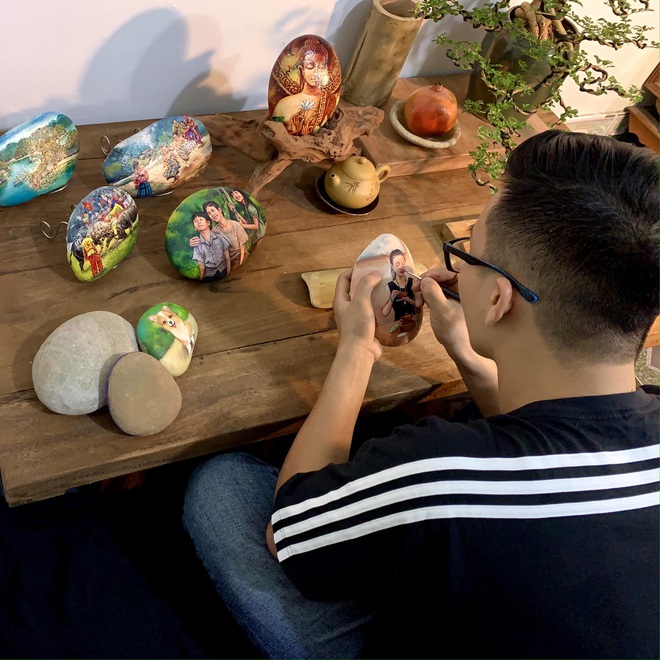 To complete a complex painting with many difficult details, it takes Mr. Kien from 4-5 days.
"Faced with those challenges, I had to embark on a re-evaluation of the market, re-dividing the painting segment. Accordingly, the line of low-level 2D paintings is priced from 50,000-100,000 VND/work. Next come students, students and third parties, which are souvenir shops.
The line of mid-range paintings, drawn in the form of 2D, 3D focusing on customers who are office workers, costs from 200,000-500,000 VND/work. As for high-level paintings, priced from 1-3 million VND/work, 3D paintings are for people with good incomes," said Mr. Kien.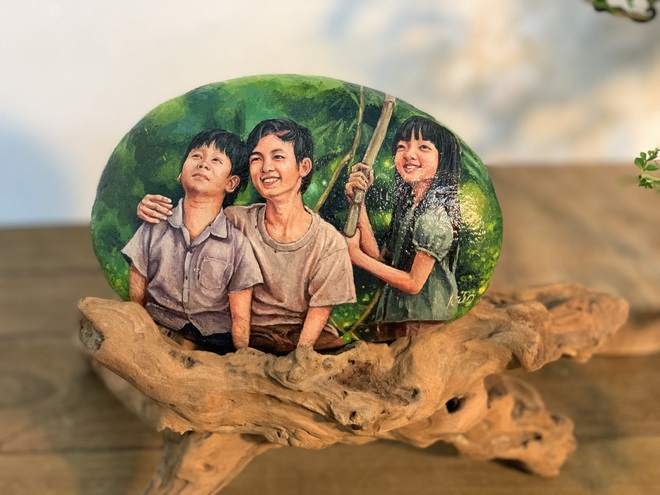 Beautiful and sophisticated works cost from 1 to 3 million VND.
From the new direction, the segment that Mr. Kien focuses on pursuing is the line of mid-range and high-range paintings and reducing the number of low-range paintings.
In addition, the size of the paintings was also reoriented by him to be interior decorations, table objects, so the size of each stone will be only 15-20 cm. To avoid copying, on the works, Kien also designed identification logos, symbols and special identification points.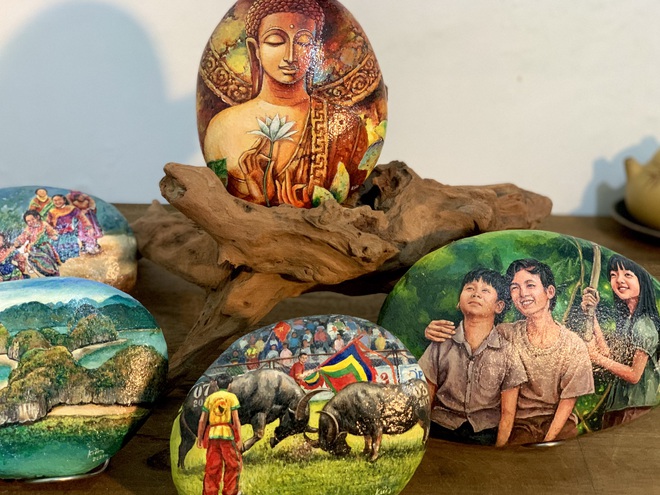 To have a source of painting stones, Kien had to ask people in Lao Cai and Quang Ninh to help pick them up and then buy them back.
"Going slow does not mean stopping, but I want to see the market better, understand who my customers are, what they need. Especially, when painting, the craftsman needs emotions to compose and inspire. , so this business model cannot be developed massively, in the direction of the industry," he said.
Currently, in addition to serving domestic customers, Mr. Kien is also targeting foreign markets. A very positive signal for the Hai Phong native is that many of his beautiful and unique products have been ordered by a number of customers in the UK and the US.
It is expected that in the near future, Mr. Kien will promote and put products on websites and e-commerce platforms so that the art of painting on cobblestones is closer to consumers. Follow Dan trí
TAG: