Coral Guardians in Quy Nhon Bay
BINH DINH – Cleaning up trash, catching thorny starfish – coral-eating species, monitoring, planting buoys to zone… are activities of coral protection groups in Quy Nhon.
At the beginning of August, Mr. Bui Minh Chuong and two friends ran a motorboat and a basket boat in Ghenh Rang beach, Quy Nhon city. Arriving there, they put up a sign "recovery area, protect coral", put on diving goggles, and jumped into the sea with a blue stick.
After a while, Mr. Chuong came to the surface with the thorny starfish on the stick, the person in the basket boat took the stick with the thorn starfish and put it in the basket.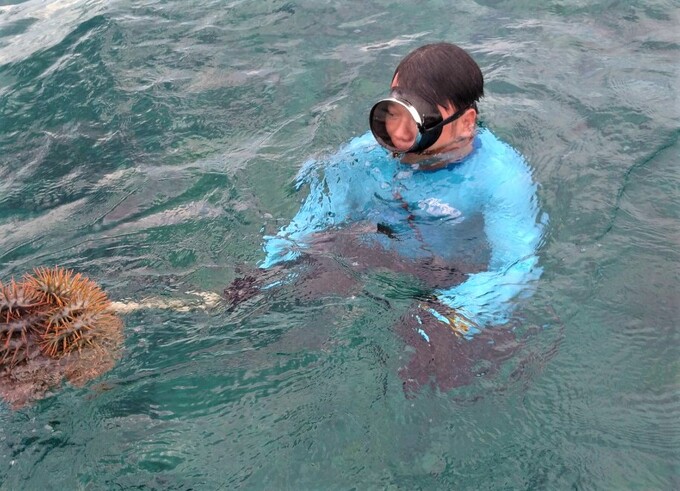 Mr. Chuong catches thorny starfish in Ghenh Rang, Quy Nhon in August 2021. Photo: Minh Chuong
The thorny starfish is a porcupine-like hairy species that eat corals and is very harmful to coral growth. After a session of catching starfish, Mr. Chuong's group put them in bags and gathered them in a landfill far from the sea to avoid the high tides from washing them back.
Chuong is a member of the Community Organization for the Protection of Fishery Resources in Ghenh Rang Ward, one of four groups to protect aquatic products in Quy Nhon established under the 2017 Fisheries Law. These groups have 220 members who are fishermen. and local officials and civil servants. Their work is likened to the "guardians" of corals.
Born into a family of seafarers, Chuong is currently the Chairman of the Farmers' Association of Ghenh Rang ward. Having participated in the program of planting and transplanting corals in the project in the Bai Xep area in 2006, he said: "Development must always go hand in hand with regeneration, corals are damaged during fishing or tourism. should be protected and restored.
With an area of ​​more than 36,000 hectares of the sea surface in the communes of Ghenh Rang, Nhon Hai, Nhon Ly, Nhon Chau…. Since 15 years ago, Binh Dinh province and Quy Nhon city together with non-governmental organizations have deployed the projects. program to transplant and protect coral reefs.
However, it was not until the Law on Fisheries was born that the role of community organizations in the protection of aquatic resources was officially recognized. When the community group of Ghenh Rang ward was established in 2020, Mr. Chuong was the one who directly managed it.
In addition to catching thorny starfish, Mr. Chuong's team also cleaned up trash on the beach, released pepper buoys to zone out the coral protection area in Hon Nhan, and monitored and propagated people to protect the ecosystem.
Like Mr. Chuong, Mr. Nguyen Ton Xuan Sang, a member of the Community Group to protect aquatic resources in Nhon Hai peninsula, has participated in many coral protection programs. "I've been catching starfish for nearly ten years now. Before, I caught it seasonally, but when the group was established, I caught it twice a month with my brothers," he said.
Of the 12 hectares of coral managed by Mr. Sang, there are 2.1 hectares in need of strict protection. The group has zoned, planted buoys to ban boats from fishing here.
And Mr. Nguyen Dinh Xuan, a member of the Community Organization for the Protection of Fisheries Resources in Nhon Ly Commune, said that in 2014, as an officer in charge of fisheries in the commune, he used to participate in the Co-Management Team of Fisheries Resources in Nhon Ly Commune. fisheries supported by the Coastal Resources for Sustainable Development project.
Now that the group has been upgraded to a community organization, Mr. Xuan continues to participate as a permanent member and captain of the patrol team.
Once a week, he and the patrol in Bai Dua go to check the activities in the protected area, instructing tourists not to trample, break corals or throw plastic waste into the sea; prevent fishing boats from using explosives so as not to affect the reef.
According to the Binh Dinh Fisheries Department, four community groups to protect aquatic resources in Nhon Ly, Nhon Hai, Nhon Chau and Ghenh Rang have been assigned the right to protect about 46 hectares of coral reefs by the People's Committee of Quy Nhon City. .
Specifically, Bai Dua beach area in Nhon Ly, with an area of ​​more than 8 hectares; the sea area west of Hon Kho Nho in Nhon Hai commune, with an area of ​​more than 12 hectares; Hon Nhan sea area, Ghenh Rang Ward, nearly 6 ha; Front Beach area in Nhon Chau commune, more than 20 hectares.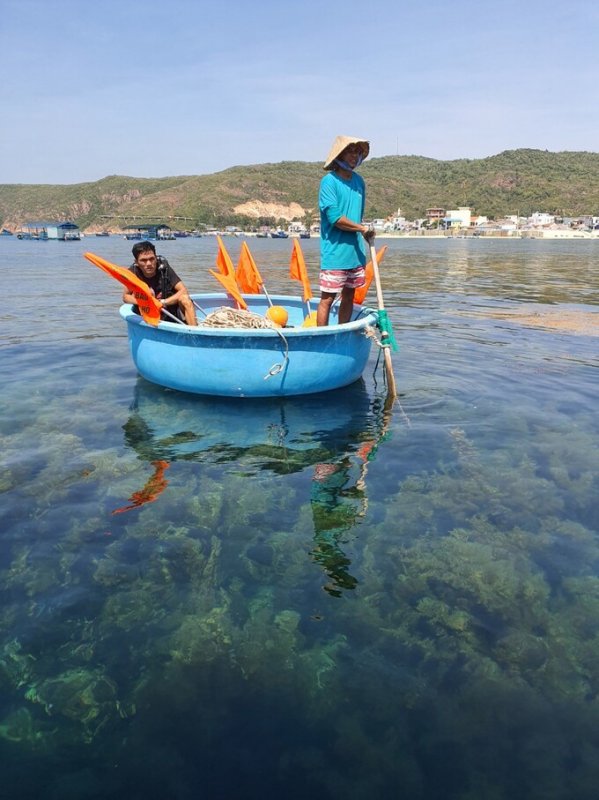 Zoning the area for planting buoys to protect coral reefs in Quy Nhon. Photo: Xuan Sang
Most of the core members of the four groups are fishermen, so they understand that exploitation must go hand in hand with protection to ensure sustainable livelihoods. They all work with the desire to bring common benefits to the community.
Coral conservation is supported by projects of the Global Environment Fund's Small Projects Grants Program (GEF/SGP) and a portion of funding from the Center for Marine Life Conservation and Development. community development (MCD). In particular, coral protection activities have started in Nhon Hai in the period 2015-2018 in association with the development of local community-based tourism.
Every year, the MCD together with the Fisheries Association, the Provincial Fisheries Sub-Department, and the Quy Nhon City People's Committee regularly organize coral monitoring sessions in the areas that have been assigned management rights.
Monitoring results in June this year showed that the coverage of living coral at Bai Dua with hard corals reached 62.5%, soft corals 13%; Hon Kho Nho reached 44.3%, mainly hard coral; reefs in Hon Nhan reached 31.8%, mainly hard corals; Bai Truoc reef reached 23.1%. Coral coverage in Ghenh Rang and Nhon Chau is not high, but there are signs of recovery. Based on the criteria for assessment of coral reef ecosystem of the International Union for Conservation of Nature and Natural Resources, the coral reef ecosystem of Bai Dua is good, and Hon Kho is relatively good.
Ms. Nguyen Hai Binh, Vice President of Binh Dinh Fisheries Association, said that from monitoring data, people will know how much coral in their management area has been damaged, how much new coral and how much coral is growing. What types are included? "There are also benthic animals or fishes in the reef. If you see marine life growing in many species, it shows that the coral reefs there are well protected," Ms. Binh said.
Based on the actual results of coral reef monitoring and monitoring, authorities can classify strictly protected areas and areas for tourism. At places where tourism is made, the placement of floating rafts for diving guests to see the coral must follow the instructions of the security team. In addition, the Fisheries Sub-Department recommends that visitors limit diving and watch directly, but should use floating mats, glass-bottom baskets, to avoid harming coral reefs when anchoring or trampling. The rafts must have trash cans and organize the collection of garbage ashore, with signs instructing visitors to comply with regulations on coral protection.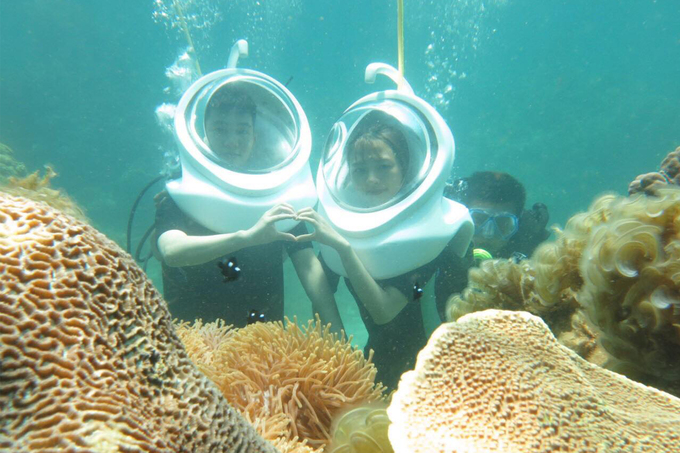 Diving and watching corals at Hon Kho, Nhon Hai commune, Quy Nhon city. Photo: Xuan Sang
Mr. Nguyen Ha Lao, deputy representative of the community organization for the protection of aquatic resources in Nhon Chau commune, said that the corals of rice paper and deer horns in the past were dense in Cu Lao Xanh, but after a period of time, the rate of destruction was destroyed. coral cover is still very low. "Now the coral is gradually recovering, I'm very happy to see it sprout," said Mr. Lao. Follow vnexpress
TAG: