14 ideal tourist destinations in the West make people flutter
The West is located in the southwest of our country. Bringing in the beauty of charming river scenery and cultural beauties inherited from thousands of years ago, the West is interested in and developing eco-tourism services. The West is famous for garden tourism, river tourism, historical and cultural relics, and natural attractions. Let's find out some ideal places to visit here!
Tram Chim National Park
Tram Chim National Park in Tam Nong district, Dong Thap province is one of the very famous tourist destinations of the West. Every year, Tram Chim National Park attracts many tourists because of its beautiful natural scenery and rare red-crowned cranes and many other species of flora and fauna listed in the Red Book. This place has an extremely rich and beautiful natural landscape with immense green Melaleuca forest and thousands of different species of birds as its name suggests. The park has a very large area of ​​up to 7,313 hectares, possessing many precious bird species, including the world-class rare red-crowned crane, red-crowned extract, le le, mallard, heron, … and especially the herds of white storks with the number of up to tens of thousands of birds.
Tram Chim National Park The most beautiful is in the floating season, if you have the opportunity to come here at this time, you will admire the "oasis" in the midst of the immense water, with a mixture of brilliant yellow of wildflowers, pink. of lotus flowers and the fresh green color of natural Melaleuca forests. It is indeed a captivating sight. Inside Tram Chim National Park, there are many small canals and canals connecting each other, forming a great network of waterway transportation. You will sit on a canoe down the water to visit Tram Chim National Park to watch birds fly with different colors. If you want to enjoy a panoramic view of Tram Chim National Park, you can climb up to the observatory, where a beautiful landscape will appear before your eyes. In addition to the wonderful scenery, you also have the opportunity to enjoy attractive specialties such as dried snakehead fish,
Address: Tam Nong district, Dong Thap province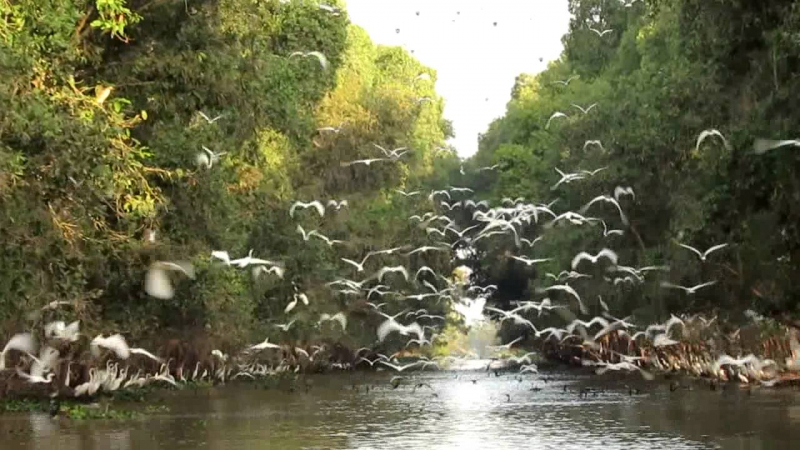 Tram Chim National Park
Cai Rang floating market
Cai Rang floating market is one of the three largest floating markets in Can Tho. The unique and main feature of this famous market is that it specializes in trading fruits and specialties of the Mekong Delta. Going to Can Tho to go to Cai Rang floating market is the most amazing and interesting experience on earth that you cannot miss. This can be considered the most unique market not only of Can Tho but also of the whole West, attracting many domestic and foreign tourists to experience.
The market usually meets quite early, usually from dawn to 8:00 am, then gradually disappears. Because it is a floating market, traders sell everything on boats, each boat often has specific goods such as: boats selling fruit, boats selling food, boats selling clothes,… All Blending together, buyers and sellers enliven an entire river area. In addition to trading activities taking place on boats, the hustle and bustle is what makes tourists nostalgic and want to come to Cai Rang floating market . You will also feel the life of the people in the West of the river who live all year round on boats but see them always full of happiness and innocent smiles that you can hardly find anywhere else. .
Drop off address: 46 Hai Ba Trung Street, Tan An, Ninh Kieu, Can Tho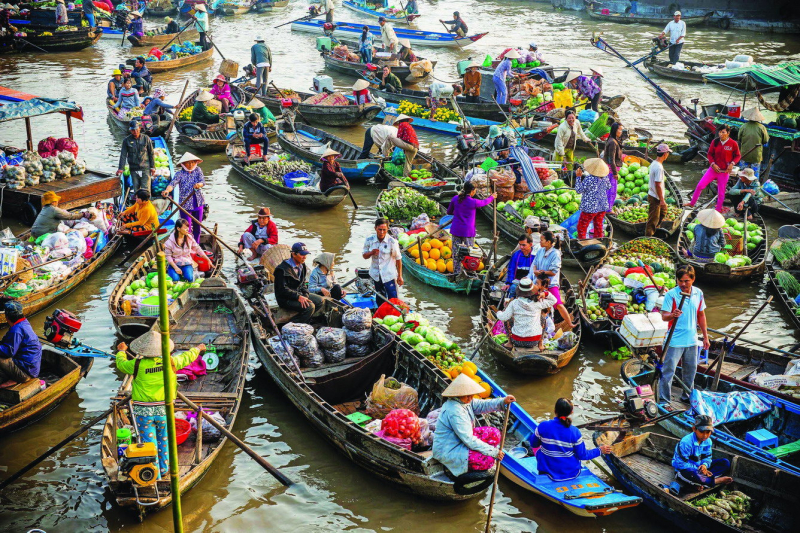 Cai Rang floating market
U Minh Forest
Anyone who has read through the work "Southern forest land" will more or less know the name U Minh forest . U Minh forest or U Minh national park is a forest classified as rare in the world and divided into two zones: U Minh Thuong forest (Kien Giang) and U Minh Ha forest (Ca Mau); Between these two regions, there are two rivers, the Trem River and the Cai Tau River. This place owns a natural region with extremely unspoiled beauty and is considered the place with the highest biomass value in Vietnam with about 250 species of plants, more than 180 species of birds, and more than 20 species of reptiles,…
Coming here, you can not only discover the rich beauty of nature but also visit the historical sites of the U Minh revolutionary war zone – the base of our army during the anti-French and anti-American period. Although this place has been explored and improved by many people, it still retains the natural beauty that fascinates people. Coming to U Minh forest, you will experience the life of the river, move on boats floating in the waves, go to the forest to fish, join the people in slapping ditches to catch fish in Ca Mau, catching eels, and picking fish. tubs, lotuses, guns, etc. Another interesting thing is that you will enjoy the specialties of U Minh forest right here. You will follow the workers into the forest to get honey, try once to eat the young bees with freshly cut honey. Or sitting under the forest canopy with grilled snakehead fish, salt bath, fried field mice and fruit wine is also very interesting. The journey to discover the wild U Minh forest is like a journey to find the cultural roots of the peaceful Mekong Delta, separate from the noisy and bustling life in the city.
Address: two districts of U Minh and Tran Van Thoi, Ca Mau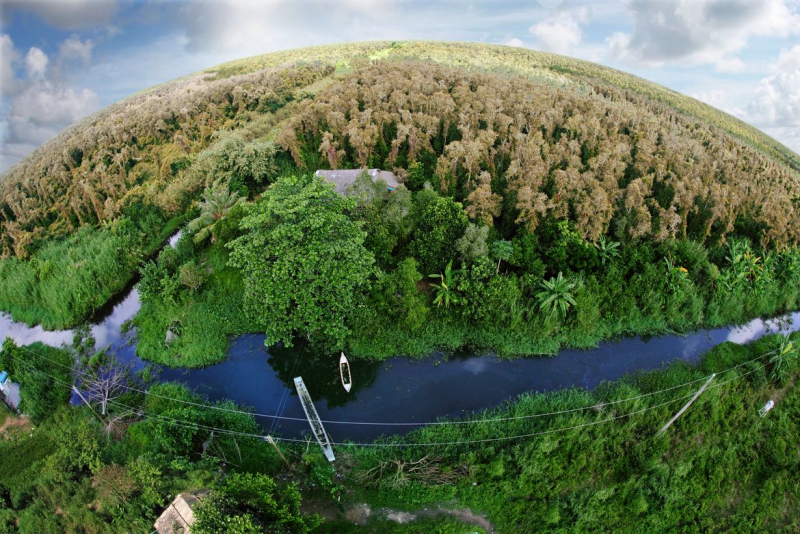 U Minh Forest
Cape land of Ca Mau
"I heard that Ca Mau is far away, at the end of the map of Vietnam, …" (quoted from the song "New Ao Dai Ca Mau"). Cape Ca Mau belongs to Ngoc Hien district, Ca Mau province. This is the only place in Vietnam where visitors can easily watch the sunrise and sunset in the right direction, completely without being obscured. This place is also the only place in our country that has 3 sides bordering the sea. That is why it is considered the "last map of Vietnam" mainland.
Dat Mui Ca Mau is mentioned as sacred land in the minds of Vietnamese people and in life, everyone wishes to visit once. It has a very diverse and rich mangrove ecosystem. Coming to Ca Mau cape, visitors will be able to see the majestic beauty of the forest, the immense beauty of the sea. In addition, there are many kinds of fresh seafood such as: shrimp, crab, blood cockle, … with extremely high nutritional value and irresistible delicious taste. If you have the opportunity to come to Ca Mau, you should definitely not miss this romantic land!
Address: Ngoc Hien district, Ca Mau province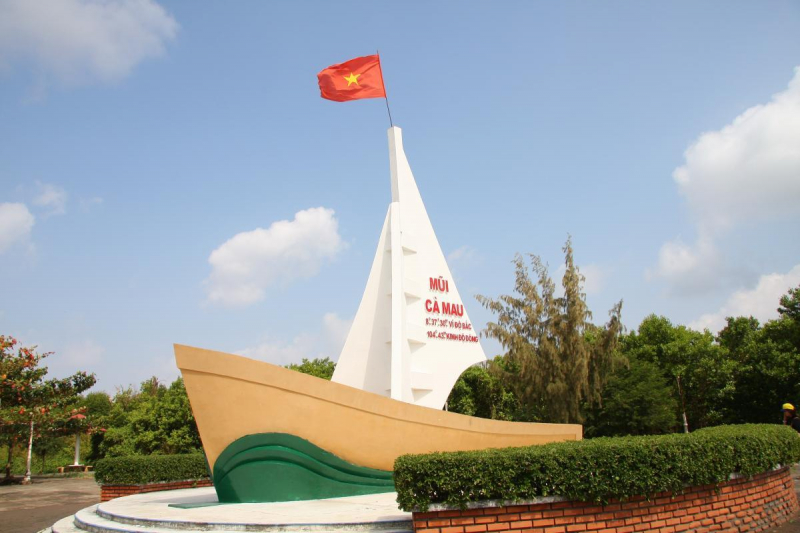 Cape land of Ca Mau
Cai Mon Orchard
Cai Mon is a place that every time you mention it, you will feel nauseous, a place famous for its many sweet and delicious fruits that can attract anyone. This garden belongs to Vinh Thanh commune, Cho Lach district, Ben Tre province. This is a place with bold Southern features with small roads surrounded by fruit-laden fruit trees such as durian, mangosteen, mango, longan, rambutan,… The four seasons are all green and young. lush, luxuriant, full of fruit; Fruits in all four seasons are available, in every season, so you won't have to worry about coming here without enjoying the Southern fruit flavor.
The right time to visit the Cai Mon fruit garden is in the summer months, especially June, July, and August. This season is when the fruit is in the full ripening season with many different fruits such as rambutan, durian, longan, pomelo, etc., you are spoiled for choice. You can not only watch but also hand-pick fruit and enjoy right at the garden, enjoy the delicious taste in the cool garden and listen to sincere, enthusiastic gardeners introducing or sharing their experiences. Experience in caring for each plant separately to get delicious and nutritious fruits. For gourmet travelers, this is a destination not to be missed, right?
Address: Vinh Thanh commune, Cho Lach district, Ben Tre province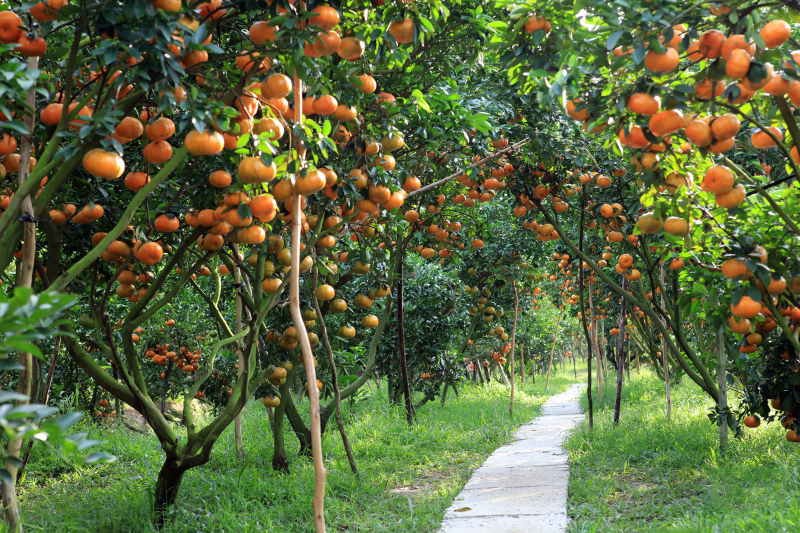 Cai Mon orchard.
Phu Quoc Island
Phu Quoc is the largest island in Vietnam, a beautiful archipelago located in the Gulf of Thailand, in Kien Giang province. Phu Quoc pearl island has clear seawater, peaceful streams and much unique seafood which is a great advantage that attracts millions of visitors every year. The island is triangular in shape, with the base in the north and the top in the south. The total area of ​​the island is about 593 square kilometers. This place owns fine white sand beaches, blue and clear water, in addition to a large primeval forest, pepper garden, and myrtle garden as far as the eye can see.
Coming to Phu Quoc, visitors will be able to participate in interesting entertainment activities such as visiting the ancient fishing village to experience a different life, separate from the noisy daily life or simply to have fun. Enjoy the waves of the sea and visitors will enjoy special dishes, fresh seafood dishes that are hard to find in the noisy city. Phu Quoc is famous for a long time for making fish sauce, the fish sauce here is rich, pure and brewed according to a long-standing traditional recipe, so it has become a famous brand near and far. Coming to Phu Quoc, you can also enjoy a sunny day squid, fresh seafood such as shrimp, crab, fish, … spoiled for you to choose. With the above mentioned, there is no doubt that this place is known as "paradise island".
Address: Gulf of Thailand, in Kien Giang province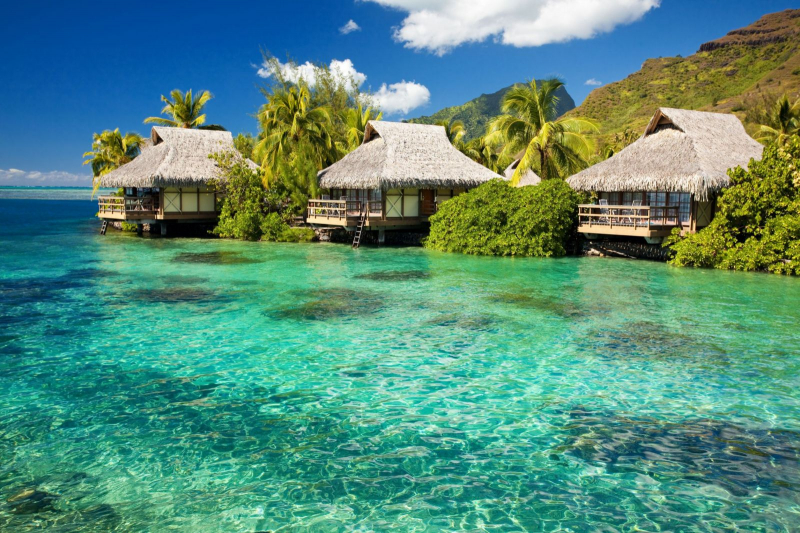 Phu Quoc Island.
Bat Temple
Bat Pagoda is a temple with mixed architecture between two cultures Vietnam – Cambodia in Soc Trang province. Along with many other temples, Bat Pagoda is also an important architectural work that creates the religious characteristics of the people of this land. The temple is the only cultural space to worship Shakyamuni Buddha of the Khmer ethnic community in the South in Soc Trang province. Although it is a space to worship Buddha Shakyamuni, the architecture of Soc Trang Bat Pagoda is still strongly influenced by Khmer culture. The temple stands out in the green space of trees thanks to the typical Khmer orange color.
Bat Pagoda is the oldest temple in Soc Trang province, home to many species of bats with an estimated number of millions. This is both an explanation for the name of the temple and creates a unique feature, attracting all visitors to visit. In the temple grounds, there are many lush green trees stretching, shady. It is these ancient trees that are inhabited by all kinds of bats, but a special thing is that the bats do not eat and damage the fruit trees of the temple garden. They only come to live and contribute to the uniqueness of the temple. Are you surprised? Then come here to visit and maybe you will discover the answer that many people are wondering right now!
Address: Van Ngoc Chinh, Ward 3, Soc Trang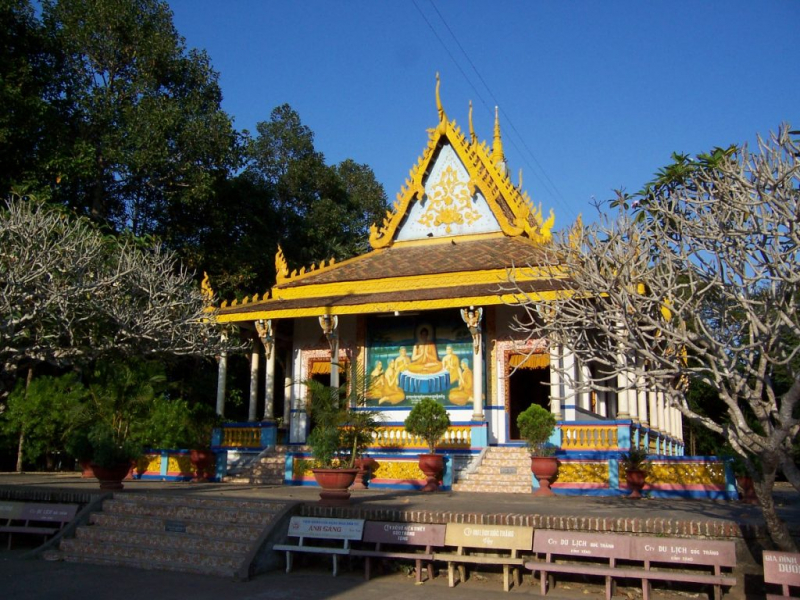 Bat Temple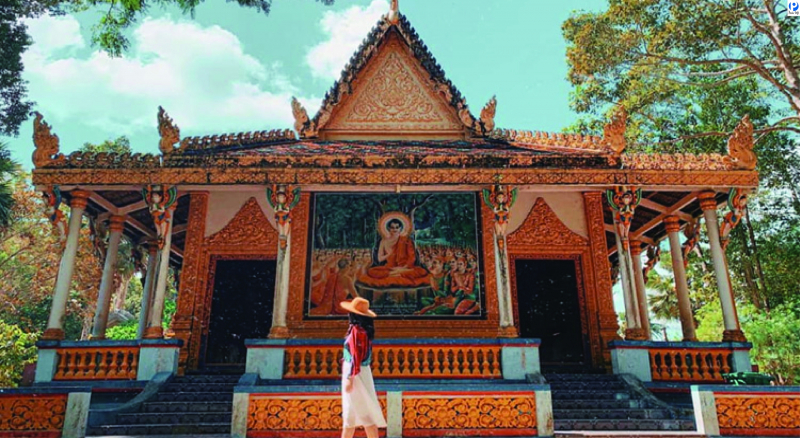 Bat Temple
Thoi Son Isle
Thoi Son islet, also known as Thoi Son or Lan island , is a place in the territory of My Tho city, Tien Giang province. It has an area of ​​​​about 1,200 hectares with a system of interlaced canals. The interesting experiences that you will experience when coming to Thoi Son are taking a sightseeing boat trip, watching the fruit-laden fruit orchards, enjoying the folk music, catching fish with local people and enjoying Horse riding to visit Thoi Son dune.
When coming to this place, you will be able to admire the natural scenery on the dinghy – the typical means of transportation of the people of the South, see the very ordinary and simple daily life of the people. . Once ashore, you can walk around the tourist area or ride a bicycle or horse-drawn carriage to visit the traditional villages of the West. You will find extremely interesting things to buy for yourself or as gifts for friends and family such as: coconut candies, coconut rice paper, handicrafts, etc. The most wonderful eco-tourism in Vietnam, Thoi Son island will be the place to bring visitors unforgettable wonderful feelings.
Address: My Tho city, Tien Giang province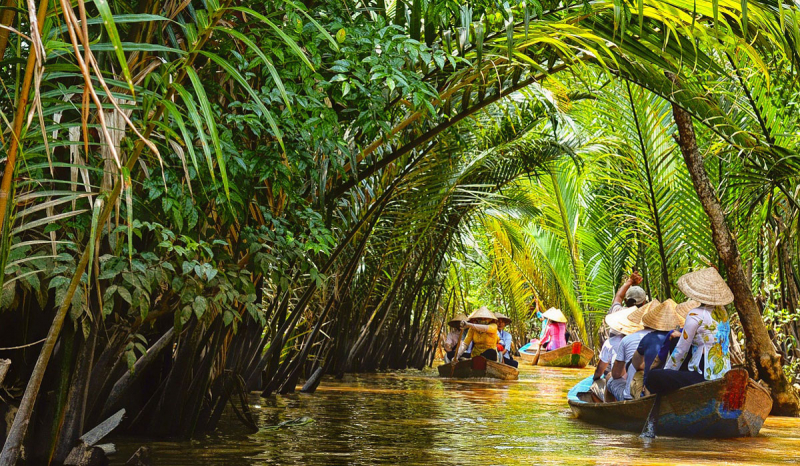 Thoi Son islet.
Tra Su Melaleuca forest
An Giang in the floating season always attracts domestic and international tourists. Perhaps the most famous destination to mention is Tra Su Melaleuca forest , along the road are rows of green trees shading. The best time to see the scenery when traveling to Tra Su Melaleuca forest in the floating season is from September to November. Those of you who are passionate about exploring wild nature should not miss visiting this place.
Tra Su Melaleuca forest is famous for its flooded Melaleuca forest habitat and rich natural flora and fauna. In the right season when the water is up, duckweed will cover the water surface like a green velvet carpet. On the way to Tra Su Melaleuca forest, visitors will pass through the red dirt road and see the green rice fields as far as the eye can see, interspersed with straight lines of palm trees. At the end of the road, you will encounter along canal and will have to switch to an adventure of discovery by boats and small canoes. Your feeling at this moment will be like a person lost in a green wonderland.
Address: Tinh Bien district, An Giang (about 30km from Chau Doc)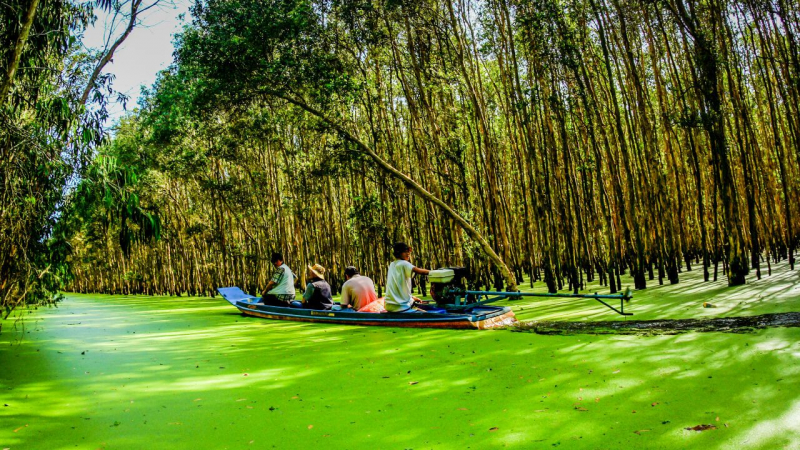 Tra Su Melaleuca forest – An Giang.
Lagoon Thi Tuong
Dam Thi flush g is evaluated as natural wetlands endowed by the largest and most beautiful of the Mekong Delta. Thi Tuong lagoon in Ca Mau province is located next to Ba Keo canal connecting to the Gulf of Thailand. It is accreted from alluvium deposited by My Binh River, Ong Doc River and many other canals. Lagoon Thi Tuong is known as a charming poetic watercolor painting, especially in the morning and evening.
Thi Tuong lagoon is a large shrimp and fish farming pond in Ca Mau, so residents here live mainly by aquaculture. Visiting Dam Thi Tuong , visitors will enjoy fresh seafood dishes caught right in the lagoon without having to spend too much money. If you have not been here, take advantage of visiting this land. Because it is currently an ideal place to visit for you, your relatives and friends with interesting activities and experiences. Coming here, you will be closer to your hometown, relieve your worries in life with the people and delicious dishes here.
Address: in Ca Mau province, next to Ba Keo canal connecting to the Gulf of Thailand.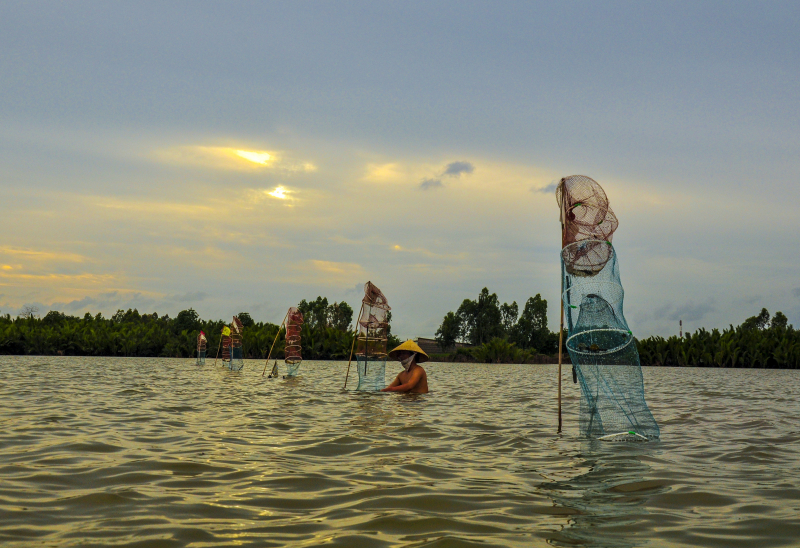 Lagoon Thi Tuong
Tan Lap Floating Village, Long An
Referring to Long An, it is impossible not to go through Tan Lap Floating Village. This is an extremely famous eco-tourism destination in Long An, with hotness that has never cooled down. Every year, Tan Lap Floating Village, Long An welcomes a large number of domestic and foreign tourists. Tan Lap Floating Village is also known as Tan Lap Melaleuca forest, which is a flooded forest area with a typical ecosystem of the Southeast. Everything here exudes a rustic, rustic vibe that you can't see in a busy city.
Coming to Tan Lap Floating Village , visitors will be immersed in the green melaleuca forest, fresh air and enjoy the rustic dishes of the countryside. The 5km-long trail through the melaleuca forest surrounded by sky-high, green melaleuca groves is a familiar check-in place for visitors when visiting Tan Lap Floating Village, Long An. Tan Lap floating village tourist area is open all year round, especially from the 8th to 11th lunar month is the ideal time to visit the floating village to visit the blooming lotus season. Not stopping there, they also sell rustic and rural dishes at a fairly affordable price.
Address: Moc Hoa district, Long An province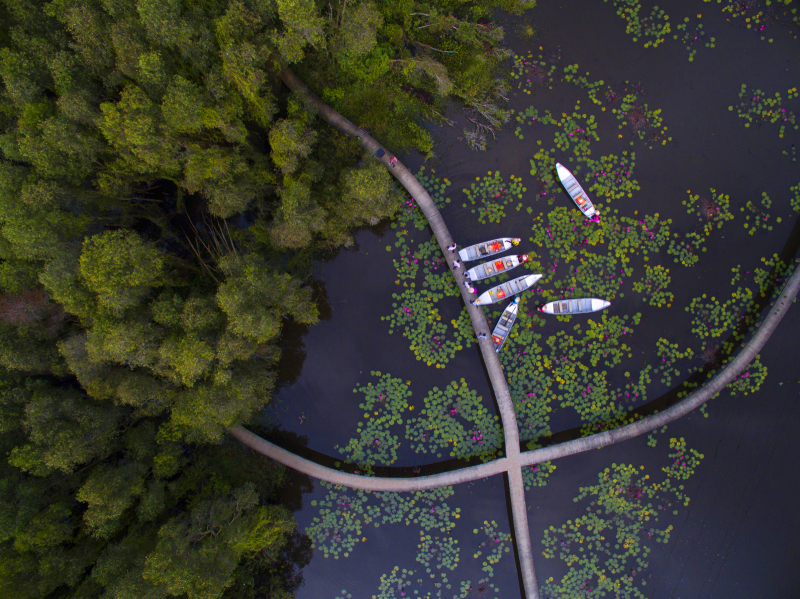 Tan Lap Floating Village, Long An
Nam Du Islands – Kien Giang
Nam Du – Kien Giang archipelago is an archipelago of 16 small islands that has caused nostalgia for domestic and foreign tourists. Nam Du is likened to the Maldives of Vietnam because of the wildness and natural beauty here. Located in the sub-equatorial monsoon climate belt, the rainy season in Nam Du lasts from April to November. You need to avoid going from June to August to avoid storms.
Beautiful, peaceful, green while retaining the inherent beauty and warmth and friendliness of the people, Nam Du quickly became a familiar name in the Western tourist map. Hon Lon, Bai Chuong Hon Ngang, Hai Dang Nam Du, Bai Cay Men, Bai Chet, Bai Ngu,… are some of the check-in points you should not miss when visiting Nam Du. Nature favors Nam Du with rich seafood resources, so the specialties that "score" with tourists are also filled with the scent of the sea. Coming to Nam Du – Kien Giang archipelago, you will enjoy the unique dishes of the river countryside such as dried fish, steamed squid with ginger, grilled scallops with onion fat, grilled green fish with banana peel, eel batch cooking…
Address: An Son commune and Nam Du commune in Kien Hai district, Kien Giang province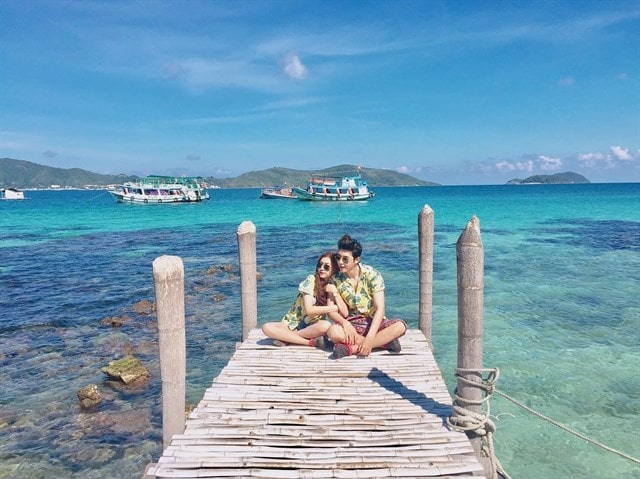 Nam Du Islands – Kien Giang
Nga Nam Floating Market – Soc Trang
The floating market is a typical cultural feature of people in the Southwest region. If you intend to visit the Tay region, you must definitely visit the floating market once in your schedule. One of the Floating markets that are interested by tourists in the West is Nga Nam Floating Market. Nga Nam Floating Market is on the list of must-have destinations whether you go on a Tour or are self-sufficient in Soc Trang. Coming to this floating market, visitors will have the opportunity to experience many interesting activities of the people of the wild west and buy many specialties as gifts.

This is a market on the river with an extremely convenient location, the intersection of five rivers radiating in five directions: Ca Mau Len, Vinh Quoi. Long My, Thanh Tri passed and Phung Hiep went down. Floating markets feature images of boats filled with fruits and specialties of the West, not too extravagant but very rare in cities with such scenes. Visitors will be immersed in the bustling atmosphere of the market and learn about the floating life of the people here. Nga Nam Floating Market usually starts at 3am, until 5am is the busiest time.
Address: Ward 1, Nga Nam Town, Soc Trang Province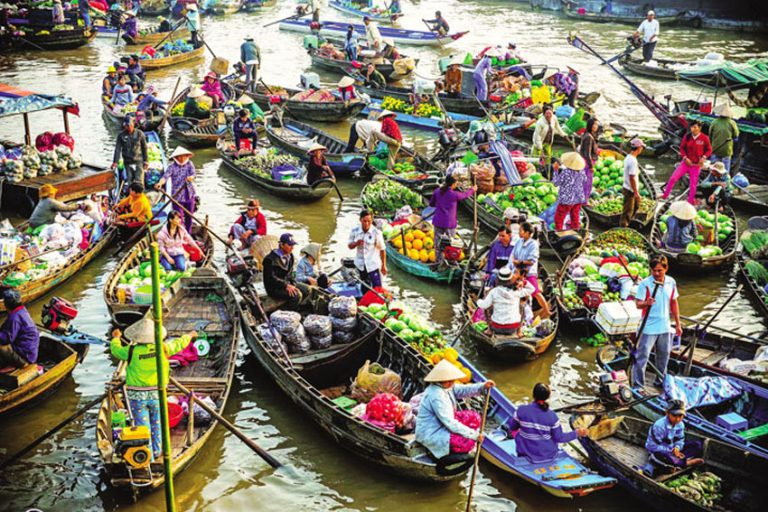 Nga Nam Floating Market – Soc Trang
Ta Pa Lake – An Giang
One of the attractive places tourists should not miss when coming to An Giang is Ta Pa Lake . Ta Pa Lake attracts tourists by its poetic scenery with immense green color. Ta Pa Lake is also known as the "Treasure Cup" of the West. Seen from above, Ta Pa hill looks like a green carpet of rice color, adorned with soaring jaggery tops. The water is blue, the color of the water also changes depending on the rocks below and the color of the clouds above. The lake is sometimes dark blue, sometimes light green, sometimes yellow, etc., making the backpackers and young people excited.

With a depth of about 17 meters, surrounded by limestone cliffs, the water in the lake is only due to the rain falling down and the groundwater flowing out, but it is strangely clear. The lake is surrounded by majestic high mountains, creating a romantic, poetic and charming space. Coming to Ta Pa Lake – An Giang , you can combine to visit tourist attractions such as: Mountain Pagoda, Ta Pa hill, Ta Pa field. The road to Ta Pa lake is not too difficult. To fully feel the beauty of the land of Seven Mountains, it is best to choose to travel by motorbike to conveniently travel on the road leading to the lake.
Address: Nui To commune, Tri Ton district, An Giang province
Ta Pa Lake – An Giang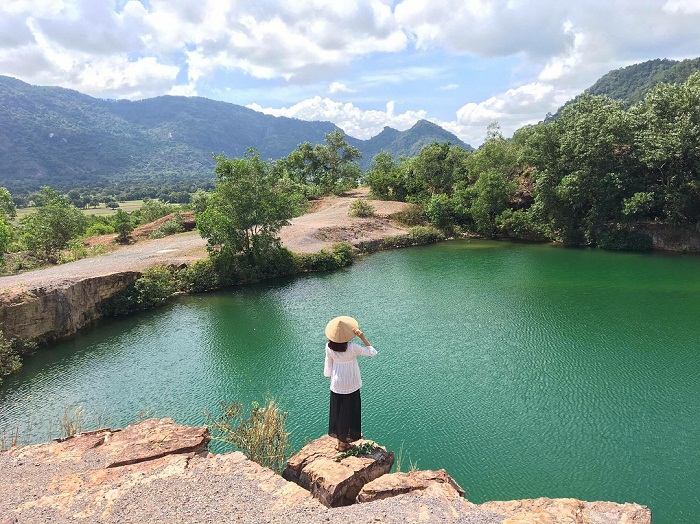 Ta Pa Lake – An Giang
There are many other interesting tourist destinations that Vinlove has not mentioned for you, so try to arrange yourself time to visit the West once and discover the beautiful beauty here!
TAG: