12 must-visit tourist destinations when coming to Mong Cai, Quang Ninh
Quang Ninh has a lot of fun places, in addition to the famous Ha Long, don't forget the recently emerging tourist attractions in Mong Cai city. What to eat, where to go to Mong Cai? Read the article below with Vinlove to find the answer to the above question!
Vinh Thuc Island
Away from the busy and crowded life of the city, getting on a boat to Vinh Thuc, visitors can not help but be surprised and enjoy the intact beauty of this island. Unaffected by mass tourism services, Vinh Thuc island offers tourists interesting experiences, visitors have the opportunity to enjoy and mingle with rustic and idyllic nature.
Visitors can take a walk on Dau Dong beach and Ben Hen beach to feel the cool, clear water and admire the beautiful scenery that heaven and earth have bestowed on the island. If you are on vacation, don't go to Vinh Thuc. Indeed, Vinh Thuc does not have luxury resorts, nor does it have "heavenly" price services, Vinh Thuc tourism is the "backpacker" that we often hear about, because to Here you can only sleep at a homestay or set up a camping tent on the island. This is also a way to help you get acquainted and understand more about the culture and people here, you will surely be satisfied by the enthusiasm and hospitality of the people on Vinh Thuc land.
Especially, do not forget to enjoy the rustic dishes, specialties of this beautiful island!
Experience to Vinh Thuc Island:
Buying a package ticket from Mong Cai to Vinh Thuc island is VND 50,000/person (including a car from the bus station to the ferry terminal and a ferry ticket to the island). Vinh Thuc Island is only about 20km from Mong Cai city, so the ferry ride to the island will take about 10 minutes.
The general price for renting motorbikes on the island is 250,000 VND/car. Visitors can rent a car to go around the island to discover and write their own stories about memories on that paradise island.
Address: an island in Quang Ninh province, about 20 km south of Mong Cai city center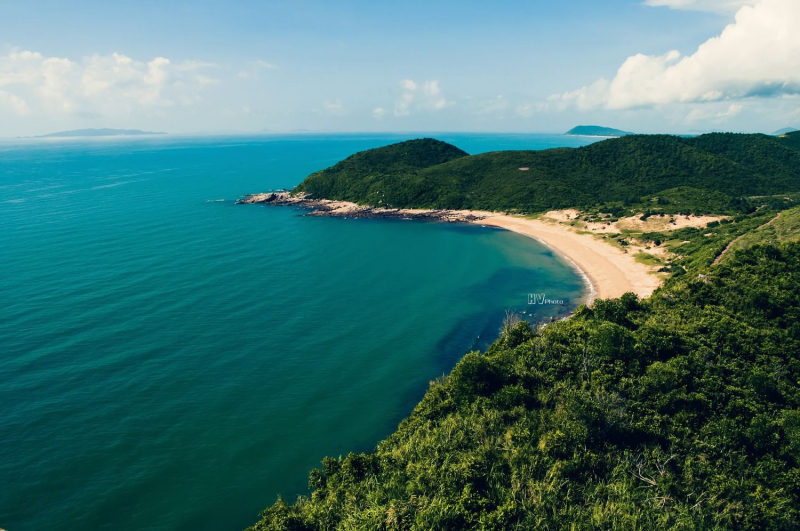 Vinh Thuc Island still has its wild beauty intact
Tra Co Beach
Tra Co is known as "the most lyrical beach in Vietnam" because it has fine white sand and clear blue water. Tra Co Beach is a place where visitors find a peaceful, poetic feeling and freely release their souls into the wind. The cool climate, passionate sea scent and quiet space help Tra Co "fall in love" with many tourists. Like Vinh Thuc, Tra Co does not have the presence of commercial services, very few shops and hawkers. If you want to enjoy fresh seafood, you can buy it right on the beach when the fishermen's boats come back from fishing. A very interesting thing that not every beach has.
Coming here on the right summer occasion, visitors can also participate in the "Tra Co Goodness Festival" taking place at the beginning of the sixth lunar month. This is also one of the biggest and jubilant festivals of coastal fishermen in the Northern region.
Experience going to Tra Co beach:
In terms of accommodation, motels here are quite expensive, from 350-400 thousand VND/room/night, weekends and holidays prices may be higher.
The cuisine in Tra Co is similar to other sea areas, mainly seafood, delicious dishes can be mentioned such as: eel (steamed eel with soy sauce), snail, salted fish, shrimp, cycad. , sam, squid, crab. In addition, Mong Cai is also famous for dishes: Tien Yen chicken, nodding cake, coffee…
Address: Tra Co, Mong Cai, Quang Ninh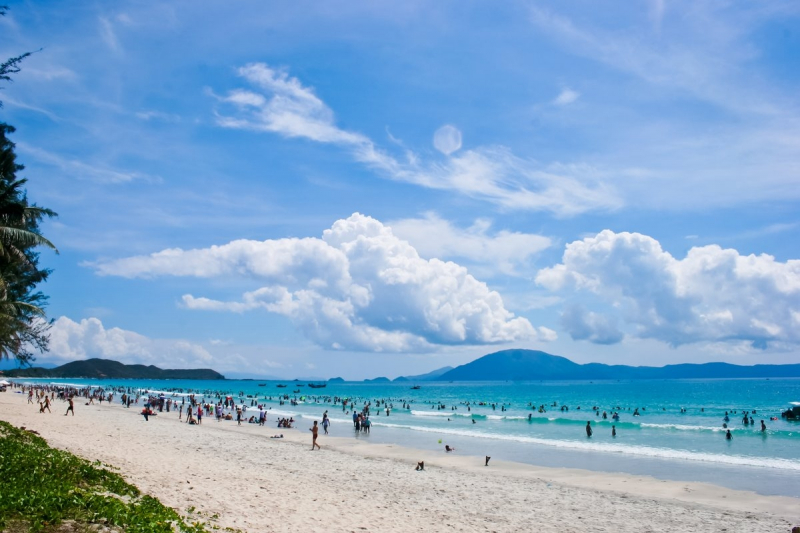 Tra Co Beach
Black Rock Beach
In the journey to discover the top land of the country, Da Den beach (also known as Ngoc Son beach) will be an interesting destination that visitors should visit. The reason for the name Da Den beach is because there are many black stone slabs lined up on the sand. This unique feature of nature has brought a different and attractive beauty to this tourist destination. The black stones look like the fingers of Ngoc mountain reaching out to embrace the clear blue beach. More specifically, the seawater here seems to be clearer, feeling like you can see the bottom of the sea.
After swimming and freely taking photos at Da Den beach, visitors can go to the casuarina forest to relax in a hammock or go to the cottages set up by business households here and sip a glass of cool coconut water. . For those who are interested in fishing, Da Den beach is also a place worth choosing for reference. Because according to local people, there are many kinds of fish in this area and just need to drop the bait for a while and the fish will bite the hook.
Address: Binh Ngoc, Mong Cai, Quang Ninh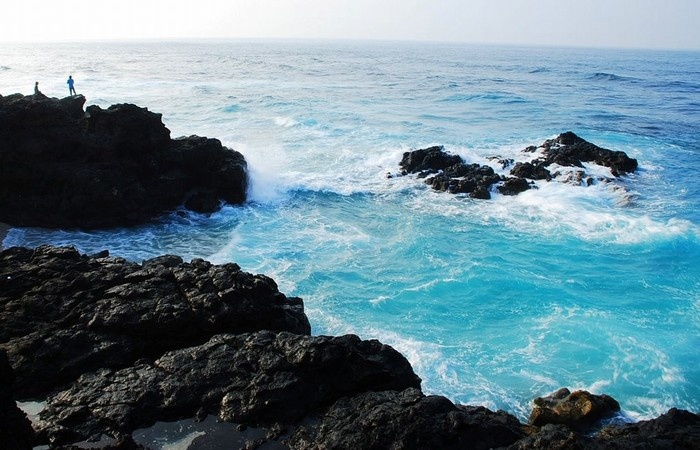 Black Rock Beach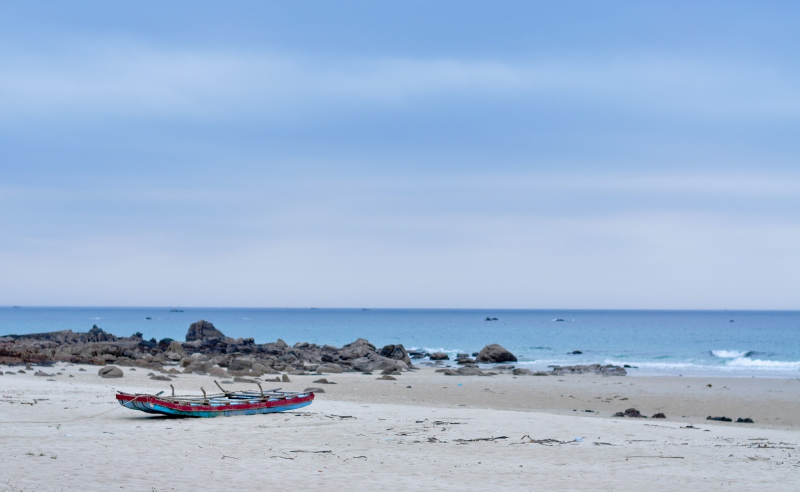 Black Rock Beach
Tra Ancient Church
If Tra Co beach is known as the "most lyrical" beach in Vietnam, Tra Co church is called the largest and most beautiful church in the Northeast of our country. Built-in the 80s of the 19th century, up to now, Tra Co church is hundreds of years old. With sophisticated architectural lines: the structure is built of ironwood, the walls are covered with limestone mixed with shells, and the courtyard is carefully cobbled and tiled. In particular, inside the church, people are decorated quite elaborately with sophisticated bas-reliefs on the walls, impressive altars with very delicate patterns.
It can be said that when coming to Mong Cai, Quang Ninh without taking the time to visit Tra Co church , it would be the most regrettable thing. Tra Co Church is beautiful in its own way, soulful in its own way, lively in its own way and makes any visitor who has the opportunity to visit, also bring with their indelible memories of beautiful images and beautiful sentences. The joys and sorrows associated with it cannot be erased.
Address: Trang Vi, Tra Co Ward, Mong Cai, Quang Ninh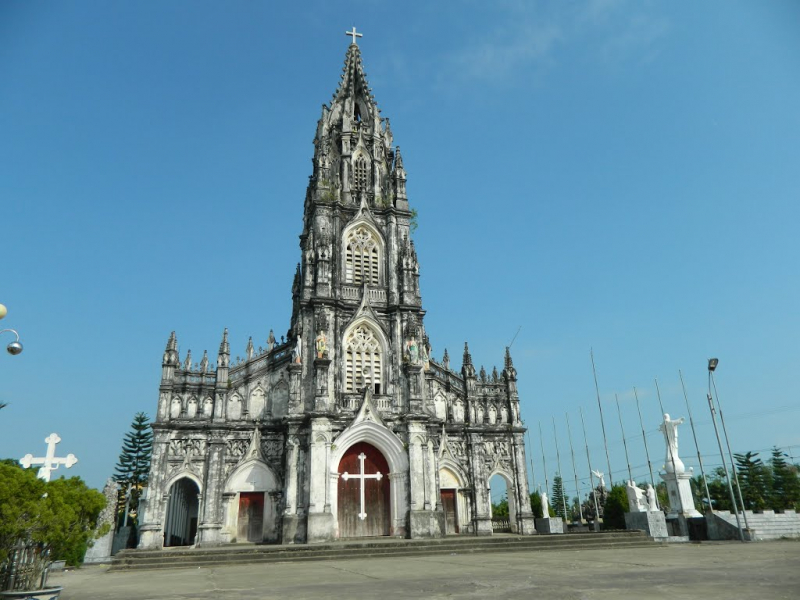 Tra Co Church
Temple of Thien Hau Thanh Mau
Thien Hau Thanh Mau Temple is also known as Tra Co Temple because this temple is located in Tra Co ward, Mong Cai city, Quang Ninh province. The temple was built to worship the statue of Thien Hau. According to legend, this statue floated from the sea into Tra Co, so the people here built a temple to worship this sacred statue. Thien Hau Thanh Mau Temple is visited by many tourists from all over the world every year.
In addition to the precious statue, the temple also has a sacred treasure that is an ancient vegetarian tree over 700 years old and a fairy well next to the temple. Legend has it that when drinking water, it will dissolve all worries and sorrows. Every year, on the 23rd of the third lunar month, the temple festival is held, a lot of locals and tourists from all over the world come to attend the festival.
Address: Trang Lo, Mong Cai, Quang Ninh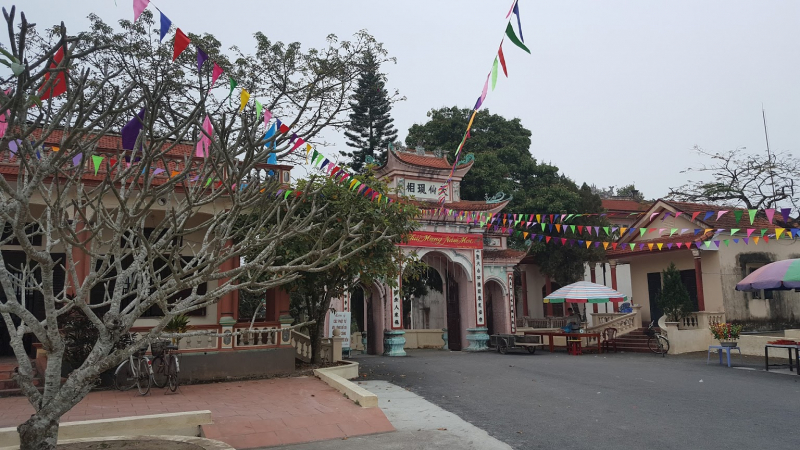 Temple of Thien Hau Thanh Mau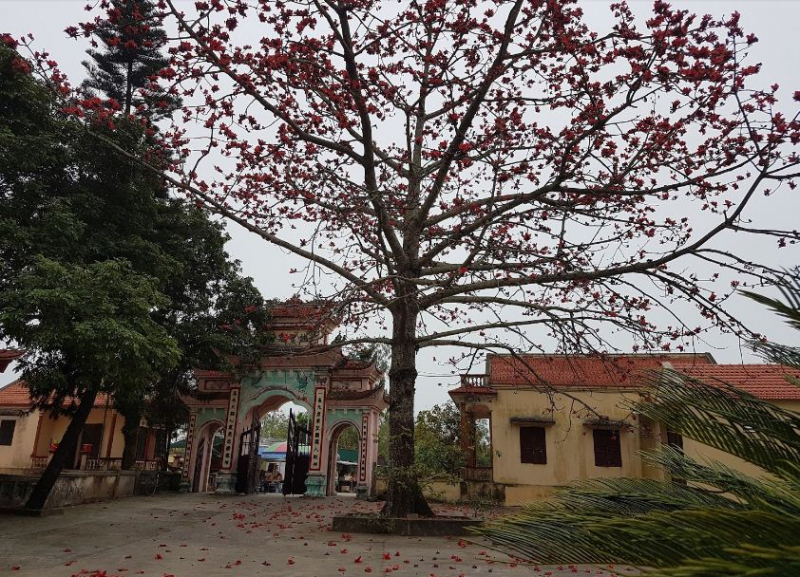 Temple of Thien Hau Thanh Mau
Cai Chien Island
Mong Cai, Quang Ninh has a treasure trove of beautiful natural landscapes. Away from the noisy and bustling urban area, Cai Chien island stretches to the south of Hai Ha. The fried is a beautiful and peaceful beach. In recent years, Cai Chien is also been one of the tourist destinations that young people pay attention to when they intend to go to the beach. There are many fun places on Cai Chien island , which are: Dau Rong beach, Van Ca beach, Cai Chien beach, Khe Dau lake, Thoi Xanh island, container house. Dau Rong Beach has a very poetic casuarina forest, suitable for "virtual living".
Experience to Cai Chien Island:
Because it is still a new place to open tourist services, the cuisine on Cai Chien is mainly local cuisine and seafood, which can be mentioned as Cai Chien bearded chicken, hello ha, fried fingernails with bamboo shoots. , or other seafood,…
Visitors can choose to camp on the beach or rent a homestay or homestay. Homestay rental price ranges from 80-100 thousand VND/person/day
Address: Cai Chien, Hai Ha, Mong Cai, Quang Ninh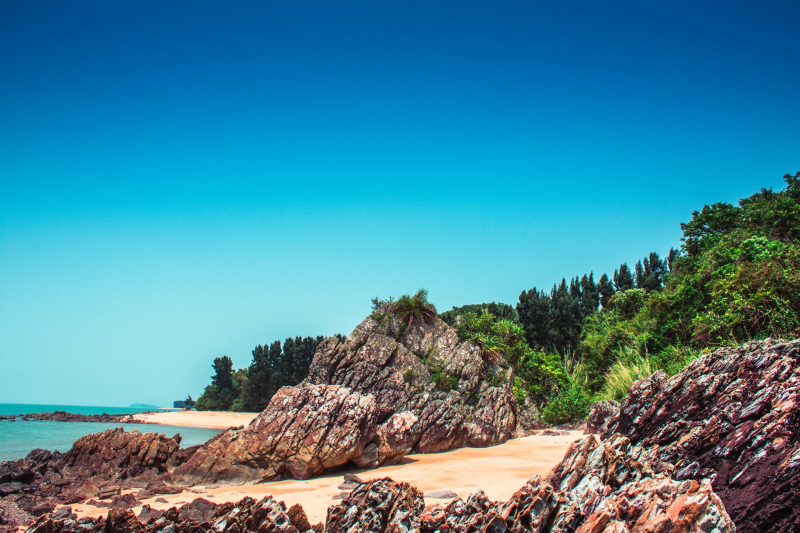 Cai Chien Island
Xa Tac Temple
Xa Tac Temple (formerly known as Xa Tac Dai Vuong Dan Mieu) is one of the long-standing historical sites of Mong Cai city. Xa Tac Temple is like a sustainable cultural "milestone" affirming national territorial sovereignty, carving historical imprints on our ancestors in the past to reassure the country and affirm the characteristics in religious and cultural activities. threshold of the Vietnamese people in the border areas of the country.
This temple was built in the style of the word "public". The main material for building the temple is ironwood. The roof of this temple is tiled with dragon scales and the walls are built of bricks. The temple is built with two floors and eight roofs with traditional and sophisticated carvings, and the roof is tiled with a comedy nose. If you have the opportunity to go to Mong Cai, you must definitely visit Xa Tac temple to admire the architecture of Vietnam's temples.
Address: Tue Tinh, Ka Long Ward, Mong Cai, Quang Ninh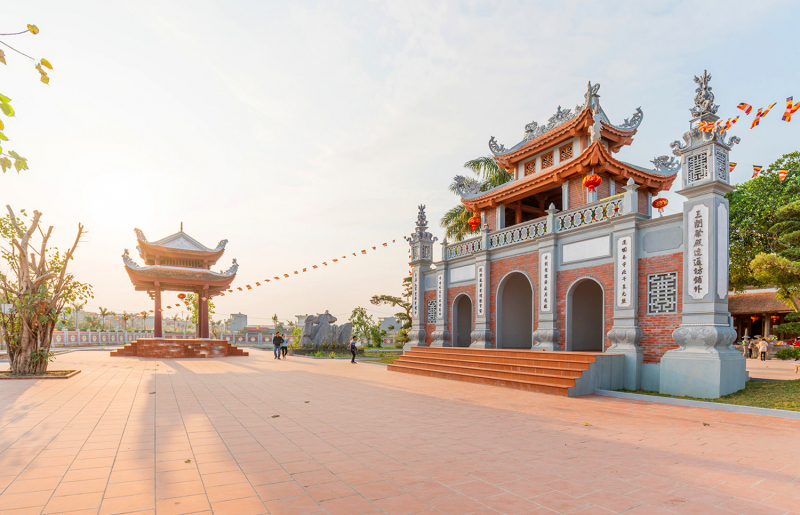 Xa Tac Temple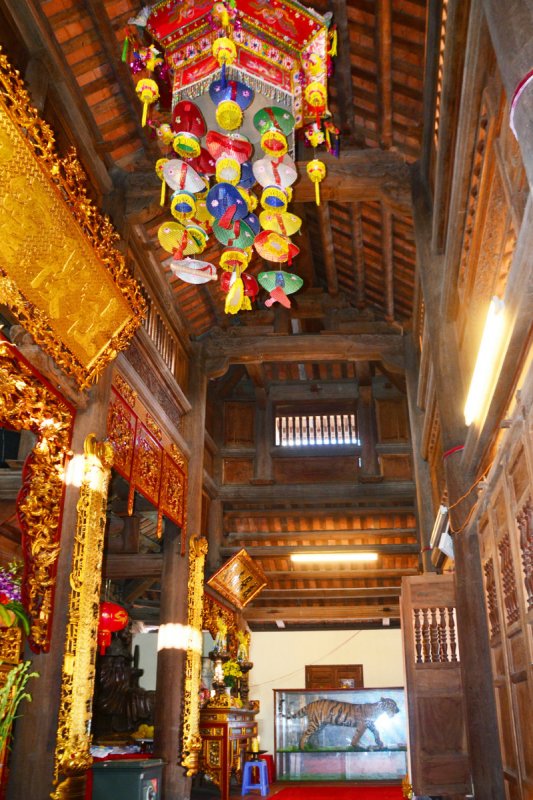 Inside the temple
Tran Phu Walking Street
Tran Phu pedestrian street is also one of the places to have fun in the evening when coming to Mong Cai city. Built and developed in the heart of Mong Cai city center, two pedestrian streets connect shopping centers, food courts with relaxing and entertaining spaces, forming an attractive tourist destination not only for residents. local but also with tourists. This is a free entertainment destination for everyone. From the elderly to young people, children all have their own play space when coming to Mong Cai pedestrian street.
There are many fun and entertainment activities for young people as well as many fashions, souvenir and food stalls. Tran Phu pedestrian street arranged stalls and areas selling cuisines with Vietnamese and Chinese dishes, including many Mong Cai branded products such as: white leg shrimp, Tra Co crab, and Mong pig. Female. What could be more wonderful than going for an evening walk and then stopping by a restaurant to scoop up a spoonful of ice cream or eat hot, smoky grilled skewers? Sounds great, doesn't it!
Address: Tran Phu ward and Hoa Lac ward, Mong Cai, Quang Ninh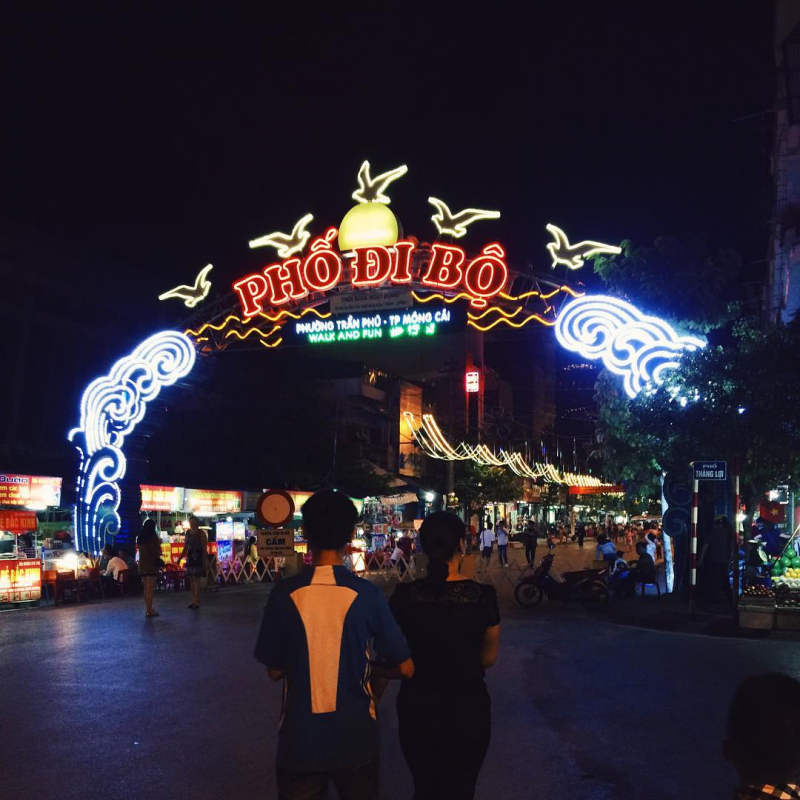 Tran Phu Walking Street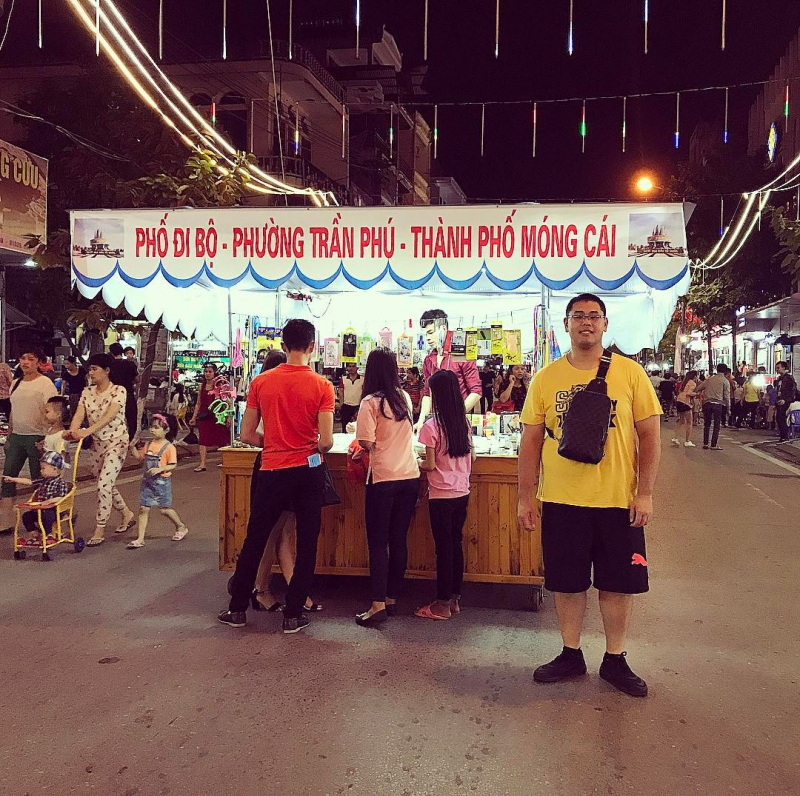 Food stalls in the pedestrian street
Vinh Thuc Lighthouse
Referring to Mong Cai, people often think of famous tourist attractions such as Sa Vi cape – the starting place of the letter S on the map of Vietnam, Tra Co beach, Mong Cai international border gate… But very few Those who know Mong Cai also have an attractive destination, which is the lighthouse on Vinh Thuc island.
For fishermen, the lighthouse is a symbol of life. Because in the stormy days floating at sea, just seeing the lighthouse knows that you are safe. Vinh Thuc Lighthouse is special in that it was built in the French style in the ancient style, consisting of two separate blocks but very harmoniously combined. The auxiliary housing area is below and the cylindrical white light tower area is above. The auxiliary block as the foundation at the foot of the tower is reasonably designed with gentle curves to create a sense of serenity for the building. The circular corridor surrounding the base of the tower connects to the rectangular building behind by a short corridor. At night, Vinh Thuc lighthouse emits white light that flashes once every 5s with a 360-degree lighting range with a light effective range of 21 nautical miles.
Address: Tra Co, Mong Cai, Quang Ninh.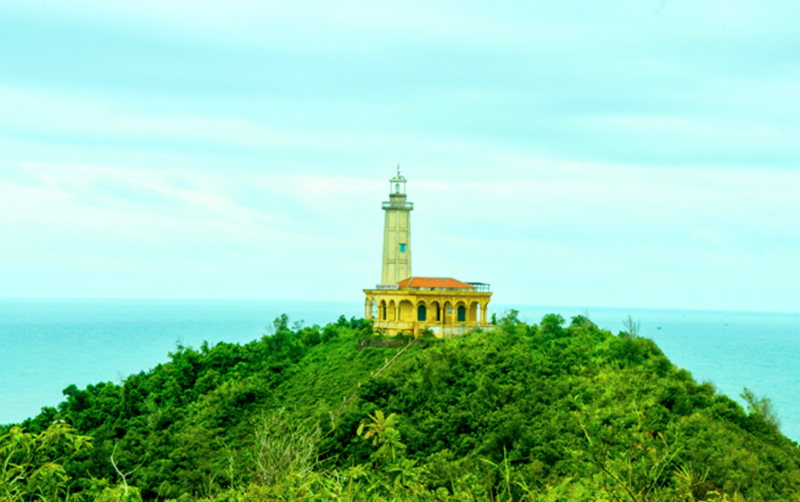 Vinh Thuc Lighthouse
Vinh Trung Island
Vinh Trung Island is the next name that Vinlove would like to introduce to you. Vinh Trung Island does not develop tourism too aggressively, but the natural landscape in this island is still enough to conquer tourists. This place has a beach about 2km long, with fine white sand, as beautiful as some famous beaches in the province such as Tra Co – Mong Cai, Quan Lan – Van Don. Coming here, you will find peaceful and poetic moments, to be immersed in the sun and wind and see a rare romantic picture on the S-shaped strip of land.
Vinh Trung Island has many rocky dunes undulating in the middle of the sea, creating diverse shapes, creating a wild beauty that has not been explored and renovated by human hands. In addition to the spectacular and beautiful natural scenery that attracts the eye, Vinh Trung Island also gives tourists the opportunity to admire and explore the extremely rich flora, especially Thanh Mai, Tu Ve, and Sea pineapple. … People in Vinh Trung island are friendly and enthusiastically welcome visitors to visit every year.
Address: Vinh Trung, Mong Cai, Quang Ninh.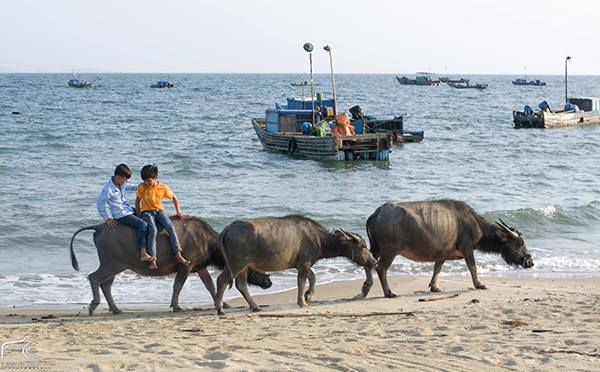 Vinh Trung Island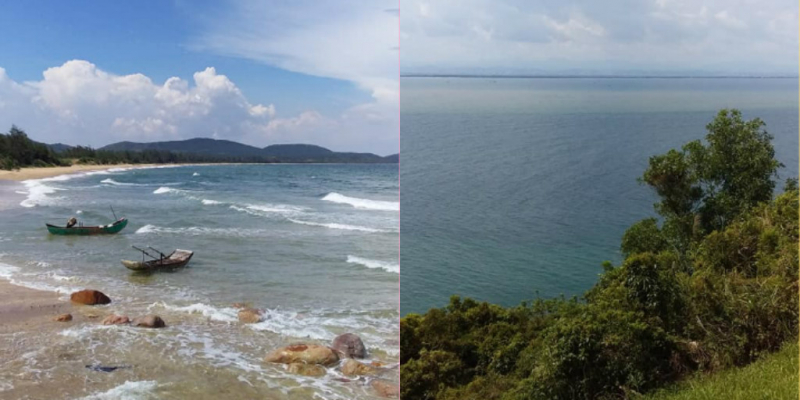 Vinh Trung Island
Cape Sa Vi
Along with the above places, the Sa Vi cape is also a must-stop tourist destination when visiting Mong Cai – Quang Ninh. Belonging to Tra Co ward, Mong Cai, Mui Sa Vi is a marker of the first place. the northeastern part of the country. Sa Vi cultural tourist site is one of the tourist attractions that many tourists visiting Mong Cai cannot ignore. This place is considered as a work bearing the symbolism of the Fatherland, where the land border with a large scale has a unique and different cultural architecture. There is a bas-relief of 3 pines reaching up to the sky.
During the journey, visitors can also see beautiful small houses. There are mossy walls over the years, many houses seem to be located close to the sea mouth, still standing. Surrounding the coast is a row of poplar trees that cover the mainland to protect the land and people in a place where the climate is harsh and stormy. Many tourists come to Sa Vi cape to seek the feeling of welcoming the dawn at the frontline of the country, fully feeling the beauty and grandeur of the country. There are also many virtual living corners for you to check in with thousands of like photos.
Address: Tra Co, Mong Cai, Quang Ninh.
Cape Sa Vi
Con Mang
When it comes to Mong Cai, most people probably only think of one of two places, either Mong Cai border gate or Tra Co beach because these are two very famous places. However, recently Quang Ninh tourism has also received a new face that is equally hot as Con Mang . About 6km from the center of Tra Co beach, Con Mang is also one of the famous destinations in Mong Cai city. Coming here, visitors will have the opportunity to sit on white stones, listen to the sound of the waves lapping along with the sacred bells of Tra Co church, giving visitors a feeling of peace. indescribable.
Con Mang has many angles to take photos, this is also a very beautiful place for couples to create memorable photosets. Con Mang beach is also very smooth, you can ride motorbikes and bicycles on the beach without fear of subsidence. Coming to this place, in addition to the beautiful natural landscape, Con Mang also serves a variety of seafood for guests to enjoy. Fresh seafood, processed in a variety of ways with not too high prices.
Address: Tra Co, Mong Cai, Quang Ninh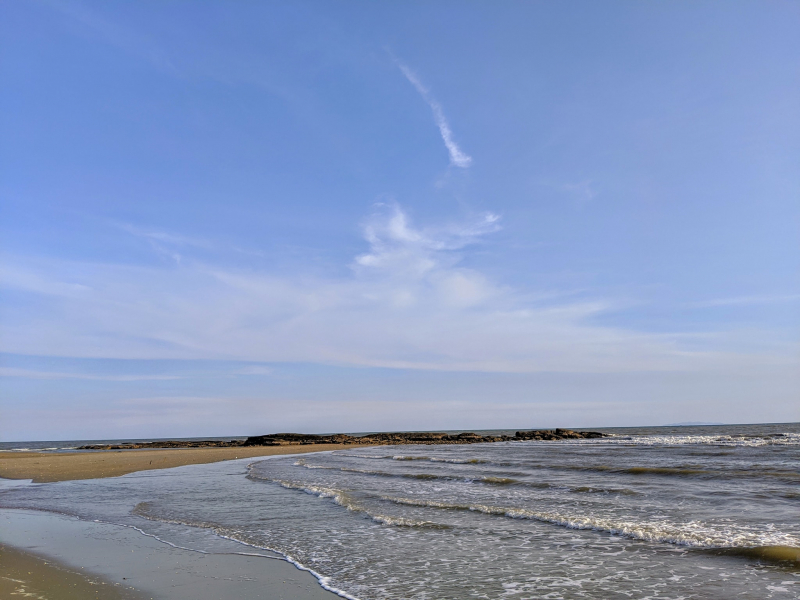 Con Mang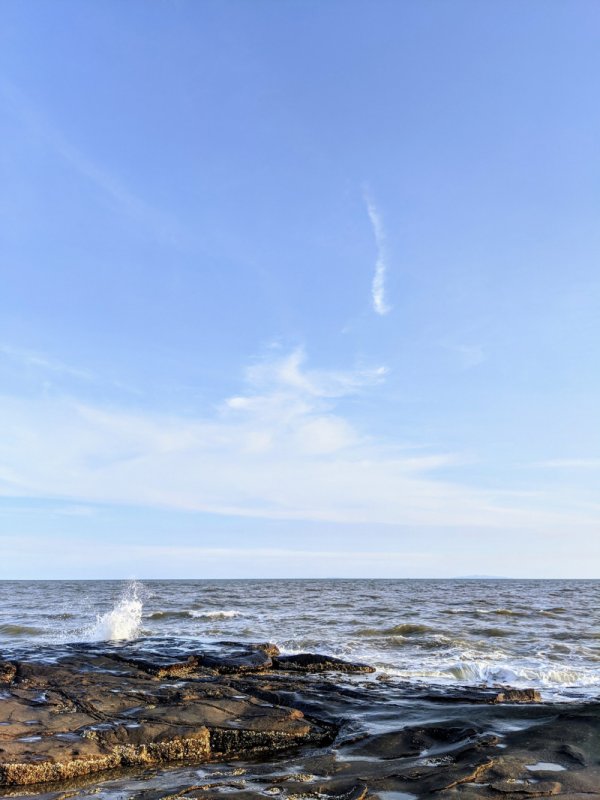 Con Mang
Surely you are surprised to know that Mong Cai has so many interesting things to explore, right? What are you waiting for, "pack your bags" and…let's go to Mong Cai!
TAG: