10 famous tourist attractions in Dong Thap
Dong Thap is one of the typical lands for favored nature and rich specialties of the Southwest region. Come to Dong Thap to enjoy the unique and attractive relics, landscapes, and enjoy the rich product resources favored by nature here. Here are suggestions for places to visit not to be missed when traveling in Dong Thap province.
The relic area of ​​the mausoleum of vice-president Nguyen Sinh Sac
If you have the opportunity to come to Dong Thap, an address of historical sources you cannot fail to visit is the relic site of the Mausoleum of Pho Bang Nguyen Sinh Sac. the resting place of the great President Ho Chi Minh's father. After many years have passed, modified, and rebuilt many times, the relic area of ​​Nguyen Sinh Sac has become a relic site preserving the historical and cultural values ​​of Dong Thap in particular and the region. The Mekong Delta in general has both modern and historical beauty. The relic area of ​​the mausoleum of vice-president Nguyen Sinh Sac is located at 123/1, Pham Huu Lau street, ward 4, Cao Lanh city, Dong Thap province. The relic is the resting place of Vice Chairman Nguyen Sinh Sac (1862-1929), the father of President Ho Chi Minh. He was a patriotic Confucian, a physician who loved the people, and lived a pure and benevolent life all his life, taking care of the country for the people.
The relic of Nguyen Sinh Sac's vice-president mausoleum was ranked at the national level on April 9, 1992. The architecture of the most important relic site is the grave of Mr. Nguyen Sinh Sac. On the grave is decorated with 9 innovative folk dragons reaching out in front of 9 gables, symbolizing the image of the people of the Mekong Delta protecting and embracing the grave. The architecture of the mausoleum also has other works such as: a temple, a statue dedicated to Nguyen Sinh Sac, a gallery introducing the life of Mr. Nguyen Sinh Sac, Uncle Ho's stilt house, etc. Visiting Dong Thap is a must. must visit the relic of the mausoleum of vice-president Nguyen Sinh Sac, and light a candle for the beloved Uncle Ho's relative.
Address: 123/1 Pham Huu Lau, Ward 4, City. Cao Lanh, Dong Thap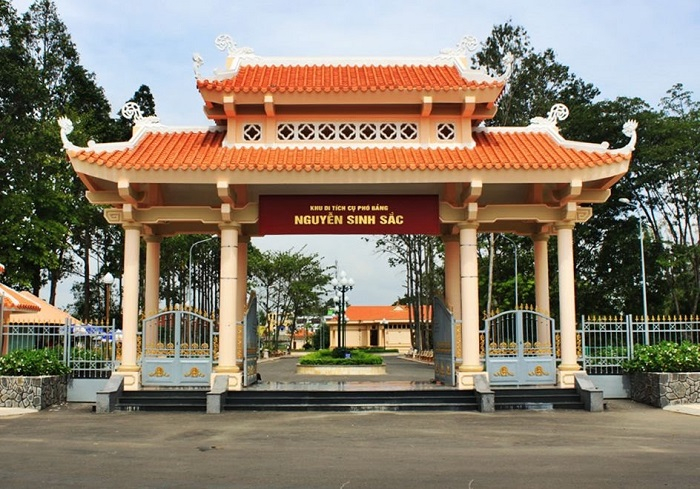 Relics of the Mausoleum of Pho Bang Nguyen Sinh Sac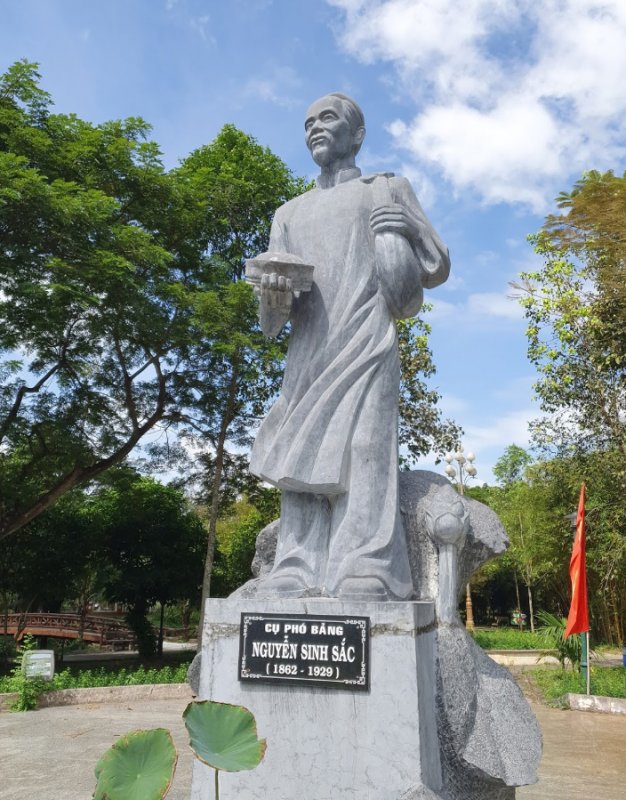 Statue of Vice President Nguyen Sinh Sac
Xeo Quyt relic site
Xeo Quyt relic site located in My Hiep and My Long communes of Cao Lanh district, Dong Thap province, more than 30 km from Cao Lanh city, about 170 km from Saigon, through National Highway 1A. Xeo Quyt relic has a total area of ​​50 hectares, including 20 hectares of Melaleuca forest. The flora and fauna ecosystem here is rich and diverse with about 170 species of plants with 158 wild species and 12 species of woody plants, 200 species of wildlife including 7 species of frogs, 22 species of reptiles, 73 species of reptiles and 73 species of animals. fish species, 91 species of birds and 7 species of mammals. The special thing here is that there are 13 rare and precious flora and fauna species recorded in the Red Book of Vietnam such as: cobra, python, box turtle, broad-beaked citronella, etc. This place is also the revolutionary resistance base of the province. Dong Thap with A-shaped bomb shelters, Z-shaped battle tunnels, L-shaped secret bunkers… Xeo Quyt relic site is restored on the background of ancient traces, beautiful natural forest with green space,

From diverse nature with jungle, wonderful lotus pond. To the historical values, delicious cuisine. All make a great feature for Xeo Quyt tourist area . A destination for those who like peace. The natural beauty of the jungle garden is interesting things in Xeo Quyt. It is also known for being a large nature reserve. Especially as soon as you step in, the air is cool with the canopy covering the whole path. In particular, this place has many wonderful lakes and lotus ponds. Especially, there are also giant lotus leaves, which are quite beautiful to take pictures. Or the wonderful blooming lotus ponds in the lotus season, where bridges are built directly to the lotus pond. You will have beautiful pictures to check in when you come here.
Address: My Hiep and My Long communes, Cao Lanh, Dong Thap.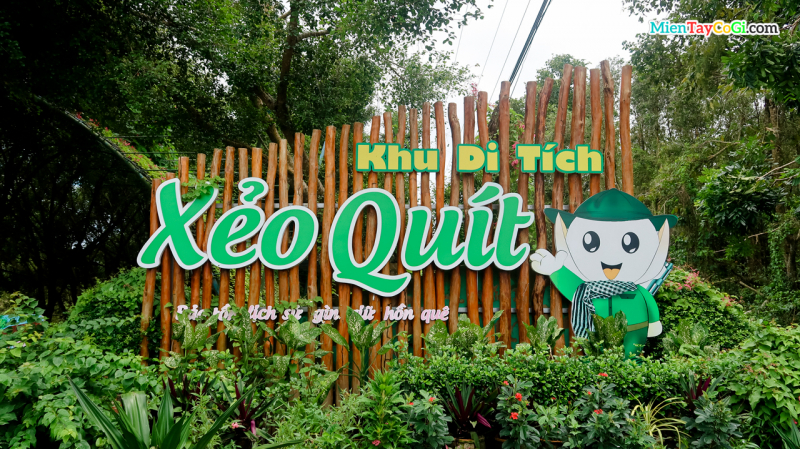 Xeo Quyt relic site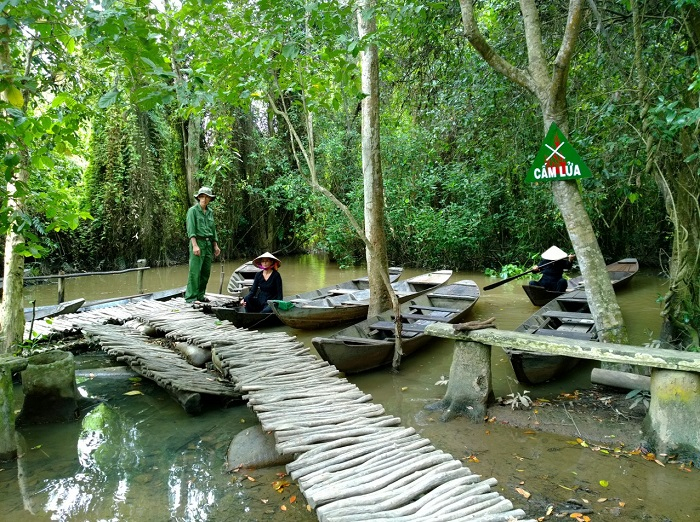 Xeo Quyt relic site
Go Thap relic site
Relic Go Thap lA national relic site has been recognized since 1998, containing many cultural-historical values ​​of the nation and humanity. This place still has a complex of relics of the Kingdom of Funan more than 1,500 years ago, with relics of the two periods of resistance against the French and against the US and many layers of folklore. Traveling to Dong Thap, coming here to find the roots, visitors will have interesting experiences, thereby more appreciating the contributions of the ancestors who went to open the realm. Go Thap consists of many small, low mounds located on sandy land, in the center of Dong Thap Muoi area, with a system of interlaced canals and a thriving Melaleuca forest ecosystem. Especially, Go Thap is one of 34 "special national monuments" of Vietnam, one of two important historical and archaeological sites in the country (Central area of ​​Thang Long Imperial Citadel and Go Thap relic – in Thap Muoi district, Dong Thap province).

From the late 19th century and into the early 20th century, a number of French researchers came here to survey and publish important findings about some ancient architectural vestiges, worshiping statues and steles. Stones and ancient texts… Since the country's peace and reunification in 1975, Vietnamese archaeologists have also paid special attention to the Go Thap relic site. Many archaeologists discovered many vestiges, relics, and ancient artifacts belonging to the Oc Eo civilization. At the same time, three important types of relics were found, which are residence relics with relics such as: stoves, pieces of pots, half-burned wood sticks, piles of houses on stilts, etc. burial relics were discovered in the sand mounds. Through many excavations, 13 burials have been discovered, over 1,000 artifacts have been obtained, depending on the burial, such as gold pieces with carved patterns, precious stones, statue heads, pottery, gold rings and architectural relics. Discovered in high mounds such as Go Minh Su, Go Thap Muoi, Ba Chua Xu Temple, Thap Linh Pagoda… Most of the architectural relics found are located deep in the ground, elaborately built with a wall surrounding it. To resist the invasion of wind and water, the architecture is built at a high level. Relics and artifacts found here are mainly statues of gods Visnu, Siva made of sandstone,
Address: My Hoa and Tan Kieu communes, Thap Muoi, Dong Thap.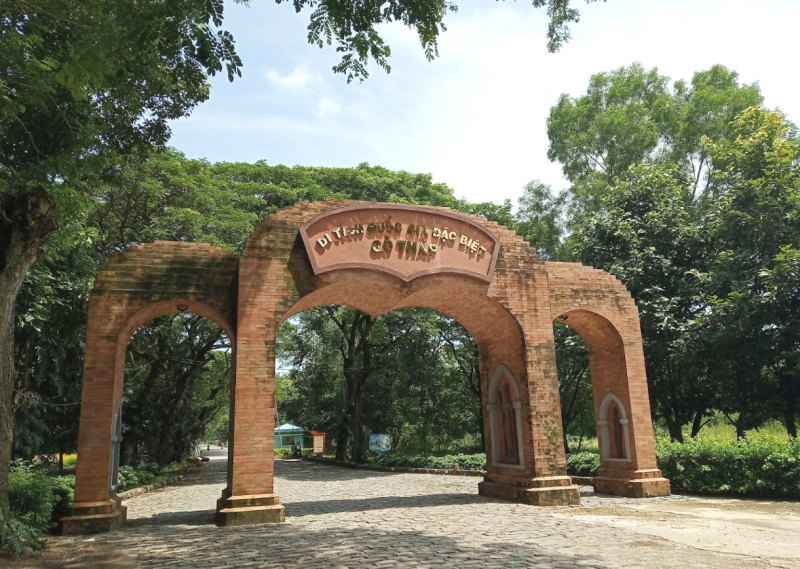 Go Thap relic site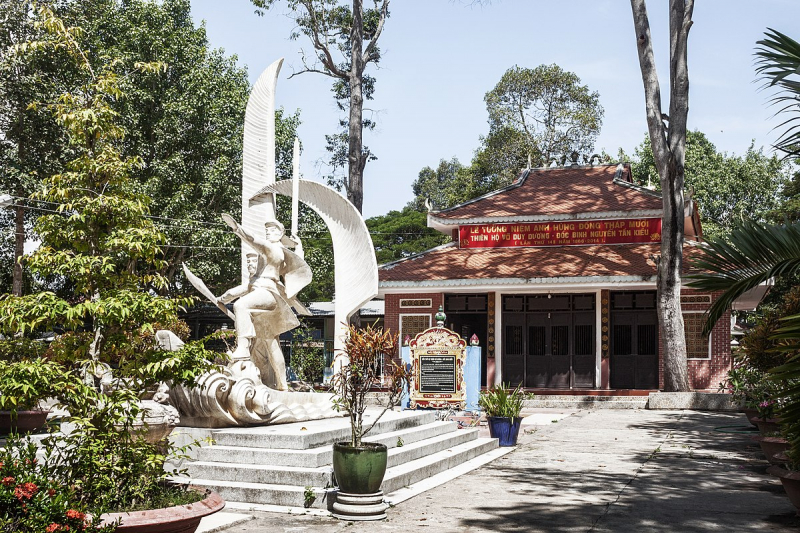 Go Thap relic site
Gao Giong eco-tourism area
Gao Giong eco-tourism area is located in hamlet 6, Gao Giong commune, Cao Lanh district, Dong Thap province, about 15km from Cao Lanh city center. The eco-tourism area was established on the basis of the Gao Giong Melaleuca forest (established in 1985). Up to now, the Gao Giong eco-tourism area has welcomed more than 300,000 visitors because of the gifts from nature and the results of reclamation and embellishment from the hands and minds of people. When coming to the eco-tourism area, visitors can admire the immense green of melaleuca, rice, energy… the typical animals of the river such as storks, herons, cuckoos… especially the swallows. Bird – a rare bird recorded in the Red Book of Vietnam. Coming to the Gao Giong eco-tourism area, visitors will have the opportunity to enjoy Dong Thap specialties: grilled snakehead fish with a pair of young lotus leaves dipped in tamarind fish sauce, braised perch,
Known as the largest stork garden in the Dong Thap Muoi region, visitors coming here will admire and discover the life of birds. Every time the water season rises, the fields in Gao Giong are filled with herds of storks creating an extremely beautiful scene. In the lotus valleys, there are thousands of red scorpions feeding and emitting catchy sounds and ravishing "performances". Before visiting the bird garden, visitors will be given a pair of binoculars by the guide and invited to the 18m high observatory. Standing on the radio, visitors can see almost the entire bird garden and have an overview of the tourist area. 
After that, you will be taken to the bird garden by motorboat. When coming to the bird garden, visitors will see with their own eyes many different species of birds, bringing a new and different feeling. It's like you are in harmony with the wild nature. Thanks to the rich seafood resources, visitors can enjoy the traditional specialties of the Dong Thap Muoi region. For example, grilled snakehead fish wrapped with lotus buds, Linh fish cooked in crazy cotton sour soup, braised fish sauce dotted with coconut vegetables, deep-fried leaves dipped with tamarind sauce, grilled snakes… Plus a little melaleuca honey wine. There's nothing like pure.
Address: Gao Giong Commune, Cao Lanh, Dong Thap.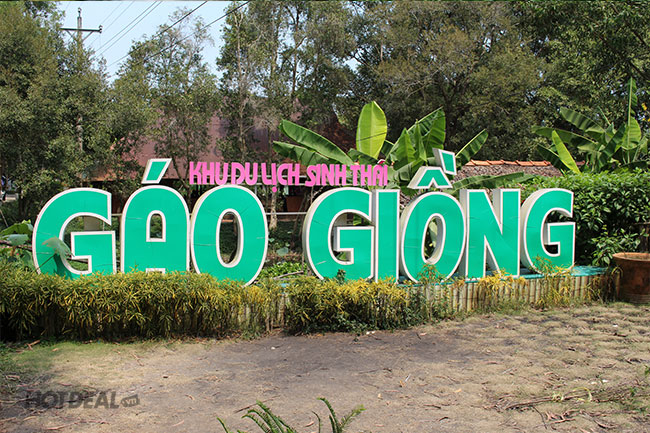 Gao Giong eco-tourism area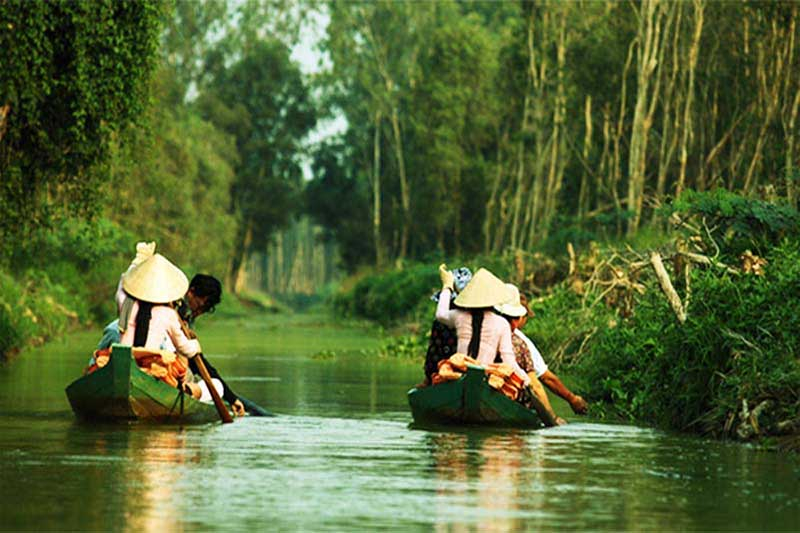 Gao Giong eco-tourism area
Dong Sen Thap Muoi eco-tourism area
Dong Sen Thap Muoi tourist area is located in My Hoa commune, Thap Muoi district, Dong Thap province, 39 km from Cao Lanh city. A special feature of Dong Sen Thap Muoi is that the lotus field is more than 11 hectares wide, gentle and pure. Here, visitors can experience the service of swimming by themselves in the middle of the vast lotus field, being allowed to pick lotuses and popular accessories: conical hats, ba ba dresses … take pictures. In the peaceful atmosphere at Dong Sen Thap Muoi eco-tourism area, tourists can enjoy the delicacies of the countryside from lotus: grilled snakehead fish wrapped in young lotus leaves, lotus chicken salad, lotus sticky rice, lotus tea .. Along with that are delicious dishes such as fish sauce hot pot, snakehead fish sour soup, braised perch, grilled hamster meat…
Surrounding the lotus area are wooden paths from one hut to another. In the middle of Dong Sen is a tall tower. From the top of the tower, you can see the surrounding rice fields stretching to the top. Du Guests can also take a walk to see the lotus, breathe in the scent of the pink lotus… or borrow ao dai, ba ba, conical hat to unleash their creativity and save beautiful moments by the lotus wing with friends and family. Dear. To the tourist area, if you want to move inside, you have to travel by canoe. The canoe slowly drifts you in. As you go, you can enjoy the scenery along with the riverside and experience interesting and unique activities such as lotus picking, fishing, farming, etc. clearly recognize the beauty of the lotus – the national spirit of his homeland. The wind carries the fragrant lotus scent as a magical aroma to help relax the spirit.
Address: My Hoa Commune, Thap Muoi, Dong Thap.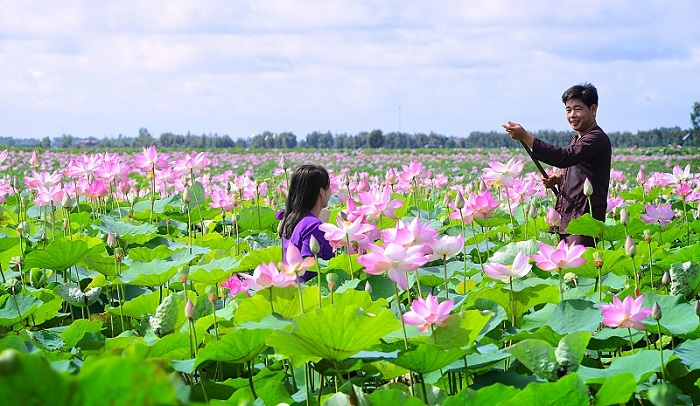 Dong Sen Thap Muoi tourist area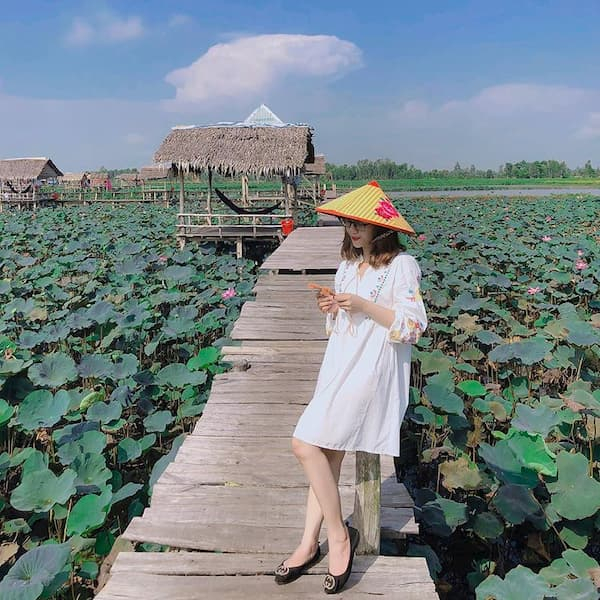 Dong Sen Thap Muoi tourist area
Tram Chim National Park
V sprawled Tram Chim Nationalis the land located in the territory of 7 communes (Tan Cong Sinh, Phu Duc, Phu Tho, Phu Thanh A, Phu Thanh B, Phu Hiep), Tram Chim town in Tam Nong district. Tram Chim National Park with a total area of ​​more than 7500 hectares is a typical miniature model of the Dong Thap Muoi region, with a diverse ecosystem, where visitors discover the characteristics of the West River. This land of "six months of dry grass burning, six months of flooded white fields" is the place to grow rich vegetation with more than 130 different species. The fauna here is outstanding with a rich waterfowl system consisting of 233 species, belonging to 25 genera, 49 families. Of which, 88% were found in the dry season, accounting for ¼ of the total number of bird species discovered in Vietnam. And especially the red-headed crane, the largest in the family of cranes – an invaluable natural asset of Tram Chim National Park in Dong Thap.
Fish system in Tram Chim National Parkequally rich, both playing the role of ecological balance and a source of food for birds. In which there are a number of fish species listed in the Vietnam Red Book such as: Com, Tiger Mang, Men's Seahorse, Flying Crayfish, Et Moi, Ho fish, etc. By exploiting natural advantages in a sustainable way in the industry. As a result of conservation efforts, Tram Chim National Park has been increasingly attracting tourists from near and far, because of its unique beauty and many interesting activities. One thing is for sure, anyone who has come to Tram Chim will be forever impressed by the scenery of the river, specialties and people here. The natural landscape and flora in Tram Chim National Park are very rich with more than 130 species of plants, the typical Melaleuca forest with the largest area (2968 ha) in the national park ecosystem. Coming to Tram Chim National Park, visitors can enjoy local specialties in a harmonious atmosphere.
Address: Tam Nong District, Dong Thap Province .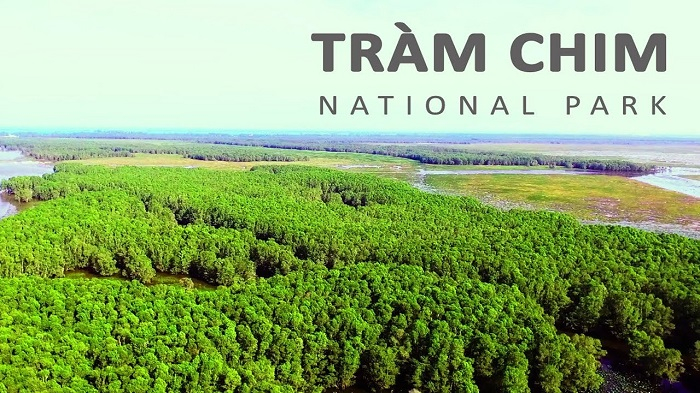 Tram Chim National Park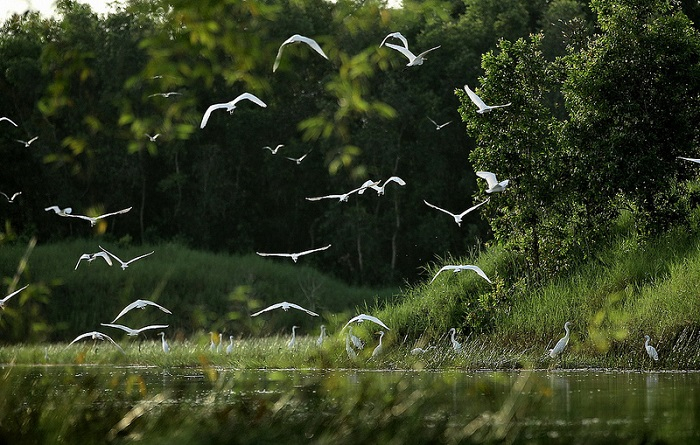 Tram Chim National Park
Ornamental flower village in Sa Dec flower city
Sa Dec flower village is located in the territory of Tan Qui Dong Commune, Sa Dec city, Dong Thap province, windy, fertile all year round, full of sunshine, is the land of hundreds of species of "heterosexual flowers". . This is one of the ornamental flower centers of the South, covering an area of ​​60 hectares with 600 households and 3,600 employees specializing in growing flowers and ornamental plants. In the spring days, hundreds of flowers in Sa Dec flower village jostle to bloom. Here selling all kinds of flowers of all colors and flavors such as roses, orchids, lilies and ornamental plants with beautiful shapes: star fruit, conifer, fig, si, apricot… In the air, thousands of blooming flowers will be a beautiful backdrop. for perfect photos.
The history of Sa Dec flower village has been formed since the early 20th century, at that time in the Tan Quy Dong area, only a few households planted flowers to decorate Tet. Seeing flowers in harmony with the land bloom beautifully, gradually the number of flower-growing households has increased and business purposes are determined. Later, it spread to areas such as the Sa Nhien canal, An Hoa Ward, Tan Khanh Dong commune, and ward 3 of Sa Dec city. Up to now, the total flower growing area is more than 500 hectares, with over 2,300 households and 2,000 different species of ornamental flowers, becoming one of the largest ornamental flower baskets in the Mekong Delta and the South.
Previously, Tan Quy Dong ornamental flower village only operated under the model of "hereditary" and was not properly invested, so it has experienced many ups and downs. After entering the integration phase, having the opportunity to apply for scientific and technical advances, Tan Quy Dong flower gardens have prospered and have been invested in infrastructure, added many new and rare flower varieties, built setting up a breeding center for tissue transplantation, setting up a wholesale market to consume ornamental flowers… these factors have contributed positively to the development of Tan Quy Dong flower village, expansion and entering the golden age.
Address: Tan Qui Dong Commune, Sa Dec, Dong Thap.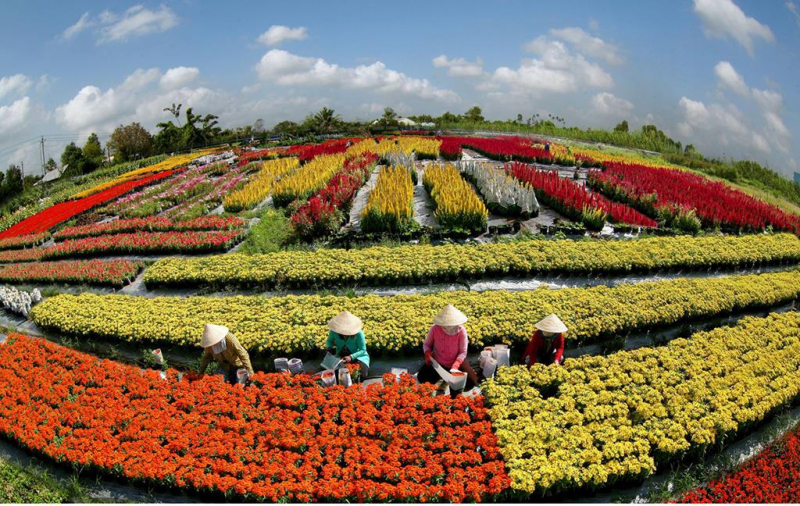 Ornamental flower village in Sa Dec flower city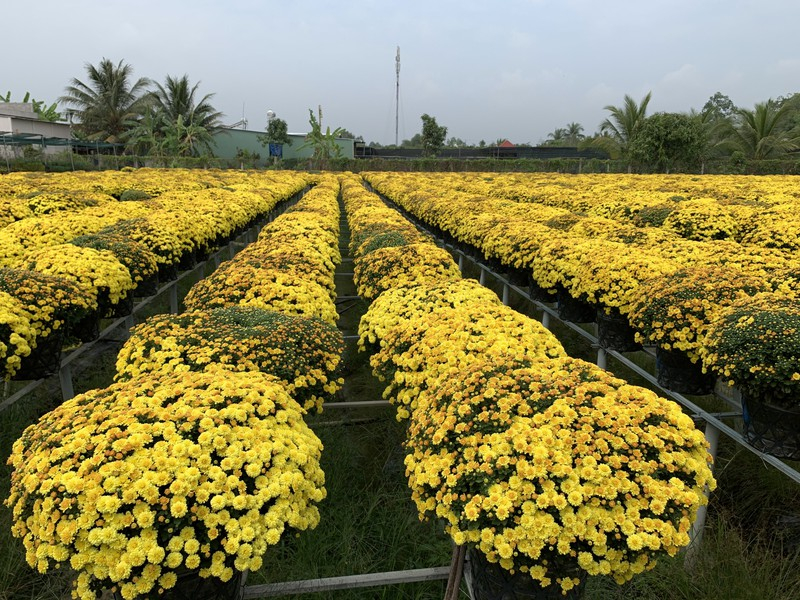 Ornamental flower village in Sa Dec flower city
Huynh Thuy Le ancient house
Huynh Thuy Le ancient house is located in Sa Dec city, Dong Thap province, Vietnam. In addition to the value of combining the two architectural styles of East – West, the old house is also famous for being associated with a borderless love affair of a French writer Marguerite Duras, and a rich Vietnamese-Chinese son Huynh Thuy. Le in the early years of the 20th century. The house was originally the residence of the family of Mr. Huynh Thuy Le – the first lover of the French female writer, Marguerite Duras. This love later became a memoir for her to write the famous novel The Lover in 1984. This work was adapted by French director Jean-Jaques Annaud into a 1992 film L'Amant.
Initially, the house was built in the style of a traditional three-room house of the Southwest region, with an area of ​​258m2, with the main materials being precious wood and a boat-shaped roof with yin and yang tiles. Later, the house was restored with solid bricks covering the wooden frame inside. Huynh Thuy Le ancient house attracts tourists by a borderless sad love story of female writer Marguerite and her first lover, Mr. Huynh Thuy Le (owner of the old house). Come to Huynh Thuy Le ancient house to admire the beauty of ancient architecture that has been preserved to this day. Huynh Thuy Le ancient house was recognized as a national relic in 2009.
Address: No. 255A, Nguyen Hue Street, Sa Dec, Dong Thap.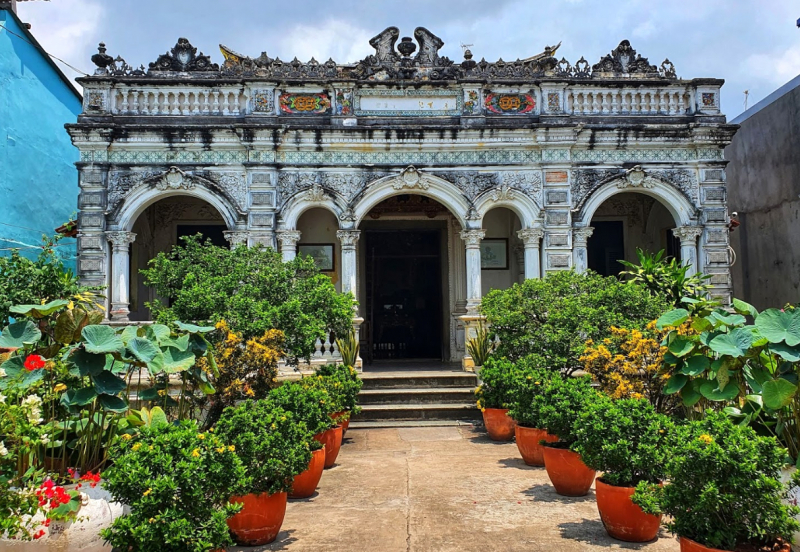 Huynh Thuy Le ancient house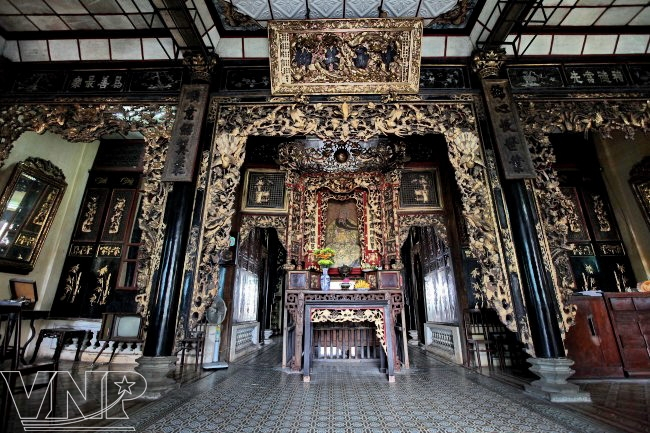 Huynh Thuy Le ancient house
Kien An Palace Temple
Kien An Palace TempleAlso known as Ong Quach Pagoda, which is over a hundred years old, is located in the heart of Sa Dec city, one of Dong Thap's tourist attractions attracting a large number of visitors. This typical architectural work of Chinese culture was recognized as a national historic site in 1990. The temple was built by a group of Chinese people in Fujian province (China) who settled in Sa Dec to worship. ancestors and teach their descendants, also to link the community, meet, discuss business, exchange information. The pagoda was started in 1924 and completed in 1927. During those three long years, the workers from Fujian came together with the masons of Sa Dec to work hard, creating lines and textures. , patterns, miniature statues … to become a majestic and brilliant architectural work in the style of Chinese temples.
The unique feature of the pagoda is the fence built of cement but made like wild green bamboo poles. Coming to this monument, you will admire unique, splendid and solemn architecture. The pagoda faces the Cai Son canal, built in the majestic and superficial style of the word "Cong". The entire pagoda has no truss, only the mortise arm supports the force on round wooden pillars as pillars. The facade of the pagoda is designed in harmony with 3 main compartments, the yin and yang tile roofs are roofed in the style of dragon waves, spreading the ground for 6 waves soaring high, but those 6 waves are 6 magnificent and magnificent palaces. miniature, symbolizing the spirit of overcoming difficulties and achieving success. Go to Kien An PalaceVisitors have the opportunity to admire and admire the masterpieces of wood carving. Those are the sacks stretching below the ceiling of the pagoda, connecting the pillars. All are performed by the talented hands of Chinese folk artists. They also used important materials such as greenstone as door sills, incense burners, etc., brought from the ancient country. After nearly a hundred years of dust, the temple still looks great and the drawings still do not fade, it is the talent of the skilled craftsmen in the past.
Address: Sa-Dec city, Dong Thap province .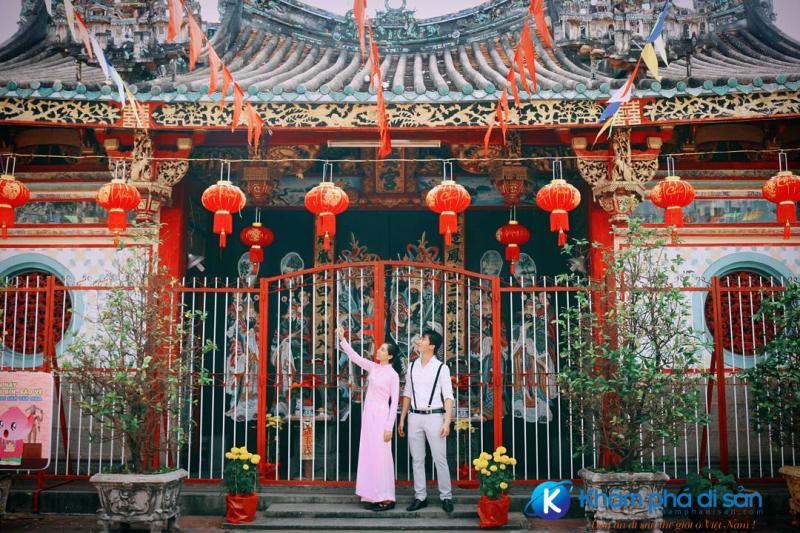 Kien An Palace Temple
Kien An Palace Temple
Lai Vung tangerine garden
Lai Vung district, Dong Thap province is famous for its dreamy, fruit-laden tangerine gardens. If visitors want to see with their own eyes the tangerine garden laden with fruit, they can go to two places to visit: Phuong Nghi point of gardener Dang Van Khanh, Tan Quy hamlet, Tan Phuoc commune, and Ut Tuong point of gardener Nguyen Van Tuong. located at the provincial road 851, Tan Khanh hamlet, Tan Thanh commune, Lai Vung district. The garden is open from 8 a.m. to 5 p.m. every day for tourists to freely visit, film, take photos, enjoy Lai Vung specialties such as pink tangerine, sweet tangerine, fresh spring rolls, and spring rolls. Lai Vung in the unique Southern folk music space.
Coming to the tangerine garden on the occasion of Tet is the most perfect choice because, at this time, the tangerine garden in the fruit season is in full bloom, the natural colors are yellow, shiny, juicy… From Ho Chi Minh City, go in the direction of National Highway 1A through My Thuan Bridge. Continuing on Highway 80 will reach the territory of Lai Vung district, Dong Thap province. Lai Vung tangerine garden is usually in the season around Tet. At that time, the tangerine gardens changed their clothes with water-filled mandarin oranges. The orange color is mixed with the green color of the garden of hundreds of mandarin trees. Visiting the tangerine garden, you can enjoy eating tangerines while discovering, taking photos to check-in is extremely interesting.
Address: Lai Vung District, Dong Thap Province.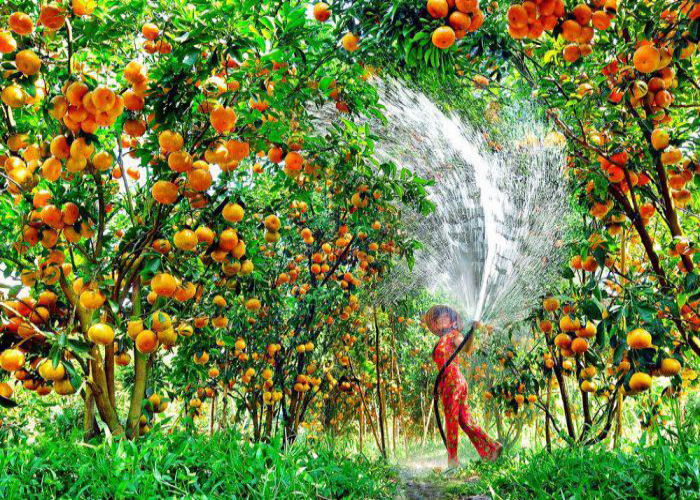 Lai Vung tangerine garden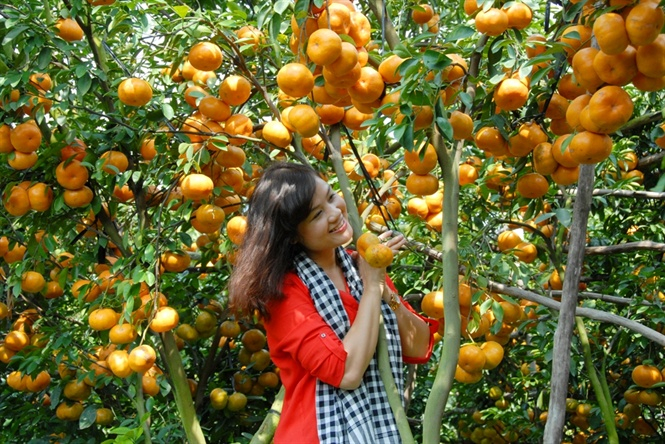 Lai Vung tangerine garden
Above are suggestions for unique and interesting tourist attractions for tourists when coming to Dong Thap. Hopefully, this will be an effective reference to help you have a unique and impressive vacation in Dong Thap.
TAG: