Cai Rang floating Market Listed a world s Must visit Destinations
British travel publication Rough Guides listed Cai Rang floating market in Mekong Delta's Can Tho City among the world's 19 must-visit food hubs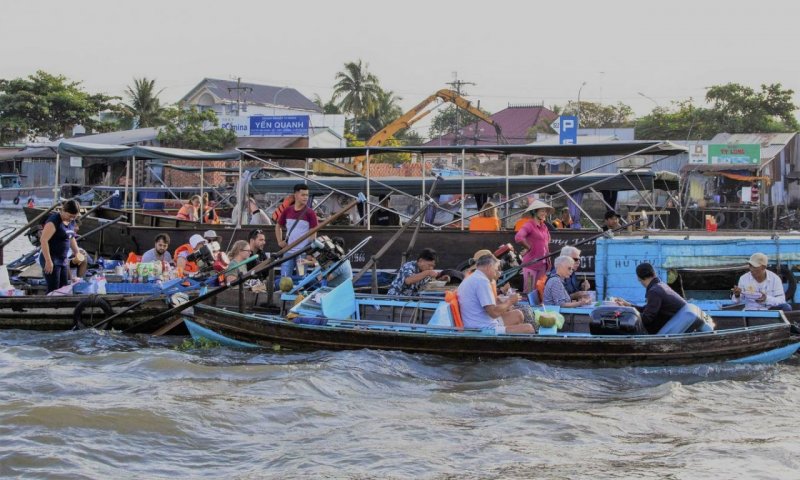 Foreign tourists sit on boats to explore Cai Rang floating market in Can Tho, 2019. Photo: VNE
The market, the biggest of its kind in the Mekong Delta where trading on waterways has been a way of life for generations, was the only Southeast Asian representative to break into the list, VNE reported.
"Visiting the floating market in Cai Rang is a must when in Mekong Delta. A huge spread of produce is on sale from a fleet of brightly colored boats. Most traders advertise their wares from the top of a long pole attached to their vessel," Rough Guides stated.
Cai Rang is about five kilometers from downtown Can Tho and 30 minutes by boat from Ninh Kieu Wharf. From early morning, traders gather to buy fresh vegetables and fruit to resell elsewhere. The most crowded time is from 5:30 to 6:30 a.m. when many boats clog the waterway.
The 40-minute boat ride is the best way to explore life along the waterways as it passes houses built on stilts over the water and boats in a bewildering variety of sizes, shapes and colors docked along the shore.
Cai Rang Floating Market History
The market, which has thrived for over a century, has been a centre for commerce in Can Tho City and its neighbouring provinces, such as An Giang, Vinh Long, Dong Thap, Tra Vinh and Soc Trang. It was formed when road and transportation had not been developed yet.
Tourists at Cai Rang floating market. Photo: CanTho Mekong Tour
The name of this market has been existing for a long time, but its origin has not been clear. Legendarily, the name came from a big crocodile's teeth which were plugged into the river's bank. Thus, the land was called Cai Rang (means a tooth). Another theory mentioned in a book related to southern language, that Cai Rang has its origin from Khmer language – "karan" means a molded clay stove. Khmer people made a lot of "karan" and sold them everywhere in this land. Since then, local people pronounced "karan" into Cai Rang.
The need of exchanging agricultural products, and basic things connected local people by boats on rivers. Today, even though the road traffic network has developed significantly, Cai Rang Floating Market keeps growing and brings value to the locals of the country and area in terms of economy, culture, and tourism, according to Vietnam Travel.
What to see at Cai Rang Floating Market?
The Bustling Trading Scene
Cai Rang Floating Market is specialized as a wholesale market of fruits, agricultural products of the region. Goods here are concentrated in a large number. You can see the smooth performances of traders juggling fruit from boat to boat. Just look at what's tied to the long pole above the boat to see what they're selling. Local people and surrounding areas often use middle-size boats, canoes to carry agricultural products to consume here, while the big boats are owned by traders to deliver fruit to everywhere.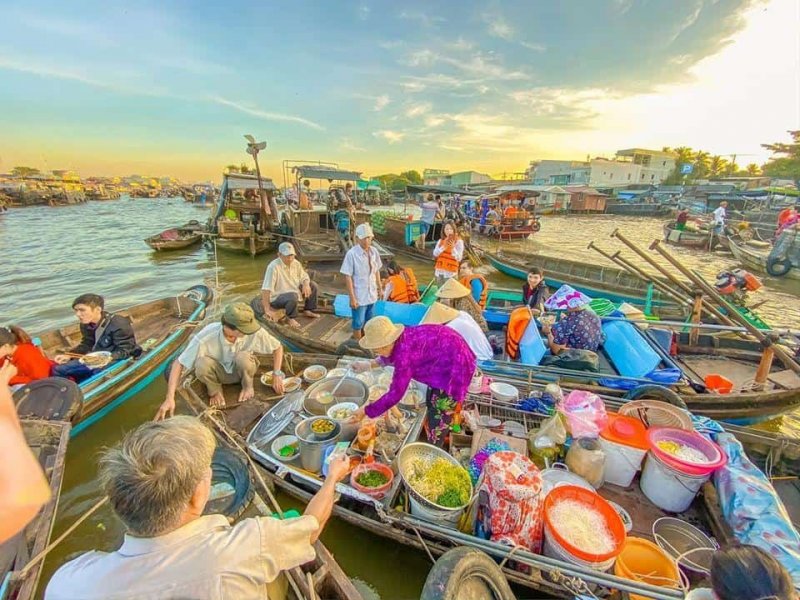 Photo: Viet Travel
Daily life of the locals
Soaking up in the bustling atmosphere of the special market, you can observe and learn life of many families with several generations living together on boats. There are boats as "mobile apartment" on the river with flower pots, animals, and full interior such as TV, DVD, stereo… including motorcycle parked on the boat. Not only is the vehicle used to purchase and deliver, but it is also the residence of traders' family. All daily activities take place on boat, as reported by Vietnam Discovery.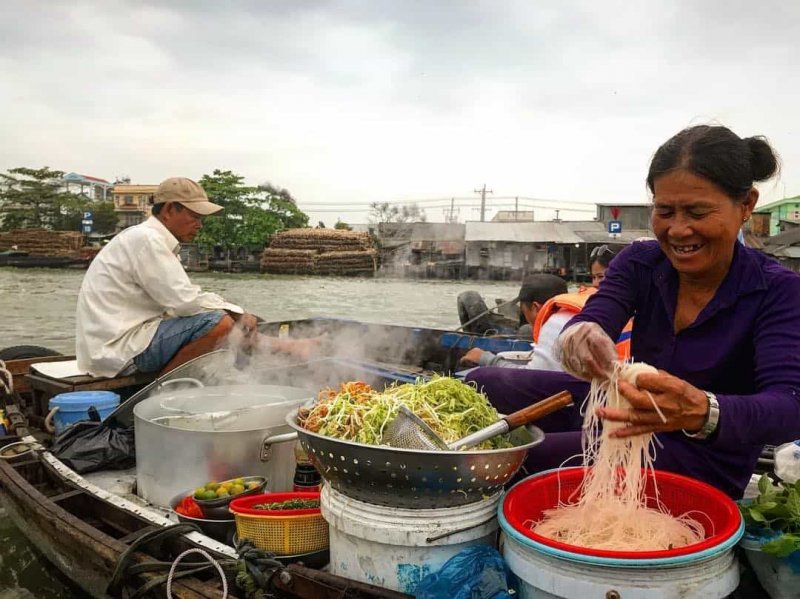 Photo: Afamiy
Foods & Drinks
You shouldn't miss out on interesting eating experiences while visiting the floating market! Many floating restaurants open to serve breakfast for both sellers and shoppers. Here, you can find most local dishes, such as "com tam" (broken rice with grilled pork, egg), "pho", "hu tieu", "bun rieu" – some kinds of noodles that served with beef, pork and crab… With only around US$ 1, you can surely treat your hunger with quite a hearty meal.
Don't forget that people here serve a different type of coffee that you may not see anywhere: Ca Phe Kho. People keep coffee in a clay cook with fire to make it hot and good smell. With one dollar, you can have coffee for two! But if you are not familiar with a bitter of coffee, coconut is a different choice and sold around.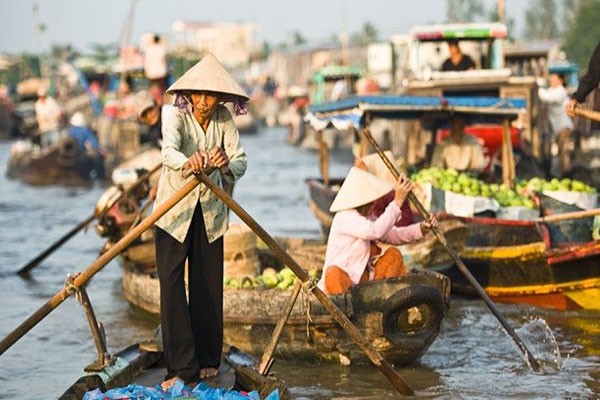 Photo: Asian Open Tours
Can Tho, the largest economic hub in Mekong Delta, Vietnam's most productive agriculture and aquaculture region, lies at an intersection of canal and river networks that measure a total 1,157 kilometers. The Hau River, one of two tributaries of Mekong River in Vietnam, flows along the city's north.
Other famous food markets in Asia included by the British magazine were Tsukiji fish market in Japan, Kashgar market in China, Kreta Ayer wet market in Singapore, and Kowloon City wet market in Hong Kong.
Jasmine Le
TAG: