Two country-style grilled dishes in the West
Visitors to the West can enjoy grilled snakehead fish with the scent of smoky straw or charcoal-grilled hamsters with soft sweetmeat.
Grilled dishes in the West are diverse from ingredients to processing methods. People can grill garden chickens, fish, crabs, mice, birds, frogs, snakes… and all kinds of grilling ways to make the food more delicious such as grilled with bamboo, baked with clay, baked with bamboo tubes, upside down, grilled with coconut shells, grilled all… Each style has its own delicious taste, but in general, it still makes diners flutter every time they enjoy it.
In all, there is a dish of grilled snakehead fish , also known as a rustic and simple snakehead fish, which has existed for many generations. From temporary food, eating and drinking to relieve hunger has now become a specialty in many southern provinces and cities.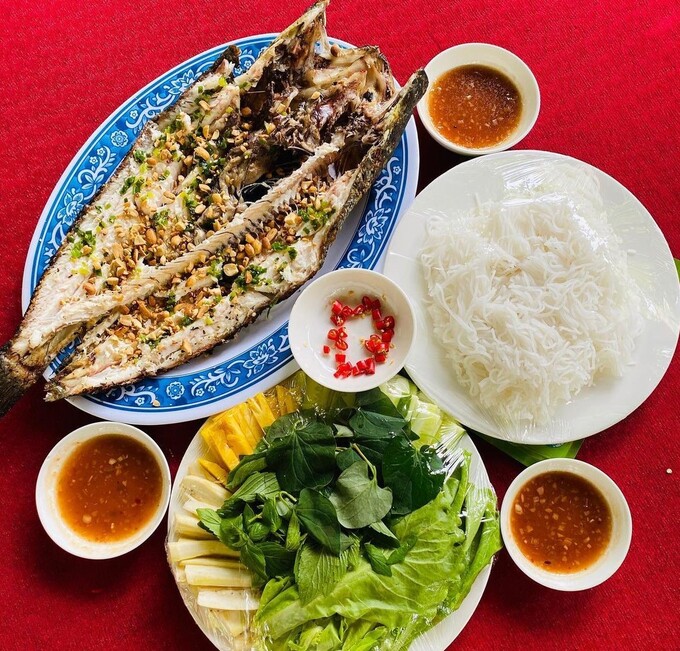 Grilled snakehead fish served with raw vegetables, fresh vermicelli at Con Son community tourist site, Can Tho city. Photo: @copho.158/Instagram
The snakehead fish has a firm, sweetmeat, is fished in the river, caught in the field, bought in the market is still fresh, no need to scale or cut open the intestines to clean the intestines, but just wash it with saltwater, find a solid tree. skewer fish, find an empty land to plug into the ground, take dry straw in the field, and burn it.
When the straw fades, it is also the time when the snakehead fish is ripe, take a piece of fresh banana leaf to gently remove the fish from the heat, then scrape off the burnt black outer shell, the skin of the fish turns hot and fragrant and still emits the aroma of straw. smoke. Quickly make a cup of spicy chili pepper, squeeze a piece of sour lemon and tear each piece of snakehead fish meat to eat immediately, you will feel the fresh and sweet taste of the snakehead fish almost intact.
Or more sophisticated is to decorate it beautifully, grilled fish is cut in half, lined with fragrant lotus leaves, added with golden roasted peanuts, fatty onion fat on fish, served with fresh vermicelli, raw vegetables of all kinds such as cucumbers, pineapple, lettuce, fish lettuce, convex sand, basil, toad buds… Rice paper dipped in water, vermicelli, fish meat and then rolled firmly, dipped in sweet and sour fish sauce.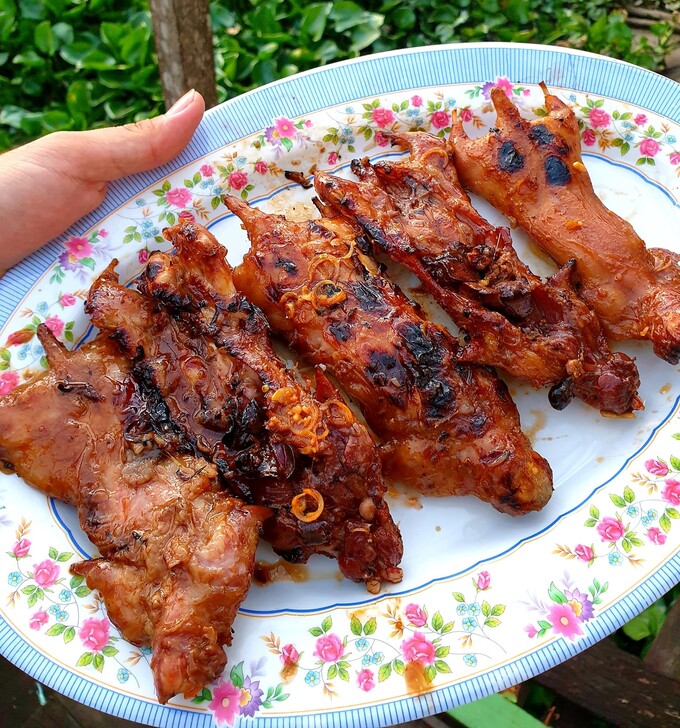 Field mice cleaned and marinated in charcoal-grilled spices. Photo: Foreign Ty
Another country barbecue in the West that also impresses diners is the grilled and charcoal-grilled hamster . This dish is quite picky because of the bad impression of rats. But when it's eaten, everyone is guaranteed to grind like a game, some people even praise the meat is softer and sweeter than chicken.
Field mice in the West are sold a lot in the market, especially when it comes to the rice crop, the mice eat full rice, so they are all fat, the meat is fragrant and not bad. Rats for sale are usually cleaned, so when you buy them, just wash them, leave them whole or cut into pieces to taste, seasoned with spices to your liking, can be seasoned with lemongrass salt, lemongrass garlic, chili salt, and then add a little honey for The mouse skin is shiny when grilled, the meat is soft and fragrant.
Country dish served with cucumber, banana or sour star fruit, sliced ​​tomatoes, add a cup of salt and pepper lemon and a few stalks of laksa leaves and then slowly enjoy. At this time, the feeling of fear of mice must have disappeared, but only knowing that the meat of the mouse eats very well. Follow vnexpress
TAG: