Check-in An Giang Coc Pagoda to admire the beautiful Southern Khmer golden pagoda architecture
If you have the opportunity to travel to Tinh Bien, do not miss the opportunity to visit An Giang CocPagoda – a Khmer-style religious architecture with its distinctive golden peaks and tones.
The Southwest region in general and the An Giang region in particular also contains many interesting things. Every place visitors go through has its own unique beauty and charm. An Giang is considered a prominent destination with a large area, diverse terrain and is considered a "religious museum" of Vietnam with 9 religions coexisting and developing. Each religion has a long history, reflected in many unique and impressive constructions. Among them, it must be mentioned that the ancient Khmer temple named Coc Pagoda has cultural imprints, unique construction style and is known as one of the top 4 most beautiful temples in An Giang that you should visit.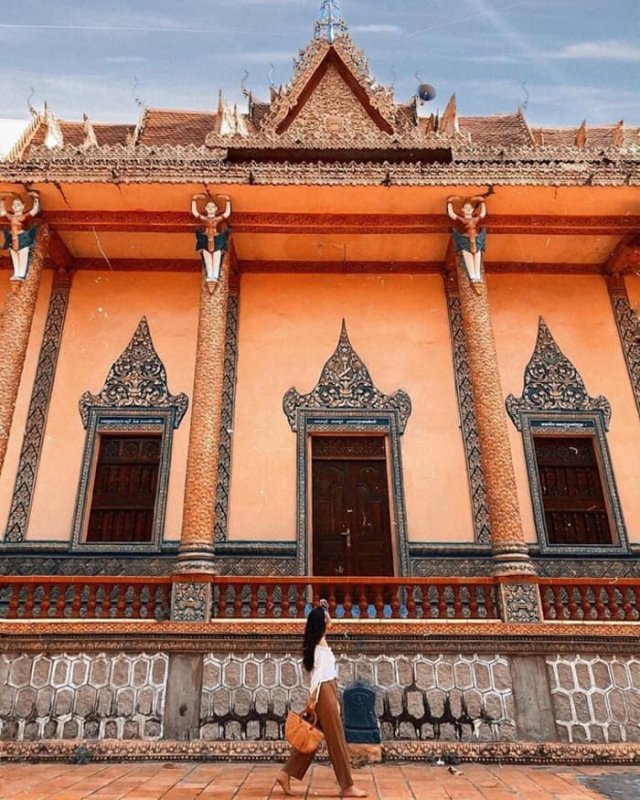 The religious place of the majority of Khmer ethnic people living in An Giang area. Photo: @dollinatran
Check in the coordinates of An Giang CocPagoda
Traveling to Tinh Bien An Giang, visitors can not only discover a series of virtual living paradises with famous places in the West such as Tra Su Melaleuca forest, Cam mountain, Kec mountain, and beautiful and sacred temples such as Kim Pagoda. Fairy, Van Linh pagoda , but especially Coc pagoda.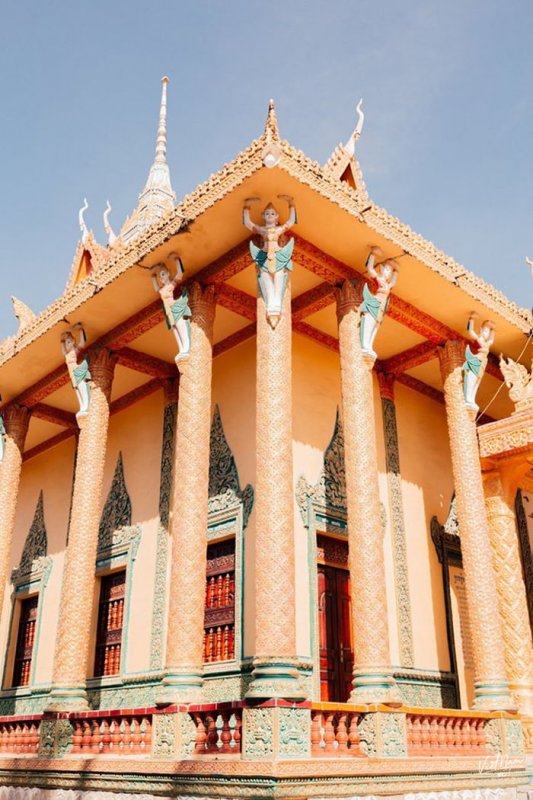 A new virtual living paradise for young people. Photo: theluxury
The CocPagoda is also known by another name, Kos Onh Deth Pagoda. Because it is a Khmer temple, the building has a unique architecture from the outside to the inside, especially the dome with colorful motifs. Under the golden sunlight of the Southwest region, the golden color of the temple is even more prominent and brilliant. This place is visited by many tourists, especially young people, who come to take pictures to check-in.
The pagoda is located in An Hao Commune, Tinh Bien district, An Giang province. This place is bordered by the Tri Ton district, so if you are planning to visit Tri Ton heaven gate , Ta Pa lake, or a heart-shaped palm tree, you can take advantage of combining the tour schedule with Coc pagoda for you. convenient way.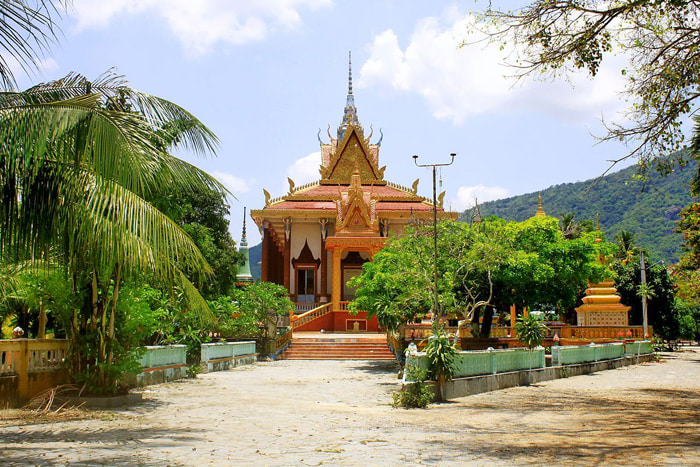 The temple is also known as Kos Ong Deth. Image: wikipedia.org
Impressive Khmer architecture of Coc Pagoda
If Masjid Jamiul Azhar has the influence of Cham architecture, An Giang Coc Pagoda is a work reflecting the culture and religion of the Khmer people. The more special thing that makes the name Kos Onh Deth often mentioned when referring to outstanding religious works in An Giang is that this temple has existed for more than a hundred years, is a place of practice for most of the Khmer ethnic people. living in An Giang area.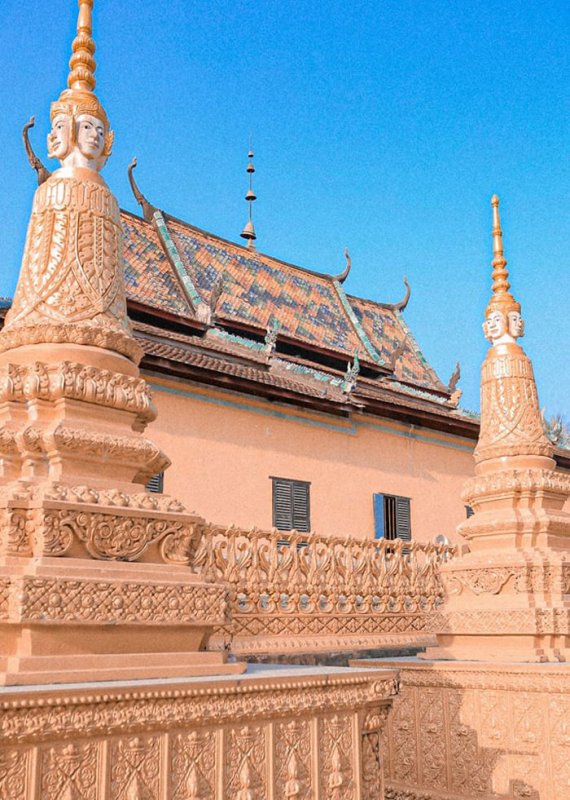 Beautiful religious architecture of An Giang. Photo: Pham Ngoc Tuan.
However, compared to other famous Khmer temples such as Soc Trang Bat Pagoda, Tra Vinh Hang Pagoda, and Xiem Can Bac Lieu Pagoda, Kos Ong Deth Pagoda is still quite new to tourists because it is still unknown. So if you have the opportunity to come to Tinh Bien, do not miss the opportunity to visit and learn about this project.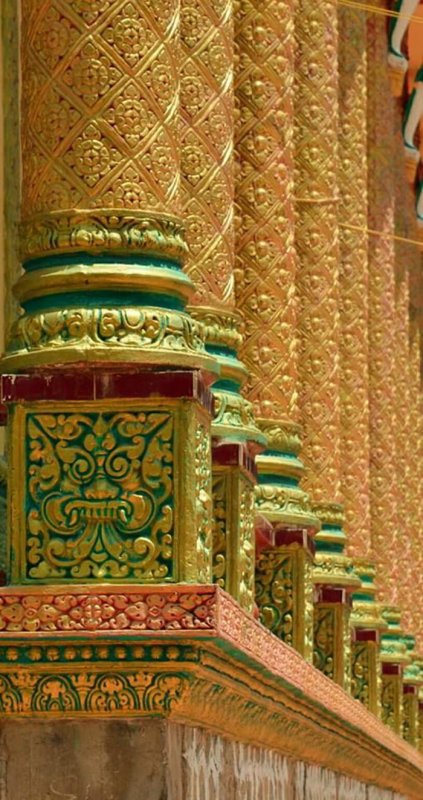 On the pillars or roof frills are carved with very meticulous motifs. Photo: Facebook Wandering An Giang
In general, An Giang CocPagoda possesses the architecture bearing the imprint of the Khmer in the South but still influenced by Cambodia, reflected in the image of the spires and the characteristic brilliant golden tones. In addition, on the pillars or roof frills are carved, carved with very meticulous and delicate motifs.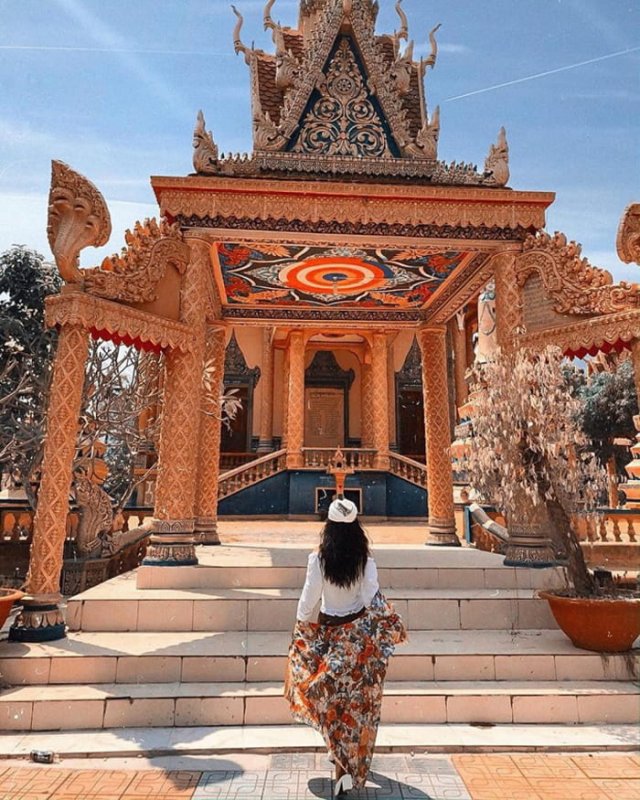 The work reflects the culture and religion of the Khmer people. Photo: @dollinatran
Almost every design line in Kos Ong Deth temple clearly shows sophistication, typically the nine-headed snake, reaching high and wide, or the reliefs of the goddess Kýno, symbolizing harmony. peace and prosperity… All are typical and popular images in ancient Khmer architecture. The temple grounds are airy with a spacious temple yard. The aisles and corridors are not only clean but also decorated harmoniously and beautifully.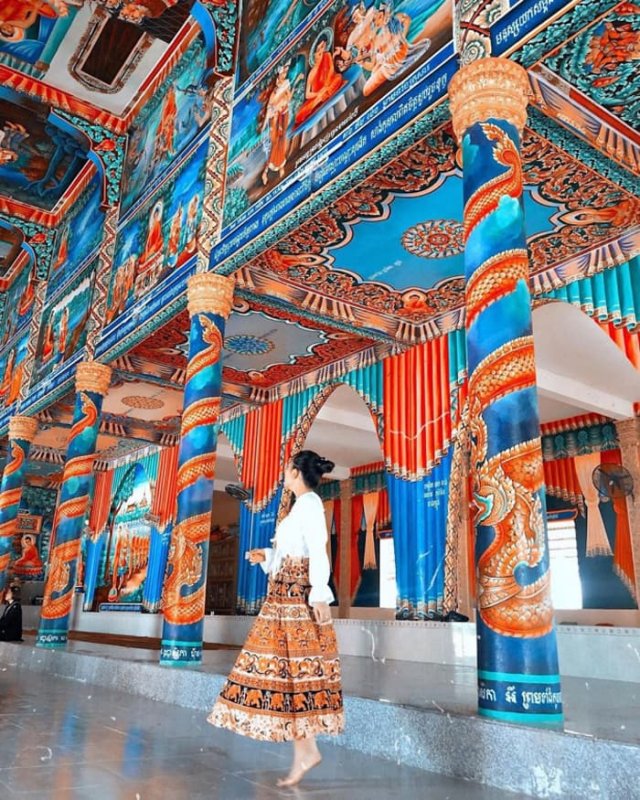 Beautifully decorated, harmonious. Photo: @_nmh97
It can be said that with the architecture, the decoration from the outside space to the inside of the temple has shown the features of the architectural quintessence and thereby partly shows the unique spiritual beauty of the community. ethnic Khmer here.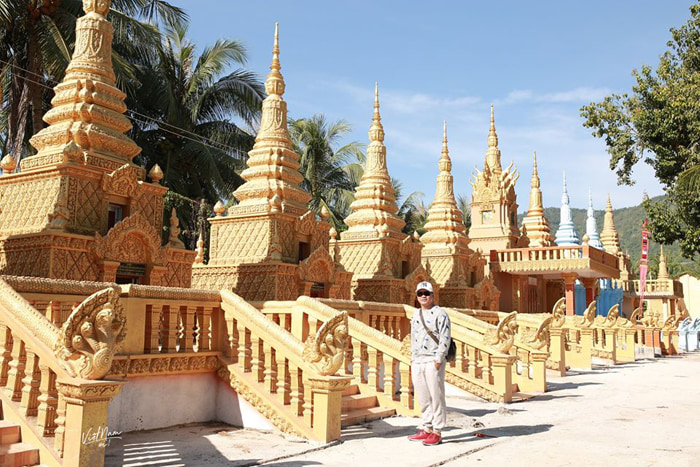 Get a good photo right away when you come to Coc pagoda. Photo: Luong Viet Cuong
Unique check-in point in Tinh Bien
Coming to An Giang CocPagoda , visitors will be able to visit the unique architecture of the temple, learn about the religious architectural imprints of the Khmer people, then enjoy the peaceful, quiet scenery and especially take many pictures. Another unique photo.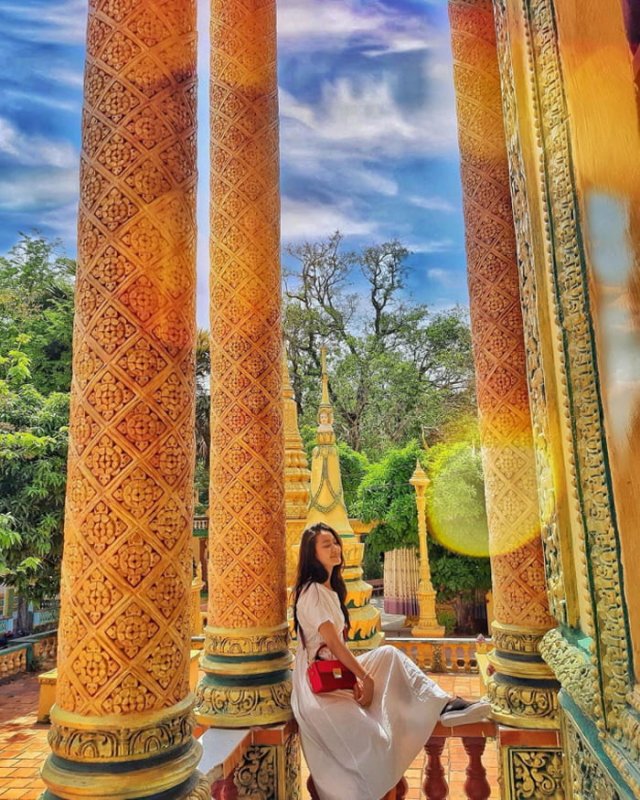 Quality background to take pictures to check in. Photo: @_quynhlism
Because CocPagoda is not only the oldest and most famous Khmer temple in Tinh Bien but also possesses an architecture bearing the appearance of ancient Khmer culture, evoking a harmonious but sophisticated beauty that is elaborately designed. To visit the temple, choose the corners with meticulously decorated patterns and motifs with vibrant and eye-catching colors such as goddess reliefs, nine-headed snakes or detailed carved Buddhist images to create Make a good background to take pictures to check in. You will get many good and impressive photos just like in the "golden pagoda land" or in Thailand or Laos somewhere.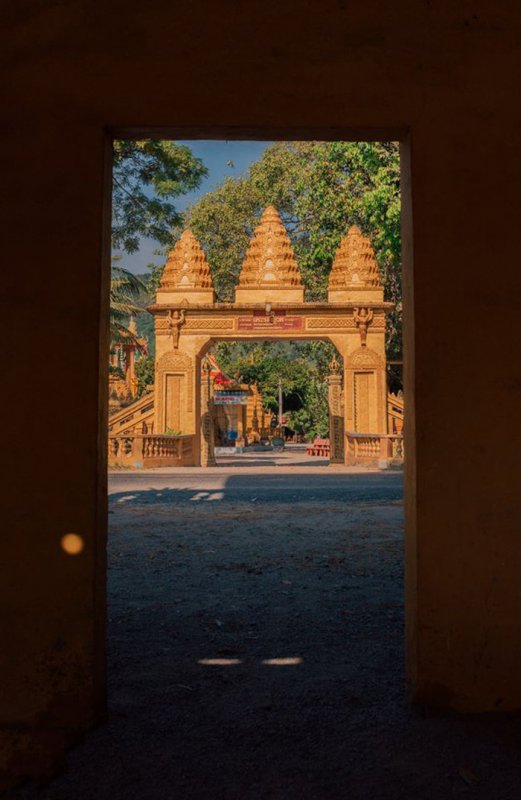 The gate to Coc pagoda. Photo: Luong Viet Cuong
Especially for those who are interested and passionate about learning about Indian culture, the legends of the snake god and Angkor culture, the CocPagoda is the most appropriate destination in the land of An An An jaggery tree. Jiang. Don't miss the Khmer-style ancient temple in An Giang with picturesque scenery to create your own beautiful photos here.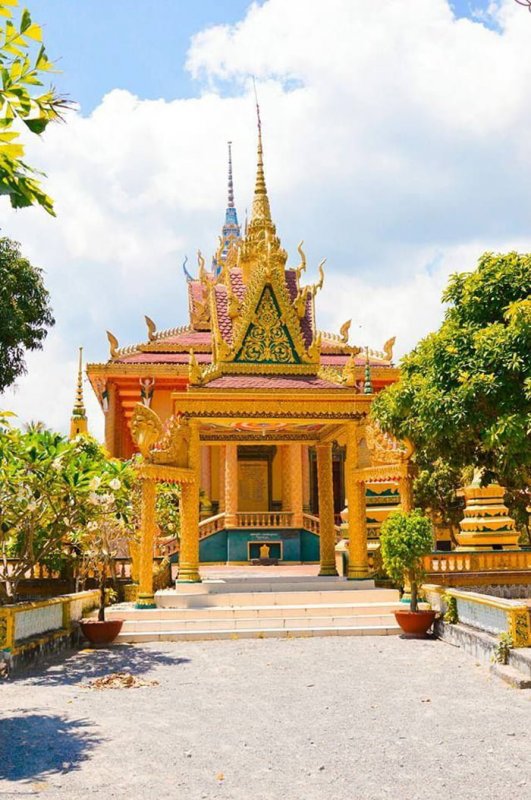 The spiers and golden tones are typical of Khmer architecture. Photo: Facebook Wandering An Giang
Notes when visiting An Giang pile pagoda
The CocPagoda in particular and the ancient temples in An Giang, in general, are all spiritual and pure destinations, so when you come here, please pay attention to the following:
– Visitors need to dress discreetly, politely, long-sleeved clothes, not revealing clothes when entering the main hall.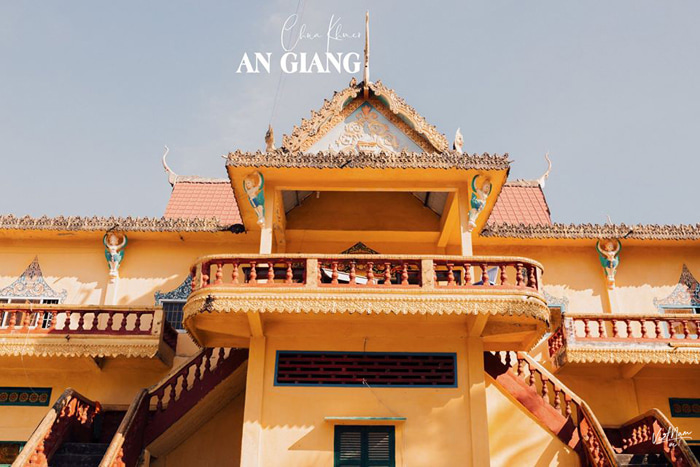 A Khmer temple with Indian Buddhist architecture. Photo: Luong Viet Cuong.
– You can take souvenir photos or check in in the temple but remember to pay attention to the regulations or places where photography is prohibited.
– Walk lightly, speak quietly and do not make noise at the Buddha's door to keep the dignified and pure atmosphere for the ancient pagoda.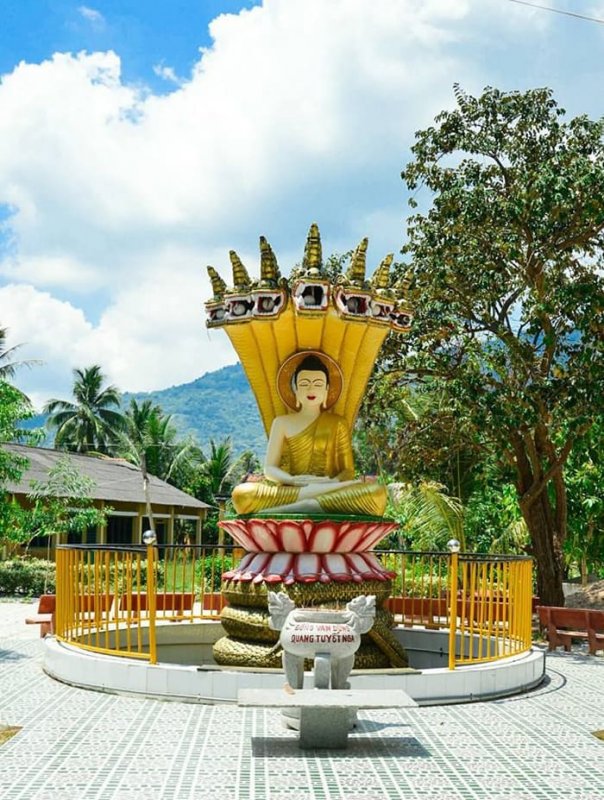 A corner of Coc pagoda campus. Photo: nem-vn
It can be said that An Giang is both a land possessing beautiful natural scenery with the Bay Nui region, O Thum lake, beautiful Ta Pa lake, and countless unique and famous religious works nationwide such as Ba Chua Xu Temple. Sam mountain , Van Linh pagoda, Maitreya Buddha temple, Cam mountain. And An Giang CocPagoda, although a name that is still unknown to many people, has an unforgettable impression on those who have visited even once. So, if you have the opportunity to travel to An Giang , remember this brilliant yellow-covered architecture to admire and discover a unique Khmer indigenous culture.
Photo: Internet
TAG: