Ngoc Hien Ca Mau Bird Sanctuary – an attractive destination for tourists when coming to Dat Mui
Visiting Ngoc Hien Ca Mau bird sanctuary, visitors can learn the unique features of the ecosystem and many rare bird species. If you have the opportunity to travel to Ca Mau, please save the following useful information when exploring Ngoc Hien bird sanctuary.
Where is Ngoc Hien Bird Sanctuary in Ca Mau?
Ngoc Hien Bird Sanctuary, located in Ngoc Hien district, Ca Mau province, is currently one of the largest bird farms in our country. This famous bird park has a total area of ​​130ha, where many rare bird breeds are preserved and developed. Visiting Ngoc Hien Ca Mau bird sanctuary, visitors can also learn about the green vegetation and the interlaced river system.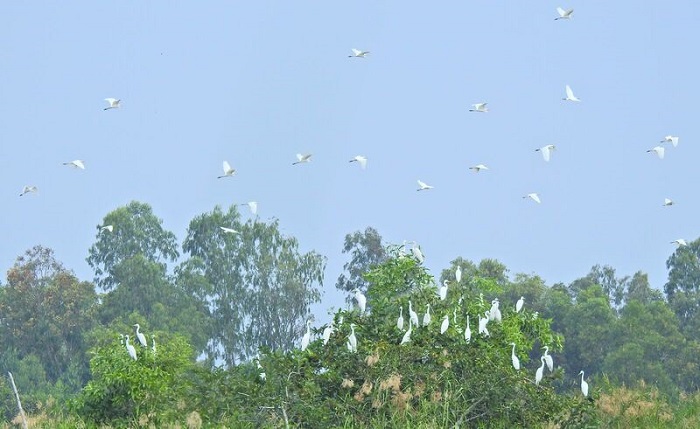 Ngoc Hien Bird Sanctuary is a favorite destination in Ca Mau
You can go to Ngoc Hien eco-tourism area at any time of the year. However, to see the flocks of red-crowned cranes performing, you should go from April to May. At this time, there are many flocks of red-crowned cranes moving to Ngoc Hien bird sanctuary to find seeds and food. . In particular, you will witness the dancing wings and call mates of the red-headed squirrel. 
In addition, you can go to Ngoc Hien Ca Mau bird garden in the floating season from August to November. At that time, the whole bird garden is submerged in water and you will be transported by boat on small canals to visit. deep inside the forest.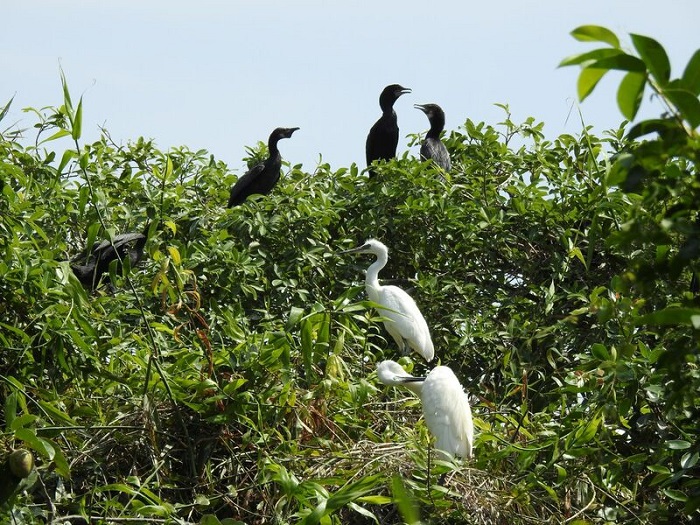 You can go to Ngoc Hien bird garden at any time

How to get to Ngoc Hien Ca Mau bird sanctuary
Experience going to Ngoc Hien Ca Mau bird sanctuary said that this bird garden is about 80km from the center of Ca Mau city. Therefore, to visit Ngoc Hien bird sanctuary, the first thing you need to do is move to the center of Ca Mau by various means of transport. 
For those who live nearby, you can go by bus or motorbike to Ca Mau. Then, follow the direction of National Highway 1A or Nam Can – Dat Mui for about 2 hours to reach Ngoc Hien bird sanctuary. As for those who are far away like the Northern region, it is best to take a plane to Ca Mau airport and take a taxi or bus to this bird sanctuary to visit.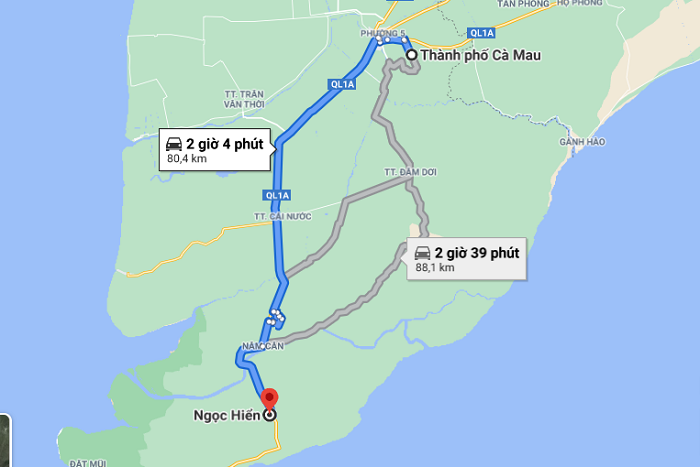 How to get to Ngoc Hien Ca Mau bird sanctuary

What does Ngoc Hien Ca Mau bird sanctuary have? 
What's interesting about Ngoc Hien Ca Mau Bird Sanctuary? You will explore the diverse ecological garden, immerse yourself in the beautiful natural scenery here, watch the sunset and learn about the diversity of precious birds. 

Learn about the diversity of birds
Ngoc Hien Ecological Area possesses a diverse ecosystem, with the Bay Hap River and interlaced rivers creating beautiful natural scenery. That is also the reason why Ngoc Hien bird garden has become a shelter that many birds love and fly to live in. Currently, this is the bird garden with the largest number of amphibians, reptiles and mammals in the Mekong Delta.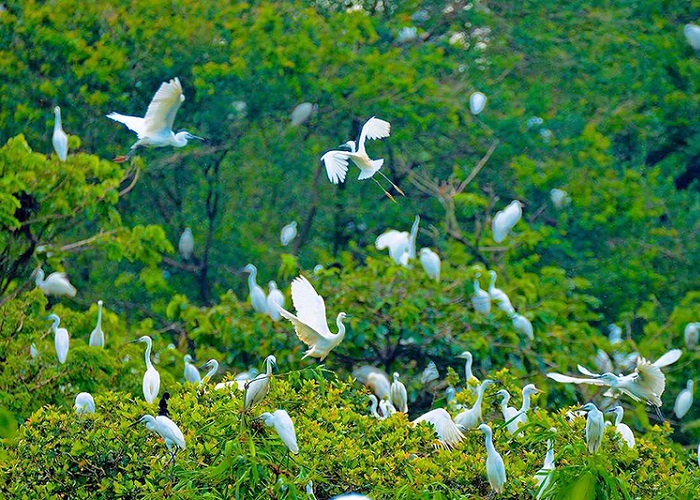 Ngoc Hien Bird Park is home to a variety of precious birds
The best time to visit Ngoc Hien bird sanctuary is early in the morning. Therefore, you should arrange a time to go early from the center of Ca Mau to get to the bird garden early in the morning and catch the whole picture of each flock of birds looking for food. When dusk falls, flocks of birds call each other to return to their nests after a day of foraging.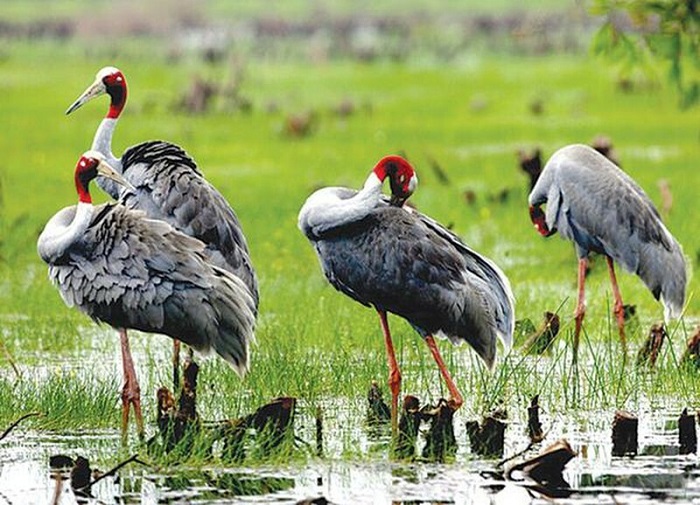 A flock of red-crowned cranes comes to Ngoc Hien bird garden to breed
The image of white storks flying around calling each other under the bright red sunset highlights a corner of the sky. What could be more wonderful when in the midst of that vast green forest, the image of flocks of birds flying creates a charming painting. That will help each visitor when visiting to relax their soul and dispel all the fatigue of daily life.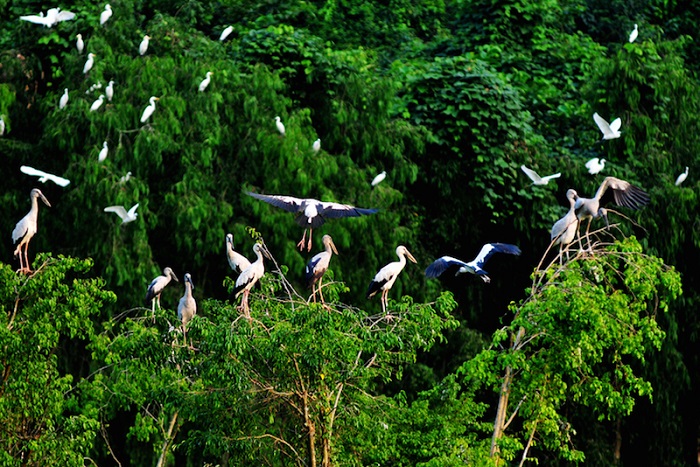 Home to many natural birds
The rainy season is the time when the birds at Ngoc Hien Ca Mau bird sanctuary begin to breed, sometimes up to 10,000 individuals. In which, the most popular are titmouse, white stork, stork, gray heron, madden, Giang lotus to amphibians and reptiles. Ca Mau tourism industry invests a large amount of money for Ngoc Hien bird garden on bait and trees for the purpose of retaining resident birds. Currently, the number of birds in Ngoc Hien garden is growing and becoming an ecological area that needs to be preserved.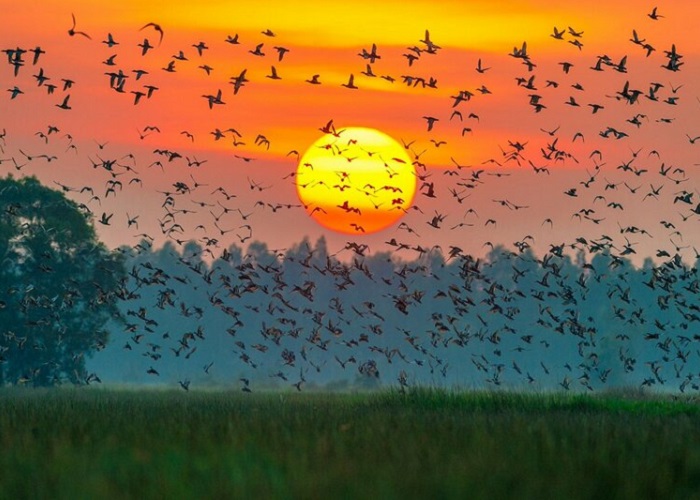 Watch the beautiful sunset at Ngoc Hien bird garden

Destination for those who love nature
Ngoc Hien Bird Garden is also an attractive destination for those who love fresh nature. The vegetation at Ngoc Hien eco-zone is unique with green-covered forests for each flock of birds. Along with that is the image of mangroves rising up high in the clear blue water. All create a picture that is both wild and peaceful. If visiting the bird garden in the rainy season, visitors will be able to move on wooden boats to admire the rich nature here and flocks of birds flying.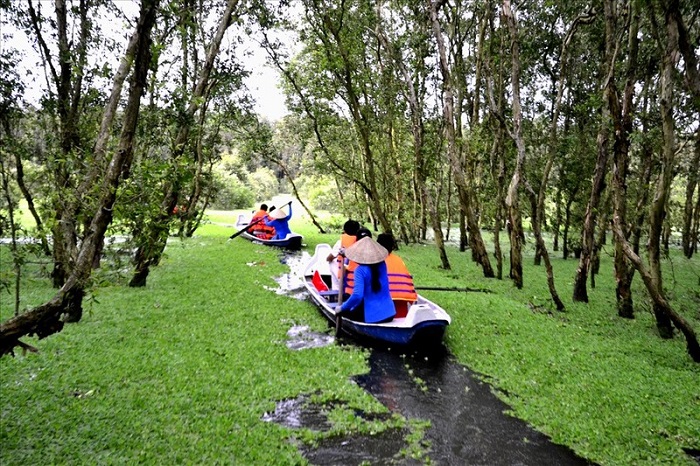 Combining exploration of diverse natural scenes
Visiting Ngoc Hien Ca Mau bird sanctuary, visitors can combine visiting famous eco-tourism sites in Ca Mau such as: 
– U Minh Ha forest: This is one of the largest biosphere reserves in Ca Mau with a diverse ecosystem of wetlands. Coming to U Minh Ha forest , visitors will learn about typical plant species such as vines and melaleuca. Along with many rich animals such as: wild boar, cheetah, monkey, python, deer, monkey, field fish… Visiting U Minh Ha, visitors can also enjoy the scenery from the observatory, take a boat to see the mangrove forest. , fishing, get wild honey and enjoy many delicious specialties.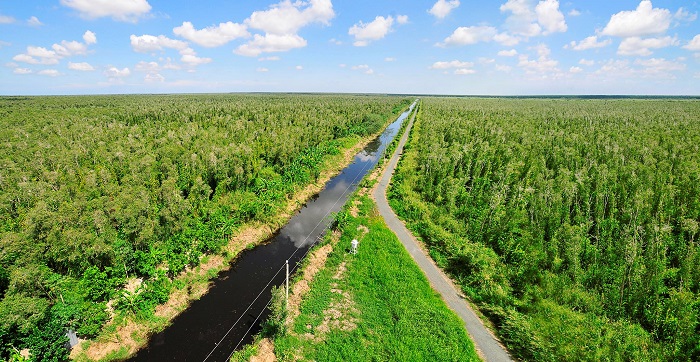 Visit the famous U Minh Ha forest
– Dat Mui Ca Mau tourist area: A famous destination that any tourist wants to visit once. Visiting Dat Mui tourist area, visitors will experience many interesting things such as: Visiting Ca Mau cultural and tourism park, admiring the sunrise, going through mangroves, listening to folk music. and experience the life of the people of Dat Mui.
– Hon Khoai Island: Attracts visitors with abundant primeval forests, rocky islands, and hills. Visiting Hon Khoai island, visitors will discover the natural beauty with rare species of flora and fauna. Visit the hundred-year-old lighthouse and enjoy many super delicious specialties.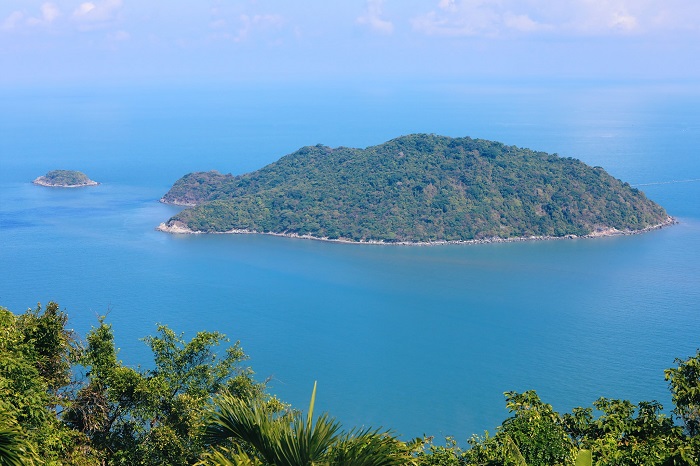 Visiting Hon Khoai Island with a diverse ecosystem

Visiting Ngoc Hien Ca Mau bird sanctuary, visitors will enjoy relaxing moments when immersing themselves in the natural scenery here. Hopefully, the information shared above will help you have memorable memories when visiting this famous bird garden in Dat Mui. Do not forget to "pocket" for yourself extremely useful Ca Mau travel experiences . 
Photo: Internet
TAG: