7 most beautiful streets in Hanoi in autumn
The most beautiful Hanoi in me is when October knocks on the door, the weather is not cold enough, but only shivers slightly when walking through the streets where leaves are falling in the wind. I wasn't born in Hanoi, nor did I live too long there, only a few years at university and short working periods and short holidays I go there but I can tell you that, this season Autumn in Hanoi is very beautiful, and there will be no other place as beautiful. You just need to go through a few streets like Kim Ma, Hoang Dieu, or Phan Dinh Phung… drop your soul in the gentle breeze of autumn and feel its sweet taste. It is a strange thing that everyone clearly feels their emotions. A very light sadness, as if regretting something, comes naturally just like that, but it is also tender and longing enough. Sad, but pleasant, that is very characteristic of the streets in Hanoi when it comes to autumn. Not like anywhere else. If you have never been to Hanoi in autumn, go there now and feel the autumn atmosphere starting to come.
Dinh Tien Hoang Street
Dinh Tien Hoang is a street that is not long but has a very beautiful location, located in the middle of the capital, close to the shore of Sword Lake. This street witnessed many changes in the capital and the country. Dinh Tien Hoang Street is also proud of many things that have become beautiful memories of Hanoians. Dinh Tien Hoang Street, which is ancient with its age, suddenly becomes romantic and poetic many times when it is autumn in Hanoi.
Dinh Tien Hoang Street is one of the most beautiful streets in Hanoi in autumn. Located next to Sword Lake – a romantic lakeside, on the street there are Hoa Phong tower, the remains of Bao An pagoda and a Hanoi post office with a historic clock tower. On holidays, Tet, the street is where people gather to watch fireworks and welcome New Year's Eve… And now, on weekends, you will be free to walk on the street. that city, watching the lake ripple and blowing into your body the scent of autumn has come. Dinh Tien Hoang Street now becomes part of the pedestrian street every weekend. People walk, stroll, participate in collective activities such as playing games, dancing, dancing, singing bustling on this street.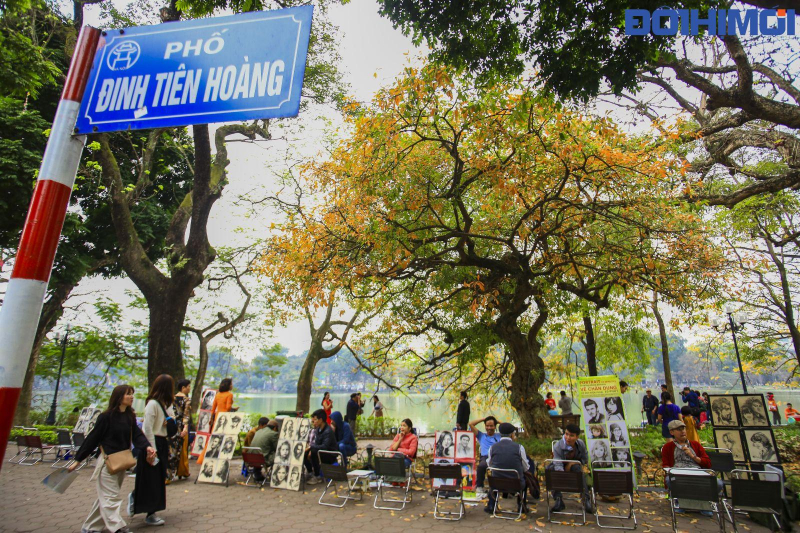 Dinh Tien Hoang Street
Hoang Dieu Street
Hoang Dieu Street is probably one of the streets planted with the most mother-of-pearl in Hanoi and also one of the few streets in the inner city with 3 rows of trees. The road runs along the western edge of the ancient Thang Long citadel and therefore has many special features. Hoang Dieu Street is spacious and always cool by two rows of shady trees, but it is also the mark of Hoang Dieu Street, not only the quiet Thang Long Imperial Citadel, the towering Doan Mon Gate, and the villas built. French architecture. And the most special thing, the thing that holds many people back, makes many hearts flutter is the house 30 Hoang Dieu – the residence of General Vo Nguyen Giap's family, where he lived and forever lived in the hearts of each person. we. Hoang Dieu is gentle and beautiful to the heart.
Hoang Dieu is a beautiful street at any time of the year, but perhaps the most beautiful is in the autumn. Autumn came to the whole Hoang Dieu street, turning from green to yellow. And the yellow leaves falling in the wind settle on the road, creating a beautiful and romantic scene. Hoang Dieu Street in autumn is a place that attracts many friends who have a love for nature to come to capture the beautiful moments of this street.
Hoang Dieu Street
Phan Dinh Phung Street
Phan Dinh Phung Street is beautiful in every season. Phan Dinh Phung Street is famous for its two rows of crocodile trees on a shady sidewalk. Walking on this road, you will see rows of green, tall, straight, perennial crocodiles. Phan Dinh Phung Street is One of the most romantic streets in Hanoi suddenly becomes more special every autumn.
In spring and summer, you will be able to see the white color of alligator flowers falling by the roadside and the young green crocodiles on the trees fluttering in the wind. In autumn and winter, the road is paved with fallen leaves, extremely romantic. Every autumn, Phan Dinh Phung creates a poetic scene that makes everyone fall in love. You will not be surprised when around this time, there are many couples going there to take photos, wedding photos or everyday photos. Anyone wants to capture the best moments on this street, so a lot of photo sets have been born with the background here. All very wonderful.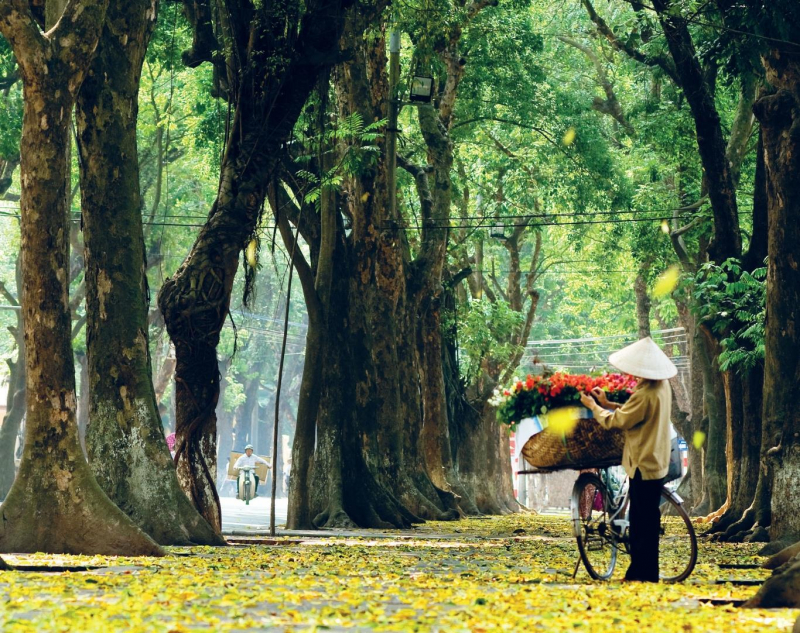 Phan Dinh Phung Street
Golden Horse Street
Kim Ma is a big street of Hanoi, a busy place for wholesalers, people passing by day and night. In the hustle and bustle of urban streets, not only famous as one of the doorways leading into the city, Kim Ma Street still retains the romantic and poetic beauty that few streets of Hanoi have. The special road becomes more romantic and attractive every autumn.
For young people in Hanoi, this road is not strange, especially those who love taking pictures. Just like the streets of Hoang Dieu, Dinh Tien Hoang or Phan Dinh Phung, many couples choose this road to capture important moments in life. This is a quite beautiful road with rows of old trees growing evenly on both sides and in the middle of the road, the corridors with red bricks are all bright, so romantic when you walk on it. But according to many people, this road is most emotional, especially in winter when the trees in the season of yellow leaves fall, all the trees are bare, leaving only the bare branches to create a beautiful landscape. The sad scene is very unique for the neighborhood. And that is also the highlight of Kim Ma .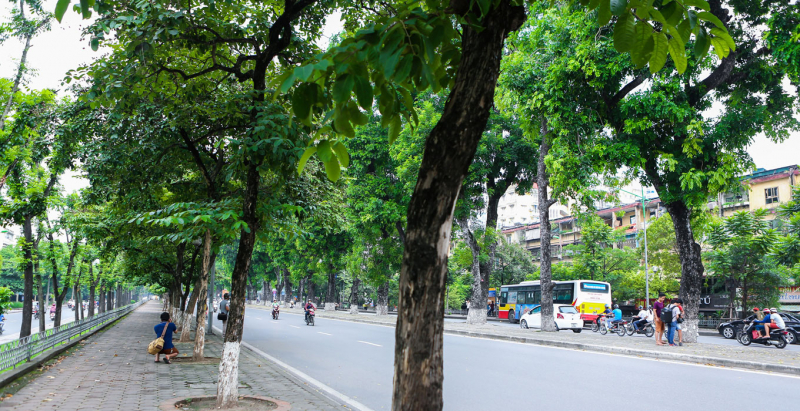 Golden Horse Street
The Youth
Thanh Nien Street is famous for the name "The most romantic road in the capital in the heart of Hanoi". Because there is rarely a road with such poetic beauty, Thanh Nien is located between West Lake and Truc Bach Lake. with rows of phoenixes and green bamboo trees, giving this place a very special romance.
Unlike Hoang Dieu and Phan Dinh Phung, which are steeped in history, there is a dreamy beauty here, Thanh Nien Street has long become a rendezvous for couples who like to sit and talk and watch the sunset on the windy lakeside. . With your lover or friends and sometimes just walking here alone in the cool autumn weather, you will surely let your soul fly and light. Therefore, Thanh Nien Street is the most romantic street in Ha Thanh and is called "love road" by many people. Seen from above, Thanh Nien Street looks like a bridge covered with trees. Not only that, Thanh Nien is also famous for West Lake shrimp cake… Come and feel it!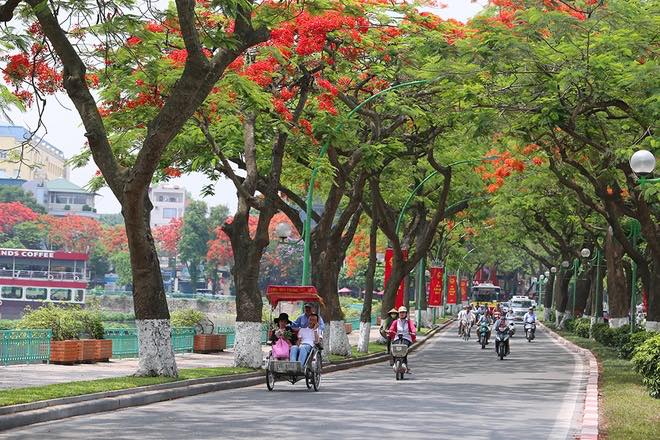 The Youth
Trinh Cong Son Street
Unlike other old streets that I mentioned above, Trinh Cong Son street is attractive by its quiet, deserted and poetic space. In the past, people often called this road the Korean or Japanese love road because many couples come here. But it has the specific name of a musician who often composes deeply lyrical songs. In fact, I have seen not only happy, newly in love couples holding hands and watching the sunset fade away, but also ordinary people who are probably tired of the hustle and bustle of life or tired of the crowds. prosperous place.
They come here to park their cars, sit quietly and listen to the gentle sound of the waves crashing from the lake, dropping their eyes on the distant horizon that when in the street, they cannot find a space for themselves. All of them find it hard to refuse a road with quiet corners, although it is small and humble, it embraces the vast West Lake next to it. There is nothing more wonderful than relaxing here after the hustle and bustle of life.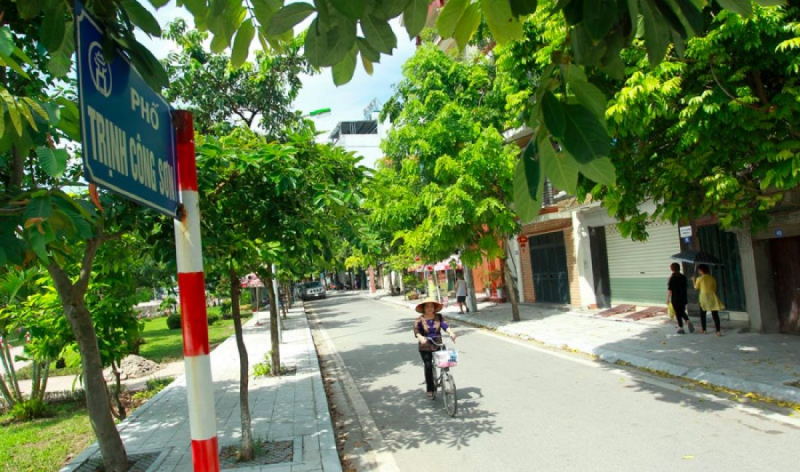 Trinh Cong Son Street
Ceramic road along the Red River
The ceramic road along the Red River was started construction in 2008 with a length of nearly 4 km. This is a large picture consisting of 21 sequences running from An Duong border gate to Van Kiep border gate with the theme: honoring the artistic heritage of ancestors through the language of motifs and patterns according to the historical flow. history from Dong Son through Ly, Tran, Le, Nguyen; reproduce typical and typical patterns on brocade; ceramic paintings by Vietnamese and international children with the theme of Hanoi – a city for peace; Contemporary paintings by Vietnamese and international artists… to celebrate the 1000th anniversary of Thang Long – Hanoi and have been awarded the certificate of "The largest ceramic mosaic in the world" by Guinness.
This masterpiece of ceramic mosaics was created with the quintessence of traditional pottery villages such as Bat Trang, Phu Lang, Chu Dau, Binh Duong, Vinh Long, Bau Truc… A very beautiful route in Ha Noi. Hanoi, especially when it's autumn in Hanoi.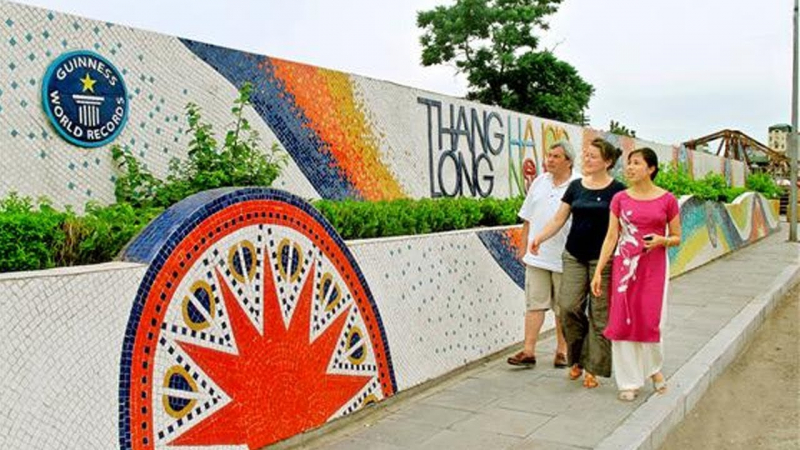 Ceramic road along the Red River
Hanoi has always been famous for its beautiful and ancient streets and corners. In particular, the beauty here changes with each season and space. That is why at different times and moments, people see Hanoi as beautiful in different angles. The beauty of autumn, there is something sad but beautiful in poetry.
TAG: