New tourist destination in Moc Chau – Chieng Khoa waterfall
The waterfall flows from above and then blends into the jade green lake below, dotted with the majestic mountain scenery, creating a stunning scene for those who come to Chieng waterfall. Faculty of Moc Chau. 
Locating Chieng Khoa Waterfall in Moc Chau 
Chieng Khoa Waterfall Moc Chau  (7-storey waterfall or May waterfall) is a famous waterfall located in Chieng Khoa commune, Van Tro district, Son La province. This place is about 24km east of the center in Moc Chau district.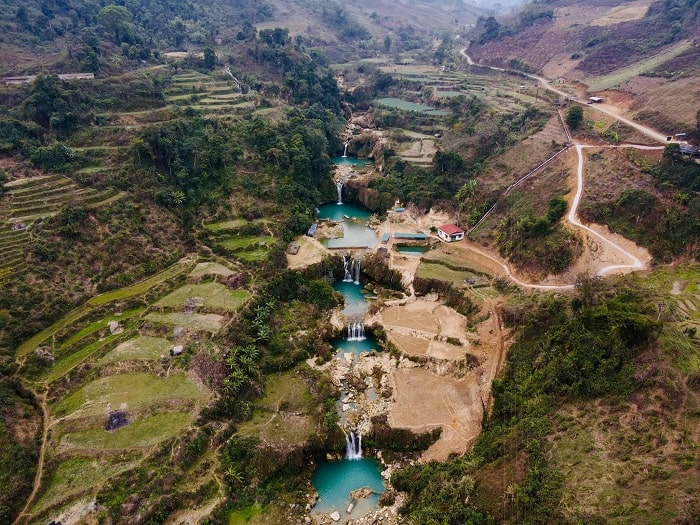 Chieng Khoa Waterfall seen from above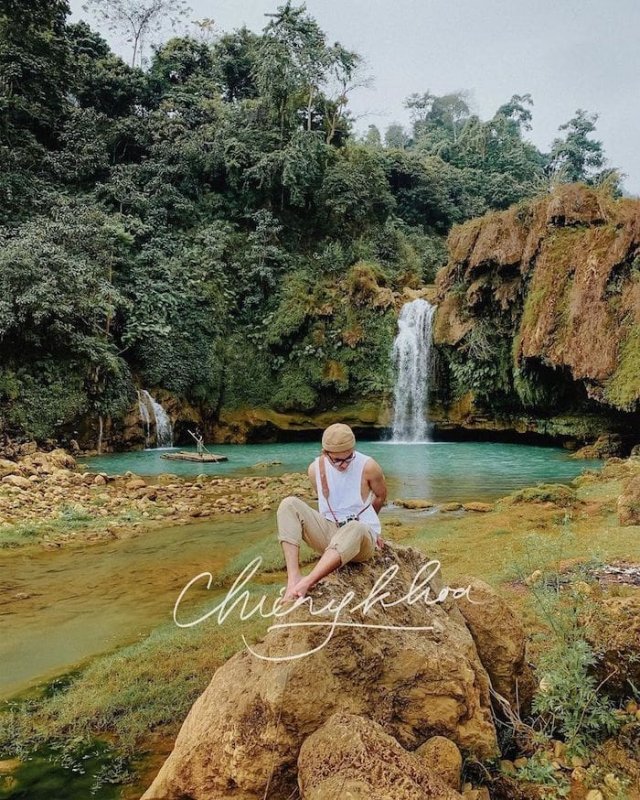 (Photo: Cuongkhi)
How to move to Chieng Khoa waterfall?  
Chieng Khoa Waterfall is about 15-25km from the center of Moc Chau Farm town depending on the starting point. To get here, you run along Highway 43, towards Van Yen ferry wharf. Continue to ask the locals for directions or search google maps to locate the destination. Going about 10km further, you will see a sign of Van Yen ferry station 36km. At this time, turn to To Mua street, go about 3km to the center of Chieng Khoa commune. Move to the central junction, turn right and go about 1km to see the waterfall. On the way to Chieng Khoa Moc Chau waterfall , visitors will be able to conquer beautiful bends, just enough stimulation, not too difficult to go.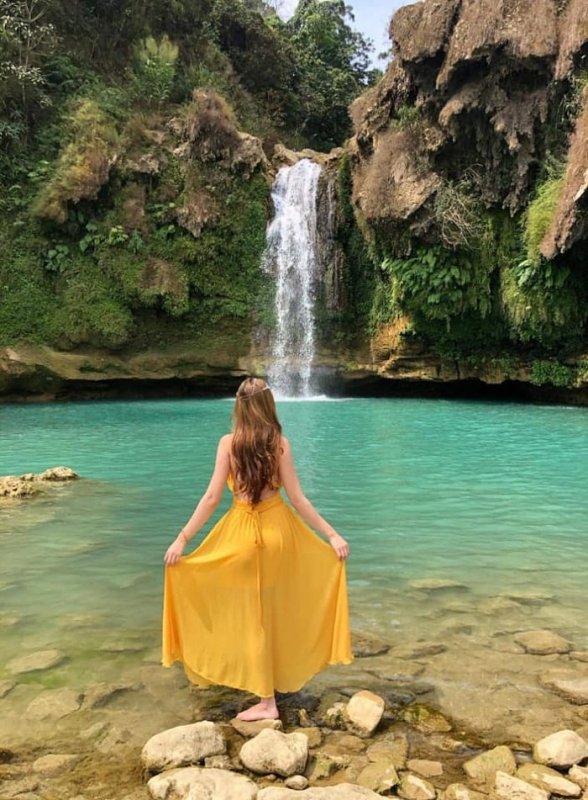 The way to the waterfall is not too difficult
The best time to explore Chieng Khoa waterfall
According to Moc Chau travel experience , every season coming to Chieng Khoa waterfall is ideal because the waterfall is hidden in the middle of a large primeval forest. The vegetation here is almost intact, so when coming, visitors will easily be conquered by the wild and idyllic beauty of this place.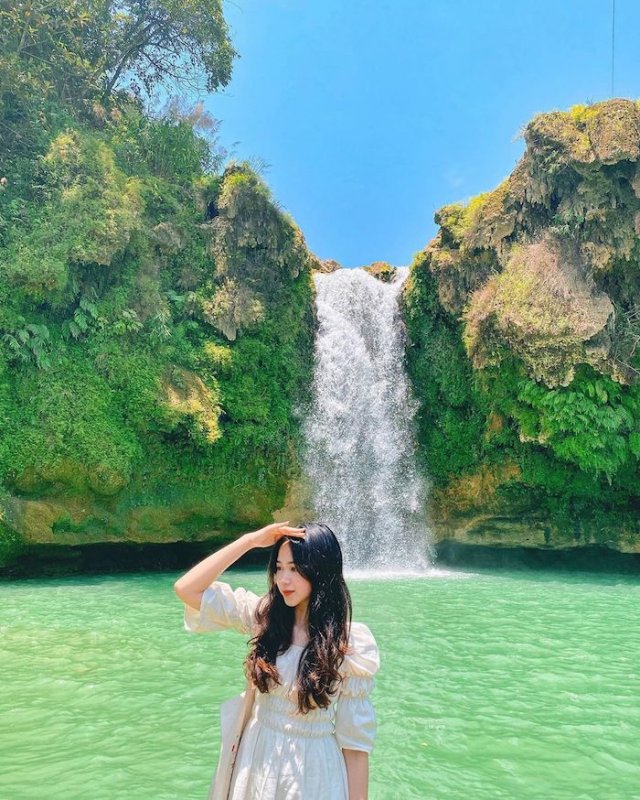 (Photo: Thuy Tien)
However, the best season to go to Chieng Khoa waterfall is from March to May. At that time, the water of the waterfall has a beautiful jade green color that blends with the green of the surrounding vegetation creating a picture. very cool picture. This is also a great time to check in, live virtual.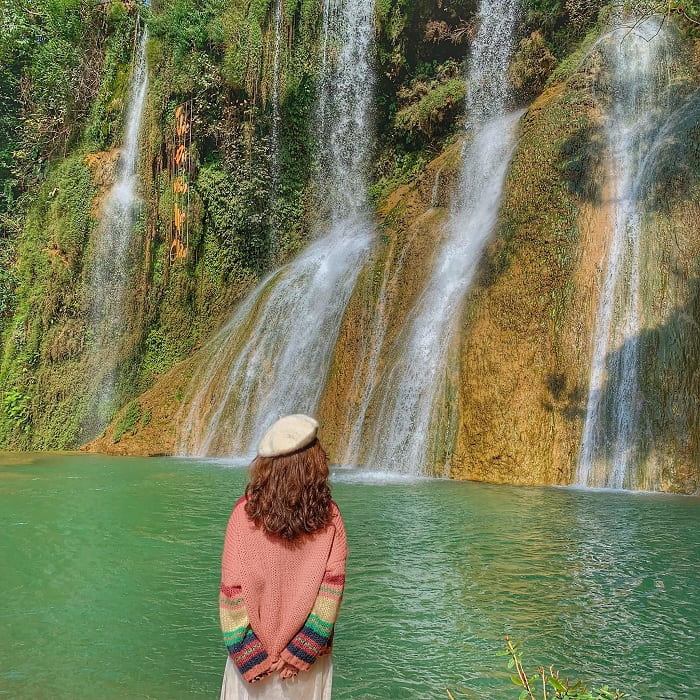 March – May is the best time to visit the falls of the year 
Fairy-like beauty at Chieng Khoa Moc Chau waterfall 
The 7-storey waterfall has not been exploited for tourism much, so the scenery is still quite wild. Under the clear blue sky, white clouds drifted by, cascades of waterfalls poured out white foam, erasing the whole space. With such enchanting beauty, Chieng Khoa is like a fairy world in Moc Chau, both majestic, poetic and full of romance.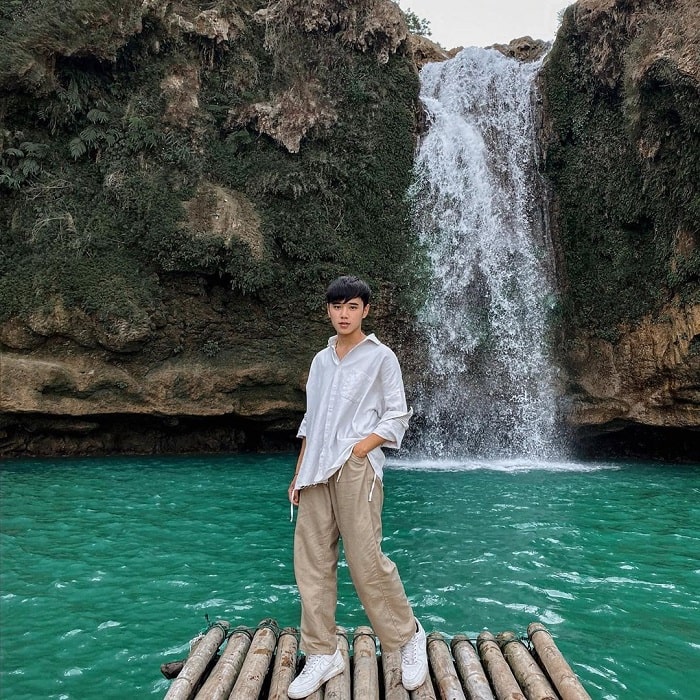 Chieng Khoa Waterfall possesses poetic beauty 
The rolling waterfalls flow in waves that make many eyes fall in love and admire that beauty. Combined with the sound of pouring water, it adds to the impression on tourists.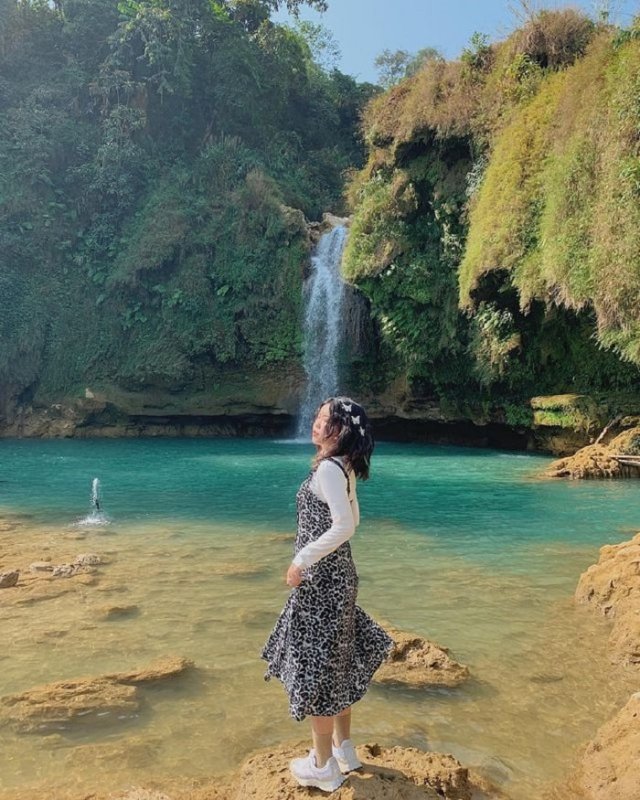 (Photo: maianh.ng99)
Chieng Khoa Moc Chau Waterfall has a total of 7 floors, each floor is 7-10m high. At the foot of each cascade, there is a reservoir, as a place for tourists to swim. Contrasting with the pure white color of the waterfall is the jade green color of the lake water at the foot of the waterfall. With a natural landscape that has not been explored by many people, many people call this place a beautiful name "Tuyet Tinh Coc" in Moc Chau.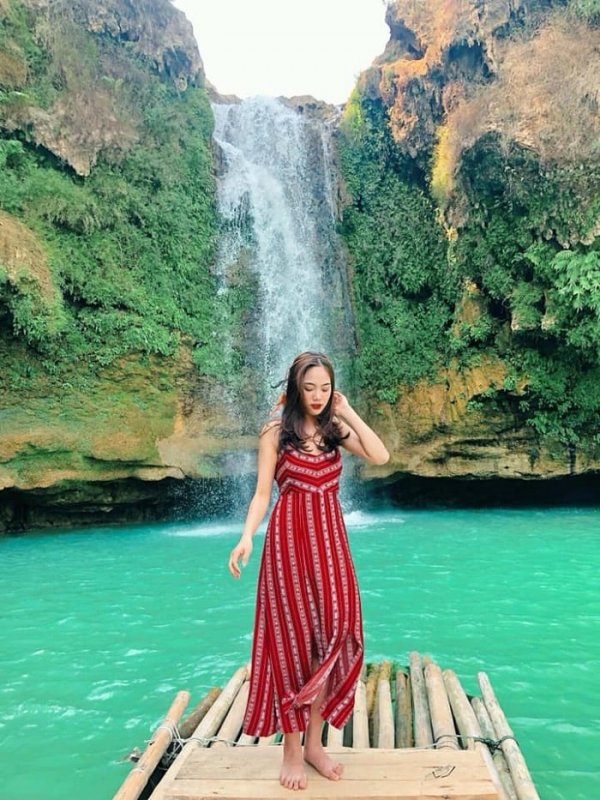 The color of the water under the lake is as clear as jade 
Interesting experience at Chieng Khoa waterfall 
Swimming is an interesting experience that visitors can feel at Chieng Khoa waterfall. Coming here, you can take a dip in the clear blue lake right at the foot of the waterfall to remove fatigue and sadness.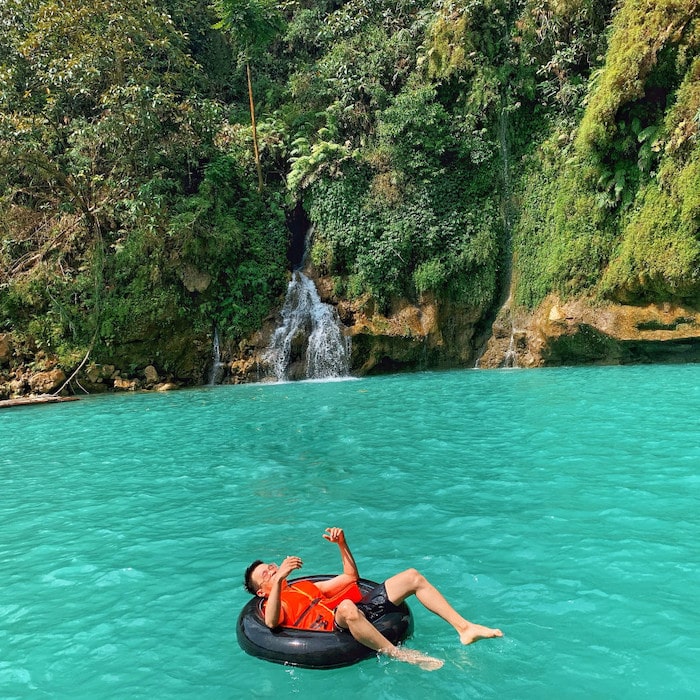 Swimming in the clear blue water
Not only swimming, but camping is also an activity that is popular with tourists. You can bring food to organize parties right next to this wonderful waterfall.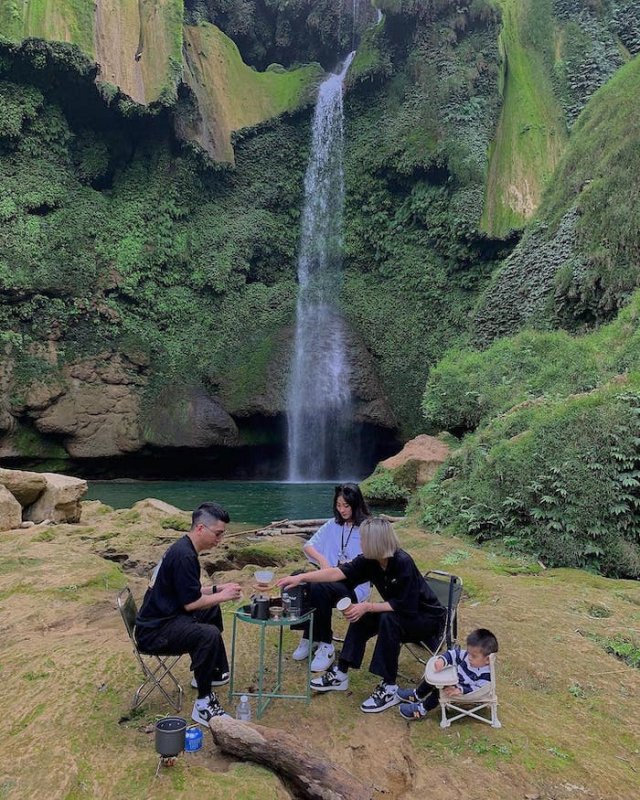 (Photo: Phuong Nguyen)
Ticket price to visit Moc Chau 7-storey waterfall 
The cost of visiting Chieng Khoa Moc Chau waterfall is quite reasonable, you can refer to it to prepare in advance: 
Entrance ticket: 10k/person. 
Parking ticket: 10k/person. 
Tickets to rent a tent to set up a camp, rest, eat: 50k/person. 
Raft rental ticket: 20k/person. 
Note: The above fees are collected by local people, so the price is negotiable.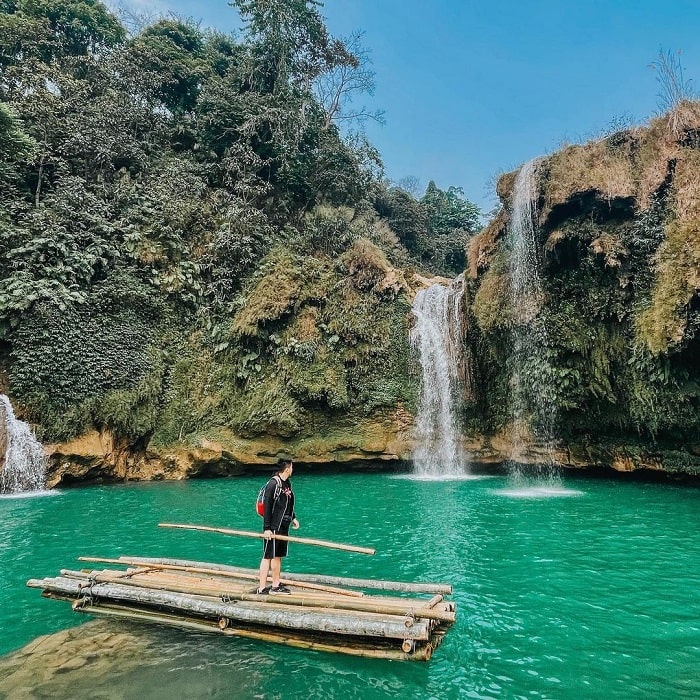 (Photo: nguyen.vu_travel)
Notes when coming to Chieng Khoa Moc Chau waterfall 
– When coming to Chieng Khoa Moc Chau waterfall , the safety of yourself and those around will be given top priority. You need to pay attention when swimming under the waterfall because it is different here than in the pool when there are whirlpools, reefs or fast currents. These are unpredictable dangers. 
– After coming to the waterfall, take a short rest first to relax your body, dry your sweat, and then jump down to the waterfall!
– Because it is a wild waterfall, please pay attention to the general hygiene to protect the natural beauty here. 
– Visitors are allowed to hold BBQ parties, set up tents in the open space around the waterfall, but note that this area is not suitable for staying overnight because of security issues. If you want to stay, ask to sleep in the nearby villages. This is also an opportunity for tourists to exchange culture and enjoy art with the people here.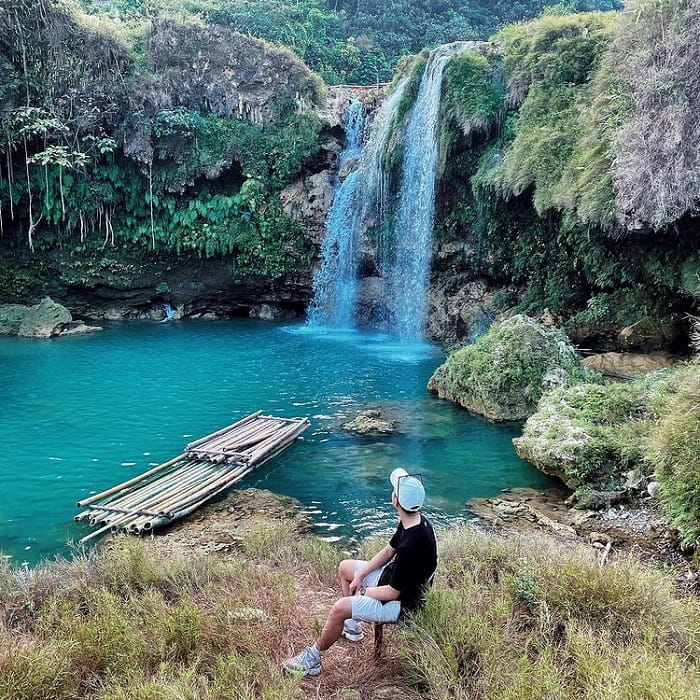 (Photo: huynguyen.yolo)
With its poetic beauty and charm, Chieng Khoa Moc Chau waterfall has captivated many tourists. If you have the opportunity to travel to Moc Chau, do not forget to come and admire the wonderful scenery here!
Photo: Internet
TAG: