12 addresses with the best hamburgers in Hanoi
Hamburger is probably not a strange phrase for young people anymore when this European-style cake is becoming more and more popular and popular in Vietnam. Let's take a look at some of the best hamburger addresses in Hanoi with Vinlove.
The chain of KFC stores in Hanoi
KFC is an acronym for Kentucky Fried Chicken, one of the brands of Yum Brands Inc (USA). KFC specializes in fried and grilled chicken products, with side dishes and hamburgers made with fresh chicken. Currently, there are more than 20,000 KFC restaurants in 109 countries and territories worldwide. The father of KFC – Mr. Harland Sanders made a miracle at the age of 60 with the establishment and development of this fried chicken brand.
KFC specializes in fried and grilled chicken products, with side dishes and sandwiches made with fresh chicken. With the slogan "Taste in each finger", KFC's fried chicken products are a combination of regular fried dough with 10 herbs and spices that have made almost all diners flutter.
Not stopping with what has been, KFC always creates new dishes on the menu, especially dishes that are suitable for the characteristics of each country. In December 1997, the first KFC restaurant in Vietnam was opened in Ho Chi Minh City. In June 2006, the brand set foot in Hanoi and received the love of the people of the capital, especially young people and young diners. Unique flavors, friendly service style and warm, cozy atmosphere at restaurants are the three main keys to opening the door to KFC's success in Vietnam as well as in the world. The average price for a meal at KFC for 2 people is about 200,000 – 300,000 VND.
CONTACT INFO:
Address:
B1-21, Basement B1, Vincom Plaza, Bac Tu Liem, 234 Pham Van Dong, Hanoi
Artemis Building, 3 Le Trong Tan, Thanh Xuan, Hanoi
484 Quang Trung, Ha Dong, Hanoi
…
https://kfcvietnam.com.vn/en/nha-hang/2/ha-noi.html
Hotline: 1900 6886
Opening hours: 09:00 – 22:00
Reference price: 39,000 VND – 49,000 VND
Email: lienhe@kfcvietnam.com.vn
Website: https://kfcvietnam.com.vn/vn
Facebook: https://www.facebook.com/KFCVietnam
Instagram: @kfc_vietnam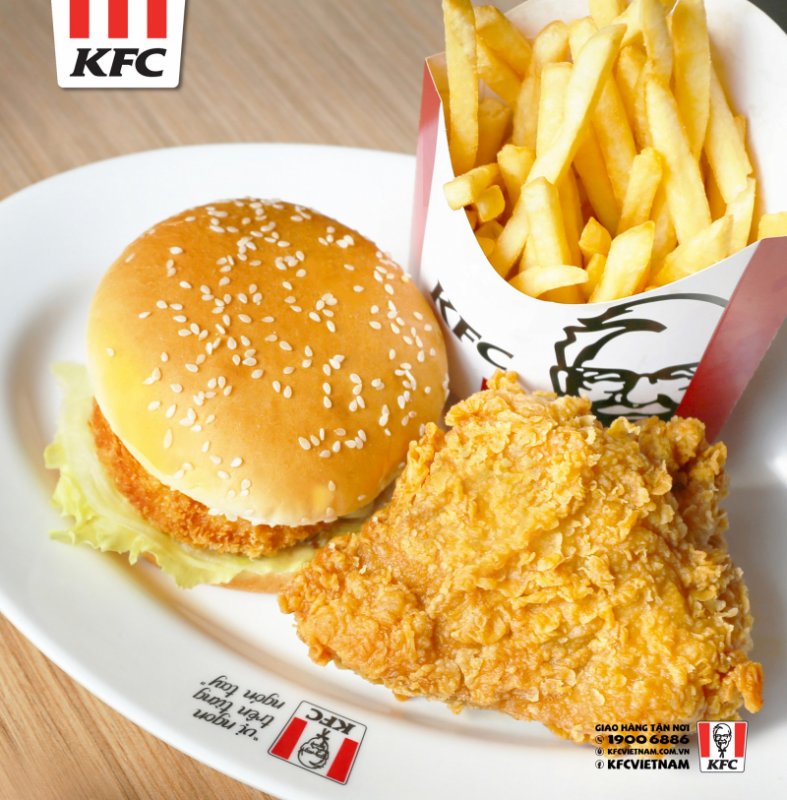 KFC Vietnam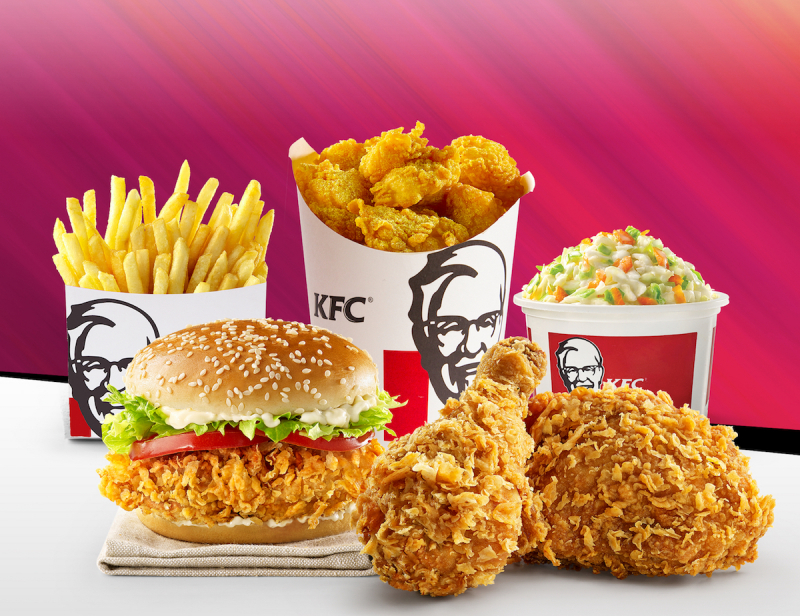 KFC Vietnam
Lotteria's store system in Hanoi
Lotteria is a chain of fast-food restaurants belonging to Lotte Group – one of the five largest corporations in Korea. For 7 consecutive years, it has been ranked No. 1 in terms of "Brand Power", granted by "Korea Management Association" and selected as the No. 1 position in terms of brand competitiveness with the title "Brand Stock" by the rating agency. brand value. Lotteria always enriches its menu with different flavors of fried chicken, french fries, rice dishes, hamburgers, ice cream and drinks. To stimulate demand, Lotteria always has combos with attractive prices such as Family Set or Burger Combo. Lotteria is always proud of products with the taste of love, "irresistibly delicious". Lotteria chain stores are always an attractive check-in point for young people.
During the past time, Lotteria has made constant efforts to provide customers with thoughtful and considerate services and constantly research to develop a culinary culture that is healthy, hygienic and safe. food safety and environmental protection. In Hanoi, Lotteria system "covers" widely. Each time when coming to Lotteria, customers only need to spend an average of 80,000 – 150,000 VND per person to have an unforgettable meal here.
Lotteria 's hamburger is a favorite dish of diners with a variety of fillings such as beef, pork, fish, shrimp… Especially Burger Bulgogi – (Lotteria's best-selling hamburger) with signature Bulgogi sauce from land of kimchi with Bulgogi filling made from premium Australian beef.
CONTACT INFORMATION:
Address:
112 Tran Duy Hung, Cau Giay, Hanoi
1 Truc Mountain, Ba Dinh, Hanoi
298 Cau Giay, Cau Giay, Hanoi
…
http://www.lotteria.vn/
Hotline: 1900 6778
Opening hours: 09:00 – 22:00
Reference price: 31,000 VND – 60,000 VND
Email: marketing@lotteria.vn
Website: http://www.lotteria.vn/
Facebook: https://www .facebook.com/ilovelotteria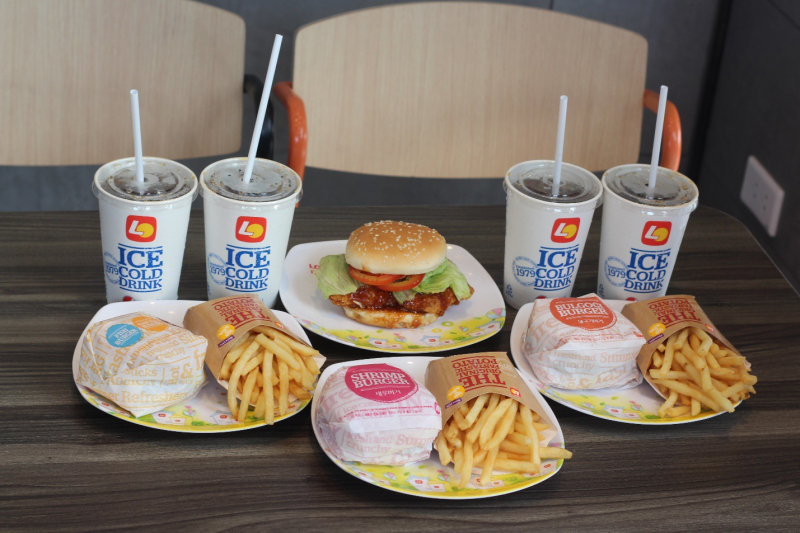 Great combo at Lotteria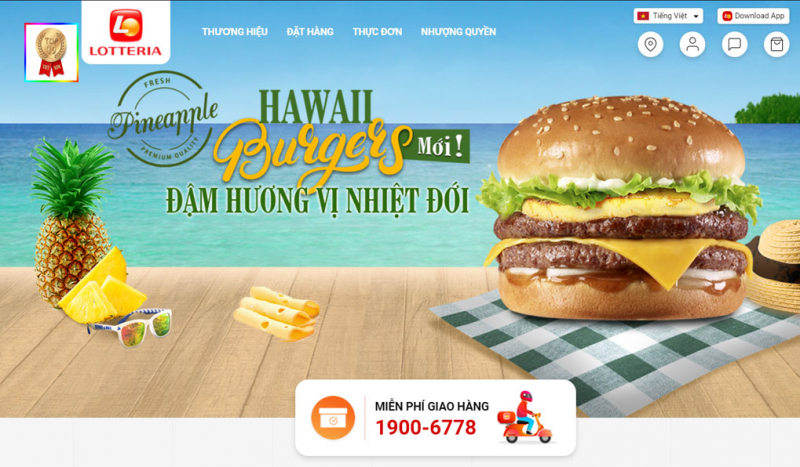 Lotteria Vietnam
Jollibee store system in Hanoi
With more than 70 stores nationwide, Jollibee Vietnam's motto is to bring joy to every Vietnamese family, committed to providing customers with delicious meals at affordable prices, suitable for each taste. region; Providing considerate service in an airy, clean space.
The first Jollibee store in Vietnam was opened in 1996. Up to now, Jollibee's restaurant system in Vietnam has more than 70 stores in many provinces/cities. Similar to KFC or Lotteria, Jollibee's menu is basically fried chicken, hamburgers, pasta, french fries, ice cream, etc. Jollibee always tries to develop menus with better quality but reasonable and reasonable prices. with more customers' pockets. On average, customers need about 100,000 – 200,000 VND for a meal for 2 people at Jollibee.
CONTACT INFO:
Address:
4th floor, Vincom Long Bien, Sai Dong, Long Bien, Hanoi
3rd Floor, Aeon Mall, Co Linh, Long Bien, Hanoi
303 – 305 To Hieu, Cau Giay, Hanoi
…
https://jollibee.com.vn/cua-hang
Hotline: 1900 1533
Opening hours: 09:00 – 22:00
Reference price: 25,000 VND – 50,000 VND
Email: jbvnfeedback@jollibee.com.vn
Website: http://jollibee.com.vn/
Facebook: https://www.facebook.com/JollibeeVietnam
Jollibee Vietnam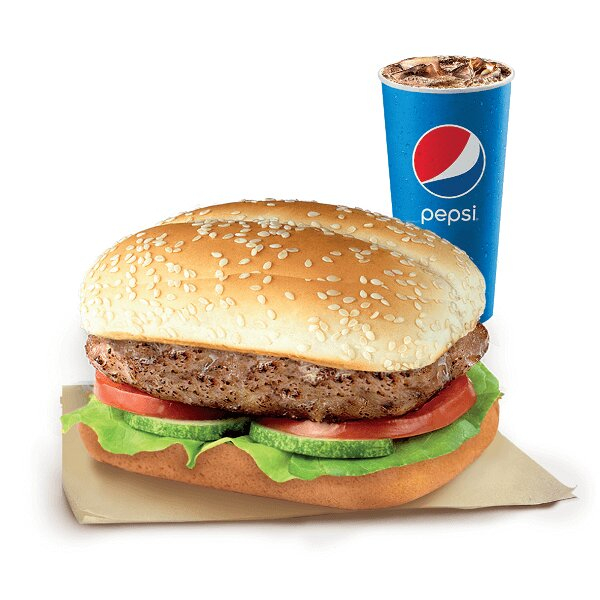 Jollibee Vietnam
Burger King
Founded in 1954, Burger King is now the largest fast-food restaurant chain in the world. Every day, more than 11 million diners come to Burger King restaurants around the world to enjoy high quality food, great taste and affordable price. Wherever it is, Burger King always maintains the spirit of Taste is King, satisfying the palate of the most demanding diners when coming to enjoy at the restaurant.
Burger King 's motto is "family-friendly meals", which is evident in the professionally trained, fast and friendly service staff. Not only that, the space of each store brings comfort with modern interior design, combined with hot dishes and cool drinks. Burger King insists that wherever, at any time, they serve the world's best Whoppers to a wide range of discerning customers. A special point that diners pay attention to is that the restaurant serves drinks in its own style, after paying, diners will go to the pouring counter themselves.
Hamburger at Burger King keeps its freshness, with soft and fragrant buns, thick and rich grilled beef with orange cheddar cheese melted between the cake and the meat layer.
CONTACT INFO:
Address:
C4 Giang Vo, Ba Dinh District, Hanoi – 0246 292 5419
99 Trung Hoa, Cau Giay, Hanoi – 0247 300 2112
3 Xuan Dieu, Tay Ho, Hanoi – 0247 303 8998
Hotline: 1900 6960
Opening hours: 10:00 – 22:00
Reference price: 47,000 VND – 179,000 VND
Website: https://burgerking.vn/
Facebook: https://www.facebook.com/BurgerKingVN.FP/
Instagram: @ burgerking.vn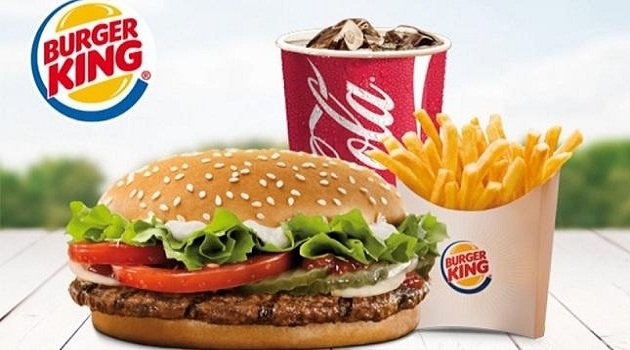 Burger King's Burgers
Burger King's Burgers
Chops – Hops, Wheat & Meat
Do you have a headache because of the rapid weight gain? Are you determined to lose weight after a series of days of wandering and eating Hanoi? Then condolences, you will definitely only have the belt after coming to Chops – Hops, Wheat & Meat .

The burger crust is chewy, soft and very flavorful, accompanied by a tiny bowl of sauce to help you de-stress and stimulate your taste buds. The filling inside contains a layer of deep-fried onions, which is not pungent but very enjoyable to eat. Chops' menu is quite rich and diverse, so in addition to burgers, you can absolutely try countless other delicious dishes such as beef steak, burrito, brownie, milkshake,… Chops

's space although small, but in return the decor is very gentle, bringing a comfortable feeling for guests to enjoy the burger. In particular, the owner and the team of chefs are all foreigners, so the dishes served here are very European. The large number of Western customers coming to the restaurant is a sure affirmation of that wonderful and delicious taste. Compared to the common ground, the price of Chops is at a moderate level and is extremely commensurate with the quality of food and service quality that the restaurant provides to customers.
CONTACT INFO:
Address:
4 Quang An, Tay Ho, Hanoi – 024 62 921 044
22 Ma May, Hoan Kiem, Hanoi – 0246 686 7885
56 Pham Huy Thong, Ba Dinh, Hanoi – 0246 653 5056
Opening hours: 08:00 – 24:00
Reference price: 120,000 VND – 150,000 VND
Email: askus@chopsvietnam.com
Website: https://chops.vn/
Facebook: https://www.facebook.com/Chopsvietnam/
Instagram: @chops_burgers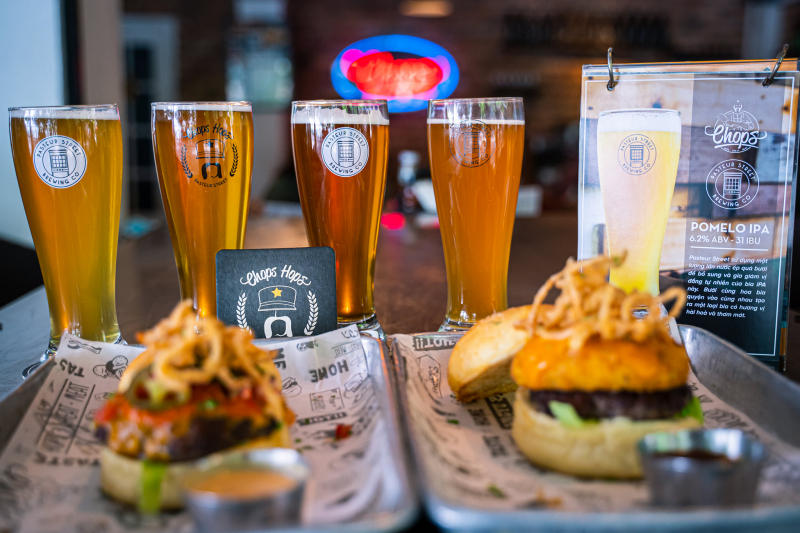 Hamburger and beer – the perfect duo for an empty stomach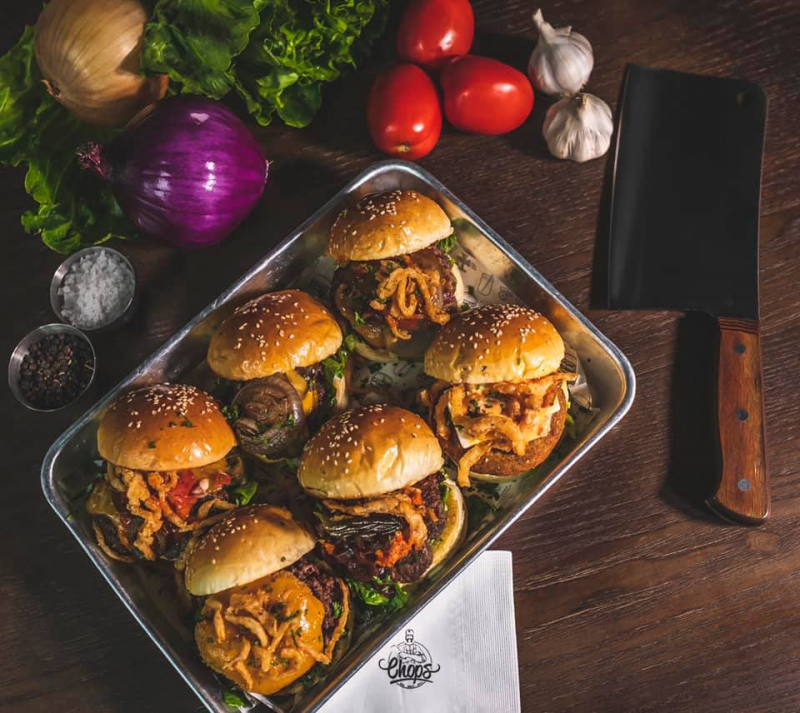 Hamburger tại Chops – Hops, Wheat & Meat
S&L's Diner
[b]S&L's Diner started with a small family business model of Mr. Steven and Ms. Loan Vu. After nearly 5 years of development, the restaurant has quickly become a familiar and favorite address of many families, young people or tourists in Hanoi. Entering S&L's is stepping into a typical American restaurant in Netflix movies, with the dominant red tone, decorated with more neon lights with pictures, license plates, American brick walls.

The menu of the restaurant is designed according to the concept of American family food. There is not only breakfast served all day, but also a variety of appetizers, burgers, sandwiches, desserts… and a bar with a variety of drinks.

Burger is one of the must-try dishes when coming to S&L's Diner. The cake here is quite big, in addition to a layer of minced beef, this burger is also interwoven with smoked meat, lettuce, fried onions, tomatoes, Cheddar cheese and Emmental too. The minced beef here is soft and tender, when biting you will immediately feel the freshness and sweetness of the meat, accompanied by the crispiness of fried onions as well as the greasy taste of cheese.
CONTACT INFO:
Address:
22 Bao Khanh, Hoan Kiem, Hanoi – 0243 710 0529
109 Hoang Cau, Dong Da, Hanoi – 0243 682 4198
Opening hours: 11:00 – 22:00
Reference price: 160,000 VND – 230,000 VND
Website: https://sldiner.com/
Email: info@sldiner.com
Facebook: https://www.facebook.com/sldiner
Instagram: @sldinervn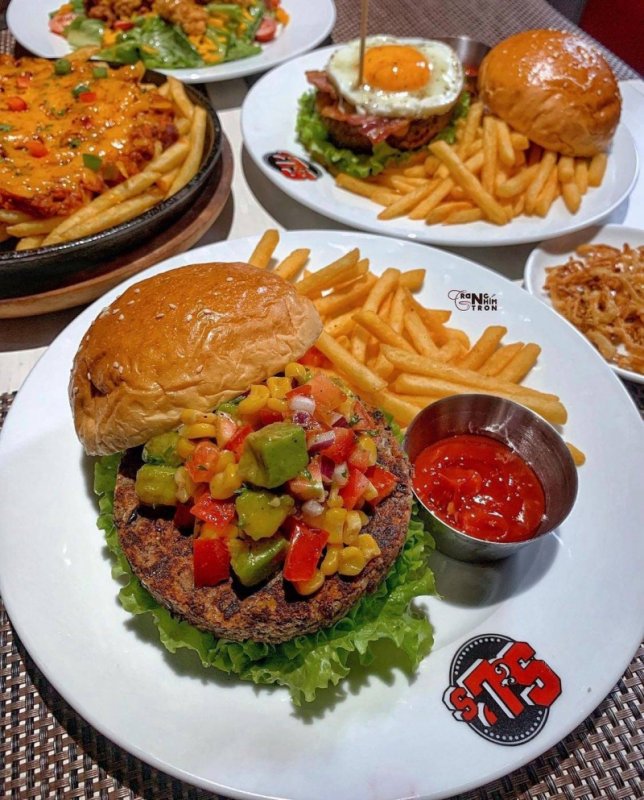 Attractive and colorful burgers from S&L's Diner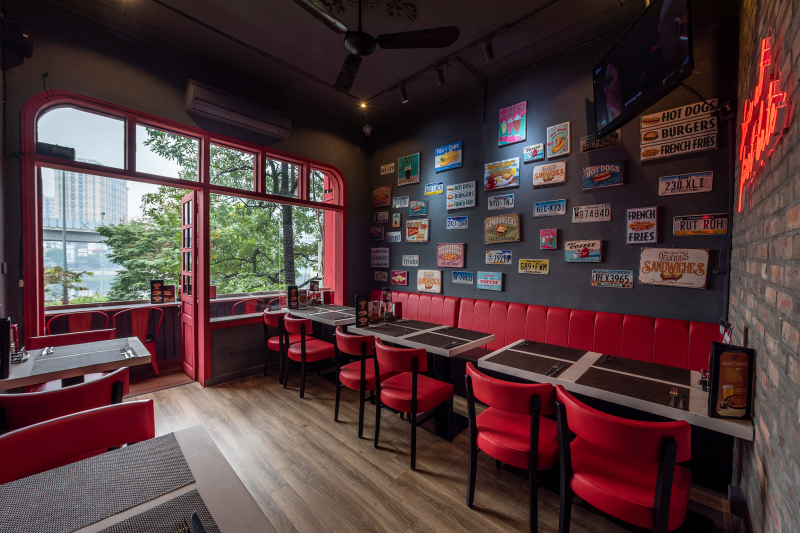 S&L's Diner's American atmosphere
Boogie Burger
If you have the opportunity to pass by the address 18 Au Trieu, recite the mantra "This is a burger shop!" constantly in your head if you don't want to be mesmerized by Boogie Burger 's charming, cafe-like lemongrass look . This is a gathering place for close friends on the weekend, and also an ideal dating place for couples who love romance because the shop has a direct view of Hanoi Cathedral.
Looking at Boogie 's menu, you will definitely be surprised because, besides very Western names like Hawaii, Doumo or Chicken Boom, the shop also has many dishes that sound both strange and familiar, typically Hanoi "Pho", Auntie Plate,… A rather large burger, sandwiched in the middle is five or six layers of high ingredients held in place by a wooden skewer. The most unique part is the succulent, fresh and rich meat, mixed with a little sauce to match the restaurant's own recipe. A meal that makes a healthy eater also have to stretch their stomach, but don't worry because the shop has many combos for close friends or family to share and enjoy many different flavors.
CONTACT INFORMATION:
Address: 18 Au Trieu, Hoan Kiem, Hanoi
Hotline: 094 755 3333
Opening hours: 10:00 – 23:00
Reference price: 150,000 VND – 205,000 VND
Email: boogievietnam18@gmail.com
Facebook : https://www.facebook.com/Boogieburgerr
Instagram: @boogieburgervn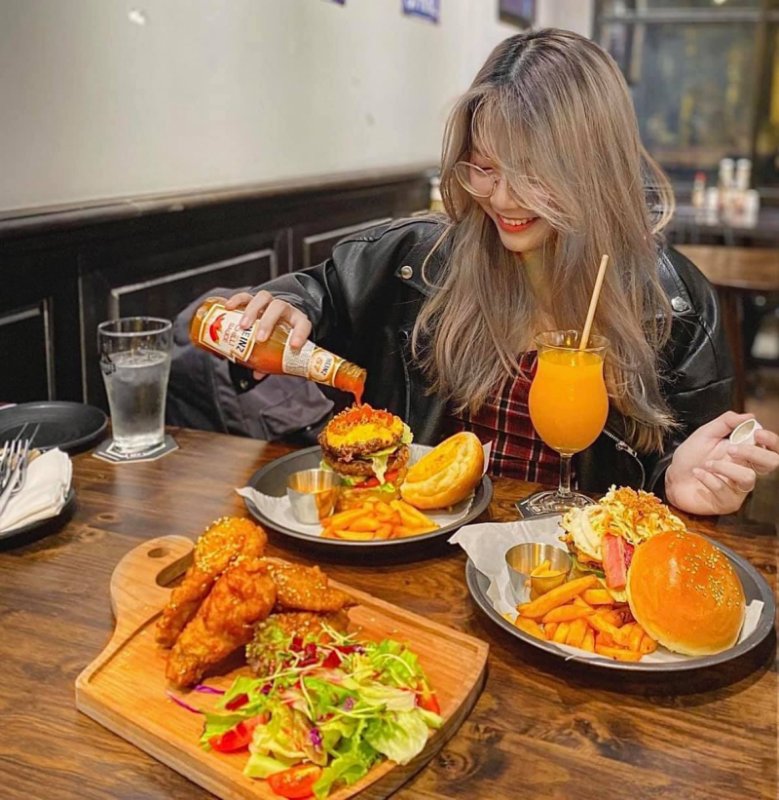 Boogie Burger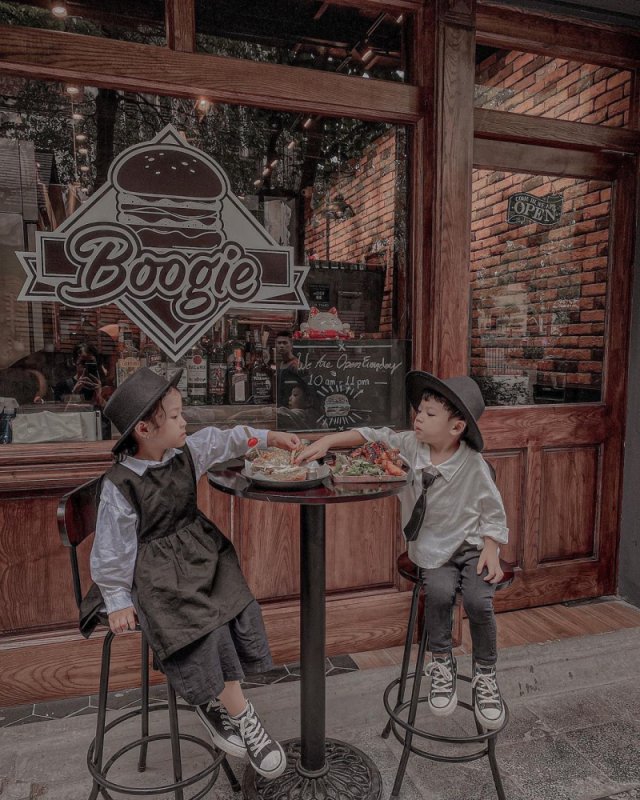 Smooth luxury facade at Boogie
The Moose and Roo Pub & Grill
If you want to enjoy the right hamburger, forget about the familiar places that almost everyone knows like Jollibee, KFC or Lotteria… Coming to The Moose and Roo Pub & Grill , you will surely have a complete feeling. New to this dish from the West.

The shop is located in the heart of Hanoi Old Quarter, where gourmet diners serve authentic delicious burgers with extremely stable quality. The beef part is imported from Australia with the delicious recipe created by the chefs at the restaurant. So, come here to have a delicious meal and experience a completely new culinary space at this familiar address.
CONTACT INFO:
Address: 36 Xuan Dieu, Tay Ho, Hanoi
Hotline: 0243 266 8081
Opening hours: 10:30 – 00:00
Reference price: 165,000 VND – 575,000 VND
Email: info@mooseandroo.com
Facebook: https://www.facebook.com/mooseandroopub/
Instagram: @moosenroopub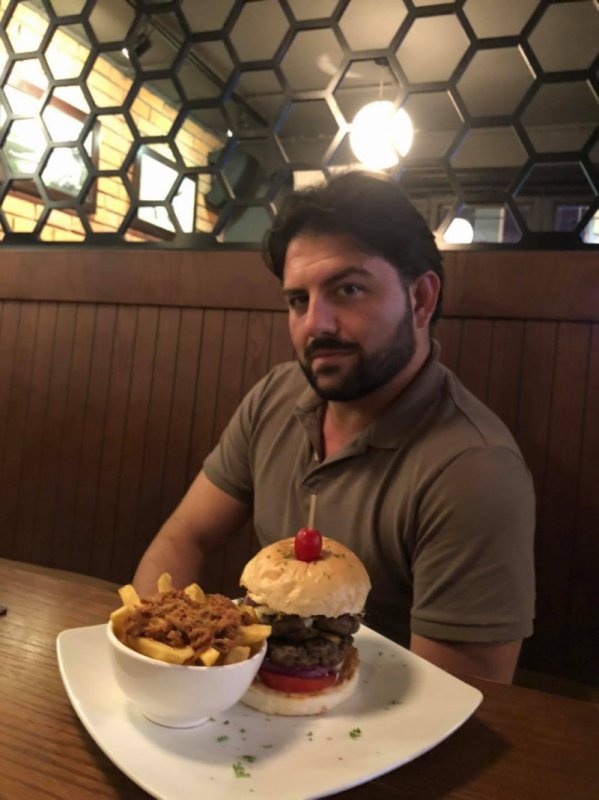 A restaurant customer with a burger and potatoes in casserole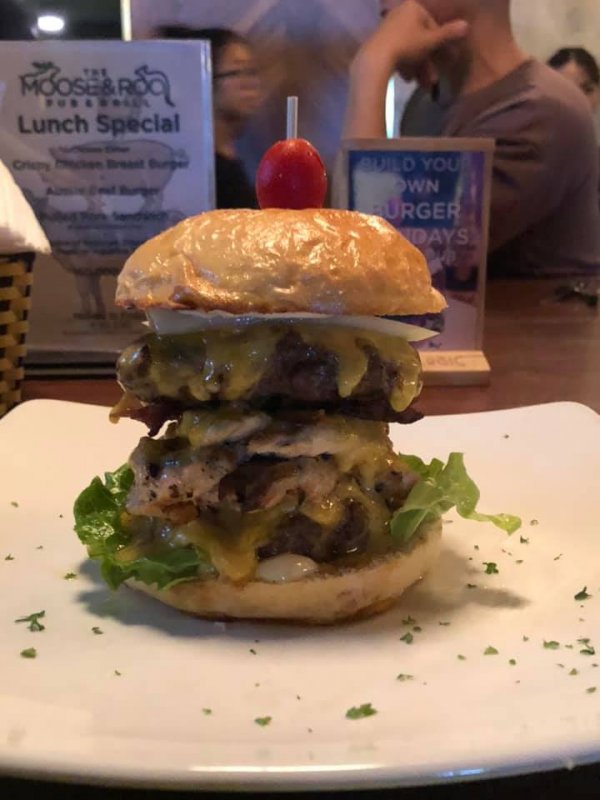 The Moose and Roo Pub & Grill
The Canteen – Food & Drinks
The Canteen is a snack shop located on Dang Van Ngu street – a place that is familiar to generations of Hanoi students, especially students of Kim Lien high school. The menu here is extremely rich, with a full range of dishes from noodles, rice, cakes to fried foods. The price is suitable for students – students, so this is an address that guarantees all three delicious – nutritious – cheap criteria that everyone should try once.
The best-seller at The Canteen is the divine chicken burger, which is extremely addictive for people to eat. The fried chicken is bigger than the crust, delicious, fragrant with lemongrass, crispy and spongy without being dry. The sauce is soaked and soaked inside, in addition, the burger is also sandwiched with a side of vegetables to help relieve boredom.
CONTACT INFO:
Address:
104 – 105 Lane 4C Dang Van Ngu, Dong Da, Hanoi
5 House A12 Lane 215 Tran Quoc Hoan, Cau Giay, Hanoi
Hotline: 037 234 0773 & 0246 293 9792
Opening hours: 06:30 – 21:30
Reference price: 15,000 VND – 20,000 VND
Facebook: https://www.facebook.com/tanpopocanteen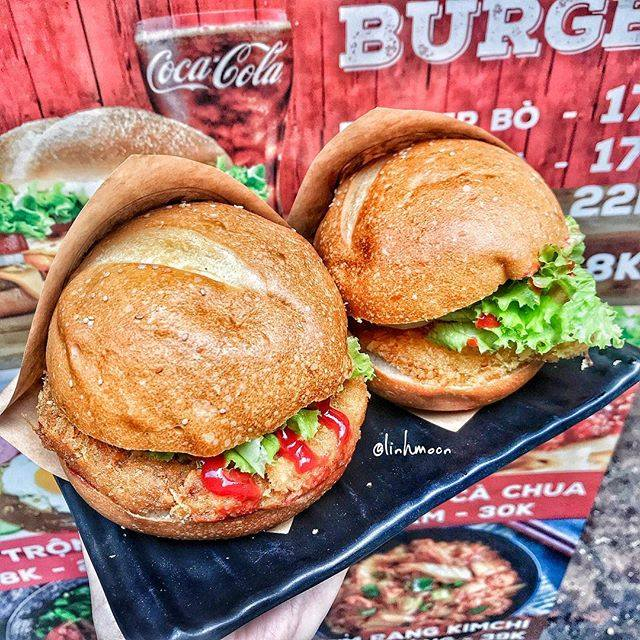 Chicken Burger – The Canteen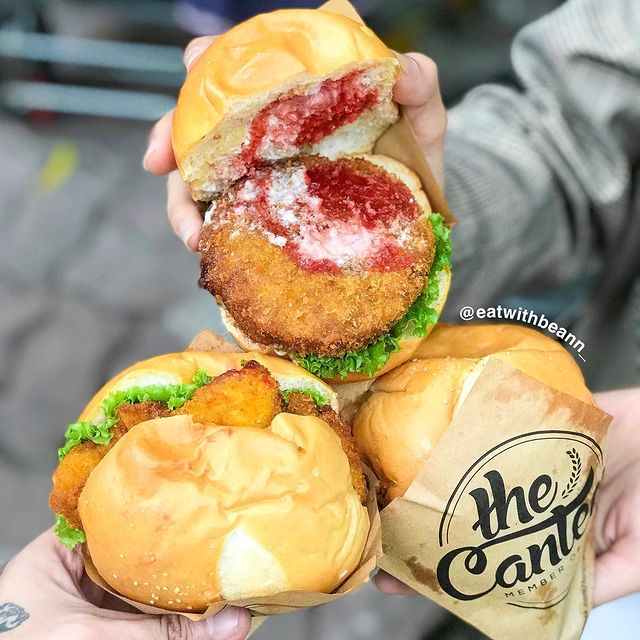 The Canteen – Food & Drinks
SunKat's Burgers
SunKat's Burgers is a place where each guest is free to DIY their own hamburger. From the crust to the filling, the toppings or the accompanying sauce, all are freely chosen by you depending on your preferences. The crust here consists of two types, which are usually yellow, with sesame on top and white for people who are on a diet or vegetarian. The crust is very fragrant, a little sweeter than the usual cake, the white crust is strange but not difficult to eat at all.
The meat section will have 3 types to choose from: beef, chicken and one for vegetarians and vegans. In particular, the beef at SunKat's is extremely high quality, the pieces are quite big, fragrant and soft. The toppings are not too new, but eating with the burger is very reasonable, typically a layer of greasy cheddar cheese, crispy bacon or some fried dishes such as onion rings, eggs, potatoes, …
SunKat's Burgers has a very poetic and lovely view overlooking the West Lake, suitable for a chill weekend afternoon with close friends. The restaurant is also decorated in a close and cozy style, the staff is friendly, enthusiastic and the food is served quickly to each table.
CONTACT INFORMATION:
Address: 172 Yen Phu, Tay Ho, Hanoi
Hotline: 039 921 1559
Opening hours: 11:30 – 23:00
Reference price: VND 100,000 – VND 190,000
Email: sunkatsburgers@gmail.com
Facebook : https://www.facebook.com/SunKatsBurgers
Instagram: @sunkats_burgers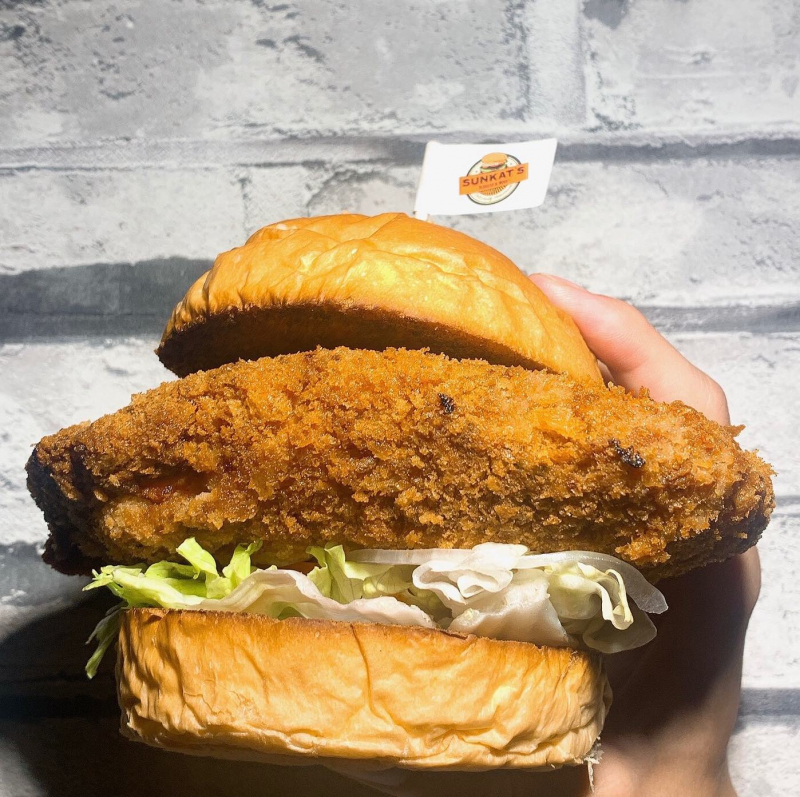 Huge piece of meat at SunKat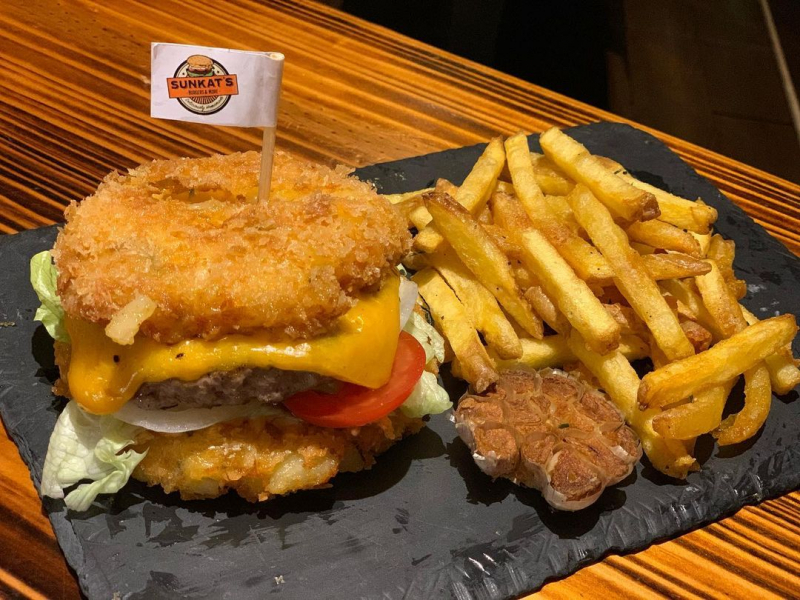 Small beautiful logo flags are placed on each cake
Tracy's Sport Pub And Burger
Located in a small corner next to West Lake, Tracy's Sport Pub And Burger is a completely new experience for those who are passionate about fast food in general and hamburgers in particular. The restaurant does not serve food quickly, in a hurry, but each burger is carefully and meticulously prepared, to ensure freshness as well as preserve the flavor of each ingredient. Diners who come here can sit together to chat, chat, or observe the process of preparing each meal of the restaurant.
Not only unique by the service culture, the food at Tracy really leaves a strong impression on those who come. Because of the serving size for foreigners, the burger here is extremely large, guests often have to cut it in half before enjoying. The beef is fragrant, rich, thick but very soft and just cooked. The salad is mixed with a few slices of salted stomach melon typical in European and American dishes. Add a little bit of hot and sour tabasco chili sauce and you will immediately have a standard Western meal with an explosion in your mouth.
After 12 years, Tracy's Sport Pub And Burger has always been an ideal rendezvous for foreign guests, where they carelessly dance and sing to the music. Visit the shop T racy to enjoy the atmosphere here is one of a nhe!
CONTACT INFO:
Address: 114 Xuan Dieu, Tay Ho, Hanoi
Hotline: 024 6675 9838 & 0912 968 586
Opening hours: 10:00 – 00:00 (Tuesday – Sunday); 10:00 – 22:00 (Mon)
Reference price: 140,000 VND – 185,000 VND
Facebook: https://www.facebook.com/114XuanDieu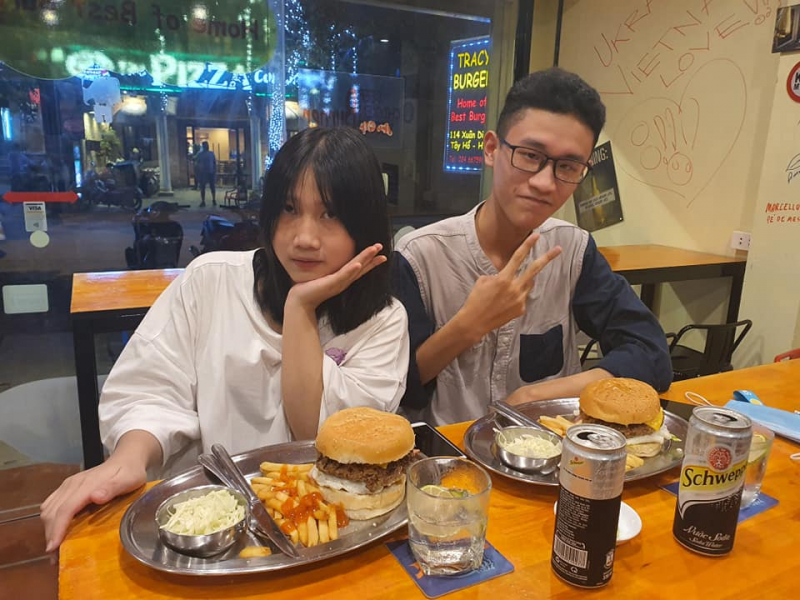 Big plates at Tracy's Sport Pub And Burger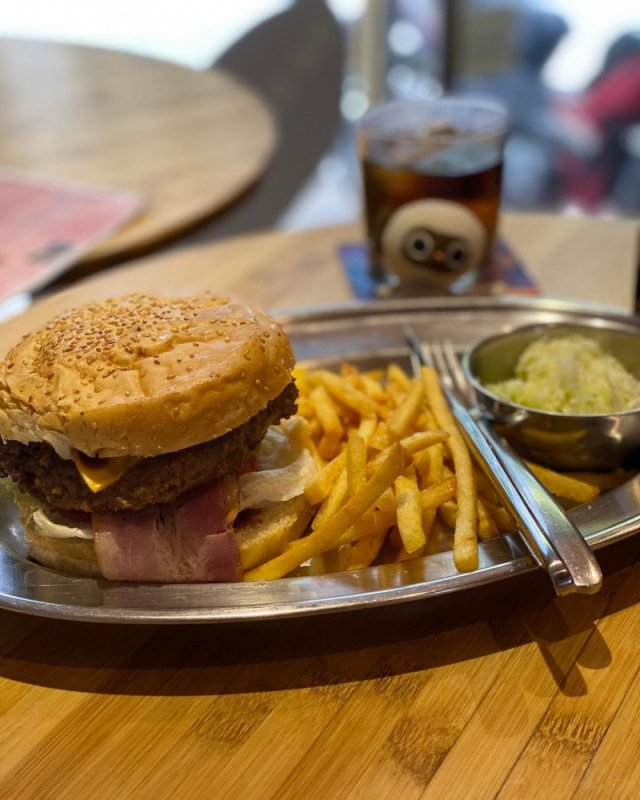 Best seller tại Tracy's Sport Pub And Burger
The Hungry Co.
The Hungry Co. located in Complex 01, so the space is airy and quiet. Moreover, the outdoor sitting area is quite chill, helping you to enjoy the feeling of being one with nature. When coming to the shop for the first time, everyone thinks of famous food courts in Thailand, take a photo and immediately have a tourist photo that is not fake at all.
Here, you will be consulted by enthusiastic staff to choose and mix the ingredients from the filling, the crust to the accompanying sauce. You can choose to eat one of four types of colorful and eye-catching cake shells, making your virtual photos more beautiful such as healthy brown cake, fragrant green sticky rice. In particular, The Hungry Co. There are 7 types of sauces served, of which the most prominent are the sweet and sour mango sauce and the spicy siracha chili sauce.
CONTACT INFORMATION:
Address: 2nd Floor, Complex 01, Lane 31, Lane 167 Tay Son, Dong Da, Hanoi
Hotline: 091 148 6479
Opening hours: 10:30 – 22:00
Reference price: 64,000 VND – VND 79,000
Facebook: https://www.facebook.com/thehungryco
Instagram: @the_hungry_co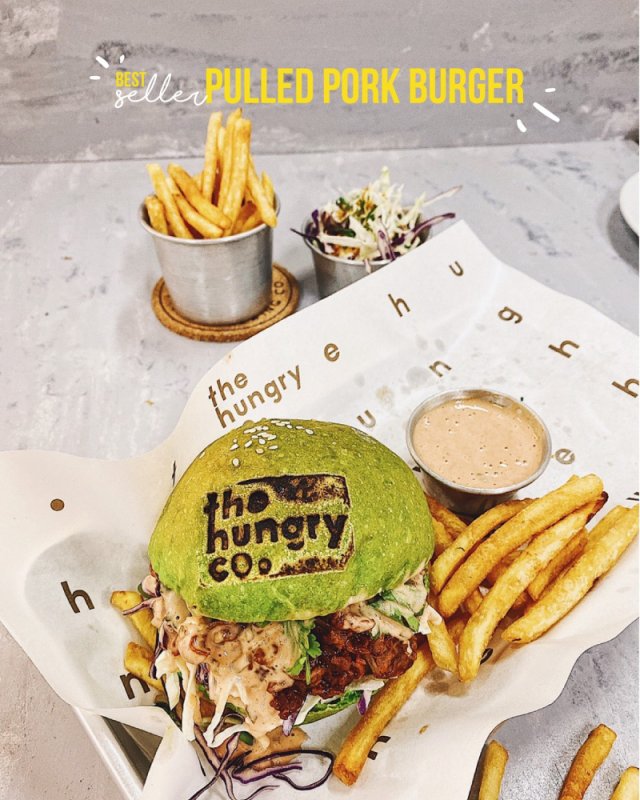 A meal exclusively for virtual believers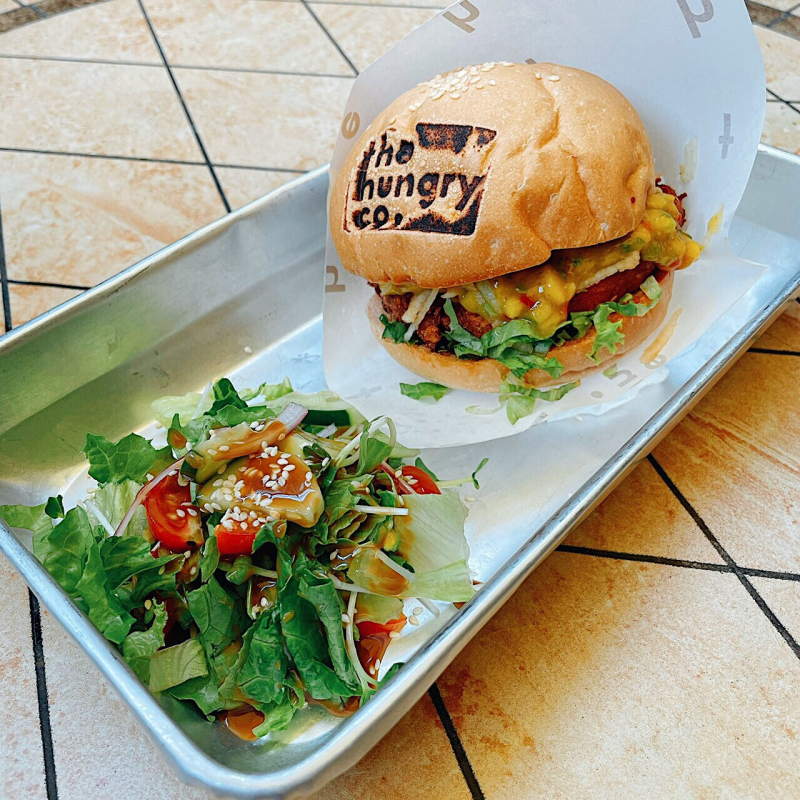 On the side of the burger, there is also a part of the logo of The Hungry Co.
Thanks to the rich flavor as well as the fast and convenient nature, hamburgers are increasingly popular in many countries and are very popular. In Vietnam, too, burgers are abundant infamous European restaurants and are chosen by many customers to enjoy. If you are in Hanoi and want to enjoy a burger, check out this list of Vinlove!
TAG: