The boy was 'stuck' in Cao Bang for 2 months because of Covid-19
Going to make a video about the beautiful scenery of Vietnam, Phan Quoc could not return to Ho Chi Minh City because of the sudden epidemic, had to stay in a house on stilts near Phong Nam valley (Trung Khanh).
On August 23, Phan Quoc (born in 1992) came to Cao Bang for 2 months. He said that the purpose of the trip was to film the beautiful scenes of the provinces, completing the video of the beauty of Vietnam that has been cherished for more than a year. He departed from Ho Chi Minh City to Hanoi in mid-May, then rented a motorbike to explore the northern provinces, including Ninh Binh, for a month.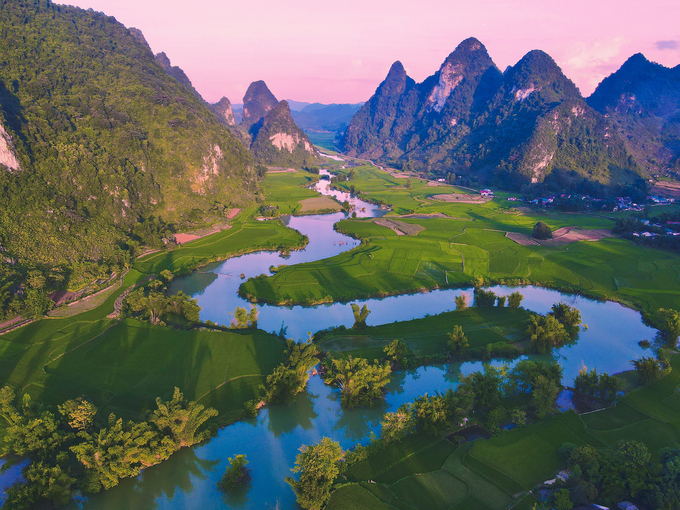 Rice fields in Phong Nam, near where Quoc has been living for 2 months now.
When he comes to Cao Bang, he plans to film beautiful scenes in Trung Khanh, Tra Linh, Ngoc Khe, Ngoc Con, the ripe rice season in Phong Nam valley… then continues to move to Mu Cang Chai (Yen Yen). Bai) to hunt scenes of the ripe rice season. However, near the end of June, the Covid-19 epidemic took place complicatedly in localities, the whole country recorded thousands of new cases compared to the time of the outbreak at the end of April. Therefore, Quoc decided not to move, contact with many people to join hands to fight the epidemic. He said he did not want to leave Cao Bang because he might not be able to return to the province, will miss the "golden season" in September in Phong Nam.
In Cao Bang city for about half a month, he moved to a local house on stilts at Gioc Rung homestay, surrounded by mountains in Ngoc Khe commune (Trung Khanh district), adjacent to Phong Nam commune. Here people live mainly on farming and animal husbandry. Alone, he still maintains his job as a computer programmer, the rest of the day will go to a tributary of the Quai Son river, watch the sunset, go for a walk, take pictures of the water wheels leading to the fields.
He said he feels lucky to be able to stay and move freely in Cao Bang, where there have been no Covid-19 cases so far. The province also stops welcoming tourists 24/7, so it is very safe, all activities seem to be going normally, only non-essential activities and business establishments are not serving after 10pm.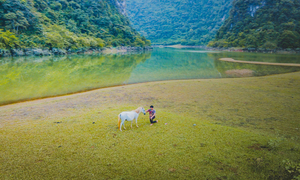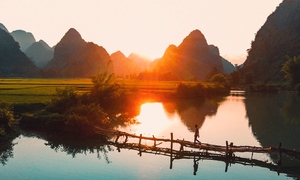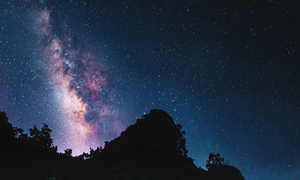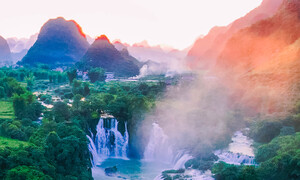 Every day around the homestay is the sound of chickens and ducks; At night comes the sound of crickets and frogs. Especially because in the mountains and around there are no electric lights, on clear evenings, he can see the Milky Way, which cannot be found in cities or towns today.
Staying at the house on stilts, he also enjoys local dishes cooked by the elderly owner every day, with fresh ingredients from the garden. For him, the past 2 months are the ideal time for him to experience peace and live closer to nature. Although the scenery here hasn't changed much, he thinks he's not bored at all. The rice fields in Phong Nam have begun to bloom, which is the news he is most looking forward to these days. Using a drone, he captured the image of green rice fields lying between limestone mountains, winding in the middle is a natural river branch.
"Vietnam is blessed with so many beautiful scenes by mother nature. So I hope to contribute to spreading that beauty to international friends," he said and said the video is 70% complete. He is expected to finish the video next year after recording the April rice season in Mu Cang Chai, because this year he missed it due to the epidemic.
The cost of staying in Cao Bang is not high, he shared. Homestay is 200,000 VND/day, car rental costs 1.5 million VND/month. In the days of going away, Quoc said that he was also very worried about his mother and brother in Ho Chi Minh City, in case of need, he would ride a motorbike straight to the city. According to the plan, when he finished recording the ripening rice scene in about a week, he would continue to the Northwest provinces, because the people from Cao Bang are considered as green areas. Follow vnexpress
TAG: