Which season is the most beautiful in Ha Giang?
Check now Ha Giang travel experience from A to Z with Vinlove
Have you always dreamed of conquering majestic mountains and dreamlike roads of the Northern mountains? So, what are you waiting for without bringing this Ha Giang travel experience of Vinlove and hit the road right away!
Not only is nature favored for many scenic spots admired by the world, but Ha Giang is also a place to keep long-standing historical relics as well as the unique cultural beauty of 22 northern highland ethnic groups. All have created an attractive attraction that makes tourists constantly seek Ha Giang travel experiences to fully conquer this beautiful mountainous region. 
As a province located in the Northeast region, with an area of ​​nearly 8,000 square kilometers, Ha Giang is favored by nature for its population of forests – mountains – rivers, and diverse ecosystems. This land always makes tourists from far away fall in love with majestic places such as Ma Pi Leng peak, Quan Ba ​​twin mountain, Tu San gorge; as well as many long-standing historical-cultural relics such as the old town and Dong Van stone plateau, ethnic villages with unique indigenous culture. Therefore, if you are looking for a trip that is both "eye-catching", "knowledgeable" and full of adventure, Ha Giang is the next stop for you.
Ha Giang Tourism General
With this travel experience review article from AZ by MoMo, you will confidently discover beautiful Ha Giang right from the first time with extremely detailed information:
The best season to travel to Ha Giang
The fastest and most convenient guide to Ha Giang with the secret to hunting preferential tickets
Transportation options in Ha Giang 
Which motel, homestay, hotel in Ha Giang is good? 
The most famous places in Ha Giang that you should not miss
Top delicious Ha Giang dishes must try
Note about Ha Giang tourism 
What is the most beautiful season to travel to Ha Giang?
The most ideal time to travel to Ha Giang is from September to March next year because this is not only the season of ripe rice, the season of flowers blooming in the sky, but also the time of spring festivals of the fields. mountainous region. Take note of the most brilliant Ha Giang landmarks so as not to miss the opportunity to fully experience the beauty of this highland area!
It is the time when a series of terraced fields in Ha Giang are covered with the golden color of the ripe rice season, of which the most beautiful is the Hoang Su Phi area.
If you are passionate about the beauty of the buckwheat flower fields, what are you waiting for, but you have not planned to come to Ha Giang between October and November. Don't forget to visit Lung Cu flagpole, Lung cultural village. Cam – Sung La, the foot of Ma Pi Leng pass, Thach Son Than – Quan Ba ​​for the best view of buckwheat flowers! 
January to Lunar New Year:
Spring from January to March is Ha Giang season filled with colors of all kinds of flowers such as yellow canola flowers, white plum flowers, pink peach blossoms. This is also the occasion to gather many of the most unique festivals of the mountain town such as Gau Tao Festival of the Mong people, Long Tong Festival of the Tay people, Lap Tinh Festival of the Dao people, …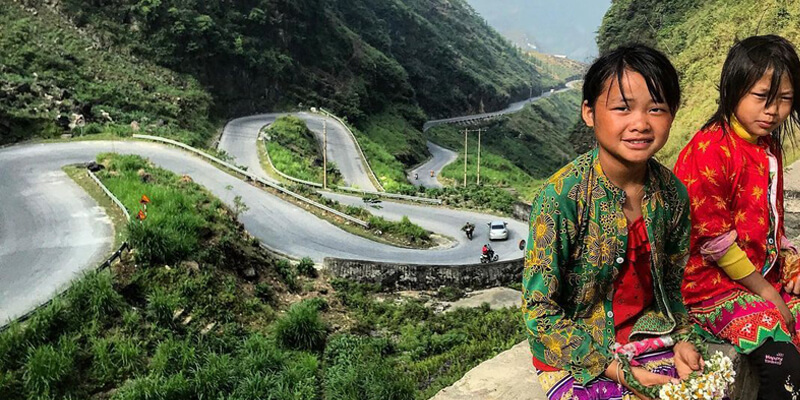 Source: @robtowell
How to get to Ha Giang?
There are currently no direct flights to Ha Giang. For the most convenience, Ha Giang travel reviews often recommend that you stop in Hanoi and then move to Ha Giang. 
To get to Hanoi, you have a lot of means to choose from. Whether it's a ticket for a plane, train or bus .
Next, the 280km road from Hanoi to Ha Giang will have many ways to move for you to choose.
Go by motobike
The road from Hanoi to Ha Giang by motorbike takes about 6-7 hours and has 2 routes:
Palace 1 through Vinh Phuc: 
From Hanoi, depart in the direction of Nhat Tan bridge, via Vo Chi Cong – Vinh Ngoc street. Run 15km on Vo Nguyen Giap Street, then turn right onto Highway 2A. Continue along the national highway to Vinh Yen city (Vinh Phuc province), turn left onto Highway 2C. From here, go to Tuyen Quang city to reach Viet Quang town (Ha Giang province).
Palace 2 through Phu Tho: 
This arc is about 7km longer than the previous one, but it's a bit easier to go. From Hanoi, depart to Thang Long Boulevard. After going 27km, turn into National Highway 21. Continue going for another 20km, turn onto Highway 32. Go along the national highway towards Trung Ha bridge, go through Phu Tho commune to National Highway 2C. From this section onwards, it is like road 1, towards Tuyen Quang city, through Viet Quang town to Ha Giang. 
No matter which direction you choose, in general, the road to Ha Giang is quite winding and dangerous. So make sure you have a firm grip on the steering wheel and have experience with long-distance or mountain driving to make your trip to Ha Giang safe!
Go by car
At My Dinh bus station, there are many reputable bus companies such as Hung Thanh, Bang Phan, Quang Nghi, Hai Van with a variety of bus trips from 16:00 to 21:00 for you to choose from, fares ranging from 200,000 – 300,000 VND/bed. To take advantage of time, you can choose a late bus to take a nap and arrive. 
Note: If you are from the South or the Central region, you can message the bus operator to pick you up at Noi Bai intersection (near Noi Bai airport) to save travel time.
Limousine fare for 9 seats is more private, so the price is usually slightly higher than that of bus tickets, on average from 250,000 to 350,000 VND/ticket. If traveling in a group of more than 8 people, you can consider renting a whole car for from 2,800,000 – 3,500,000 VND, both saving money, having your own space, and being flexible about the time of transportation.
To book travel tickets to Ha Giang quickly and easily with a variety of vehicles to choose from, visit the Travel – Travel section on Vinlove and don't forget to update the latest promotions!
Means of transportation in Ha Giang:
Because Ha Giang has a continuous steep terrain, many roads are very narrow, with sharp corners, so motorbikes are the most popular means of transport for tourists. Motorbike rental service in Ha Giang is very diverse, but to ensure safety when conquering this mountainous region, please note to choose a new car, register for less than 2 years, don't find it cheaper than 20,000 – 30,000 VND but hurry. Glad the quality can be very different.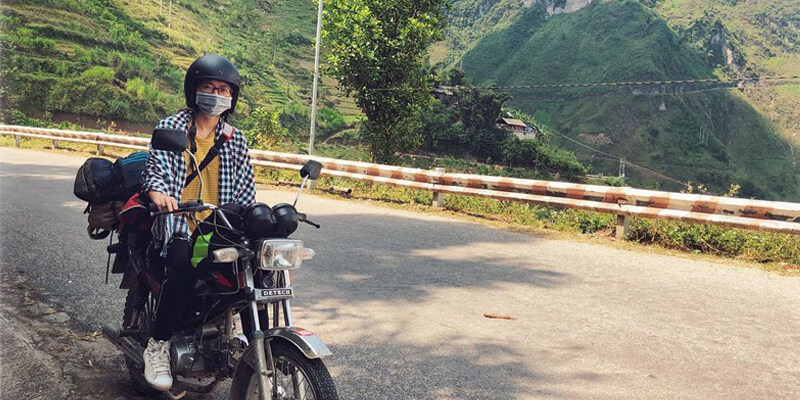 Source: @nhunn_
Some reputable motorbike rental locations in Ha Giang:
Car rental Hong Hao:

Address: 10 Pham Hong Thai, Minh Khai Ward, Ha Giang
Phone number: 0165 398 2928

Hang Thuong motorbike for rent

Address: 15b Pham Hong Thai, Minh Khai Ward, Ha Giang
Phone number: 0836 399 888

MOTOGO:

Address: Group 1, Cau Me Village, Phuong Thien, Ha Giang 
Phone number: 0338 023 344 

Rent a motorbike in Giang Son:

Address: Group 1, Cau Me Village, Phuong Thien, Ha Giang
Phone number: 098 847 08 63

Traveling by taxi: 
Choosing to take a taxi gives groups of friends or family travel a more flexible and proactive experience in terms of time and location. In addition, you can also hire a driver to act as a "consultant" dedicated to interesting places and local delicacies that few tourists know. In Ha Giang, there are many taxi companies you can choose from such as Mai Linh Taxi (Hotline: 0219 3 25 25 25), Success Taxi (Hotline: 0219 3 826 826), Ha Giang Taxi (Hotline: 0219 3 82 82 82 ) with the same price as Hanoi or Ho Chi Minh City.  
Choose any motel, homestay, hotel in Ha Giang
Resort resort or 5-star hotel: 
There are not many resorts in Ha Giang, but there are still some places that bring memorable experiences for visitors. At the top of the list of Ha Giang resorts is definitely P'apiu Resort – 13km from the center of Ha Giang – which will give you a ticket to get lost in the majestic mountains, among the breathtaking terraces, and among the poetic clouds of the northernmost region of the country.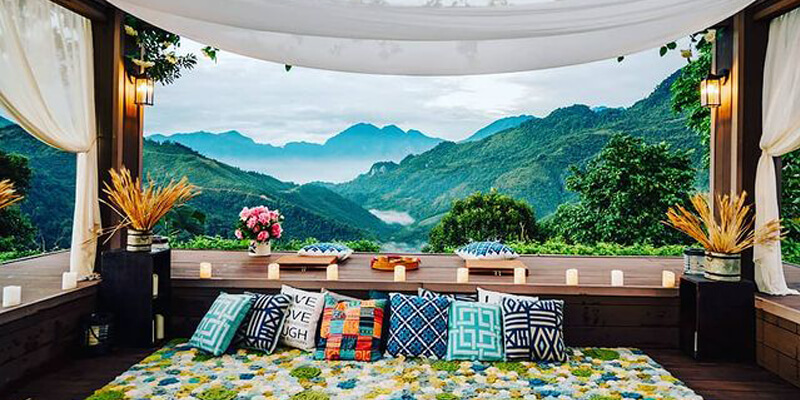 Source: @papiuresort
Besides P'apiu, two equally famous names are Truong Xuan Resort near the central area, convenient for exploration; and Hoang Su Phi Lodge for those who are looking to experience the green tourism model, living moments of relaxation while keeping nature.
The most popular types of accommodation in Ha Giang are 2-3 star hotels with affordable prices, ready to serve a wide range of tourists from families, groups of friends, to couples. Hotels such as Phoenix, Huy Hoan, Ha Giang Historic House are all highly rated addresses by the community with full facilities, a comfortable stopover for a trip to Ha Giang.
Homestay is the ideal choice for young people traveling to Ha Giang on their own, who want to have the most authentic and intimate local cultural experience at a reasonable cost. Many homestays are set up by local people and provide the service of cooking meals together with the host or the host personally cooks for the guests.  
This is also an easy choice for backpackers because homestays are available in most areas in Ha Giang. Some suggestions for beautiful homestays that are popular by area:
In Quan Ba: Dao Lodge Homestay, Ly Danh Homestay, Hong Thu Homestay
In the city. Ha Giang: Lang Tay Homestay, Kiki's House, Ha Giang Homestay, Bui Ty Ha Homestay
In Yen Minh: Bong Bang Homestay, Ha Anh Homestay, Eco Homestay, Tay Coc Pang Homestay
In Meo Vac: Va's Homestay, Dream Old Guest House, Auberge de MeoVac, Lo Lo Homestay
In Dong Van: Dust Homestay, Dong Van B&B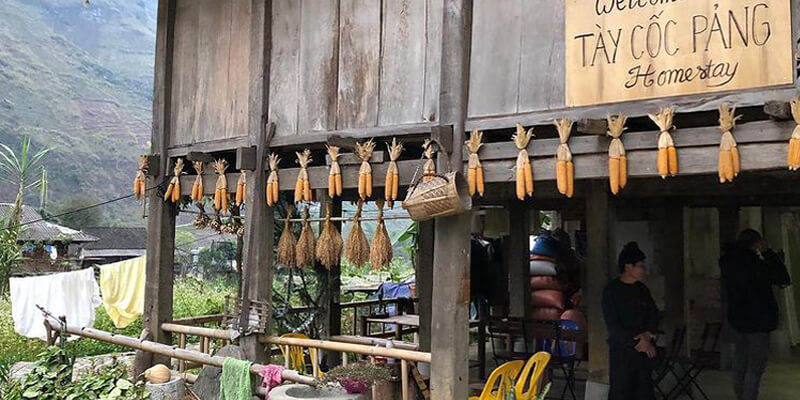 Source: @travelm0mentHa Giang hotel in the peak seasons such as the ripe rice season, the buckwheat season often has a situation of "burning out" rooms. To choose a pleasant and affordable place to stay, you should book your accommodation 1-2 months in advance. Vinlove, with a friendly and easy-to-use interface, will help you quickly update the best and latest booking deals in Ha Giang,
The most popular places in Ha Giang
Quan Ba ​​district area:
Quan Ba ​​Heaven Gate
Referring to Ha Giang, it is necessary to mention Quan Ba, in which the place that clings to the footsteps and also discovers is the Quan Ba ​​heaven gate. Heaven Gate is 1500m above sea level, located between two mountain peaks, and is considered the gateway to the journey to discover Dong Van rock plateau. Standing here, you can fully see the majestic beauty, the interference of heaven and earth of the Northwest mountains and forests. 
Location: 43km . from Ha Giang city center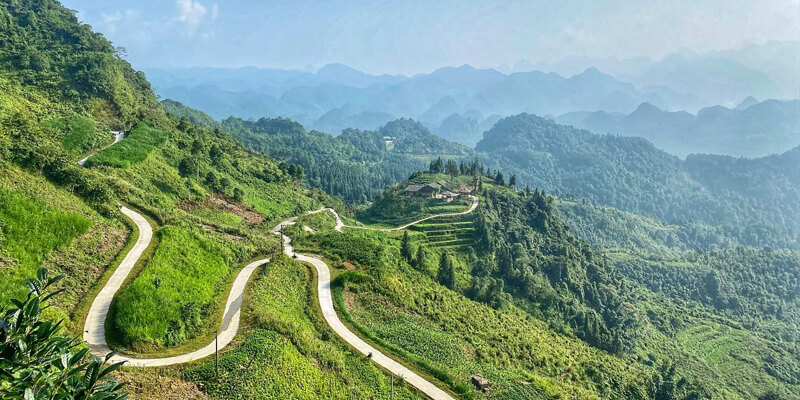 Source: @meobexiu
Quan Ba ​​Twin Mountain:
True to its name, Quan Ba ​​Twin Mountain (also known as Co Tien Twin Mountain) is an interesting masterpiece of nature, shaped like a mother's milk, bringing abundance. for this land. Depending on the time, you can admire the Quan Ba ​​Twin Mountains in different "color palettes": the pink color of buckwheat flowers, the yellow color of ripe rice or the blue cloud-covered white of misty mornings. 
Location: About 40km from Ha Giang center, located on National Highway 4C, Tam Son town, Quan Ba, Ha Giang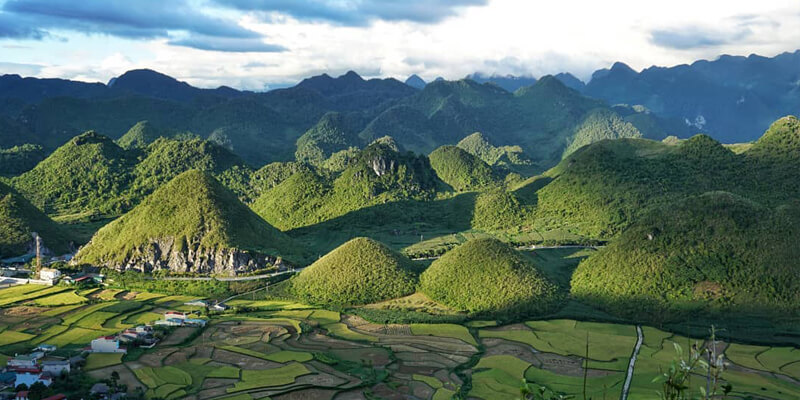 Source: @binbin0204
Dong Van district area:
Dong Van Old Town
Dong Van Old Town is the convergence of many ethnic groups of Tay, Hoa, Mong, Nung, Dao and Kinh who came to settle down in the early 20th century. Up to now, the old town still retains its ancient beauty and nostalgic atmosphere. Antique with typical house features, with the mossy yellow color of time. 
The best time to visit the old town is when there is a market on Sunday every week. You will be immersed in the daily life of the people here with colorful dresses and typical agricultural products of the mountains. 
Location: 150km . from Ha Giang city
Some places to visit near Dong Van: Dong Van rock plateau, Pho Cao, Pho Bang, King Meo Palace, Sung La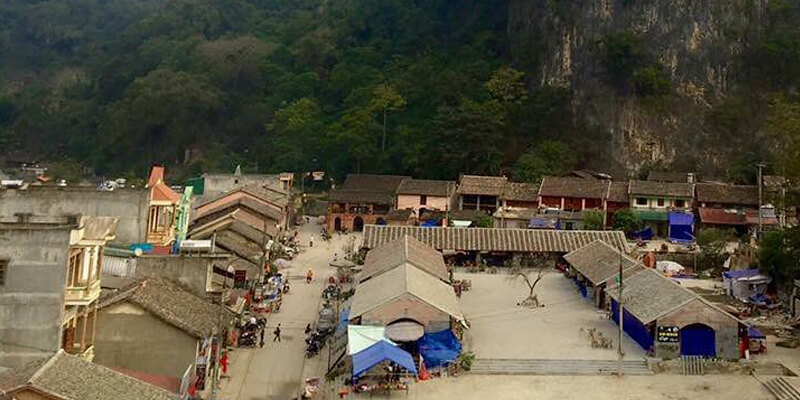 Source: @thu_hien0109
Lung Cu Flagpole:
Lung Cu flagpole is located on top of Dragon mountain 1,470m above sea level, considered the northernmost sacred landmark of the country. To "check-in" the flagpole, you have to pass 839 steps and have to climb 140 more narrow spiral stairs to touch the national flag, officially standing on the highest point of the North Pole. 
Meo Vac district area:
Ma Pi Leng Pass
With a 20km long and curvy pass, Ma Pi Leng pass is known as one of the "four great peaks" of the northern mountain, connecting Dong Van and Meo Vac. This is one of the most sought after places by tourists. From the top of the pass, you can see the whole majestic scenery of the jade-green Nho Que river winding around the mountains.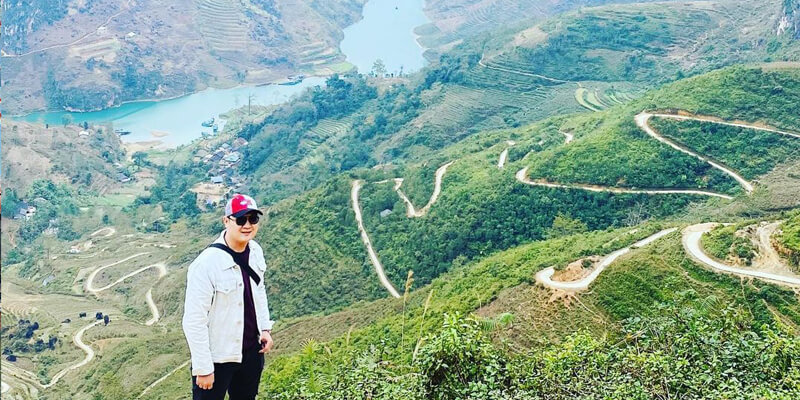 Source: @nhat2106
Tu San Alley
It is impossible to say that you have gone to Ha Giang without conquering Tu San Canyon. With a cliff height of nearly 800m, a depth of nearly 1km and a length of 1.7km, Tu San deserves the "first majestic view" of the Dong Van rock plateau. One of the most unforgettable experiences when traveling to Ha Giang is taking a boat trip on Nho Que River to get close and clearly feel the overwhelming majesty of Tu San alley.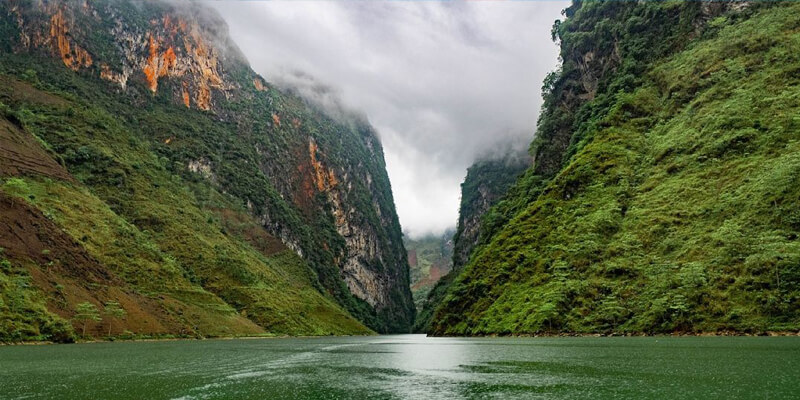 Source: @kiet.huynhht
Hoang Su Phi district area:
Hoang Su Phi terraced fields:
Hoang Su Phi Terraces is recognized as a national relic with a history of hundreds of years of development since the early days of the reclamation of the Nung, Dao, and La Chi people. To be able to see the most beautiful terraced fields, go to Phung and Luoc villages in Hoang Su Phi – where there are the highest terraced fields in Vietnam in September, October, the ripe rice season!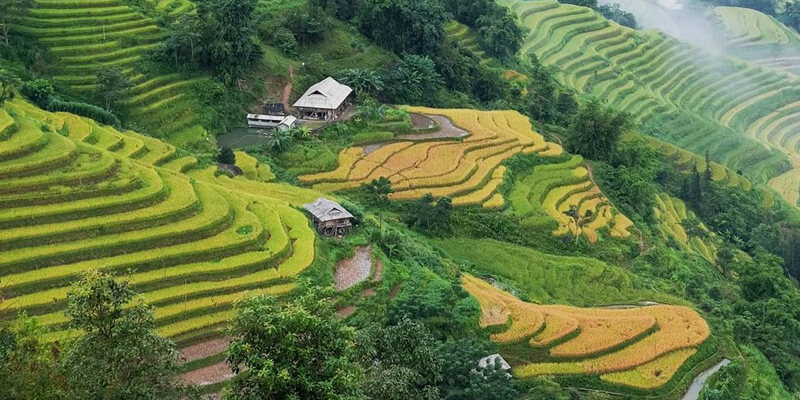 Source: @mavis.vivuky
Top delicious Ha Giang dishes must try
Looks similar to Hanoi's banh cuon, but Ha Giang's banh cuon is a very different culinary experience. Instead of eating with fish sauce, Ha Giang rolls with egg and wood ear will be eaten with bone broth, bringing a strange fleshy flavor.
Address: 29 Old Quarter, Dong Van District, Ha Giang
Price: 30,000 – 40,000 VND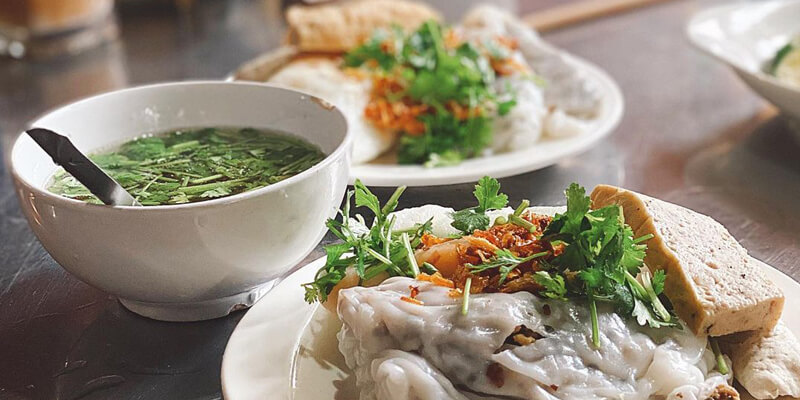 Source: @comy_xamxi
Men men is another name for the traditional steamed cornmeal rice dish of the Mong people. After each corn season, the old corn kernels are separated and ground into powder before steaming. Menmen want to be delicious must be steamed with low heat, added enough water to not dry out.
Reference address: You can buy men men at highland markets that usually take place every Sunday.
Price: 20,000 – 40,000 VND 
Au Tau Porridge:
Au Tau Porridge, also known as Bitter Porridge, is made from poisonous tubers that are abundant in the northern mountainous areas. The tubers will be soaked in water to wash the rice overnight and then simmered for 4 hours until thickened, which usually takes about 4 hours. After that, it will be cooked with lean meat broth, pork leg. Delicious Au Tau porridge must be eaten very hot with green onions, perilla and raw egg yolks, minced meat is the right post. 
Address: Au Tau Huong porridge – Highway 2, Ha Giang city center, 
Price: 20,000 – 40,000 VND
Bac Me sticky rice:
Bac Me is famous for its delicious sticky rice, which is grilled over charcoal in bamboo tubes covered with banana leaves or fresh dong leaves. The bamboo tube is heated and rotated until it gives off the smell of fragrant sticky rice, eaten with sweet flesh. Lam rice served with sesame salt, galangal salt or water meat is an unforgettable taste of Ha Giang travel.
Reference address: Markets, festivals of Bac Me people
Price: 15,000 – 25,000 VND/tube
Grilled moss
For Ha Giang people, moss is a precious dish because there are many stone mosses in the stream, but there are very few delicious mosses, must be eaten seasonally and only green moss is chosen. Fresh moss will be pounded, crushed thoroughly to clean the oil before processing. There are many dishes made from moss such as fried moss, dried moss to eat in reserve, but the most special is the grilled moss marinated with lemongrass, chives and typical spices.
Address: Dong Van Market, Quan Ba 
Opening hours: 5:00 – 12:00 every Sunday
Price: 20,000 – 30,000 VND 
Kitchen buffalo meat:
Bringing a delicious flavor, typical of the Northern mountains and forests, and keeping it for a long time, kitchen buffalo meat is an attractive dish that is often brought back to the lowlands by tourists. Derived from the Thai people, this is the preservation of natural buffalo meat by placing it on the kitchen attic, drying the meat thanks to heat and smoke. To increase the flavor, before being taken to the kitchen, buffalo meat will be marinated with chili, ginger, garlic, mac Khen, wild guava seeds, wild vegetables… After 2 months of smoking on the kitchen floor, buffalo meat is "sweet". form a black mass with a characteristic aroma. 
Address: Lung Phin Market, Dong Van District
Price: about 800,000 VND/kg
Thang Co:
Thang co is probably one of the most famous specialties of the rocky plateau. The main ingredients of this dish are from the meat and organs of buffaloes, cows and horses, which are stir-fried and then simmered for many hours with typical spices and cardamom of the mountains. This dish is often sold at fairs. Don't forget to order an extra cup of sweet and fragrant corn wine to fully enjoy Thang Co in accordance with ethnic standards!
Address for reference: Ms. Tu Lan Ha Giang's shop – 125 To, Dong Van town, Ha Giang.
Price: 50,000 – 300,000 VND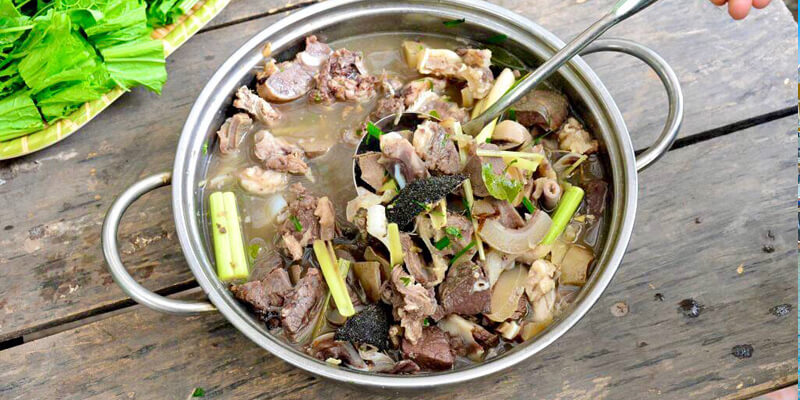 Source: @tonthanat139
Thang am is a dessert cake, a favorite "play" of Dong Van people in winter. At a glance, it reminds me of Chinese apple lotus seed soup with a round cake like Southern water cake, but the filling is made from coconut, peanuts and sesame. The cake will be boiled and then won in apricot sugar water with ginger to have a sweet and spicy warmth. The cake is served hot, sprinkled with a little coconut water and roasted peanuts. 
Reference address: Meo Vac market, Dong Van 
Price: 5,000 – 10,000 VND/bowl
Buckwheat cake:
Buckwheat seeds are half the size of a common pea, after being harvested, they will be dried and then ground by hand until smooth. Knead this dough with water, form round, flat molds, the size of two hands. The cake will be steamed before baking to create a beautiful, crispy brown crust, soft and spongy inside, which is very suitable for eating on the road or taking home as a gift for relatives. Cakes are often sold at fairs with prices from 10/000 -15,000 VND/piece. 
Ha Giang tour itinerary 3 days 2 nights 
Unlike going out to Da Nang, Nha Trang, Hue, … if you only spend 1-2 days to travel to Ha Giang, it is definitely not enough. The unique places in Ha Giang stretching across the province require a lot of traveling, and you also need more time to be able to blend into the fairs, which usually only meet on weekends, to "absorb" everything. interesting of Ha Giang. 
If you do not have much time, you can choose the option of traveling to Ha Giang for 3 days 2 nights on the weekend, just take a bus from Hanoi to Ha Giang on Friday night and get on the bus back on Sunday evening. You can go to work on Monday morning. Check out the schedule suggestions below! 
DayFun activities
Day 1 – Ha Giang city, Quan Ba ​​area
Depart from Ha Giang city to Heaven Gate and Quan Ba ​​Twin MountainOn the way, stop by Yen Minh pine forest
Day 2 – Dong Van area
Stone Plateau and Dong Van Old TownPho Cao, Pho Bang, King Meo Palace, Sung La (Pao's house)
Day 3 – Meo Vac Area
Conquering Ma Pi Leng, Tu San alley
FAQ about Ha Giang tourism
Ha Giang travel costs 
There are not many resort experiences or crowded tourist areas, so the cost of a Ha Giang trip is more software than popular tourist cities. For 3 days in Ha Giang, it only costs you about 3,000,000 – 4,000,000 VND/person, only counting bus tickets from Hanoi to Ha Giang, excluding airfare to Hanoi from far-away provinces. If you choose to stay at resorts or ecolodge models, the cost will also be more expensive depending on the difference in room rates.
When is the best season to travel to Ha Giang?
The most ideal time for the journey to discover Ha Giang is the ripe rice season in August – October; and buckwheat flower season from October to November. At this time, the weather in Ha Giang is also cool and pleasant, very pleasing to the "not tired feet".
Which hotel should you stay at when traveling to Ha Giang?
The most popular for visitors to Ha Giang is the homestay that offers a unique local experience. Whether you stop in Dong Van, Meo Vac, or any other district, there are many homestays in Ha Giang to choose from. Some of the well-reviewed names are Dust Homestay, Dong Van B&B, Lang Tay homestay, Du Gia homestay…
If you travel as a family, looking for comfort, you can choose 2-3 star hotels in Ha Giang such as Phoenix, Huy Hoan, Ha Giang Historic House. 
And if you are looking for high-class resort experiences in the midst of majestic mountains, then P'apiu Resort, Truong Xuan or Ecolodge Pan Hou is the choice for you. 
What should Ha Giang tourism buy as a gift?
Corn wine, kitchen buffalo meat, buckwheat cake, Bac Quang orange, Shan Tuyet tea, mint honey, Ha Giang sausage,… are all specialties that are easy to store and transport, very suitable for cooking. as a gift. You can consider planning a trip to Ha Giang at the weekend when most of Ha Giang markets take place to make it easier to buy!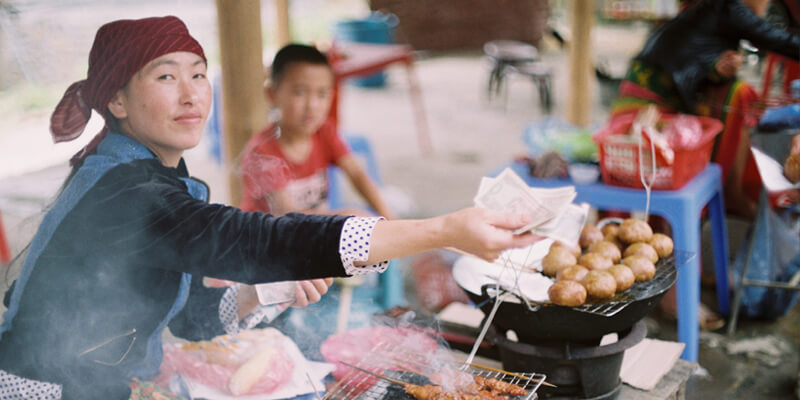 Source: unsplash 
From the Ha Giang travel experiences in this article, hopefully, you will have a complete journey to conquer the northernmost region of the country. Don't forget the extremely attractive deals exclusively for the trip to Ha Giang are still waiting for you on Vinlove , check now so you don't miss out!
Photo: Internet
TAG: