Take a look at the legendary mountains in Vietnam
Along the country, from the North to the South, there are endless hills and mountains. Among them are many legendary and sacred mountains, becoming a symbol of faith and belief and also the destination of hearts passionate about discovery and conquest.
Yen Tu sacred peak
Yen Tu sacred peak – where Buddha Emperor Tran Nhan Tong chose as a place of practice and founded the typical Buddhist sect of Vietnam, Truc Lam Zen Sect, has become a familiar destination for Buddhists. Anyone who has heard of Yen Tu knows that this is the most sacred mountain, bringing the quintessence and soul of Vietnamese history as well as possessing a mysterious natural scenery.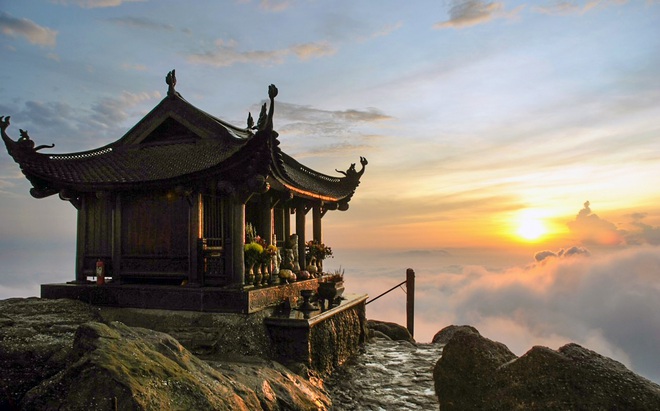 Returning to Yen Tu is to return to the Buddha land on the high mountains, with ancient mossy pagodas and towers hidden in the dark bamboo forest or ancient coniferous roots. The journey to visit Yen Tu by road is up to 6000m long, equivalent to 6 hours of continuous walking, starting from Giai Oan stream, going to Hoa Yen Pagoda at an altitude of 543m, Van Tieu pagoda at an altitude of 700m and finally: Dong Pagoda is located on the top of Yen Tu, 1,068 m high. 
Dong Pagoda is the most famous temple of Yen Tu's sacred peak. The pagoda was built in the Late Le Dynasty with the name Thien Truc Tu, but through many ups and downs in history, the old temple has disappeared. By 2007, Dong Pagoda had been completely restored with 60 tons of pure copper, which according to Buddhist researcher Nguyen Duy Hinh, in the world has not seen any Buddhist temple made of bronze other than the Dong Yen pagoda. Death. 
Every year, starting from January 10 and lasting until the end of March (lunar calendar) is Yen Tu Spring Festival, attracting millions of visitors to worship, worthy of the title of "first spirit mountain" of Vietnam.
 Mrs. Black Mountain 
Ba Den Mountain, formerly known as Mot Mountain, is the highest mountain in the South with an altitude of 986m. Ba Den Mountain is also famous as a sacred spiritual destination of Tay Ninh holy land, with historical and mysterious stories associated with Ba Den, who was canonized by King Gia Long as "Linh Son Thanh Mau". .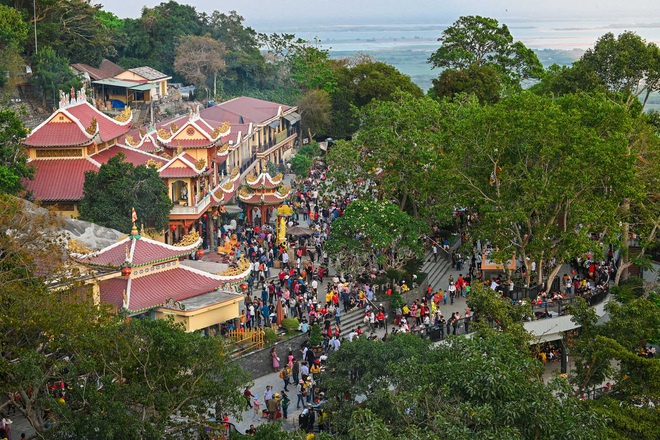 According to legend, when Lord Nguyen Anh was pursued by the Tay Son army, he ran to Ba Den mountain to hide. Starving soldiers, Lord Nguyen Anh begged for help. That night, Black Lady appeared in a dream of the lord and showed him the kind of fruit on the mountain that could save the hungry soldiers. In 1790, Lord Nguyen Anh sent his soldiers back to the mountain to cast statues and build a shrine. 
Up to now, in the middle of the mountain, at an altitude of 350m, after many times of restoration and new construction, on the old foundation of Linh Son Tu, there is a system of Ba Pagoda called Linh Son Tien Thach Tu, consisting of temples and pagodas. relics such as Ba Pagoda, Hang Pagoda, Dong Hoang Chung, Trung Pagoda, Moi Pagoda…, both worship Buddha and Ba Den. Here, the shrine of Ba is worshiping the Mother of God, while the temple is a hermit Buddhist faith of the Lieu Quan tribe.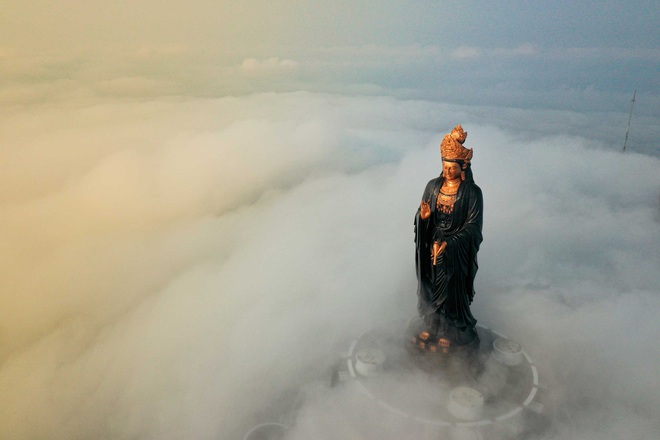 Every year, pilgrims to visit Ba temple and shrine are very crowded in January and on the Ba festival (May 5 and 6 of the lunar calendar). People who come to worship can go to the temple by climbing 1500 stone steps or through the modern cable car system invested and operated by Sun Group. Along with the Ba Temple system, the Tay Bo Da Son statue of Buddha, which achieved an Asian record on the top of Ba Den mountain, is also a magical spiritual destination, giving visitors a meaningful journey. 
"Roof of Indochina" Fansipan
With an altitude of 3143m above sea level, Fansipan is not only the highest mountain in Vietnam but also the "roof" of all three Indochina countries. This legendary mountain has many strange mysteries in it, and many feng shui researchers agree that this is one of the landmarks of the great meridian line starting from the roof of the World to the Gulf of Mindanao Philippines. The spiritual point between earth and sky, converging in itself full of quintessence and spiritual energy.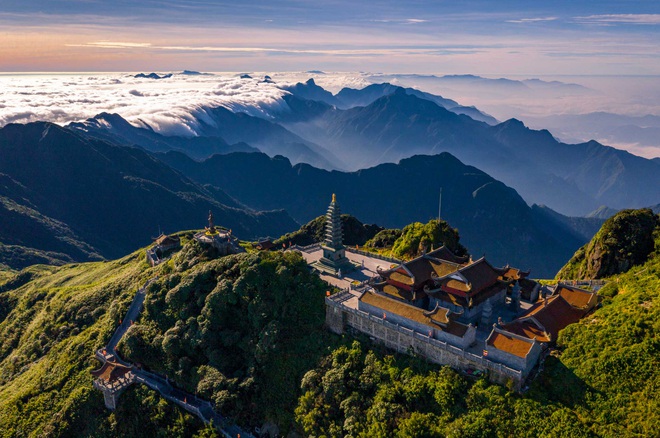 In 2018, along with the world's most modern 3-wire cable car system, Sun Group created a spiritual complex on top of Fansipan including 12 works, bearing the soul of ancient Vietnamese temples in the North of the world. XV-XVI centuries. In particular, the most special work must be mentioned the 21.5m high Amitabha Buddha image, created from tens of thousands of thin copper plates, clad with special techniques on a steel frame with a volume of 1000m3, which is currently under construction. holds the record of "The highest height of the bronze Amitabha Buddha in Asia".
The appearance of a spiritual complex on the top of Fansipan has turned this place from a legendary mountain into a pure meditation place, where tourists and Buddhists get lost in the magical spiritual domain, putting aside sorrows to become a place of worship. benevolent mind.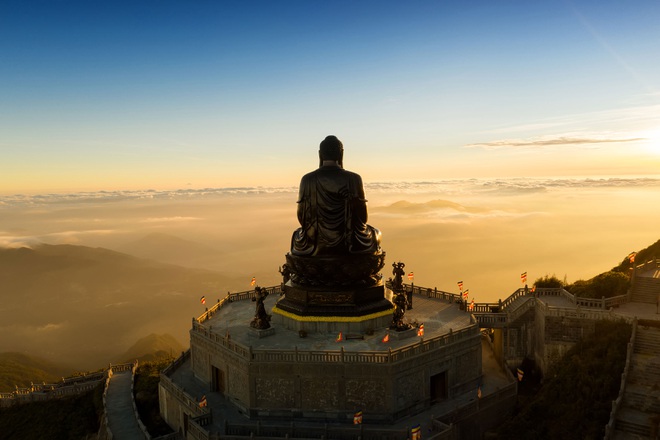 Most Venerable Thich Duc Thien, General Secretary of the Central Executive Council of the Vietnam Buddhist Sangha also once commented: " Fansipan – the highest mountain in the thousands of thousands of mountains in the majestic Hoang Lien Son range, a great blood vessel. of the country, the source of spiritual energy… Cultural and spiritual complex, including a system of pagodas such as Bao An Thien Tu, Bich Van Thien Tu, Kim Son Bao Thang Tu, Great Buddha Statue of Amitabha, and Avalokitesvara Bodhisattvas… have enhanced the magical spiritual realm of the majestic Fansipan… continue to arouse abundant spiritual resources, bring peace to everyone, and will further promote the development of Lao Cai. " . Follow Dan trí
TAG: