The 62-year-old man moved to the mountains to live to avoid the Covid-19 epidemic
 Having worked as a tour guide for many years, living and camping in the mountains with Mr. Son is not too difficult.
Up to now, Mr. Tran Kim Son (66 years old) and a friend have moved from Da Lat city to Ba Mountain, Langbiang for more than a month. He said that he and his friend decided to go to the mountains to live around mid-July when the Covid-19 epidemic situation was complicated.
Mr. Son identifies himself as a "nomad" and is used to the nomadic life. He lived in the mountains to enjoy the air and nature and avoid disease.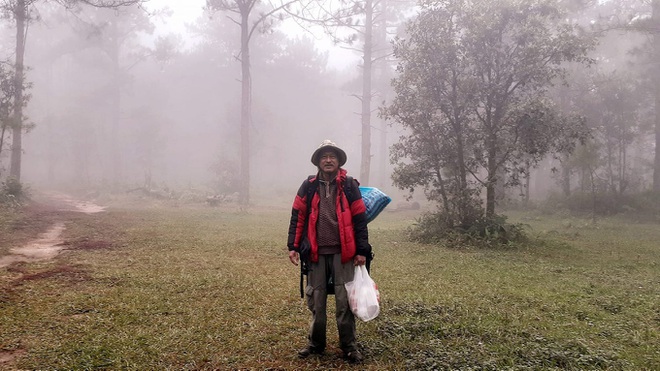 In the mountains, the temperature is low, so Mr. Son must have enough warm clothes.
Mr. Son has many years of experience in tourism and camping in the mountains because he was previously a tour guide in China. He prepared his own furniture including tents, clothes, knives, and pots for cooking. He shared, camping gear is not important to be modern, but it must be enough for minimal living, even in rainy weather and for daily dining.
Initially, he and his companion camped at an altitude of nearly 2,000 m above sea level. However, at this altitude, both day and night are foggy and wet, the scene is always hazy. At night the heavy rains and the bitter cold affected his sleep more or less.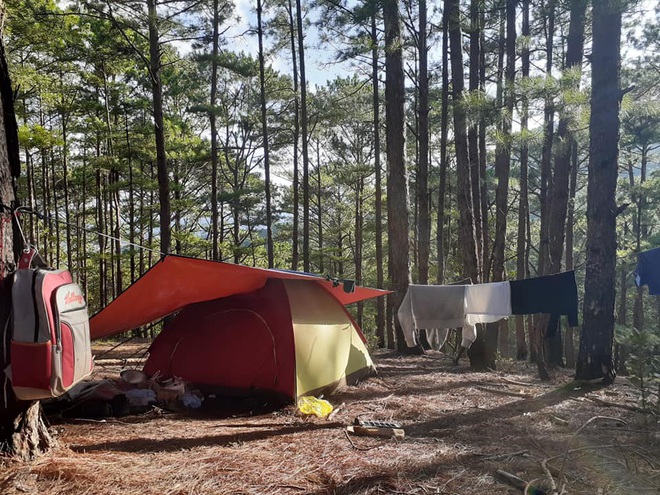 Where Mr. Son camped at an altitude of about 1,800 m.
A few days ago, he walked down to a shop at the foot of the mountain to buy rice, food, and brought a backup charger to send here, next time he will come to pick it up to maintain the battery for the phone.
When he was here for about a week, he began to forget the concept of time. He said that being in the mountains is important to enjoy nature, not necessarily to remember the date. After a while, he left the camp to an altitude of about 1,800 m – it was dry and sunny. When the camp was over, he felt more comfortable here, because it was convenient to gather firewood and cook. 
"Being in the mountains makes the concept of time and the obsession with Covid-19 fade away. But anyway, the impact of the epidemic is still present every time you go down the mountain to buy food. Prices are high, the town below The mountains become desolate, the eyes are afraid to touch … ", Mr. Son said.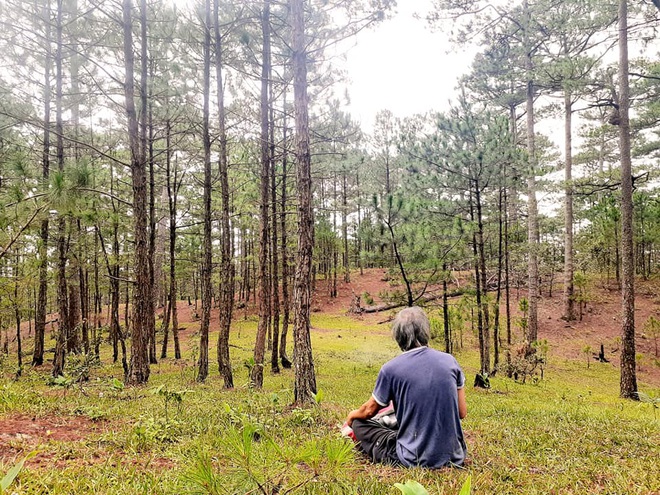 He often practices yoga to maintain health.
Now, the number of times he goes down the mountain to buy food is decreasing, he spends his time picking wild vegetables. "After completing the process of getting water and cooking water to make tea and drink tea, I continued another process, which is to practice yoga, then wander around looking at the scenery, heaven and earth to find suggestions for lines. thinking," said Mr. Son.
Lowering the camp means that the distance to the stream to get water is also longer, about more than an hour steep road. When it rained heavily, even though it was freezing cold, this was also the time to bathe and store water for the following days. For him, this is a wonderful moment that nature bestows.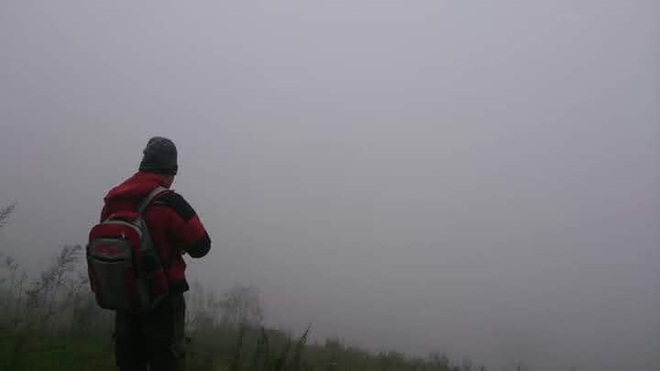 Living in the mountains, so the sun and rain are erratic, Mr. Son is also used to this.
After a month, he and his companion were completely immersed in nature, even they are feeling extremely comfortable. 
"The cost is low, so money is not a big deal. Through countless trips, I always feel confident in my skills and health (I teach yoga for more than 10 years), so if I have to live my whole life in the forest, The mountain can also be," Mr. Son said humorously.
Mr. Son shared that his days in the forest did not know when he would end, but he never felt like giving up. But he also hopes that the epidemic will end soon so that he can return to Ho Chi Minh City to visit his family and take new roads. Follow Dan trí
Photo: NVCC
TAG: