What's HOT about lonely trees in West Lake that young people check-in?
The term lonely tree has never become a virtual "specialty" of many young people. Referring to the image of a lonely tree, many people will immediately think of the dreamy "mountain town". But not only Da Lat, right in the heart of the capital, can determine the coordinates of a lonely tree in West Lake standing alone with a poetic and romantic scene that is not inferior. Now, let's find out where the tree has something that the Hanoi tourism community is so crazy about? 
Locate the lonely tree in West Lake 
Hanoi is considered the most vibrant city in the country, in every street, everything is crowded and crowded. But ironically, there is a green tree that grows alone in the middle of a large piece of land that tourists passing by is often called the lonely tree of West Lake. This beautiful check-in place is located at Phu Tay Ho, Quang An Ward, Tay Ho District, Hanoi.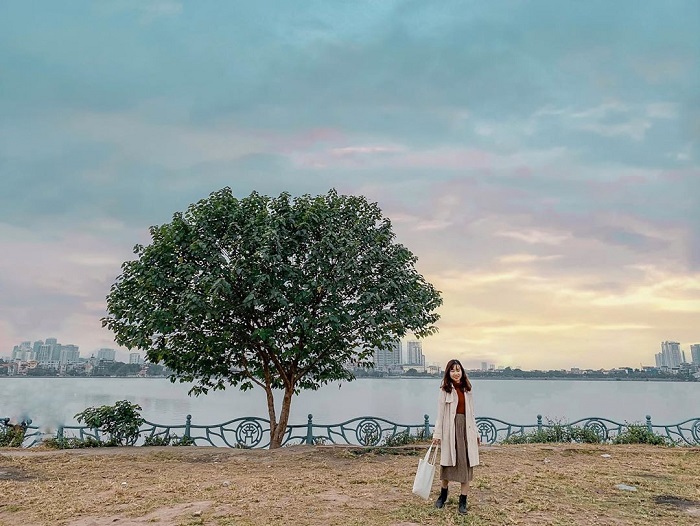 Lonely tree of West Lake
Normally, West Lake is a "chill" spot for dreamy souls and a "virtual living" spot for young people in Ha Thanh. In the midst of the vast landscape of deep blue clouds and sky, on a wide field filled with withered grass, a large tree grows bare and alone, making many people fall in love. 
In fact, the lonely tree in West Lake has been known to some young people for a long time. On sunny and windy afternoons, many people "sob", invite each other to come here to chat, play and somewhat comfort the "tree girl" to be less lonely.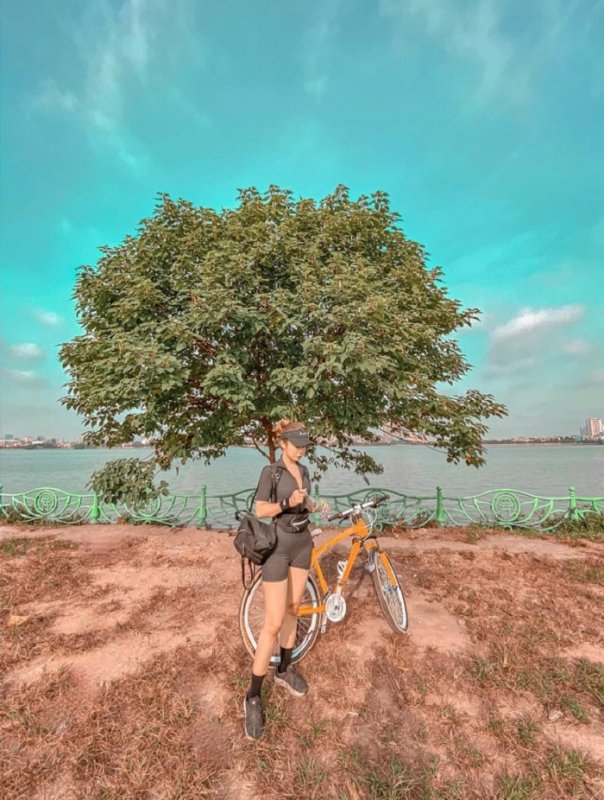 Lonely tree standing alone in the middle of a large field 
Move to the lonely tree of West Lake 
To get to the coordinates of the lonely tree on West Lake, you can move from Xuan Dieu Street, turn into the West Lake villa to Phu Tay Ho. Park your car and walk across the wide lawn right in front of the cover. This is where the lonely tree dwells.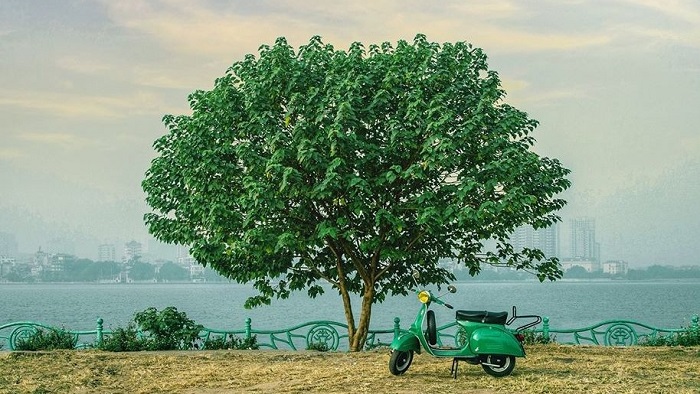 The way to get here is quite easy to find
Check in at the lonely tree of West Lake 
According to Hanoi travel experience , the most ideal time to check-in at the lonely tree in West Lake is in the afternoon when the sun falls, when the sun casts a shadow on the windy space. Many people also praise that this is a place with a beautiful sunset view in Hanoi .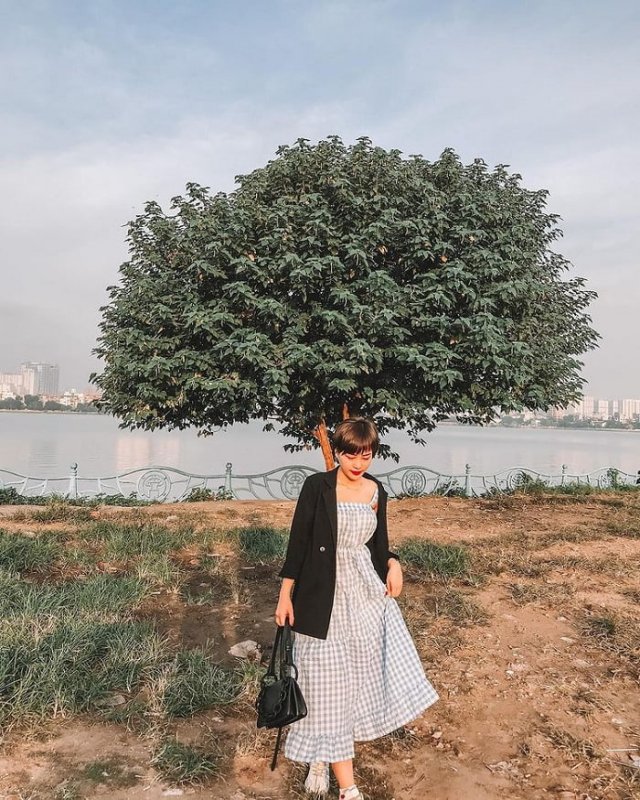 (Photo: lee.itsmee)
It is thanks to the sunset that the sunset at West Lake adds more love and poetry. Here you can get a lot of beautiful and sparkling virtual live photos. However, when you come to check-in, remember to keep the hygiene and general view. Do not throw garbage indiscriminately, ruin the romantic scene in this place.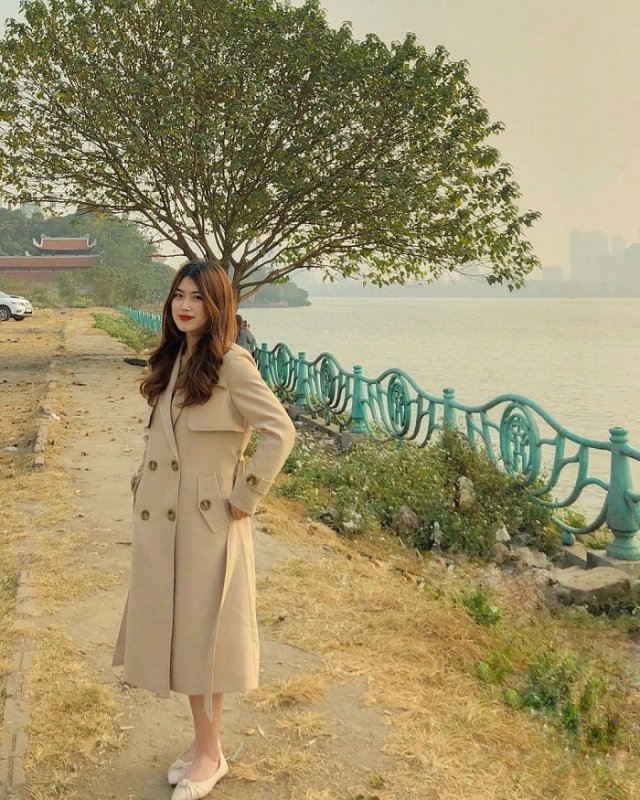 (Photo: thuylinhle___)
Some other famous lonely trees in our country 
 
Lonely tree in Yen Minh – Ha Giang
In recent years, visitors to Ha Giang have been excited about a new and very unique check-in place, which is a giant lonely tree on the newly built road to Quan Ba ​​- Yen Minh.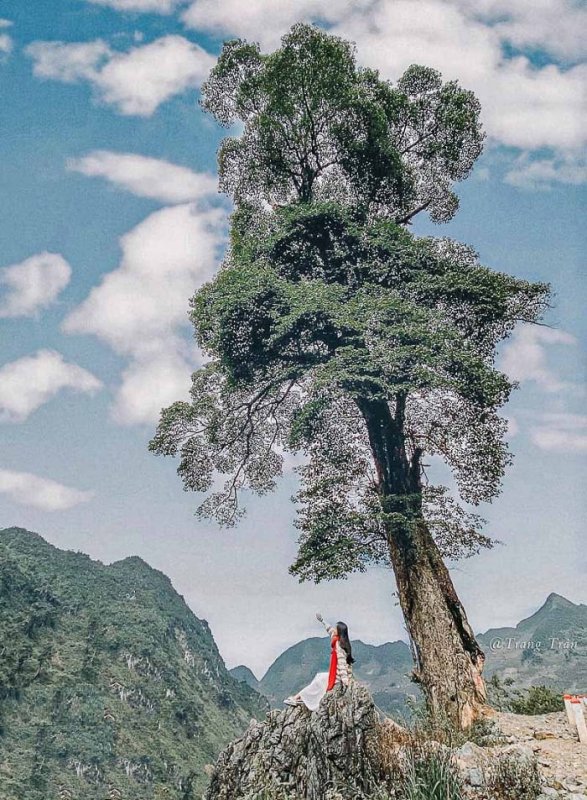 Lonely tree in Ha Giang (Photo: Trang Tran) 
The impressive point of the lonely tree in Ha Giang is that it possesses a very large size, the trunk grows tall with one side of the pass with steep cliffs, the other side is a deep abyss. Because of that special location, this place gradually becomes a special check-in point for young people.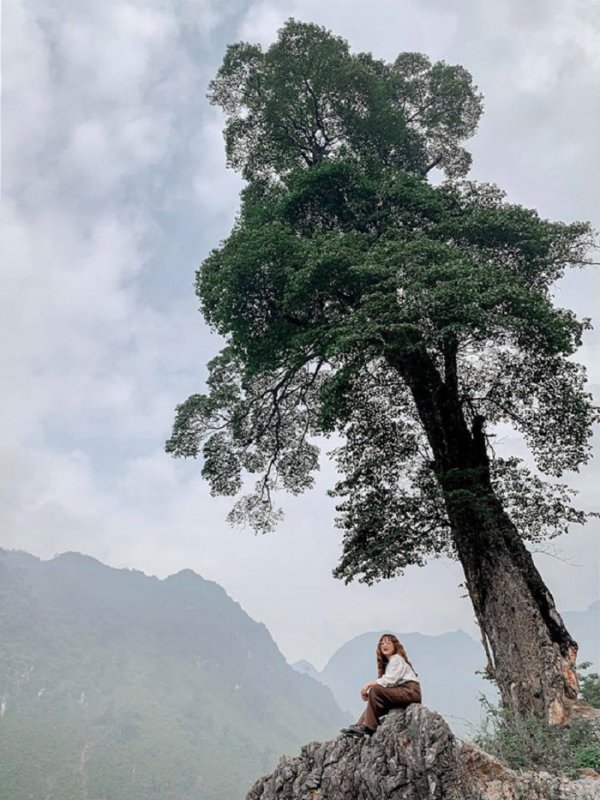 Lonely tree lying on a pass 
Lonely tree on Hai Van pass 
If in Hanoi there is a lonely tree on the West Lake , in Hue there is a lonely tree on the Hai Van pass. The scenery here is not so bare as other lonely trees because the surrounding is covered with a green color of the mountains.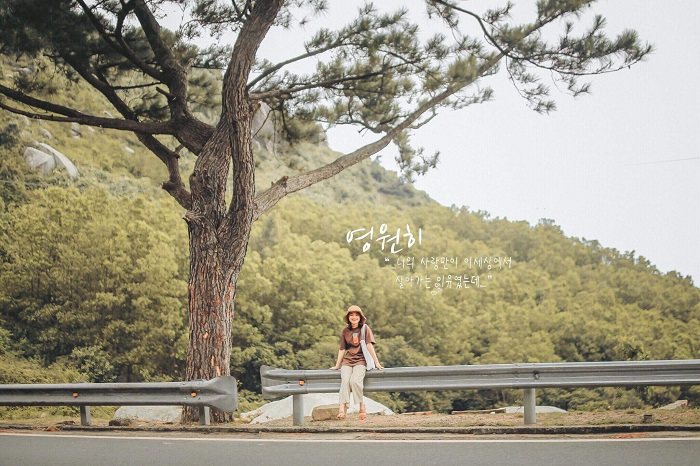 Lonely tree on Hai Van pass 
The scenery here brings a poetic beauty, very unique. Standing at the position of a lonely tree, visitors can watch the vast sea below or the mountains and forests on the winding pass road.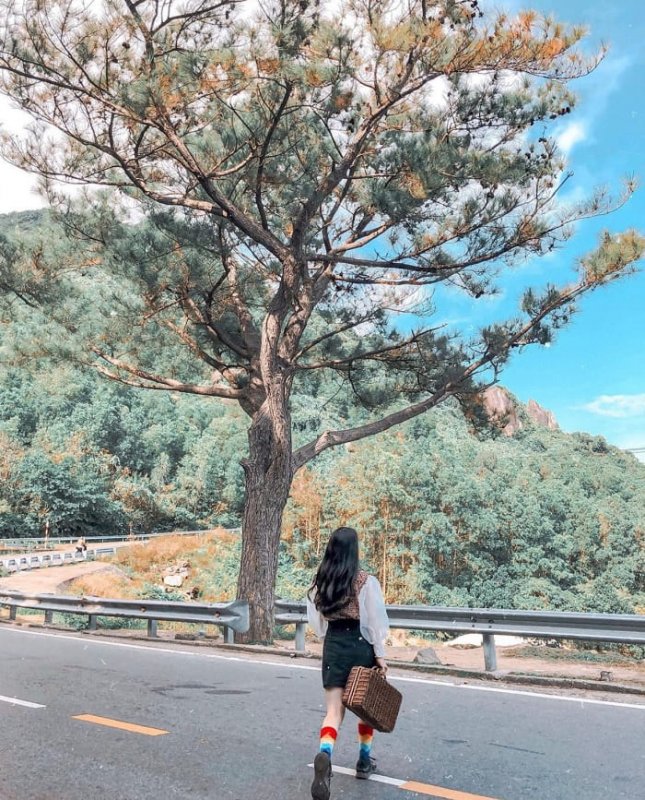 The scenery here is covered with green hills 
Lonely tree in Da Lat
Da Lat is a city of thousands of flowers with a sad beauty. And the lonely trees here also have the same sad character as the city's characteristics. In Da Lat, there are two most famous lonely trees, a lonely tree in Thien Phuc Duc hill and a lonely tree in Suoi Vang lake.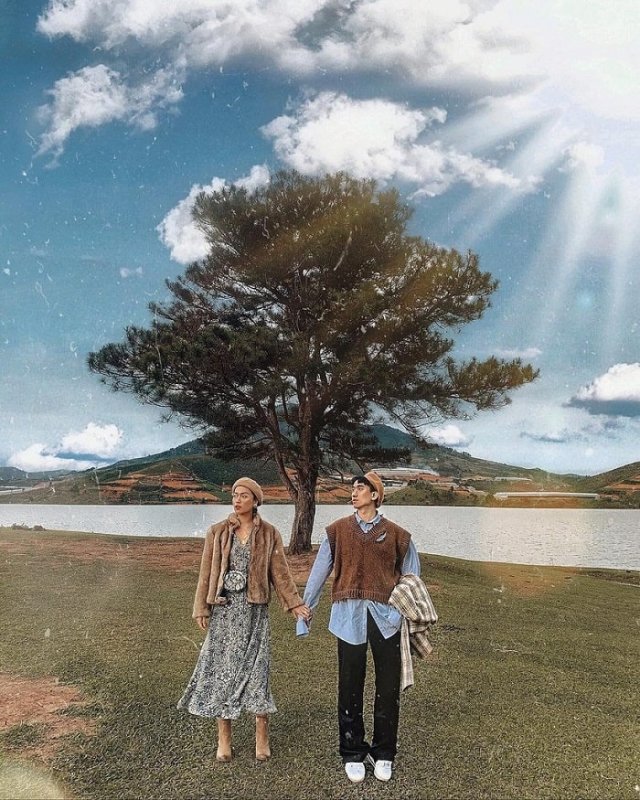 (Photo: Lehatruc)
If the scene of lonely trees by Suoi Vang lake has a lyrical beauty with a clear lake and a green steppe, the lonely tree on Thien Phuc Duc hill is somewhat more lonely with a single branch of thin leaves lying alone on a tree. high hill.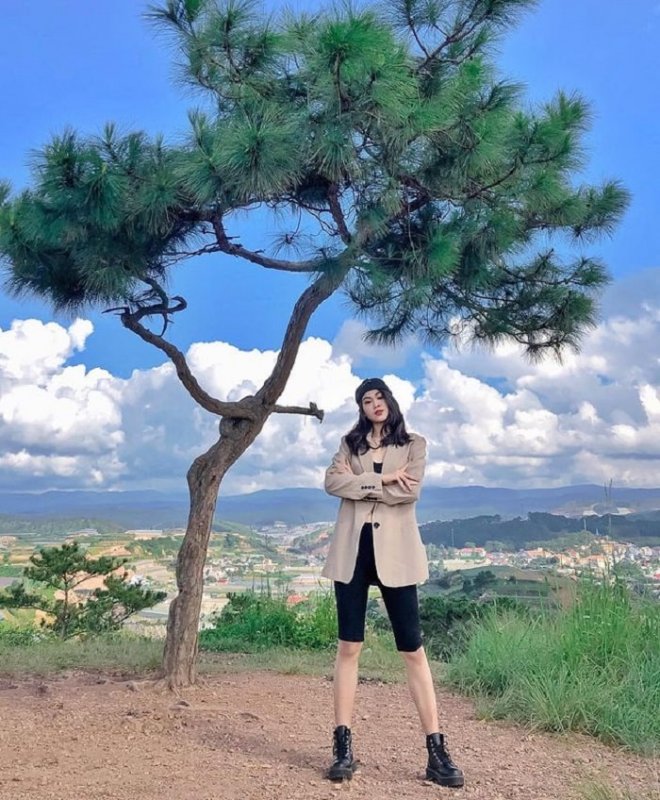 Lonely tree on Thien Phuc Duc hill (Photo: lynhcao_)
Lonely apple tree in Ta Xua
The apple tree lying alone on the top of the Wind Mountain is a famous check-in point that no backpacker can ignore when conquering Ta Xua, Son La. Standing here, visitors can admire the scenery of the sea of ​​clouds floating throughout the valley. Taking sparkling photos next to this lonely apple tree will make many people "hate".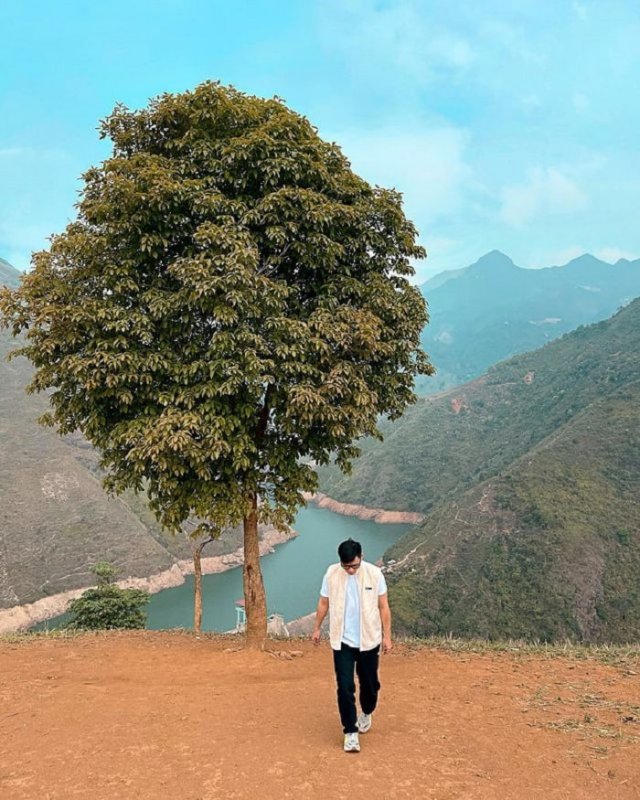 (Photo: ryannguyen_offical)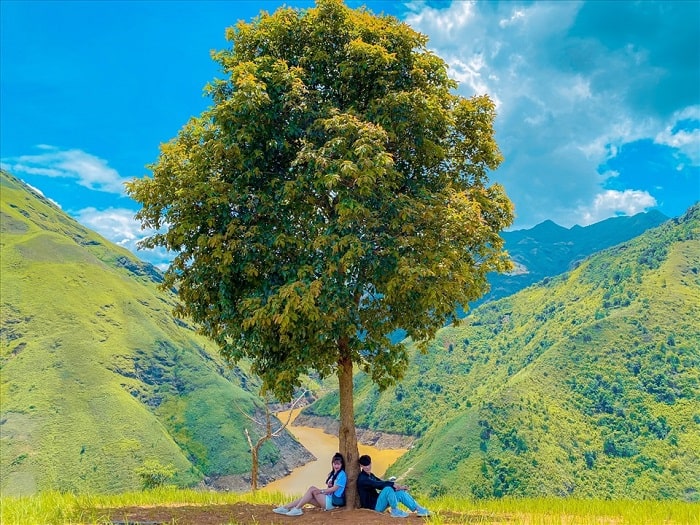 The scene is so beautiful that it hurts 
Lonely tree in Lap An lagoon – Hue
Lap An lagoon is known as the "beautiful love cup" in Hue. There is a charming lonely tree branch that makes many visitors look forward to checking in. It was actually a dry tree tied to a stake in the middle of the lagoon. The main purpose is to keep the raft floating in the waves so it won't be pushed away.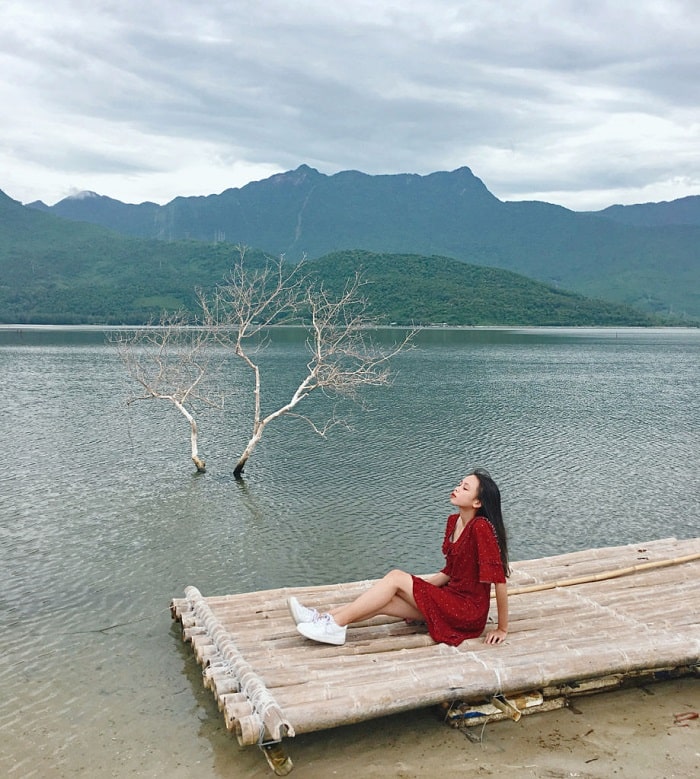 Lonely tree in Lap An lagoon
At first, it was nothing special, but through the lens of virtual believers, that place suddenly became the background to the image "better than distilled water". Although it looks so simple, when it comes to photos, it's just a beautiful compliment.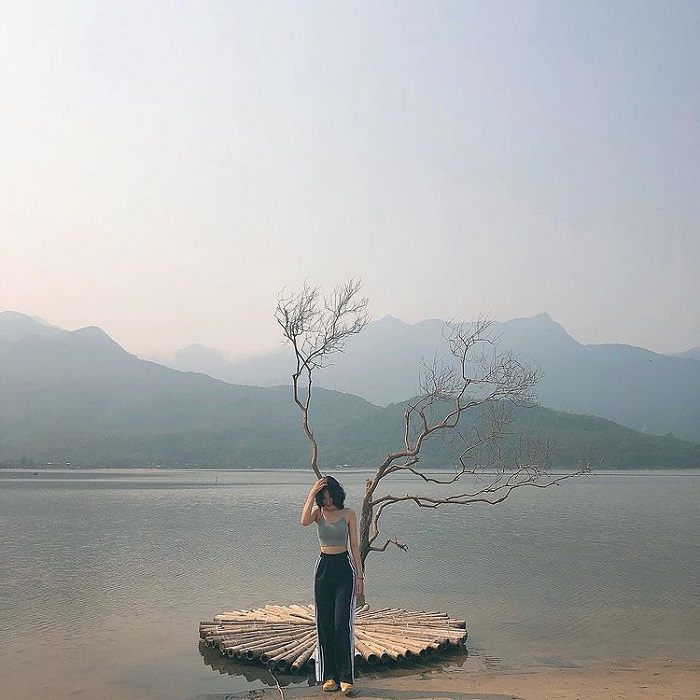 The picture is full of solitude 
In addition to the lonely tree in West Lake , there is no shortage of lonely trees along with the country. Many people also joked that, it seems that Da Lat no longer has a monopoly on lonely trees. 
Photo: Internet
TAG: