Cloud hunting on the peak of Na Lay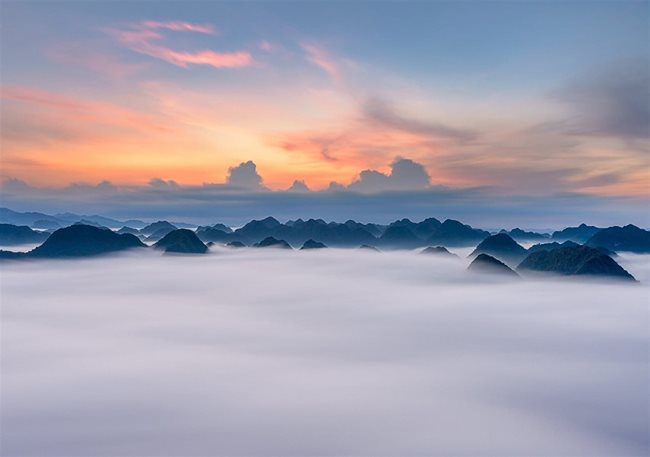 Limestone mountains are half hidden in the sea of clouds - PHOTOS: COURTESY OF TRAN VAN LINH
HCMC - Tran Van Linh, a photographer, recounts his recent mountain hiking trip to Na Lay. The scenes are as beautiful as those in a fairy tale whether it is day or night, said the photographer.
Around 600 meters above sea level, Na Lay Mountain attracts many a mountain hiker. Yet the trip offers mountain climbers a chance to admire the wonderful panoramic view of Bac Son Valley.
Na Lay is a steep mountain which forces mountaineers to constantly climb upward. Although the path has been reinforced on which travelers can move more relatively easily, it becomes very slippery after a rain.
Tran Van Linh started his mountain hike at 12:15 a.m. at the foot of Na Lay Mountain. On his head was a flashlight which was the only source of light on the way helping him move in the darkness of the night. "At that time, I just thought about the moment I would be on the peak of the mountain and take great photos," he recalled. "Then, I could overcome any difficulty and tiredness."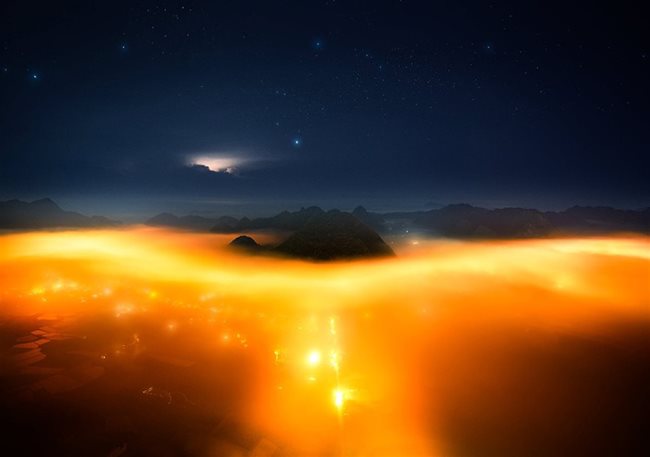 The spectacular view just like a phoenix with a vast wingspan
In fact, it took Mr. Linh more than one hour to climb to the top of Na Lay Mountain. Standing on the peak, the photographer looked down to contemplate a spectacular view beneath, which is just like a phoenix with its immense wingspan, a picture painted by night lights piercing clouds. Although the trek lasted only over an hour, given all his package of heavy photographic equipment, it was really exhausting. However, the tiredness disappeared as Mr. Linh arranged all his cameras and lenses and other equipment for the photo session he had longed for.
As the morning dawned and the clouds became thicker, the mountaineer took time to rest by lying and watching the sky then full of stars. At 4 a.m. when the dawn broke bright, a sea of clouds gradually embraced the limestone mountains.
"The best time of the year to visit Na Lay Mountain is July when travelers can witness clouds and the vast yellow rice fields," the photographer said.
TAG: