Camping group to escape the epidemic in the forest for 1.5 months
BA RIA – VUNG TAU – Nguyen Huy's group set up a shack on Dinh mountain, every day went to pick mushrooms and catch crabs for food during the days of social distancing.
As a tour guide, at the end of May 2021, Nguyen Huy (33 years old) took the delegation from Ho Chi Minh City to trek and camp in Tri An (Dong Nai). At the end of the tour, tourists returned to the city and Huy decided to stay in Tri An for an extra week. At the invitation of 3 friends, the remaining days of June, Huy continued to go camping in the mountains of Ninh Thuan, Lam Dong…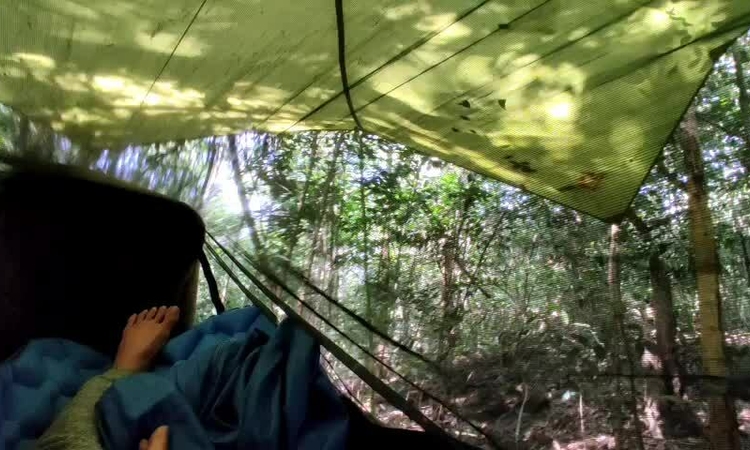 The shack has a rain cover and insect screen.
In early July, when Huy intended to return home, the epidemic situation in Ho Chi Minh City began to become tense, the city distanced itself according to directive 16, the area Huy lived in also appeared many F0 cases. So the whole group of 4 people decided to move to camp at Dinh Mountain (Ba Ria – Vung Tau) to avoid the epidemic and have been stuck until now.
The group set up camp, made a shack deep in the forest to limit contact with strangers. In the first 2 weeks, when there was no order to separate the southern provinces and cities, Huy's group could go down the mountain every 2-3 days to buy food and food. However, from July 17, Ba Ria – Vung Tau distanced according to directive 16, the whole group had to go to the forest every day to pick bamboo shoots, mushrooms and catch crabs for food. Huy said, fortunately, this season in Dinh mountain is the rainy season, so the stream is full of water and there are many forest mushrooms. The group members are all experienced campers, fully equipped with tarpaulins, tents, cooking utensils, and clothes, so they don't have too many difficulties.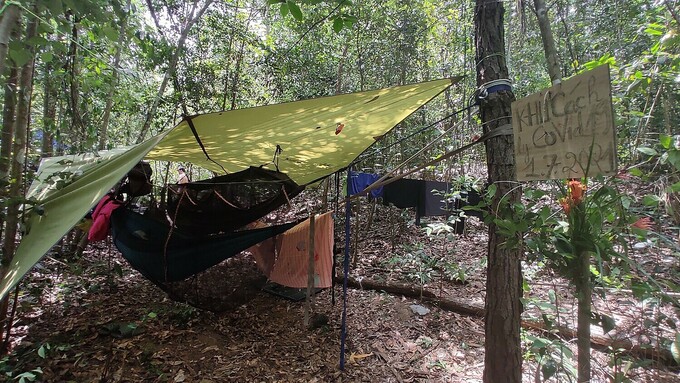 The group's campsite is in Dinh Mountain.
After two weeks, the group met with a ranger, who advised them to go down the mountain to make a medical declaration to the local authorities. After the declaration, they were introduced to a mountain temple, about 3 km from the campsite. According to Huy, the monks here are very happy and willing to let them stay, helping with the kitchen work every day. Staying in the vihara is very pure and there are no Buddhists coming here during this time, so the group does not have to worry about Covid-19.
Every morning, the group wakes up early, goes to the kitchen to cook water. At noon, in the afternoon, they will follow the teachers to the forest to pick bamboo shoots and mushrooms to make food. In addition, there are rice and other vegetarian dishes in the vihara, so the group's meals are more diverse and nutritious.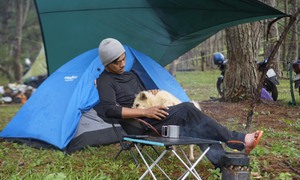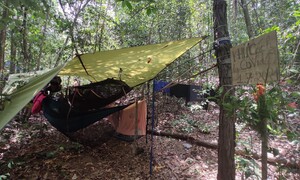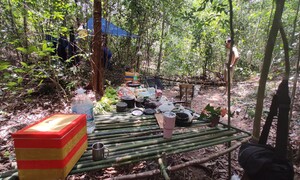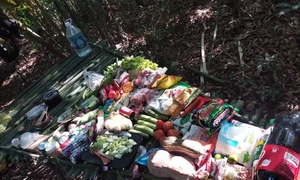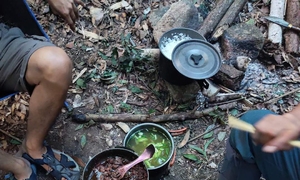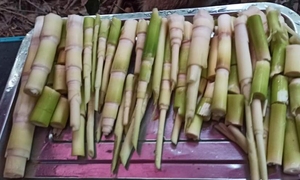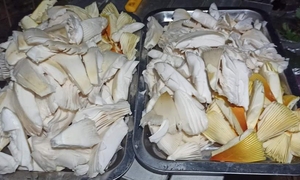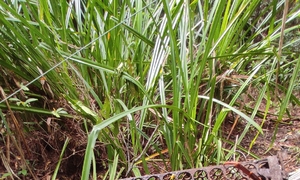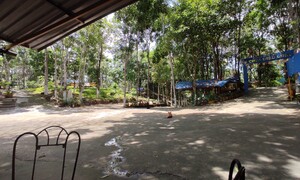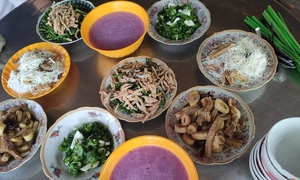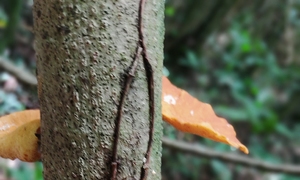 Huy said that the only inconvenience in the days when he was stuck in the forest was that there was no phone signal, and the food was not diverse. The rest of the group feels lucky because, during the stressful epidemic days, they can stay here to live in the middle of nature and enjoy the fresh air. Because of that, the members' health is also better. For them, this is a break to learn many new skills for the job of trekking and camping guides in the future. Follow vnexpress
TAG: