Weird noodle soup pizza in Can Tho
Not only enjoying the strange pizza, visitors also create colorful batches of noodle soup by themselves.
Sau Hoai noodle soup oven is located in Ninh Kieu district (Can Tho), only 2 km from Cai Rang floating market. Tourists after visiting and enjoying breakfast on the floating market can take a canoe to come here, explore the traditional craft village of making noodles.
In many long-standing noodle production facilities in Can Tho, the Sau Hoai noodle oven is the choice of many tourists to visit because here, in addition to traditional products, there are also colorful noodles and pizza noodles. Tieu was born by Mr. Sau Hoai, the owner of the research furnace.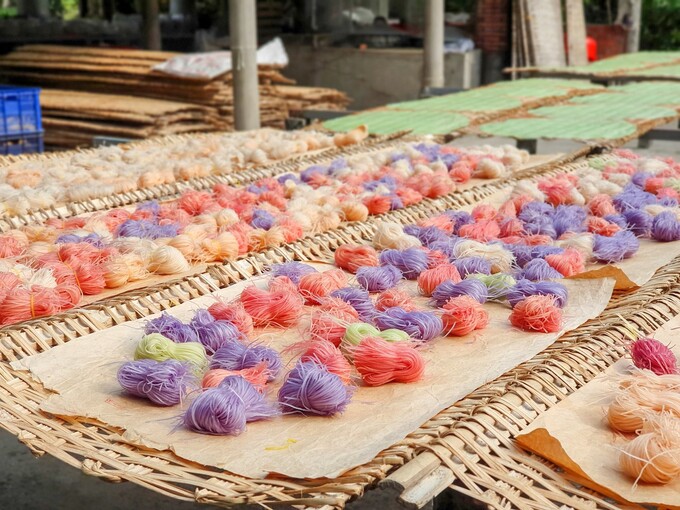 The batches of colorful noodles are dried before packing.
The stages of making a batch of noodles include: grinding flour, mixing flour, coating flour, drying cakes, cutting cakes, drying fibers. In order for the noodles to have bright and fresh colors, Mr. Sau Hoai has researched and selected fruits and foods for color such as: gac, red dragon fruit, pandan leaves, camomile leaves, beets. These colors will be mixed with the powder from the very first step. After being coated, the noodles will be dried in the sun, waiting for the cutting stage. At each stage, tourists will be able to personally experience and make batches of noodles themselves. Finished products are sold at the oven for 50,000 VND/pack of 5 extractors.
According to the owner of the kiln, all products are handmade, so the productivity is not high. That's why the products of this 46-year-old noodle oven are not available for mass sale or export.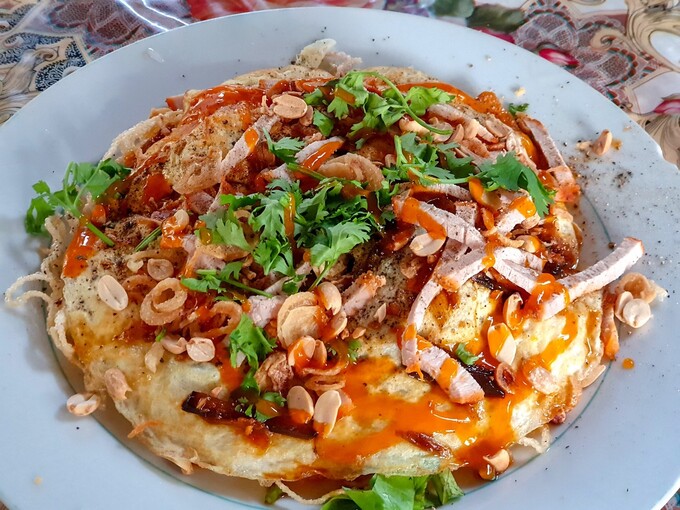 The noodle soup pizza is completed.
Not only live noodle products, Mr. Sau Hoai also prepares pizza noodles by himself. Instead of using regular flour, he used filtered flour noodles, quickly fried in a pan of boiling oil until golden, then removed. The beauty is that while frying, the cook makes the cake into a round shape that looks like a pizza.
The highlight of this dish is the accompanying topping. Not the familiar beef, ketchup, or cheese, but Westerners replace it with fried eggs, Kei meat (well-stewed meat), and drizzled with fragrant fatty coconut milk. Meat must choose the type of tenderloin and saute with Siamese coconut juice for a rich flavor, cut into small pieces. Coconut milk is mixed with fresh milk in a certain ratio to have a thick, fatty taste. Although it is a fried dish full of meat and sweet and fatty spices, the diners do not feel fed up because there are salads and bean sprouts served to control the taste.
Visitors can see with their own eyes the process of making a pizza noodle soup and enjoy it on the spot or buy it to take home for 100,000 VND/cake. Usually, visitors will eat on the spot, rather than buy to take home, because the longer the cake is left, the cake will cool and lose its crispness.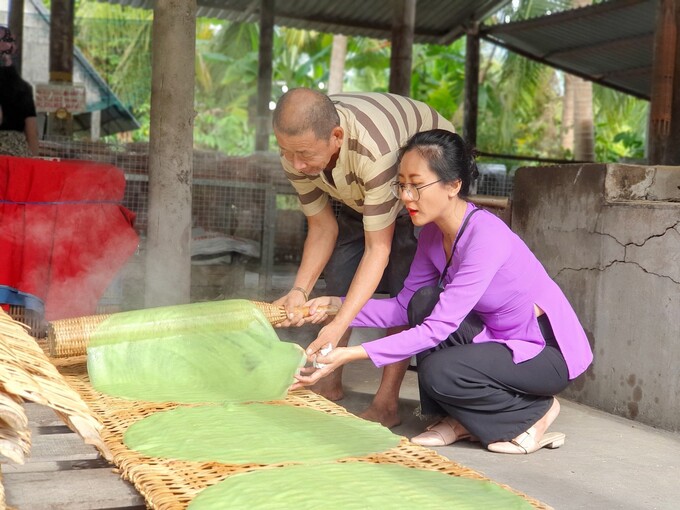 Visitors experience making noodles.
Follow vnexpress
TAG: